By Justin SabrinaUpdated on September 01, 2021
---
Summary
Can't play Audible audiobooks on your iPod devices? This article will introduce you a powerful Audible to iPod Converter to convert Audible AA/AAX audiobooks to M4A, M4B, AAC, etc., so that you can transfer Audible books to any iPod Nano/Shuffle/Classic/Touch for offline playback without limits.
"When I put Audible books on iPod Shuffle, these audios won't play at all. Why can't I load my Audible books onto my iPod Nano?"
iPod is the most popular portable media player on the market. Its design is lightweight, portable and stylish and supports various kinds of audio files like music, podcasts, audiobooks. Many Audible users want to play Audible books on iPod during their spare time. Here comes the problem, when you try to put Audible books to iPod, including iPod Nano, iPod Shuffle, iPod Classic, you will receive a message saying 'the files can't be recognized'.
CONTENTS
Part 1. Why can't Transfer Audible Books to Any iPod?
Due to different iPod models are compatible with different Audible book formats. You should match the correct format for each iPod model. Besides the audio formats, still have different limits on the each audio file size.
If you are an iPod Touch user, you can directly download Audible app to iPod Touch because it is compatible with Audible AA /AAX format files. But for iPod Nano/Shuffle users, things becoming a little bit complicated. The Audible formats supported by iPod Shuffle and iPod Nano are not the same. iPod Shuffle can be compatible with Audible 2, 3 format, but Audible 2, 3 and 4 format can work well with iPod Nano. What's more, there are many old models of iPod that are not compatible with Audible AA/AAX format.
Note: If your downloaded Audible audiobooks is too long, you need to cut them into smaller pieces before you transferring to iPod Nano/Shuffle/Classic.
To overcome these issues, you need use a professional tool to help you get Audible books on iPod without restrictions. According to iPod models, please follow the tips accordingly.
Part 2. Best Way to Transfer Audible Books to Any iPod without Limits
UkeySoft Audiobook Converter is a useful tool to put Audible books on iPod, which not only can bypass the Audible of DRM protection without iTunes and Audible account authorization, but also convert Audible books to M4A, AAC, M4B, MP3, WAV, AIFF. supported by iPod models. What's more, it allows you to divide audiobook into smaller pieces by chapters or time frame. UkeySoft Audible Converter has the ability to preserve the 100% lossless audio quality and ID3 tags including title, albums, artist, genre, etc. In this way, you will get the converted audiobooks which can work well with iPod devices.
Main features of UkeySoft Audible Audiobook Converter:
Bypass the DRM protection from Audible AA/AAX audiobooks legally.
Get Audible books without iTunes and Audible account authorization.
Convert Audible books to M4A, AAC, M4B, MP3, WAV, AIFF for any iPods.
Losslessly convert Audible audiobooks at up to 700X super faster speed.
Cut the large Audible books into smaller pieces by chapters or time frame.
Keep ID3 tags and chapters info including book title, albums, artist, author, etc.
Play Audible audiobooks on any iPod Nano/Shuffle/Classic/Touch without restrictions.
Tutorial: Convert Audible to M4A and Transfer to Any iPod
Step 1. Add Audible Books to UkeySoft Audible Audiobook Converter
Launch UkeySoft Audiobook Converter on Mac. Click the "Add" button to add the downloaded Audible books from the local folder.
Or you can drag and drop the local Audible files into the converter.
Step 2. Select M4A as Output Format
Click "Options" > "Advanced", here you can select M4A as output format.
Step 3. Start to Convert Audible Books to M4A
Click the "Convert" to start converting Audible books to M4A.
Step 4. Get the Lossless M4A Audio Files
Click "History" to get the M4A format Audible books.
Step 5. Sync M4A Audible Books to iTunes
Now you can just sync converted M4A Audible audiobooks files to your iTunes. Launch iTunes and connect iPod to your computer. Click 'Sync' then click 'audiobooks', click 'Sync' to save your preferences to iTunes.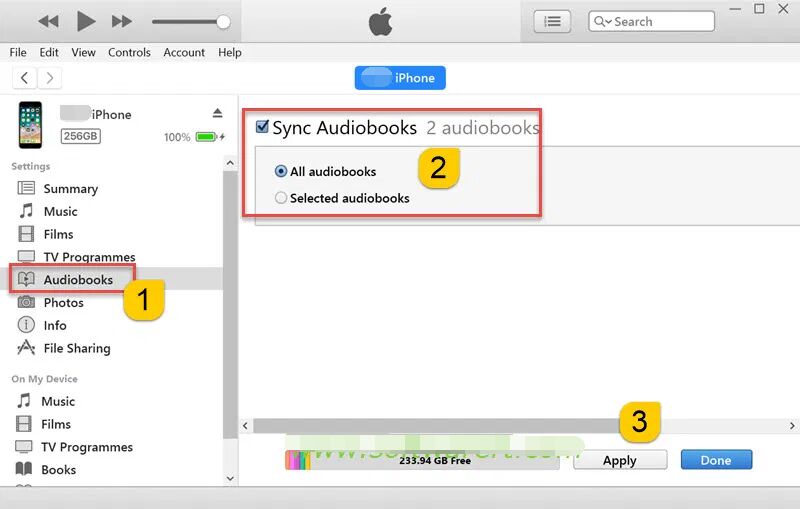 Part 3. Transfer Audible to iPod Nano/Shuffle/Classic via iTunes
Due to there is no official application of Audible for iPod Nano/Shuffle/Classic, we can use the iTunes app to transfer Audible books to iPod for playing. Before you start to transfer, you need to download correct audiobook format with proper file size to your local computer. Now you can use iTunes to sync converted Audible files to your iPod.
Step 1. Connect iPod Nano/Shuffle/Classic device into your computer by using USB cable.
Step 2. Launch iTunes, the device will show up on iTunes. Click 'File' > 'Devices' icon to choose your iPod.
Step 3. Click 'Audiobooks' button on the left side, hit 'Sync Audiobooks' button > 'Selected Audiobooks' to put Audible books to iPod.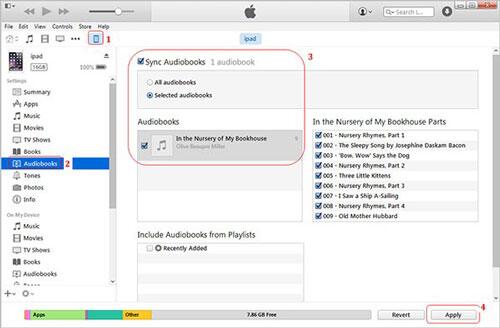 Part 4. Play Audible Books on iPod Touch Directly via Audible App
Audible app is available for iPhone, iPad and iPod Touch, you can play all formats of Audible books including AA/AAX format without using iTunes app.
Step 1. First, download and install the Audible app on your iPod Touch. Then launch the Audible app and login your Amazon account.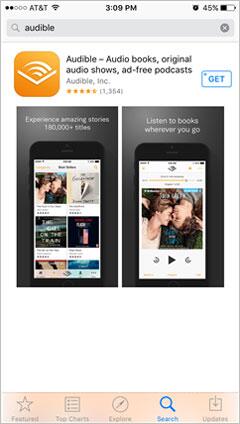 Step 2. Click the 'Library' to access your purchased audiobooks and choose the item you want to listening.
Step 3. Hit the 'Download' button to download books for offline playing.
Conclusion
The Audible audiobooks is all encoded in AA/AAX format, although these formats can work well with iPod Touch, there are too many limits for other iPod devices like iPod Nano, Shuffle, Classic. UkeySoft Audible Audiobook Converter comes in handy, it not only can convert Audible to iPod-supported formats, but also can cut the large chunk audiobooks into smaller fragments to fit iPod devices.
Transfer Audible Books to iPod Nano/Shuffle/Classic/Touch
Comments
Prompt: you need to log in before you can comment.
No account yet. Please click here to register.