By Li ZhangUpdated on April 11, 2023
---
Summary
Read this review then you will get top 3 best music converters for Pandora with a deep guide, so that you will get all the features, pros and cons of them, compare with them and choose one that meet your needing. Help you pick up the best Pandora Music Converter, to download and convert Pandora Music to MP3.
Music has been an important part in most people life. Whether you are on the way to work, sporting, taking a batch, or relaxing, you can listen to a song that perfectly match your mood. While there are more and more music streaming platforms released these years, some of them are popular, like Pandora. When compared to rival music streaming services, Pandora always wins a place with its best music service. It now provides an ad-support option to enjoy music for free. Or you can choose to upgrade music plan to pay $4.99/month for Pandora Plus plan, or $9.99/month for Pandora Premium plan.
Do you want to convert Pandora Music to MP3, M4A, MP3, AAC, FLAC, WAV, AIFF and other lossless output audio files for playing on any mp3 player(Sony Walkman, Sandisk, etc.), iPod Nano/Shuffle/Classic, PSP, PS3, PS4, Garmin, Samsung, Fitbit Wearables & Smartwatches, Smartwatch, SmartTV? Looking for a Pandora Music Converter to download Pandora Music songs with Free account? Let's recommend 3 best Pandora Music converters for you to download and convert Pandora music to MP3 for listening freely.
Can you download music for offline listening on Pandora? Yes, you can. But it's only possible with a higher Pandora account. With Pandora Plus/Premium subscription, you can download favorite songs, albums, and playlists from Pandora directly to authorized device and listen to them anywhere at anytime, even without an Internet connection. However, if you don't have a Pandora Plus/Premium account, it is impossible for you to download Pandora Music for offline listening. In other words, to download Pandora songs for offline listening without it's app, you might need help from a professional Pandora Music Converter. In this post, we will introduce the top 3 Pandora Music Converters, through showing you all the features, pros and cons of them with in-depth review.
CONTENTS
The market is full of Pandora Music Converters, but only some of them offer high-quality downloads with an user-friendly interface. Here we have collected top 3 best Pandora Music Converters in 2023, show you all aspects of them, to make your final choice more comprehensive.
Top 1. UkeySoft Pandora Music Converter
Ukeysoft Pandora Music Converter is an all-in-one music converter that allows you download songs, albums, and playlists from Pandora Music, while converting music to MP3, M4A, AAC, WAV, FLAC, AIFF music files with lossless audio quality. If you cancel the subscription of Pandora Music, you still can enjoy the downloaded Pandora Music songs anywhere you want. Both Pandora Free, Plus and Premium users are supported. With the advanced technology, it gives you the best user experience by converting songs at 10X faster speed in batch. What's more, all the ID3 tags and metadata kept (such as title, artist, album, artwork, track number, etc). To make it easier for you to manage your music library, you're allowed to organize them with its built-in music manager.
Furthermore, you can run Pandora Music on your computer without installing any other extra apps, including the Pandora app. In this way, you can get Pandora Music forever without paying. The downloaded songs will be accessible even if you are no longer a Pandora subscriber. After the conversion, you can play Pandora Music on all devices, like smartphone, tablet, game consoles, portable MP3 players, smart device and smart speakers. Additionally, it is built-in Pandora Music web player& music player, it allows you search, download and play Pandora Music directly.
This reliable UkeySoft Pandora Music Converter is a powerful and easy-to-use tool that allows you save your favorite Pandora songs as MP3 or other audio formats. With its clean interface, intuitive design, and super fast download speed, it's easy to get Pandora Music with this product. Here are some of its main features:
A. Remove DRM Protection from Pandora
Unlike Pandora's official download function, UkeySoft Pandora Music Converter removes all DRM protection from downloaded songs, allowing you save them in general audio formats, including MP3, M4A, WAV and more formats. Best of all, with UkeySoft software, you can enjoy all the saved tracks offline and on any devices.
B. Preserve with Original Audio Quality
To ensure you have a great music listening experience with Pandora Music, this software will preserve with original audio quality in output music files. UkeySoft Pandora Music Converter guarantees crystal-clear music playback, making it the perfect addition to your music arsenal.
C. Retain All ID3 Tags, and Metadata
For your better music library management, it will retain all ID3 tags and all metadata in output music files. In this way, your music collection will be properly organized and labeled so you can instantly find the tunes you love.
D. 10X Downloading Speed
UkeySoft software brings the official Pandora Music Web Player right to your fingertips. All you need to do is sign in and get ready to go. With its easy-to-use interface, you can easily drag and download music from Pandora with one click, all the music files will be export with 10X faster downloading speed in batch. That will save your precious time surely.
E. Keep Pandora Music Forever without Subscription
By downloading and converting Pandora songs with UkeySoft Pandora Music Converter, you don't need to worry about that the output songs won't be played offline once the subscription expires. After Pandora Music conversion, you will get Pandora Music forever without Plus/Premium subscription. You are allowed to play Pandora Music offline on any devices/players without limitations.
F. Use Pandora Music on More Ways
Once finishing converting Pandora Music to MP3, you can keep Pandora Music as local files in MP3. It means that you can use Pandora Music on more ways out of its official limitations. For example, backup music to cloud; copy to USB hard flash; record music to CD; set music as ringtone/alarm clock; remix songs in DJ program; share music on media social apps; etc,.
Tutorial to Download & Convert Pandora Music to MP3
Step 1. Log in Pandora Account
To begin with, download, install and run UkeySoft Pandora Music Converter on your PC/Mac computer. Then please log in your Pandora account in its home page.
Step 2. Customize the Output Settings
Click on the "Settings" icon in the upper right corner to customize the output format (M4A, MP3, AAC, FLAC, WAV, AIFF), output quality (up to 320kbps), output folder, output file name, and more depend to your needs. Here take MP3 as an example, tap "MP3" option.
Step 3. Add Pandora Songs
Open any playlist or album in Pandora web player, which contain the songs you want to download and convert to MP3.
When you click a playlist or an album, all items in the playlist/album will be selected by default. Just remove some items you don't want.
Step 4. Download and Convert Music to MP3
When everything is done, click on the "Convert" button to start downloading and converting Pandora Music to MP3. The music conversion will finish with only some minutes, and output music with its original music quality and all ID3 tags.
Step 5. Get Pandora Music
Once the downloading ends, click on folder icon to get all Pandora Music songs in MP3. Also you can play Pandora Music offline directly with its built-in music player.
Cons:
A pay software, but it offers free trail.
It is limitations with free trail.
Top 2. TuneFab Pandora Music Converter
TuneFab Pandora Music Converter is a professional yet user-friendly tool, which is especially designed to download and convert Pandora Music to MP3, M4A, AAC, FLAC, WAV, AIFF format at faster speed. It's an useful software that smartly supports to customize output audio name, classify Pandora artists or albums. Besides, this software provides 5X faster speed to batch download Pandora playlists. After that, Pandora songs can be played on any other devices and players offline whenever you want without expiring one day.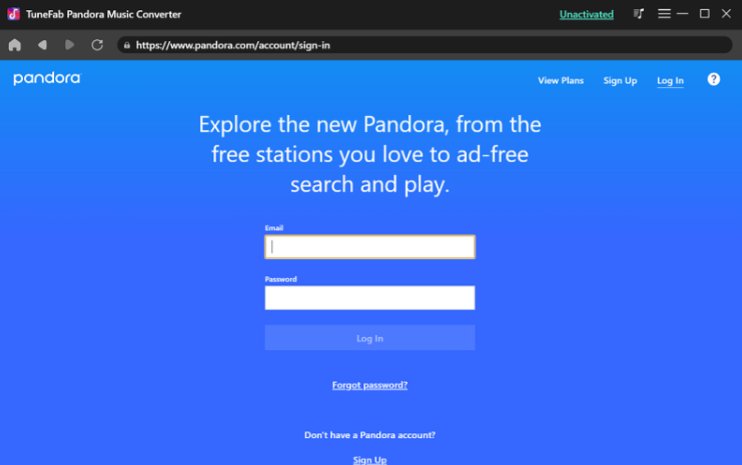 Pros:
Keep high audio quality.
Convert Pandora Music to common audio formats.
Save all Pandora downloads offline without expiring.
Cons:
Need a Pandora Plus or Premium account.
ID3 information editing function is not available.
The conversion speed is slow.
Top 3. Aiseesoft Free Audio Recorder
Aiseesoft Free Audio Recorder is a good choice for audio recording fanatics who want free access to record streaming services such as Pandora Music. This powerful program makes it easy to capture audio from the sound card without any complicated equipment needed. Just like Audacity, as long as you start playing Pandora Music songs, it will quickly begin recording them as high-quality audio files in MP3 format. And this audio recorder is capable of continuously recording the tracks and also splitting them with ID3 tags kept.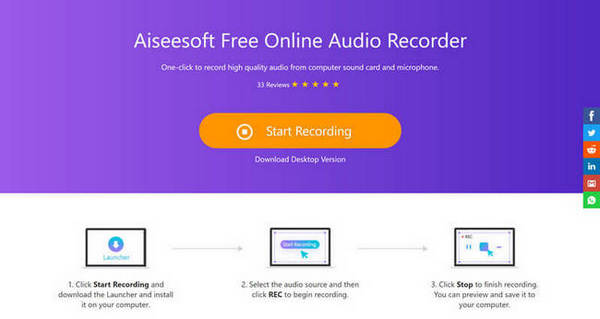 Pros:
Record and save Pandora Music to MP3 for free.
Capture music from most streaming services for offline listening.
Cons:
1:1 recording speed.
Only support output music as MP3.
Not keep high audio quality.
Final Thought
In conclusion, we've gathered top three different Pandora Music Converters for you. Each of these converters has particular advantages. You can make a decision based on your actual needs. We suggest the top one UkeySoft Pandora Music Converter if you're looking for a music converter that is comprehensive, effective, efficient, and easy to use.
The best UkeySoft Pandora Music Converter is the ultimate solution for those who love Pandora music but are tired of Pandora limitations. With this all-in-one software, you can download and convert Pandora Music to MP3 or other general audio formats at 10X speed with zero audio quality loss. As a result, you will get Pandora Music forever without subscription. That means you can listen to your favorite Pandora tracks locally anywhere at anytime. Surprisingly, UkeySoft Pandora Music Converter lets you transfer and play music on all your devices/players. This makes it being much more convenience for you to enjoy music.
Pick up one of these remarkable Pandora Music Converter right now! If you find this post is helpful, please share people around you.
Best Pandora Music Converters Review
Comments
Prompt: you need to log in before you can comment.
No account yet. Please click here to register.