By Justin SabrinaUpdated on September 01, 2021
---

[Summary]: Why can't we directly stream iTunes movies on Android smart TV? Check out this tutorial and find the best way to play iTunes movies and TV shows on Android TV by getting rid of DRM protection.
"Good morning, I bought an iTunes movie from the iTunes store and planned to play it on my Sharp Android TV, but I was just told that my Android TV can't read these resources. What should I do to sync and play iTunes contents on Android TV?"
Why can't we directly stream TV shows on Android TV?
Android TVs, including Vizio Smart TV, Panasonic Viera Smart TV, Sony Smart TV, Samsung Smart TV and Sharp TV, are excellent devices that integrate streaming video, listening to music and playing games. However, if you plan to play iTunes videos on the Android TV mentioned above, then you are out of luck. Apple uses DRM technology in iTunes movies to protect copyrights. These protected contents can only be played on authorized devices, so you can't directly stream iTunes movies to Android TV.
One-stop Solution to Convert iTunes Movies to Android Smart TV
As long as your iTunes movie is still in DRM-protected M4V format, you can never watch iTunes movies and TV shows on Android TV. On the other hand, if you can get rid of the DRM restrictions of iTunes videos, especially converting iTunes movies to video formats supported by Android TV, you can watch iTunes movies on Android TV at any time.
Next we will introduce a one-stop solution for converting iTunes movies to Android Smart TVs. UkeySoft M4V Converter is such an efficient tool that empowers you to remove DRM protection and convert iTunes M4V rentals and purchases videos to universal MP4 files with high quality in 30X faster speed. In addition, it is capable of retaining the original subtitles, audio tracks, AC3 5.1 surround sound and converted HD resolution of MP4 video.
By removing DRM from iTunes movies, you can not only play them on Android TVs, but also Android phones and tablets, Windows phones, MP4 players, PS4, Xbox One, Xbox 360, or any computer without authorization.
Check out the specific steps here and try to convert iTunes movies to Android TV by using UkeySoft M4V Converter. First of all, download and install the program on your Windows PC or Mac PC.
Tutorial: How to Stream iTunes Movies on Android Smart TV
Step 1. Download M4V Movies to iTunes Library
Before using UkeySoft M4V Converter to convert iTunes movies to MP4, you need to download movies from iTunes store to the library first and then exit the iTunes app.
Step 2. Launch UkeySoft M4V Converter
Launch UkeySoft M4V Converter on your computer, and it will automatically launch the iTunes app and load all iTunes media, including all downloaded M4V moives, TV shows and music videos.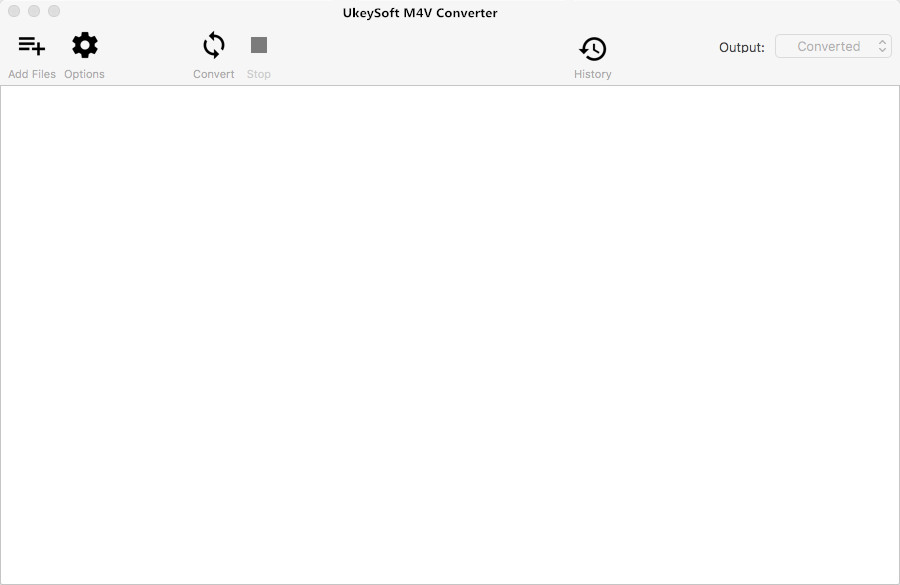 Step 3. Add iTunes M4V Movies
Click on "Add Files" button to load iTunes library. Select one movie and click "Add" button, or use Ctrl or Shift key to select multiple movies and click "Add".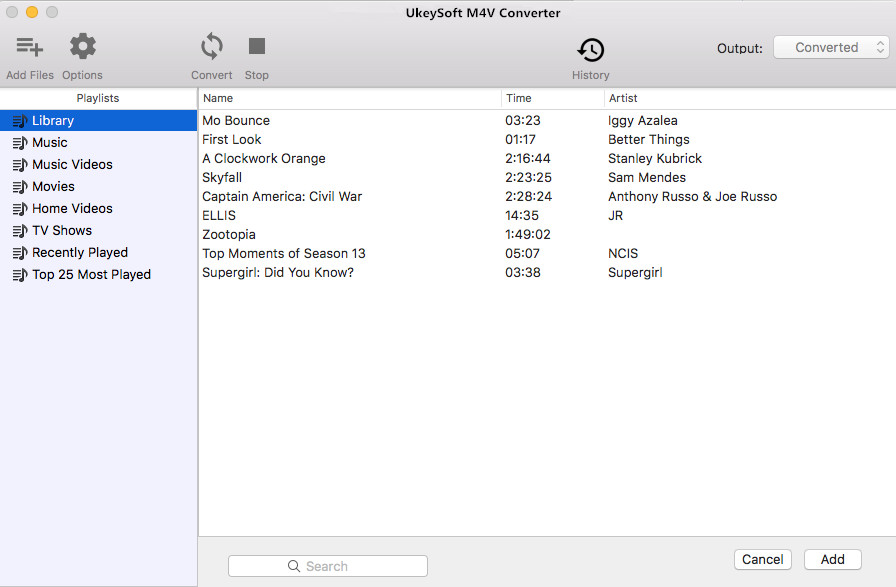 Step 4. Choose Audio & Subtitle Tracks
By default, the converter will preserve all multilingual subtitles and audio tracks, closed captioning, audio descriptions and Dolby 5.1 track.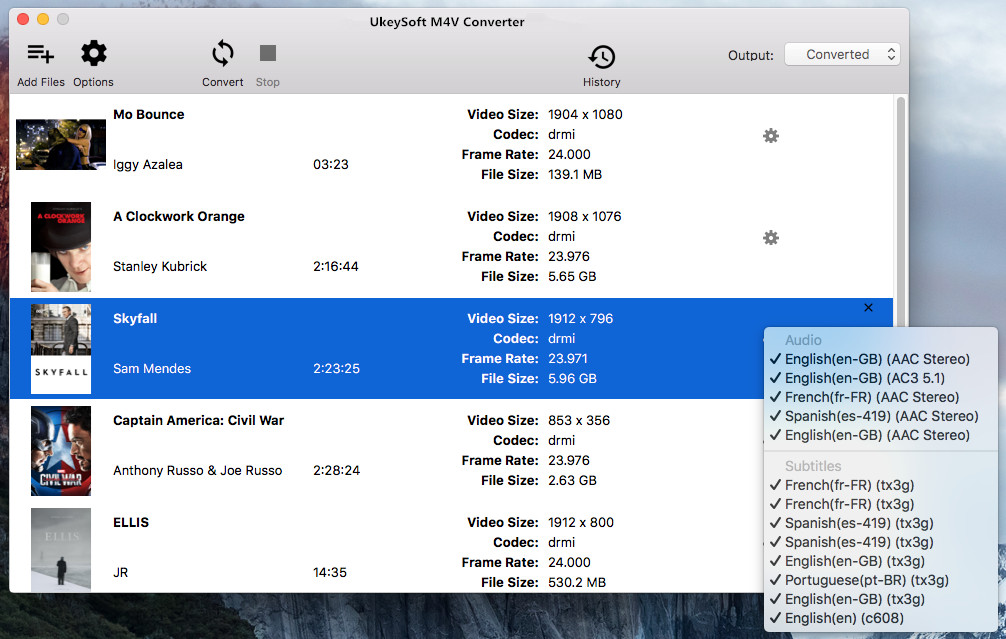 Step 5. Convert iTunes M4V Movies to MP4
Simply click "Convert" button to start converting iTunes M4V movies to MP4 conversion with 30X faster conversion speed. DRM protection on iTunes movies will be automatically removed during conversion.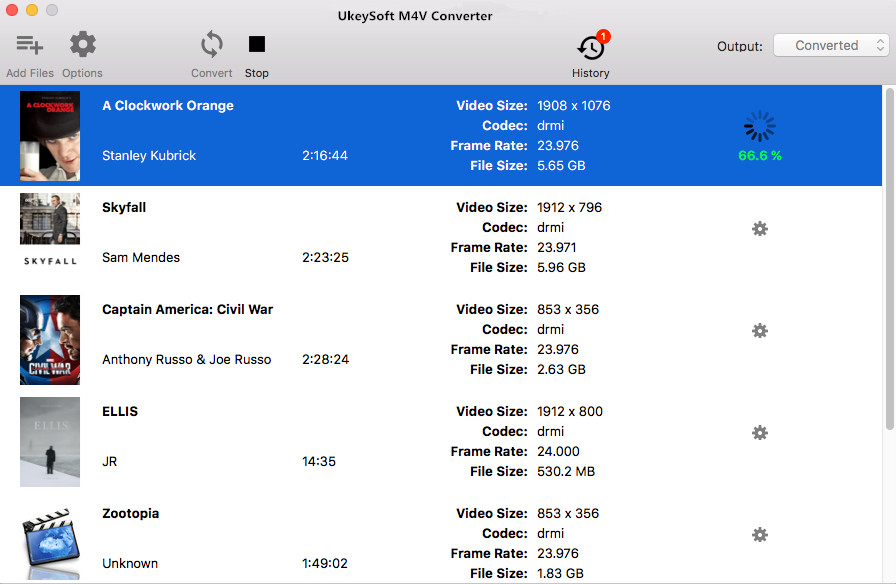 Step 6. Stream iTunes Movies on Android TV
Now you can directly copy and paste to transfer the converted iTunes movies to your Android smart TV via a USB disk. Besides that, as Android TV supports the Google cast feature, you can cast iTunes movies from the Chrome browser from your computer too. Here are the detailed steps:
1. Turn on your computer and Android TV. Make sure they are connected to the same WIFI or cable network.
2. Open Chrome browser and drag a video to it to start playing the converted iTunes movies from the computer.
3. Find and click 'Cast' menu from the browser, it will prompt you to select the destination cast device, you can select the Android TV and click 'OK' menu, now the converted iTunes movies will be streamed to the Android TV.
Stream iTunes Movies to Android TV
Comments
Prompt: you need to log in before you can comment.
No account yet. Please click here to register.