2 Way to Watch iTunes Rental Movies Offline on Airplane
By Justin SabrinaUpdated on December 16, 2022
---
Summary
Want to watch iTunes rented movies in airplane mode? With the help of UkeySoft M4V Converter tool you can convert iTunes rentals to high-quality MP4 format, which not only breaks the 24-hour limit but also allows you to enjoy iTunes rentals offline on Airplane without limitation.
CONTENTS
"Can I watch a rented movie without WiF turned on? If I rent a movie from the iTunes store, do I need to have an internet connection to watch the rented movie?" -- stephf13 asked on Apple Support Communities
"Is it possible to watch a rented movie on a flight? Recently I rented and downloaded movies from iTunes to watch on my iPad Pro during a flight. However while in airplane mode the movies will not load. Does anybody have a way to fix this?" --jeffoakpark asked on Apple Support Communities
"What's the best way to watch iTunes rental movies on iPad offline on an airplane? I want to watch movies while I am flying."-- Mailchimp asked on Q&A site Quora.
"How can I play iTunes retented movies on Airplane Mode without Wifi? If not, what if I buy it?" BabyMale asked on Q&A site reddit.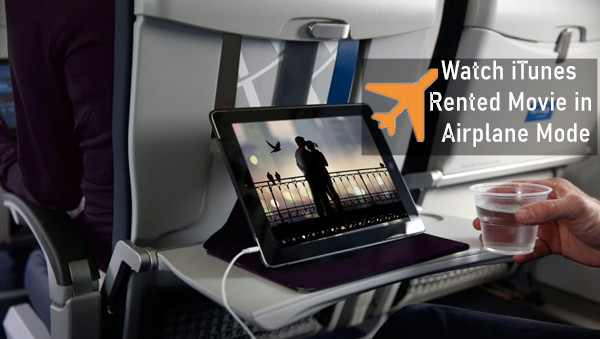 Referral Link Reading: Offline enjoy Apple Music on Flight.
Everything you need to know before renting movies on iTunes store
How to watch iTunes retented movies on Airplane Mode without Wifi? Many iTunes users might have encountered similar problems. As we all know, the iTunes movies, TV shows, music videos and other M4V video files are all encrypted by FairPlay DRM, which prevents us from watching these purchased and rented video files on any devices or media players that we like. Likewise, iTunes music (bought before 2009), audiobooks and Apple Music are also protected by DRM(Digital rights management). However, we can't keep iTunes rented movies forever even if you have purchased and downloaded them to the iTunes library.
Method 1: Watch iTunes Rented Movies Offline on Airplane(General Method)
To offline watch iTunes rental movies on airplane, you need to rent a movie from the iTunes Store firstly, then download the entire movie to your iPad or iPhone in order to watch it on the plane in offline mode, or download the movie to your PC/Mac computer's iTunes library by clicking the "Rent" button.
When you start, iTunes rental will be unavailable after 24 hours
But, for iTunes rentals, when you start watching it (30 days from the time of rental to watch the movie), you have to finish watching it within have 24 hours (in the US) or 48 hours (elsewhere). Otherwise, your rental movies will disappears and becomes unplayable.
Conclusion: To watch iTunes rented movies on a flight, you need to rent movies from the iTunes Store and then download the entire movie on Apple devices before you watch offline, then press play to start offline watching the downloaded movies within 24 hours.
The above conventional methods are greatly limited, is there more better way to offline watch iTunes rental movies on Airplane without limitation?
Method 2: Watch iTunes Rented Movies Offline on Airplane at Any Time
To offline watch iTunes rented movies at any time via any devices when you're on a flight, it will be necessary to remove DRM from iTunes rentals and convert M4V movies to MP4, which is the best way to keep iTunes rented movies forever, even it expires.
UkeySoft M4V Converter is an outstanding iTunes Rental Converter software, it can lossless convert iTunes movies to MP4 at up to 30X fast speed, as well as preserving all subtitles and audio tracks. What's more, it enables users legally remove the DRM protection from iTunes rented movies during conversion. Besides, you can play any iTunes movies/TV shows/music videos on any devices without wifi connection, such as Android phones, Android tables, Android TVs, iPhone, iPad, PS4, PS3, Xbox, etc. The following tutorial will show you how to remove DRM protected from iTunes rented movies on Mac computer, you also can use the M4V to MP4 Converter for Windows version to convert iTunes Movies to MP4 on Windows 10, 8, 7.
Free download UkeySoft M4V Converter on PC or Mac firstly.
Tips: Currently the UkeySoft M4V Converter program is not compatible with macOS 10.13 High Sierra or above. If you have an access to Windows platform, we suggest you use our Windows version.
Tutorial: Convert iTunes Movies to MP4 for Playing on Airplane Mode
Let's learning how to convert iTunes M4V movies to MP4 for offline playing without any limitation.
Step 1. Install iTunes and Download Movies to iTunes Library
At first you can download the iTunes application on your PC or Mac for free and install it, then download your rental movies to the iTunes library. After download the entire movie onto the iTunes library, then exit the iTunes application.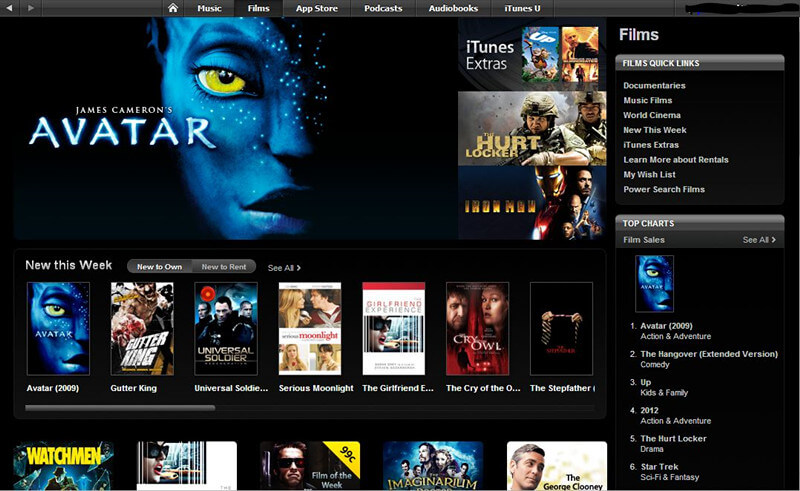 Step 2. Launch UkeySoft M4V Converter
Download, install and run the iTunes M4V Converter on your Mac or Windows computer.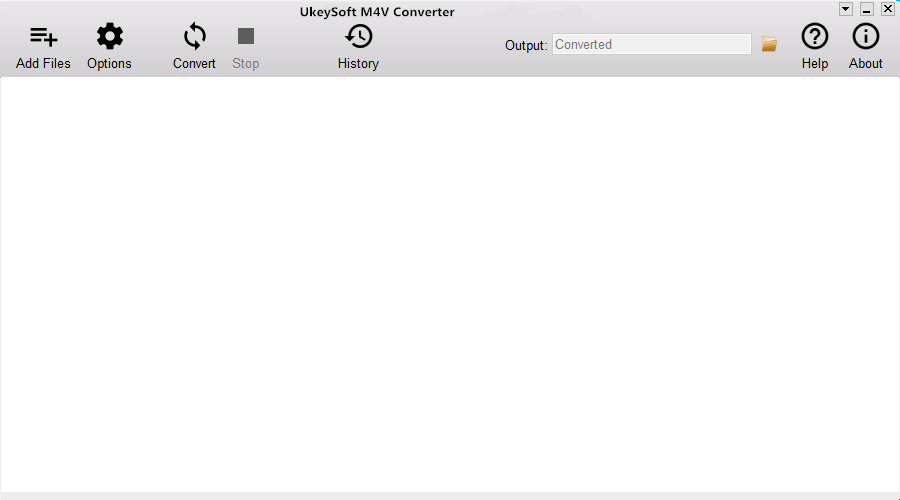 Step 3. Add M4V Movies from iTunes Library
Click "Add Files" and all M4V videos (including music videos, movies and TV shows) be synced to the converter from your iTunes library, then choose movies you want to remove DRM from, and then click Add.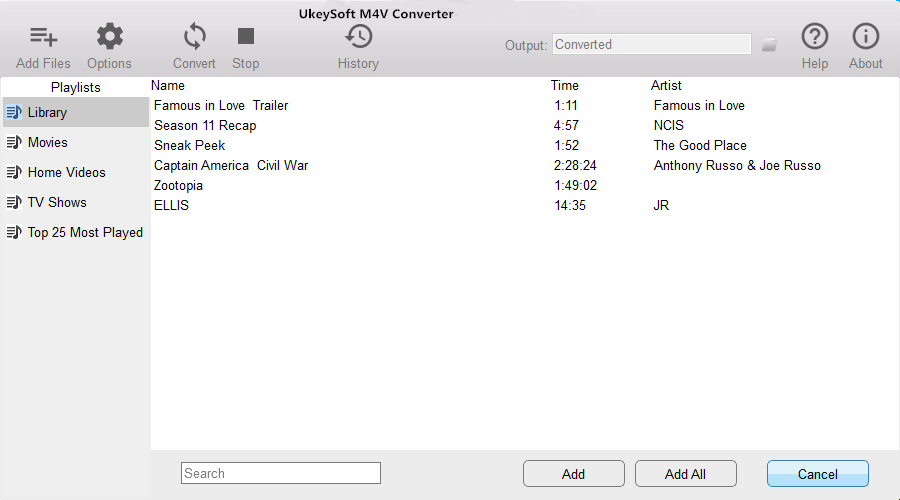 You can see all the selected iTunes movies loaded into the software.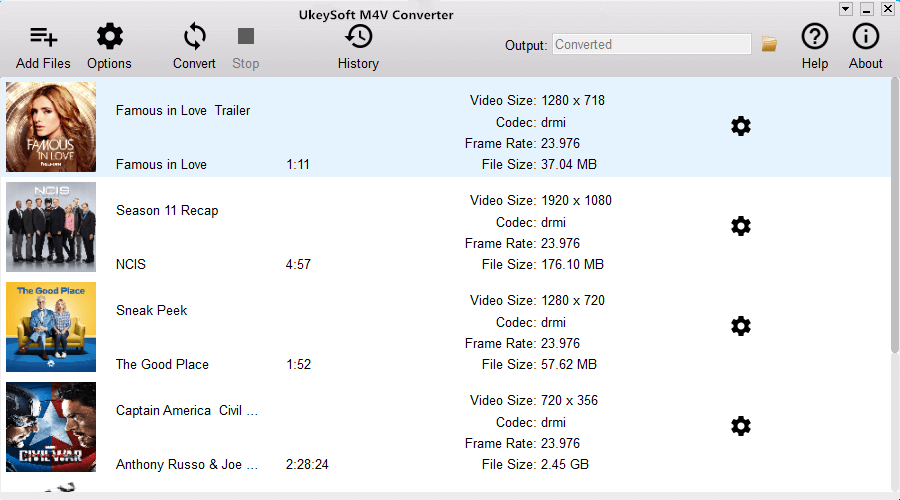 Step 3. Select Output Audio Tracks and Subtitles (Optional)
UkeySoft M4V Converter will preserve all original subtitles and audio tracks by default. You are free to select and preserve only the ones you want. You also can click "Options" icon to change output folder if you like.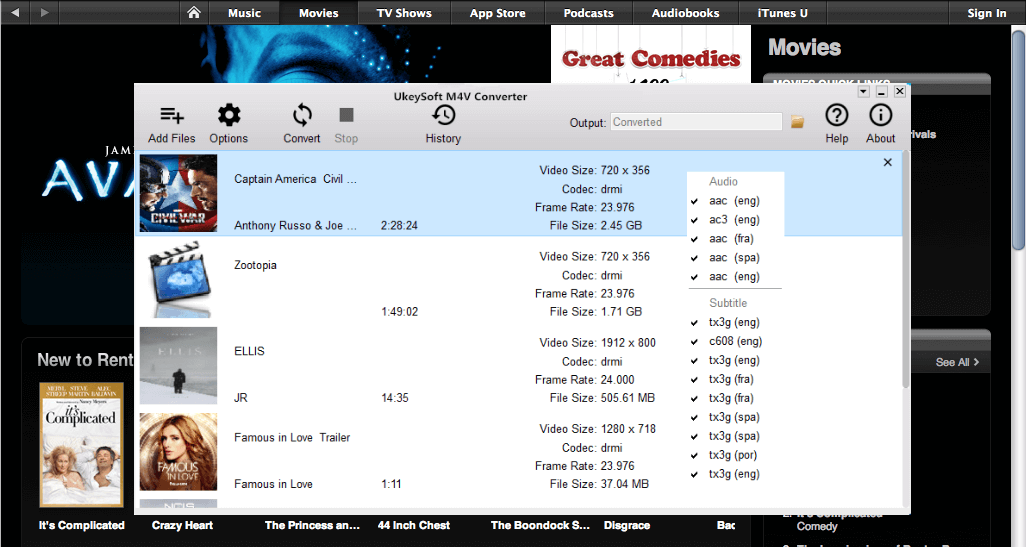 Step 4. Start to Convert iTunes M4V Movies to MP4
The last step, just click "Convert" button to start converting the iTunes purchased or rented movies to MP4, it will removing the FairPlay DRM from iTunes movies during conversion.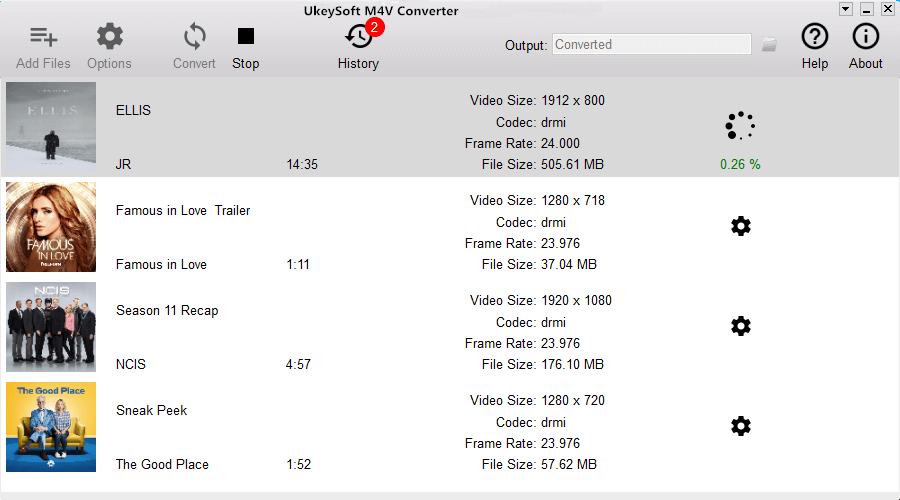 During converting, iTunes plays the iTunes movies in the background (muted), so you'd better not using iTunes until the whole conversion process complete, please wait patiently.
Step 5. Get M4P Movies
Now, you can play these videos on your local player or transfer iTunes movies from your computer to your iPhone, iPad, Android, tablet for offline watching while you're flighting.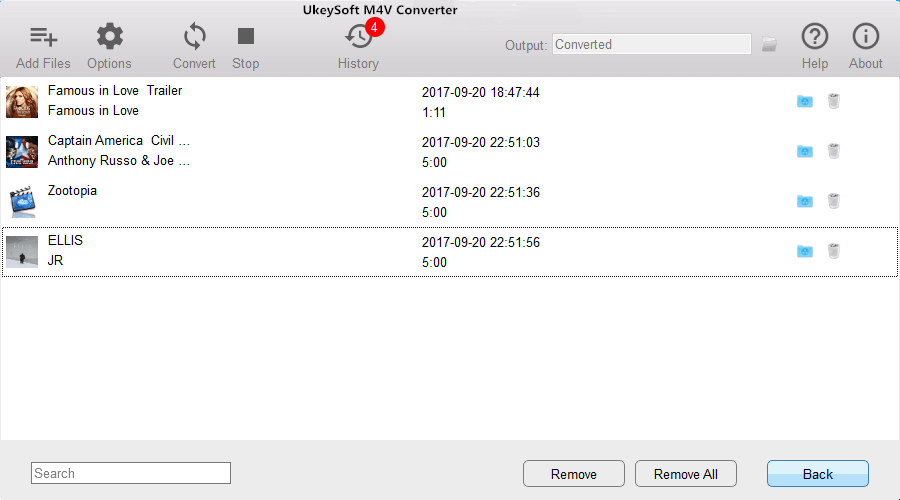 Conclusion: UkeySoft M4V Converter offer the best way to remove DRM from iTunes purchased or rented movies, TV episodes, music videos, so that you can play iTunes purchased and rented contents offline on airplane. In addition, if you want to listen to Apple Music or Spotify music on airplane via MP3 player/iPod Nano/iPod Classic/iPod Shuffle, etc. You can use the Apple Music Converter or Spotify Music Converter to download and convert songs to MP3 files.
Watch iTunes Movies in Airplane Mode