By Justin SabrinaUpdated on September 02, 2021
---
[Summary]: Have you ever thought that you can easily encrypt files on a USB flash drive or SD card for added security, and when you need to decrypt files without any obstacles? This article will teach you how to encrypt or decrypt a USB flash drive or SD card using professional UkeySoft File Lock.
"I want to know if there is a good solution to help me protect my USB flash drive or SD card to prevent others from snooping. My competitors easily stole my business information as I don't have enough security awareness. There are a lot of file lock softwares on the market but they are really useful I doubt. Do you have any practical suggestions?"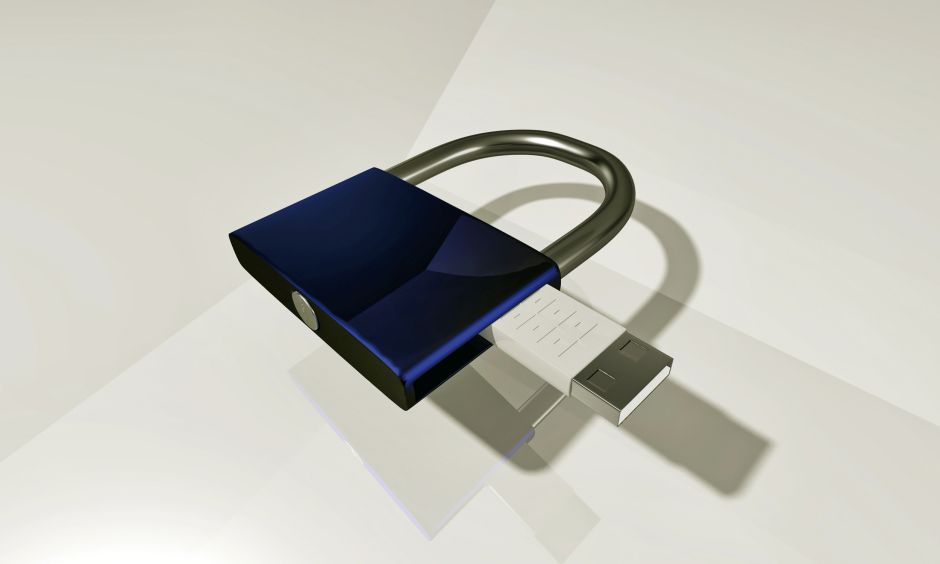 Because of its portability, people generally use a variety of removable storage devices to store data, such as Micro SD card, USB flash drive, Android phone memory card, digital camera memory card. However, most people don't have the habit of locking or encrypting these removable storage devices. If your USB flash drive or SD card is stolen or missing in the future, you should be annoyed and the data in these devices is likely to have been leaked. Once these mobile devices, which may contain your hidden personal information, fall into the wrong hands, the consequences will be hard to imagine. So why not take preventive measures early? It's a good idea to use some good File Lock programs to lock/encrypt a USB flash drive or SD card with password to give you a higher level of protection.
Securely Encrypt External USB Flash Drive/SD Card
To do this, you definitely don't want to miss Ukeysoft File Lock, which addresses data security issues for removable storage devices, including data leaks, leaks and abuse of private files. The program is powered by the powerful AES 256-bit military-grade encryption algorithm technology, which can password protect any file/folder or even the entire storage device with high intensity. So you can securely encrypt external USB flash drive/SD card using this Ukeysoft File Lock. Furthermore, the program also allows you to hide files/folders/drivers away from Trojan horses, file hijacking, viruses, etc. If you use a USB flash drive or SD card brand from Kingston, Sony, Samsung, SanDisk, and any brand of USB flash drive or SD card, the program will be well recognized and run on Windows10 / 8/7 / Vista / XP system. One day you want to decrypt a protected USB flash drive or SD card file, you only need a simple mouse click. If you already know about this software, now you can download the program to your computer and learn how to encrypt and decrypt the USB flash drive or SD card.
CONTENTS
Part 1. How to Encrypt a USB Flash Drive or SD Card
Step 1. Install and Launch UkeySoft File Lock
You have to download the program on your computer first, and launch it when you completed the installation.Then, you need to type initial password "123456" into program interface if this is your first time running the program.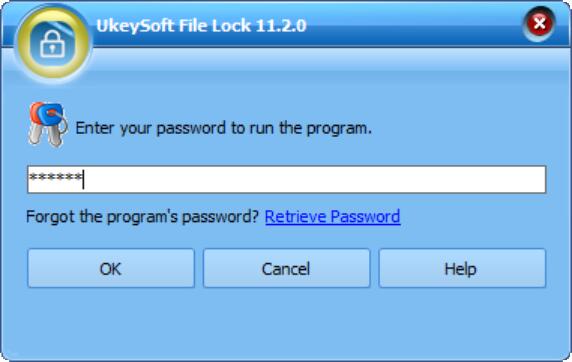 Step 2. Encrypt File/Folder from USB Flash Drive or SD Card
In this case, you should find the "External Disk" from the left sidebar of the program, then insert a USB flash drive or use a card reader to connect the SD card to your computer.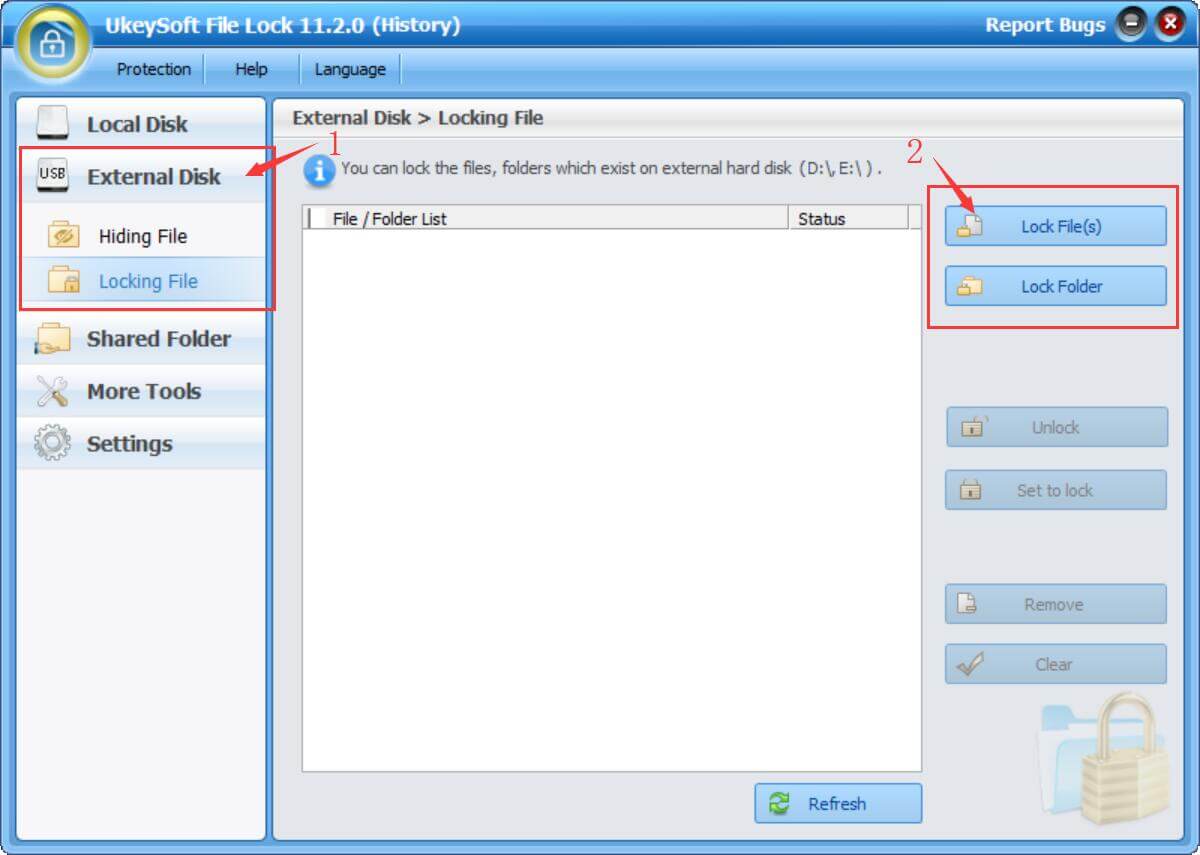 Step 3. Encrypt a USB Flash Drive or SD Card
This section allows you to officially encrypt the contents of the USB Flash Drive or SD card by clicking the "Lock File" and "Lock Folder" icons in the two columns on the right. If you do this, a pop-up window displays the file/folder menu for selecting the file or folder you want to encrypt. Select them correctly, then click "Open"。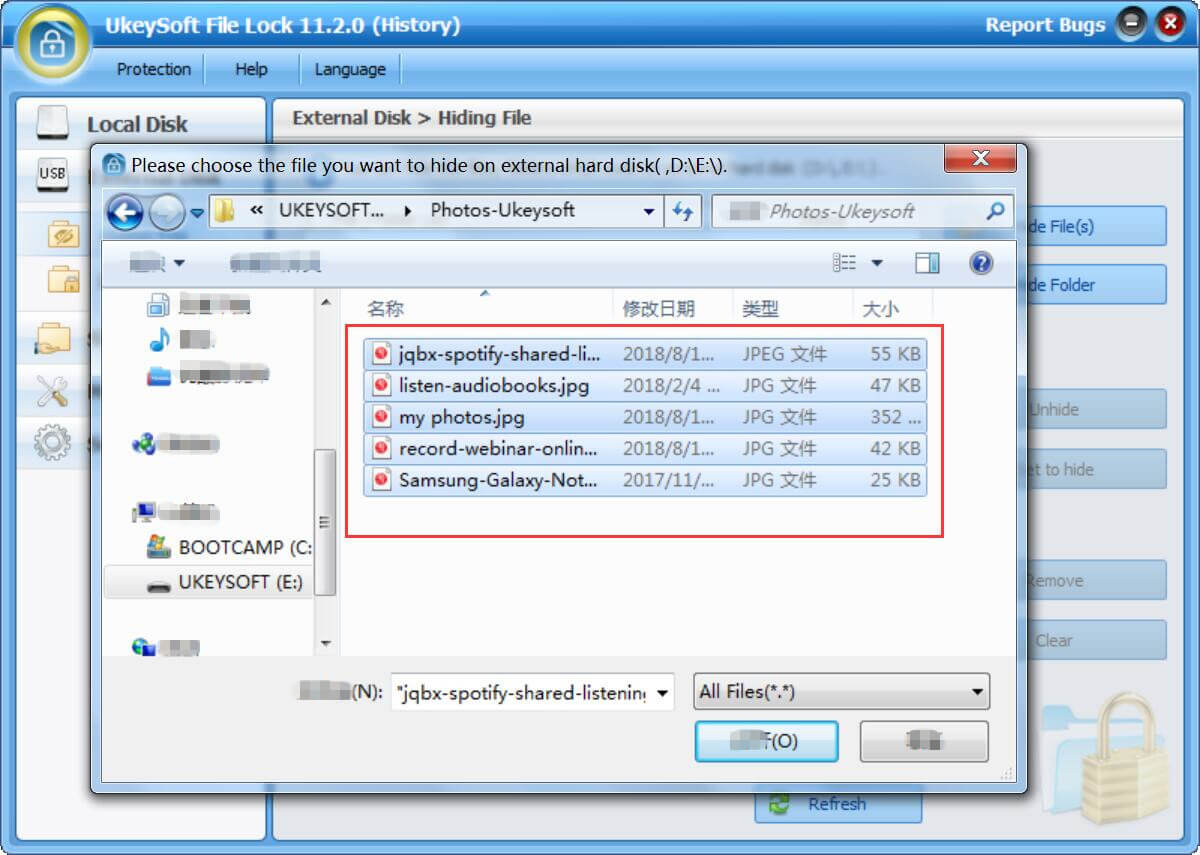 A pop-up window will appear on the password settings, click the "Lock" button when the settings are complete. When you're done, you can confirm that the file/folder successfully blocked people from accessing the file/folder and need to enter a password to access the data.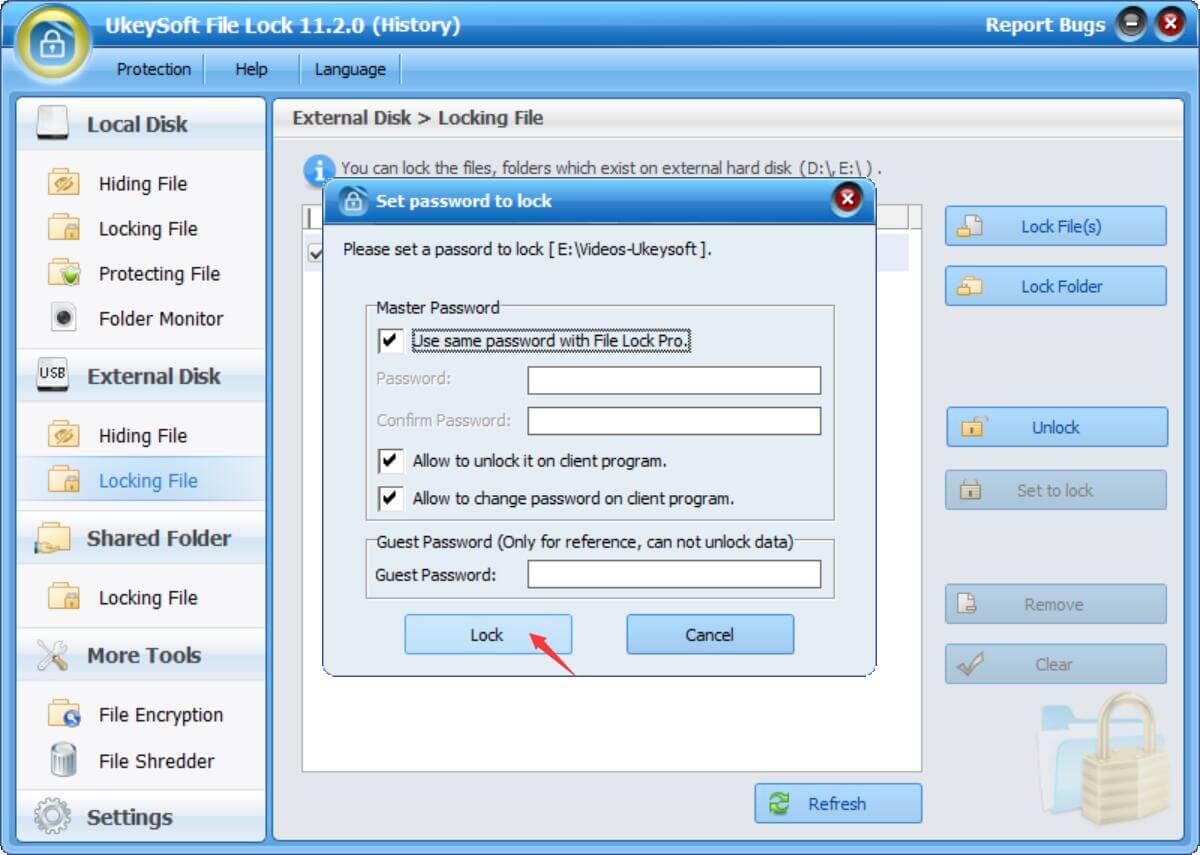 Part 2. How to Decrypt a Encrypted USB Flash Drive or SD Card
Step 1. Select Protected File/Folder/Drive
If you want to unlock a previously encrypted file/folder/drive, launch the software and click on the "External Disk" function to find the password protected file/folder/drive.
Step 2. Decrypt Your Protected Files
If you have correctly selected the file you need to decrypt, open the file or folder and a new window pops up. You need to type in the password you have set and click the "Unlock" button. Tell you a good news that you have successfully unlocked the files and now you can browse these files/folders/drives without any protection.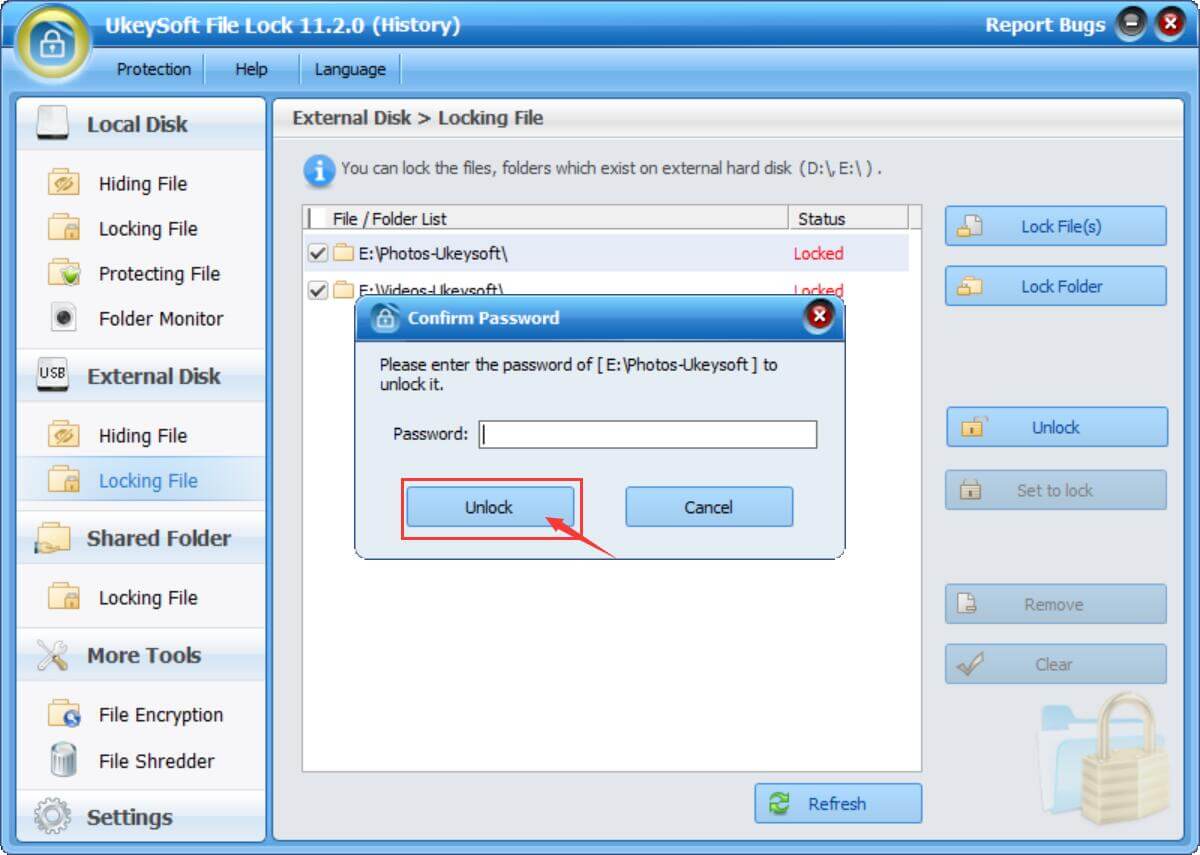 Encrypt USB Flash Drive or SD Card
Comments
Prompt: you need to log in before you can comment.
No account yet. Please click here to register.