Everythings You should Know before Purchasing or Renting iTunes Movies
By Justin SabrinaUpdated on January 09, 2020
---
Summary
Do you plan to rent movie from iTunes store or buy iTunes movie? iTunes movies added with DRM protection, so you only have 30 days from the time of rental to watch the itunes rental movies, and once you start watching the movie, you have 24 hours (in the US) or 48 hours (elsewhere) to finish watching those rental movies. Worse, we're not allow play the iTunes purchased or rented movies offline on non-Apple devices, this article talks more about iTunes rental movies which helps you know better about iTunes rental before renting or purchasing movies from iTunes store. You also can learn how to legally remove DRM from iTunes purchases & rentals and convert iTunes M4V movies to MP4 for offline playing on any devices.
Movies in iTunes store can be purchased or rented.As we all know, renting movies from iTunes store is much cheaper than buy one. So more and more people prefer to rent a movie rather than purchasing it, we can rent movies on iTunes store through Mac/ PC(iTunes), iPhone 4 or later, iPad, iPod touch (4th generation or later), or Apple TV.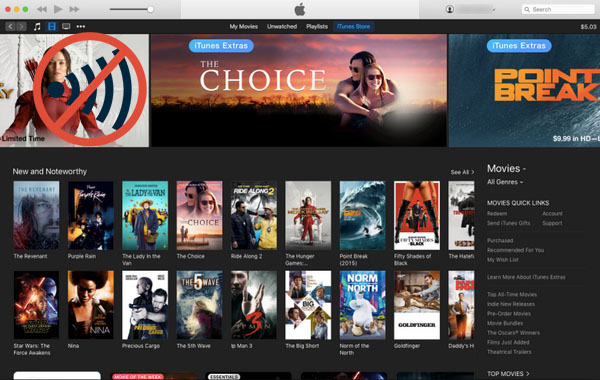 No matter you want to rent/purchase iTunes movie or have already had download to iTunes library, it is important to know more information about iTunes rentals. Many users will ask how to watch iTunes rental movies without Wifi connection, on which devices we can watch them, how to transfer the downloaded movies from one device to another, limitations of iTunes rental, what's the difference between iTunes movie rentals and iTunes movie purchases, is it possible to watch iTunes rental movies on Android device, how to extend iTunes rental viewing period, how to keep iTunes purchased or rented movies forever...
Renting or Purchasing Movies from iTunes Store?
iTunes movies are available to rent or buy, while TV shows can only be purchased. According to Apple official website, most iTunes rental movies costs around $0.99 - $6.99, while the purchased price is around $9.99 - $19.99. So, it's more cheaper from renting movies from iTunes store that purchasing the same movie in iTunes store. In addition, no matter you rental iTunes movie or purchase one, both the quality is the same, which both HD and SD are available, but you should note is that HD rentals are limited to play on Apple TV only. On 2019, Apple charges up for HD versions: up to $4.99 per rental for movies, and anywhere from $14.99 to $19.99 for HD movie purchases (with occasional sales at $9.99).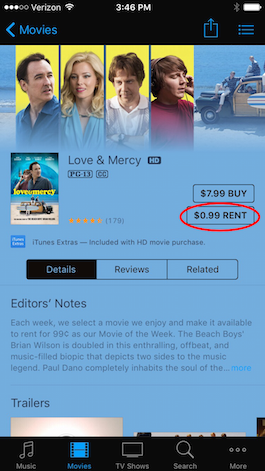 The most difference between iTunes Movie Rentals vs. iTunes Movie Purchases:
If you rent a movie from iTunes, you only get 30 days to start watching the rented movie and 24 hours (US) or 48 hours (other countries) to finish once you start. And once it expires, the rental movies will be unplayable automatically and disappear from your hard drive forever unless you rent it again.
If you buy a movie from iTunes store, you can download those bought movies to a computer and store it to iCloud, so that you can watch it as many times as you wish. Even if you delete it from iTunes library, you can easily re-download it from your purchase history to other Apple devices after signing in the same Apple account.
iTunes Movies Only Allow Playable on Authorize Apple devices
According to Apple's official declaration, the iTunes rented/purchased movies are enable playable on up to five devices, like your Windows/Mac with iTunes or portable gadgets with Apple TV app, like iPhone, iPad, iPod touch or Apple TV. Besides, you need to authorize the device with the Apple ID you used to purchase or rent the movie.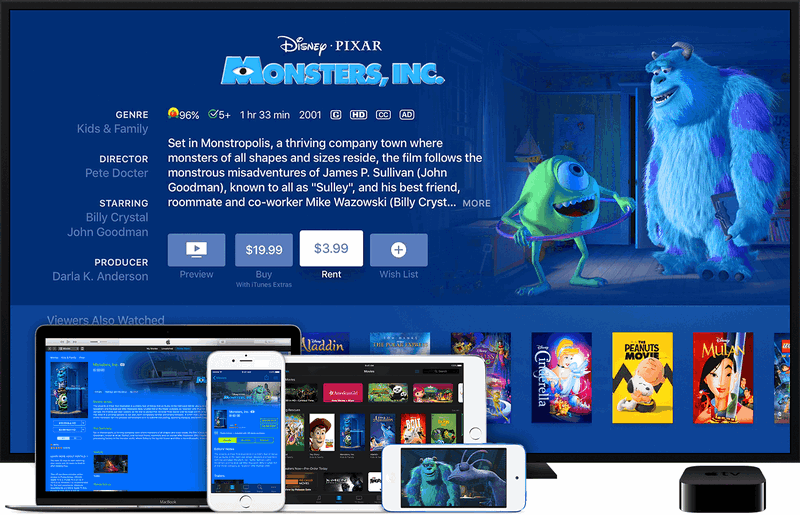 So,we only allow to watch iTunes rented or purchased movies on an authorized Apple devices, which not allowed watching on multiple devices at the same time.
A Mac or PC with iTunes. For macOS Catalina and above, playing with Apple TV app.
An iPhone, iPad, iPod touch (with iOS 3.1.3 or later) with Apple TV app.
An iPod classic or iPod nano (3rd, 4th, or 5th generation).
A Apple TV.
iTunes Rentals vs. Purchases: Offline and Limitation
The movies rented or purchased from iTunes are available to directly download for offline watching, once it starts playing, we must to finish playing within Apple's limited time[24 hours (US) or 48 hours (other countries)].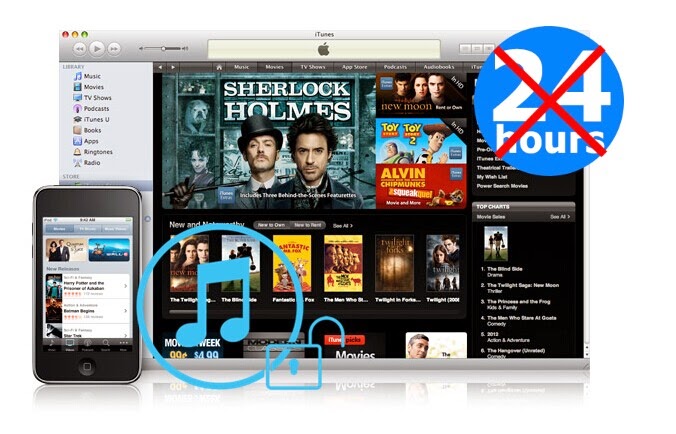 This is because all iTunes purchased or rented movies are protected by Apple's FairPlay DRM. In other words, we not allow to keep iTunes purchased or rented contents (movies, music, TV shows, music videos) forever, even if we have bought and download them. So, we are not allowed to transfer any iTunes rentals and purchases to other non-Apple devices for playback, such as Android devices, PS4, Xbox, Zune, etc.
If you want to play the iTunes purchased or rented movie on any devices, or keep iTunes rental movies forever, you need to remove DRM from the iTunes movies and convert m4v movies to mp4.
Tip: How to play iTunes movies on Samsung phone? | How to Extend iTunes Movie Rentals Beyond 24 Hours & Keep iTunes Rentals Forever?
UkeySoft M4V Converter can legally save your iTunes purchased or rented movies forever
Apple adds Fairplay on iTunes rental movies that prevents users to watch on other non-Apple devices, worse, those iTunes rentals and purchases movies only be able to watch it in the limited viewing period.The problem can be solved by removing DRM from iTunes rental movie and convert m4v movies to mp4 format that you can play the movie on any devices offline, what's more, you can keep the iTunes rental movies forever.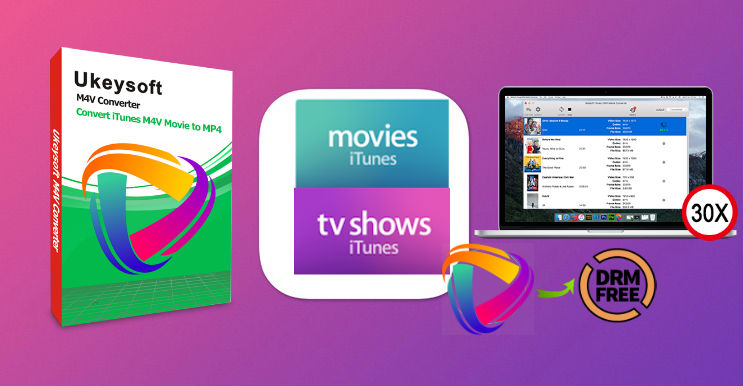 UkeySoft M4V Converter is a professional iTunes DRM Movies Converter software for Mac/Windows users to easily remove DRM from iTunes movies and convert them to DRM-free MP4 files with 100% original video quality. In addition,this iTunes M4V movies converter can removes iTunes movie DRM at 30X faster speed and keep 5.1 Audio, AD Track and Subtitles, so that you can lossless convert both iTunes purchased and rented movies to MP4 format. After removing DRM from iTunes movies, you can watch it on any devices.
Free download UkeySoft M4V Converter for Mac and Windows:
Tips: The Mac version supports Mac OS X 10. 8, 10.9, 10.10, 10.11 and the latest 10.12 Sierra, and the Windows version is compatible with Windows XP, 7, Vista, 8, and the latest Windows 10. The M4V Converter for Windows version only can convert the iTunes purchased contents, and the Mac version supports convert both iTunes purchased and rented contents. It works well with the iTunes 12.10.1.4 and older.
How to Remove DRM from iTunes Movies?
Please follow the below steps to remove DRM from iTunes rented/purchased movies and convert m4v movie to mp4, let's take using the Mac version as example.
Step 1. Download M4V Movies to iTunes Library
To remove or convert iTunes M4V movies, please purchasing or rent the iTunes M4V movies first, then download it to the iTunes library.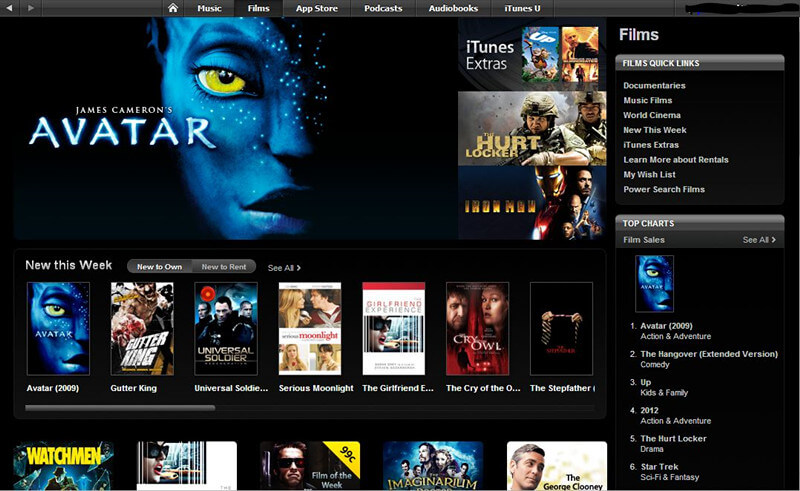 Step 2. Launch UkeySoft M4V Converter
Launch UkeySoft M4V Converter and iTunes will be launched automatically. There you go, it's main interface will shown up as follow: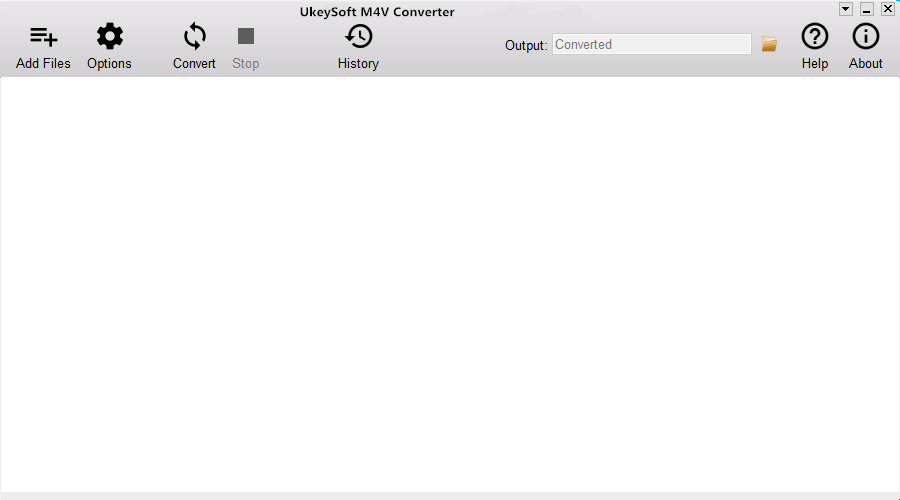 Step 3. Add iTunes Movies
Click on "Add Files", then you will see the whole iTunes Library. Here the M4V Converter allows you batches adding your iTunes for removing DRM or converting. Thus, you can add one or batches of iTunes M4V movies to the interface of converter. Please click the bottom button "Add" after adding the iTunes M4V movies.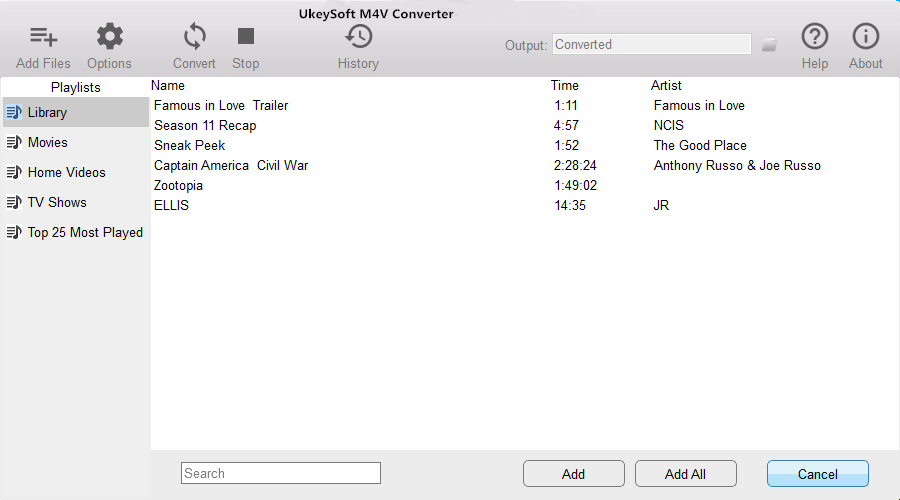 Select movies you want to import and click Add button. Click Add all button to import all DRM M4V movies, you can see all selected movies added into the software.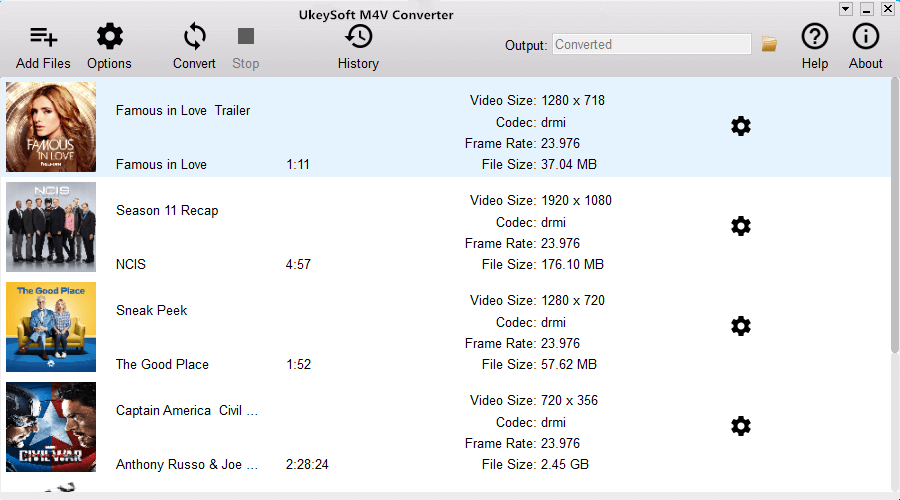 Step 4. Choose output audio tracks and subtitles(option)
The software will preserve all original subtitles and audio tracks by default. Click the Gear button to uncheck the ones you don't want.
Output M4P file will be saved to Documents - UkeySoft M4V Converter - Converted by default. You are free to select and preserve any one.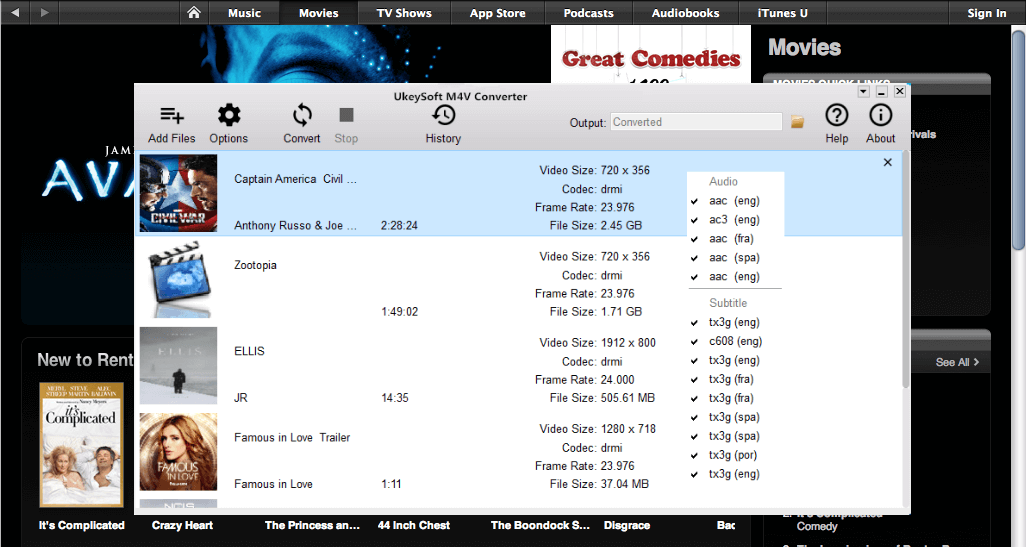 Step 5. Start to Remove DRM from iTunes Movies
After setting all the parameter of converted files, click on "Convert" button and star to remove DRM from the select iTunes m4v movies.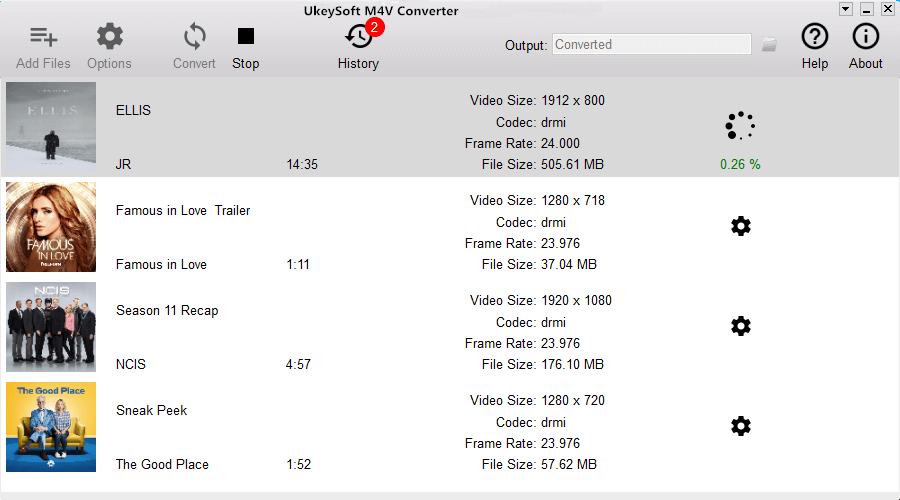 When the conversion finished, click the "History" button to quickly locate the DRM-free iTunes movies. Now, you have got the DRM-free iTunes MP4 movies, then you can enjoy it offline whenever you want on any device.