By Li ZhangUpdated on February 24, 2023
---
Summary
Wanna get Amazon Music for free? In this post we will show you some practical ways to listen to Amazon Music for free, even after the music subscription expired. You can even keep Amazon Music forever and enjoy them offline anywhere, anytime.
"Can I listen to Amazon Music for Free? I am a new customer of Amazon Prime Music, I got 30 days free trial. Are there any ways to listen to Amazon Music without paying after the free trial?"
Most people will cost much time on listening to music everyday, whether when you on the way to work, driving, before sleeping, sporting, music is a must-have thing in life. While there are so many music streaming platforms for selection, Amazon Music might be the best one worth for choosing. If you are Amazon Prime Music member, pay $7.99/month, provide with 30 days free trial, you are free to stream Amazon Prime Music on one authorized device, listen to more than 2 million songs, including top playlists and stations with ad-free. If you are Amazon Music Unlimited member, pay $9.99/month, also provide with 30 days free trial, you are allowed to stream more than 75 million songs. If you are interested in the music subscription plans of Amazon Music, you can keep reading the follow passages. Here we will show you common ways to get Amazon Music for free, and the best way to offline listen to Amazon Music for free.
CONTENTS
Is Amazon Music Free?
Amazon Music lets you browse and stream your favourite music, podcasts and playlists from Amazon Music web browser, mobile app and desktop player. Currently, Amazon Offers 3 tiers: Amazon Music Free, Amazon Prime Music (free for Prime members), and Amazon Music Unlimited ($8.99/month for Prime member, $10.99/month for non-Prime member). It can be said that the Amazon Music is a free streaming music platform, but also a paid platform.
Part 1. Can You Get Amazon Music for free?
The answer to this question is Yes! Here we will share some common ways to get Amazon Music for free, you can compare with them and pick up the one suitable for you.
1. Common Sign Up
Sign up for Amazon Prime Music or Amazon Music Unlimited, you will get 30 days free trial. It is an option for people who are new to Amazon Music member. Remember to cancel the trial before the 30-day trial is up if you decide not to pay for a membership. If you are a college student, you can sign up for a free Prime Student trial, which lasts six months.
2. Use Credit Card Rewards
If you have a cash-back credit card, you could use the accumulated cash back to pay for a Prime membership, it seems like you get the Amazon Prime Music member for free. If you sign up for the Amazon Prime Rewards Visa Signature card, you will earn 5% cash back on purchases at Amazon and Whole Foods Market, and 1% or 2% cash back everywhere else. If you spend $2,800 in a year at the 5% rate, you will earn $140 cash back, enough to cover the cost of a one-year membership.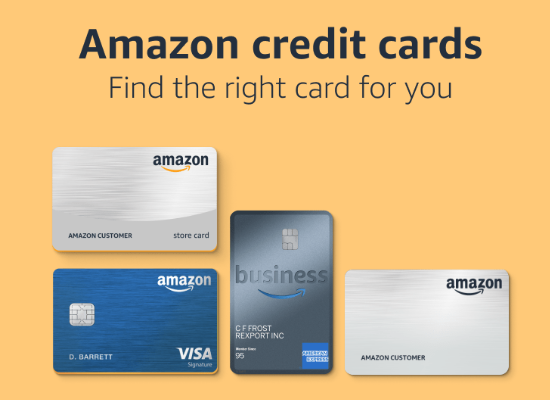 3. Share Account Using Amazon Household
If someone in your family is Amazon Prime member, you can ask him to share it with you via a music subscription plan called Amazon Household. Each of you keeps your own Amazon account, but the two accounts are linked, giving you access to select Amazon Prime Music member benefits.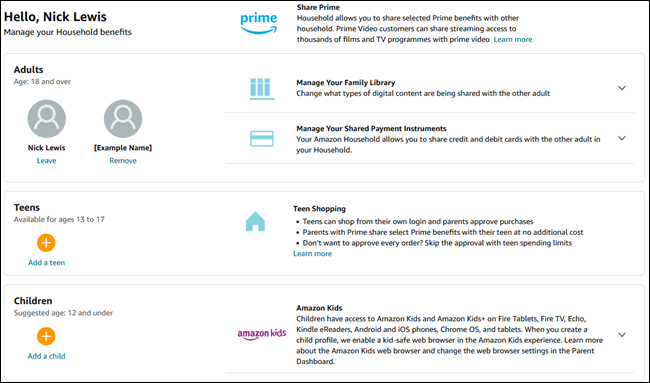 Part 2. Listen to Amazon Music for Free (Official)
Question: "How can I stream Amazon Music for free?"
Answer: You can sign up for an Amazon Music Free account. Also, you may stream free music with Amazon Prime.
Amazon Music Free vs Amazon Prime Music vs Amazon Music Unlimited
Amazon Music Free
Amazon Music Free allows you to listen to specific music tracks and playlists for free, but with ads and restrictions. To be precise, this free plan doesn't offer a download option or offline listening mode. You can only online stream Amazon Music free on some supported device with your cellular data or WiFi connection.
Amazon Prime Music
With an Amazon Prime membership account ($14.99 per month), you can listen to over 2 millions ad-free on Amazon Prime Music for free. Meanwhile, you are allowed to download your favourite tracks and albums from Prime Music, and listen to them offline on your mobile devices.
Amazon Music Unlimited
Compare to other two tiers, Amazon Music Unlimited subscription fee is more expensive. Certainly, it offers a huge library, unlimited playback, HD & UHD audio quality and more features. If you are a new user, you can even get Amazon Music Unlimited 30-day free trial!
It's known to us all that Amazon Music is a music streaming service platform. Though Amazon Music offer 30 days free trial for member, it is limit for streaming music, you should keep to pay for member subscription after the free trial if you want to continue enjoying Amazon Music. Unfortunately, even Amazon member can't directly download music from Amazon to computer. It can only access and download Amazon Music on authorized mobile devices. More importantly, the downloaded music contents will be disappear after music subscription expired. In a word, you never own the music files truly, and you are not listening to the music for free always.
Part 3. Best Way to Listen Amazon Music Offline for Free
Whether you are a Free or Paid users from Amazon Music, you cannot skip its restrictions. For example, you will lose your downloaded tracks once you cancel your subscription from Amazon Music. Moreover, you are not allowed to copy and transfer any Amazon songs to other devices like MP3 player, USB disk, etc. What should you do, if you want to offline listen to Amazon Music for free and make the music be playable on any devices without limits? To solve thess problems, you need use use a tool to keep Amazon Music forever. Here this reliable Amazon Music converter tool will fit your needs. In fact, you can get the help of music converter tool to download Amazon Music to local computer and convert them as local files before the music subscription ends.
What Makes it to be a Good Music Converter Tool?
1. Easy to use, clean user interface.
2. It will not convert music with any background noise.
3. It can keep high audio quality.
4. Efficiently, it will not cost you lots time.
After texting, we find a perfect tool for recommendation, which is named UkeySoft Amazon Music Converter.
To offline play amazon music for free without subscription, UkeySoft Amazon Music Converter is the tool that meets all the request listed above, it can help to get unrestricted music from Amazon Prime Music and Amazon Music Unlimited. It is developed for downloading Amazon Music to computer directly, convert Amazon Music to several used widely audio formats, like M4A, MP3, AAC, FLAC, WAV, AIFF. With the help of UkeySoft program, you can offline playback Amazon Music with original high audio quality, provide with you the best solution to offline listen to Amazon Music for free no matter you are the Amazon Music member or free user. What's more, the output music files will be saved with ID3 tags and all parameters kept. In this way, you can play Amazon songs/playlists/albums/podcasts on any devices at anytime, get rid of Amazon Music subscription limits.
What Can UkeySoft Amazon Music Converter Do For You
Download Songs from Amazon Music Unlimited & Prime Music
Download songs, playlists, albums, podcasts from Amazon
Convert music to M4A/MP3/AAC/FLAC/WAV/AIFF
Listen to Amazon Music for free without subscription
Keep high audio quality and ID3 tags after conversion
No need to install the Amazon Music app
10X faster download/conversion speed
Before downloading and converting Amazon Music, please download, install and run UkeySoft Amazon Music Converter on your computer first.
Step 1. Login to Your Amazon Music Account
In the main interface, click the "Log In" to log in your Amazon account. Then UkeySoft will sync all your data from the music account, it will not reveal any information from your Amazon account.
Step 2. Set Output Parameters
Click on the Gear icon on the top right corner to configure the parameters of output music files. Set the output format for downloading music, six audio formats are available, including M4A(AUTO), MP3, AAC, FLAC, WAV, and AIFF. (Generally we suggest you click MP3 option, since it is the most used widely audio format compatible with most music players.)
Step 3. Add Amazon Music to Download List
Select Amazon Music contents you want to download, including songs/playlists/albums/podcasts. Open an album/playlist and tap the red Add button suspended on the right side, you would see all music contents in the list.
Step 4. Download and Convert Amazon Music
In final step, click the "Convert" button to begin downloading and converting Amazon Music to MP3. The music conversion will be done with 10X faster speed after minutes.
Step 5. Check Output Music Files
When the conversion finishes, you can check and preview all the output Amazon Music contents in the history list, all the output music files will be saved in the selected folder on computer.
To Sum Up
Here are some methods you can follow to get Amazon Music free and listen to Amazon Music for free on your devices. You can use a 30 days free trial account to stream Amazon Prime Music and Amazon Music Unlimited, or you can get the help with UkeySoft Amazon Music Converter to download/convert Amazon Music then you are allowed to offline playback Amazon Music for free anywhere at anytime, even when your music subscription ends. In addition, this program output music with original high audio quality with batch music download function, which is such an effectively and efficiently tool you should have a try!
Get Amazon Music for Free
Comments
Prompt: you need to log in before you can comment.
No account yet. Please click here to register.