How to Keep Apple Music Songs Forever Free
By Justin SabrinaUpdated on December 17, 2022
---
Apple Music is a revolutionary streaming music service, including streaming music downloads, streaming music stations and streaming music services. Subscribers can choose to send songs intelligently, listen to global radio stations 24 hours a day, and the app can intelligently recommend music based on the scene in which the user is located. This platform also allows artists to upload music, photos and information to enhance communication with fans. Apple Music currently supports iPhone, iPad, iPod Touch, Mac, PC, Apple TV and Android phones. Apple said "more that 100 countries" will have access to its music-streaming/social/radio platform when it launches June 30.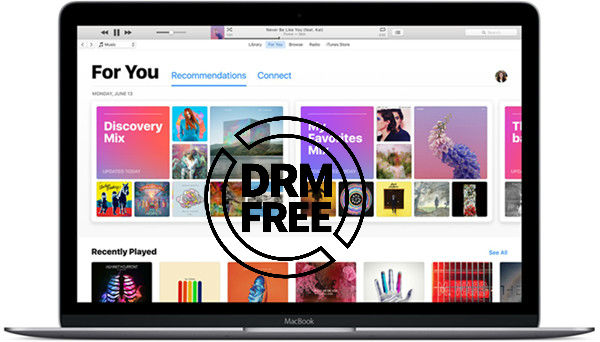 With Apple Music, users can listen to previously purchased songs and about 30 million tracks in the Apple Music Library. According to Beats Music's convention, Apple Music has a "For You" section, and the song list editor can provide personalized albums, new songs, and playlists in the section according to the user's preferences and listening habits. . The service also integrates the Siri voice assistant, which can be used to listen to the songs ranked first last year in just a few seconds.
Apple Music Price
Apple Music is offering new subscribers a 3-month trial for Apple Music on iPhone, iPad, iPod Touch, Mac (in iTunes), PC (in iTunes), Apple TV and Android devices for free. This normally costs $9.99 per month for individual, after which the $ 9.99 / month membership fee will apply. This will also be a family plan, in which only six family members will be available for $ 14.99 / month. If you're a student at a degree-granting university or college, you can join Apple Music for 50% off your subscription for up to 48 months (4 years), in other words, students can subscribe at the discounted rate of $ 4.99 / month. The time does not need to be continuous.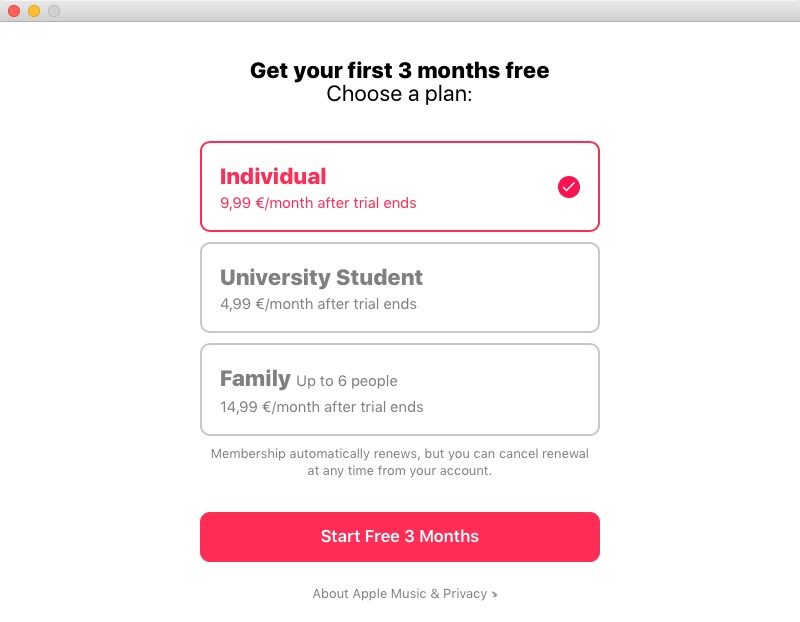 What happens after Canceling Apple Music Subscription?
After subscribe from Apple Music streaming music service, you can download and enjoy Apple Music on an authorized device (iOS, Android, PC, Mac and Apple TV) online. But, after ending of the 3-Month's trial period, or unsubscribing from Apple Music, you are not allow to play any Apple Music tracks that you've added or downloaded to your library from the Apple Music catalog. Besides, you cannot get access to the added Contents in your iTunes library or Apple Music app, and you will be skip-limited when listening to Apple Music radio stations online.
Apple Music Not Playable after Unsubscribing
What happens if you decide not to subscribe Apple Music after the free trial? Why I can't play Apple Music songs if I unsubscribe from Apple Music? Why we can't play Apple Music after trial ends? Actually, Apple Music is a streaming music service, like Spotify, Pandora, GooglePlay Music, Amazon Music Unlimited, Youtube Music Premium, Pandora Music, etc. Unlike Spotify and Pandora, Apple Music does not have a free version, and Apple Music only offers a three-month free trial.
How the Apple Company Protect the Songs on iTunes Store
The Apple FairPlay DRM M4P file format was developed by Apple from the protected AAC format. M4P is used to store music, audio, audiobooks in the iTunes Store. Note that M4P files from the iTunes Store may be copy protected. Apple company added FairPlay DRM to protect their iTunes digital contents (music, video, movies, TV shows, audiobooks & iBooks). So, when you add Apple Music songs to iTunes library, you will find the added Apple Music songs is protected AAC audio file, the downloaded Apple Music songs is M4P format.
How to Keep Apple Music Forever after the free trial?
So, the consumers must to legally purchase movies/music from iTunes store, and just allowed play these files on an authorized device, in additional, many mobile devices don't fully support the M4P and protected-AAC files. However, many Apple Music users ask how to keep Apple music after free trial? How to save songs downloaded on Apple Music forever? Is it possible to keep my downloaded music from Apple Music after my trial runs out? How to keep Apple Music playable on iOS/Android/PC/Mac/Apple TV after cancelling subscription? How to remove DRM from Apple Music and transfer to MP3 player, iPod Nano and other mobile phone? To keep Apple Music tracks forever or playing Apple Music songs on any devices offline, just remove the DRM from Apple music files and convert them to DRM-free MP3, M4A, etc.
Remove Apple Music Track's DRM to Help you Keep Apple Music Songs Forever after Free Trial
If you want to get the DRM free version of Apple Music songs, you can use a third-party Apple Music DRM Removal or Apple Music to MP3 Converter to remove the DRM from Apple music files and convert the M4P files to MP3. This is the best way to make Apple Music songs playable on any devices after 3-Month Free Trial without Paying(save money).
With UkeySoft Apple Music Converter, you can easily remove DRM from Apple Music songs and output DRM-free MP3, M4A, AAC, AC3, AIFF, AU, FLAC, M4R, and MKA with 100% original quality. Plus, the program can also convert iTunes M4P songs, iTunes M4P/M4B Audiobooks, and Audible AA/AAX Audiobooks to to MP3, M4A, etc., i.e., convert M4P Apple Music files to other DRM-free audio formats. After unlocking the DRM protection from Apple Music, you can keep Apple Music forever before the end of the 3-month trial period.
Apple Music Converter, Apple Music DRM Removal, iTunes Music Converter, M4P MP3 Converter, Audiobook Converter
Remove DRM Protection from Apple Music and output MP3, M4A, etc.
Convert iTunes M4P songs, Apple Music, and Audiobook to MP3, M4A, etc.
Protect ID tags and metadata information for output MP3 and M4A.
Quickly convert Apple Music songs at up to 16X speed.
Play Apple Music on any mobile devices offline, such as MP3 player, PSP, iPod, iPhone, Android, etc.
Burn Apple Music songs to CD, make ringtone for any mobile phone, add Apple Music songs to video as background music, etc.
Play Apple Music on multiple devices at the same time without using a family plan.
Interfaces like iTunes automatically load your entire iTunes library.
Follow the steps below to download and convert Apple Music tracks and playlists to MP3 or M4A files, you can get the Apple Music songs as local audio files for keeping them forever. It's easy and fast.