By Justin SabrinaUpdated on September 02, 2021
---
Summary
Stolen data can easily be converted into the cash, enticing many thieves to steal your information. The Ukeysoft File Lock is dedicated to protecting valuable data and avoiding hacking, making your files/folders safer and can not be destroyed.
"Once time, my precious files/folders was be hacked, and cased in a files/folders damaged.I was be annoyed in this case that my prepare for meeting of working files/folders were useless files.Avoid next accident for my files/folders if have a good method protecting my files/folder be safely, please tell me."
Hacking a computer network and stealing user data is nothing new. From the advent of computer networks, it may happen almost every day.However, as the number of Internet users continues to increase and more and more sensitive data is stored on computers, data security issues are becoming more important. These databases are usually extremely secure.For hackers, user names, email addresses, and credit card information are quite valuable. In order to obtain this information, they can do whatever they can.
You can search and know more examples of hacking event from internet, and you should learn to protect your private files/folders that how is a important things for keeping your files/folders safe. If you want to avoid hacking you have locked, hidden, protected files/folders which make files/folders unchangeable, deleted, renamed and accessed. It's a good solution to protect your data files/folders with a high level of security by using the UkeySoft File Lock military grade files encryption tool.
Protect Against Hacking by Locking Files/Folders with UkeySoft File Lock
Ukeysoft File Lock is a military-grade file encryption tool for password locking and hiding files, folders and drives; encrypting your important files to protect them. As a professional data security tool, it uses the latest 128-bit symmetric key - for AES (Advanced Encryption Standard), which prevents violent attacks on computers. And its security keys never compromise, and does not affect computers performance, security and speed, protecting the confidentiality and integrity of your private data with powerful 256-bit algorithms.You can understand the simple principle of protecting your data by this program:
Reliable virus protection
Although UkeySoft File Lock itself is not anti-virus, it can effectively protect sensitive information from viruses and Trojan horses. Any locks on files, folders, and disk volumes will prevent any program (including Trojans and viruses) from reading, writing, corrupting, or deleting protected data.
Prevent unauthorized access
UkeySoft File Lock has a dual purpose: it hides and protects specified files, folders or entire disk volumes from unauthorized access. Without knowing your master password, no one can view, read or write to a locked folder or modify a protected file.
Now you can try locking your files/folders and experience how the program protects data and avoids hacking.
Guide: How to Encrypt a Password on Your Files/Folders
Step 1. Install and Launch UkeySoft File Lock Program
You need to download the UkeySoft File Lock program and install it on your computer. Launch it and enter the initial password "123456" to start.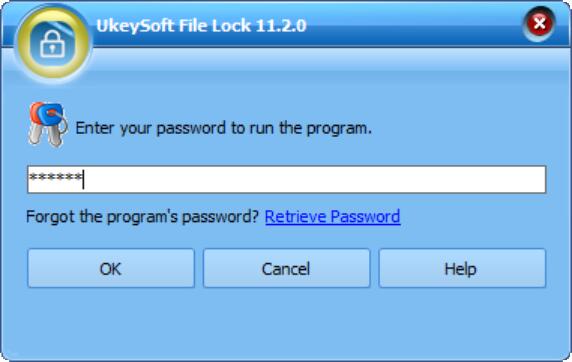 Step 2. Select Locking File Feature
You'll see different features under the Local Disk column, such as Hidden Files, Locked Files, Protected Files, and Folder Monitor. In this case, select "Lock File" and continue.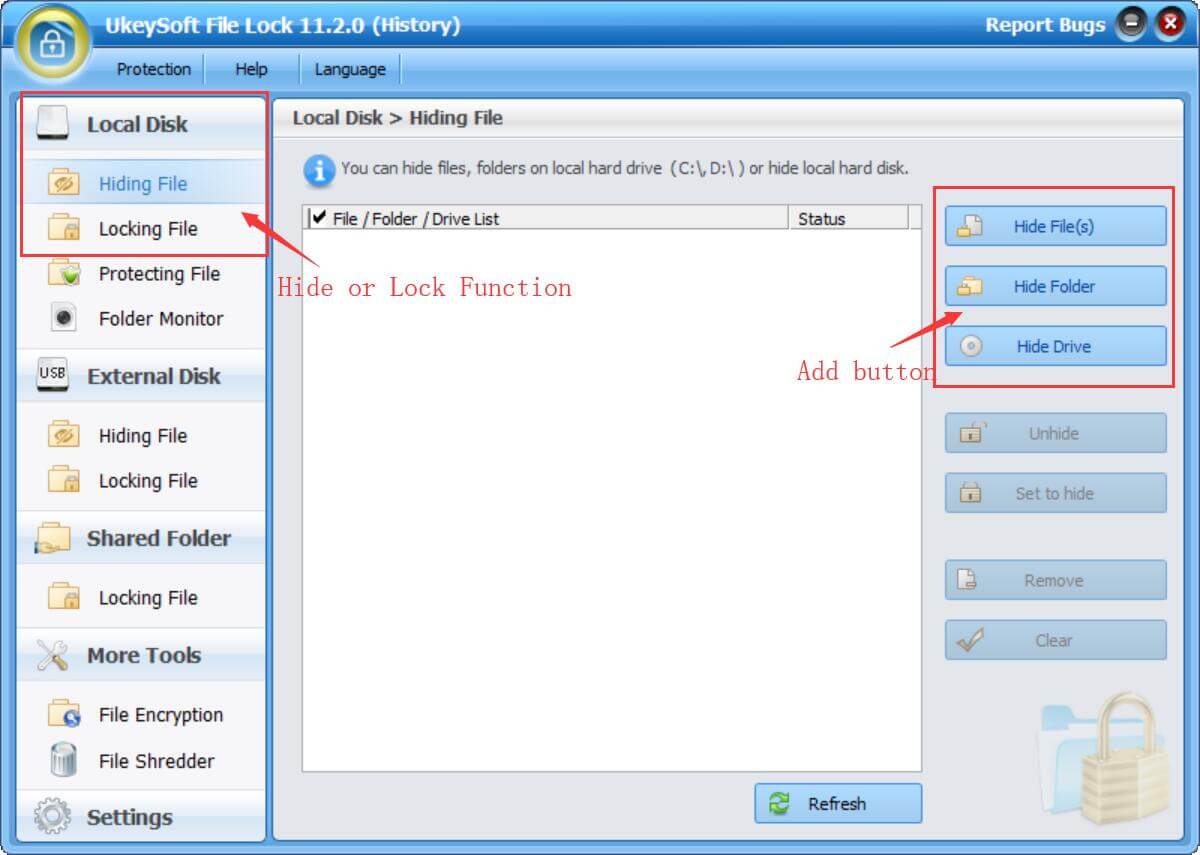 Step 3. Add Files or Folders to Encrypt
"Locking file", you can use it to lock a single file or all files. Select the "Lock file" or "Lock folder" function according to your needs. A small window will pop up allowing you to select a single file or folder to encrypt and click "OK". After refreshing, you will see a "locked" status indicating that your file/folder has successfully locked with password.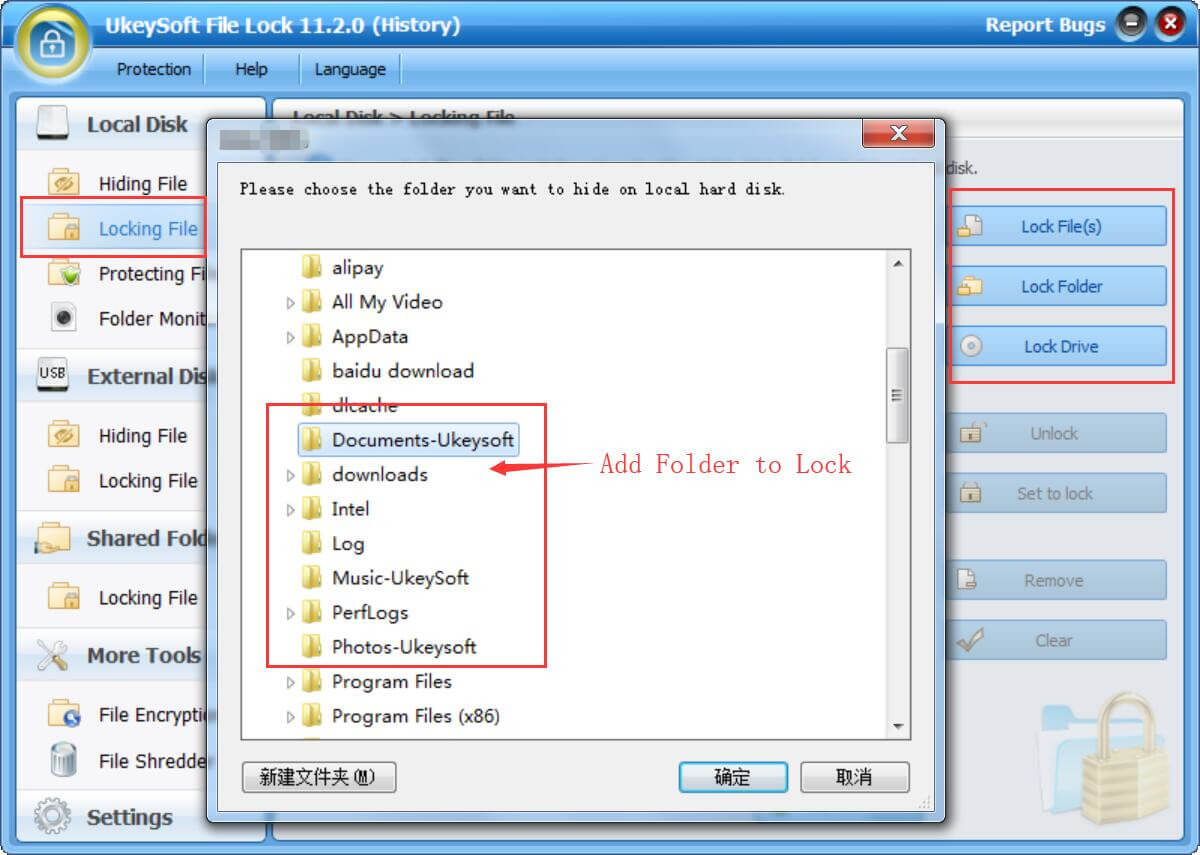 Step 4.Unlock Files/Folders
One day, if you don't want to protect your files and folders as usual. Click "Unlock" in the "Locking File" window to unlock file/folder encryption. Since then, these files are no longer password protected.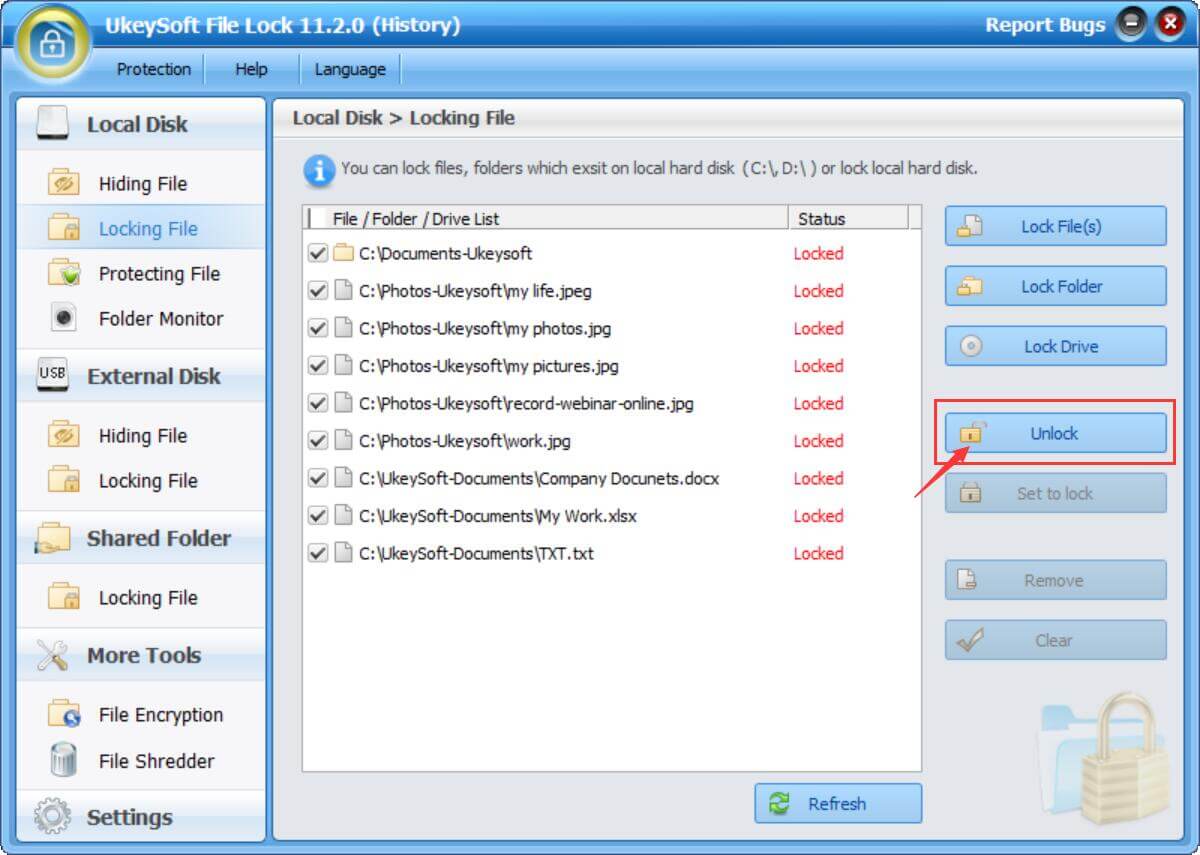 Protect Files & Folders from Hackers
Comments
Prompt: you need to log in before you can comment.
No account yet. Please click here to register.