By Justin SabrinaUpdated on September 01, 2021
---
Summary
Do you want to download Audible books to MP3? This article will show you detail guide on how to download .aa or .aax books from audible.com, and teach you two ways to convert Audible AA/AAX audiobooks to MP3 for free, and fast,so that you can enjoy audiobooks on any device, such as MP3 player, iPod Nano/Classic/Shuffle, iPhone, Android and any mobile phones.
Q: "Is there a solution on how to download Audible books to MP3? I want to transfer Audible audiobooks to my MP3 player for offline listening. But downloaded books from Audible.com are .aax files, the iPod Nano and Sony Walkman MP3 player couldn't recognize AAX files. How to download Audible books to MP3 free or convert Audible AAX/AA files to MP3?"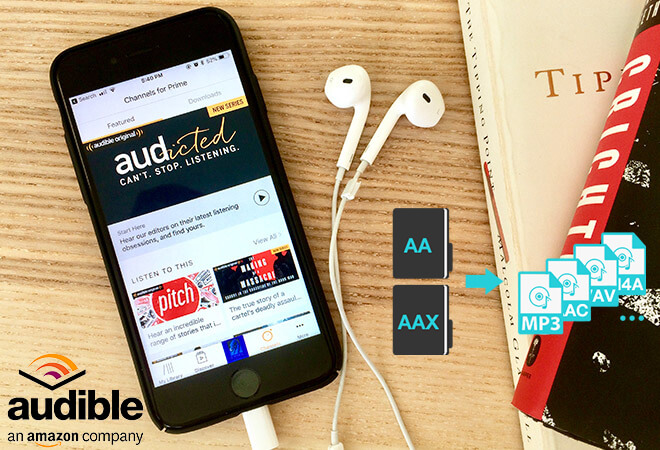 CONTENTS
Audible is one of the most popular online audiobook providers, there are 3 different kinds of Audiobook audio formats on Audible store, including AA, AAX and AAX+. It is the same as Apple Music, Spotify Music, Amazon Music Unlimited and other streaming music, all Audible audiobooks comes with DRM(Digital Right Management) protection, so the Amazon inc not allow users play Audible audiobooks on other unauthorized players.
However, only the selected mobile devices and player E.g iTunes with authorized Audible account can play the AA/ AAX/ AAX+ audiobooks. If you want to listen to your Audible audiobooks on any mobile phone, MP3 player, iPod Nano or in your car, you need to convert AA/ AAX/ AAX+ audiobooks to MP3.
This article will teach you how to download .aax or .aa audibook from Audible store, and how to convert Audible AAX/AA audiobook to MP3. So, you need to download Audible AA/AAX Audiobooks to computer firstly.
Part 1: Purchase and Download AAX/AA audiobooks from Audible Store
Step 1. Open to Audible.com and buy a audiobook that you want.

Purchase an audiobook from Audible Store

Step 2. Once purchased, please go to your "Library" on Audibe.com and clicking on the "Download" button to download your purchased audiobooks, save it onto the computer.

Now, I have downloaded and saved a AAX audiobooks on my computer.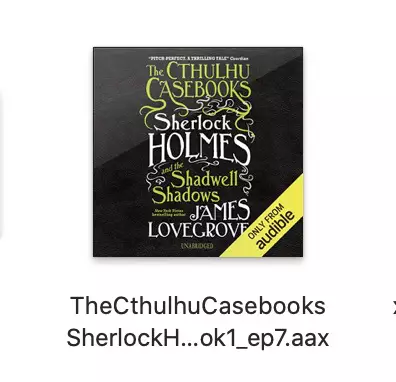 Well done! You have downloaded Audible books and save as .aa/.aax files. Actually, Audible has encoded specific AA/AAX in audiobooks for avoiding unauthorized playback. Thus, converting Audible to MP3 is the best and most convenient way to listen to audiobook anytime anywhere and any devices. In next part, we will share the two ways to convert Audible to MP3 effortlessly. The first method is the fastest and most effective one, which does not Audible authorization or iTunes assistance needed. Just add the Audible AA/AAX files to the converter, and then click Convert button start to convert Audible books to MP3 format immediately.
Method 1. Convert Audible to MP3 with Best Audible to MP3 Converter
The best way to convert Audible books to MP3 is to use a professional Audible converter. Here, we high recommend UkeySoft Audible Converter, which not only can remove Audible DRM, but also can convert Audible AA/AAX files to MP3, M4A, M4B, FLAC, AC3, AAC, OGG, AIFF and WAV. Whats more, all chapter information of your audiobooks will save onto the output M4A files, all metadata of the audiobook will also be kept after converting, including title, artist, album, year, copyright, comments. In additional, if you use this program to convert Audible to lossless M4A, it will preserve the 100% quality of the original audiobook, also it can reach 700x faster conversion speed.
Therefore, UkeySoft Audible Audiobook to MP3 Converter is the best choice for you to convert your favorite Audible Audiobooks to various DRM-free audio files.
Features of UkeySoft Audible Converter:
Losslessly convert Audible to MP3, M4A, FLAC, WAV, M4A, M4B, etc.
Work at 700X faster speed to remove Audible DRM;
Split large audiobooks into several small segments by chapters, parts or time;
Listen to Audible audiobooks on any device and player freely;
No iTunes and Audible app required; No Audible account authorization needed;/li>
Compatible with the latest Windows 10 and macOS 11 Big Sur.
How to Download Audible Books to MP3
Step 1. Download, Install and Launch Audible Converter
UkeySoft Audible to MP3 Converter is available for Mac and Windows operating systems. Here, I will take the Mac version as an example to show you how to convert Audible AA/AAX to MP3 step by step. Before following the tutorial, please download the free trial version of this tool on your computer, the trial version allows you convert the first 3-minutes of each Audible files.
Step 2. Add Audible AA/AAX Files
After launching the software, please drag&drop aax or aa audiobooks to Audible Converter interface.
Step 3. Select MP3 Output Format
The default output format is lossless M4A, UkeySoft Audible Converter supports 8 output formats: MP3, M4A, M4B, AC3, AIFF, AU, FLAC and OGG. If you want to convert Audible to MP3, please choose MP3 as format.
In additional, you can also select audio quality from low, normal, high or set bitrate, sample rate according to your needs.
Step 4. Start Convert Audible to MP3
After selecting the output format and audio quality, just click "Convert" to start converting aax/aa audiobooks to MP3 format.
Step 5. View the Converted Audible books
When the converting process is completed, click "History" and click the blue folder icon to open the output folder.
You will get the DRM free Audible books, all converted audiobooks saved as local files in MP3 format. Now, you can transfer Audible audiobooks to any MP3 player for offline listening when you're outside.
Method 2: Convert Audible Books to MP3 with Audible Authorization
As we all know that we can add Audible AA/AAX audiobooks to iTunes and play them with Audible account authorization. On the other hand, UkeySoft Apple Music Converter can convert music, audiobooks and almost any sound in iTunes. After adding the downloaded .aa or .aax audiobooks to the iTunes library and authorize with your audible account, the Apple Music Converter can help you convert Audible books to MP3/M4A/FLAC easily. Let's learn the second method about Audible AA/AAX to MP3 conversion.
Tools You Need:
A PC or Mac with iTunes - Used to play Audible purchased audiobooks.
UkeySoft Audiobook Converter - Used to read audiobooks from iTunes library and convert Audible AAX audiobooks.
Audible AAX audiobook - You need to import Audible audiobooks into iTunes library and make sure the audiobooks are playable with iTunes.
Part 1: Add AAX/AA Audiobooks to iTunes and Authorize with Audible Account
Step 1. Right click the downloaded AAX files and open with iTunes. Like iTunes for Windows. If it's the first time that you play it with iTunes, the iTunes will pop up a new windows and ask you to authorize that program by entering your account information, like the following screenshot:

You also can open Audible library and click "Activate in iTunes" to complete the authorization.

Step 2. Once authorized, you can easy to play the new Audible AAX audiobooks with iTunes.

Now, the downloaded AAX audiobooks be imported into iTunes, please following the following simple guide to convert AAX audiobooks to MP3, you also can follow the same steps to convert iTunes M4A/ M4B audiobooks to MP3.
Part 2: Convert AAX/AA Audiobook to MP3 with Audibook Converter
UkeySoft Audiobook Converter is a powerful Audile AAX Converter and iTunes Audiobook Converter. As a professional audiobook converter and audiobook DRM removal, it can help you remove DRM from Audible audiobooks and converting AAX/AA/AAX+ audiobooks to MP3, M4A, WAV, AAC, etc. After the AAX to MP3, AA to MP3 or M4B audiobook to MP3 conversion, you can save the output MP3 audiobook to your computer or transfer the MP3 audiobook to any devices for playing offline. Most importantly, it can keep all the original chapters for you (only available for M4A file) after Audiobook to M4A conversion.
More Features:
Convert M4B/AAX/AA Audiobooks to MP3, M4A, etc.
Remove DRM from Audile audiobooks and iTunes audiobooks.
Convert Apple Music and iTunes M4 songs to MP3, M4A, etc.
Remove DRM from Apple Music tracks.
Multiple Output Formats Supported: MP3, M4A, FLAC, AAC, AC3, AU, AIFF and WAV.
Fully keep audiobook chapter info after converting to M4A files.
Convert Apple Music and Audiobooks at up to 16X speed.
Enjoy your Audiobooks on any devices and players without limits.
Tutorial: Convert Audible AAX Audiobook to MP3 with 16X Speed
Step 1. Import Audible AAX Audiobook to iTunes Library
Above part 2, you have authorized iTunes and open downloaded Audible AAX audiobooks, it means the AAX files added to iTunes library. If you never open Audible files with iTunes, you need to authorized the iTunes program, then follow the steps below to add your AAX audiobooks to iTunes library.
* iTunes for Windows: Open iTunes and go to "Book" > "Audiobook" section. Then click the "File" > "Add File to Library" to add AAX files to iTunes.
* iTunes for Mac(Mac OS X 10.6 - Mac OS X 10.14): Open iTunes and go to "Book" > "Audiobook" section. Then Click "File" > "Add to library" to add AAX files to iTunes.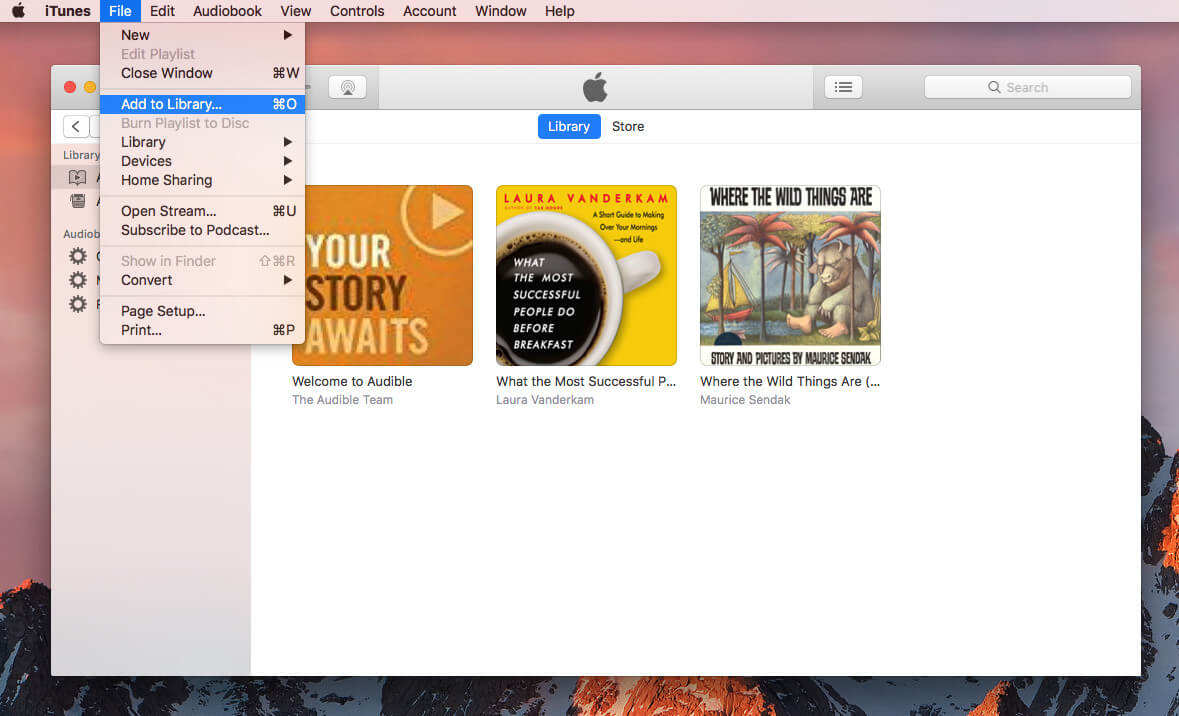 For example, right click the audiobook files and open with iTunes, it will prompts you to authorize that system with your account credentials:

After adding AAX audiobooks to iTunes library, then exit the iTunes program.
Tips: For macOS 10.15 Catalina and above, since iTunes has been split into Apple Music app, Apple TV and Apple Podcasts. If you want to convert Audible books on macOS 10.15 Catalina and above, you can use a professional Audible Converter for Mac.
Step 2. Launch UkeySoft Audiobook Converter and Loads Audiobooks
Launch UkeySoft Audiobook Converter(Apple Music Converter). And iTunes launch automatically and load all your iTunes media together with playlists, you will find all your iTunes media are shown on the "Playlist" section.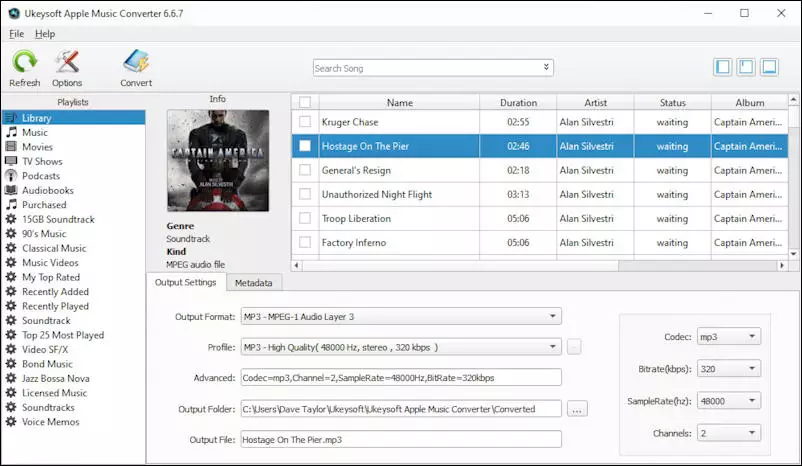 Step 3. Select Audiobooks to Convert
If you want to convert AAX audiobook to MP3, please click the "Audiobooks" playlist and tick the AAX audiobooks you want to convert. Or take advantage of the "Search Box" to locate the AAX audiobooks quickly.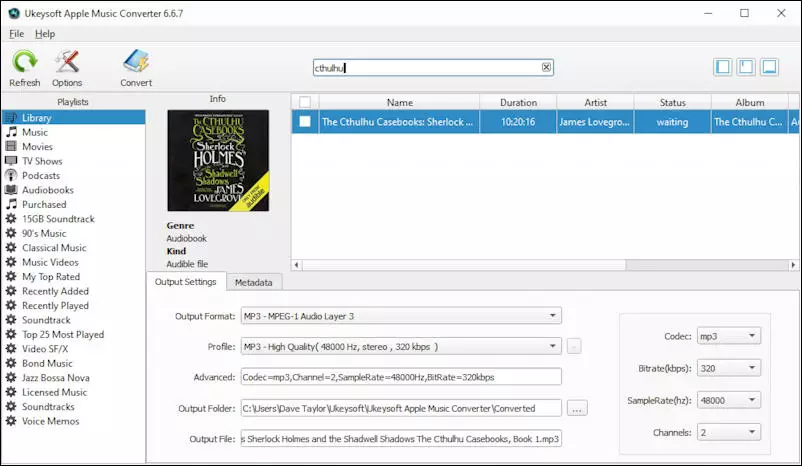 Step 4. Choose MP3 as the Output Format
MP3 is the default output format, if you want to change other output format, please go to "Output Settings" > "Output Format" to select the M4A, AC3, AIFF, AU, FLAC, M4R, WAV or MKA as output format from the drop-down list. And you can also adjust other profile setting to custom the audio file as you like. Then set the destination folder by clicking the "…" icon beside to the "Output Folder".

Note: If you would like to keep the original chapter info of your AAX audiobook, you'd better select M4A as the output format instead of MP3.
For each output format, the Audiobook to MP3 converter provides different profile settings: High, Normal and Low with different Bitrate, SampleRate and channels. You can also customize the value as you like.

Step 5. Change the Conversion Speed(1X to 16X)
If you need to adjust the conversion speed, click "Options" to open the "Preferences" window. You can drag the button to change the conversion speed. UkeySoft Apple Music Converter allows you to easily AAX Audiobooks to MP3 at 16X speed on Windows.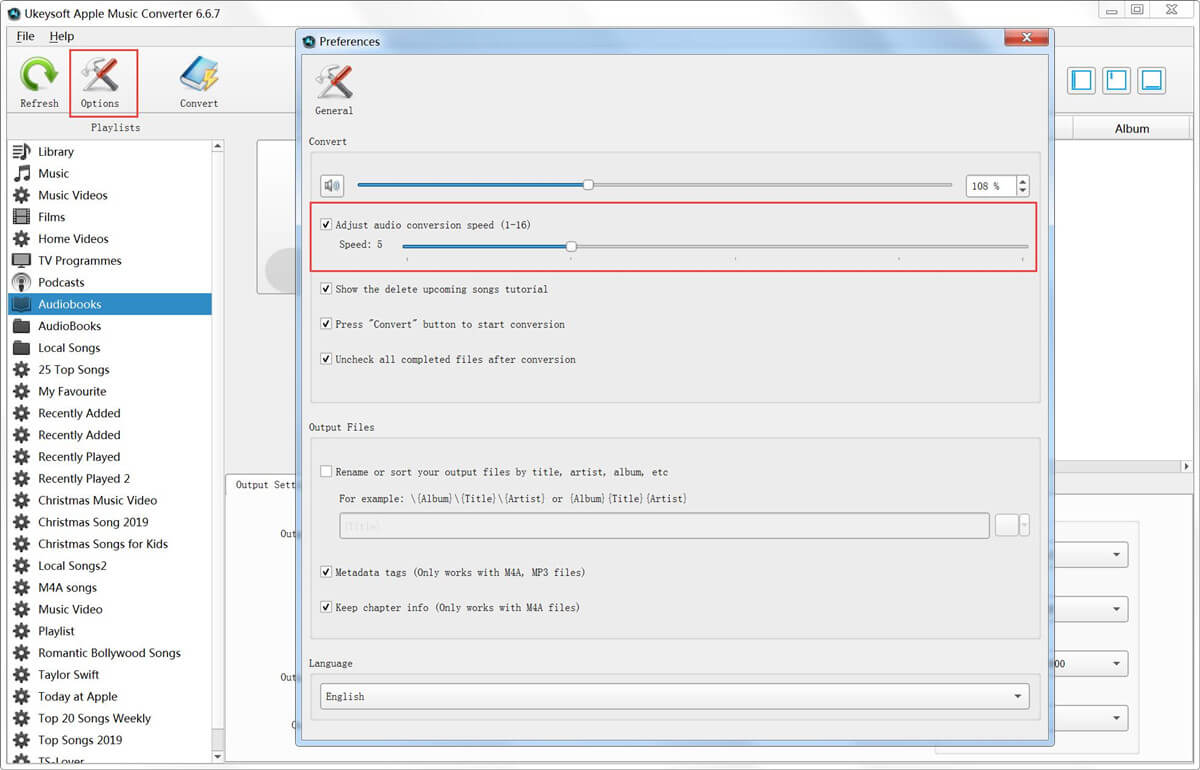 Step 4. Start Converting AAX Audiobook to MP3
Just click the "Convert" button to start converting Audible AAX audiobook to MP3 format. During converting, iTunes plays the AAX audiobook in the background (muted), so you'd better not using iTunes before conversion is finished..

Once the conversion finished, you will get DRM-free audiobooks, now you can play the converted audiobooks with any media player on computer, or transfer them to any MP3 player, or burn Auidble audiobooks to CD, or import Auidble audiobooks to CD to USB flash drive, etc. for listening.
UkeySoft Apple Music Converter is an all-in one Apple Music Converter, Audiobook Converter, DRM audio removal and iTunes music converter, it also allows you convert Apple Music and iTunes M4P music to WAV, MP3, M4A, MKV, AU, AIFF, AAC and so on.
Now free download this powerful program from below and start to convert Apple Music, Audible AAX, AAX+, AA and iTunes M4B audiobook to MP3, M4A, FLAC, AAC, AC3, AU, AIFF and more with no quality loss.
Download Audible Audiobook to MP3
Comments
Prompt: you need to log in before you can comment.
No account yet. Please click here to register.