By Justin SabrinaUpdated on December 16, 2022
---
Summary
Need a DVD ISO converter? This page shows you how to convert ISO image to MP4/AVI/MOV/WMV/FLV for your Android, iPhone, Windows Phone, Blackberry, YouTube, Facebook, Vimeo, Sony devices, tablets, laptops, etc.
ISO files is an archive file of an optical disc and has an extension of .iso that be playback on supported devices. Unfortunately, to play DVDs only could be done on DVD-ROM drives. If you want play ISO files on popular mobile devices like iPod, iPhone, iPad, PS4, Xbox One, and Android mobile phones, such as Samsung, Huawei, LG, Sony, Nokia, Blackberry, Google Pixel, ect. that is impossible, cause of they have not built in DVD codecs, so we must to convert and rip ISO files to general video format like MP4, AVI, MOV, WMV, FLV, etc.
What is Difference Between MP4/AVI/MOV/WMV/FLV ?
•QuickTime (.MOV): The first largely successful multimedia format, created by Apple but supported within Windows as well. Released in 1991. Just for a frame of reference, here is something else that was released in 1991. QuickTime is still very popular despite the program being non-native to Windows.
•Audio Video Interleave (.AVI): Microsoft's first official response to QuickTime, released one year later with Windows 3.1. Microsoft eventually replaced AVI with WMV for multiple reasons, perhaps the biggest being the internet pirate community's affinity for the AVI container.
•Windows Media (.WMV, .WMA, .ASF, .ASX): Microsoft's second container. Windows Media is extremely common due to Microsoft's market share, and the fact that it comes pre-loaded on all Windows machines.
•MPEG-4 (.MP4): The whole MPEG series was created by the ISO (The International Organization for Standardization) in an attempt to create an industry standard video format and to somewhat unify the various types. A noble effort, indeed. MP4 is in fact a fusion of QuickTime and the older MPEG standards. Apple has separated QuickTime from the .MOV format and made .MP4 the default format for the more recent QuickTime releases.
•Flash Video (.FLV, .SWF): Created by Macromedia (and subsequently bought by Adobe), this container format is used by the Adobe Flash plug-in. You've probably seen the update prompts for this on your laptop more times than you can remember, as it's still the most common format. This format gained massive popularity but is at the center of some controversy – Flash Video is banned from iOS devices like iPads and iPhones. This conscious decision by Apple was made famous when Steve Jobs declared Flash as 'buggy' among other things in a 2010 townhall.  Many websites are now moving towards HTML5 Video, which does not require a plug-in.
Above is the video format for playback on some popular devices and media players. If you want to play ISO files on mobile devices such as iPhone, iPad, iPod, Android, Microsoft device, Sony devices, Blackberry, PDA, ZEN, MP4 players, or copy DVD ISO to USB Drive for backup or playback on target device via USB. You need to convert DVD IOS files to general video format like MP4, AVI, MOV, WMV, FLV, etc.
Best ISO to MP4/AVI/MOV/WMV/FLV Converter for Windows (10) and Mac
UkeySoft DVD Ripper also is an ISO MP4/AVI/MOV/WMV/FLV Converter, which not only allows you convert ISO files to any video formats, but also can help you rip DVD to MP4/AVI/MOV/WMV/FLV, and convert DVD folder to MP4/AVI/MOV/WMV/FLV on Windows (10), macOS High Sierra, etc. In additional, the program has build-in video editing function for you edit video before converting.
- Convert ISO to MP4,AVI,MOV,WMV,FLV and other 300 formats
- Edit, enhance & personalize your videos, including trimming, merging, cropping, rotating videos, adding effects, etc.
- Get Highest Quality Video and fast speed
- Multi-channel and Devices Playback Enjoyment
if you want to unlock more functions and start ripping DVD to other format had a good enjoyment that let's follow the guide to get the converted files.
Simple Steps to Convert ISO Files to MP4 on Windows or Mac
Step 1.Download,Install and Run UkeySoft DVD Ripper
First of all, please free download the UkeySoft DVD Ripper, we provide both Windows and Mac version, please select the compatibility version and install into your computer. After installing it completed and running it on PC, you can see it's main interface as below.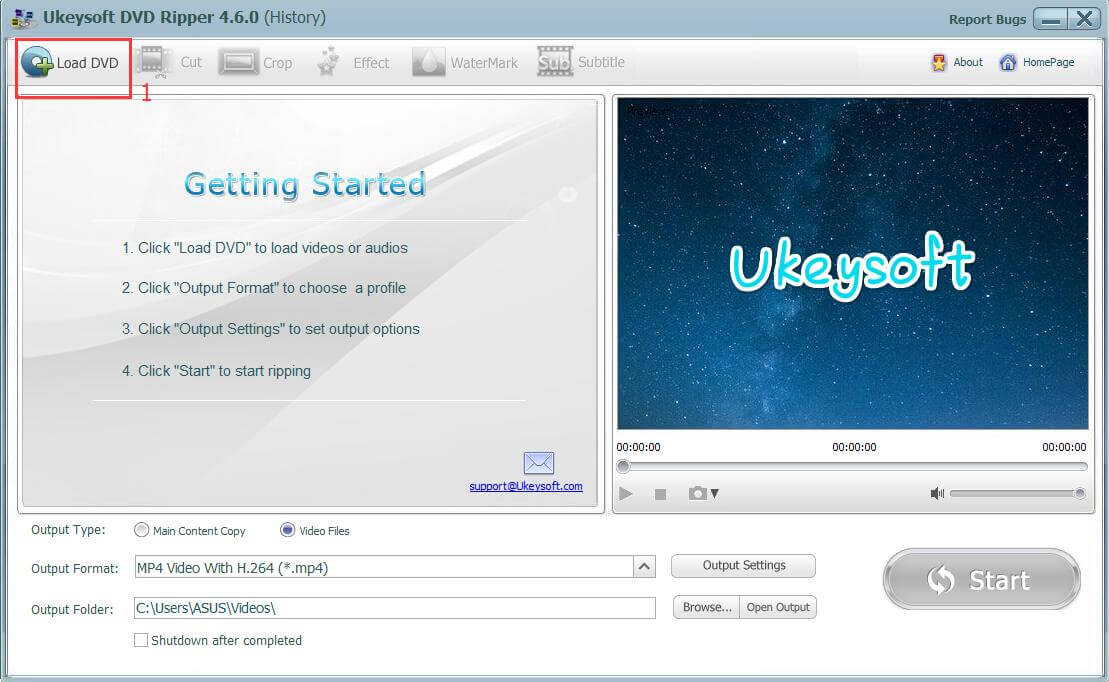 Step 2. Add DVD ISO Image Files to Program
Then, please click "Open DVD ISO" button to add the DVD ISO files to the program. In additional, the UkeySoft DVD Ripper can also rip DVD disc and DVD folder to MP4, AVI, MOV, WMV, FLV and other video formats, if you want to convert DVD to any video files for playing on various devices, please insert a DVD dics into your computer's DVD-ROM, the program will loads your DVD disc quickly.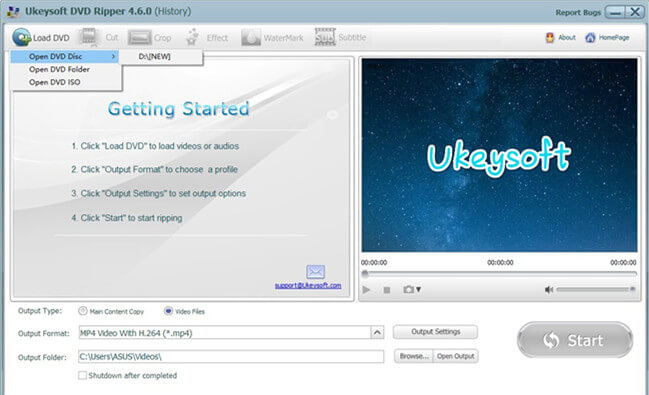 Step 3. Select Output Format
To convert convert DVD ISO files to MP4/AVI/MOV/WMV/FLV and other video formats, please click "Output format" at the bottom and then you will see a pop-up list. In this guide, we shows you how to rip DVD ISO to MP4 as example, please select "MP4" as outer video format in "Common Video" list. If you want to keep 1080p resolution, you can choose those formats in "HD Video" category.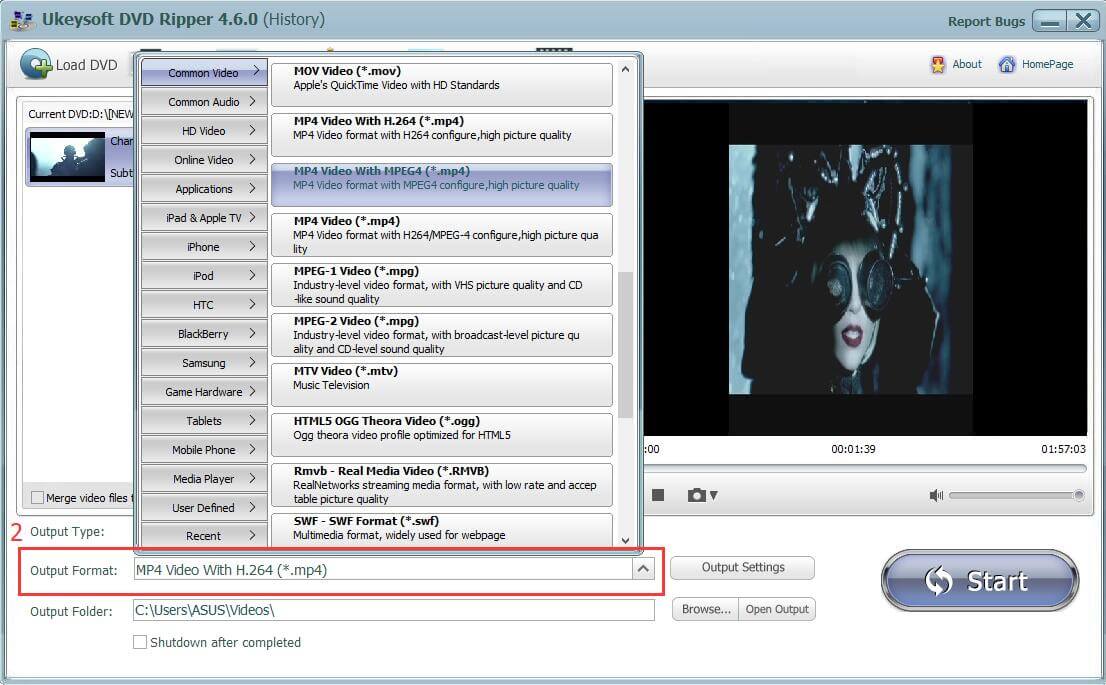 Step 4. Start Ripping DVD IOS Files to MP4
Finally, click the "Start" icon to rip DVD ISO image file to MP4 format videos. Once the conversion is done, you can find the output MP4 files in the destination folder. Now, you can play the converted DVD IOS files on any devices as you like.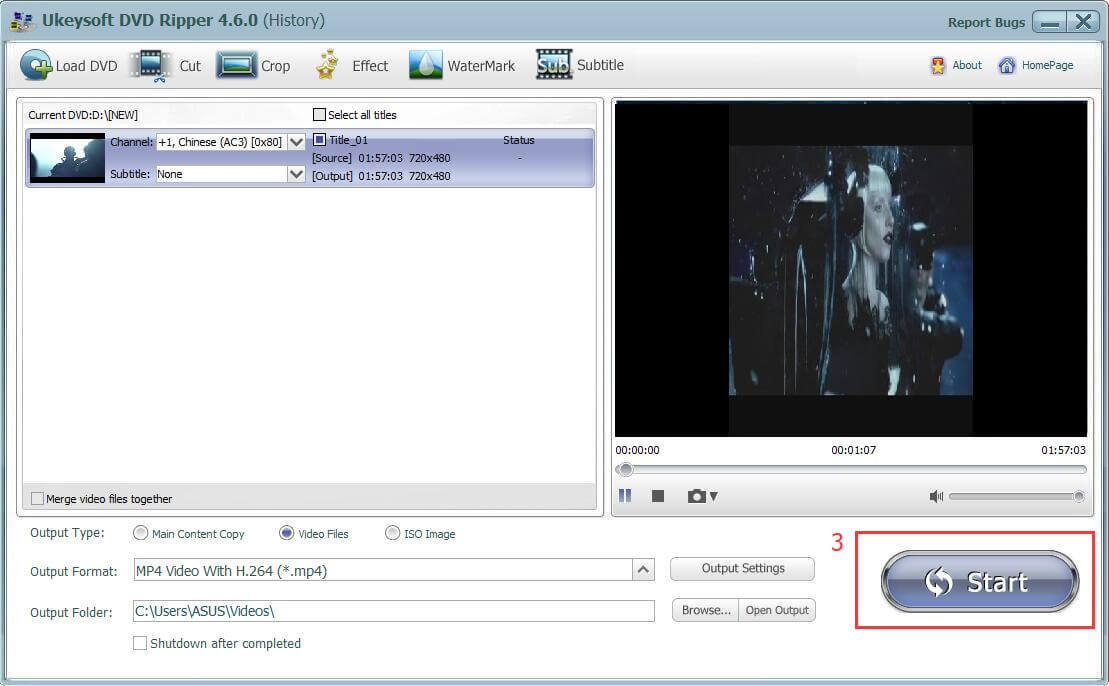 Well done, you have converted ISO to MP4 successfully, after get the converted IOS files in MP4 format, you can watch it on any devices without limitation. UkeySoft DVD Ripper can also convert any DVD disc, DVD Video_TS folder or ISO Image to AVI, WMV, MOV, FLV, 3GP, AVC, M4V, TS, MTS, M2TS, MP3, AAC, AC3 or many other formats for playback on iOS/Android devices or uploading to YouTube, vimeo and Facebook for sharing.
In additional, if you want to edit your converted video, you can use our Video Editor, the UkeySoft Video Editor not only can help you cut, merge, crop, trim and rotate the video, but also enables you add effects, music, watermark and subtitles to video easily.
Comments
Prompt: you need to log in before you can comment.
No account yet. Please click here to register.