By Justin SabrinaUpdated on September 01, 2021
---
Summary
How to convert GoPro HD/4K videos to MP4, MKV, AVI, WMV, HEVC, H.264, H.265, MKV, 3GP, FLV, SWF, HTML5, M4V, MOV, 1080p HD and other HD video formats for playing on any media players or devices? On this page, we will teach you how to convert GoPro HEVC/4K videos to other video formats by using UkeySoft GoPro Video Converter.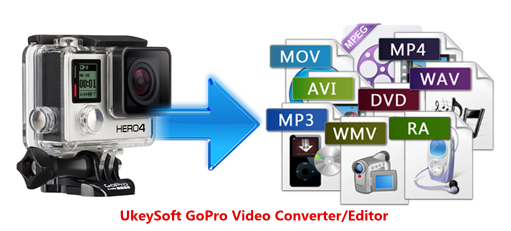 CONTENTS
GoPro is made by a American sports camera manufacturer. GoPro can shoot HD quality video, and its biggest feature is dustproof and waterproof, small in size, powerful in function and easy to carry. GoPro cameras are now widely used in extreme sports such as surfing, skiing, diving, extreme cycling, skydiving, etc., so "GoPro" is almost synonymous with "extreme sports-only cameras." The latest GoPro HERO7 Black come with Touch Screen 4K HD Video 12MP Photos Live Streaming Stabilisation, HERO7 Black is rugged, waterproof without a housing to 33ft (10m).
As a representative of the sports camera industry, many young people who love sports use GoPro to take their wonderful videos and share them with their friends. GoPro will record their cool sports and travel moments and upload to Youtube, Facebook, Vimeo, Twitter, Metacafe, Veoh and other online video website. And this cool shooting method and a new perspective have touched more young people in a short time.
This year GoPro company has released the latest version - GoPro HERO (2018) Action Camera, Black, it named GoPro HERO7 Black, before that, many people have used older GoPro cameras: GoPro HERO6, GoPro HERO5 Session Camera, GoPro HERO4, GoPro HERO3+/HERO3. Why is GoPro so popular? For example, the famous HD Hero cameras capture video in a variety of resolutions and frame rates up to 1080p Full HD. The Hero4 Black, in particular, is capable of recording 4K30 and 2.7K60 Ultra HD videos. GoPro HERO7 is Waterproof + Durable - Built tough and waterproof down to 33ft (10m), HERO7 goes where your smartphone can't to capture every adventure with no worries, users can easily control the HERO hands-free with simple voice commands like "GoPro, start recording" and "GoPro, take a photo."
What Video Format do GoPro HERO Cameras Record in?
HD/4K Videos, Video files are recorded using the h.264 codec and the .MP4 file format by most GoPro camera, the exception being some resolution/frame rate combinations on the HERO6 and HERO7 Black. With the HERO6 & HERO7 Black, HEVC (h.265) is utilized for applicable modes. All GoPro camera records the videos as HD/4K video H.264.
Best GoPro HD/4K Video and GoPro HEVC Videos Converter Solution
Since GoPro recording videos as HD/4K Videos and HEVC/H.265 in MP4 format, however, GoPro HD/4K videos are not widely accepted by various multimedia devices, media players and video editor. If you want to play or edit GoPro HD/4K videos, you need to use a GoPro Video Converter and GoPro Video Converter for Mac to convert GoPro HD/4K videos or HEVC videos into editor/devices/video players friendly MP4, AVI or MOV files.
Main Features of GoPro Video Converter:
– Support convert any HD/4K videos recorded by GoPro cameras, like GoPro Hero, GoPro Hero3 White, GoPro Hero3+ Silver, GoPro Hero4 Black, GoPro Hero4 Silver, GoPro HERO5, GoPro HERO6, GoPro HERO7, etc.
– Convert GoPro 4K video and 1080p Full HD video to AVI, MP4, MKV, WMV, MPEG-4, FLV, etc. without quality loss.
– Convert HEVC video/footage from your HERO7 Black & HERO6 Black camera to AVI, MP4, MKV, WMV, MPEG-4, FLV, etc. for playing on any devices that are not HEVC-compatible.
– Editing GoPro video before converting, you can cut, merge, crop, trim and rotate the video; or add effects, music, watermark and subtitles to video, etc.
- Adjust GoPro video playback speed before conversion.
– Edit and convert GoPro 1080p HD or 4K UHD videos, so it can be played on any iOS/Android devices or applications.
Simple Steps to Convert GoPro HD/4K and HEVC Videos to AVI, MP4, etc.
Step 1. Download and Launch UkeySoft GoPro Video Converter
Download and run the setup program to install the UkeySoft GoPro Video Converter. You can install this program with no worries since there is no any bundled software during setup. Follow the instructions to get it installed and launch it on PC. This guide teach you how to convert GoPro HD/4K videos to MP4 on Windows as example, you can also free download UkeySoft GoPro Video Converter(Mac) and try to convert GoPro HD/4K and HEVC Videos to any video formats on Mac computer.
Step 2. Import GoPro HD/4K Videos to Program
After launching the GoPro Video Converter on PC, then click "Add Files" button to add your GoPro videos.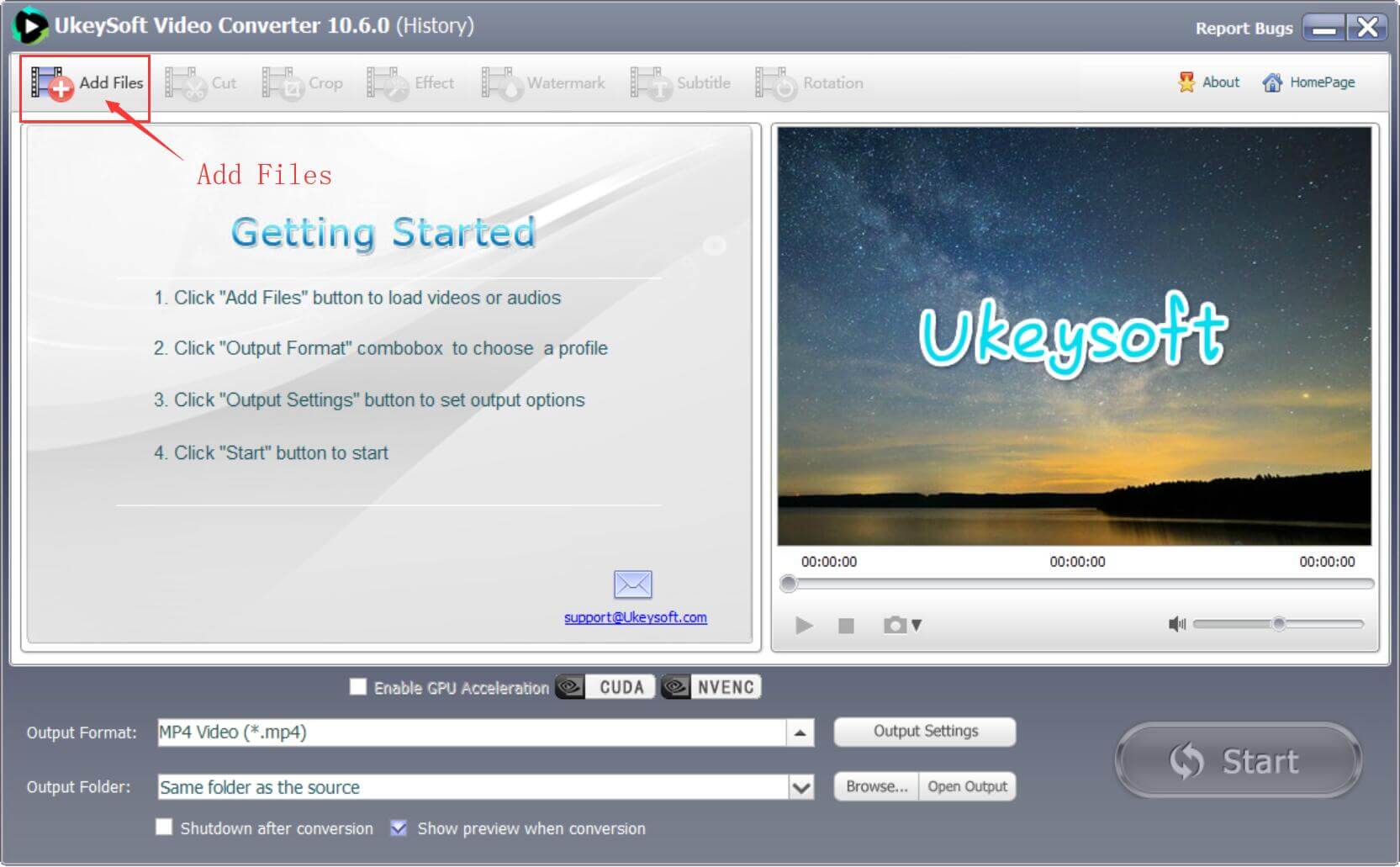 Added GoPro video lists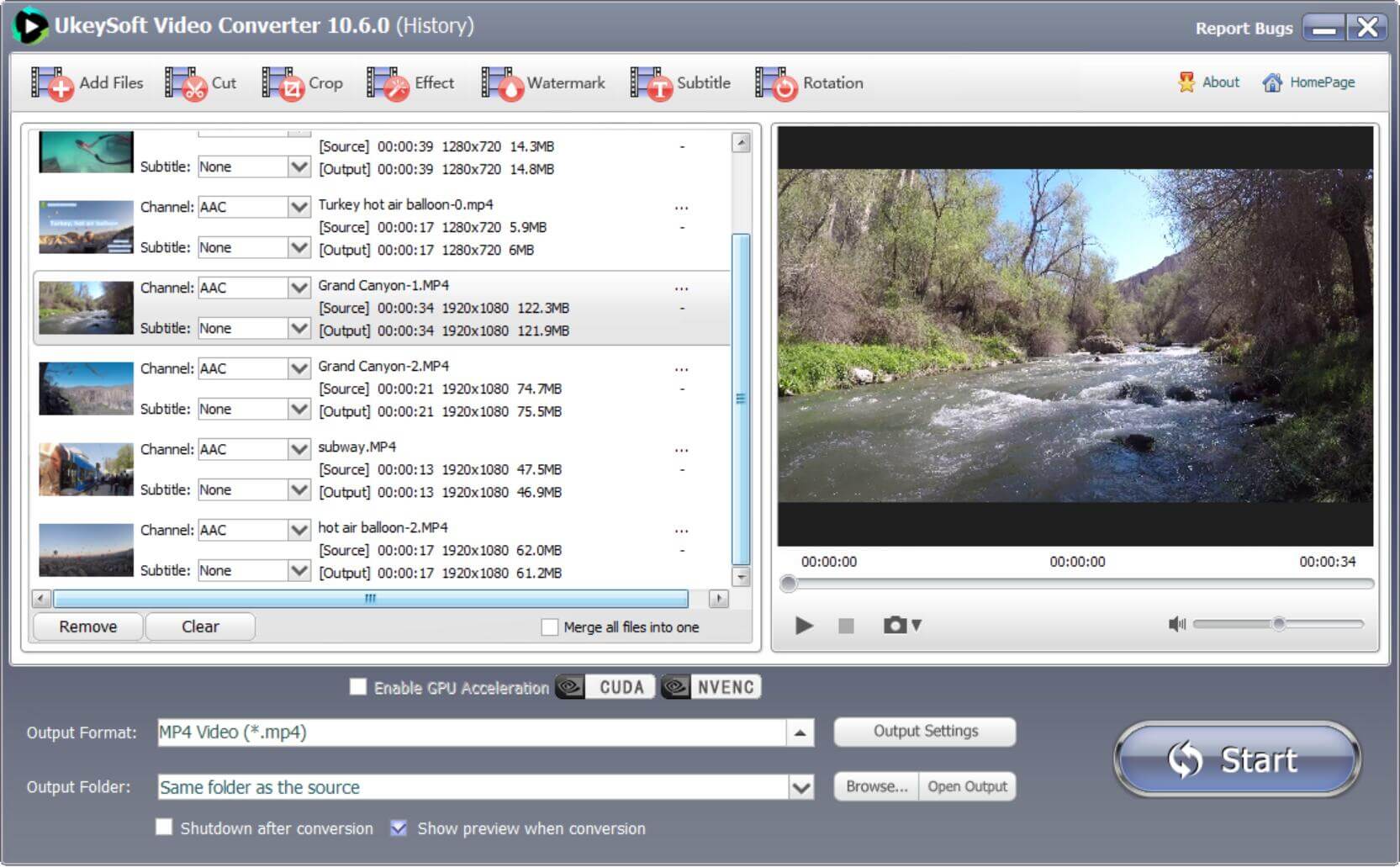 Step 3. Select Output Video Format - AVI, MP4, MOV and More
To convert GoPro video to HD MP4 or convert GoPro video to HD AVI, please choose the desired output format from drop-down list of "Output Format" option.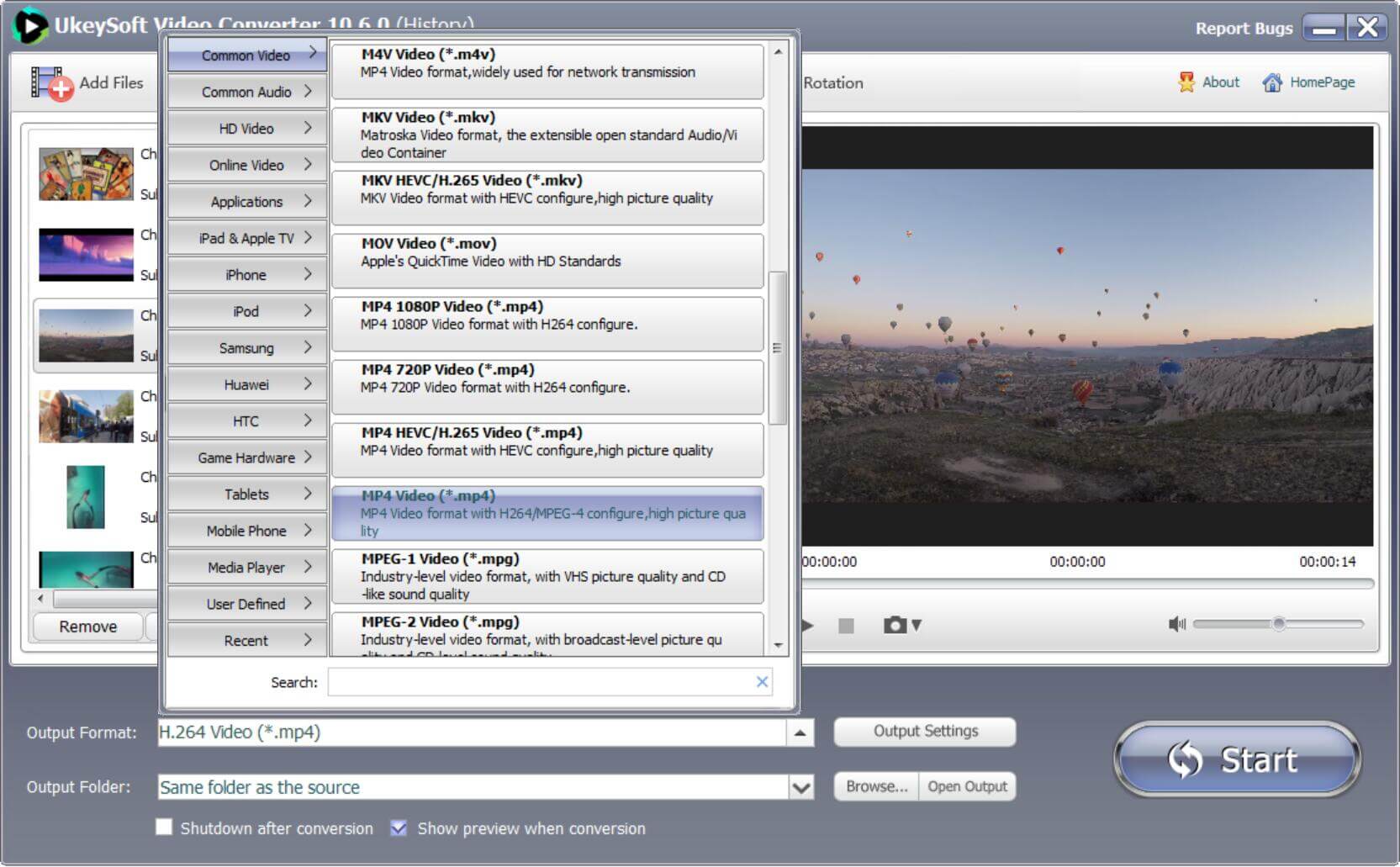 You can also directly select iPhone/iPad/iPod/Apple TV, Android devices(like Samsung, HTC, LG, Sony, Google Pixel, HUAWEI, Motorola, ZTE,etc.)-compatible format as output format.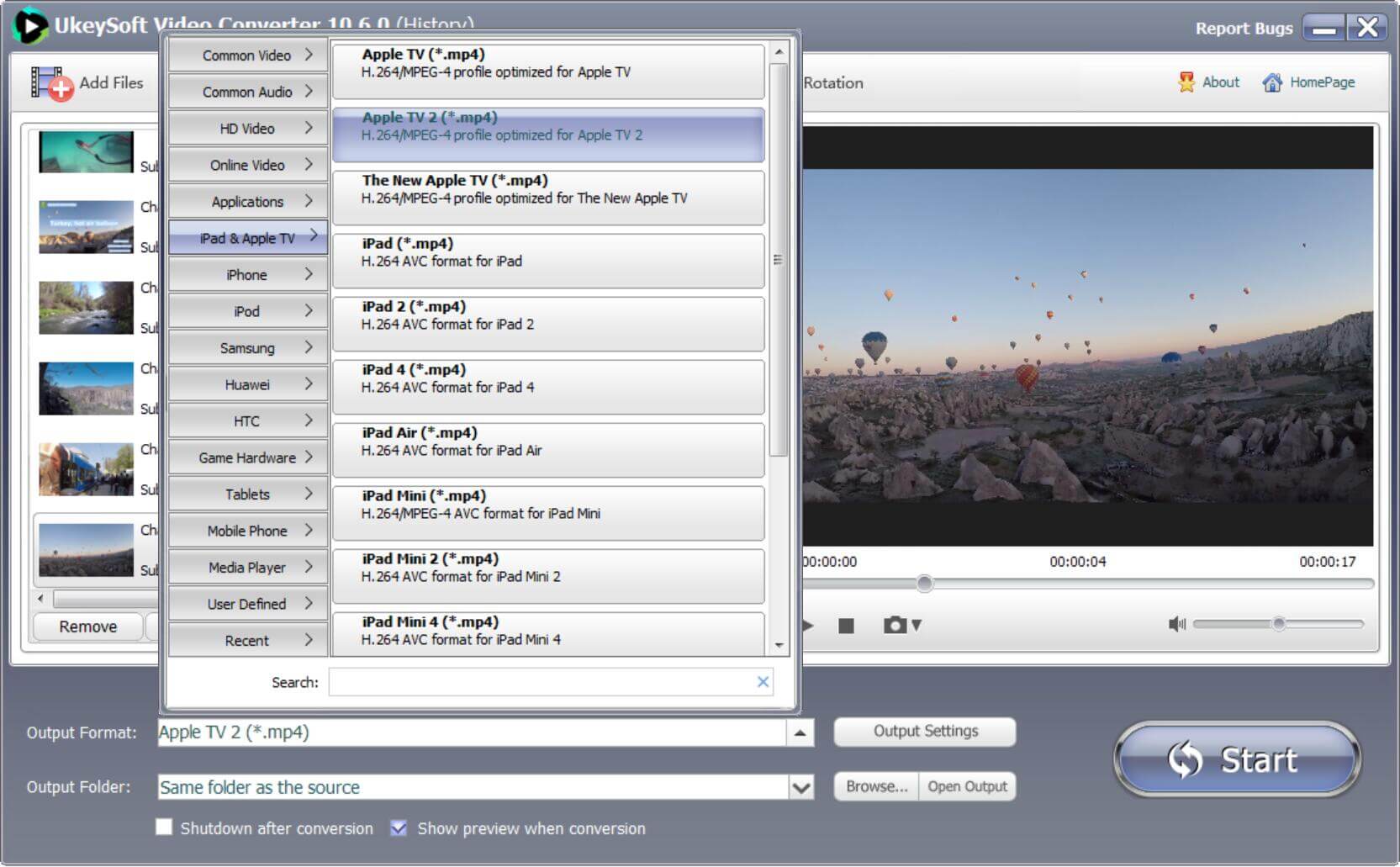 Convert GoPro HD/4K to iPhone-compatible format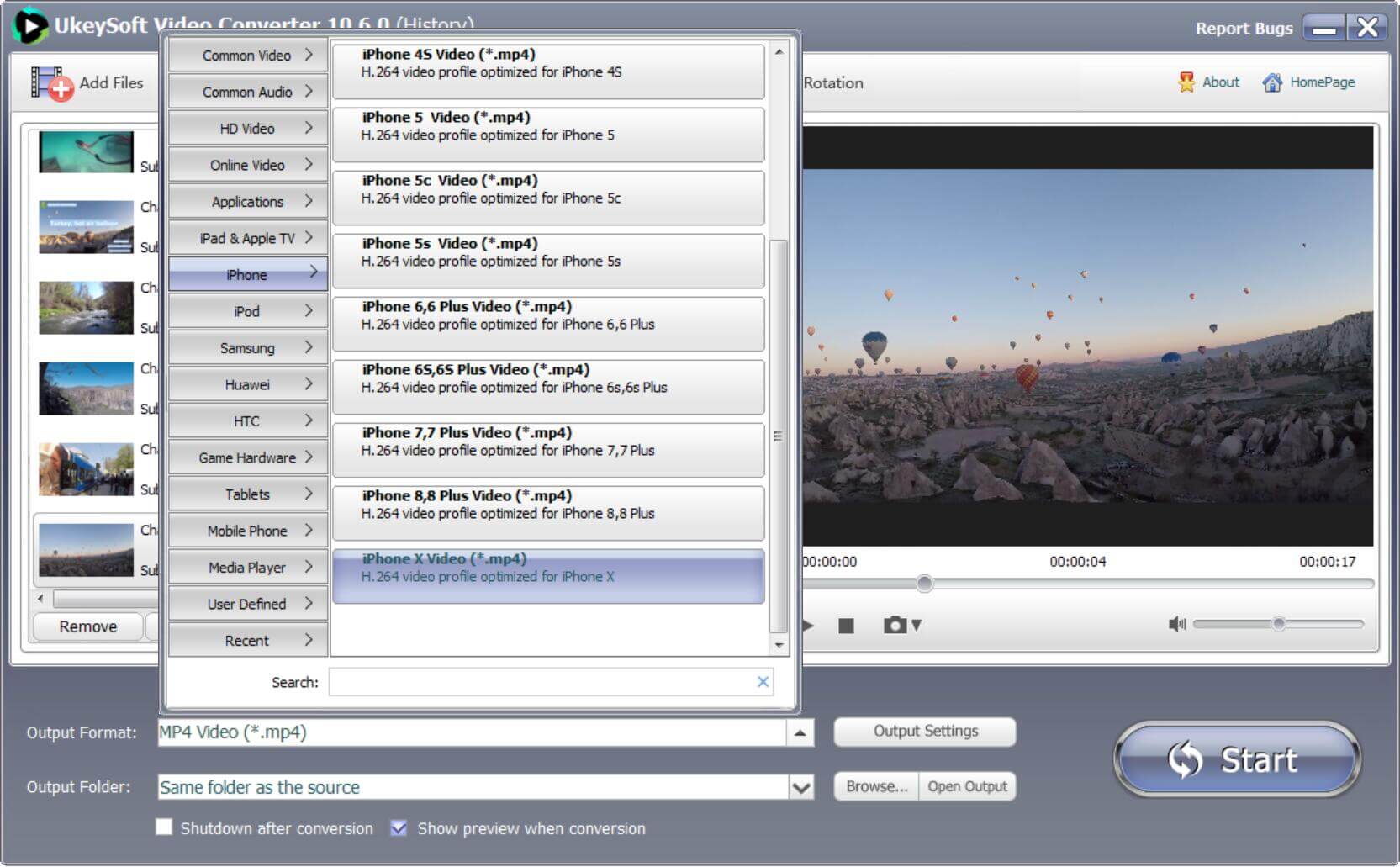 Convert GoPro HD/4K to Samsung-compatible format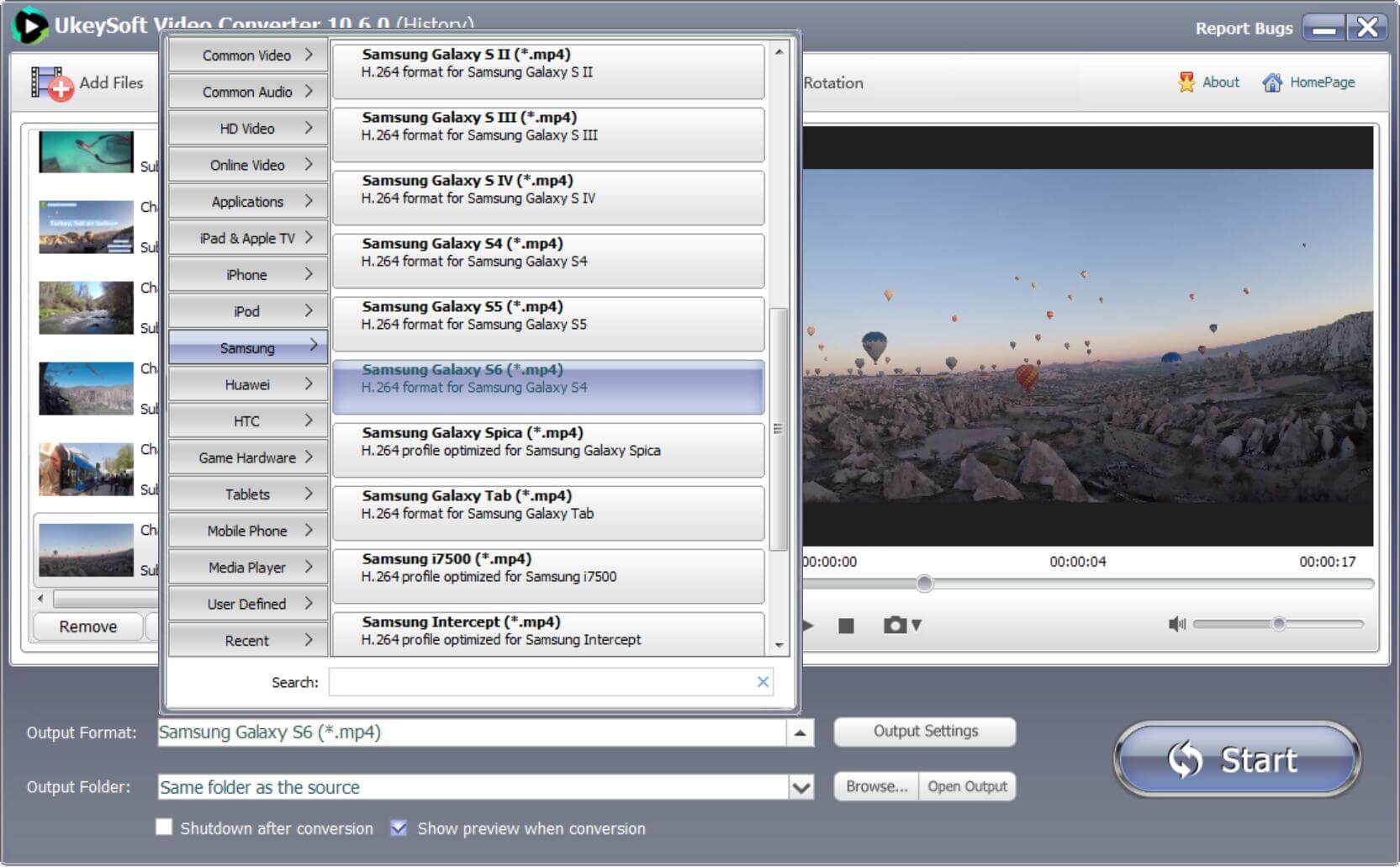 Convert GoPro HD/4K to applications-compatible format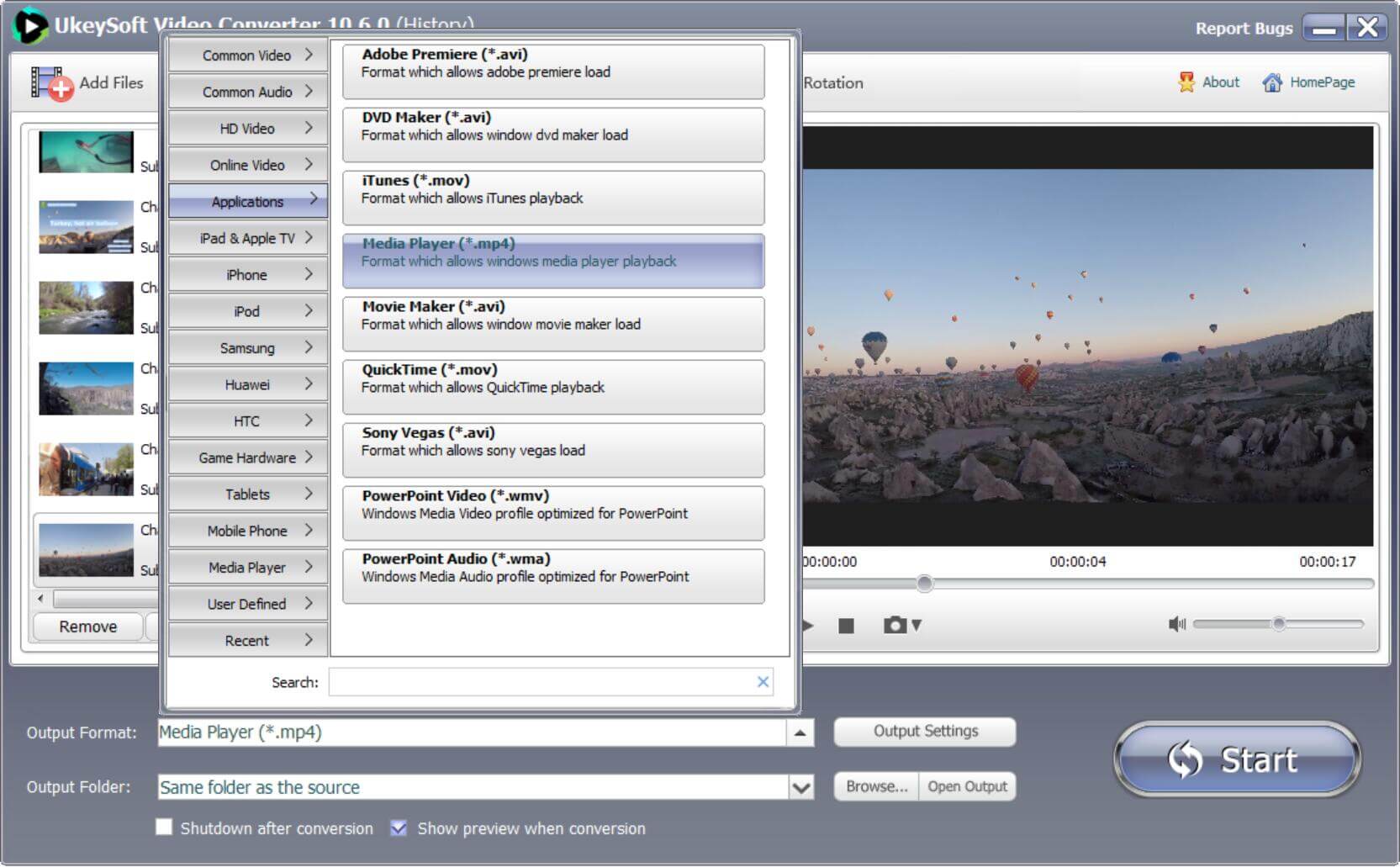 UkeySoft Video Converter and convert GoPro video to various video/audio formats like MP4, MOV, MKV, FLV, AVI, WMV, 3GP, AIFF, MP3, etc. and preset for many portable devices like iPhone, iPad, iPod, Apple TV, Samsung, Huawei, Sony, BlackBerry, PS4, Xbox, etc.
Step 4. Edit GoPro HD/4K Videos before Converting(Optional)
Choose one video file you need to edit and clicking the above "Cut", "Crop","Effect"(adjust video playback speed), "Watermark", "Subtitle", "Rotation" button to edit it. Finally, you can preview your editing video before converting it.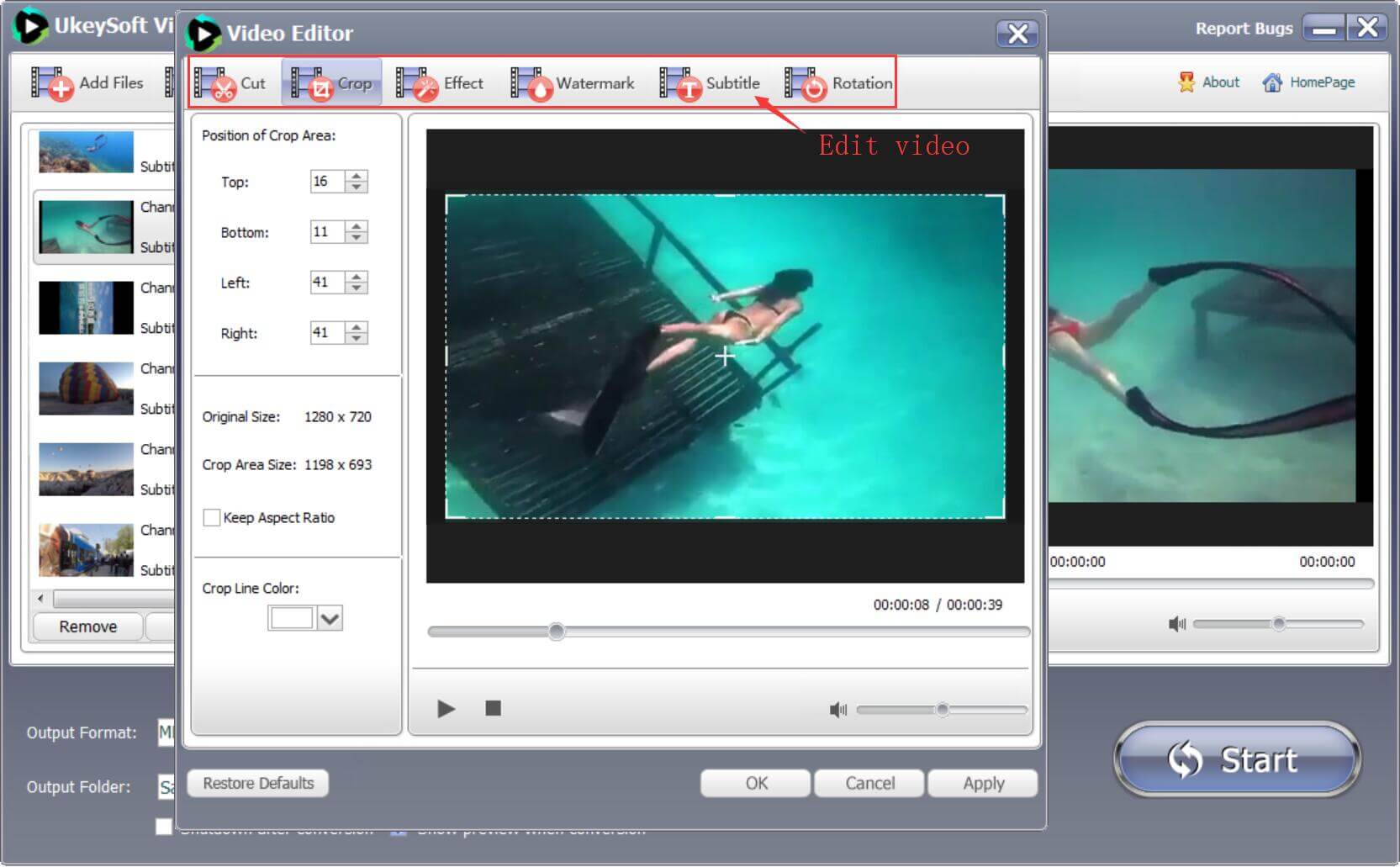 Step 5. Convert GoPro HD/4K Video to AVI, MP4, etc.
Finally, just click "Start" to convert GoPro HD/4K video to any format you need for future playing or editing.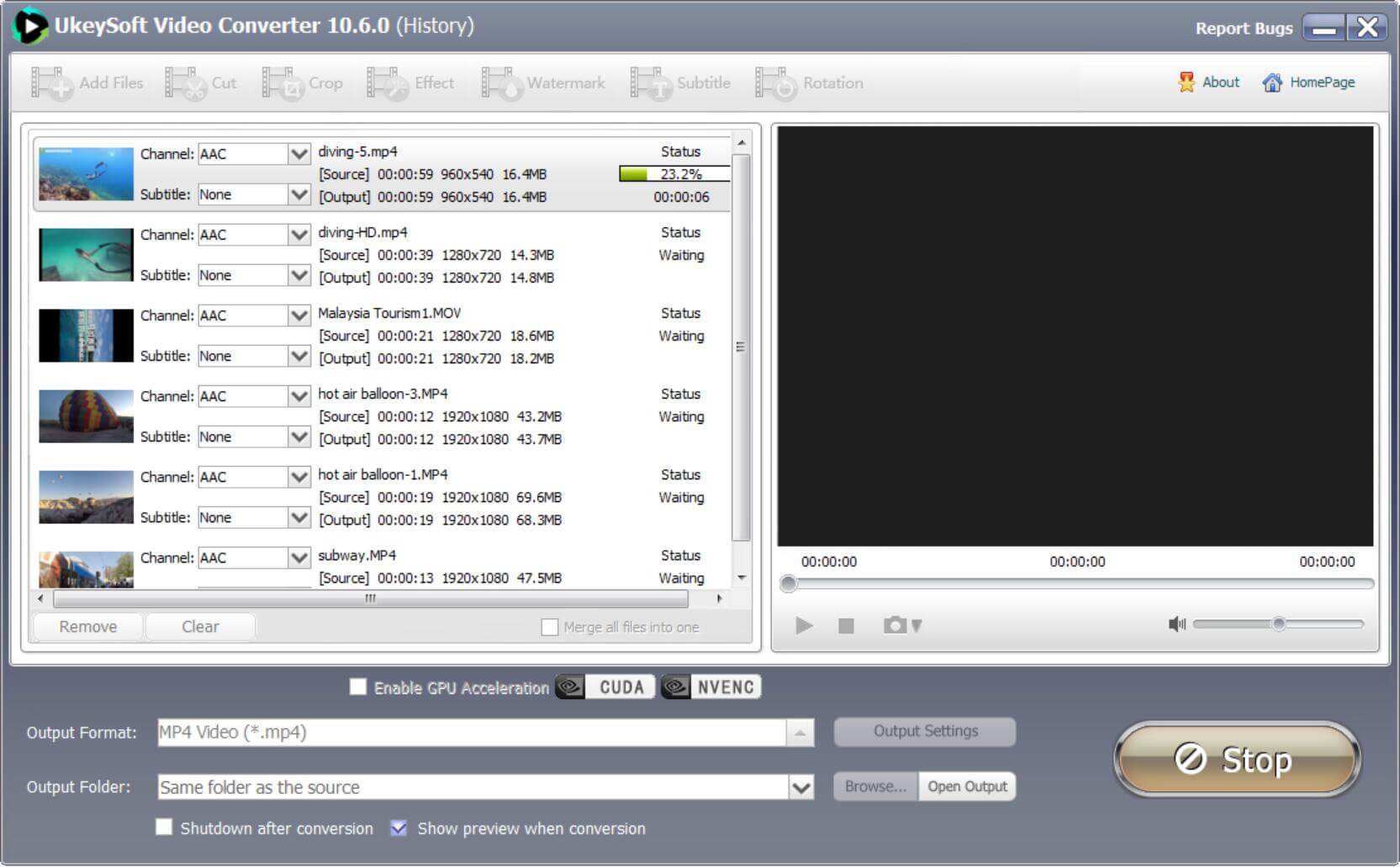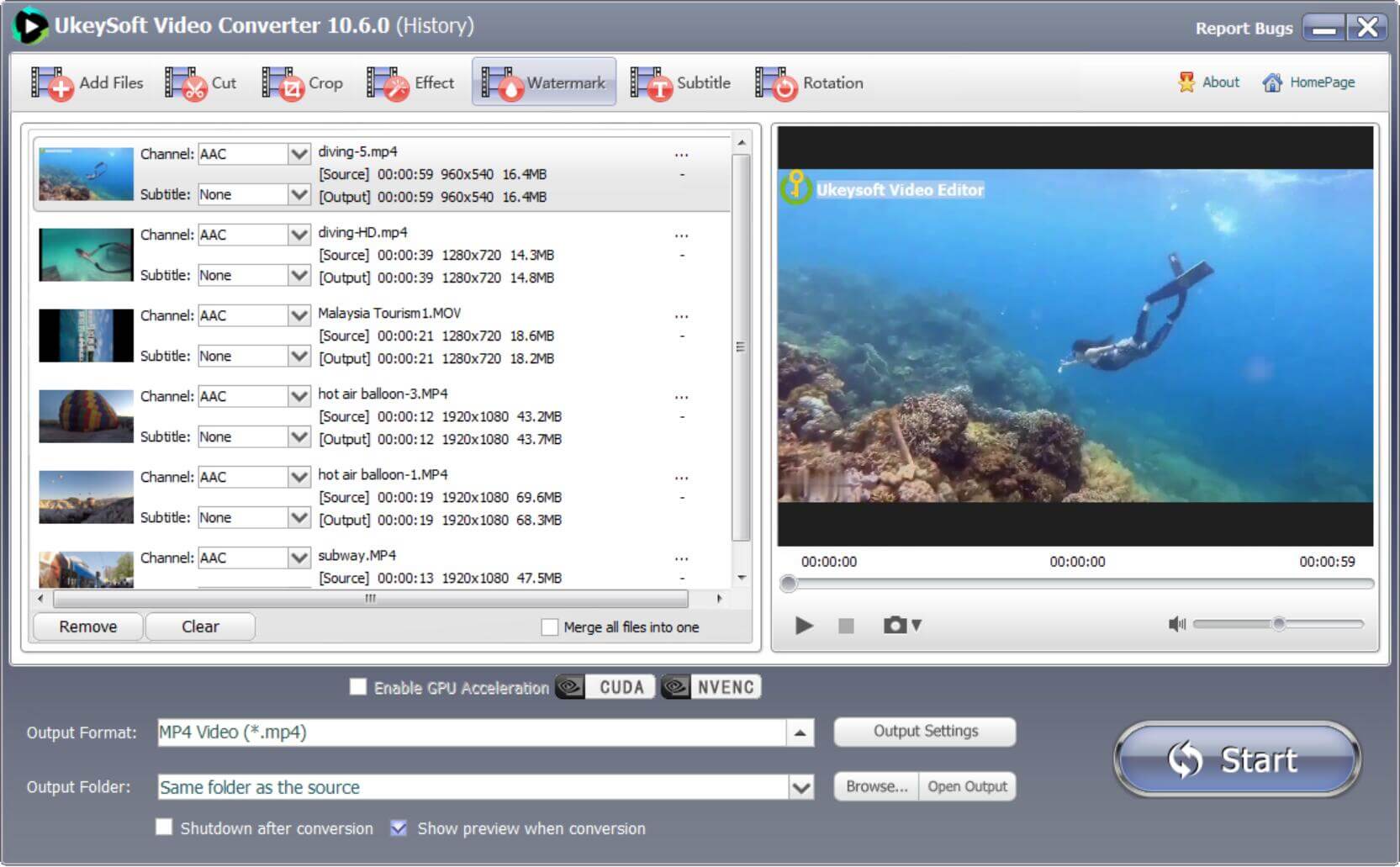 Well done! You have converted your GoPro HD/4K Video to the video format you need, UkeySoft Video Converter also can help you convert HEVC video/footage from your HERO7 Black & HERO6 Black camera to any formats you want. If you need a more powerful GoPro video editor to edit a large capacity GoPro video on Windows and Mac, you can this UkeySoft Video Editor, which is an easy-to-used GoPro video editor for new beginners & pros.
GoPro HD/4K Videos Converter
Comments
Prompt: you need to log in before you can comment.
No account yet. Please click here to register.