By Justin SabrinaUpdated on December 16, 2022
---
Summary
If you want to play and edit GoPro 4K/HD .MP4 video in most popular portable devices and editor tools, this page will teach you an easy way to convert GoPro 4K/HD video to MP4, AVI, FLV, WMV, MOV, etc, after editing and convert the GoPro 4K/HD videos, you can playing on any devices, editing, or uploading to Youtube, Facebook.
Question: "I captured several 4K video with my GoPro HERO5 camera. Before sharing them on YouTube, I need to edit them in Final Cut Pro. However, I want to use another GoPro Video Converter & editor to edit the GoPro video and convert these several 4K videos to FLV or MP4 for sharing on YouTube. Any GoPro 4K/HD video converter & editor help me solve this program?"
GoPro cameras have been used by many athletes, action-sports enthusiasts, film producers, photographers and videographers to take high-quality video, shoot HD quality video, and its biggest feature is dust-proof and waterproof, small in size, powerful in function and easy to carry. Most GoPro camera recording the videos as HD/4K .MP4 video format, and the GoPro HERO6 and HERO7 Black recording video as HEVC (h.265).
Why Need to Convert GoPro 4K/HD?
However, GoPro cameras record in very high definition like 1080P or even 4K resolution, which leads to very huge file size. These huge video files are not suitable for playback, editing or uploading to video sites. For example,GoPro videos can't decode on some media player. Can't editing in NLE system, including Adobe Premiere Pro, iMovie, Final Cut Pro, Windows Movie Maker, Sony Vegas Pro, etc.What's worse, video sharing websites like Vimeo, YouTube have limits for uploading GoPro 4K/HD vide clips.
On the other hand, If you is a GoPro HERO7 Black or HERO 6 user which their output videos saved in encode H.265/HEVC. H.265/HEVC comes at the price of increased computational complexity and it's not so widely accepted as H264 by video player, video editor software, mobile device and desktop.
Therefore, GoPro camera users need to use an professional GoPro video converter tool to convert the recorded GoPro 4K/HD video to more popular formats for playback, editing or sharing. We can use the UkeySoft Video Converter to convert GoPro HEVC or HD/4K Videos to H.264 MP4 files.
Two-In-One GoPro Video Converter and Editor
UkeySoft GoPro Video Converter and UkeySoft GoPro Video Converter(Mac), both is a profession GoPro video converter and GoPro video editing. Not only can convert GoPro videos to more than 300+ general video formats, but also cut, merge, crop, trim and rotate the GoPro video before converting GoPro HD/4K video files to MP4, AVI, FLV, WMV, MOV, etc. This GoPro Video Converter almost can convert to all of mainstream equipment, like iPhone, Android, PSP, Xbox, MP4 players, Apple TV, iPad, etc. Below is the output format according what you want:
For playing:
PC general video formats: MP4, AVI, WMV, AVC, H.264, MPEG, MOV.
iPhone/iPad/Mac video formats: MP4, MOV, M4V.
Android video formats: MP4, H.264, 3GP, WebM.
VLC: MP4, AVI, MKV, 3GP, ASF, MOV, FLV, MXF, VOB, DVD, RM, etc.
Apple TV: MP4, MOV, M4V.
QuickTime: MP4, MOV, M4V.
For uploading:
YouTube: MP4, MPEG4, FLV. Frame rate: 60fps or below.
Facebook: MP4, MOV (with H.264 Codec & AAC audio). Frame Rate: 30fps or below.
Instagram: Preferred format: MP4 (with H.264 Codec & AAC audio, 3500 kbps video bit rate). Frame rate: 30fps or below. (How to Upload Photos/Videos to Instagram)
Twitter: Preferred format: MP4 (with H.264 Codec & AAC Low Complexity audio). Frame rate: 40fps or below.
For editing:
Windows Movie Maker: MP4, WMV, MOV, AVI, 3GP, M4V, M2TS, ASF, 3GP, MOD.
iMovie: MP4, MOV, M4V, MPEG-2, DV.
Adobe Premiere Pro: MP4, MOV, MPEG, 3GP, ASF, AVI, WMV, DV, HEVC (H.265), M2TS, M4V, MXF, VOB, etc.
Final Cut Pro: MP4, AVI, MOV, 3GP, MTS/M2TS, MXF, AVCHD, DV, HEVC (require macOS High Sierra 10.13 or above), XAVC.
Now you can read the detail guide to edit and convert GoPro 4K/HD video to MP4, AVI, WMV, MOV, etc.
How to Convert/Edit GoPro HD/4K Videos with UkeySoft Video Converter?
Step 1. Download and Install UkeySoft video Converter
Download the right version of UkeySoft video Converter on your computer and run it.You will gain into the program interface.
Step 2. Add GoPro 4K/HD Files
Click "Add Files" button to add your GoPro videos.
1.Simply drag your GoPro video to this program main window. If you want to convert several GoPro video at one go, put all video in one folder and then drag the folder to the program to import GoPro video.
2. Move your mouse to "Add File" icon and hit it. Choose and open GoPro video from your computer.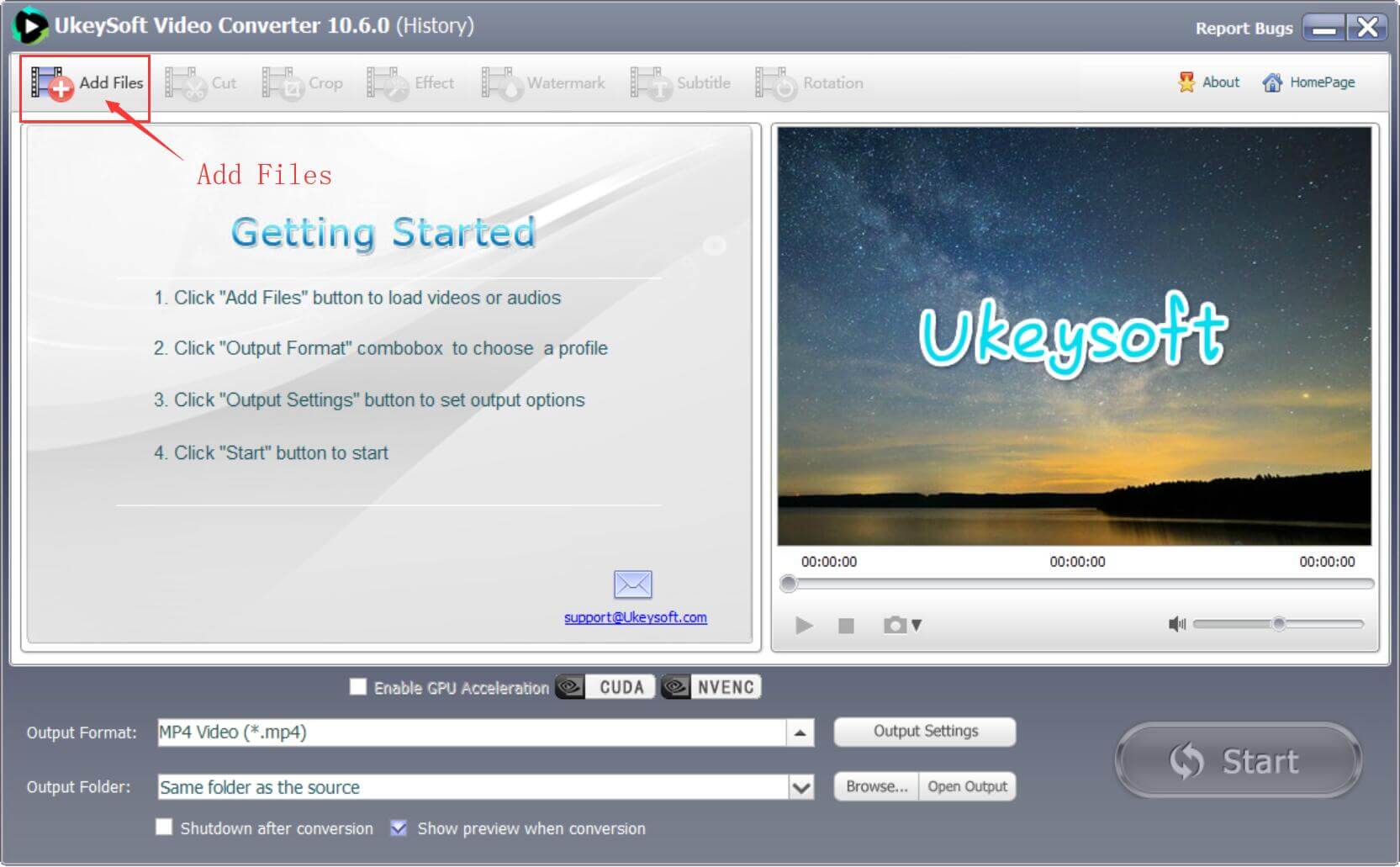 Step 3. Edit GoPro 4K/HD files before converting(Optional)
Choose one video file you need to edit and clicking the above "Cut", "Crop","Effect"(adjust video playback speed), "Watermark", "Subtitle", "Rotation" button to edit it. When you choose properly
you can preview your editing video before converting it.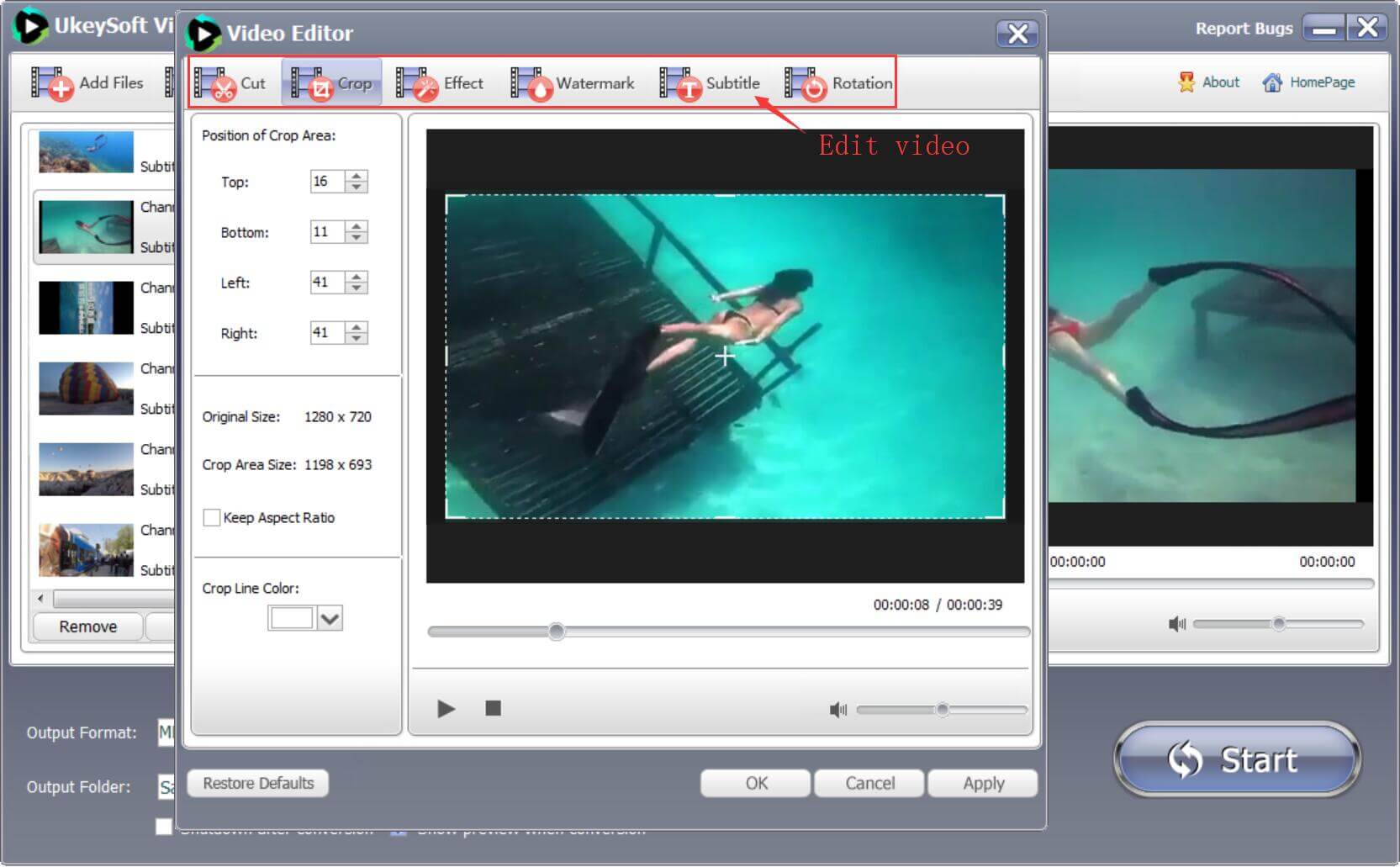 Step 4. Set Otput Formats – AVI, MP4, MOV and More
Click the output format at the bottom to select a proper output format according to your own needs.If you need convert a good compatible format, it is a deal of choose the friendly format like "4K/HD/HEVC videos" > "H.264 MP4".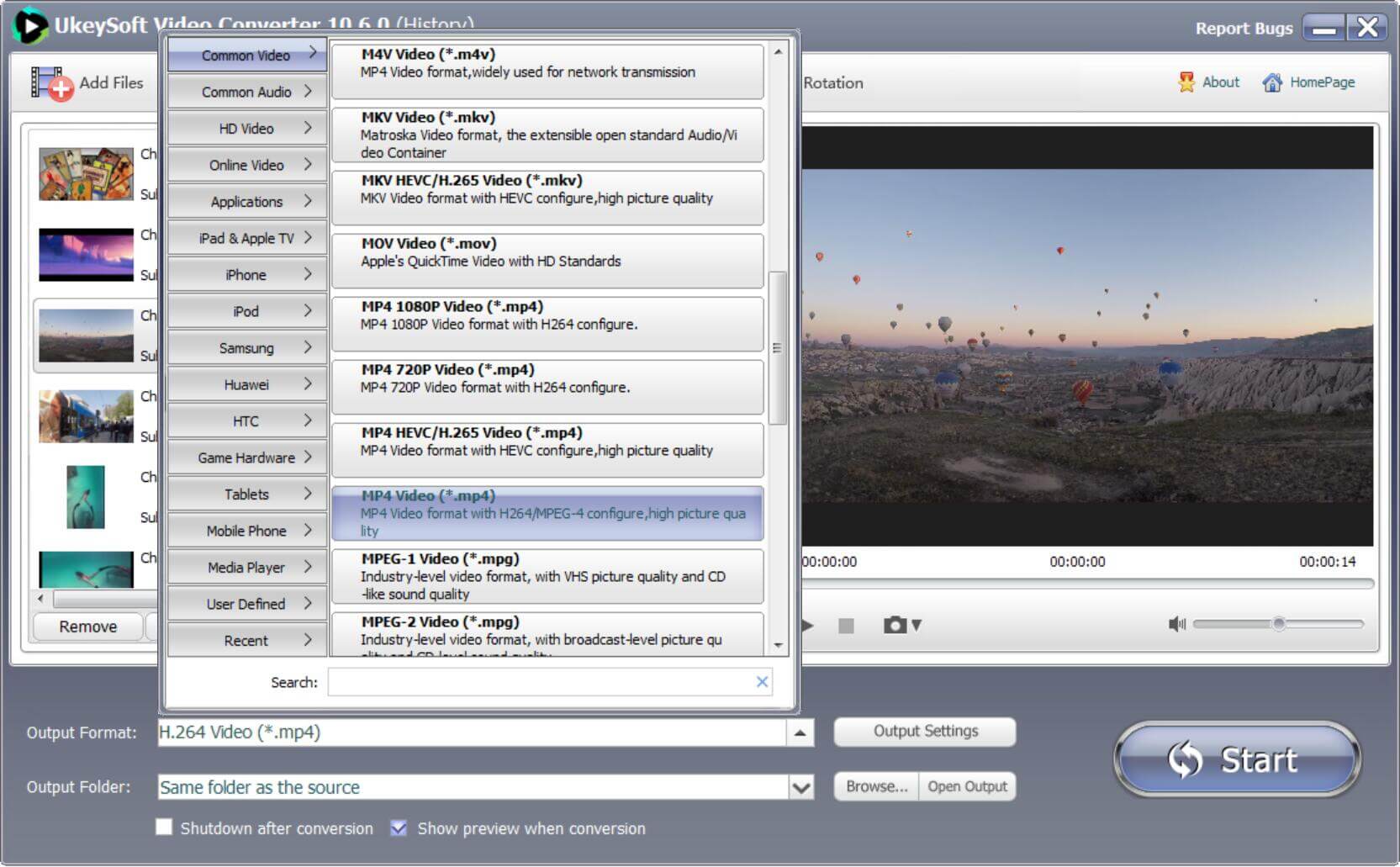 Step 5.Finish the GoPro HD/4K Videos Editing & Conversion
If all your configuration parameters are appropriate, then we can take the final step and click "Start" to start the conversion.Wait a moment, the transcription files will be fast and put on the computer output folder what you set.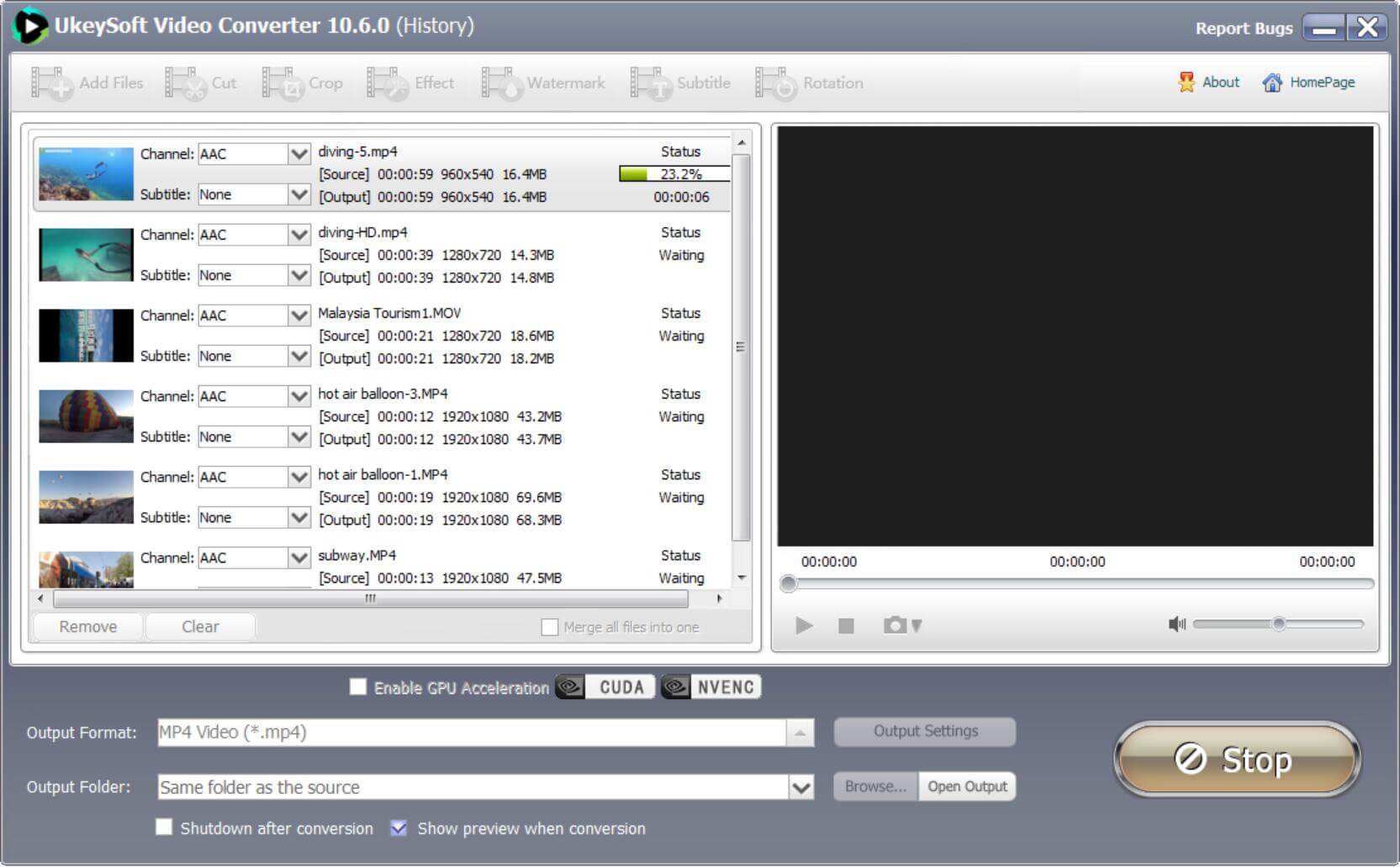 Lastly, you can now preview your high quality converted video files.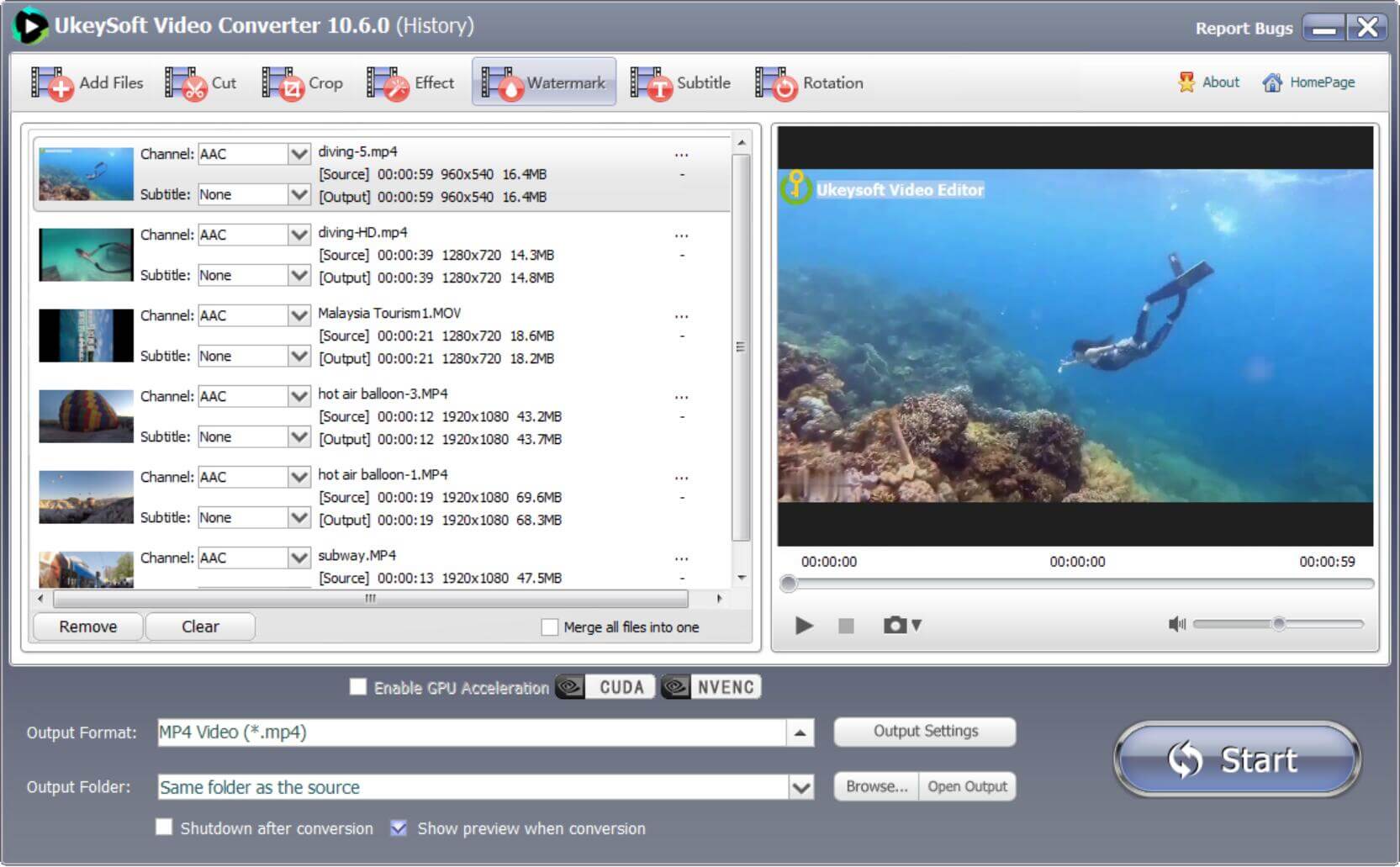 Now that all the tutorials are over, you can start to enjoy the best functions of UkeySoft GoPro Video Converter. If you encounter technical problems during the conversion process, you can contact us at the contact information on this website. We will receive certain reply as soon as possible.
Recommend: Best GoPro Editor to Edit GoPro Video on PC
UkeySoft GoPro Video Editor is designed bo edit video: Cut, trim, crop, merge, rotate, flip (GoPro) video, add effects, add music, add watermark and add subtitles to video, you can also adjust video playback speed; adjust brightness, saturation, etc. And output GoPro video to any preferred target format you need.
GoPro HD/4K Videos Converter
Comments
Prompt: you need to log in before you can comment.
No account yet. Please click here to register.