By Justin SabrinaUpdated on August 21, 2023
---
Summary
To enjoy your Pandora music collection elsewhere, the best solution is to download Pandora music to MP3. Here this guide will show you three effective ways on how to record and download music from Pandora to MP3 for free, no Pandora Premium is required! Afterward, you could transfer Pandora songs to MP3 player, USB drive, smartphone and more device freely!
Q: "Can I download MP3 from Pandora? I want to copy Pandora songs to my SanDisk MP3 player. The SanDisk player only supports MP3 format. How do I download music from Pandora Music as MP3 files? Any suggestion?"
With more than 90 million songs, Pandora offers a massive music library that you can stream with a free or paid account. If you have subscribed to Pandora Plus ($4.99/month) or Pandora Premium ($9.99/month), you can download Pandora music for offline listening. But you are not allowed to download songs from Pandora in MP3 format.
The fact is that you can only enjoy them within the Pandora app. You are unable to transfer or copy the downloaded Pandora music tracks to other music players other than Pandora app. This would be a problem if you're going to play Pandora music on a generic MP3 player (without Pandora support). Because all music tracks you downloaded with Pandora are DRM-protected. To break these barriers, you need to download and save Pandora to MP3 files. In this post, we will introduce 3 ways to download Pandora music to MP3 for free, even if you don't have Pandora Premium.
CONTENTS
Way 1. Download Pandora Music to MP3 for Free
Pandora only allows you to download music on the mobile app with a subscription. However, you cannot download Pandora music to computer. Moreover, once you cancel/stop your Pandora subscription, all your downloads won't be available anymore. Luckily, there are a number of paid or free Pandora music downloaders that can help. They assists you to download and save songs from Pandora Music tracks in MP3 formats on your desktop. The first tool we want to recommend is UkeySoft Pandora Music Converter.
A Brief Introduction of UkeySoft Pandora Music Converter
We highly recommend using the UkeySoft Pandora Music Converter, also known as the Pandora to MP3 Downloader, for professional results. This tool is perfect for both Pandora Free and Pandora Premium users. It allows you to download songs, albums, artists, playlists, and podcasts from Pandora to your computer. Regardless of whether you have a Pandora Free or Premium account, you can use this free Pandora music downloader. It's quick and easy to convert Pandora music to MP3 format. Additionally, it supports other popular audio formats like M4A, AAC, FLAC, WAV, and AIFF. This means you can make your Pandora music compatible with various devices.
This tool includes a built-in Pandora web player, so you can explore, find, search, and play Pandora music directly without needing the Pandora app. While the highest quality for Pandora Premium is 192kbps, this converter's advanced technology enables you to download MP3 music from Pandora at up to 320kbps, ensuring great sound quality. Furthermore, it retains all the important information about your Pandora tracks, like titles, cover art, genre, and artist, using full ID3 tags.
Main Features of UkeySoft Pandora Music Converter
Versatile Format Options:
The UkeySoft Pandora Music Converter offers the ability to convert your Pandora music into a variety of formats, including widely-used ones such as MP3, M4A, AAC, FLAC, WAV, and AIFF. This versatility ensures that you can select the format that best suits your preferences and device compatibility.
Swift Conversion Speed:
With this converter, the process of transforming your Pandora music becomes remarkably efficient. It boasts a conversion speed that's up to 10 times faster than conventional methods. This means you can quickly convert your favorite Pandora tracks into your desired audio format without enduring long wait times.
Batch Conversion:
Simplify the task of converting your music library by utilizing the batch conversion feature. Instead of converting songs individually, the UkeySoft Pandora Music Converter enables you to process multiple tracks simultaneously. This feature is particularly valuable when dealing with extensive music collections.
Preservation of Original Sound Quality:
The quality of music matters, and this converter is designed to preserve the original audio quality of your Pandora music. This ensures that you won't compromise on the clarity and richness of the music you love, even after the conversion process.
Retention of Song Information:
Understanding the importance of maintaining essential song details, this converter retains crucial metadata like song titles, album covers, genres, and artists. This ensures that your music library remains organized and visually appealing, allowing for easy identification and enjoyment of your favorite tunes.
Built-in Pandora Web Player:
The converter includes a built-in Pandora web player, enabling you to access, browse, and play your Pandora music content directly within the tool's interface. The advantage is that you don't need to install additional applications, as the player is seamlessly integrated for convenient music exploration and playback.
Guide: How to Download Music from Pandora to MP3 Free?
Step 1. Install and Run UkeySoft Pandora Music Converter
Download and install UkeySoft Pandora Music Converter on your computer, Windows PC or macOS. When you launch the program, click "Log In" to sign with your Pandora Free/Premium account. Then you will enter the Pandora web player and access your music library.
Step 2. Customize the Output Settings
In the upper right, tap the "Settings" button (a gear icon). A pop-up window appears, from where you could customize the output settings like output format, output quality, output folder and more. The default output format is AUTO M4A, change to MP3 format.
Besides, you may set the Output File Name and Output Organized to manage your music library.
Step 3. Add Pandora Songs/Albums/Playlists
In the built-in Pandora web player, find and open any song, album or playlist. Then click the red "+" icon in the right side to add them into the converting list.
UkeySoft will detect all the songs in the album/playlist and display them for you, choose the one you like.
Step 4. Download Music from Pandora for Free
After selecting the songs, click the "Convert" button to start downloading and converting the Pandora songs you chose in Step 3.
A bunch of downloads will complete in a short time. Once done, you can find your downloaded Pandora songs in the MP3 format by ticking the "History" (a clock icon).
What I Like:
Skip ads for Pandora Free users AND remove DRM protection.
Download any music content from Pandora Free & Pandora Premium.
Support downloading Pandora songs as MP3, M4A, WAV, FLAC, AAC, and AIFF.
Offer flexible options to customize the output quality.
Download Pandora music to MP3 in 128kbps, 192kbps, 224kbps, 256kbps and 320kbps.
Supports batch download with 10X faster speed.
Preserve IDs tags and metadata info, such as cover, title, artwork, artist, album, genre, etc.
Built in Pandora Web Player and Music Player, no Pandora app needed.
Built-in Music Manager, lets you sort output Pandora songs by artist or album.
What I Don't Like:
It doesn't have mobile version, only lets you download music from Pandora on Mac & PC.
Way 2. Record and Save Pandora Music to MP3
To get Pandora MP3 download free, you can also use a Pandora music recorder. UkeySoft Screen Recorder for Mac is the one for you. It allows you to grab MP3 audios from Pandora and other streaming music websites like Apple Music, Spotify, Tidal, Amazon Music, YouTube Music, Deezer, Jango and more. Better yet, it can help you record computer sound and microphone simultaneously or independently. In addition, this tool is also available for Pandora free users, so you can use it to download and record Pandora music to MP3 without Premium.
How to Record and Download Pandora Music to MP3 with Free Account?
Step 1. Download UkeySoft Screen Recorder
Download and install the UkeySoft Screen Recorder on your Mac computer. It Mac version has an audio recorder.
Step 2. Go to Audio Recorder
Open the UkeySoft program, select "Audio Only" option. Meanwhile, go to the Pandora wesite, sign in with your account.
Step 3. Set System Sound
This software will offer the ability to record from your microphone and system sound. Here choose "System Audio".
Step 4. Select MP3 Format for Pandora Music
Under the format icon, three audio formats are available, including .mp3, .wav, .m4a. Pick MP3 format for your Pandora music tracks.
Tips: For more output parameters, please click on the "Setting" in the lower left corner.
Step 5. Get Pandora MP3 Download Free
If ready, plan any song on Pandora web, and press on the "REC" button to start recording Pandora music as MP3 audios.
Once the Pandora music has finished playing, you can pause or stop the recording at will.
Step 5. Get Recorded Pandora MP3 File
After the recording is complete, click on the "History" icon to check the output Pandora MP3 files.
What I Like:
A one-stop audio recorder and video recorder.
Record and save Pandora to MP3 with high quality.
Supports to record music on popular streaming music platforms.
Built-in video editor and video format converter on Windows version.
What I Don't Like:
Slow, 1:1 recording speed.
Batch conversion/download is not supported.
Can't save ID3 tags for music tracks.
Way 3. Free Download Pandora Songs to MP3 Online
Can you download Pandora music to MP3 free? Is there a way to download music from Pandora to MP3 online? Yes. There are some Pandora online music downloader services, such as Pandora Download Links. It is a free extension in the Chrome Web Store. It lets you download Pandora music or radio that you are listening on the Pandora website.
How to Download Pandora Music to MP3 Online?
Step 1. Go to the Chrome web store, search Pandora download links and add this extension to your Chrome web.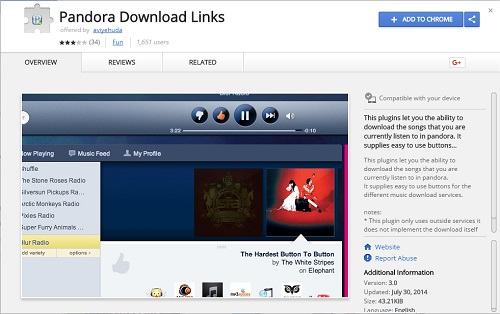 Step 2. Open Pandora web player on browser, and sign in with your Pandora account.
Step 3. Play any song you want to download, and you will see a Download button next to it.
Step 4. Click the "Download" button to save the songs as MP3 files on local drive.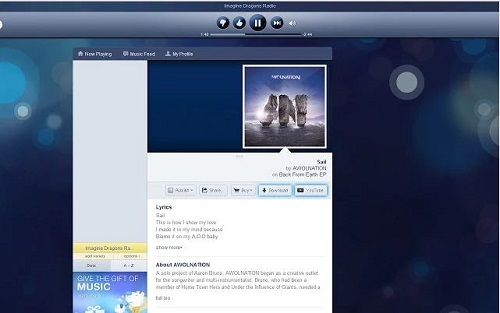 What I Like:
A free Chrome extension.
Download music from Pandora to MP3 for free.
What I Don't Like:
Only offers very based functions.
Can't download each Pandora song.
Provides relatively low-quality Pandora music.
Failed error occurs occasionally while downloading.
All in All
Up till now, you have learned 3 ways to download Pandora songs to MP3 for free. And overall, UkeySoft Pandora Music Converter is the best, as it's intuitive and lets you download MP3 songs from Pandora web player losslessly at 10X faster speed. With it, listening to Pandora music offline elsewhere is an easy job for you now. Then you could play Pandora music on MP3 players, smart TVs, smart speakers, mobile and more devices at will, without the Pandora app needed! If you have any other better solutions, feel free to leave a comment or contact us.
Download Pandora Music to MP3 for Free
Comments
Prompt: you need to log in before you can comment.
No account yet. Please click here to register.