By Justin SabrinaUpdated on August 21, 2023
---
Summary
Need a Pandora Music Downloader to directly download music and podcasts from Pandora for offline listening? This article teach you three best ways to Pandora music to MP3 with a free account.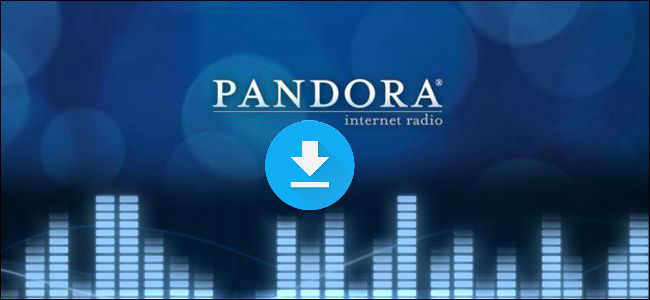 Pandora is one of the most popular streaming music service platform, like Apple Music, Spotify, Amazon Music Unlimited, YouTube Music Premium(YouTube Music), SoundCloud, etc. You can sign up for a subscription plan to stream ad-free music, Pandora gives you a personalized music experience that continually evolves with your tastes. Start streaming for free today by searching for your favorite artist, songs, albums, playlists and podcasts
CONTENTS
Just like Spotify Unlimited, Pandora Premium will cost $9.99 per month with a 60-day free trial. Existing Pandora Plus subscribers received a longer 6-month trial. Spotify offers a 30-day free trial to new users.
Pandora Premium: $9.99 per month.
Pandora Family Pricing: $14.99 per month or $164.89 per year.
Song Library: The same as Spotify, more than 40 million songs.
Free Trial Length: 60-day free trial for new users, free trial time is 30 days longer than Spotify.
Availability: Android phones, iPhones, Chromecast, Android Audio, CarPlay and other car stereos (at launch); desktop computers and connected devices, Android devices, iPhones, iPads, desktop computers, Amazon Echo speakers, Amazon Fire TV, PlayStation 3, PlayStation 4, Xbox, smart TVs, Sonos speakers and other connected devices Chromecast, Android Wear, Android Audio, CarPlay and other car stereos.
Question:
How to Keep Pandora Music Songs as MP3/M4A after 60-Day Free Trial
"Pandora provides 60-day free trial for any new users. You can download Pandora Music on iPad, iPhone, iPod Touch, Android phone/table, Mac or PC for offline listening without any limitation during the period of 60-day free trial. If you are not satisfied, you can simply cancel the subscription and you won't be billed when 60-day free trial ends. However, when the 60-day free trial ends, all songs downloaded can't be played on Pandora app. If you want to keep Pandora Music songs playable after free trial, or offline play Pandora Music songs on MP3 player, use third-party Pandora Music downloader, Pandora Music Converter and Pandora Music Recorder to convert the downloaded Pandora music to MP3/M4A/AAC, or record Pandora music as MP3/M4A/AAC audio files."
Pandora, also known as Pandora Internet Radio or Pandora Radio, Pandora is an American music radio website. Some Pandora Premium users want to download music from Pandora for offline listening on MP3 player, like Sony Walkman, iPod Nano, etc. How can you download music from Pandora to MP3? If you want to cancel Pandora premium subscription, you no longer have access to any music or playlists you added from Pandora, because all songs on Pandora are protected by DRM protection, which is a streaming music service like Apple Music and Spotify, so you can't download songs from Pandora to keep them playable forever. In other words, if you decide to stop the Pandora Premium subscription, all your Pandora tracks will not playable.
To download Pandora music for offline listening, keeping songs downloaded from Pandora playable forever, or playing Pandora music on MP3 player offline, you need to download Pandora songs offline without restrictions. Today, we'll teach you two effective methods to get Pandora songs without DRM (Digital Rights Management) protection.
Method 1: Free Download Music from Pandora with Chrome or Firefox
This party teach you how to download music from Pandora is with Chrome or Firefox. As we all know that the Chrome or Firefox browser has built-in web Developer Tool, which enables us easily to find the true download links of the music files, then we can free download and save music from Pandora. Let's show you steps-by-steps guide on how to use Chrome or Firefox to download Pandora music.
Step 1. Open Pandora on Chrome or Firefox
First of all, please open Pandora stations for Web on Chrome or Firefox and log in your Pandora account, then play your Radio Station. Next, right-click any blank area of the page and choose "Inspect/Inspect Element".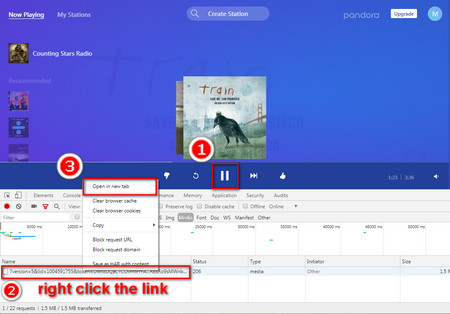 Step 2. Find the Download Links of the Music Files
In this step, please click the Network option on the menu bar and select Media tab. Then, press F5 to refresh the page, you will find a "Play" button to play the music file. Just click the "Play" button, you can easily to find the download link of the music file in the Media tab.
Step 3. Download Songs from Pandora
After finding the true download link of the music file, please Right click on the download link and choose "Open" in new tab, the Chrome or Firefox browser will pop up a music player, then just click the "Download" button or just right click on the music player to download Pandora music as MP3 files by clicking "Save audio as…" .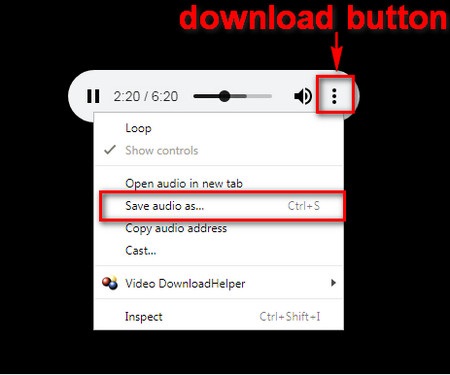 Tips: If you want to download more MP3 audio files from Pandora, just repeat the above steps to download Pandora Music and Podcasts one by one.
Disadvantage: The above Pandora music download methods can help you download MP3 songs from Pandora by Chrome or Firefox, but this method is very slow, and some song links are not easy to find. Below, we'll teach you another more effective method to get Pandora music for MP3/AAC/M4A/WMA formats.
Part 2. Best Way to Download Pandora Music to MP3
Digital Rights Management (DRM) schemes are being applied to music to prevent certain users from pirating, but this actually prevents most users from taking full ownership of the music they purchased. Music buyers because of this can only have their purchased songs on a few devices, the buyer does not really own these songs. Although we purchased or subscribed to streaming music service, but we can't offline play music on MP3 player, iPod Nano and other unauthorized device.
UkeySoft Pandora Music Converter is a highly proficient software that empowers users to bypass DRM restrictions placed on Pandora tracks. This software enables the seamless download of songs, albums, playlists, and podcasts from Pandora, all available in various formats such as MP3, M4A, WAV, FLAC, AAC, and AIFF. With an impressively fast conversion speed at 10 times faster, it maintains the original audio quality intact, ensuring an exceptional listening experience. By employing the UkeySoft Pandora Music Converter, you can relish your preferred Pandora music selection without the necessity of an online subscription. Additionally, it offers the convenience of batch file conversion and provides the option to edit ID3 tags, simplifying the task of managing and arranging your downloaded music files.
Key Features of UkeySoft Pandora Music Converter
Free Your Pandora Music:
This tool breaks the chains of restrictions on Pandora Music, giving you full control over your tunes.
Offline Listening Made Easy:
Download your Pandora favorites to your device and enjoy them offline, whether you're on the go or without an internet connection.
Choose Your Format:
Get your Pandora songs in the format you like: MP3, M4A, WAV, FLAC, AAC, or AIFF. Play them on various devices hassle-free.
Sound Quality Preserved:
Your music stays sounding great – no loss in quality during downloads.
Super-Fast Downloads:
Batch download at lightning speed – your tracks will be ready before you know it.
Stay Organized:
All the important details like song names and artists are kept intact. Managing your music is a breeze.
No Extra Apps Needed:
Keep things simple – no need to clutter your device with extra software.
Guide: How to Download Pandora Music to MP3
Step 1. Launch UkeySoft & Log In
Download the software and install it on your computer. Once the installation process is finished, launch the converter and access the main interface. Here, you will be prompted to log in to your Pandora account.
Step 2. Customize the Output Settings
To customize your output preferences, select the "Settings" icon located at the upper right corner of the interface. From there, you can select MP3 as output format. you can also modify other various settings, such as output quality (up to 320kbps), output folder, output file name, language, etc.
Step 3. Add Pandora Songs
With the built-in Pandora web player, you can easily search for any playlist or album you desire. Once you have found your preferred selection, simply open the playlist to proceed.
Then click the "+" icon to add the songs to the list.
you will notice that all the songs are automatically selected by default. However, if you prefer not to download a particular song, you can uncheck it with ease.
Step 4. Start Converting Pandora Music to MP3
After selecting the desired songs to download from Pandora, you can initiate the download process by clicking the "Convert" button, and the software will begin to download the selected songs for you.
Step 5. View the downloaded Songs
When the process is done, you can view all the downloaded songs by accessing the "clock" icon located at the upper right corner of the interface. You can locate the downloaded songs by clicking on the folder icon.
Method 3: Download Pandora Music to MP3/M4A with UkeySoft Screen Recorder
UkeySoft Screen Recorder is designed to record music playing from any online music store such as Apple Music, Spotify, Google Play Music, Youtube Music, Amazon Music, Pandora, etc, and save them as a lossless MP3, M4A and WAV file. As we all know, we won't actually be removing DRM from the streaming music, with the help of this Streaming Audio Recorder, you don't need to remove DRM protection from the streaming music, just recording the protected music to MP3 with a high quality format. What's more, this Screen Recorder not only can help you record Pandora music as MP3 files, but also allows you record and capture streaming video and save them as MP4 video files.
More Functions:
- Record streaming music and audio in MP3/M4A/WAV for playback offline.
- Record Amazon video, iTunes M4V video, Youtube video and more online video or streaming video.
- Convert recorded Pandora music to MP3, AAC, WAV, FLAC, M4A.
- Record Spotify, Apple Music, Youtube Music and any other sound on computer.
- Capture any activity on Mac or Windows computer.
- Record any online music, radio, audio call and save them as MP3/WMA/AAC/M4A audio files.
- Record and save your webcam videos on your computer.
- Editing the recording contents before saving them.
Steps to Download and Convert Pandora Music to MP3 on PC/Mac
Step 1. Launch Pandora Music on Your Computer
Download and run the Pandora Music recorder on computer, we provide Windows version and Mac version.
After running the program, you can see there are five function: Full Screen, Custom Area, App Window, Camera and Audio Only. To record music from Pandora Premium, please click "Audio Only".

Then, download, install and run the Pandora App on Windows/Mac computer, or open Pandora web player via browser.
After opening Pandora with a browser or Pandora app. Then sign in with your Pandora Premium account and find a songs you want to record.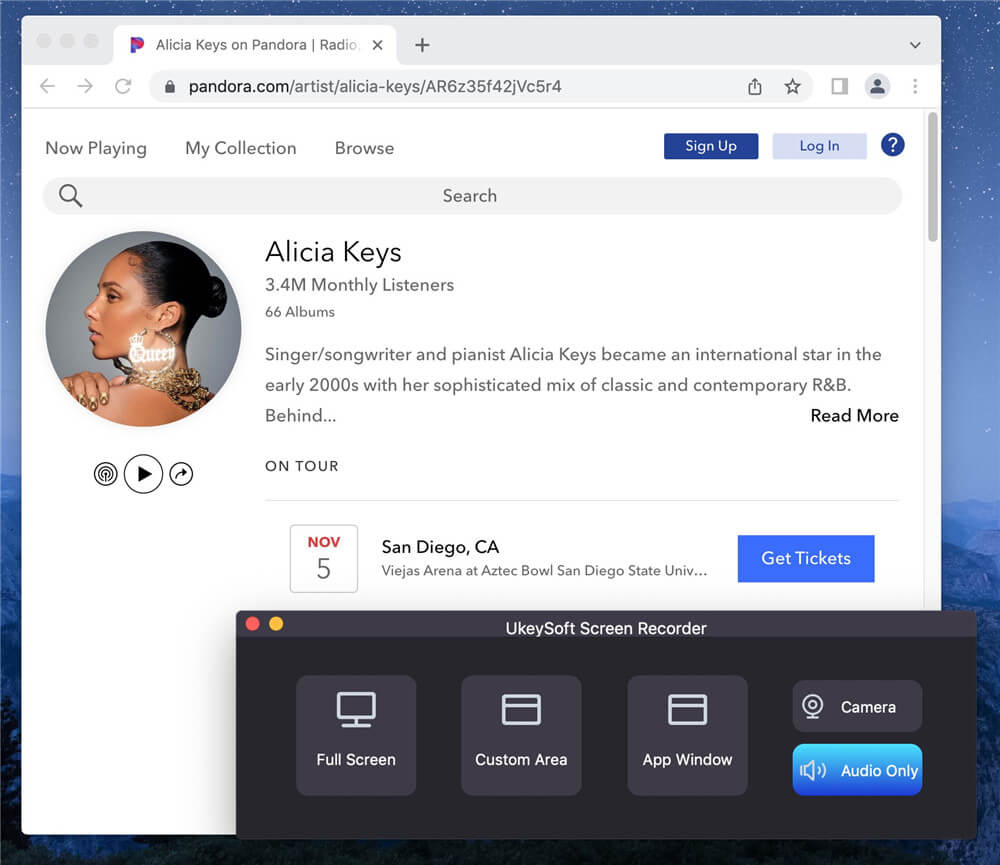 Step 2. Select System Audio as Input Sound
To record music from Pandora with high quality, you just need to select "System Audio" for the input sound, which it will only record audio from the computer.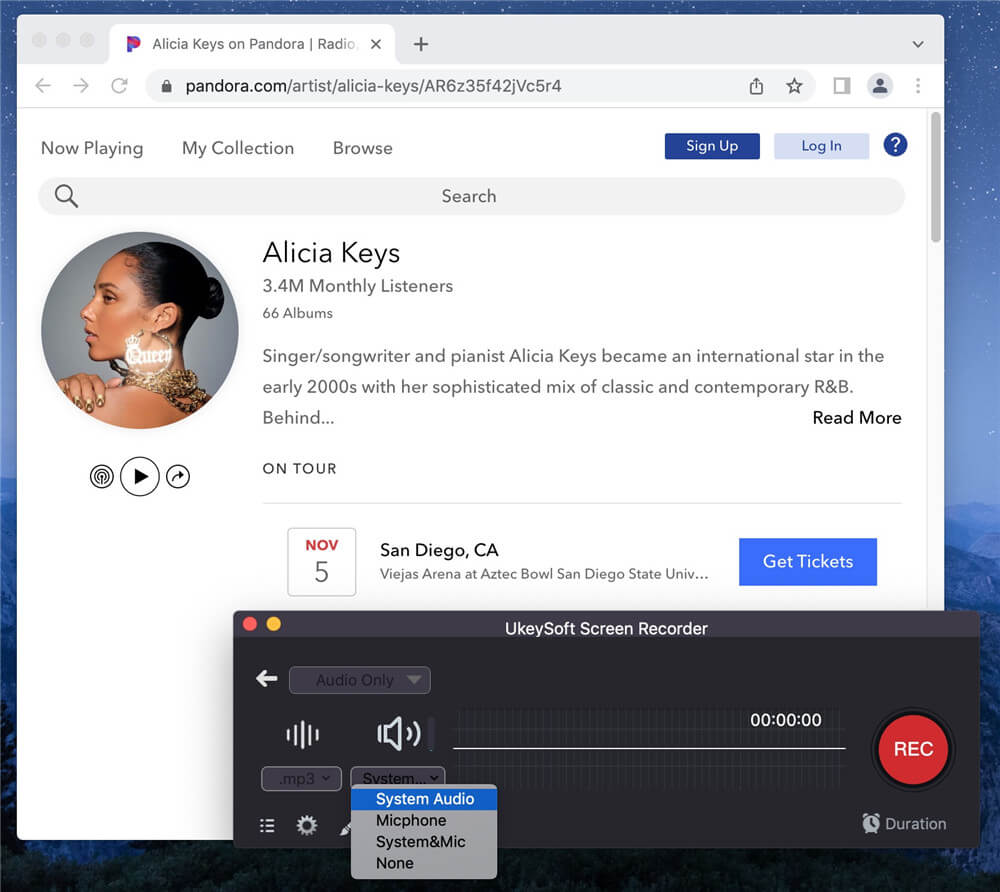 Step 3. Choose to Download and Convert Pandora Music to MP3
There are 3 output formats you can choose from here from the drop-down menu, including MP3, M4A and WAV. You need to select MP3 for the recoreded Pandora song.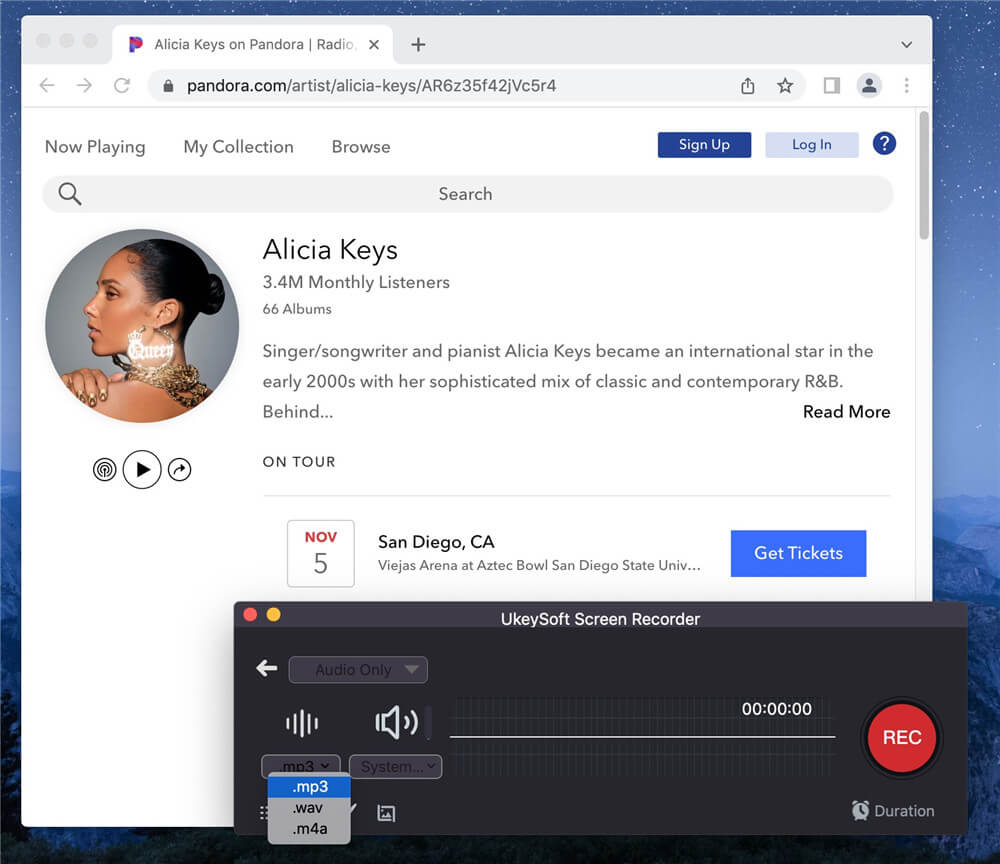 Step 4.Record Pandora Music as MP3 Files
When you are ready, click the "REC" button and play the music to start recording.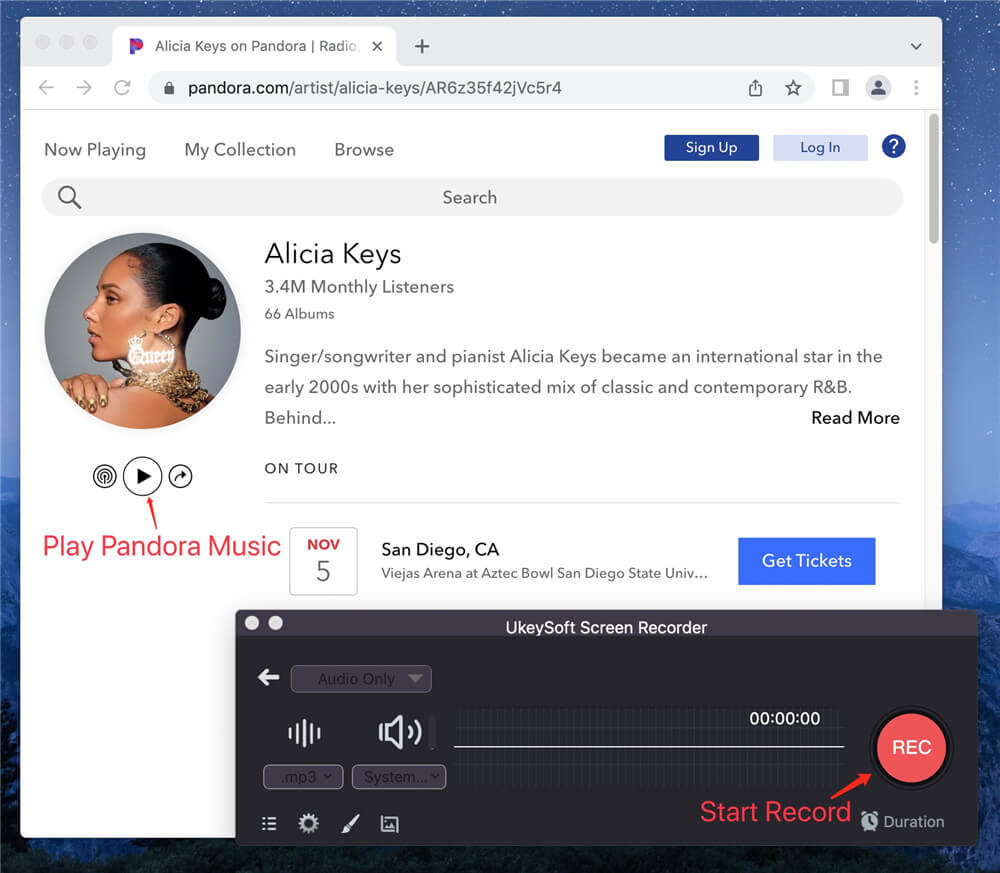 During the recording, the program allows you to pause and stop the recording whenever you like.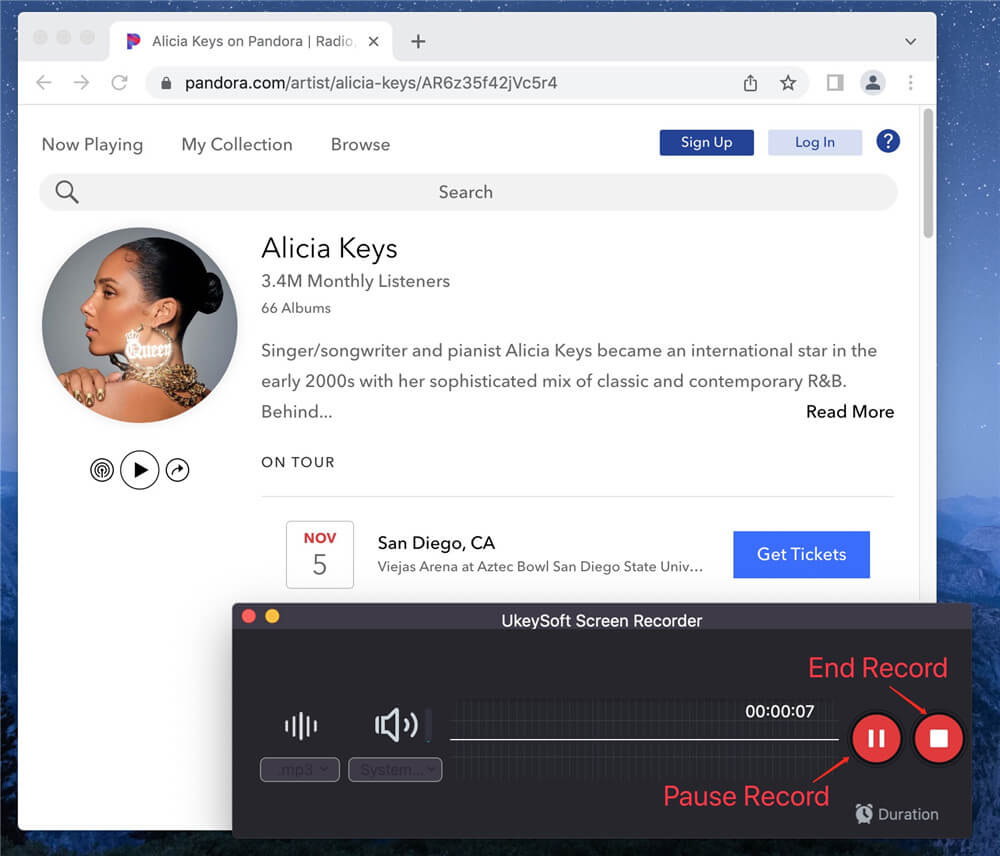 Step 5. Listen the Recorded Pandora Songs on Computer
Somple click the rectangle icon to stop the recording, the songs will be saved on your computer, you can offline listen to the recorded Pandora music, or transfer Pandora music to MP3 player for enjoying anywhere you like.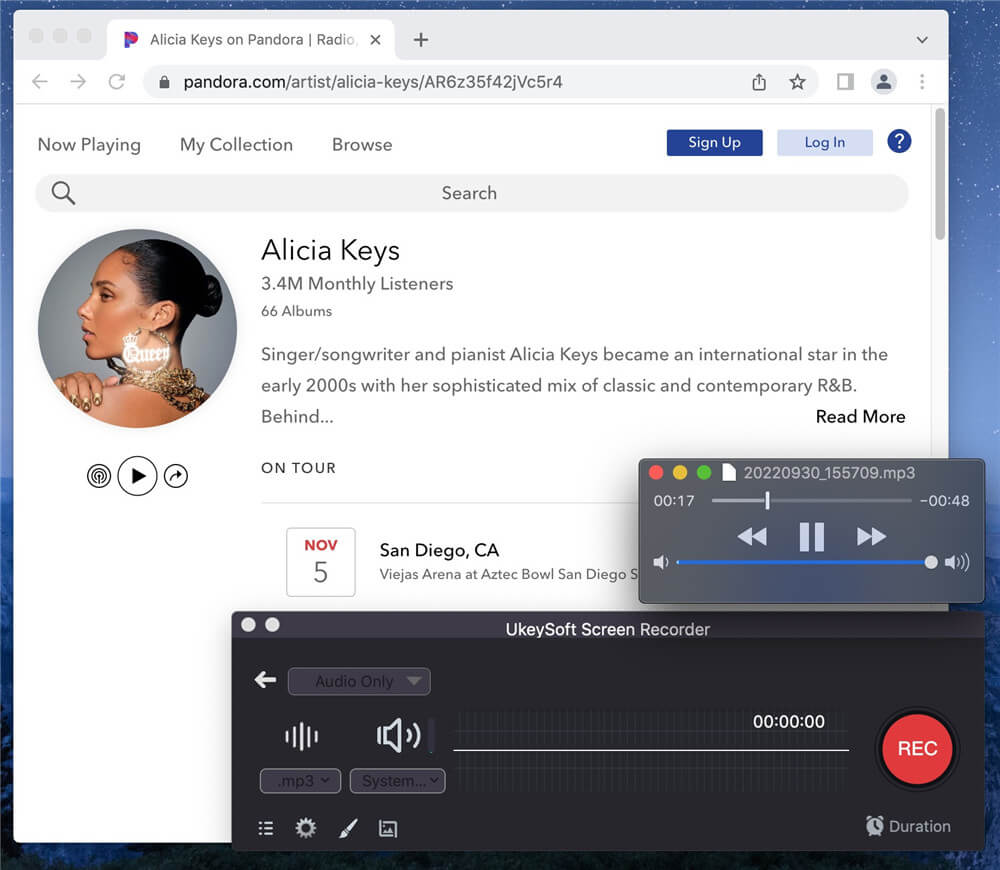 Free download the Screen Recorder and try to record music and videos online.
Download Pandora Music for Offline Listening
Comments
Prompt: you need to log in before you can comment.
No account yet. Please click here to register.