By Justin SabrinaUpdated on December 16, 2022
---
Summary
Do you want to convert DVD to MP4 and watch DVD movies on iPhone/iPad or any Android mobile device? You can use a [DVD to MP4] converter - UkeySoft DVD to MP4 converter, which is a professional DVD to MP4 ripper to rip DVD to MP4 (H.264/MPEG4) on Windows (10) and macOS (Mojave) computer, and make any DVDs playback on iPhone, iPad, Android phones, PSP, HDTV, MP4 players, ect.
"My cousin sent me a message asking me for help in a few days ago, tell that he is annoyed and doesn't know how to play the education video dvd for about school's subject.The foolish and clunky DVD-ROM player was broken and his computer does not have a DVD-ROM drive to support dvd playback." From Daniel Cousin
"I replied to my cousin, dear Daniel cousin:I have a software called UkeySoft DVD Ripper, which is an application that can convert DVD format into mainstream video format to help you play on your computer. I propose you to rip DVD to MP4 video for playing on MP4 player.No need for the build-in DVD driver, and has a lot of excellent functions." From your dear cousin
According to the above scenario dialogue, I believe that we have more or less encountered problems in playing and gaining DVD content, because with the changes of the times, the media carrier for playing video has changed a lot, especially less and less devices support playback DVD.The probably reason is the rapid development of mobile devices and the unique advantages of natural which that is ease and convenient, resulting in reduced hardware support for DVD playback.For certain groups of people or specific circumstances obtained information limited to DVD disc and suffer for no device playback,so how do we solve it? According to this article, I will guide the UkeySoft DVD to MP4 converter mentioned above.
Guide: Why Do You Need to Convert DVD to MP4?
DVD is based on MPEG-2. Each disc can store up to 4.7GB (approximately 133 minutes of video high compression ratio programs, including six digital Dolby Digital sound tracks). Its capacity is not only CD- ROM (650MB) disc is about 7 times, and the CD-ROM is dwarfed by superior playback quality.However DVDs cannot support most mainstream devices like iPhone,Android phones or computers without CD-ROM drives,PSP,tablets and HDTV,etc.So we need a DVD ripper to convert for H.264 MP4 format playback on iPhone or Android.
Choose MP4 format be convert and rip
MP4 features:
High compression rate and great output quality.
A digital MP4 copy is much easier to store and manage.
Compatible with almost all electronic devices.
UkeySoft DVD Ripper is a computer program that facilitates copying the content of a DVD to a hard disk drive. They are mainly used to transfer video on DVDs to different formats, to edit or back up DVD content, and to convert DVD video for playback on media players and mobile devices. The UkeySoft DVD Ripper include additional features such as :
- Built-in editor, you can trim, crop, adjust video effects in one place.
- Convert DVD to any formats with high quality.
- Ease to use interface helps to rip DVD into any formats without any hassles.
- Convert DVD to any formats with high quality and speed
Convert DVD to MP4 with Five Steps
Steps 1. Install UkeySoft DVD Ripper
Free download the UkeySoft DVD Ripper for Windows and then follow the instructions to install the program on your computer.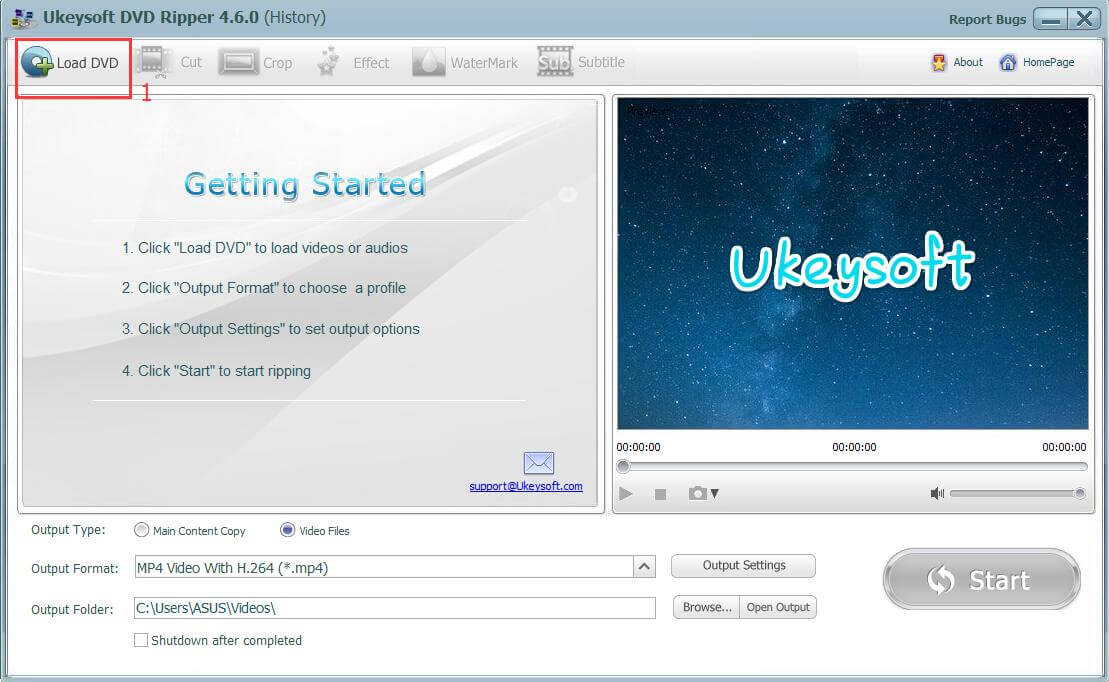 Steps 2. Launch Ukeysoft DVD Ripper and Open DVD Disc
Launch Ukeysoft DVD Ripper on the computer. Insert DVD to DVD Drive, then click "Load DVD". Open DVD disc to loads your DVD movies.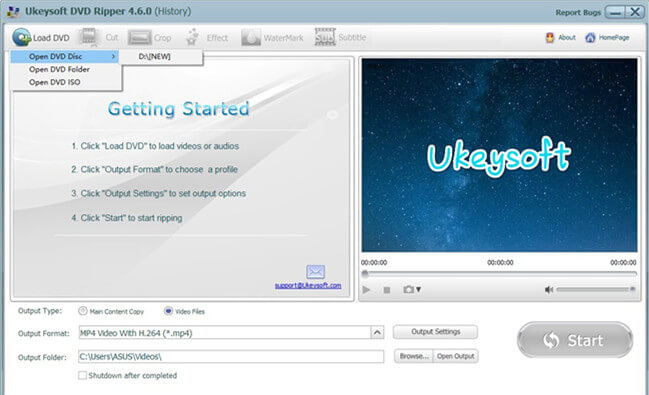 Steps 3. Choose H.264 MP4 as Output Format
Select "Output Format" from list, select the H.264 MP4 as the output format for DVD to MP4 conversion format for the output file.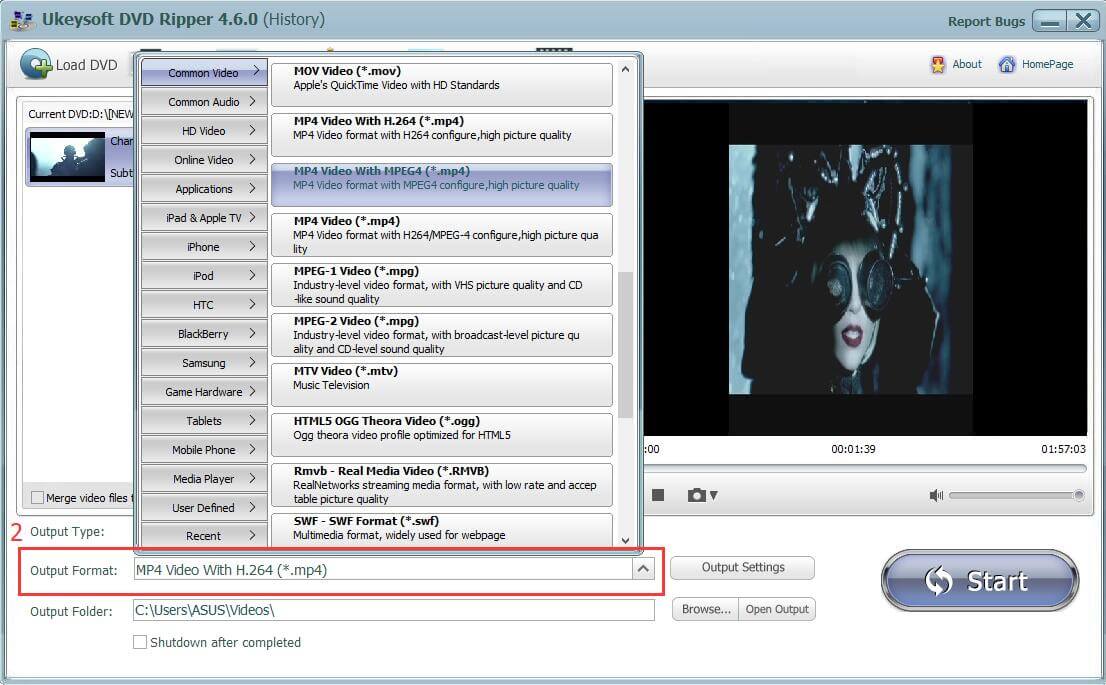 Step 4. Custom Video Effects before DVD to MP4 Converstion(Optional)
If you want to enhance the videos quality before ripping your DVD movies/videos to AVI format, you can click "Cut", "Crop", "effect", "Watermark" and "Subtitle" function at the top of this interface, for new video editing beginner, you can also easily to edit the video or add some special visual effect, just few clicks to enhance videos quality before DVD to MP4 conversion.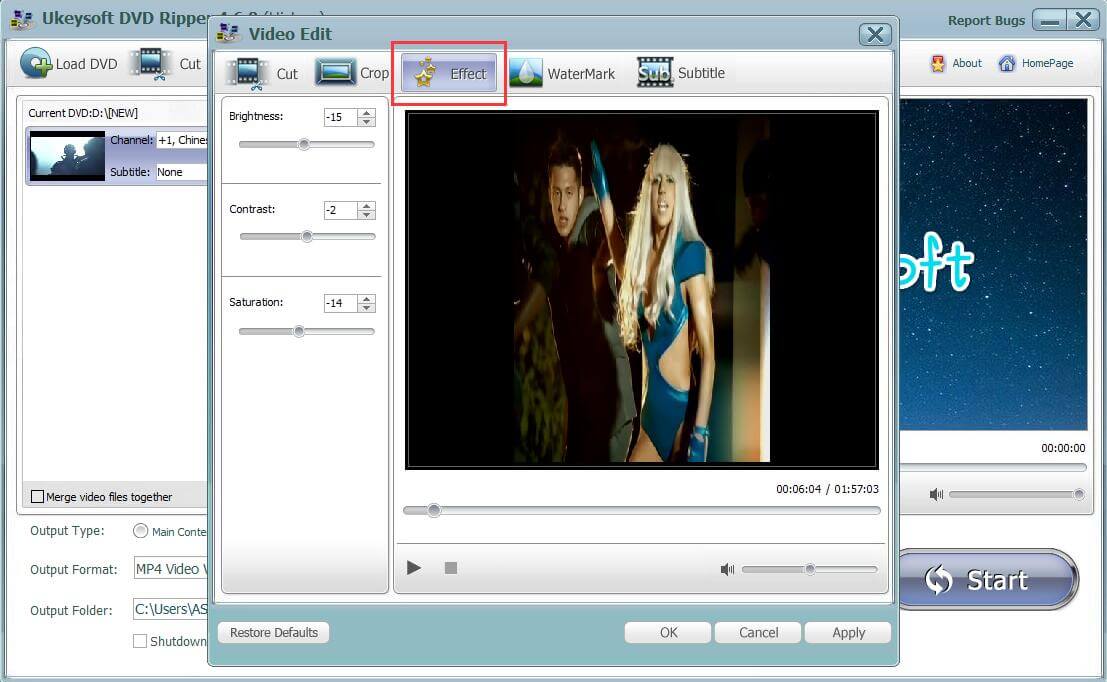 Steps 5. Begin Ripping DVD Movies to H.264 MP4
Click "Start" button to start DVD to video audio conversion. Click "Open Output" button to check the result.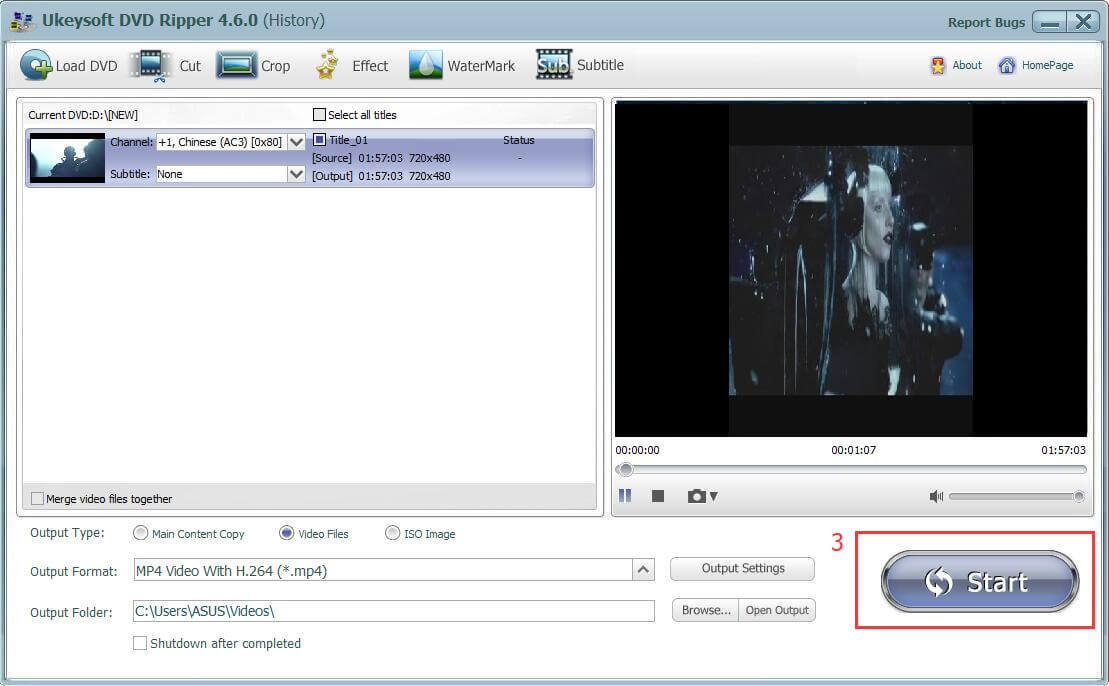 All of these features and tools are great, follow the guide above and finish the conversion which if you are have a good experience,this will be the greatest support for software developers, the software will continue to update and develop to add more excellent features for the user experience.
Comments
Prompt: you need to log in before you can comment.
No account yet. Please click here to register.