By Justin SabrinaUpdated on March 07, 2022
---
Summary
Want to watch YouTube videos offline. This article provides 2 methods that are suitable for downloading YouTube videos to MP4, so you can watch the videos offline on your computer or transfer them to other media players for playback.
How to Download YouTube Videos to My Windows PC?
"Youtube is a powerful and comprehensive video streaming website with a variety of videos that I can browse at any time, but I don't always have too much time to watch on my computer over a normal network. So I want to save it offline so that I can play them anytime, anywhere, but youtube doesn't offer download options. Do you have any better suggestions?"
Saving offline by downloading or recording videos from YouTube means you can watch them without an internet connection, which is great for enjoying entertainment on airplanes, trains and places without reliable 4G/5G or Wi-Fi. Although there are many different ways to download video from Youtube for offline playing, here are 2 kinds of downloading online YouTube videos to PC. UkeySoft Screen Recorder is a very useful desktop recording tool that can be used to record YouTube videos into MP4 format. Another alternative is to use 4kFinder's YouTube Converter tool to convert YouTube video to MP3 or M4A online.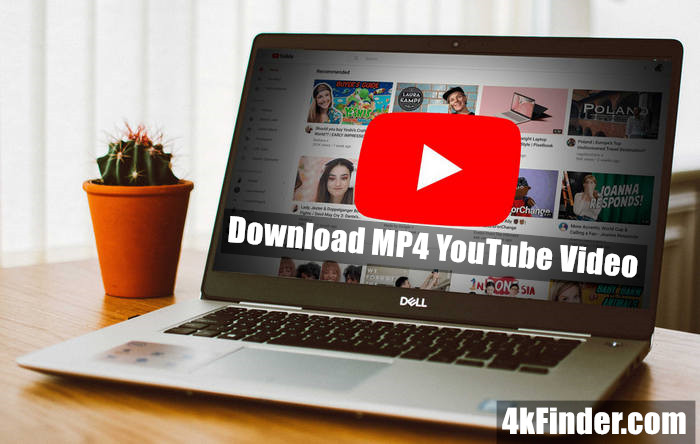 CONTENTS
Part 1. Record Youtube Video with UkeySoft Screen Recorder
There are many free versions of screen recorder in the market that provide you with recordings, but these programs can't be safely run on a PC if their programs bundle Trojans and only have simple fool-like features. In other ways, many free programs add ugly watermarks to your clips or let you record only a handful of videos before demanding payment, so it's essential to pick the right software first to avoid disappointing results. So how do we choose a better professional screen recorder?
UkeySoft Screen Recorder is always a great tool for dealing with any video issue. This tool allows you to capture any area of the screen as a screenshot or video file. With our on-screen recording software, you can quickly and easily record webinars, games and Skype videos, YouTube live streaming videos, and much more.
Main features of UkeySoft Screen Recorder:
Capture any part of your screen and start recording.
Add and size your webcam for picture in picture effect.
Narrate from your selected microphone as you record.
Add stock music and captions to your recording.
Trim the start and end to remove unnecessary parts.
Note: Before we continue, note that policies for the many video Web sites vary, so review those policies and move forward at your own risk. Distributing copyrighted material without authorization is illegal in the United States and many other countries. CBS Interactive does not encourage or condone the illegal duplication or distribution of copyrighted content. Before copying or distributing any content online, make sure you have the legal right to do so.
Guide to Capture Youtube Video with UkeySoft Screen Recorder
Step 1. Install UkeySoft Screen Recorder
Free download the UkeySoft Screen Recorder on your computer, install and open it then you need to select "Screen Recorder" feature from the main page of the program.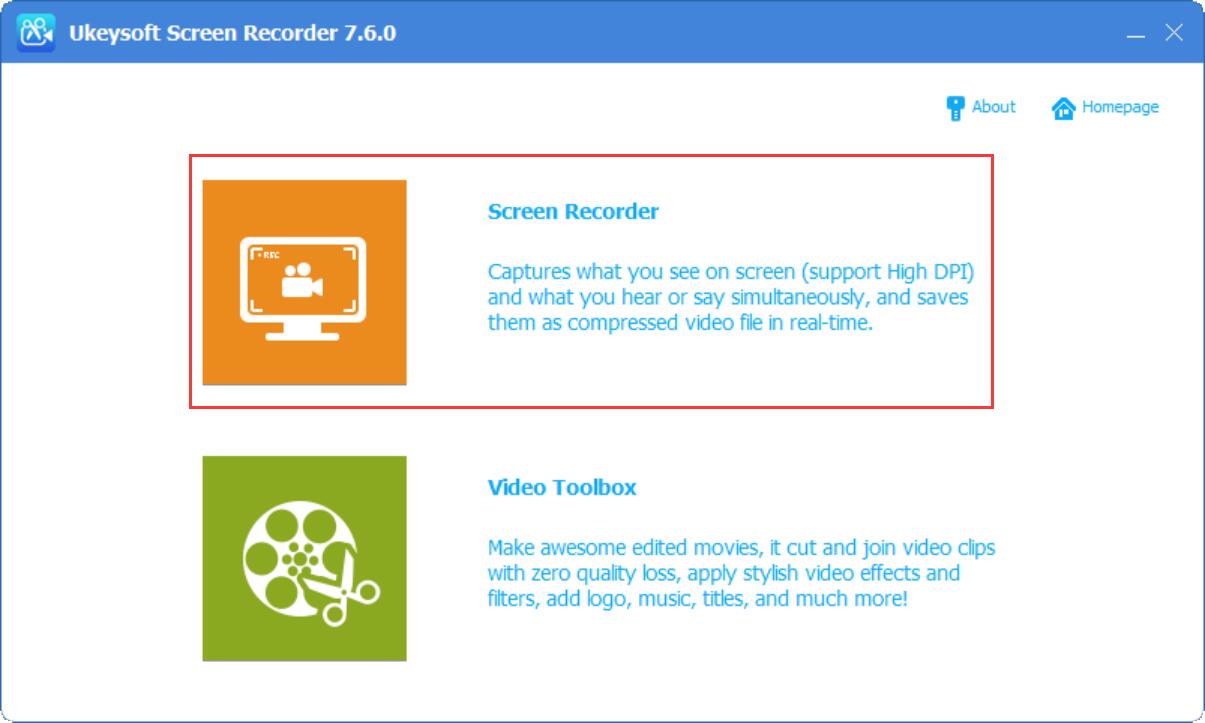 Step 2. Select Youtube Video Screen Area
When you are entering "Screen Recorder", it has three options "Full Screen", "User-Defined(custom recording area)" or "Camera@(record webcam)". Normally, you can select "User-Defined(custom recording area)" option that you can crop out the Youtube video screen size for recording as you like.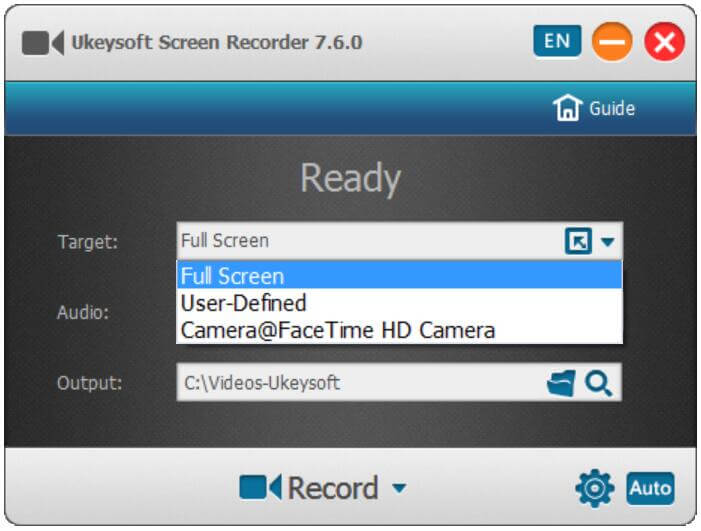 Step 3. Select Audio Input Channel
There are four types of channels for you to choose to record video output channels, including "computer sound and microphone", "computer sound", "microphone" and "none", please choose what you need.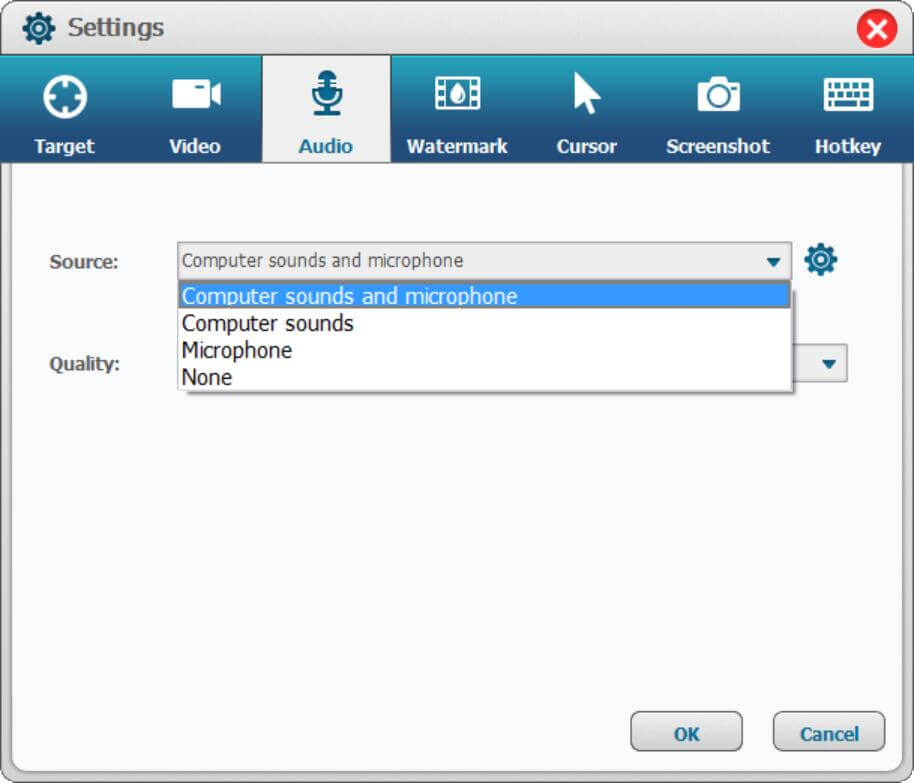 Step 4. Set up Output Format and Output Folder
In the Settings window, click on the "Video" menu and a pop-up window will appear about the output video settings. The output formats supported by this program are FLV, MP4, AVI and WMV, etc. You can choose one of them and set up a folder to save the recorded video and screenshot files.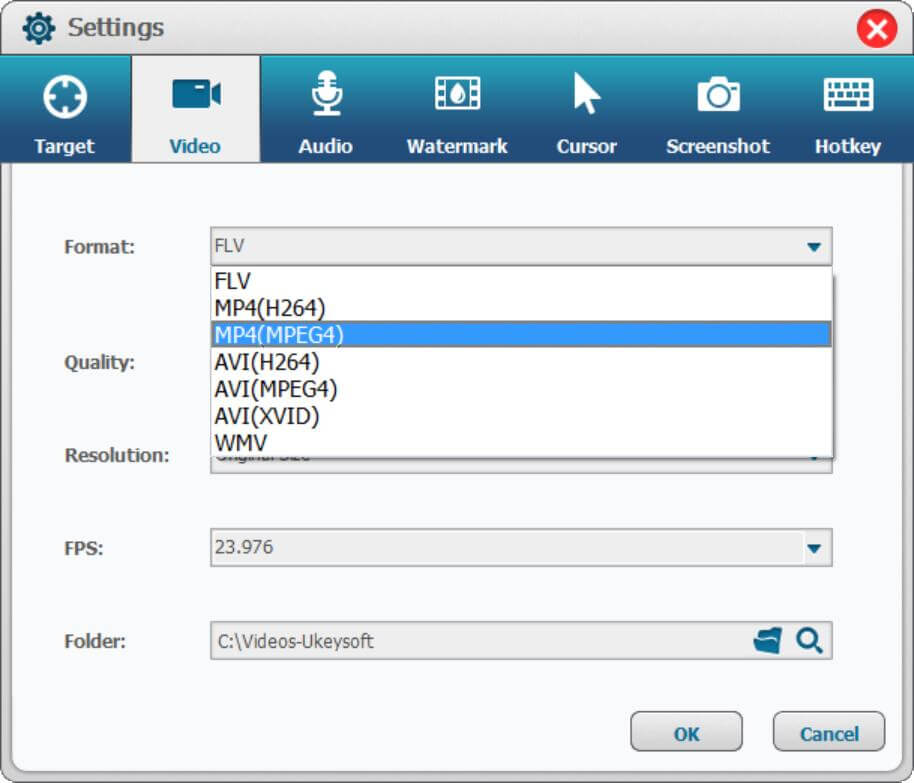 Step 5. Use Hotkeys For Control Recording
In the "Hotkeys" section, you can use the hotkeys that were originally set by the program. You can also change to a hotkey that you are familiar with if you want.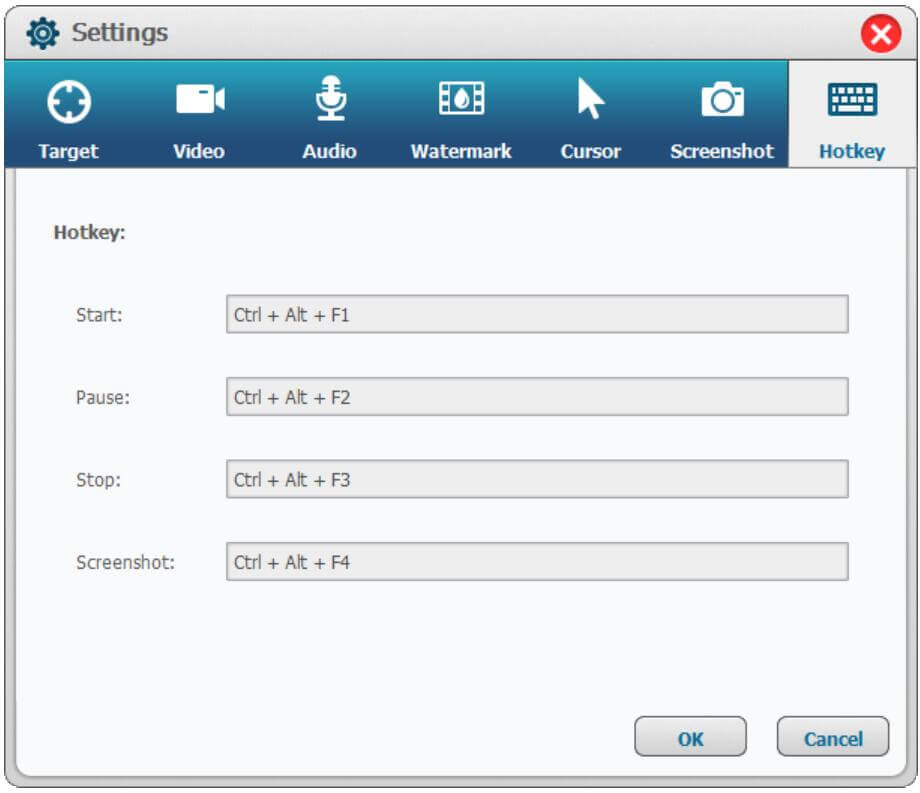 Step 6. Start Recording Youtube Online Video
After completing the above settings, you will start playing Youtube videos, then click the "Record" button to start recording Youtube videos. You can also use the hotkey to stop and end the recording process.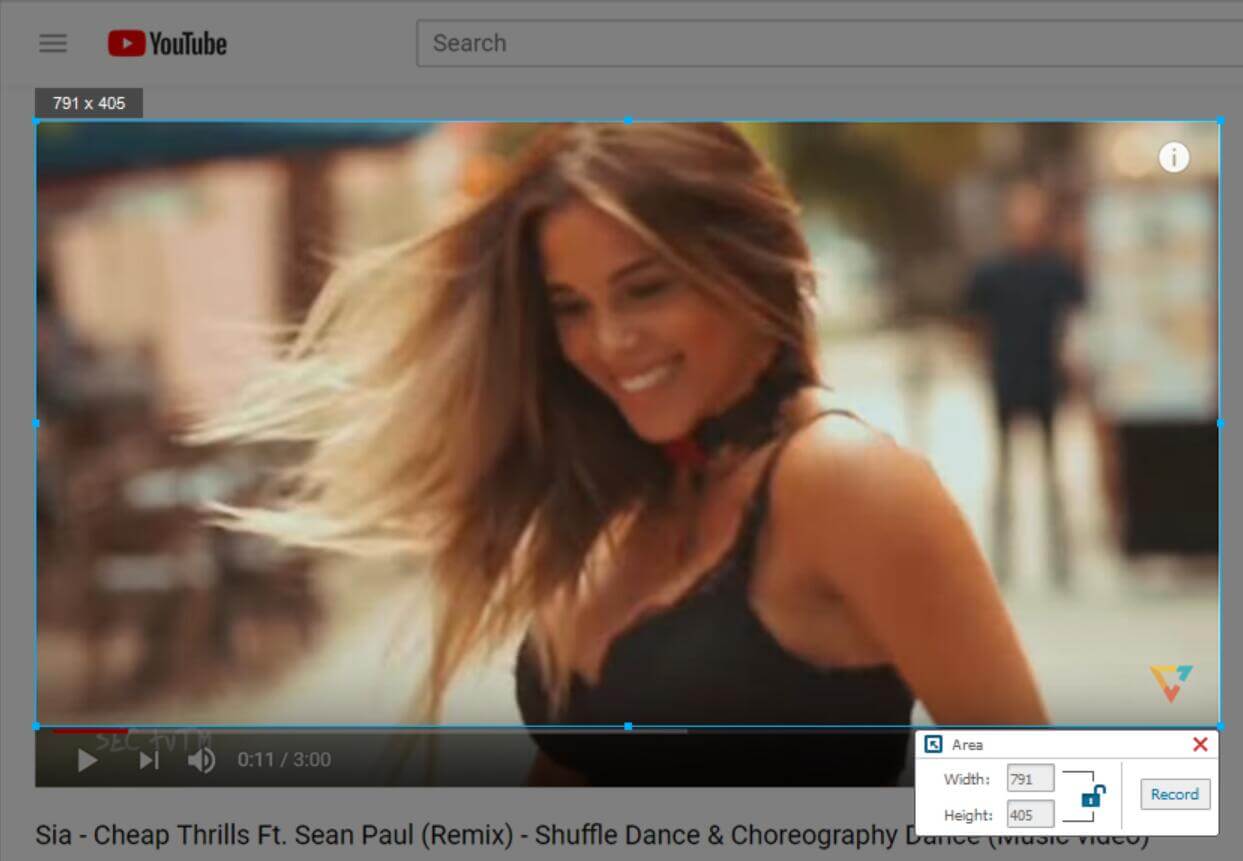 Step 7. Preview and Edit the Recorded Video(Optional)
When you successfully record a Youtube video and get a file, you can preview it in the program. But if you want to make the recorded file perfect, go back to the main page of the program and choose "Video Toolbox". This feature allows you to cut, merge, crop, crop and rotate recorded video and add effects, music, watermarks and subtitles to your recorded video. All the recorded videos will be saved as MP4, which are compatible with iPod, iPad, iPhone, Android Phones, Tablets, etc.
Part 2. Convert YouTube Video to MP3/MP4 with 4kFinder
Want to download YouTube videos on your PC for offline watching? The great news is that if you desire to save your favorite videos, it is not as difficult as it might seem to be.
YouTube Converter, a YouTube video downloader developed by 4kFinder software company, is used to download YouTube videos to MP4 and audio from YouTube to high-quality MP3. You only need to copy & paste the video URL into the bar and click on Download. Since the YouTube Converter offers different quality and size to download a video, the feature comes in handy when you are trying to watch a song in 8k, 4k, 1080p HD, 720p resolution. Now try to use the software to download YouTube videos to MP4 with high quality so you can watch YouTube videos on your computer without internet connection.
Downloaded YouTube videos to MP4, MP3, M4A.
Download videos up to 6x faster than normal speed.
Download 8K, 4K Ultra HD, 2K Quad HD, 1080p Full HD, 720p HD, and 3D videos from YouTube.
Download multiple videos at a time.
Directly drag and drop video link for downloading.
Suitable for Windows computers and Mac computers.
Download YouTube videos with subtitles in more than 50 languages.
Steps to Convert YouTube Videos to MP4 with 4kFinder
Step 1. Install YouTube Converter on PC
Please be ready, download and install YouTube Converter on your Windows PC. YouTube Converter provides a 15-day free trial allowing you to download YouTube videos to MP4. After the installation is over, double-click it to start the software.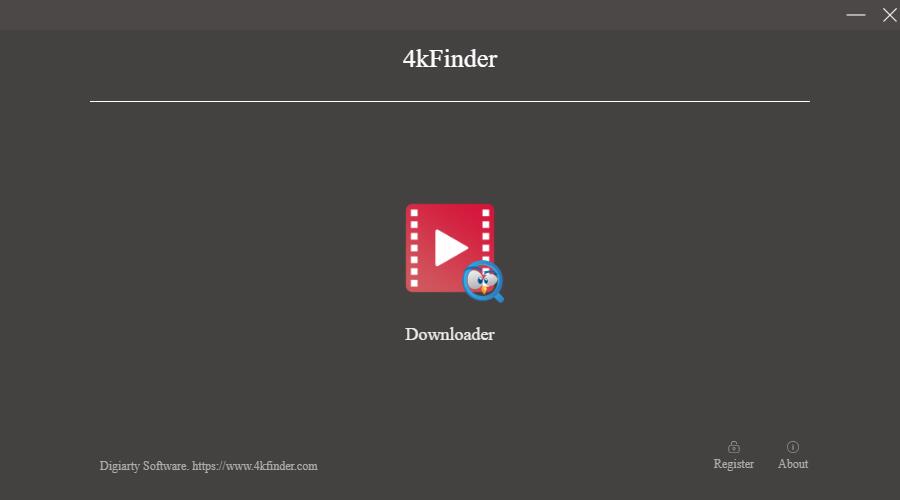 Step 2. Copy and Paste the Video URL
Downloading YouTube videos only requires simple copy and paste. Open the video you want to download on the YouTube website and copy the link. And copy it to the YouTube conversion tool, click "Analyze".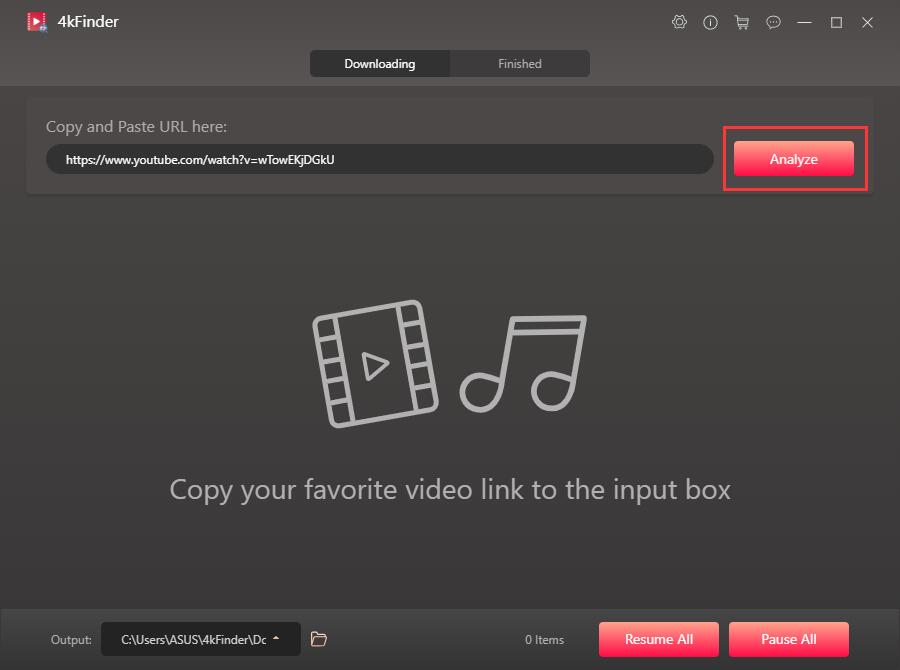 During the download, you can continue to add the video address to download the YouTube video. It runs at 6x astonishing speed and outputs high-definition MP4 YouTube videos.
Step 3. Select Output Format and Resolution
A small window will automatically pop up after the analysis is complete. Here to provide you with different output formats and resolutions. 4kFinder's YouTube Converter allows users to download YouTube videos in 4k and 8k. Now choose the appropriate output format, resolution and subtitles for your video.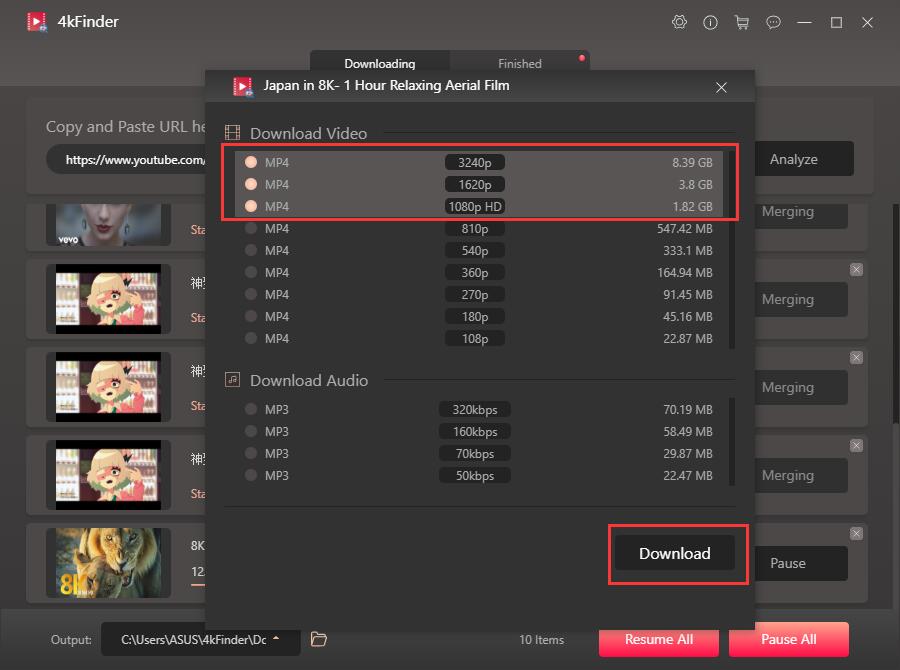 Step 4. Download YouTube Videos to MP4 on PC
Everything is ready, click the "Download" button to download YouTube videos to high-definition MP4 files and save them in your local folder.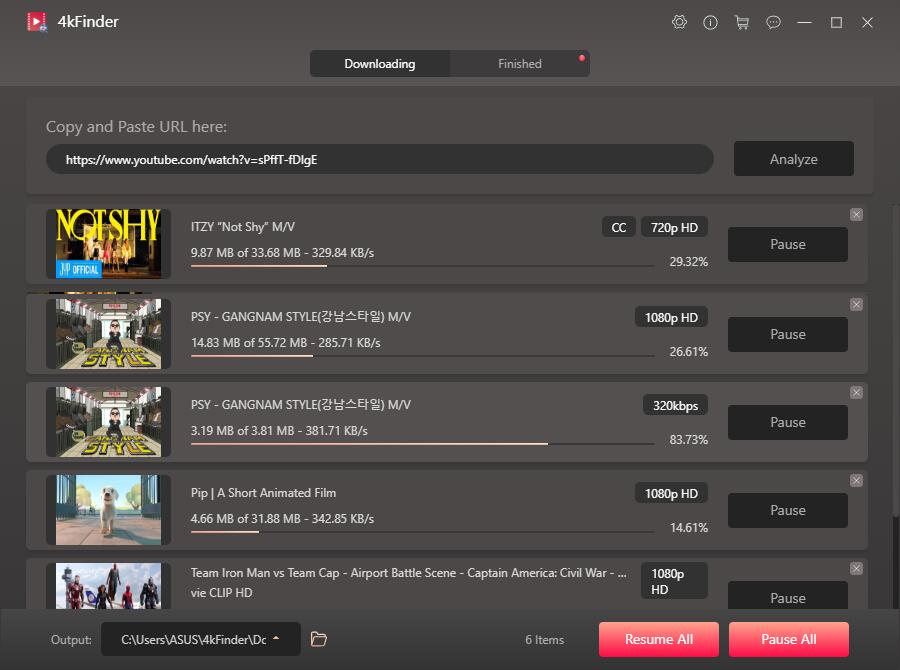 After conversion, click "Open Folder" next to the song to find and open the local folder where the MP4 YouTube video is saved.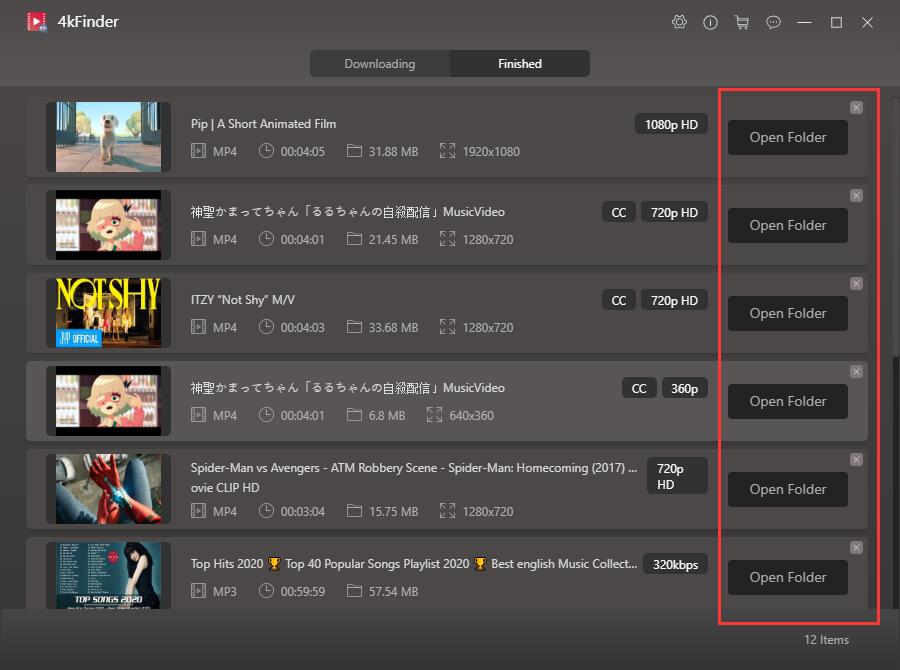 Conclusion
After testing, the above 2 methods can easily record YouTube videos to MP4 on PC. Rather than downloading YouTube videos, UkeySoft Screen Recorder is more suitable for capturing your computer desk activities. This is a practical tool especially when you need to make tutorials or record real-time videos. 4kFinder seems to be the perfect YouTube video downloader, which can be used to download YouTube videos to MP4 in 720p, 1080p, 4k, 8k and save them as local files on your computer.
Record YouTube Videos on PC
Comments
Prompt: you need to log in before you can comment.
No account yet. Please click here to register.