By Justin SabrinaUpdated on September 02, 2021
---
[Summary]: Looking for a data security software to hide files and folders on your USB device? This article tells how to hide files and folders on USB drives/SDs/memory or other external storage drives using the USB File Lock software. Follow these steps to see how to how to hide files and folders on all brands of USB flash drive, like Kingston, SanDisk, Toshiba, Samsung, Lexar,etc.
In daily life, we often use USB flash drive or memory card to store data or transfer data, we can carrying personal files or work documents from one place to another, such as from home to school or office, because its small size, large memory space, easy to carry and other advantage, the USB flash drive is widely used. However, small size USB also make them often misplaced, stolen, forgotten or lost. Now is the age of information security, if data is stolen or privacy leaks, it will cause serious harm to you. So, it's necessary to hide or lock your data on USB flash drive.
For example, if you accidentally lost the USB Flash Drive, but the important data inside does not have any protection, anybody can easily view the data in the USB Flash Drive? Or your naughty children deleted your important documents on your USB flash drive? Maybe has more case happen with your USB Flash Drive in the future, therefore just like the anybody bought a car need to buy a car insurance, you probably need to get a profession USB Encryption software to hide files and folders of USB flash drive, in order to keeping your data safer. Thus, some professional USB drive encryption software prevents such incidents by hide or password protect protect files and folders off USB flash drives.
Don't worry if you want to make your USB drive doesn't show files and folders in your PC. You can try to hide or lock files/files from USB drive via UkeySoft File Lock or UkeySoft USB Encryption - two best USB locker software for Windows users.
Best Methods for USB Drive not Showing Files and Folders
UkeySoft File Lock and UkeySoft USB Encryption both are designed to hide or lock files/folders of USB flash drives, Thumb Drives, Memory Sticks, Memory Cards, SD Card, Pen Drives, Jump Drives and other external storage drives by 256-bits AES on-the-fly encryption. You can use this two powerful data encryption software to hide or password protect Everything on USB drives, such as Media files: private photos, videos, audios; Documents: PDF, Text, Word, Excel, Powerpoint and other office documents.
Let's show you the easy guide to hide files and folders on USB external drive by UkeySoft File Lock.
Guide: How to Hide Files and Folders of USB Flash Drive
Step 1.Install and Launch UkeySoft File Lock on Windows
Install the UkeySoft File Lock program on your Windows computer. And launch the program, type the initial password "123456" running into program interface.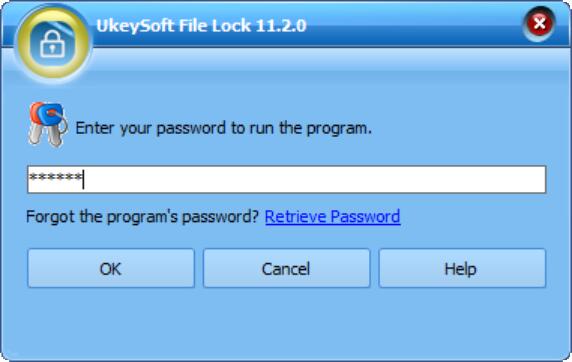 You will see it's main interface as below.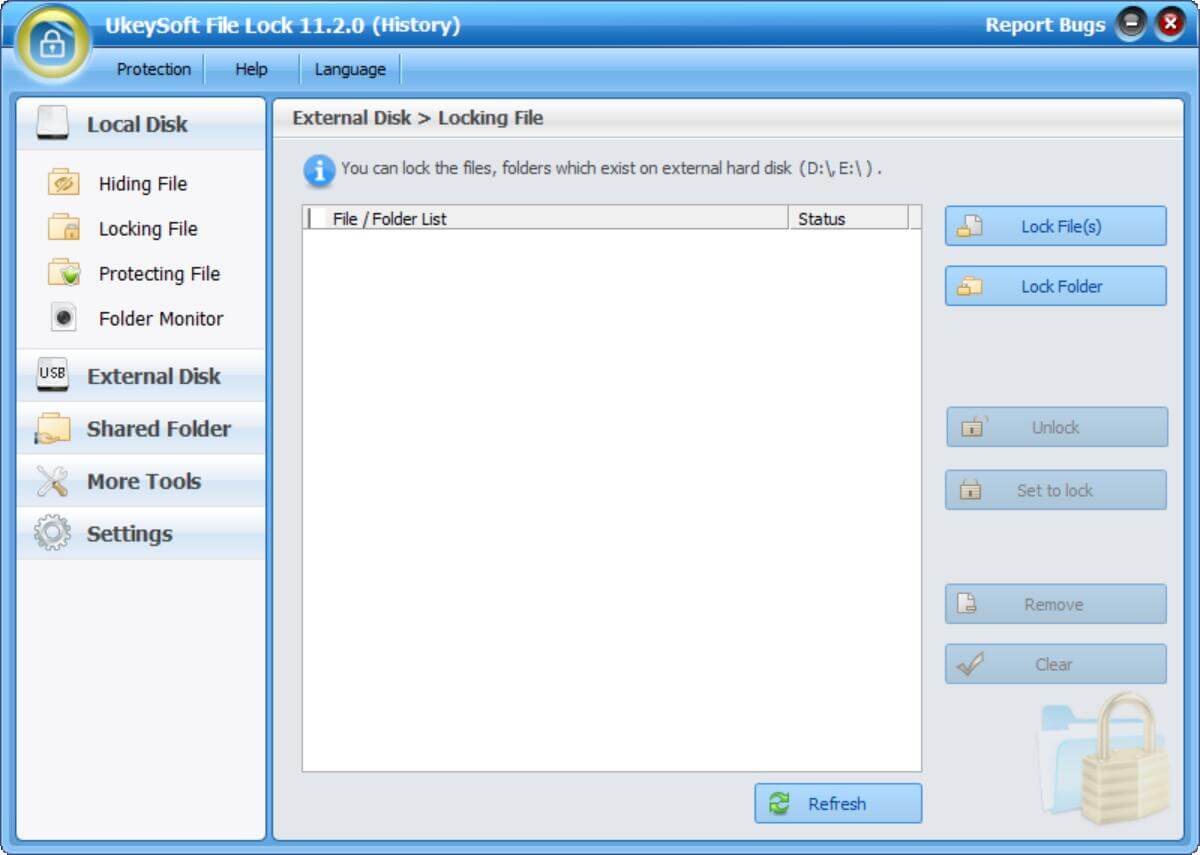 Step 2. Insert Your USB Drive to Computer
Plug your USB flash drive to computer, the program will detect it automatically.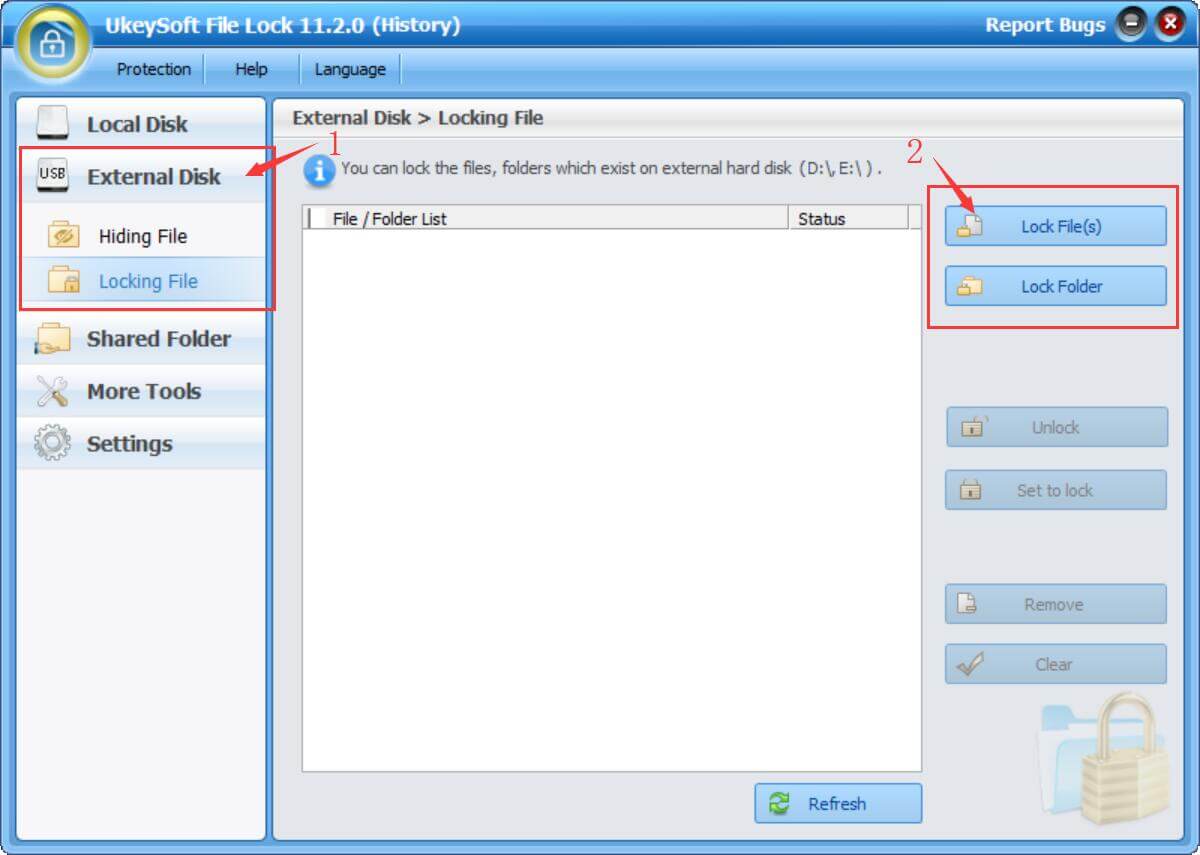 Step 3.Add Files/Folders to Hide from USB Flash Drive
In the left column "External Disk" menu, click on the "Hiding File" function, then click on the "Hide File" or "Hide Folder" button on the right to add the files or folders you want to hide.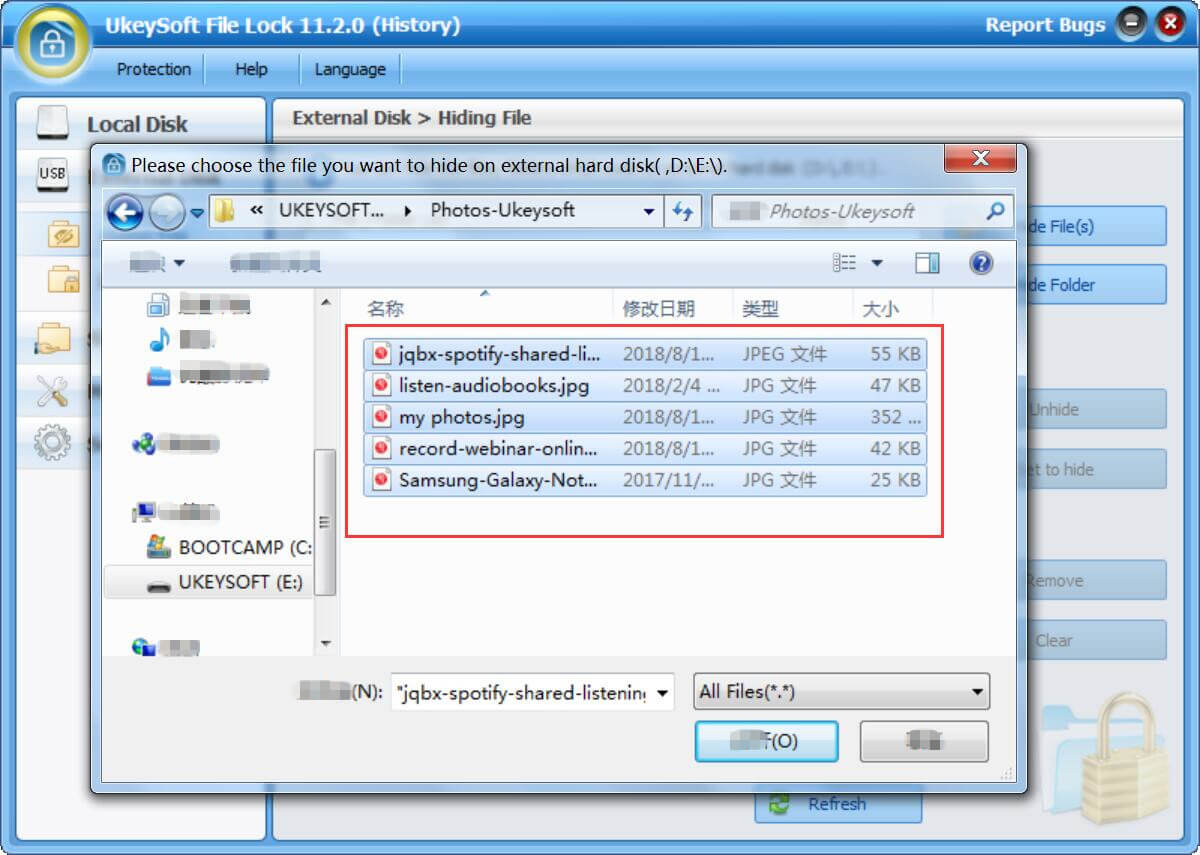 Step 4. Show Hidden Files or Folders on USB Drive
When you don't want hide the file/folder on your USB flash drive, please choose which hidden files/folders that you want to show, and then click the "Unhide" button to show it.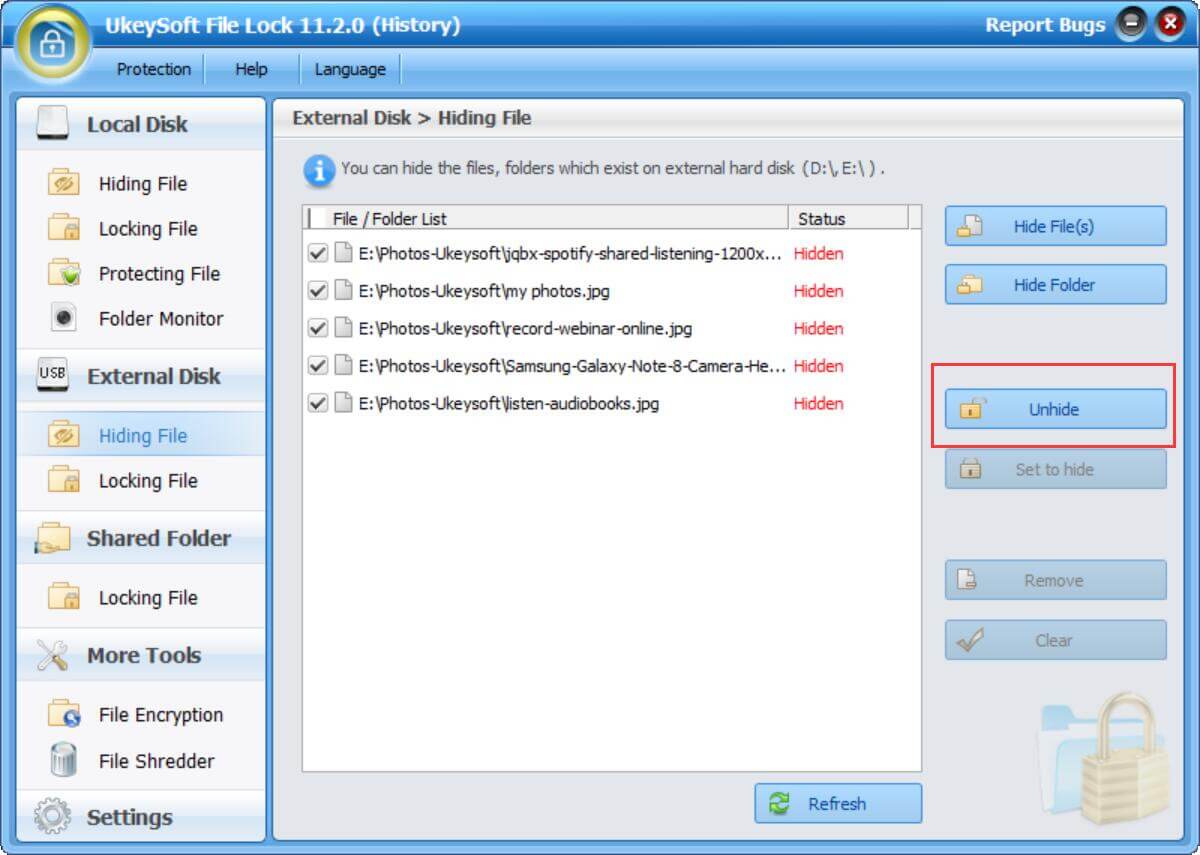 As you see best UkeySoft File Lock lives up to its name. It can indeed be considered the best file protection software out there. It is also very accommodating to all types of PC users with its simple design and different protection types that are made available. Trusting UkeySoft File Lock to make your important and sensitive data safely.
If you have any questions, please contact us via Email, Facebook or Google+.
Comments
Prompt: you need to log in before you can comment.
No account yet. Please click here to register.