By Justin SabrinaUpdated on December 16, 2022
---
Summary
Looking for a best DVD to AVI converter for Windows (10) PC/Mac to convert all DVDs disc/iSO images/DVD folder to AVI videos for playing on various devices liking iPhone, iPad and Android devices? This guide teach you how to rip your DVDs to AVI or another digital format such as MP4, MPEG, and FLV.
AVI Basic knowledge
AVI is a popular container file format used for watching standard definition video on the PC and is the container used by DivX video versions 3 through 6. AVI files can hold different types of video and audio streams inside, and with the help of DivX® video compression technology, they can display incredible video quality while maintaining a small file size. .divx files are also based on the AVI container, but can contain additional features like XSUB subtitles and chapters. Both AVI and DIVX videos will play on all DivX Certified devices—from tablets to TVs.
"DVDs represent the past that holds the cherished memories of my favorite videos and movies. I would want to hold on to these discs but, eventually, they'll get damaged as all physical media storage do. To make sure that these memories don't get destroyed, I decided to rip all my DVDs to HD AVI format and make digital copies that I can safely keep on a portable hard disc and carry around." - Asked by a consumer
DVD movies discs used to be a popular trend, but with the development of Internet electronic technology and the popularity of personal smartphones, the storage and medium of movies have expanded a lot.In other way, the DVDs requires a DVD drive and a MPEG2 decoder. In order to experience the ease of operation most peoples to play moives are used in general format, such as  AVI, MPEG, WMV, DivX, MP4, H.264/AVC, etc. The AVI and MP4 formats compatible with almost all of Android phone, like Samsung Galaxy S9 Plus, Samsung Galaxy Note 9, Huawei P20 Pro and Google Pixel 2 XL, etc. So we can convert DVD to AVI to watching DVDs on Android phone. Wherefore,watching DVDs movies on Android mobile phones or tables, we need to convert DVD movies to AVI or MP4 and transfer to Android devices for playing anywhere at any time. If you're wondering how to rip and convert your DVDs to AVI or another digital format. Today we will teach you a best DVD to AVI converter solution for you, what you need is a UkeySoft DVD Ripper. Why UkeySoft DVD Ripper is best solution to rip and convert DVD to AVI video files?
Convert DVD to AVI and Various Videos Formats
UkeySoft DVD Ripper is complete video toolbox is an expert program that looks after all your video related needs, be it:
- Conversion, editing, ripping, or others.
- Convert DVD to more than 300 formats such as MP4, AVI, MOV, WMV, FLV, etc.
- Convert DVD to any formats with high quality.
- Convert DVD to High/Standard-Definition (HD/SD) video formats without hassle.
- Change interlaced scanning DVD movie to progressive scanning to output much better video effect.
Rip DVD to AVI for Playing Anywhere
UkeySoft DVD Ripper comes equipped with DivX profiles for creating DivX, H.264 and HEVC videos compatible with more than 1 billion DivX Certified devices. Transcoding presets for Android and iPhone optimize your video for playback on devices (e.g. convert iso to AVI or MP4).The software works smoothly on all popular OS versions of Windows and Mac and ensures lossless quality conversion.
Now read below to know more in detail about how to convert DVD to AVI.
Step-by-Steps to Convert DVD to AVI Easily and Fast
Steps 1. Install UkeySoft DVD Ripper
Click the "Try It Free" button below to download UkeySoft DVD Ripper for Windows. Then follow the instructions to install and run the UkeySoft DVD Ripper on your Windows.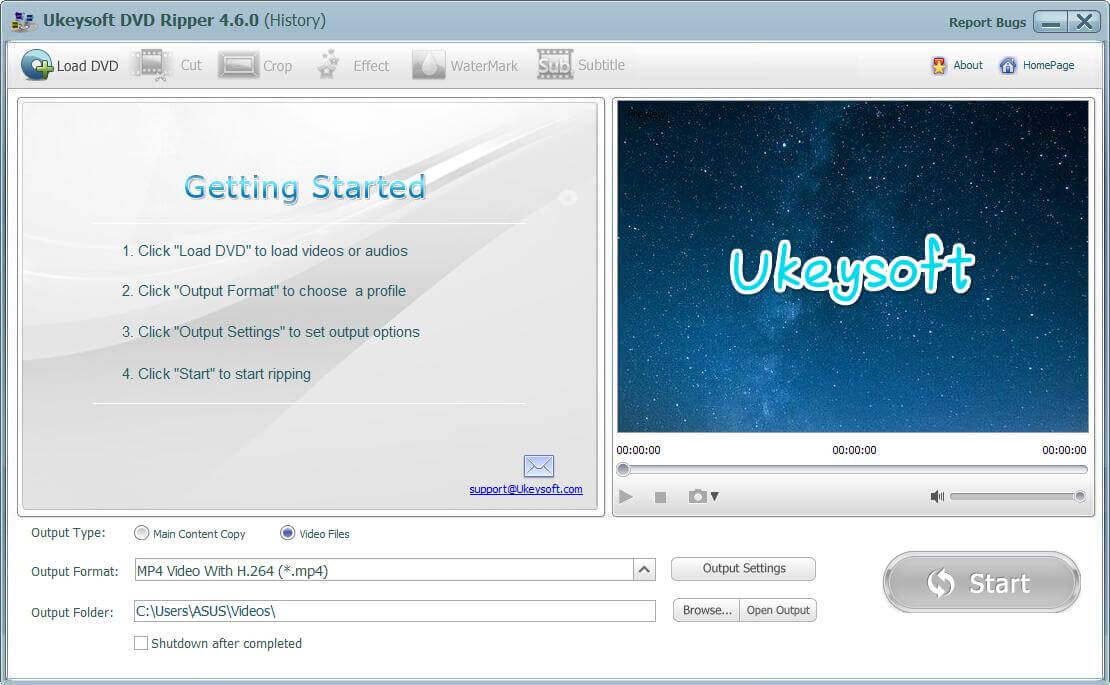 Steps 2. Launch UkeySoft DVD Ripper
Launch UkeySoft DVD Ripper on the computer. Insert DVD to DVD Drive, then click "Load DVD". Open DVD disc, then select your DVD drive.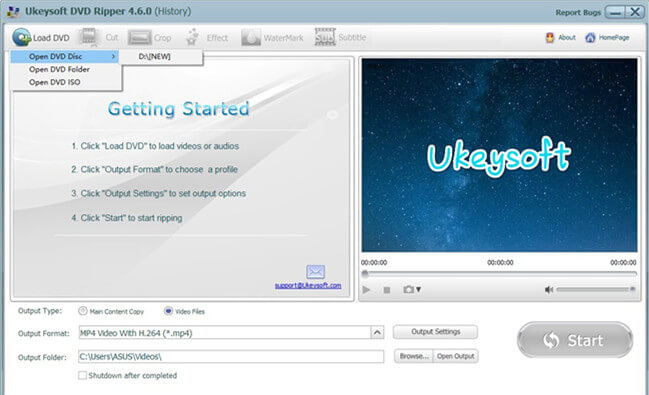 Steps 3. Choose AVI as Output Format
On the "Output Format" option, please select the AVI as the output format for DVD to AVI conversion format for the output file.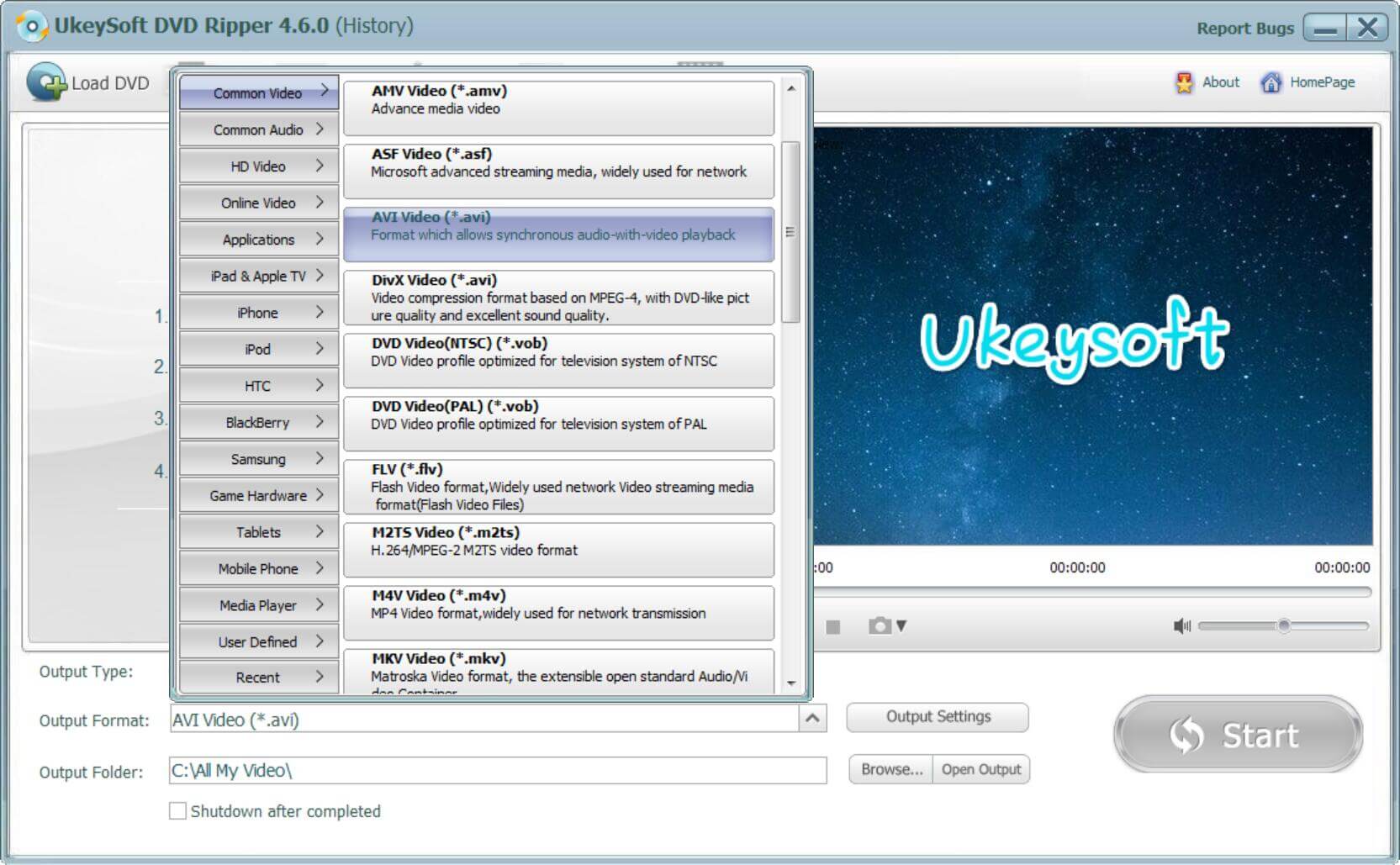 Step 4. Custom Video Effects before Ripping(Optional)
If you want to enhance the videos quality before ripping your DVD movies/videos to AVI format, you can click "Cut", "Crop", "effect", "Watermark" and "Subtitle" function at the top of this interface, for new video editing beginner, you can also easily to edit the video or add some special visual effect, just few clicks to enhance videos quality before DVD to AVI conversion.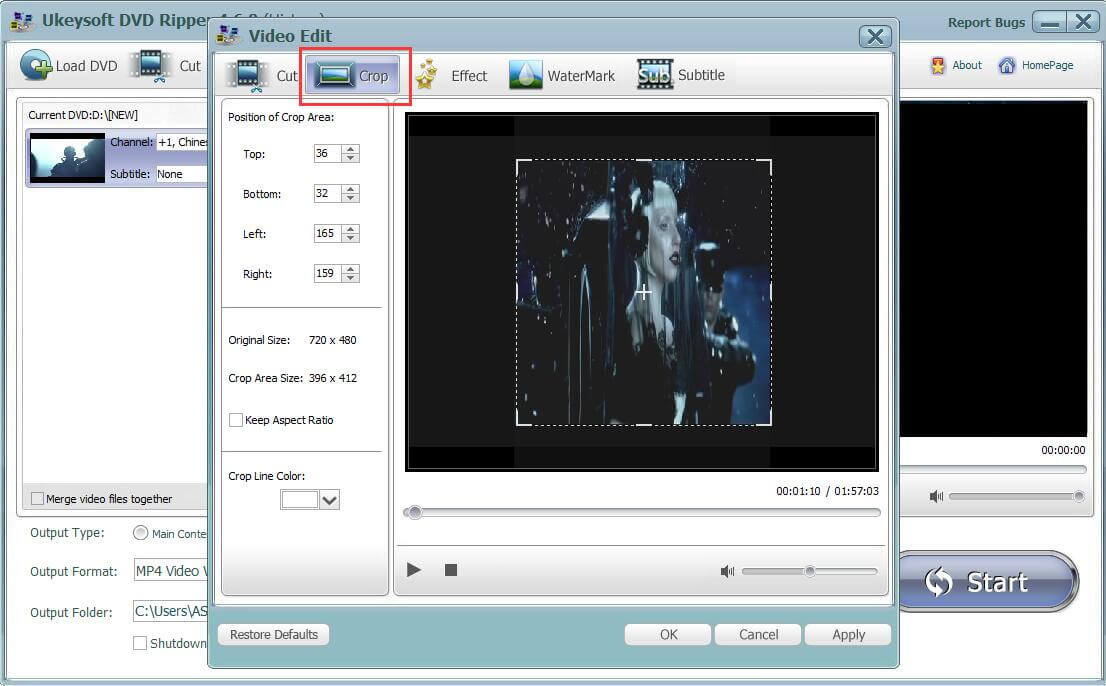 Steps 5. Begin Ripping DVD Movies to AVI
Click "Start" button to start DVD to video audio conversion. Click "Open Output" button to check the result.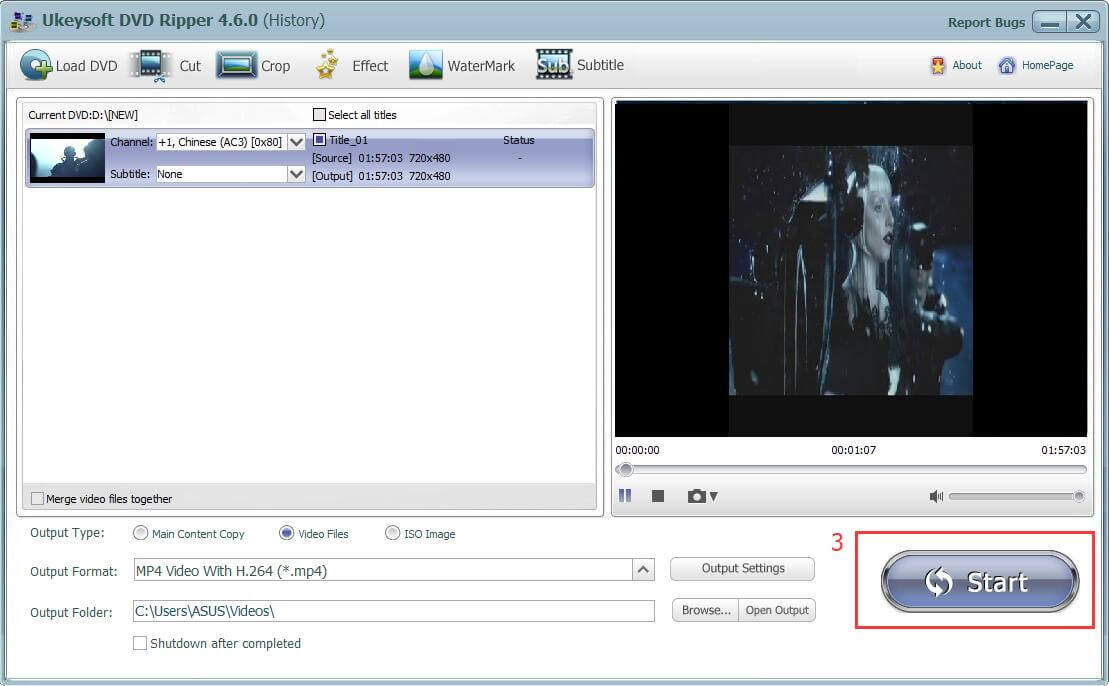 As you can see, after running the UkeySoft DVD Ripper software, you will find that converting dvd to avi or other formats is easy, and the optional features encoring the user experience. We provide free version for users, if you like this software, please buy a authorization activation code to unlock more functions what you want to do.
Comments
Prompt: you need to log in before you can comment.
No account yet. Please click here to register.