By Justin SabrinaUpdated on December 16, 2022
---
Summary
Looking for a way to add and watch your TV shows on iTunes? This post will show you how to add TV shows to iTunes, and convert iTunes movies/TV shows from M4V to unprotected M4P. Therefore, you could play iTunes M4V videos on all devices.
Topic about "How do I import TV Shows into iTunes?"
Q1 : How can I add video files to iTunes?
"I go to "add file to library" and choose the video file that I want but it doesn't upload it to iTunes." from Apple Community
Q2 : adding movies and tv shows to iTunes.
"I have a lot of video files on my mac and I want to add them to iTunes. But when adding them nothing happens. I only managed to add a couple of videos, I guess the majority of my files are incompatible? What's the easiest way to put the files in iTunes?" from Apple Community
iTunes is a great tool to play music and videos on Mac and Windows PC. In addition, iTunes has tons of TV shows and movies that you can't miss. You can rent and play movies from the iTunes Store on your computer, iPhone, iPad, or iPod Touch. Do you want to add your favourite TV shows to iTunes for playback? But it can be a little tricky when trying to add video files to iTunes library for playback. iTunes only supports a few video formats. To import TV shows to iTunes library, first you need to know what kind of formats can be added to iTunes. Today in this post, we will not only show you how to add TV shows to iTunes, but also teach you to convert iTunes TV shows to MP4 for offline playback easily.
CONTENTS
Part 1. What Are the Video Formats That iTunes Supports?
Most people would like to import any video into iTunes for playback or management. But it's not a simple task. It's generally known that iTunes supports to play music videos, movies and TV shows purchased/rented from iTunes store. But what video file formats does iTunes support? What kind of video formats you can add to? Well, iTunes is compatible with video files in .mp4 , .m4v or .mov format, but without DRM protection.
To add TV Shows to iTunes, make sure they are in non-DRM MP4, M4V or MOV format and that you can successfully play them in QuickTime.
To check format of the video you want to add to iTunes:
● Right-click on the video and select "Properties" (Windows) or "Get Info" (OS X).
● Under General section, look for the "Type of file" or "Kind" entry.
● (Optional) Test playing the video file in QuickTime.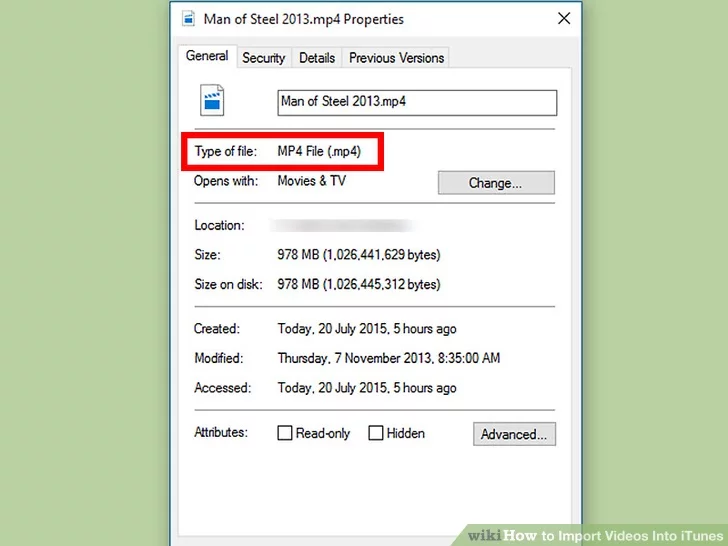 Part 2. Add TV shows to iTunes on Computer & Mobile
Import TV Shows from a Computer to iTunes on PC/Mac
Step 1. Open the iTunes app on your PC or Mac. Sign in without your Apple ID.
Step 2. Select TV Shows from the left side, and you can watch TV shows you purchased or rented.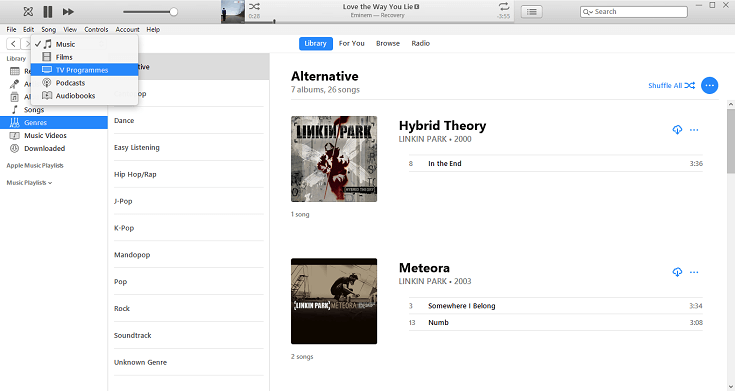 Step 3. Locate and open your video file folder. Then directly drag and drop the desired video files or entire folder to iTunes.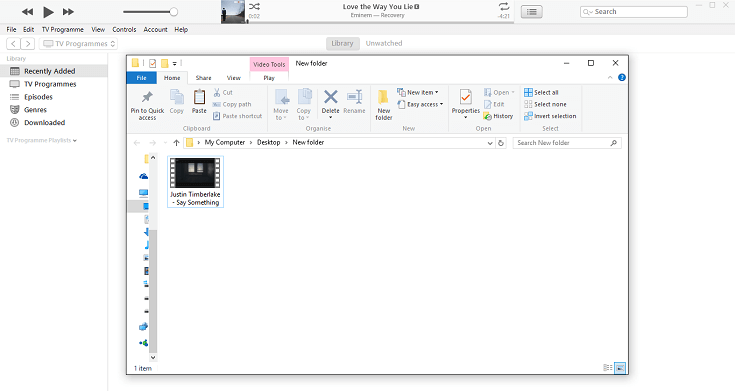 1# Redownload TV Shows on Your iOS Devices:
Step 1. Open the Apple TV app on your iPhone, iPad or iPod Touch.
Step 2. Click the "Library" tab, and hit the TV show that you want to redownload.
Tip: If you use Family Sharing, tap a family member's name to see their purchases.
Step 3. Click on the Download button.
2# Turn on your iTunes on your iPhone or iPad
If you want to add TV shows to your iPhone or iPad, you need to redownload the TV shows from iTunes. Then turn on your iTunes on your iPhone or iPad, and find out the TV shows which you just add to your iTunes store. Tap on the down arrow. In this way, you are able to add TV shows to your iOS devices.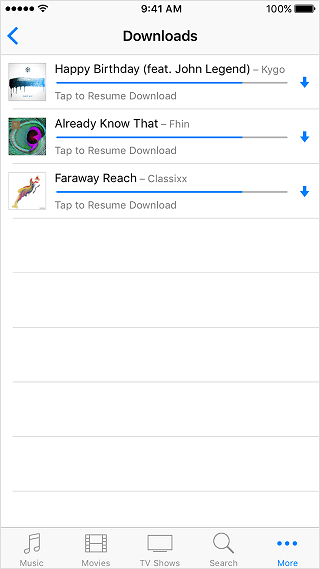 Part 3. Bonus: Convert iTunes TV Shows to MP4
As we mentioned above, iTunes are compatible with DRM-free MP4/MOV/M4V video format. But if you purchased or rented TV shows, movies from iTunes Store legally, you can play them on iTunes. The TV shows, movies, TV shows and music videos downloaded from iTunes are stored in DRM-protected M4V format. If you want to play iTunes TV shows outside iTunes or Apple devices, you need to remove DRM from iTunes TV shows and convert them to DRM-free MP4 format. As MP4 video format is supported by most media players and devices. Here you can ask help from this professional iTunes M4V Converter - UkeySoft M4V Converter.
UkeySoft M4V Converter is a one-stop iTunes DRM removal tool and iTunes M4V converter. It not only enables users to remove DRM from iTunes purchased and rented movies, TV shows and music videos, but also allows users to convert iTunes M4V movies/TV shows to MP4 for offline playback on any devices. By using an advanced technology, it works at 30X super faster speed but with no quality loss. It will keep 100% original AC3 Dobly 5.1 surround and subtitles in output MP4 files.
Main Features of UkeySoft M4V Converter:
Remove DRM protection from iTunes movies/TV shows easily.
Convert iTunes M4V movies, TV shows, music videos to MP4.
Convert iTunes movie purchases and rentals to lossless MP4.
Preverse 100% AC3 Dobly 5.1 Audio, Subtitles, Closed Caption, etc.
An intuitive and easy-to-use M4V converter; 30X conversion speed.
Lets you play iTunes M4V videos offline on any device and player.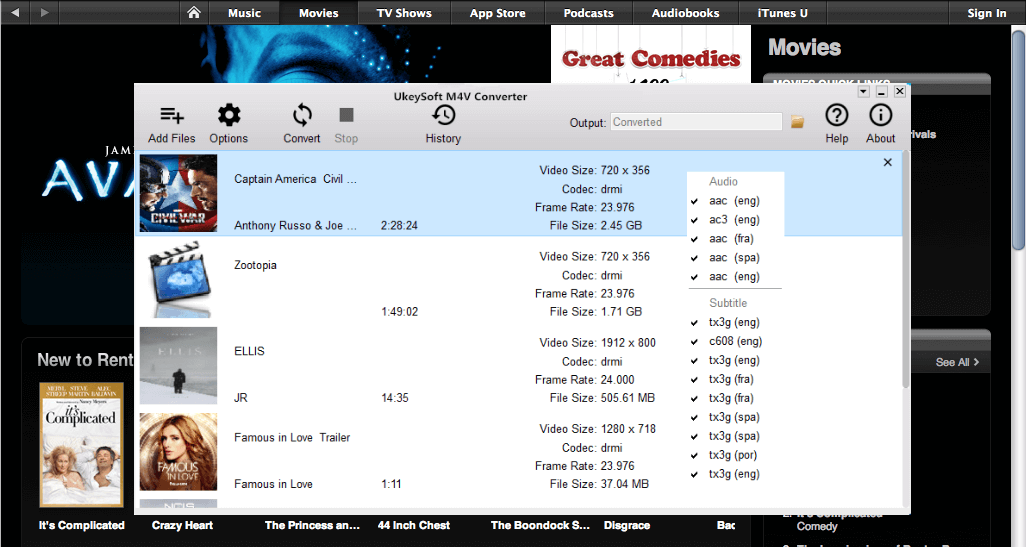 For detailed guide, you can read on: Convert iTunes M4V Shows to MP4
Related Articles