By ChesterUpdated on August 02, 2023
---
Summary
Wondering how to play Spotify on Denon Receiver? In this post, you will learn 2 ways to listen to Spotify on Denon Receiver with and without Premium.
"My intention is to play Spotify music on Denon Receiver. However, it appears that only Spotify Premium is compatible with it. Unfortunately, I am not interested in subscribing to the premium plan. Can you suggest an alternative way to use Spotify on my Denon Receiver as a non-paying user?"
The Denon Receiver is a high-quality audio system that can provide you with an exceptional listening experience in any room of your house. It offers various options for playing music, such as through Amazon Alexa, WiFi, or USB. Furthermore, it can stream music from several popular music services, including Spotify, Deezer, Tidal, and more. However, to play Spotify music on the Denon Receiver, you must have a Spotify Premium account. But, what if you don't want to pay for the subscription and still wish to enjoy Spotify audio tracks on your Denon Receiver? Don't worry; this post will guide you on how to use a powerful tool to play Spotify on Denon Receiver, such as AVR-X3700H, AVR-X4700H, AVR-S660H, AVR-X8500H, AVR-X2700H, DRA-800H, etc.
CONTENTS
Part 1. How to Stream Spotify on Denon Receiver with Premium
If you had opted for a Spotify Premium subscription, you would have been able to stream Spotify tracks directly on your Denon Receiver. Nevertheless, you can still connect Spotify to your Denon Receiver by following these straightforward instructions:
1) Initially, download the Spotify application on your Android or iOS device.
2) Ensure that both your Android or iOS device and Denon Receiver are connected to the same WiFi network.
3) Launch the Spotify app and log in to your Spotify account.
4) Search for and play your desired Spotify songs within the app.
5) Tap the 'audio' icon and select 'Devices Available' as your Denon Receiver.
6) You can now stream Spotify on your Denon Receiver without any trouble.
Part 2. How to Play Spotify on Deno Receiver for Free
In order to enjoy Spotify tracks offline on your Denon Receiver, it is necessary to download the Spotify music as local files and then transfer them to the receiver. However, due to Spotify's copyright protection policies, direct downloading and usage of Spotify audio files on other devices is not possible. To circumvent this issue, we require the use of a third-party tool. There are numerous tools are available in the market for this purpose, but UkeySoft Spotify Music Converter is the most recommended option.
UkeySoft Spotify Music Convert is able to batch convert Spotify music to MP3, M4A, AAC, FLAC, WAV and AIFF at 10x speed without losing any quality of original audios. And it can keep ID3 tags like title, artist, genre, etc. so that you can easily manage the Spotify audio files. After converting, the Spotify tracks will be saved on your PC and then can be easily imported to your Denon Receiver. This software stands out from the rest due to its advanced features and user-friendly interface, making it the best option for all your offline Spotify listening needs.
Features of UkeySoft Spotify Music Converter
Download Spotify music for free.
Remove DRM protection from Spotify.
Convert Spotify Music to MP3, M4A, AAC, FLAC, WAV, AIFF.
Keep original audio quality.
Preserve ID3 tags after conversion, easy to manage.
Download Spotify music at 10X faster speed in batch.
Built-in Spotify web player, no need for the Spotify app.
Compatible with both Windows and macOS operating systems.
Guide: How to Download Spotify Music for Denon Receiver
Let us now explore how to download and convert Spotify music for use on your Denon Receiver. Firstly, download and install UkeySoft Spotify Music Converter on your computer, whether it be running macOS or Windows.
Step 1. Launch the Program and Login
Launch the program, then sign in to your Spotify account. It is worth noting that both Spotify Free and Premium accounts are compatible with the software.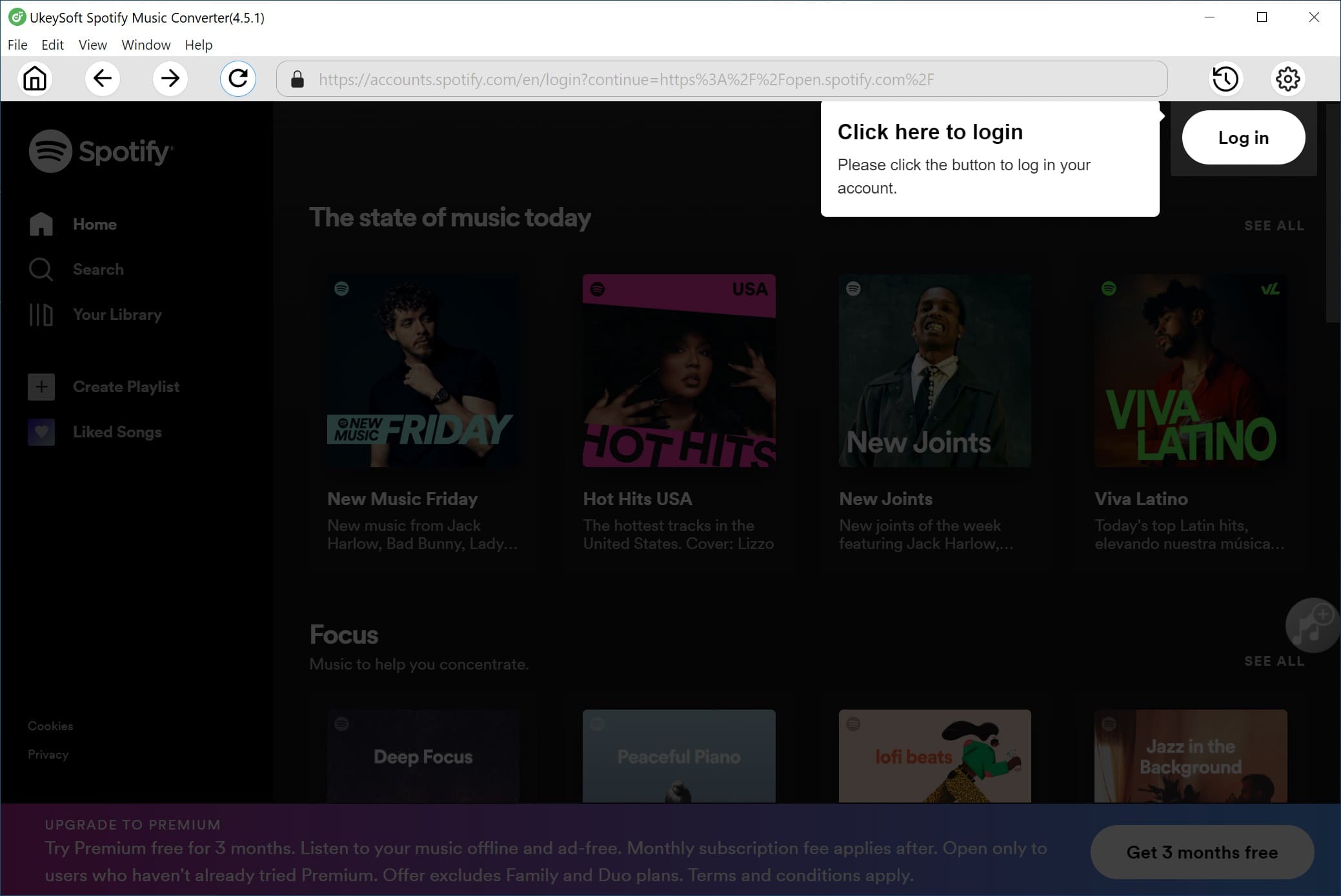 Once you have successfully logged in, you may start browsing through the music on the built-in Spotify web player.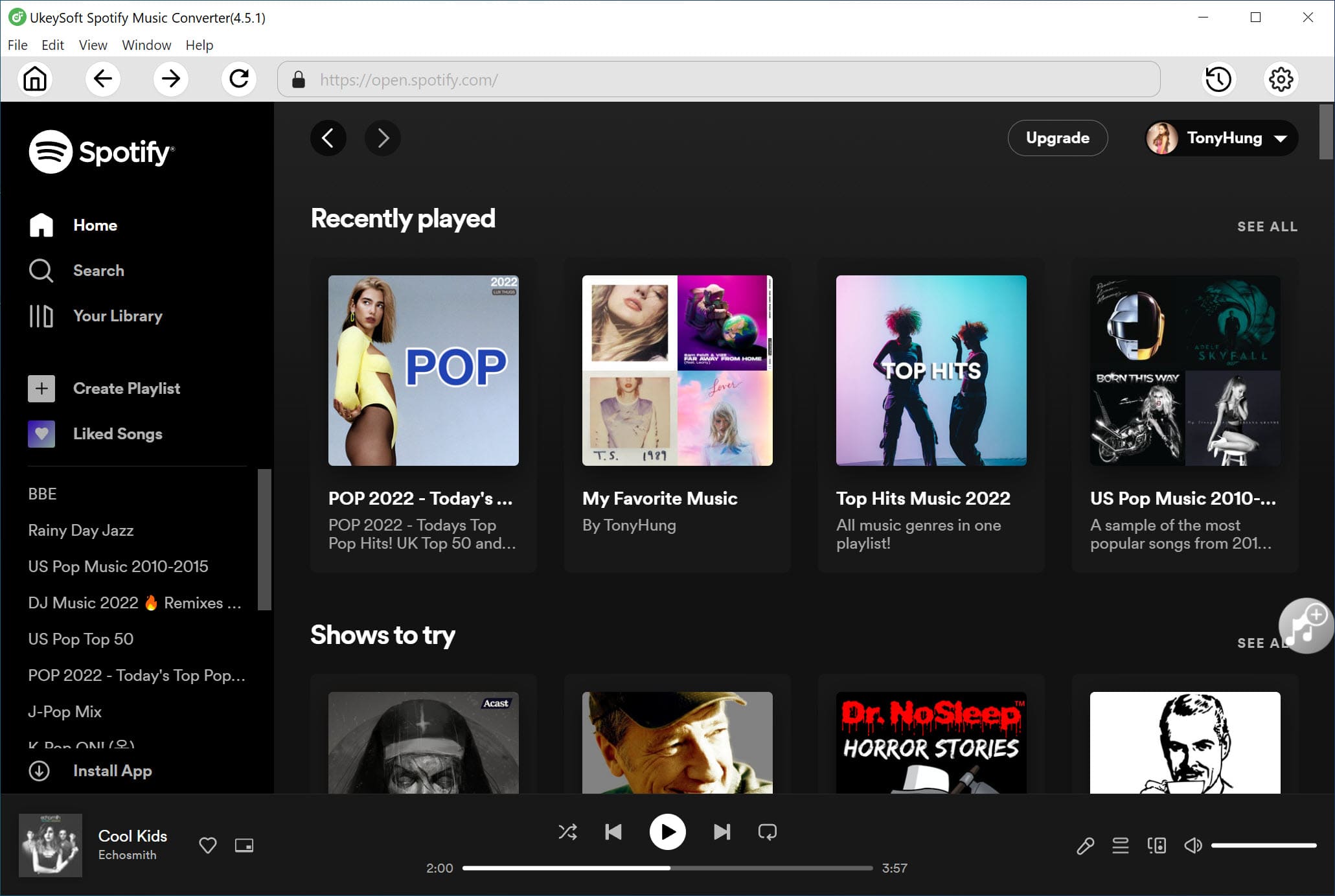 Step 2. Select Output Format
click on the "Gear" icon on the upper right-hand corner of the program interface. It is offering six format options to choose from: MP3, M4A, WAV, FLAC, AIFF, and AAC. We recommend selecting MP3 as the output format to ensure compatibility with Denon devices when playing Spotify music.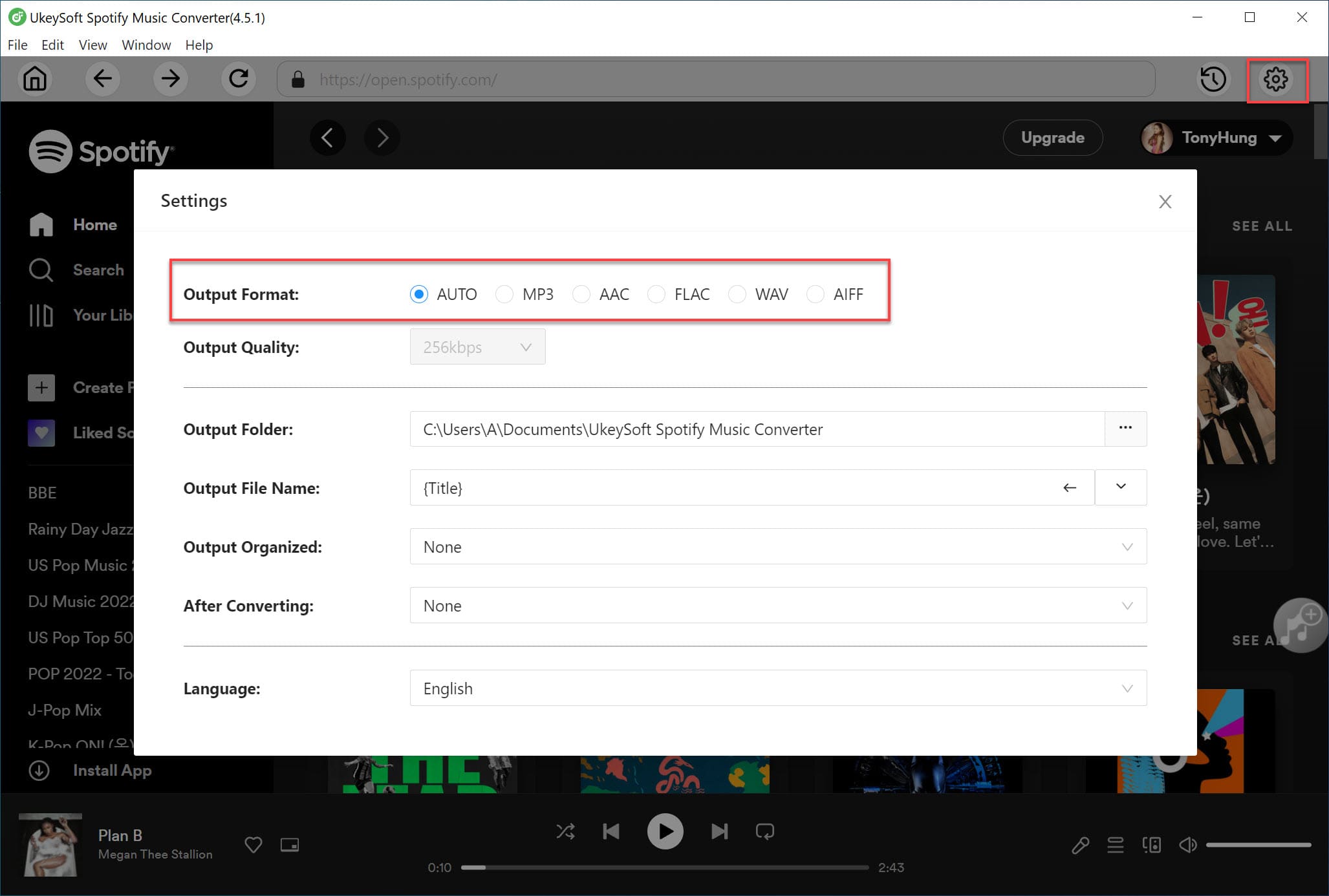 Step 3. Add Spotify Tracks/Playlists/Albums
Search for the desired playlist or album that you wish to download. Once located, click on the "+" icon located on the right-hand side to add all the songs in the playlist or album to the converting list.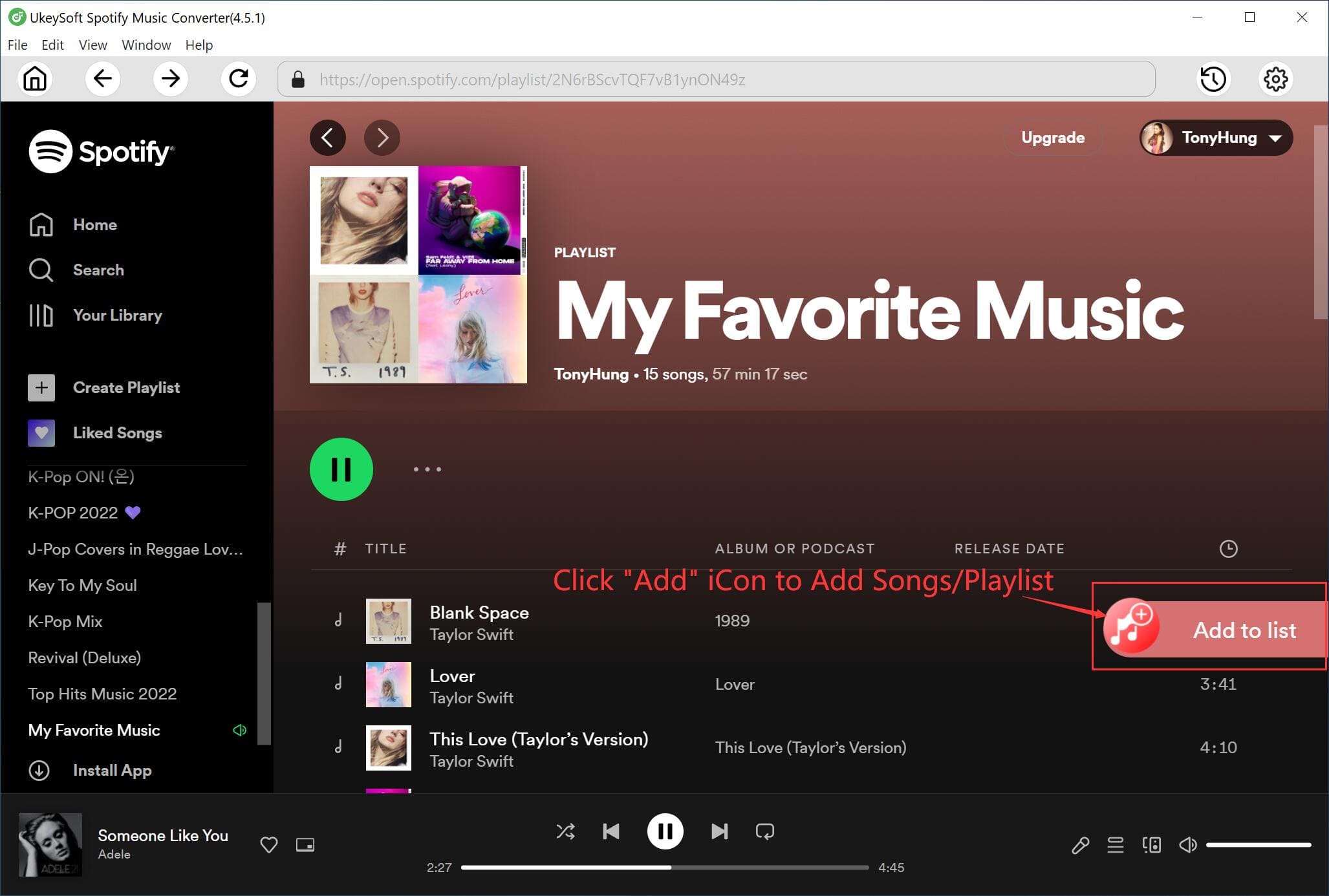 Deselect the songs you do not want to download.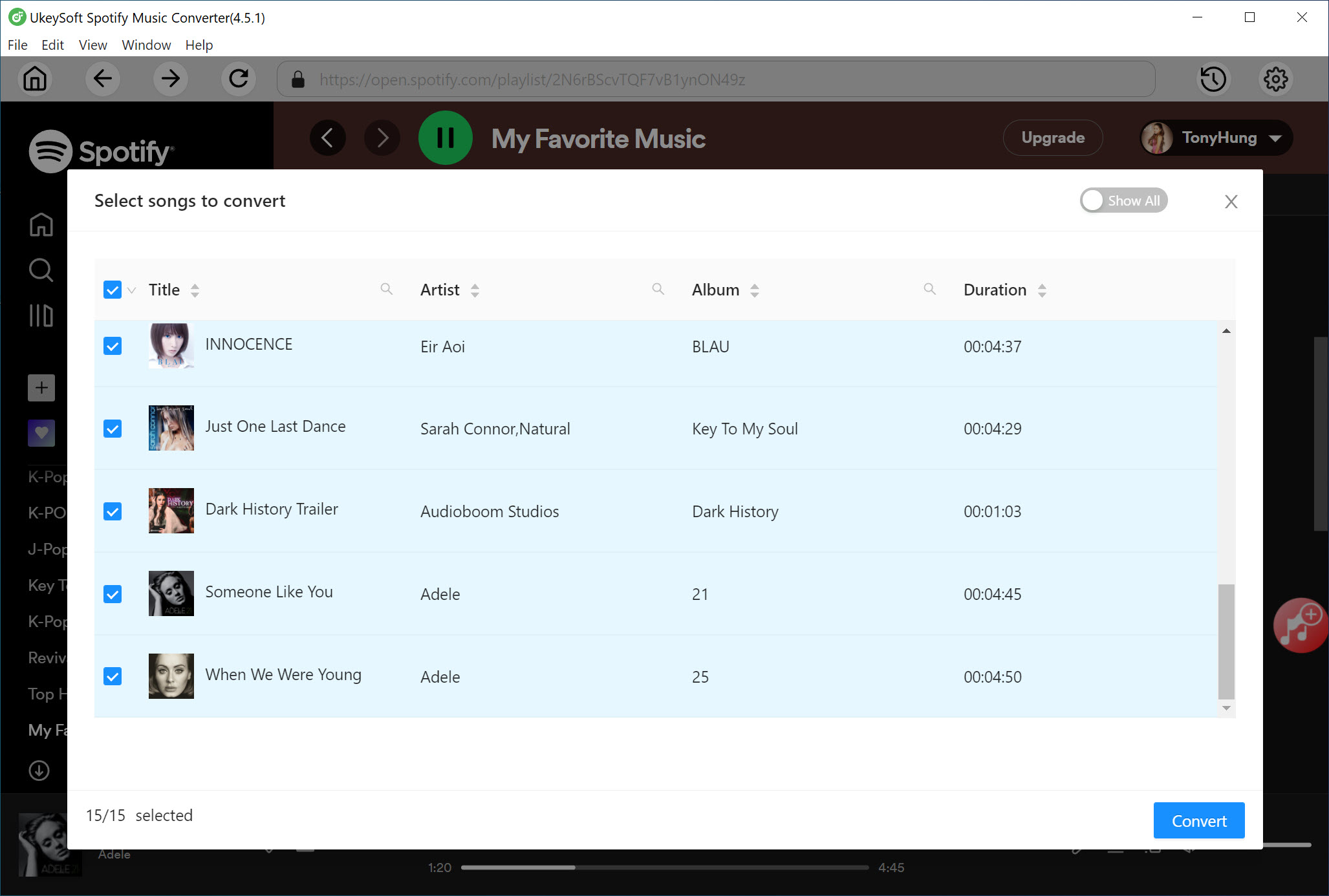 Step 4. Start to Convert Spotify Songs
Once you have selected the songs, click on the "Convert" button to initiate the conversion process. The software is designed to convert your selected Spotify tracks to MP3 format at a remarkable speed of up to 10x faster.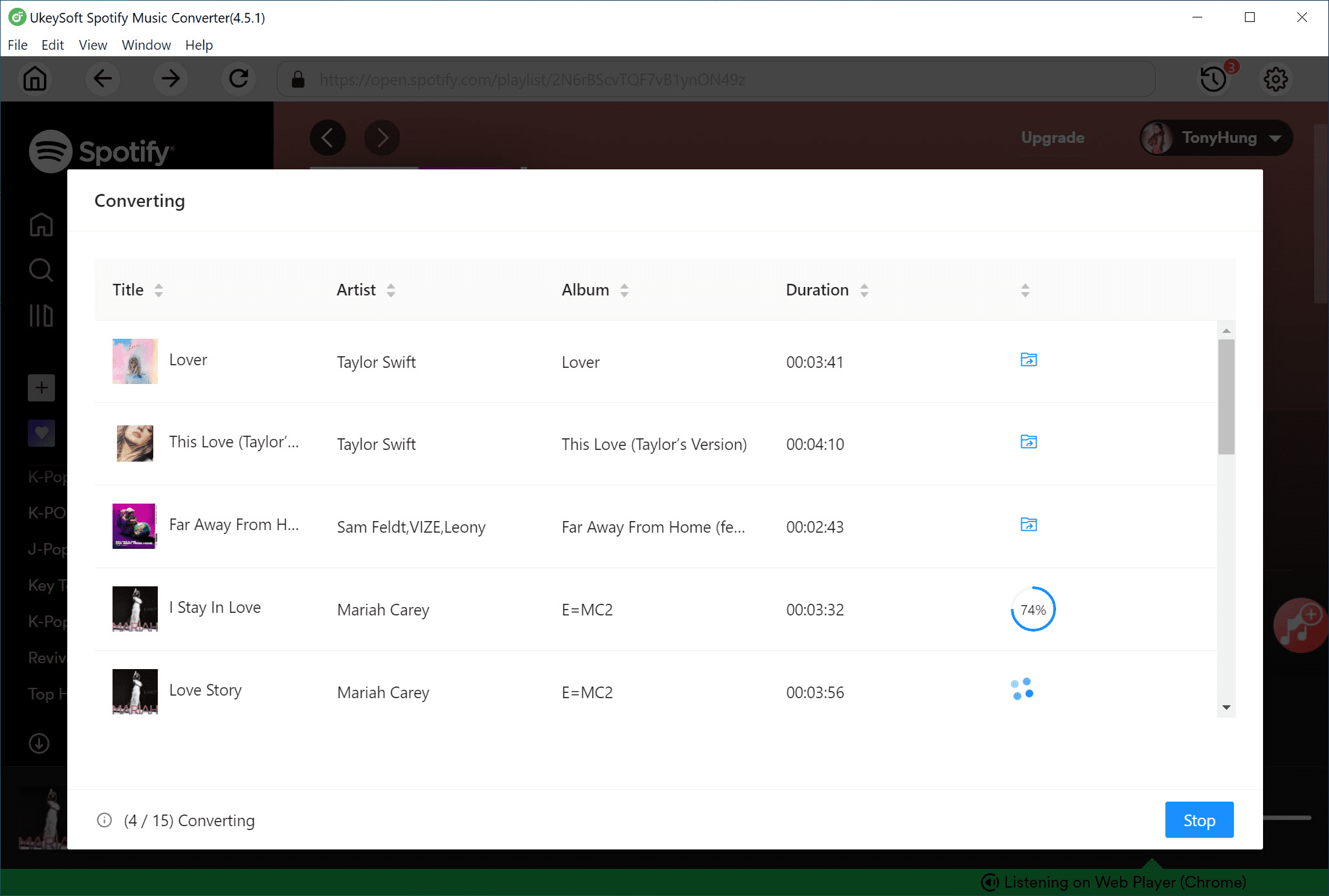 Step 5. Locate the Converted Songs
After the conversion process is complete, click on the blue output folder to locate the DRM-free Spotify songs in MP3 format on your computer.
Step 6. How to Transfer Spotify to Denon Receiver
Lastly, to connect and utilize Spotify on your Denon Receiver, follow the simple steps below:
#1. Insert the USB stick into your computer.
#2. Copy and paste the converted Spotify music to the USB stick.
#3. Connect the USB stick to the USB port of your Denon Receiver.
#4. Press the 'iPod/USB' button to switch the input source to 'iPod/USB'.
#5. Use the UP/DOWN button to select the Spotify music you would like to play, and press 'Enter'.
Congratulations! You can now easily and seamlessly enjoy listening to Spotify on your Denon Receiver without any limitations.
Play Spotify on Denon Receiver
Comments
Prompt: you need to log in before you can comment.
No account yet. Please click here to register.