By Justin SabrinaUpdated on January 09, 2023
---
Summary
How to cancel Apple Music membership? What happens if you cancle your membership? Here the article tells you how to keep the Apple Music tracks forever even after canceling subscription.
" How to cancel Apple Music subscription on iPhone, iPad, or iPod touch?", "Will I lose all my music if I cancel my Apple Music subscription?", "If I cancel Apple Music subscription can I get music back?", "What happens if I cancel Apple Music subscription?"
Apple Music is a subscription-based streaming audio platform where users stream music and download music by logging in to their subscription account. Each new member can apply for a 90-day free trial qualification, after which they need to spend $ 9.99 per month to keep the account active. What happens if you cancel Apple Music membership? Generally speaking, Apple Music downloads can only be used within the validity period of the subscription. Once your Apple Music membership is cancelled, any downloaded songs will be grayed out and they will never be playable again.
In the following we will introduce in detail what is Apple Music and what happens if you cancel Apple Music membership and how to keep music forever after Apple Music membership is cancelled.
CONTENTS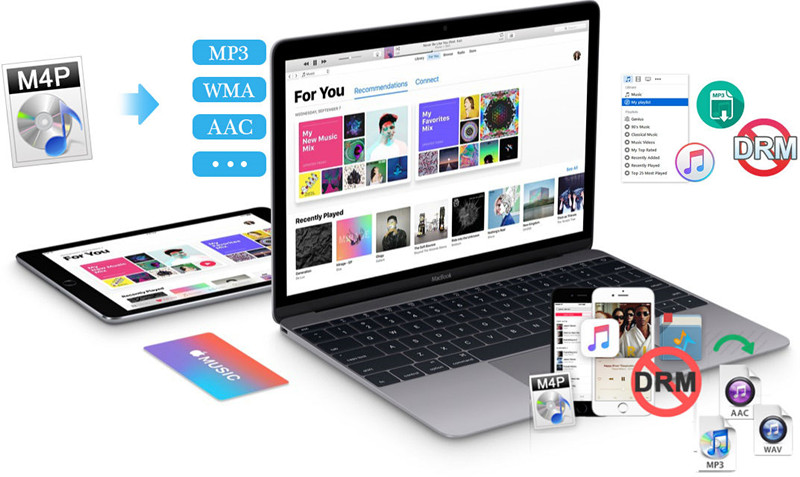 What is Apple Music?
Apple Music is increasingly becoming one of the world's leading music streaming services. With the launch of 75 million tracks, you may like this ample service. During leisure time, you can play music and music videos on your iOS devices (iPhone, iPad, iPod, etc.) and find artists with Siri voice commands, Apple Music also launched the Android version, and now more and more Android users have joined it.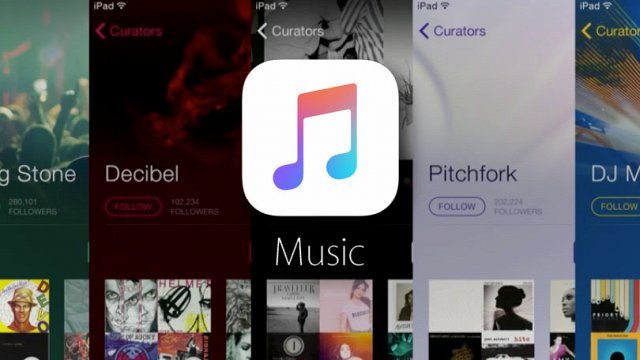 Apple Music offers a large selection of songs from the iTunes library, including Dr. Dre's The Chronic and other exclusive albums, as well as songs from Taylor Swift and other popular music. I found many prince albums, including 1999, Batman, Controversy, Purple Rain and signing the 'O' era. You can also listen to radio stations dedicated to certain topics, such as Hip-Hop Workout Anthems, Beats 1 Radio and Disney Princess Radio. What's more, it added non-music stations from Slacker Radio's scripts, such as NPR News and ESPN Sports. Although the Apple Music audio stream speed is 256 Kbps, which is lower than the Spotify 320 Kbps stream. But Apple uses the AAC format to make its stream retain more audio data, so Apple Music songs won't get worse than Spotify. In addition, the app now supports lyrics search (when they are available), so you can sing your favorite songs even if you don't know its title.
Pros
Streams 75 million songs. Exclusive album and Apple's Beats 1 radio. Offline playback. Siri and Apple Watch are integrated. Family plan. Cool video playlist. News and sports content. 90-day free trial.
Cons
Unable to access your library from a web browser. Lackluster social media features. There is no unlimited free version.
How to Join Apple Music Membership?
Apple Music offers a three-month trial version. After the trial period ends, you will need to register for a subscription plan. A $9.99 monthly individual membership and a $14.99 family membership (up to 6 people using iCloud family sharing) can provide ad-free music listening, ad-free video viewing, offline listening, and access to Beats 1 Radio. All in all, with Apple Music membership, you have access to the full Apple Music library, recommendations and radio stations.
If you are a college student and have registered an eligible college or university, you can also subscribe to Apple Music for a wallet-friendly $4.99 per month. Students can take advantage of the discount for up to four years.
How to Cancel Your Apple Music Membership?
The Apple Music subscription service brings limitless song streaming to the seemingly endless iTunes library. Apple Music membership is automatically updated at the end of the 90-day trial period and begins to charge monthly. If you want to cancel your Apple Music membership, you will need to disable auto-renew immediately. Stopping the automatic deduction is quite simple, you just need to follow the steps below.
How to cancel an Apple Music membership on your iPhone, iPad and iPod touch:
-> Launch the Music app.
-> Locate to your profile icon in the upper-left corner.
-> Tap View Apple ID.
-> Under Subscriptions, tap Manage.
-> Tap on your Apple Music membership.
-> Under Renewal Options, switch Automatic Renewal to Off.
-> Done.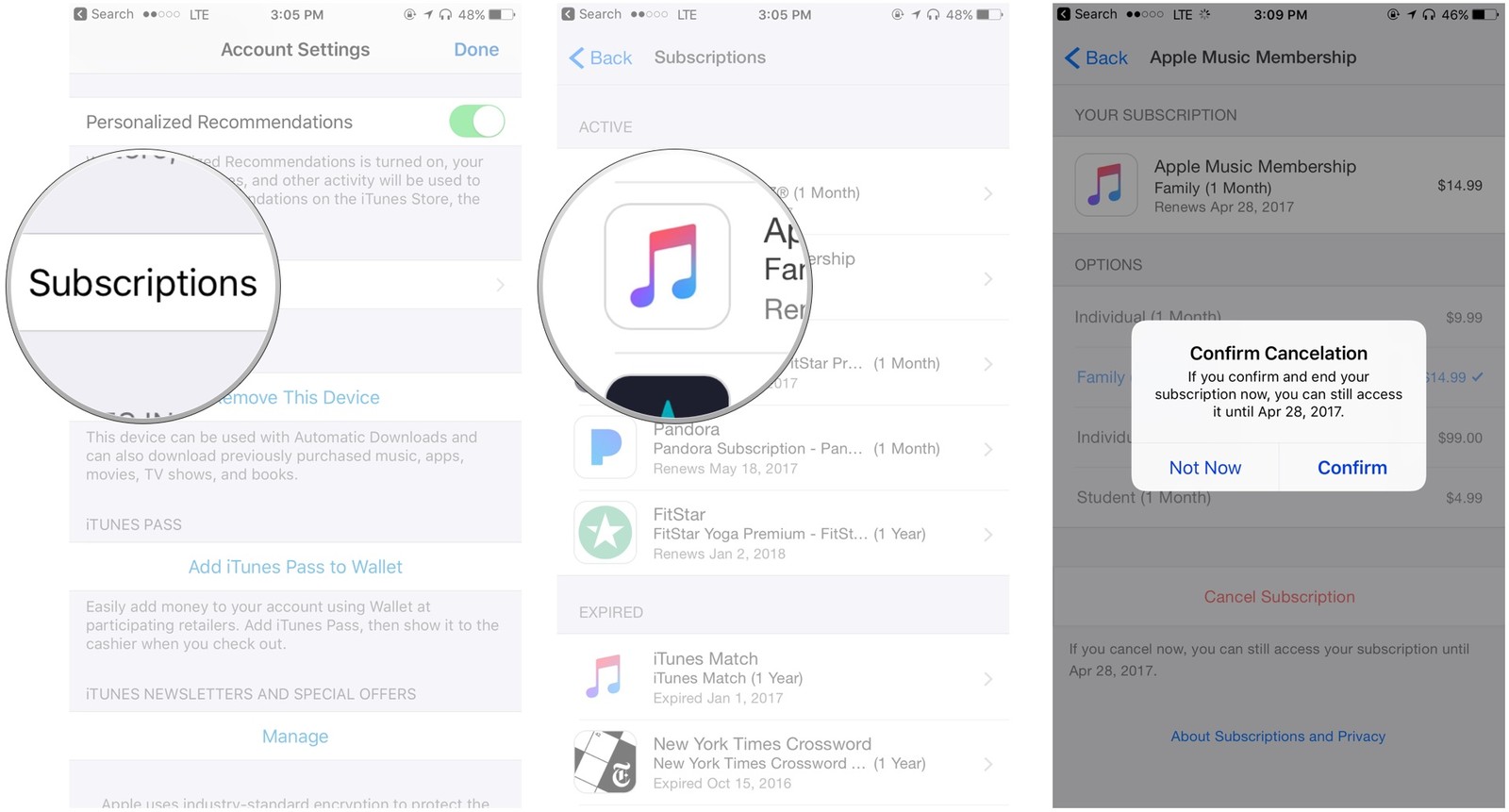 How to cancel an Apple Music membership on your PC or Mac:
-> Launch iTunes.
-> Tap Sign In and enter your Apple ID and passcode.
-> Tap your name and select Account Info.
-> If prompted to enter your passcode again, do so.
-> On the Account Information screen, scroll to Settings.
-> Tap Manage, on the right side.
-> Find your Apple Music Membership subscription and tap Edit on the right.
Got to the iTunes Edit Subscription interface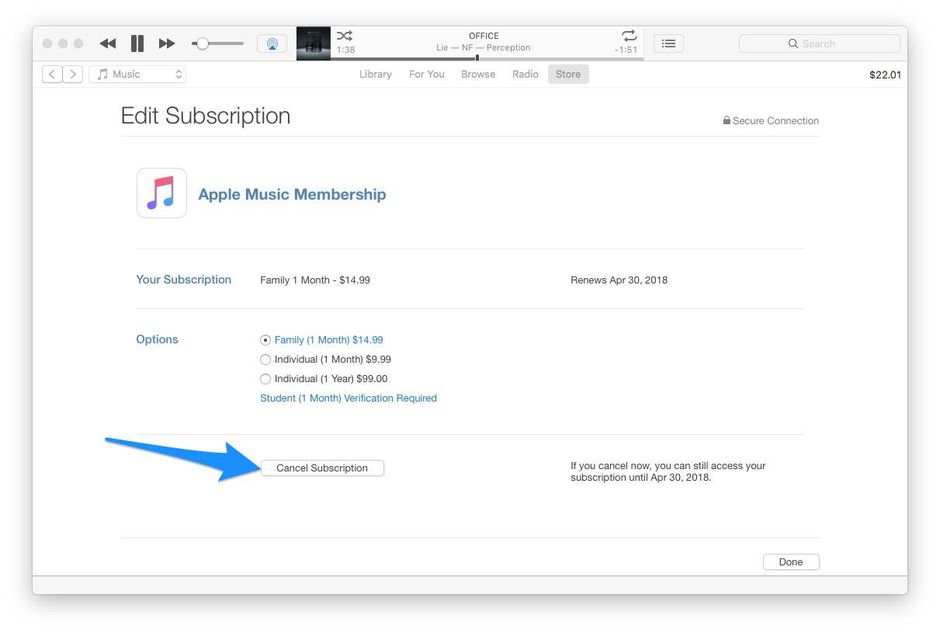 Then, click "Cancel Subscription" and "confirm cancellation".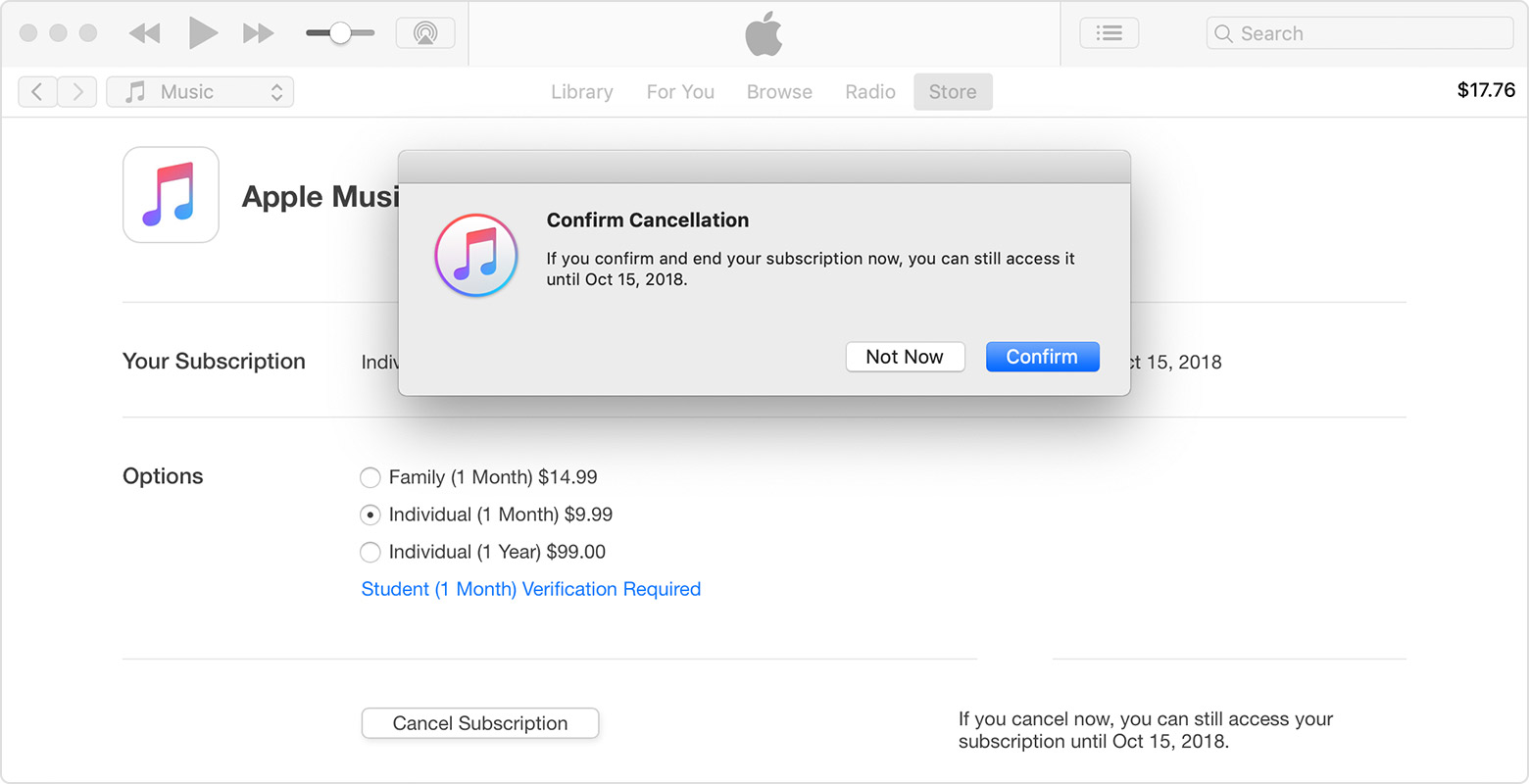 -> Turn Auto Renewal to Off.
Then, you need to disable apple music automatic renewal on iTunes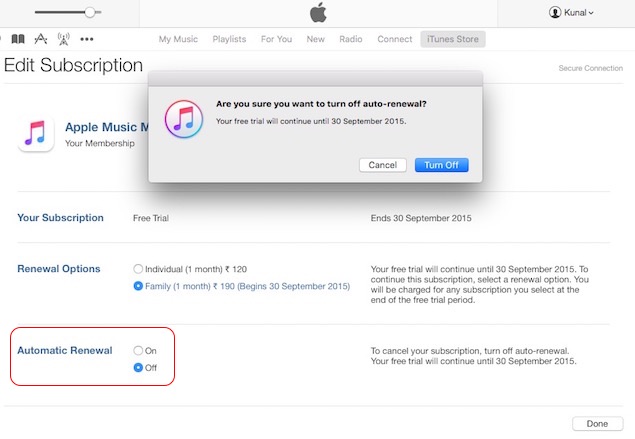 -> Tap Done to return to your Account Information page.
-> Tap Done to return to the iTunes Store.
-> Finished.
What Happens If You Cancel Your Apple Music Membership?
In order to keep the downloaded Apple Music tracks active, you need to have an active Apple Music account. Once your 90-day free trial ends and you have disabled auto-renewal, or if you cancel your Apple Music subscription, all your downloaded songs, albums, etc. will disappear from your iTunes library. The reason is that all offline Apple Music tracks are *.m4p files with DRM protection associated with your Apple ID, and *.m4p file extensions are not recognized by various portable media players.
If you have some favorite songs in Apple Music and want to keep them after you cancel your membership, you have two options. One is to buy your favorite songs one by one in the iTunes Store and you will get no DRM * .m4a songs. But this may cost more than subscribing to Apple Music. Another way is to use UkeySoft Apple Music Converter to convert Apple Music tracks to MP3 or M4A files without DRM protection, as long as your account is still valid. In the case, when your cooperation with Apple Music times out, you can still save them permanently and enjoy them freely on the iPod Nano, iPod Shuffle, Sony Walkman and any MP3 player without any restrictions.
Tool You'll Need to Keep Apple Music Forever after Unsubscribing
You are impossible to listen to the downloaded Apple Music tracks after unsubscribing because of the DRM lock. Assuming you can convert Apple music to MP3, AAC or other unprotected audio files, you have the opportunity to keep Apple music songs forever even after the subscription ends. In this way, Apple music songs are playable on iPhone, Apple TV, Android tablet, iPad, iPod nano/shuffle, Xbox One, xbox 360, PS4/PS3/PSP3, chromecast, Zune, HomePod, Samsung TV and other audio players.
UkeySoft Apple Music Converter, a professional DRM removal to get rid of DRM lock built-in Apple Music tracks and convert Apple Music as common local files such as MP3. It is designed to convert Apple Music streams to plain MP3, FLAC, WAV, AAC, M4A and other files losslessly with ID3 tags preserved at 16X faster speed. If you have unsubscribed Apple Music, UkeySoft Apple Music Converter is a versatile app that conert and save Apple Music songs forever, it also can converts iTunes M4B audiobooks, Audible AA / AAX audiobooks, iTunes-purchased songs and other iTunes-supported audio formats (like Apple Lossless) to MP3 or M4A, as well as extracting audio from iTunes M4V movies, TV shows and music videos. You can also use it to rename and sort all the songs in your iTunes library with ID3 tags and characters. The Apple Music converter is available for both Windows and Mac, fully compatible with latest Windows 10, Mac OS X and iTunes.
The Mac version of UkeySoft Apple Music Converter can only convert Apple Music songs at 1X speed, while the Windows version of the tool can convert at up to 16X speeds. For Mac users, there's another more faster Apple Music to MP3 converter available, known as TunesBank Apple Music Converter(Mac), it helps you convert Apple Music files in 5X faster speed. In addition, TunesBank also allows you add more songs into the "Converting" list during conversion process, which only TunesBank can do that. Learn how to convert Apple Music to MP3 on Mac.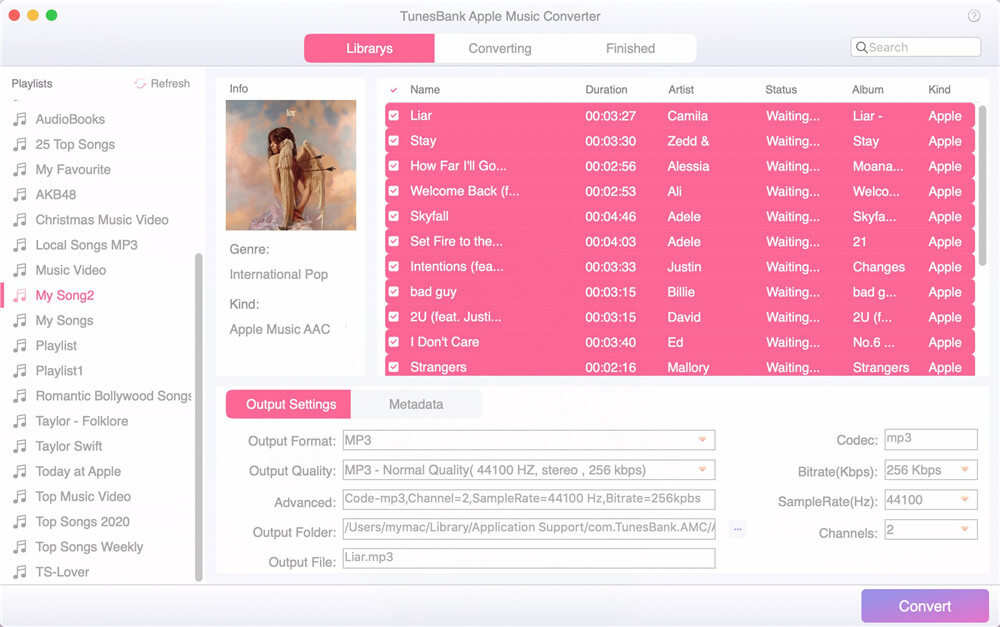 If you want to keep listening to downloaded Spotify Music offline after canceling Premium subscription. Spotify Music Converter is your best choice, which is a free Spotify downloader & converter, able to convert Spotify music to MP3/AAC/WAV/FLAC format, so that you are able to keep all of your downloaded Spotify songs or playlists playable offline even after Premium membership unsubscribing.
5 Easy Steps to Keep Apple Music on PC or Mac Forever
As well all know, after cancelling Apple Music membership, all Apple Music tracks you've added or downloaded to your iTunes library will no longer be playable, and you'll no longer be able to search through the streaming catalog or play custom playlists. In order to keeping Apple Music songs forever or streaming Apple Music to MP3 player, iPod, Android phone, you need to remove DRM from Apple Music songs & playlist, below is the easy guide to download Apple Music to MP3 or M4A on Windows/Mac computer, so that you can keep download songs from Apple Music forever.
Solution: Download and convert Apple Music songs to MP3 files, save them as local MP3 music files on the PC or Mac. This is the best method to keep Apple Music songs playable forever, even after cancelling Apple Music Membership. Let's learn how to use UkeySoft Apple Music Converter to take music out of iTunes/Apple Music app and keep them forever.
Step 1. Add or Download Music to iTunes Library or Apple Music app
To keep Apple Music songs forever after unsubscribing, you need to add or download the Apple Music songs to the iTunes library or Apple Music app's library.
Read more: How to music to iTunes Library from the Apple Music catalog?
Step 2. Launch UkeySoft Apple Music Converter
Just open the Apple Music Converter, the iTunes will be launch automatically and all Apple Music songs/playlist will be synced into the converter from iTunes library.
Step 3. Select Apple Music Songs
After loading songs and playlist into the converter, please click playlist on the left side and find your songs on the right panel. Then, select the Apple Music songs you want to convert one by one; If you want to select all songs in this playlist, please click the top checkbox.
Step 4. Output Format and Output Profile
To convert Apple Music as MP3 files for backup, please select MP3 as output format. In addition, this Apple Music converter also can help you convert Apple Music files to FLAC, WAV, M4A, AC3, AAC, AIFF, AU, M4R and MKA. If you want to convert Apple Music as iPhone ringtone format, please select M4R as output format; If you want to get lossless Apple Music tracks, you can convert Apple Music to FLAC format. Because most devices and players supports the MP3 audio format, we suggest you select "MP3" as output format, so that you are able to listen to Apple Music MP3 songs on any devices freely.
Output Quality: For each output format, Apple Music to MP3 converter provides different profile settings: High, Normal and Low with different Bitrate, SampleRate and channels. You can also customize the value as you like.
Music ID3 Tags & Metadata: It will save the music ID3 tags and metadata to the output files, including Song's Title, Artist, Album, TrackID and DiskID, you also can edit the ID3 tags before conversion.
Adjust the Volume: Click Options on the menu bar to open Preferences and adjust the volume.
Step 5. Start to Convert Apple Music to MP3 Files
Click "Convert" button to start converting Apple Music songs to MP3. During converting, iTunes plays the Apple Music tracks in the background (muted), so you'd better not using iTunes before conversion is completed.
Step 6. Get DRM-free Apple Music Songs
Once the conversion is done, please click "Explore Output File", and you can find the converted Apple Music songs in the destination folder you set.
Now, you have converted Apple music to MP3 files and save them on computer forever, if you have canceled Apple Music subscription, you can still play your Apple Music songs offline on PC or Mac, or transfer these unprotected Apple Music songs to any MP3 player for listening without restriction.
Download the free trial version of UkeySoft Apple Music Converter and strat to convert your favorite Apple Music songs, playlist and albums, this is the best way to keep Apple Music forever, you can try to convert the first three minutes of each Apple Music file. If you want to unlock the time limitation, you can purchase the license to unlock it.
Final Words
If you worry about your songs & playlist will be lossing after canceling Apple Music subscription, the best way is to download and convert Apple Music as local MP3 files, UkeySoft inc. offer the best solution to convert Apple Music tracks to MP3 for keeping forever, so that you are able to download songs, albums, and even entire playlists from Apple Music to computer or any MP3 player for offline listening.
Cancel Apple Music subscription
Comments
Prompt: you need to log in before you can comment.
No account yet. Please click here to register.