By Justin SabrinaUpdated on March 21, 2023
---
Summary
Hate your standard alarm clock tones every morning? Here's how to wake up and go to sleep to your favourite Spotify songs. There are several ways you can set Spotify songs as alarm on iPhone, Android phone and devices.
Q1: How to set a Spotify song as an iPhone alarm? Can I set alarms on my iPhone to play music from Spotify directly? I'm eager to set 'Lovely Day' by Bill Withers from the Spotify app as my iPhone 12 Pro alarm. Any suggestion?"
Q2: Can I use Spotify songs for my alarm on Android? I know how to set Spotify music as an alarm on iPhone. But now I switched to HUAWEI P40 Pro. I am new to Android, please help.
Bored of waking up with a regular alarm clock? This is a great thing if you use your favorite song instead of the systematic sounds. Especially these songs come from Spotify, a popular music streaming service that is used by people around the world. Why not combine the two? Why not set Spotify songs as iPhone/Android alarm clock? Spotify offers a lot of streaming music, playlists and friends sharing. So, using songs from Spotify as your alarm clock is what most iPhone and Android users are eager to accomplish, and so am I. However, setting an alarm with Spotify music on iPhone/Android is different from setting Spotify music as ringtones on an iPhone/Android. Today, we're giving you a variety of options to set Spotify songs as alarms on Android and iPhone.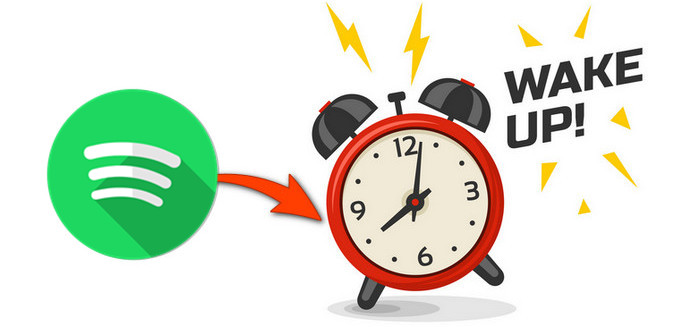 CONTENTS
Part 1:Set Spotify Music as Alarm for Android
With the help of SpotOn and the Google Clock App, you can set up Spotify songs as Android alarms easily. For their specific methods, welcome to find the answer you want in the next article.
Method 1: Set Spotify Music as Alarm for Android with SpotOn
Step 1. Download, install and run SpotOn app on your Android phone.
Step 2. Sign in to your Premium Spotify account.
Step 3. Tap on "WAKE" tab and create a new alarm.
Step 4. Now set a specific time for your alarm clock, then tap "TAP TO SELECT MUSIC" button to select Spotify song as your alarm.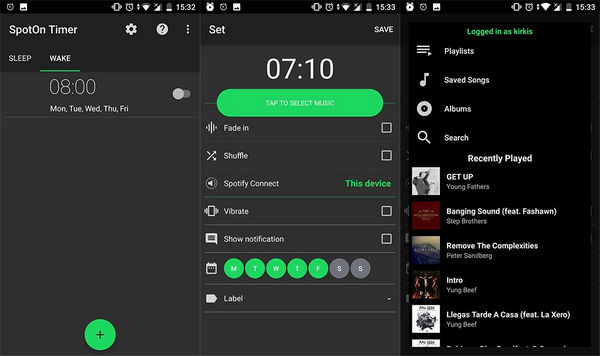 Of course, there are other options, such as shuffling your songs or letting the alarm vibrate. SpotOn can make your alarm clock more personalized and enjoy it.
Method 2: Set Spotify Music as Android Alarm with Google Clock App
Google Clock app is another useful tool for you to set Spotify tracks as Android alarms. But this method has some restrictions, it only works on Android devices. Before using it, you need to make sure you have installed the latest version of Google Clock and Spotify on Android phone. And the phone needs to be running Android 5.0 or above. Now follow these simple steps and try to set Spotify alarm on Android using Google Clock app:
Step 1. Install and run Google Clock app on your Android device.
Step 2. Select an alarm you want to edit or tap the + button to create a new alarm.
Step 3. Next tap on the Bell icon.
Step 4. Select Spotify.
Step 5. If this is the first time you're using the new feature, you'll be prompted to connect to your Spotify account. Tap on "Connect" button.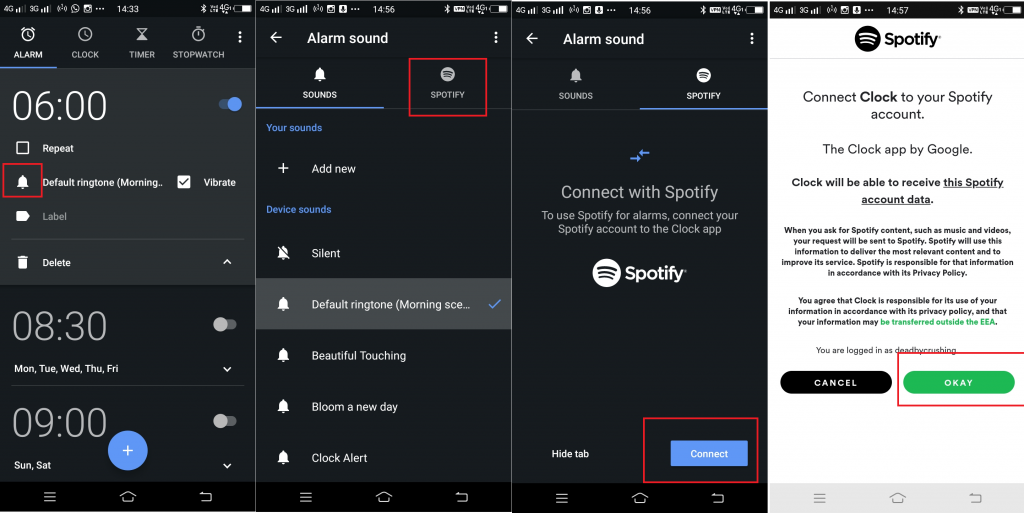 Step 6. Once connected, you can select a playlist or album from the most recently played songs, browse Spotify's recommended playlists, or search for specific tracks.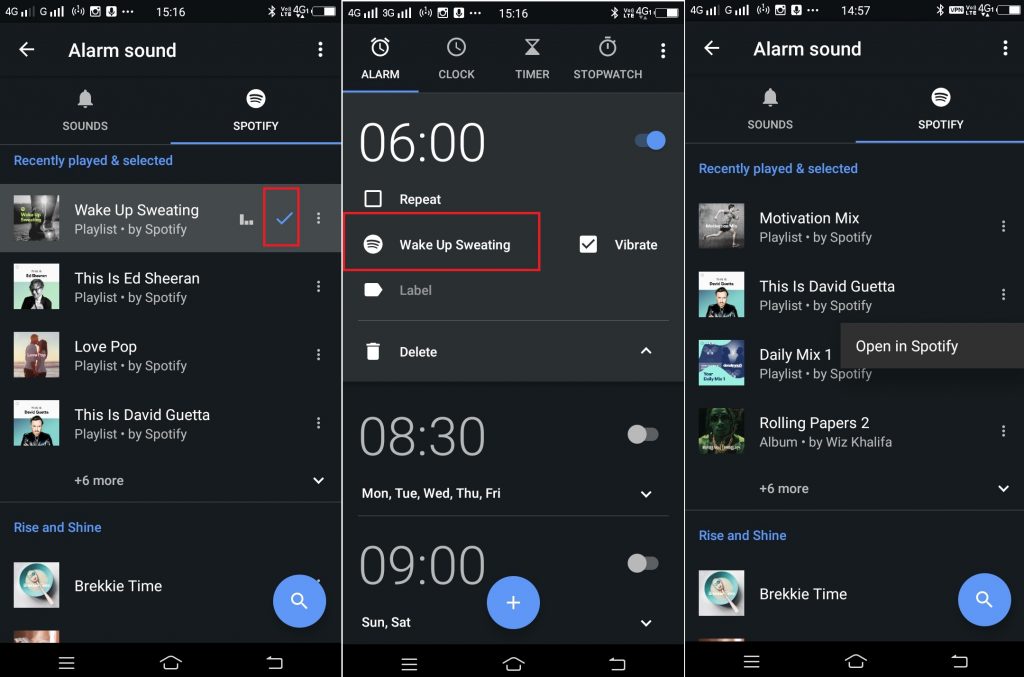 Part 2: Use Spotify Song as Alarm for iPhone
Similarly, to use Spotify alarm on your iPhone, you'll need to download a third-party app - Alarm Clock for Spotify app.
Step 1. Install and run Alarm Clock for Spotify app on your iPhone XS/XS Max/XR/X/8(Plus)/7(Plus)/6(Plus)/5/4.
Step 2. Sign in to your Spotify account and tap anywhere on the screen to open the settings.
Step 3. Select Alarms -> Add to create a new alarm.
Step 4. Now you can set the time and select how often you want the alarm to repeat.
Step 5. Go to "Playlists", click on "Add"button to select Spotify song you want to set as iPhone alarm.
Step 6. Click "Done" to end everything.
So far, you have learned how to set up Spotify songs as alarm clocks on iPhone and Android. Next we will introduce a more powerful way to complete the alarm settings. With Part 2, you can not only set up Spotify songs as an alarm clock, but also download Spotify songs without Premium, transfer Spotify songs to MP3 players, burn Spotify songs to CDs, and more. It must be said that this method is the most feasible way for Android and iPhone users.
Part 3: Set Spotify Song as Alarm on iPhone and Android[Hot!]
Why Spotify music can not be set as mobile phone's alarm directly? As Spotify is a streaming service, all songs from Spotify are protected by DRM. This is a technology used to protect digital media from piracy, so you can't copy what you download for other purposes. But, if you can find a workable solution to remove DRM protection from Spotify Music, then you can copy them directly to Android or iOS as an alarm clock.
UkeySoft Spotify Music Converter is a professional Spotify music downloader, which helps you download Spotify songs and playlists to computer for offline playback, then you can directly copy them to iPhone or Android as alarm. Both Spotify Free and Premium users can record and convert Spotify music to MP3, AAC, WAV, FLAC format at 10X faster speed and you can get the original quality of Spotify music with ID tags preserved after conversion.
More About UkeySoft Spotify Music Converter
Download Spotify songs without premium.
Remove DRM from Spotify music.
Convert Spotify songs or albums to MP3, AAC, WAV, FLAC, M4A, M4B.
Enjoy Spotify music on mobile, laptops, MP3 players, home theaters, car music system, car radio, etc.
100% lossless conversion, with up to 5x faster speed.
keep ID3 tags such as artist, track number, year, genre, composer, etc.
Want to listen to your purchased Audible Audiobooks on any MP3 player, iPods, iRiver, Kindle, etc, or burn Audible Audiobooks to CD? UkeySoft Audible Converter is all you need. It is able to convert Audible AA/AAX Audiobooks to MP3, M4A, M4B, AAC, FLAC, WAV and more popular formats with lossless audio quality.
Steps to Download Spotify Songs and Set as Alarm for iPhone/Android
Step 1. Download and Install UkeySoft Spotify Music Converter
UkeySoft Spotify Music Converter is available for Windows and Mac OS. Here, we will use the Windows version as an example to show you how to get a Spotify song without DRM and set it as an alarm sound. If you are a Mac user, please click here to jump.
The good news is that you have another alternative to set a Spotify song as your alarm on Android or iPhone. In order to meet you needs, our team have brought a new product - TunesBank Spotify Music Converter. By adopting advanced conversion technology, it supports simultaneous conversion of the Spotify songs to different formats. It allows you to convert Spotify songs to MP3, M4A, FLAC and WAV without losing original quality. In other words, you can pick MP3 for one Spotify song, or even pick MP3 for all Spotify tracks. Morever, when you forget to add one or more songs, it also lets you return to the "Library" and add more songs to the "Converting" list during the conversion process.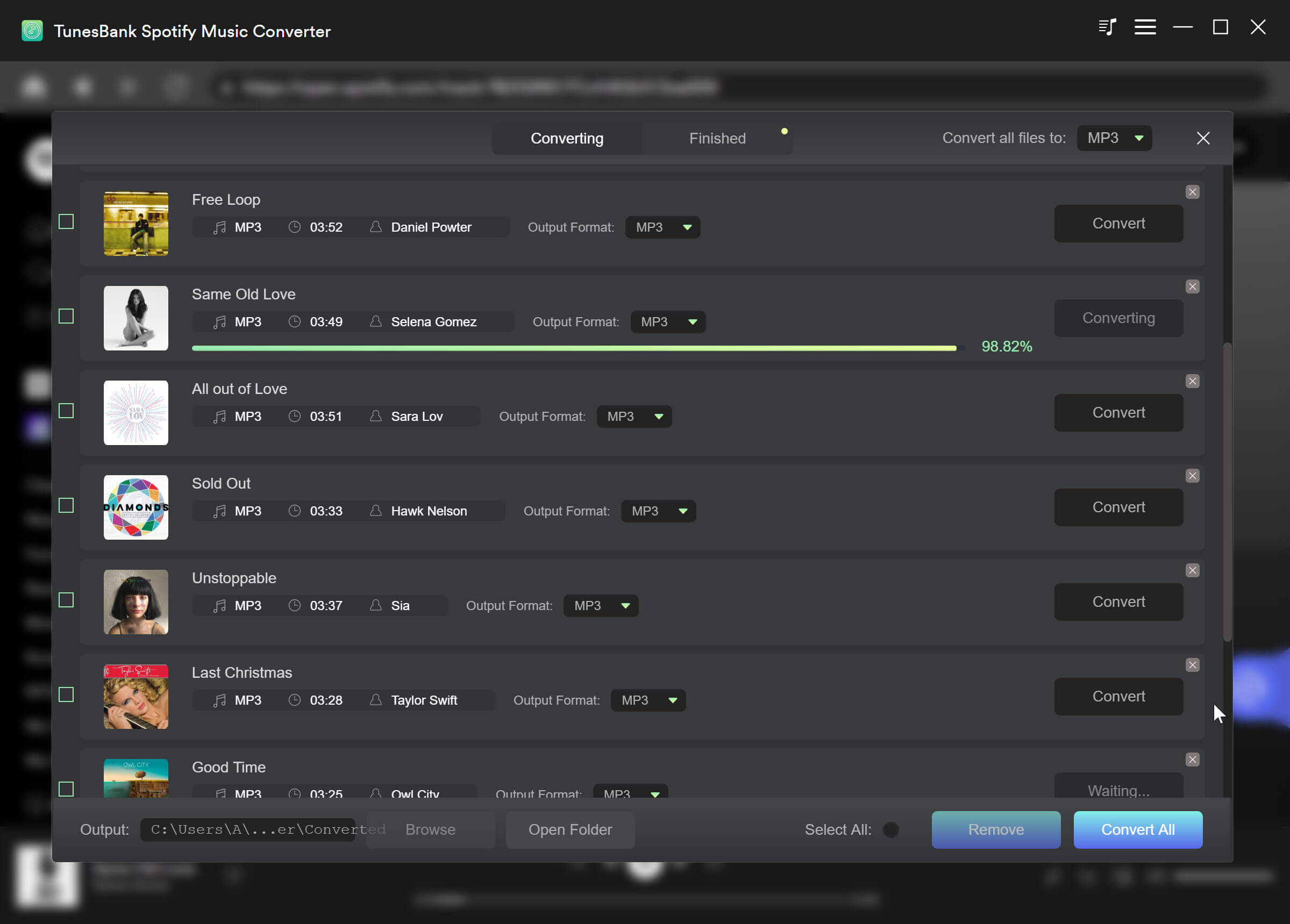 Step 2. Launch UkeySoft Spotify Music Converter
After installing, launch the software and Spotify will be launched automatically. Do not close Spotify when using the program.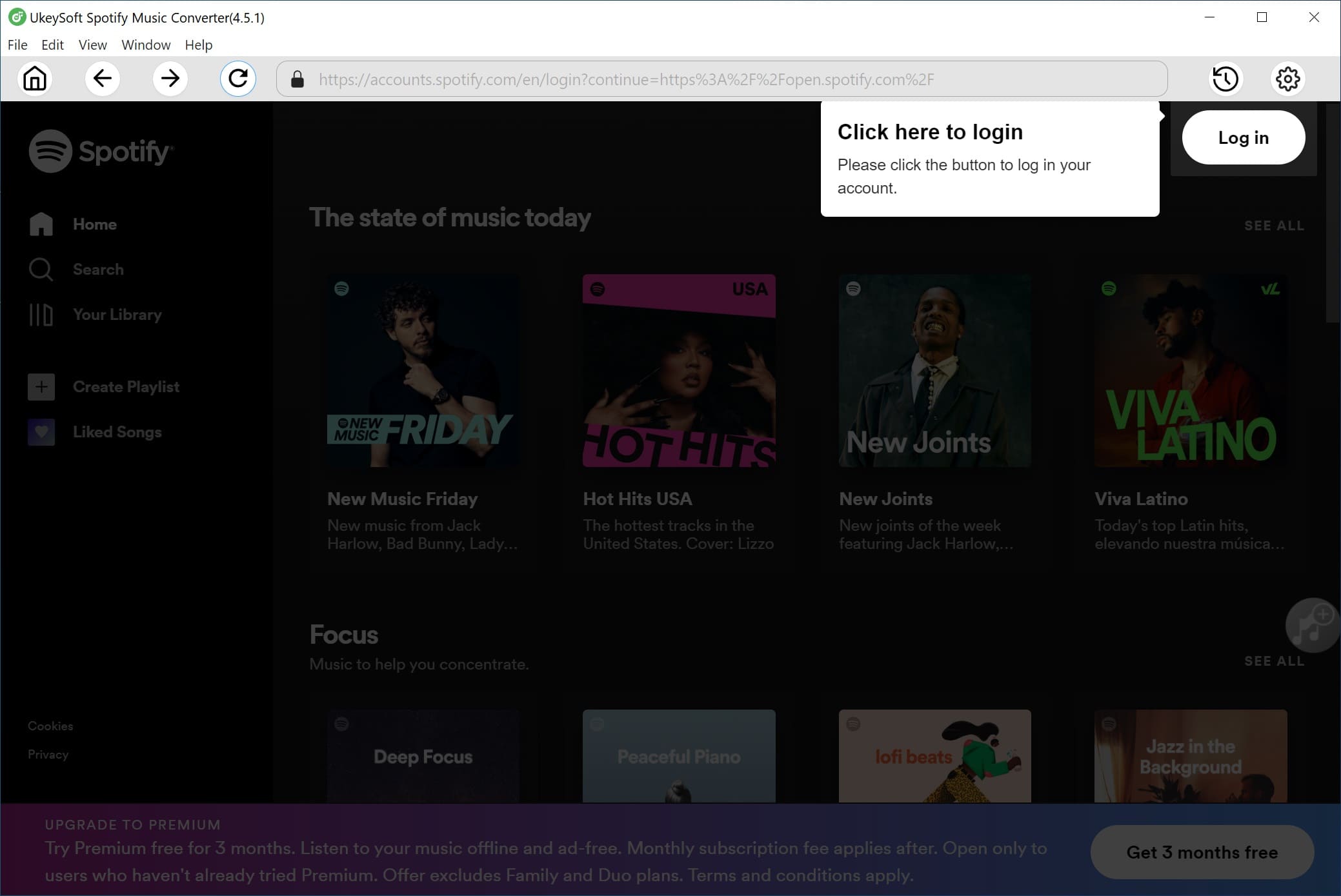 Step 3. Select Spotify Songs
Select the songs you want from Spotify app then drag to the interface. The converter will automatically analyse and detect all songs contained in the album or playlist, you can add as many songs, albums, playlists as you want.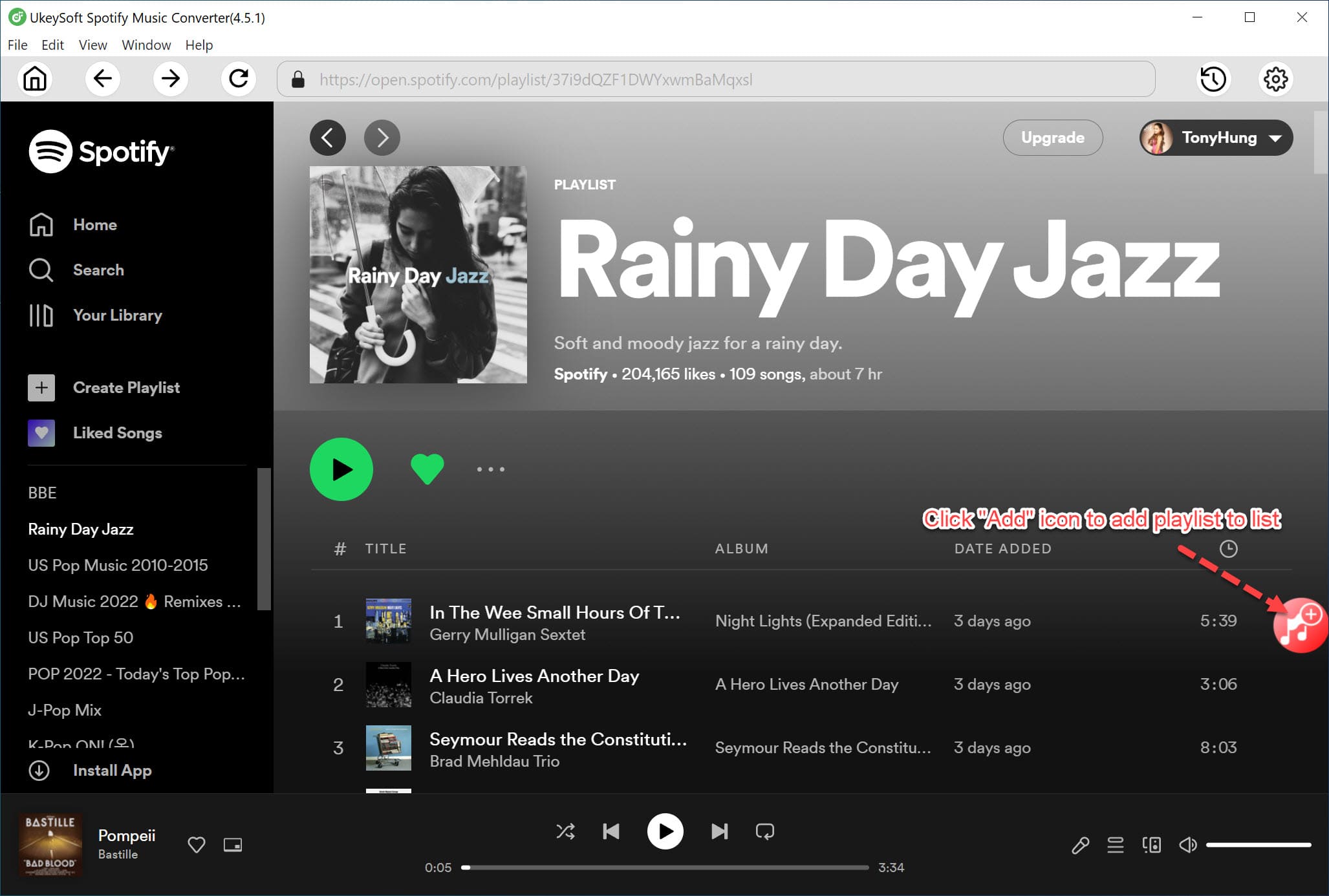 Note: If you are using web player, you can copy&paste the link of the song, album or playlist you want to the bottom area.
Step 4. Choose Output Format
The default output format is MP3. UkeySoft Spotify Music Converter also supports M4A, WAV, FLAC. Click "Option" button to change output format or output folder if you need.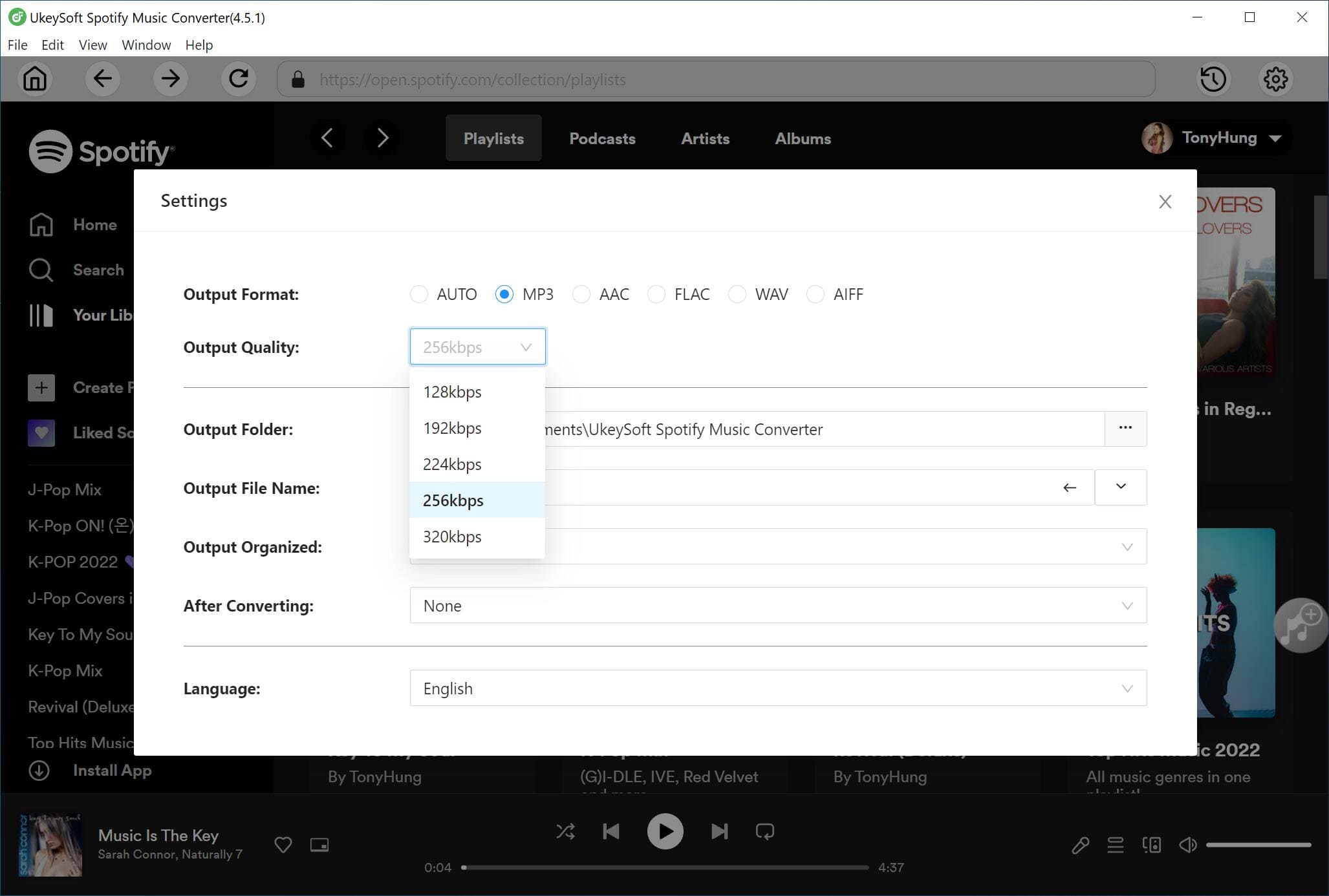 Step 5. Download Music from Spotify to Local Computer
Click the "Convert" button to convert and download Spotify select songs to your local computer. Once done, you can click "History" button icon to find the well converted Spotify music.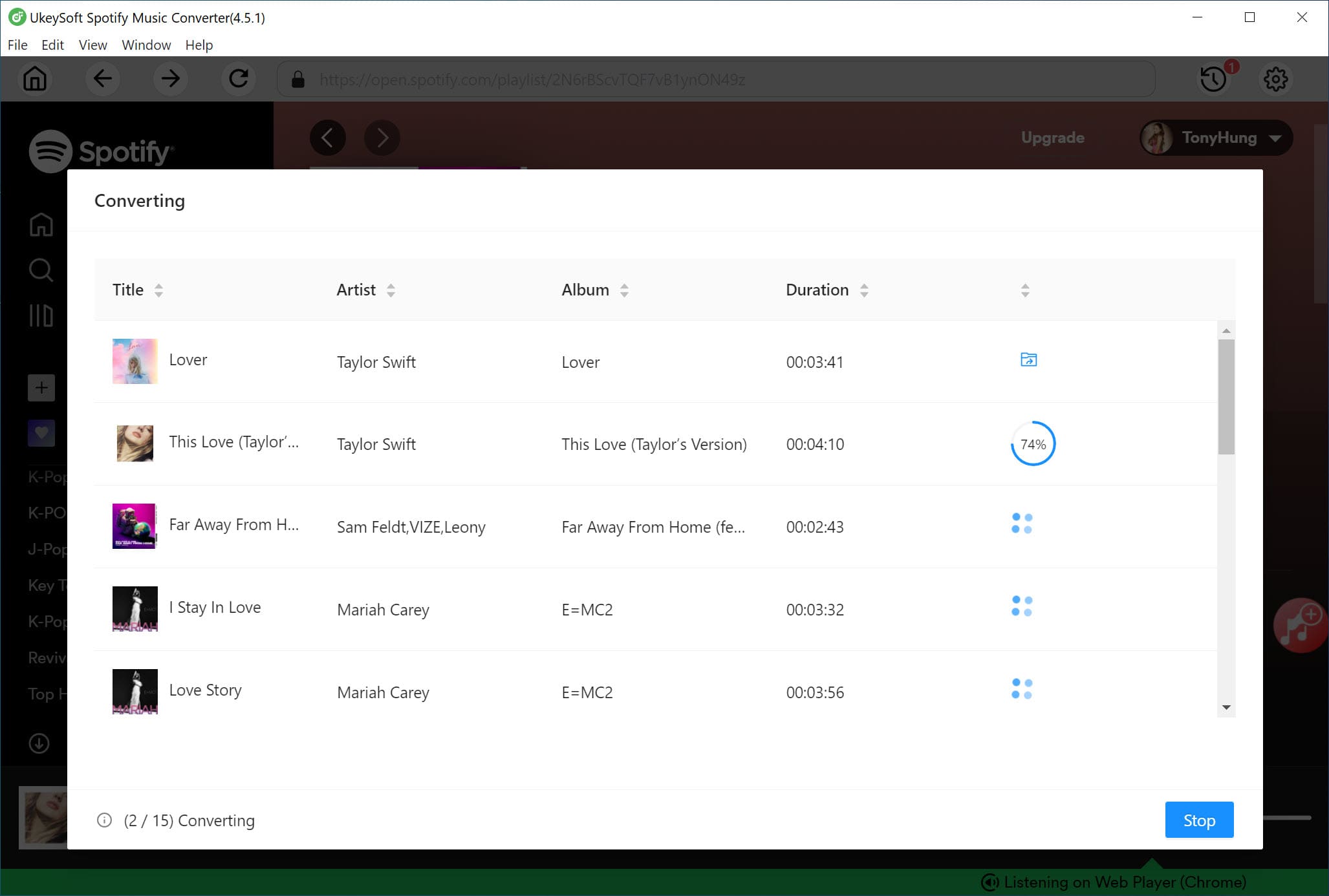 Step 6. Use Spotify Music as Your iPhone/Android Alarm
Now you can use iOS & Android Manager to sync converted Spotify music to your iPhone or Android from your local computer. This powerful program allows you to transfer, backup, edit, delete contacts, text messages, photos, videos, music, apps, etc. between your mobile phone and computer. In addition, it has an important feature, that is, the ringtone maker. Now download and install the program with your computer and try to set converted Spotify songs as alarms for your iPhone or Android phone.
1). After the installation is complete, launch it and connect your iPhone to your computer. Go to the "Music" tab at the top of the page, click the "Add" button, and copy and paste the converted Apple music file into the window.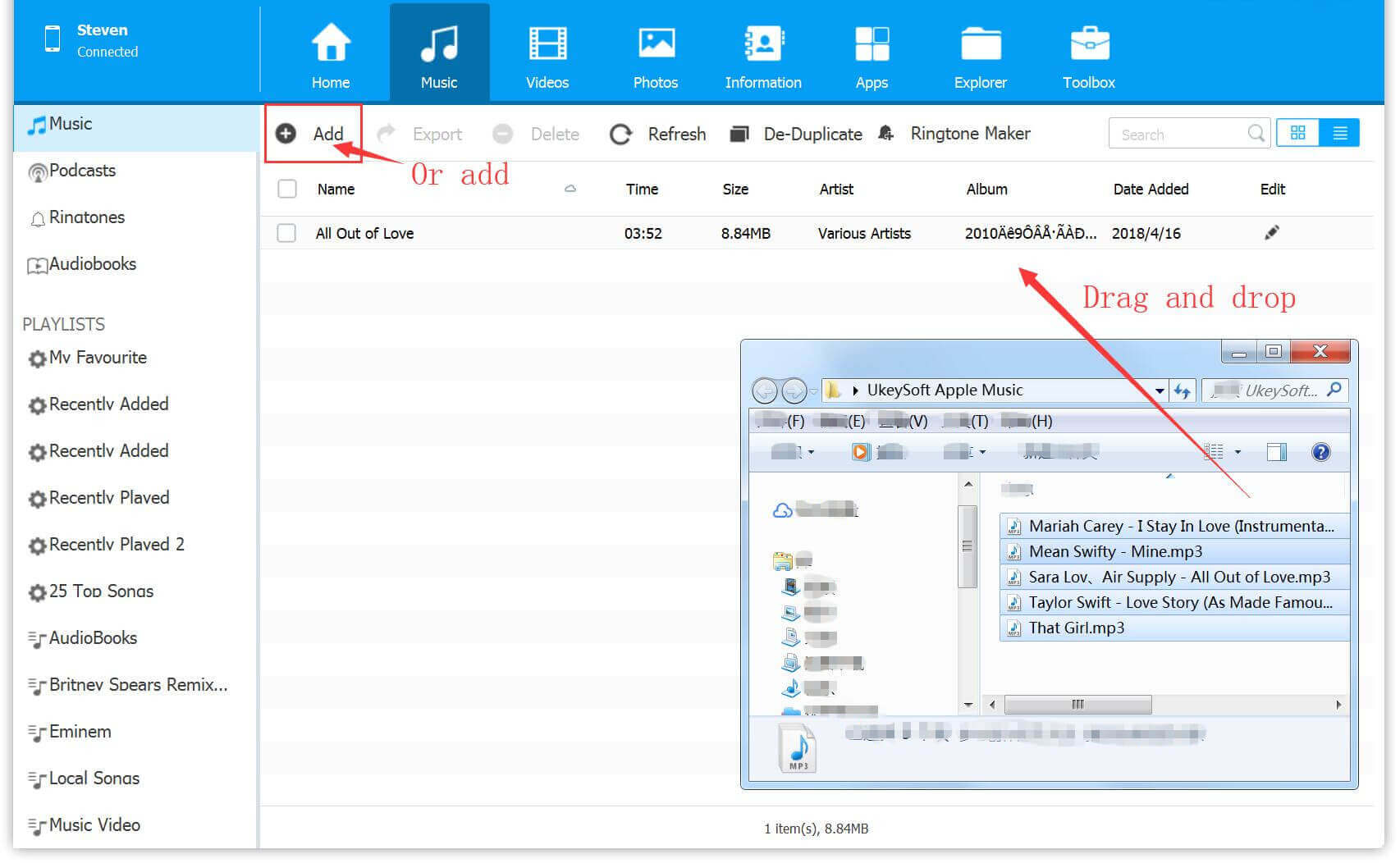 2). Select the song you want to set as your iPhone or Android ringtone or alarm, then select the "Ringtone Maker" feature.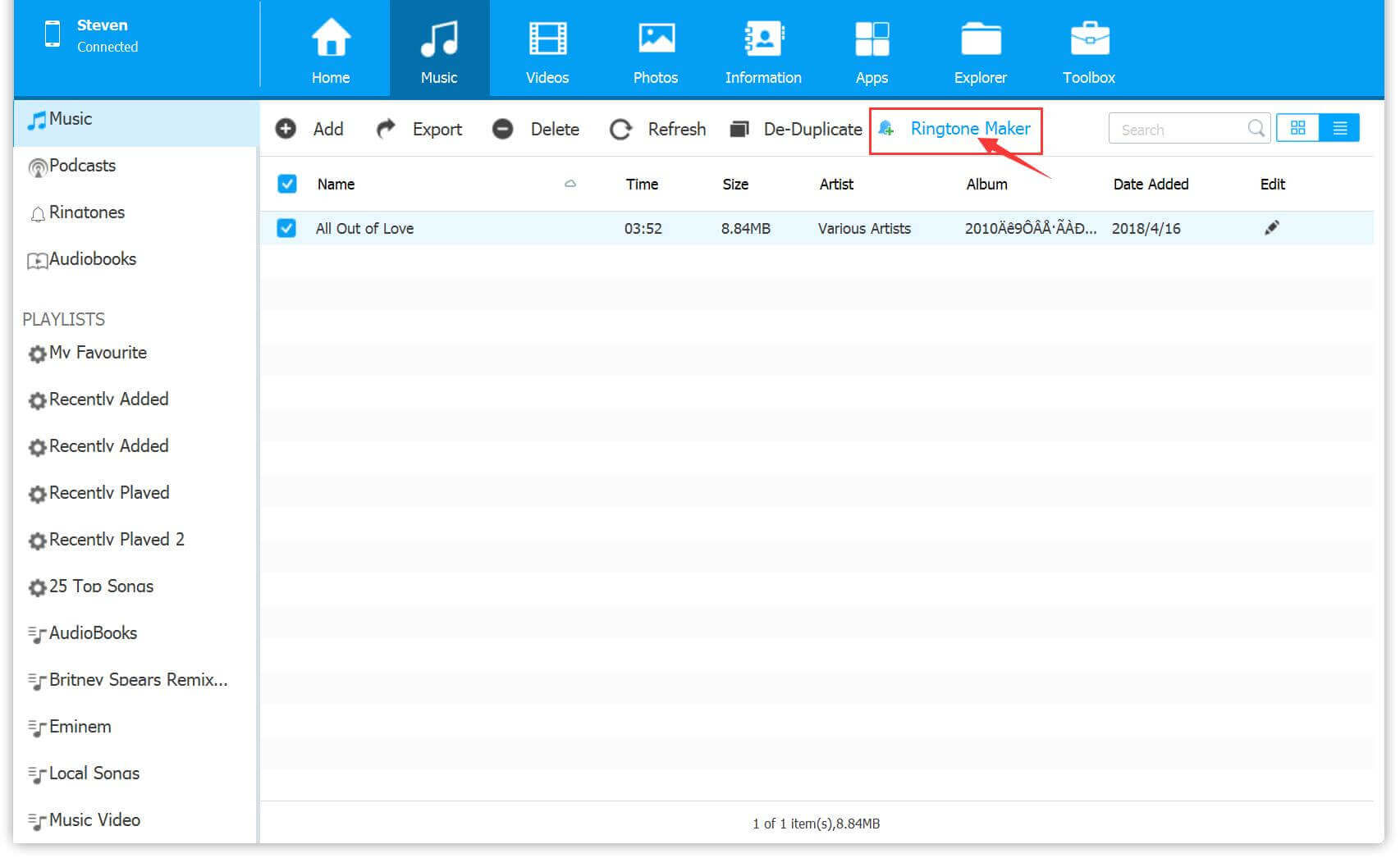 3). After loading into a new window, you are free to set the start and end time of the ringtone or alarm.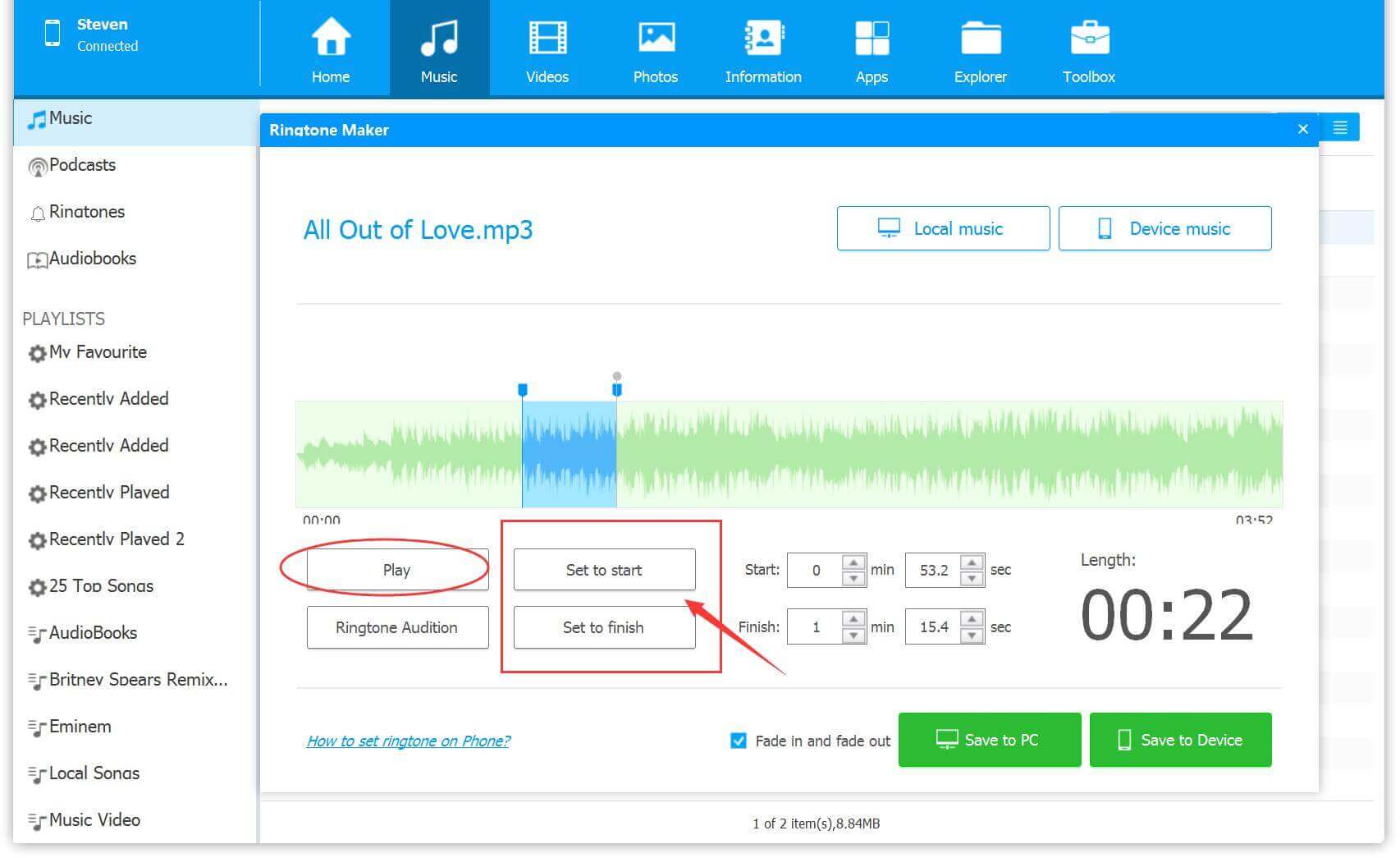 This way, you get short audio that is suitable for use as a ringtone or alarm clock. Once complete, you can select Save to Device to transfer the created M4R ringtone file to your iPhone.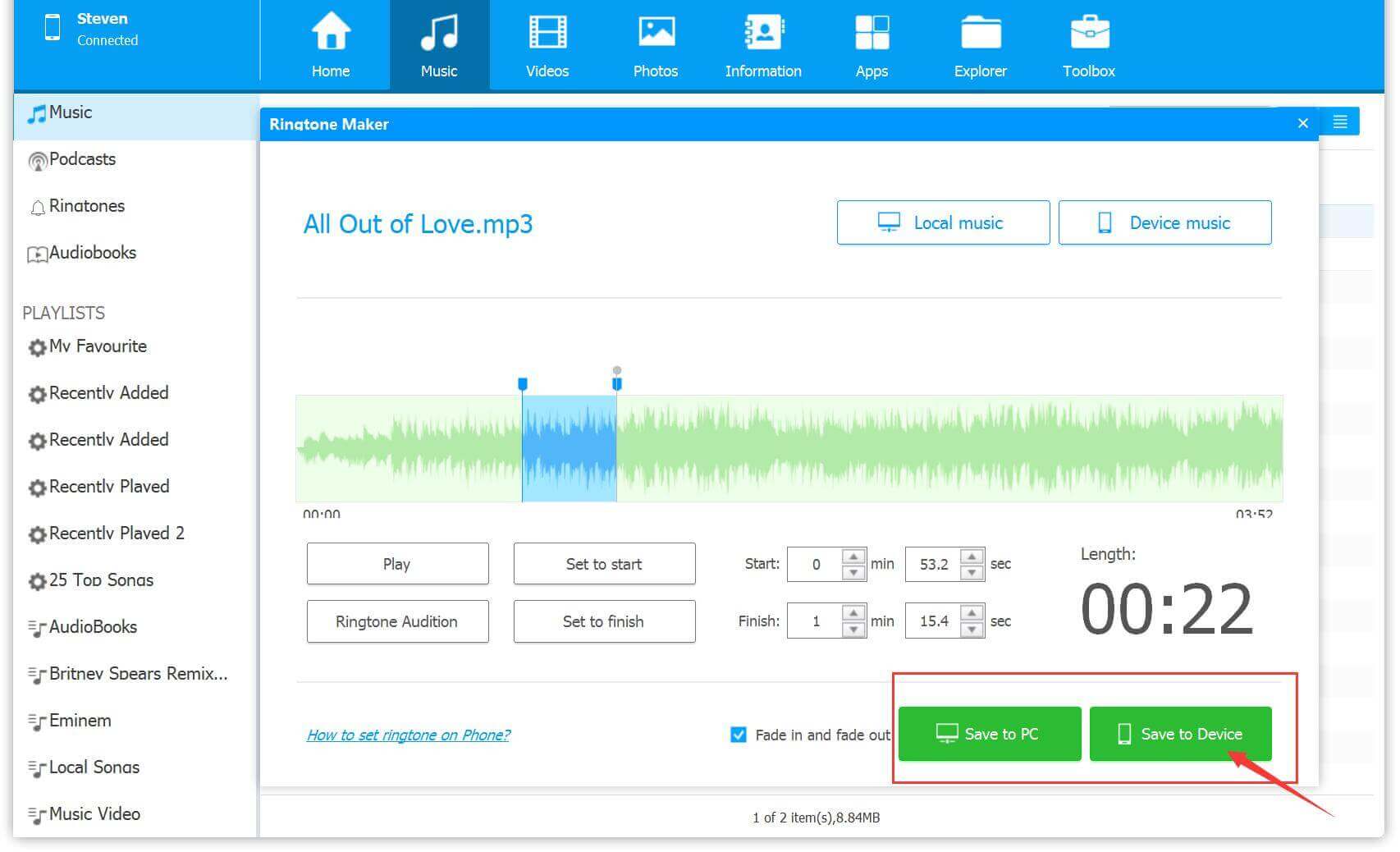 4). Easily set the created M4R file to an iPhone or Android phone ringtone or alarm.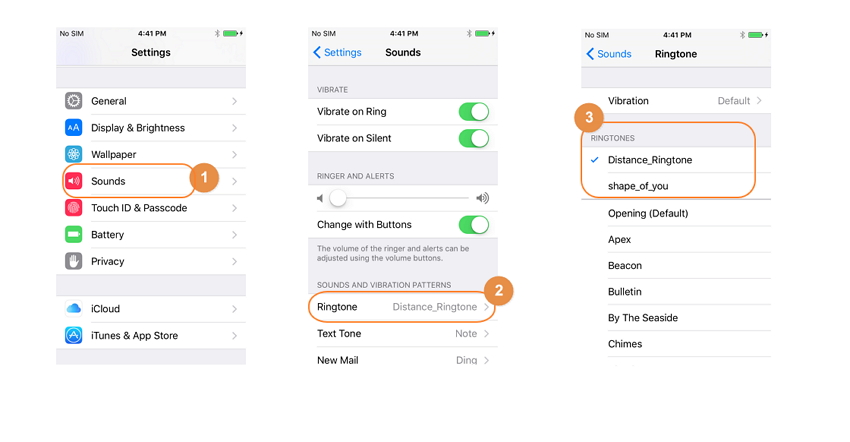 Video Guide: Convert Spotify Music as MP3 and Set Music as Alarm on iPhone/Android
Part 4: Benefits: 20 Best Wake up Alarm Songs on Spotify
It's great to wake up and fall asleep listening to your favorite Spotify songs. You got different ways to set your favorite Spotify music or playlists as iPhone and Android alarms clock. Which Spotify song do you want to use as an alarm clock? If not, you can try the 20 most popular Spotify songs listed below.
Here are the songs:
Viva La Vida by Coldplay
Elevate by St. Lucia
Lovely Day by Bill Withers
Beautiful by Christina Aguilera
Run the World (Girls) by Beyoncé
Downtown by Macklemore & Ryan Lewis
Wake Me Up by Avicii
The Cure by Lady Gaga
Wake Up by Arcade Fire
I Smile by Kirk Franklin
Confident by Demi Lovato
Stronger by Kanye West
Love Myself by Hailee Steinfeld
Can't Sleep Love by Pentatonix
Rather Be by Clean Bandit
Reflections by MisterWives
Money On My Mind by Sam Smith
Feel Right by Mark Ronson
I Can't Help It by Esperanza Spalding
Come and Get It by John Newman
The Bottom Line
Due to DRM restrictions, you can't set Spotify songs as an alarm on iPhone or Android phone directly. As above, we introduces you different ways to make Spotify songs as alarm on Android and iPhone. You can now easily enjoy your favourite Spotify songs every morning. For me, the best tool is UkeySoft Spotify Music Converter. With it, users can not only easily convert Spotify music and playlists to MP3, M4A format for use as alarms and ringtones for iPhone or Android phones, but also keep Spotify music forever and transfer Spotify songs to any device for offline playback, why not have a try?
Set Spotify Song as Alarm
Comments
Prompt: you need to log in before you can comment.
No account yet. Please click here to register.