By Justin SabrinaUpdated on December 16, 2022
Summary
This article shows how to fix iPhone, iPad, iPod stuck on Apple logo, recovery mode, DFU mode, boot loop, frozen screen and more without data loss by using UkeySoft FoneFix.
"My iPhone is in an abnormal state and it keeps stuck on white Apple logo screen. I can't get it. Can anyone help me fix iPhone stuck on Apple logo?"
"My iPad won't turn on suddenly, how can I fix it? Yesterday the iPad Air 2 turned off without power. I just tried to charge it and found that it stuck on restarting and won't turn on. What happened and how to fix iPad not turning on issue?"
"I tried to upgrade my iPhone, but the result is not satisfactory. It's stuck on connected to iTunes screen and doesn't work properly, how to get iPhone out of recovery mode without losing data?"
Fixing iOS stuck issues without losing data is an ideal state for iOS system repair tools. Needless to say, mobile phone data is so important that it covers many aspects of work and life, including photos of children's growth. However, the iOS stuck problem annoys you, because the official method is to use iTunes to upgrade or restore your iOS device, causing all data to be lost if you don't have a backup.
UkeySoft FoneFix - iOS System Recovery software is recommend. If you are looking for ways to fix iOS stuck issues without losing data, here we guide you to fix various iOS stuck issues on iPhone, iPad, iPod touch, Apple TV by using UkeySoft FoneFix tool. Generally, there are only two reasons causing the iPhone/iPad stuck Apple logo looping, recovery mode, boot loop, black screen of death, headphone mode and other iOS stuck issues. It would be either is a software or a hardware issue. Regardless of the reason, you can now fix all iOS reboot problems without losing any data by UkeySoft FoneFix.
What UkeySoft FoneFix Can Do?
Fix 50+ iOS stuck issues on iPhone/iPad/iPod touch/Apple TV.
Fix iOS system to normal without data loss.
Get iPhone/iPad out of recovery mode, white Apple logo, DFU mode, headphone mode, black screen, white screen, blue screen, red screen, frozen screen, boot loop, iOS update failure, restore error, iPhone bricked, iPhone locked, etc.
The easiest way to enter or exit Recovery Mode on iPhone/iPad/iPod.
Upgrade or downgrade iOS version without losing data.
Work for all iOS devices running iOS 14/13/12/11/10/9 and lower.
UkeySoft FoneFix supports repairing various iOS frozen screen or restart loop issues. It is compatible with the latest iOS 14 and iPadOS 14. It is easy to use, and your iOS device will be repaired to a normal state within a few minutes. Before starting, you need to know a fact: After the iOS is repaired to normal, the iOS device will be updated to the latest version. If this is a jailbroken iPhone, it will return to a non-jailbroken state. If this is an unlocked iOS device, it will be locked again.
Tutorial: How to Fix iOS Stuck Issues without Data Loss
Step 1. Install and Launch UkeySoft FoneFix
First of all, free download the UkeySoft FoneFix software on your Mac or Windows PC. Then install and launch it on your computer and you need to connect your stuck iOS device to PC instantly.
Step 2. Select Standard Mode
We can see the features supported by UkeySoft FoneFix. In standard mode, various iOS stuck issues can be restored without data loss. In most cases, the standard mode is sufficient. The advanced mode supports more serious iOS issues but all of data will be erased. In addition, you can save a lot of time because the tool supports one-click to enter or exit the recovery mode for your iPhone/iPad/iPod Touch. Now select "Standard Mode" and go on.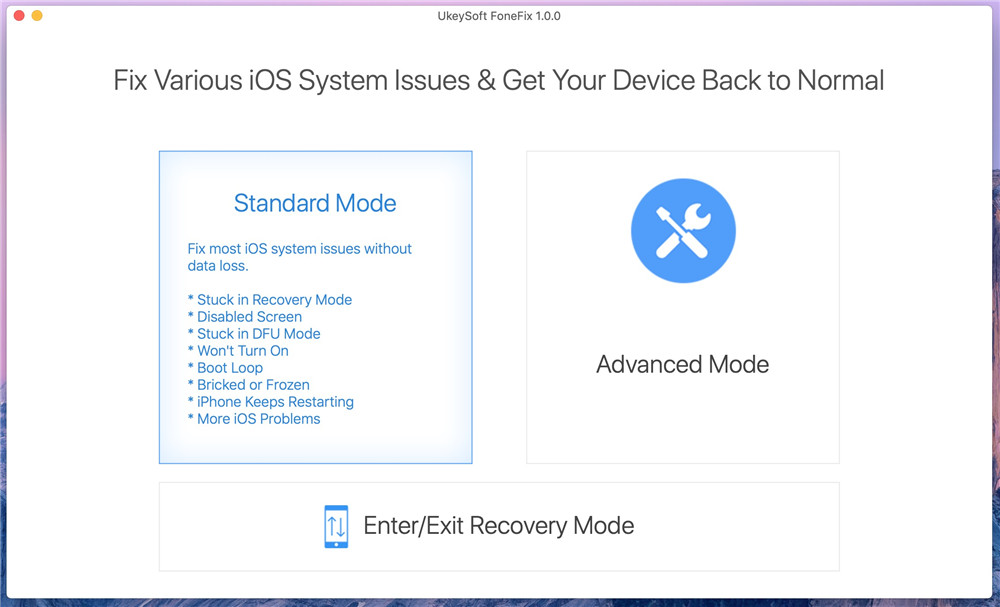 Step 3. Enter Recovery Mode
You'll now be prompted to put your device into recovery mode. If you don't know how to do you can follow the instructions displayed on the screen.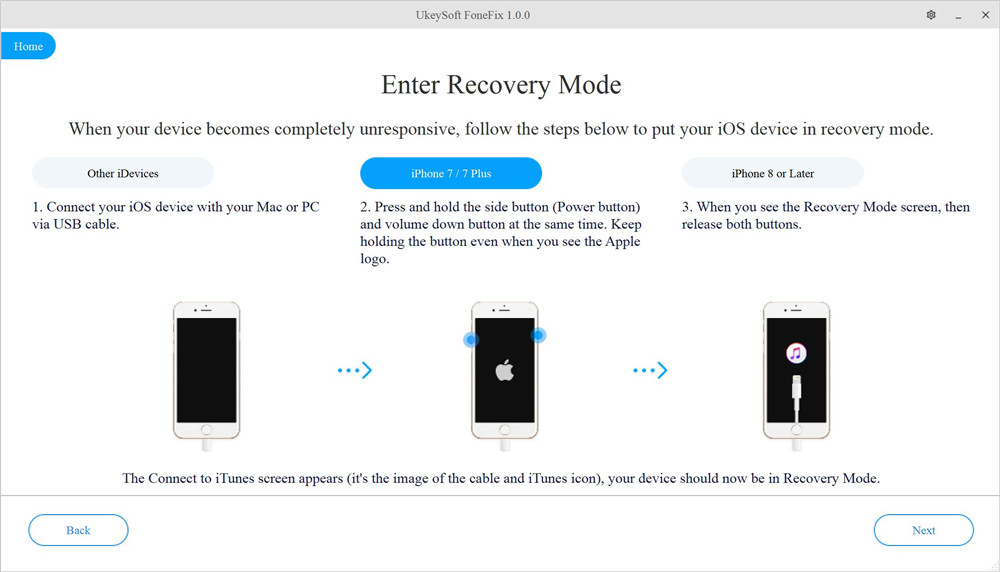 Step 4. Download iOS Firmware Package
Next, you'll be prompted to enter some basic information about your device. Click on "Download" to get the latest iOS firmware package installed on your computer.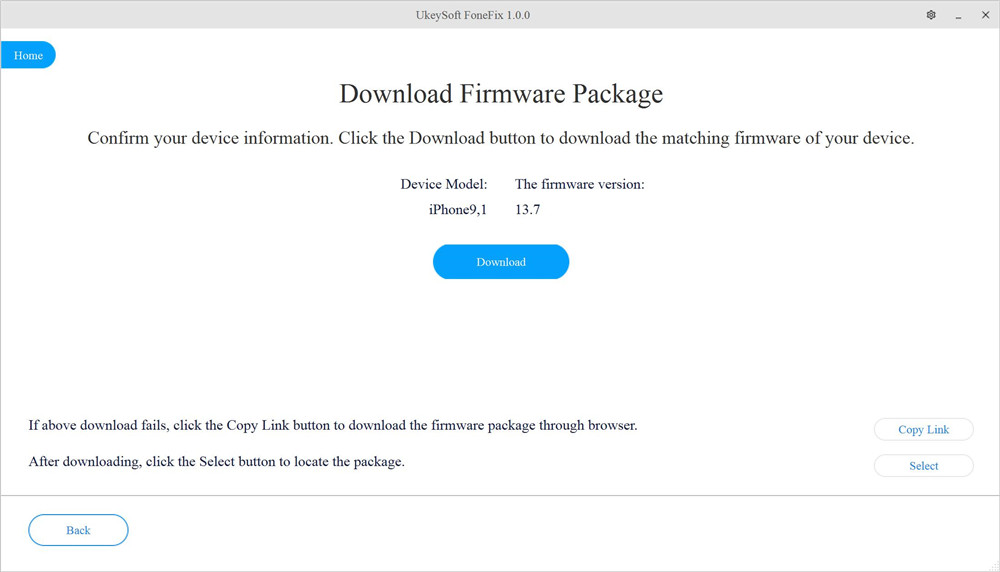 As you can see, the UkeySoft FoneFix will now download a fresh copy of iOS firmware to fix iOS stuck issue without data loss.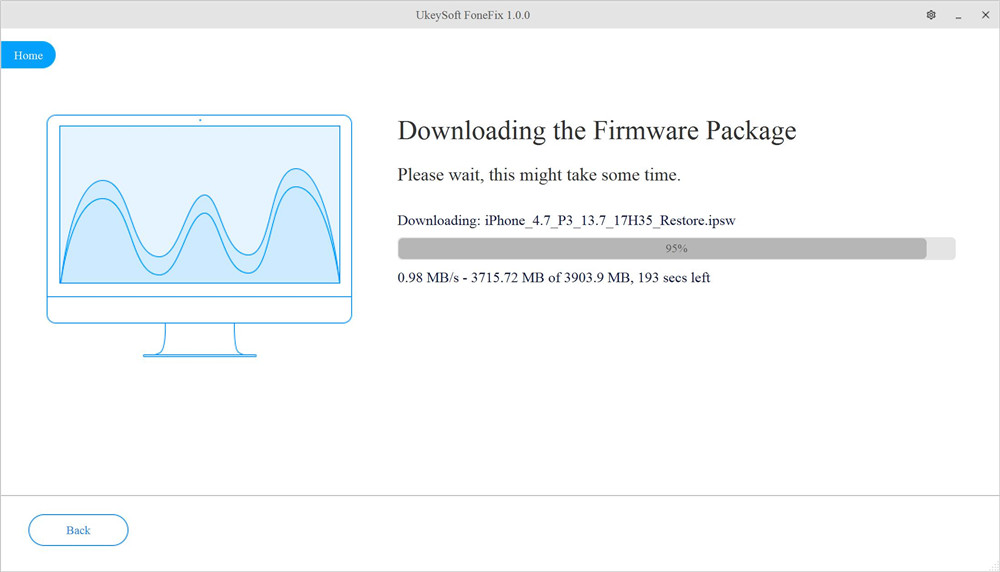 Step 5. Start Fixing
Once it has been downloaded, simply click on the "Start" button and UkeySoft FoneFix will re-install your iOS firmware.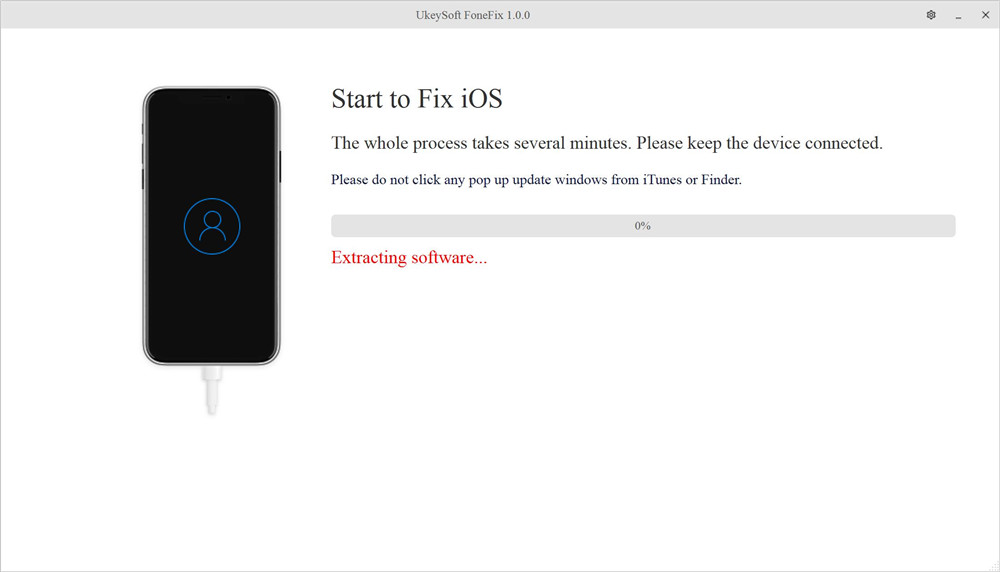 It takes a few minutes, your device will get back to normal and all data kept.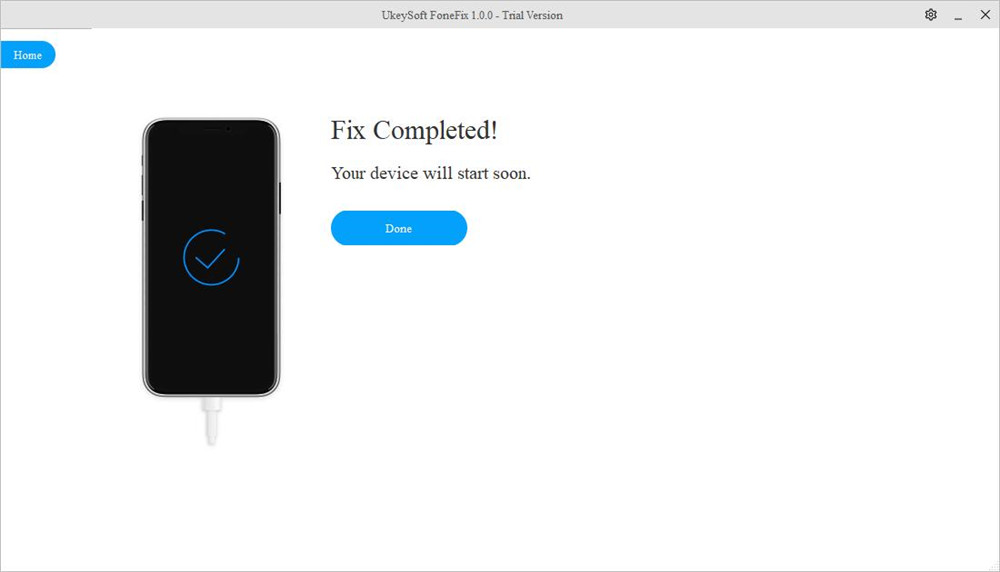 The Final Word
Now your iOS device gets out of boot loop, recovery mode or Apple logo. This method is useful when your iPhone/iPad is stuck in the boot loop, recovery mode, Apple logo, blue/black/red screen of death after iOS 14 update/downgrade. In general, you can easily fix iOS 14 update bricked iPhone or iPad.
Fix iOS Stuck Issues Without Data Loss
Hot Solutions - ALSO ON UkeySoft SOFTWARE
Comments
Prompt: you need to log in before you can comment.
No account yet. Please click here to register.