By Justin SabrinaUpdated on December 17, 2022
---
Summary
How do you fix the "Can't play the current track" error message? If you also encounter the problem that Spotify cannot play songs in the app or player, then this article is for you. Here we will show you 12 effective ways to fix "Spotify can't play this right now" issue.
Spotify is the top-leading streaming music platform in the world. Unlike its biggest competitor Apple Music, Spotify provides users with premium account and free account. Both Free and Premium users can stream over 70 millions songs in Spotify app and Spotify Web Player. When using the Spotify app or Spotify web player, most of them encountered problems such as Spotify pauses and unable to play songs. The most common problem is: Spotify can't play this right now.
For various reasons, Spotify may not be able to play the song you requested. Don't worry, you can always find a solution to solve it! This article will cover all the solutions on how to fix Spotify can't play this right now. You can read in depth to fix Spotify playback issues.
Related Article: How to Fix Apple Music Error: Item Not Available, This item can't be played.
CONTENTS
Part 1. Common Ways To Fix Spotify Can't Play This Right Now
# 1. Log Out from Your Account and Restart the App.
If you are using the Spotify Web Player, log out from your account on the web player, then close and reopen the browser. For Spotify desktop/mobile app, try logging out of your account first and restart the app. After that, log in again in Spotify.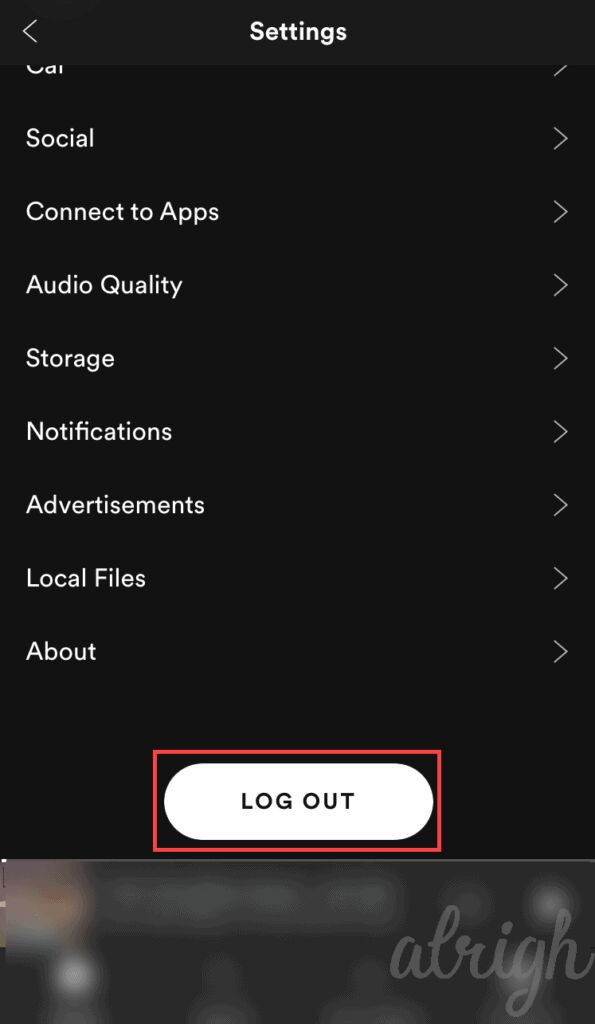 # 2. Restart Your Computer Or Mobile Devices
Restarting your device can solve some errors and glitches. You can try to restart your computer or mobile to fix Spotify can't play the current track. If this method does not work, you can try the alternative methods listed below.
# 3. Clear the Local Spotify Cache Files
If re-logging into the account or restarting the device still doesn't work, we recommend deleting the local cache files saved in the hard disk drive. Many users report that they can play Spotify music normally after deleting the local-files.bnk file or renaming the file.
For Windows Users:
1. Close Spotify app.
2. Open AppData, type %appdata% in the Search box.
3. Go to Spotify > Users, click on your Spotify username.
4. Delete the file local-files.bnk in the folder.

For Mac Users:
First, close the Spotify app. Then directly go to /Users/*your username*/Library/Application Support/Spotify/Users/*your_Spotify_username*-user to delete the local files.bnk.
# 4. Disable Hardware Acceleration on Spotify
Using hardware acceleration can make the computer run more smoothly. Then make the application run faster. By default, Spotify has hardware acceleration turned on. However, it sometimes causes malfunctions. You can disable Spotify's hardware acceleration feature to resolve the "Spotify can't play this right now" issue.
For Windows Users:
Open the Spotify app and click the three dots > View, then uncheck the option of Hardware Acceleration.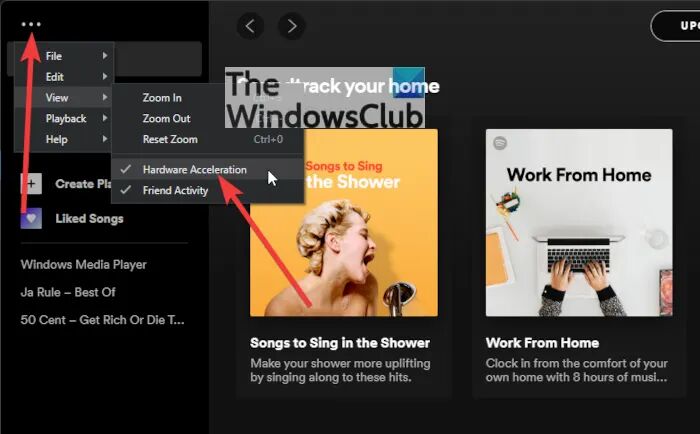 For Mac Users:
Open the Spotify and click the Spotify in the menu bar, then uncheck the Hardware Acceleration item.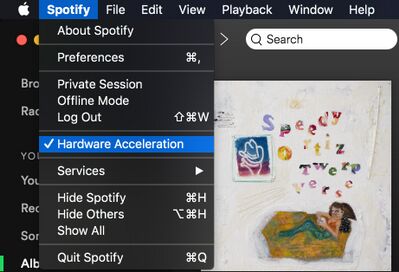 # 5. Change the Streaming Quality on Spotify
There are four different levels of streaming quality for Spotify, including Low at 24kbps, Normal streams at 96kbps, High at 160kbps, Very High streams at 320kbps (Premium account required). If you stop/cancel your Premium subscription, you might face the error "Spotify can't play this right now" when you play a high-quality song. In such case, you need to change the music streaming quality in Spotify app/web player.
On Spotify Desktop App/ Spotify Web Player:
·Launch the Spotify desktop app, or open the Spotify Web Player on your browser.
·Click on the drop-down arrow next to your profile, and choose "Settings".
·In the Music Quality section, select "Automatic" or "Normal".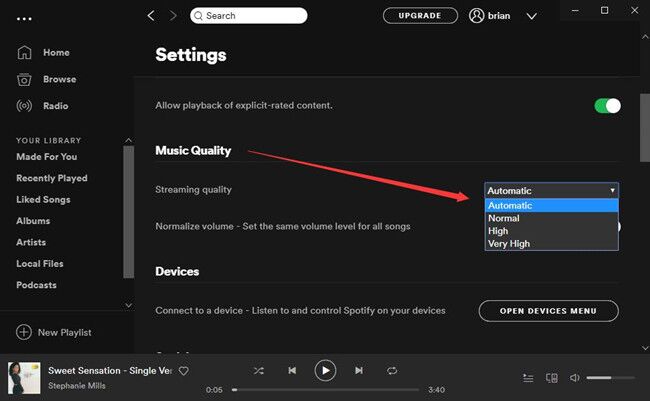 On Spotify Mobile App:
·Open the Spotify app on your iOS or Android device.
·Click on the Gear icon > Audio Quality, select "Automatic" or "Normal".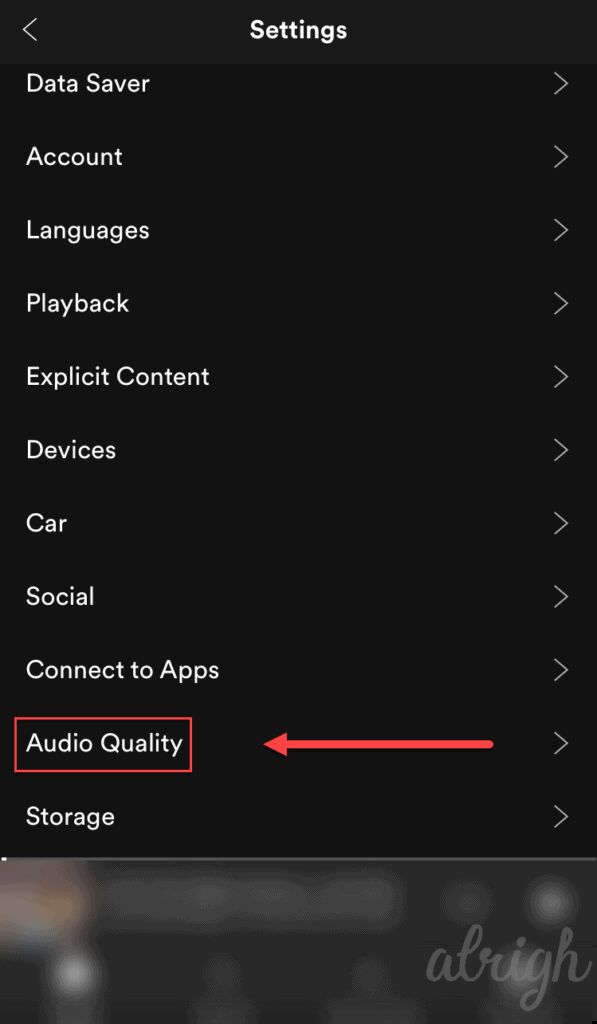 # 6. Show the Unavailable Playlists or Songs
Sometimes, if you accidentally delete downloaded Spotify song in the hard drive, it will still appear in your Spotify playlist, but you cannot play it. So you need to find out which songs cannot be played. To find it out, you can open Spotify Desktop app, go to Settings > Advanced Settings. In Display options, turn on the button of Show unavailable songs in playlists.

# 7. Set Crossfading Value to 0
In order to enhance the streaming experience, most Spotify users will crossfade songs in Spotify. If you are experiencing the Spotify can't play this right now error, you may change the Spotify crossfading setting.
Open the Spotify desktop app, click on your Profile name and choose Settings > Advanced Settings. In Playback section, enable the Crossfade songs and adjust the value from 5 Sec to 0 seconds.

# 8. Check If Your Device has Enough Space
If you see Spotify local files not showing up, it may be that there is not enough space on your mobile device or hard drive. You can uninstall useless apps or delete unnecessary folders to free up space.
# 9. Upgrade to Spotify Premium Plan
Spotify Free users can't play the same song more than five times after the 6 months period. Compared to Spotify Freemium, Premium users enjoy more features, such as unlimited playback and downloading feature. You can upgrade to Spotify Premium plan, and then you will be able to play any song without limtis, or even download them to listen to offline!
# 10. Update Your Spotify App
To fix Spotify can't play this right now error, you can try to update your Spotify app to the latest version. This prevents any errors or malfunctions in the Spotify program. To do so, you can go to the Apps Store (iOS) or Google Play Store (Android), search for the Spotify app. Check if any new update is available, and then click the "Update" option.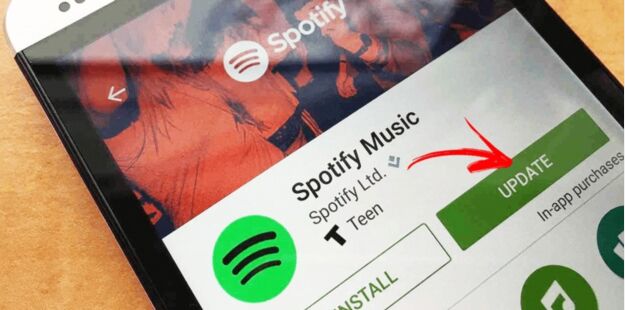 On Spotify Desktop App:
For Windows users, click on the 3 dots menu, choose Help > About Spotify, if there is any update available, click on the link and download it.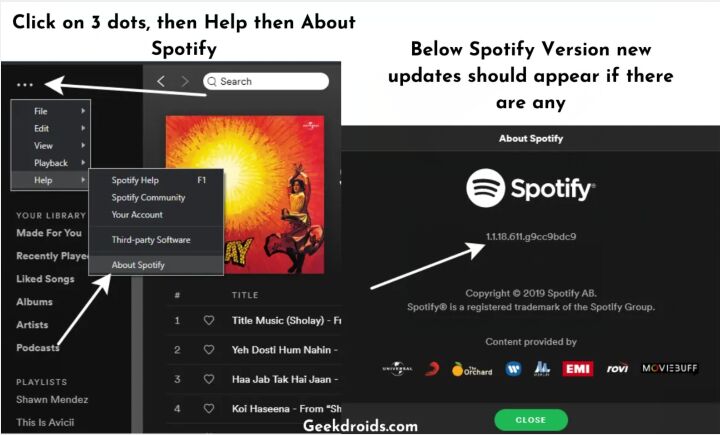 For Mac users, launch the Spotify desktop app, go to Menu bar > About Spotify > Click here to download.
# 11. Reinstall Spotify App
If none of the above solutions solve the problem that Spotify can't play this right now, you can try to delete the Spotify application and reinstall it. A clean reinstallation will always help resolve errors.
Part 2. Ultimate Way: Download Spotify Songs and Play Spotify on Other Music Players
If you have tried all the above methods but to no avail, you can ask help from a third-party tool. UkeySoft Spotify Music Converter is what you need, it can help Spotify users listen to Spotify music offline without having the Spotify app/web player! Therefore, you will no longer encounter errors such as Spotify pauses or does not play songs. Let's take a look at this powerful tool!
UkeySoft Spotify Music Converter is a desktop app for Mac and Windows. It enable you to download Spotify songs, albums & playlists to computer without Premium account. In addition, it is able to convert all Spotify music to MP3, M4A, WAV, FLAC, OGG, AIFF format and make them playable on any music players and devices. In this way, you will be able to enjoy Spoify music without launching the Spotify app/web player. - You could add and play Spotify music on iTunes, QuickTime Player, Windows Media Player, VLC Media Player, etc. Or transfer Spotify music to your portable devices for offline playback, such as MP3 player, Sony Walkman, iPod Nano, iOS, Android, USB drive, car player, speakers, PSP, Xbox, etc.
Highlights of UkeySoft Spotify Music Converter:
Download Spotify tacks, albums, playlists, podcasts for free.
Convert Spotify music to MP3, M4A, WAV, FLAC, OGG, AIFF files.
Transfer and play Spotify music offline on any music player and device.
Works at 5X faster speed and maintain 100% lossless music quality.
Burn Spotify music to CD; Upload Spotify songs to Google Drive, etc.
Batch conversion; Highly compatibility; Free update and technical support.
Easy Guide to Download Spotify Music to MP3 with UkeySoft
Step 1. Download and Run UkeySoft Spotify Music Converter
Download and install UkeySoft Spotify Music Converter on your Mac or PC. When you run the program, click Login to sign in with your Spotify Free/Premium account.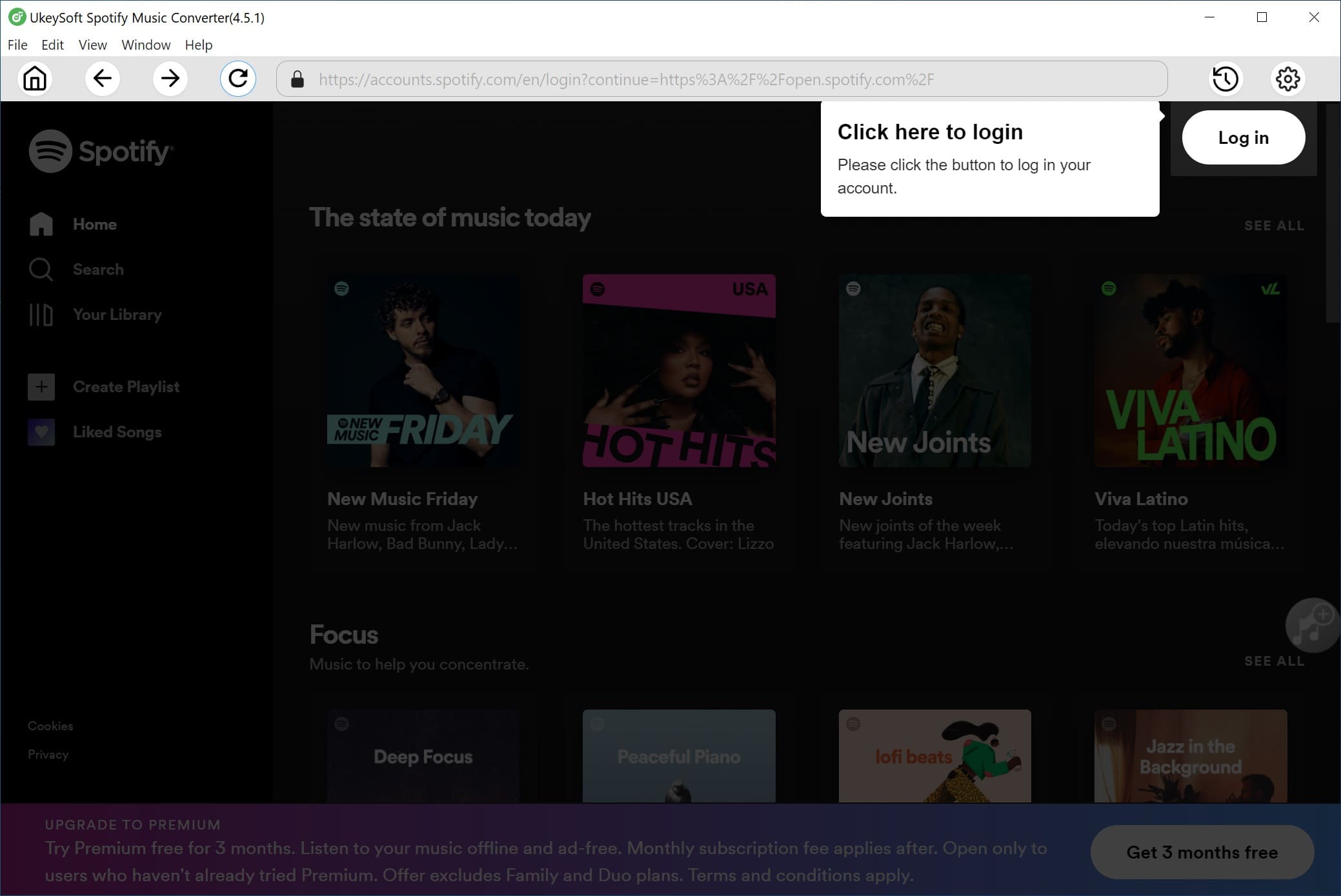 Step 2. Customize Output Settings
Click the "Gear" icon on the upper right corner. Here you can select the output format (MP3, M4A, AAC, WAV, FLAC, AIFF), output quality, output folder, etc. MP3 format is compatible with almost media players and devices, you can pick the MP3 format.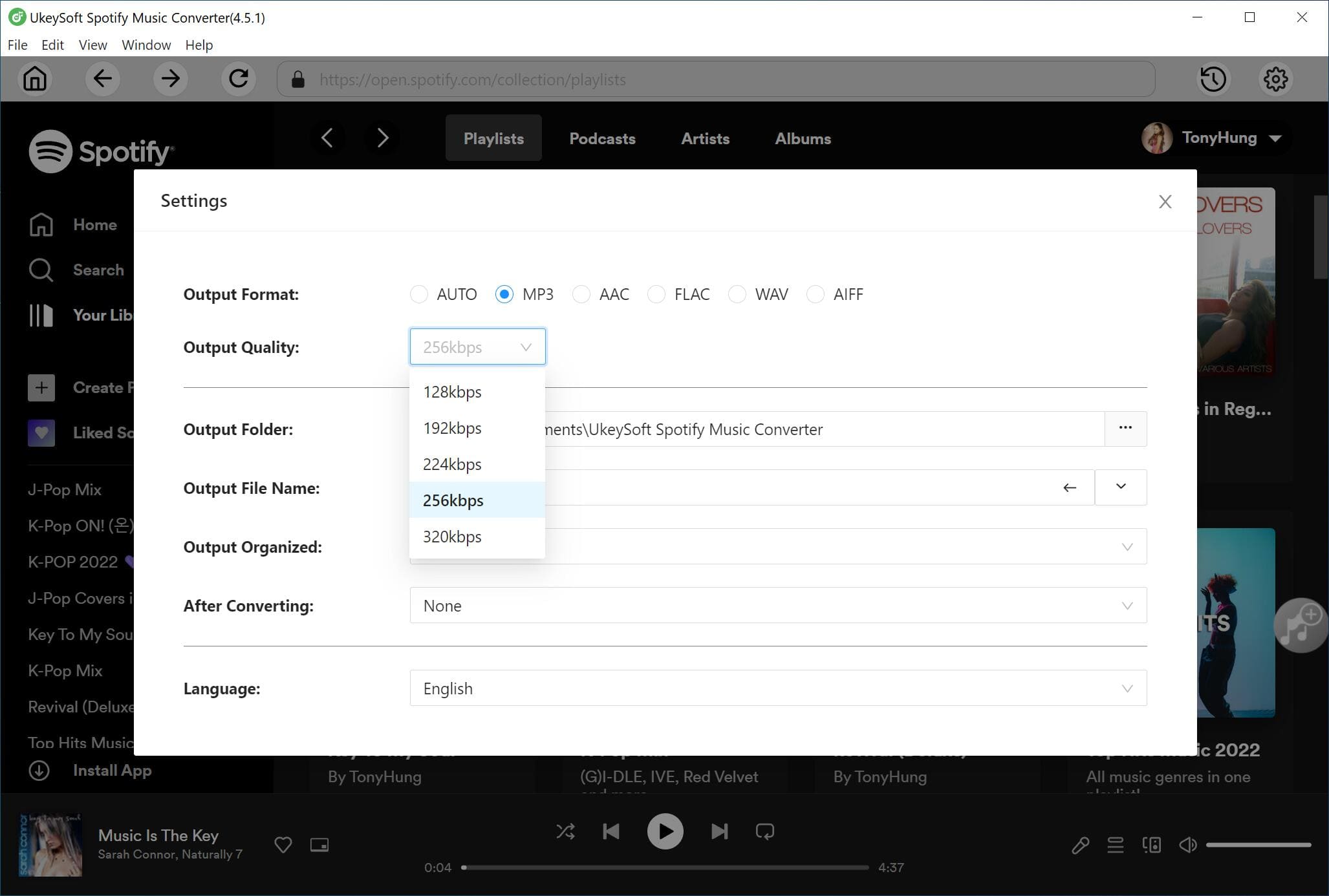 Step 3. Add Spotify Songs or Playlists to UkeySoft
Open any song/playlist/artist/podcast, then click the red "+" icon to load them into the converting list.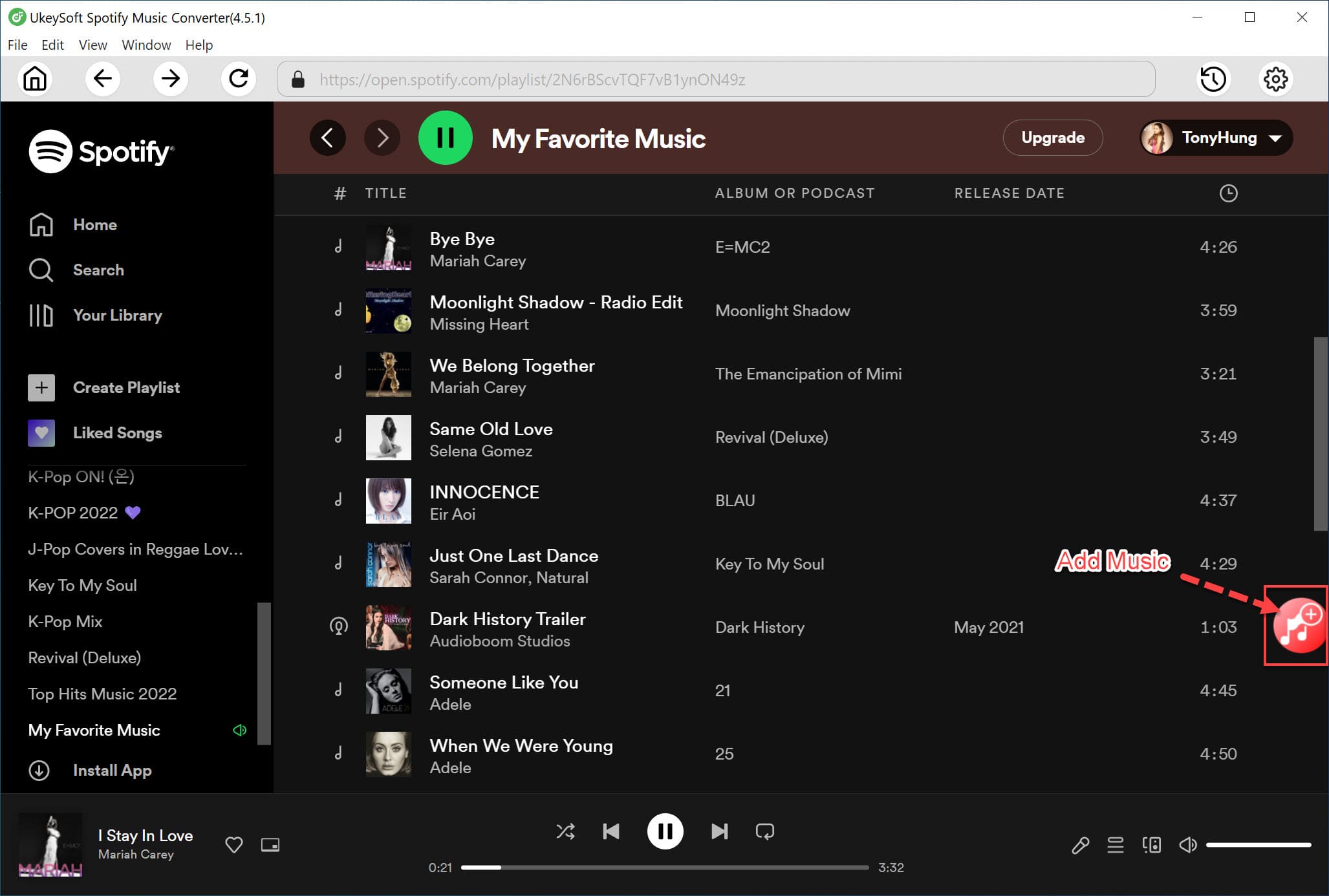 Select the desired songs that you want to download and convert to MP3 files.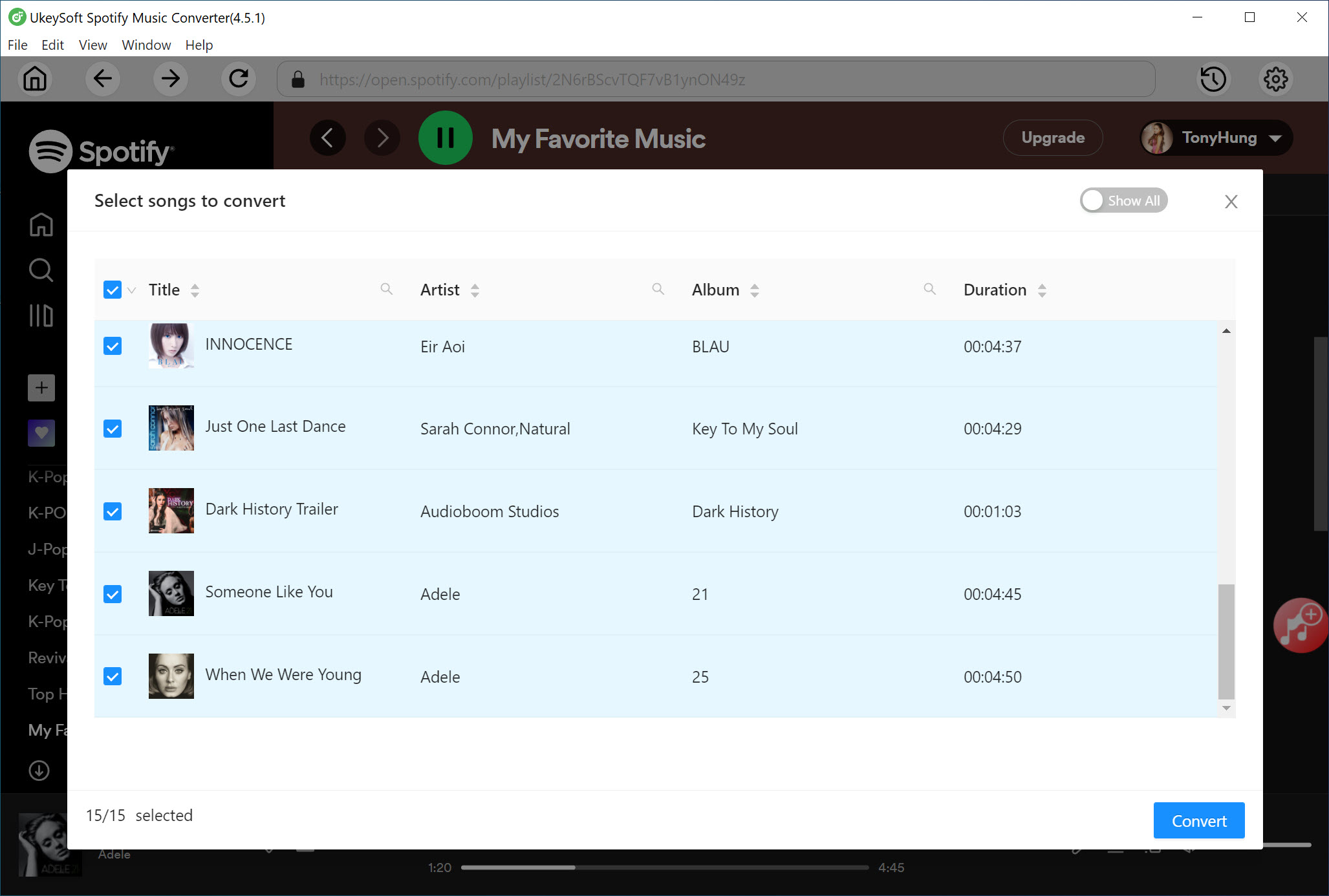 Step 4. Download and Convert Spotify Songs to MP3
Click the "Convert" button to start downloading and converting Spotify songs to plain MP3 format with original audio quality.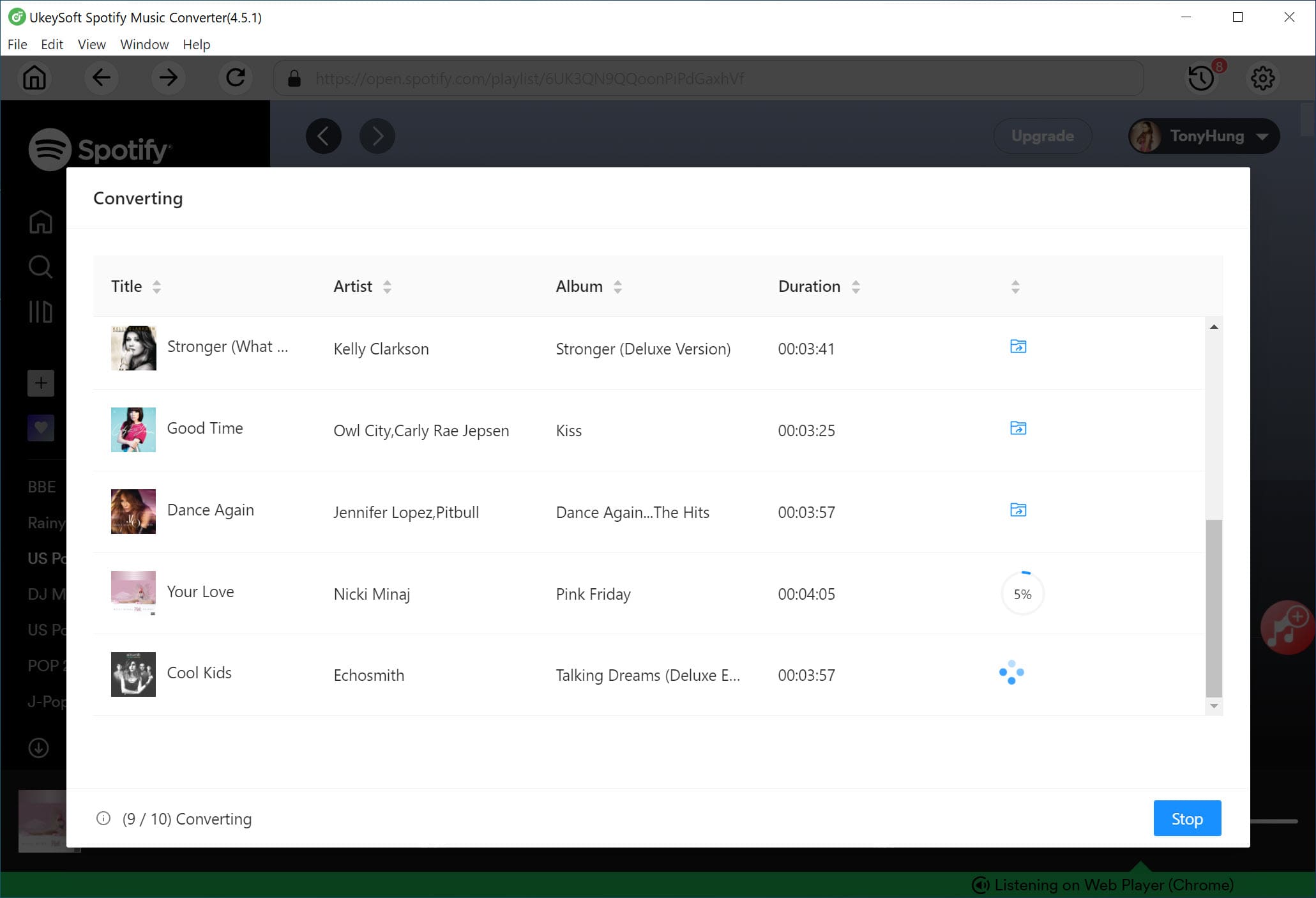 Step 5. Play Spotify Music on Other Media Player
Now, you can find the downloaded Spotify songs by clicking the "History" icon. Select a song and click on it, then you could play it on the converter directly.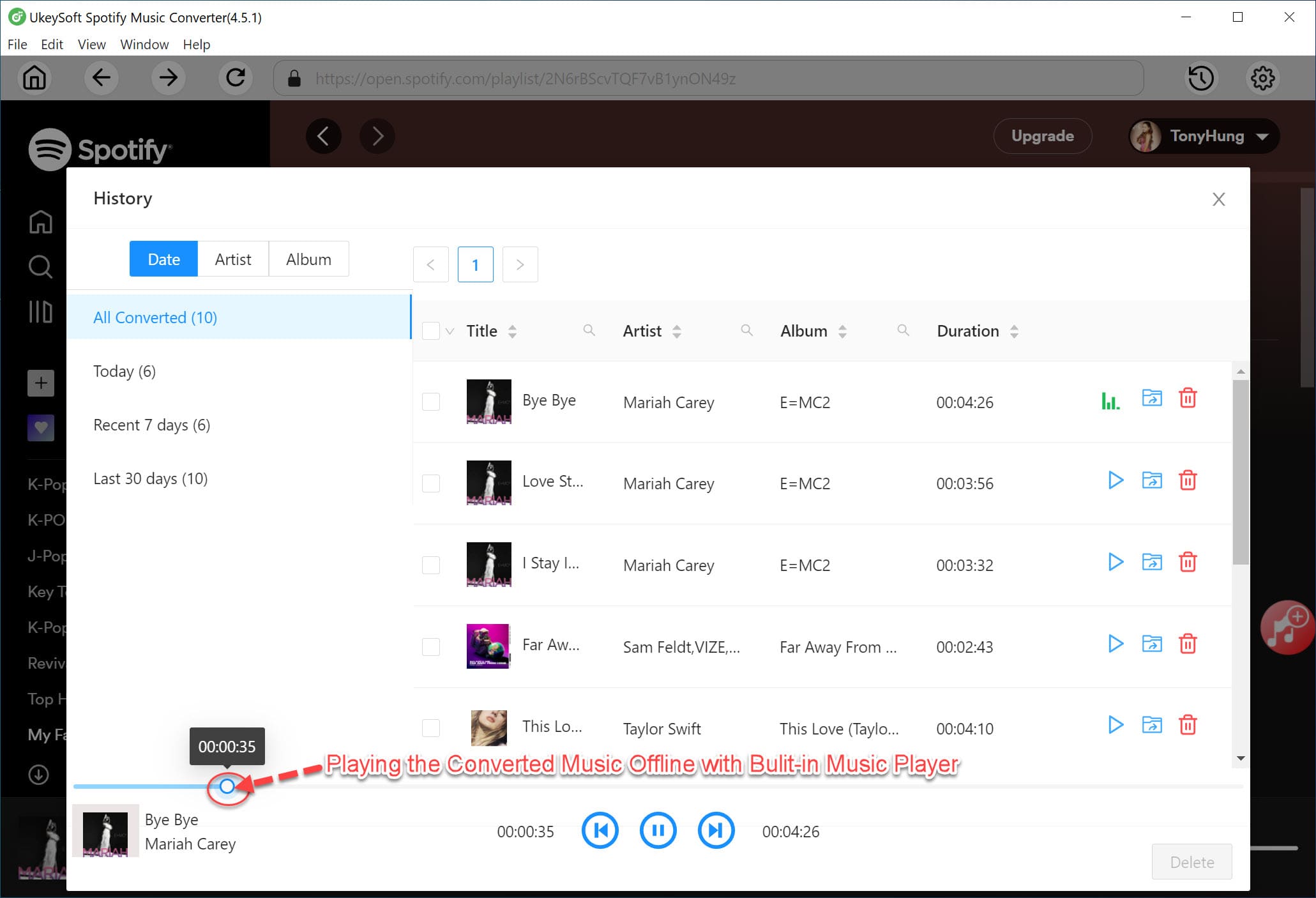 Also, you can open the song through iTunes, QuickTime Player, or other media players.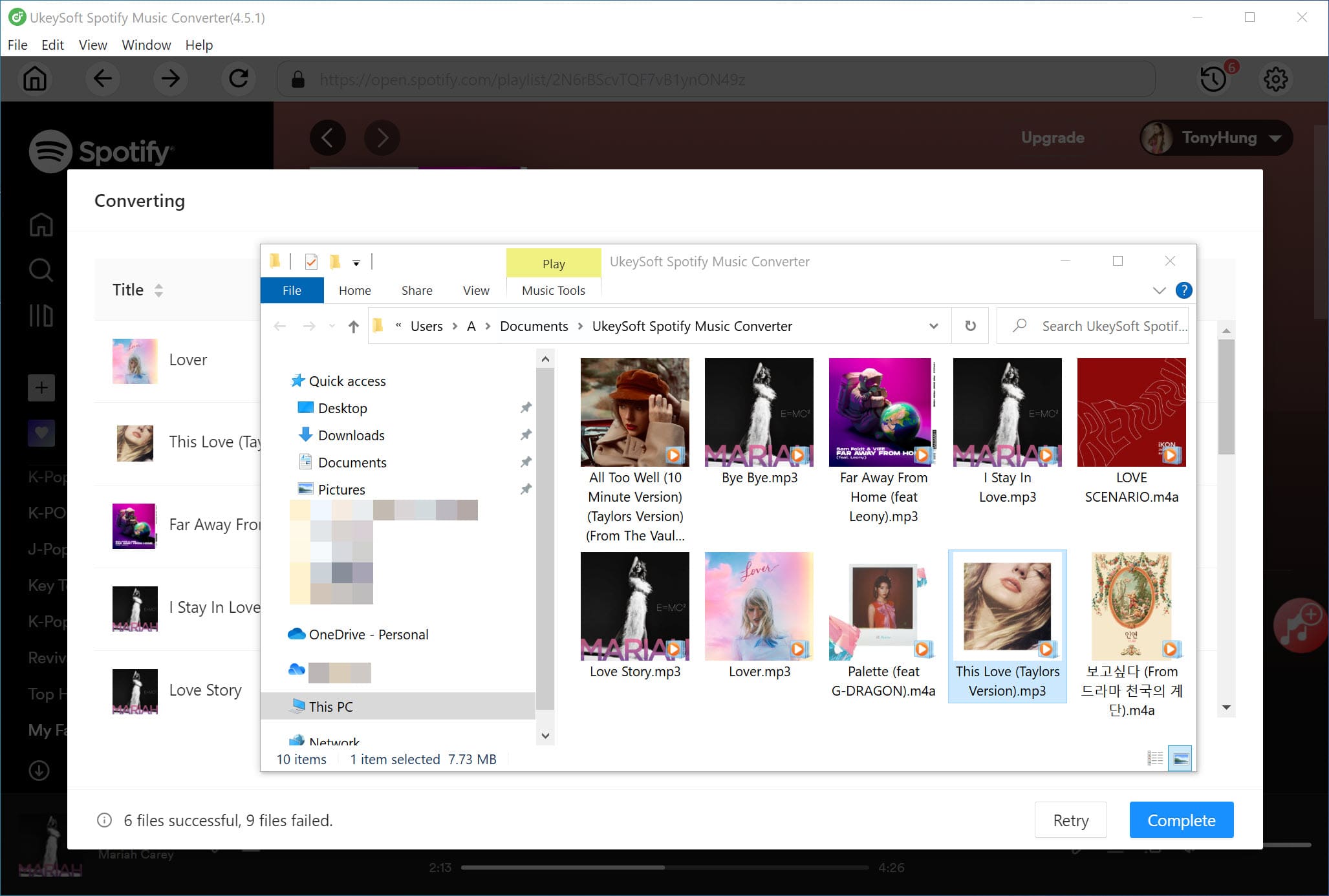 Final Words
Here are the top 12 ways to resolve "Spotify can't play right now" issue. After reading this article, can you listen to Spotify music normally now? Can you play your favorite Spotify songs or albums on the Spotify app/web player? There is no doubt that UkeySoft Spotify Music Converter is the best and most effective way to fix Spotify can't play this right now. Isn't it? It lets you free download Spotify music to local computer in MP3/M4A/FLAC, etc. with high quality. So that you could play Spotify music on any music players and devices anytime, anywhere! Why not have a try?
Fix Spotify Can't Play This Right Now
Comments
Prompt: you need to log in before you can comment.
No account yet. Please click here to register.