By Justin SabrinaUpdated on September 14, 2022
---
Summary
Want to record your Google Hangouts? This article will teach you two easy ways to record a Google Hangouts video: Record a Google Hangouts video call by using with a G Suite account and a powerful video recorder, after that you can keep important meeting information and save the meeting content for offline playback.
"How to record a Google Hangout meeting? Our company meets every week through Google Hangouts. I want to record every meeting so that if someone misses the meeting, they can watch the meeting video to capture the important information of the meeting."
"Due to the severe affect of 2019-nCoV, all employees of our company have to work at home. Sometimes, we need to use Skype and Google Hangouts to make online video conferences. Sometimes I need to record the content of the online video conferences to facilitate work, how to record Skype meetings and Google Hangouts?"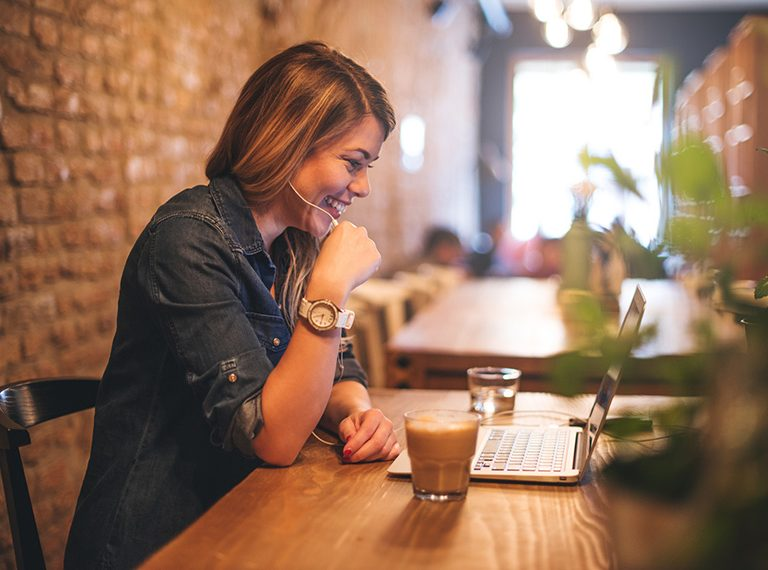 The Hangouts video call initiated by Goolge makes it convenient for people to conduct video conferences at work, which brings great convenience to employers and employees. Sometimes, for various reasons, we may miss the meeting and want to view the detailed record of the meeting. Therefore, it is necessary to record Google Hangouts video call, so that we can save the most important information in the meeting for playback again.
Google Hangout Video Calls Record Tool
G Suite Enterprise and G Suite Enterprise for Education can directly record video calls in Google Hangouts. But the price of G Suite Enterprise and G Suite Enterprise is a little bit expensive, however, some free online screen recorders are harmful and only get poor video quality. Many people looking for a cheaper, safe and powerful meeting record tool to replace G Suite Enterprise and G Suite Enterprise. So, a good screen recorder for recording Google Hangouts must be stable, safe and powerful, which is able to recoding HD video, goold quailty sound and edit the video. UkeySoft Screen Recorder is that tool.
Let's teach you two methods to record Google Hangouts video calls on PC and Mac.
CONTENTS
Method 1. Record Google Hangouts Video Calls with G Suite
In the past, it was possible for G Suite Enterprise and G Suite Enterprise Education to directly record video calls from Google Hangouts. Due to COVID -19, Google announced that this feature temporarily available for all users who have G Suite after March 2020.
After joining the meeting, click the 3 dots in the lower right corner of the page, and then select "Record Meeting" in the menu. The file will be automatically saved in the organizer's Google Drive, and the link will be emailed to the organizer and the user who pressed the "Record" button.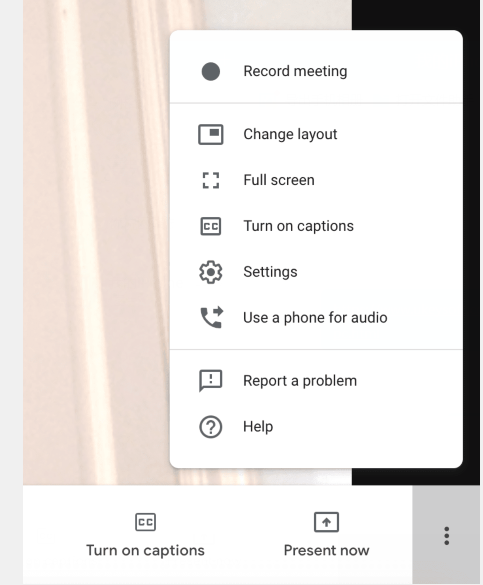 But what if you don't have a G Suite business account? Or when the meeting time is too long and you want to delete useless content? Don't worry, you can still use screen recording software to record video calls. Please read on.
Method 2. Record Google Hangouts Video Calls with Screen Recorder (Best)
There are many online recorders on the Internet for recording your Google Hangouts, but most of them are harmful and do not have the necessary functions of the recorder, so please do not use a random online recorder to avoid a bad experience. Today, we introduced you a powerful video Recorder that can help you quickly record any video and edit the video according to your needs, thereby saving your time.
Powerful Google Hangouts Recorder
UkeySoft Screen Recorder is the best screen recording software for you to record Google Hangouts video calls on computer. It's designed to help you capture meetings and interviews in video calls with popular output formats, such as MP4(H264), MP4(MPEG4), FLV, AVI(H264), AVI(MPEG4), AVI(XVID), WMV, etc., helping you save the recorded video permanently. After recording, you can edit the recorded Hangouts video for your preference, such as adding watermarks, subtitles, music, etc. to the video. In addition, it allows you to record videos from various video website with high quality, such as YouTube video, Vine, Vimeo, Hulu, Facebook Live Video, etc.
Amazing Features of UkeySoft Screen Recorder:
Effectively to record video calls from Google Hangouts.
Record video in various format with high quality, like MP4, FLV, AVI, WMV, etc.
Support to record computer screen with video or audio-only.
Record all local videos, online video, conferences videos, webcam videos, game videos with high quality.
Allow users to start, pause, or end recording Google Hangouts videos with shortcut keys.
Edit recorded Google Hangouts video, such as adding watermark/subtitle/music, etc.
Steps to Record Hangouts Call by Using UkeySoft Screen Recorder
Follow the tutorial to learn how to record video calls from Google Hangouts by using UkeySoft Screen Recorder.
Note:
Please understand the usage and precautions of UkeySoft Screen Recorder before recording.
Please prepare the screen to avoid re-recording and save editing time.
Please turn on the Microphone and Webcam option on your computer, to make sure your sound and face can be recorded as well.
Step 1. Download UkeySoft Screen Recorder on Computer
Click the button above to free download UkeySoft Screen Recorder on your Mac/PC. After installation, launch the program. To record a Google Hangouts video call, please select "Screen Recorder" function.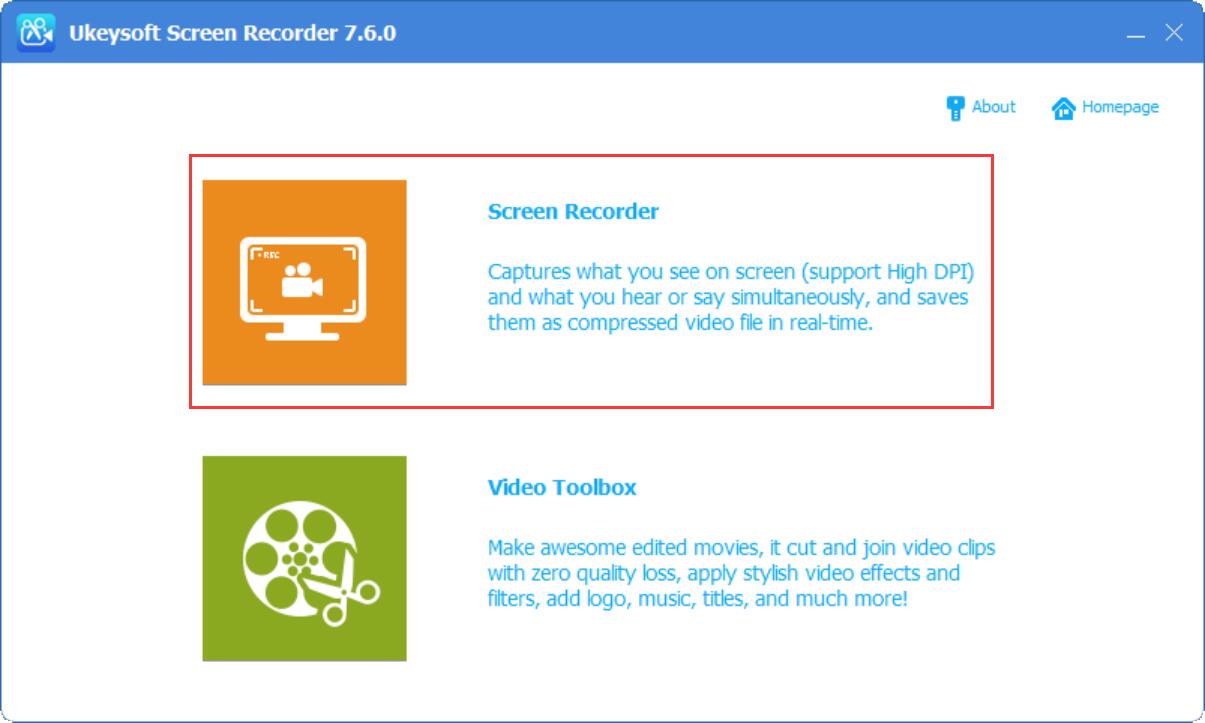 Step 2. Select Computer Sound
In order to ensure that your sound can be recorded as expected while starting to record the Hangouts call, here you need to select the "Computer sound and microphone" mode as the video output channel.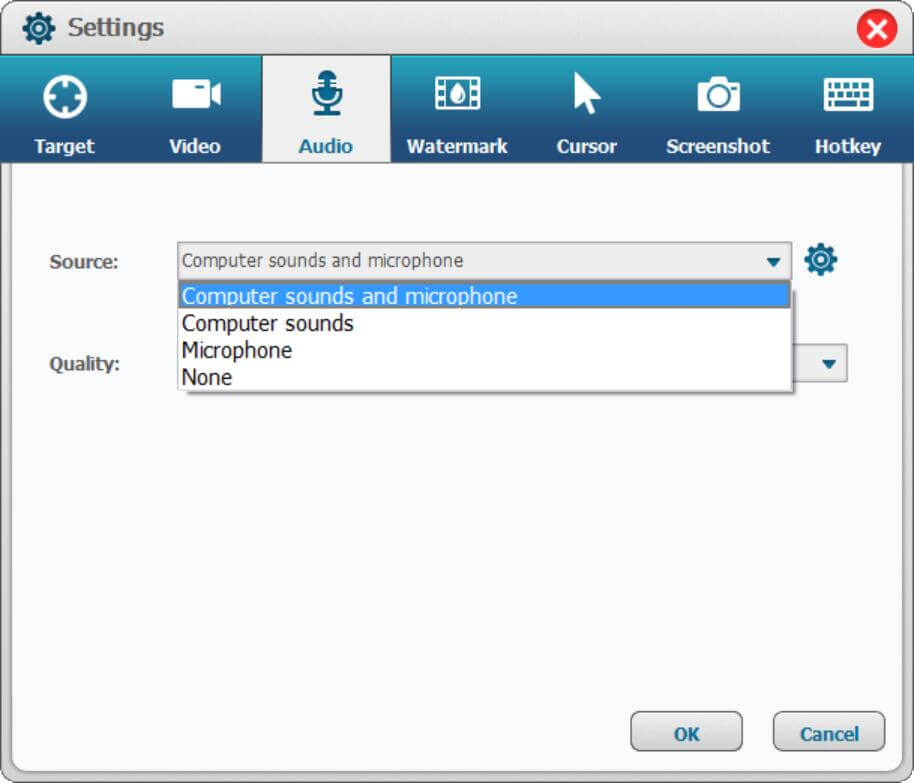 Step 3. Customize Output Setttings for Hangouts Calls
Go to "Settings", here you can record Hangouts Video Calls as MP4, AVI, FLV and WMV, etc. Besides, you can customize Output path in your computer.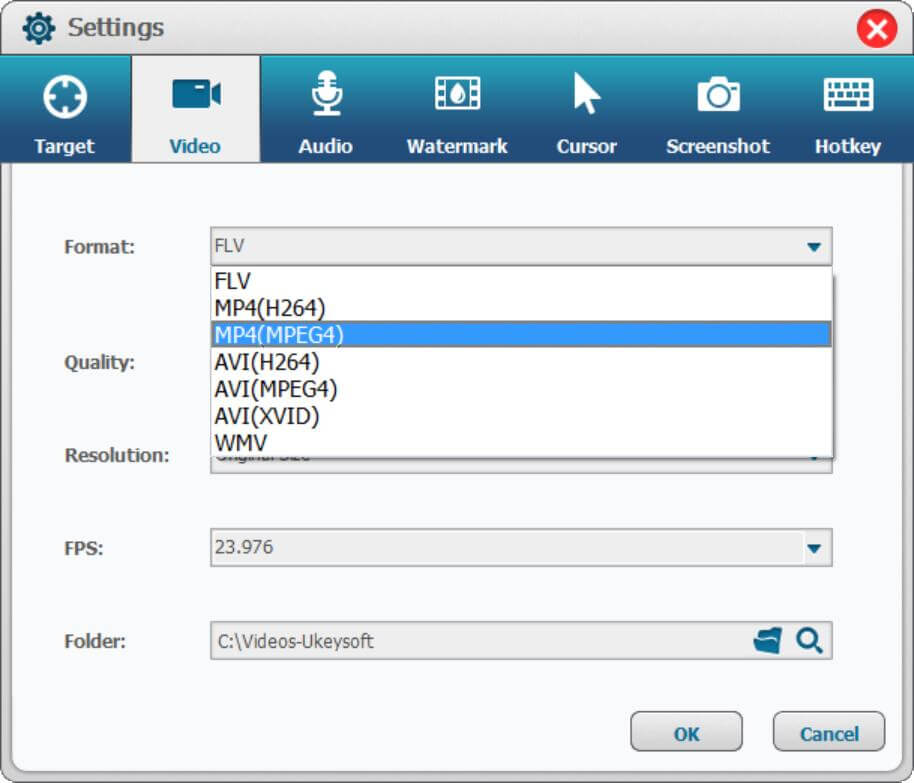 By the way, the "Hotkey" icon in the top bar also can help you start, pause or end recording Google Hangouts video.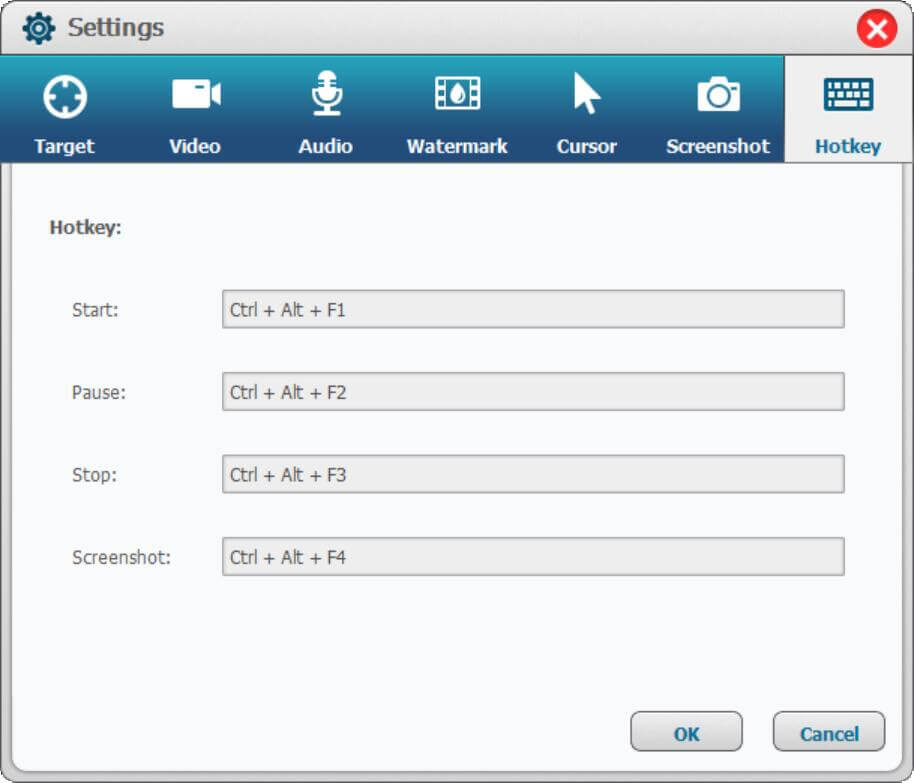 Step 4. Select the Recording Area
Go back to the home screen recorder and select the recording area for Google Hangouts Calls. UkeySoft Screen Recorder supports you to record in full screen, specific recording area or camera to help you capture meetings.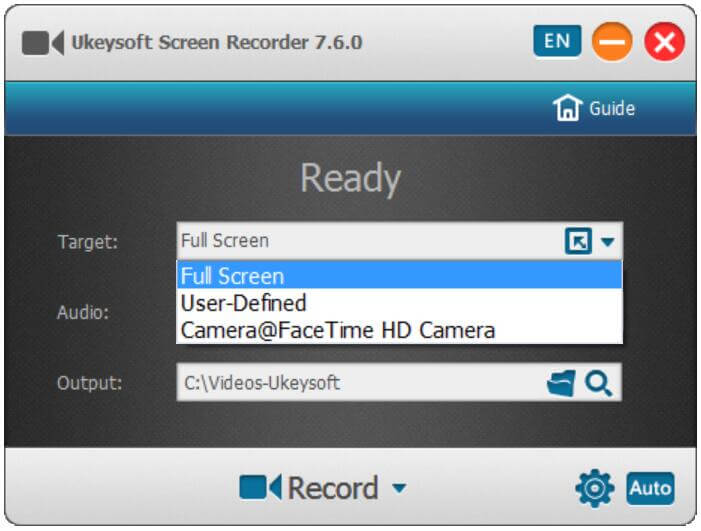 Step 5. Start Recording Google Hangouts Video Calls
When the above settings done, click "Record" icon to record Google Hangouts video as MP4 right away.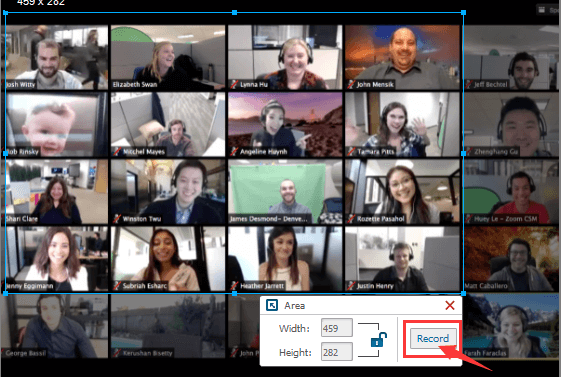 The floating "Start/End" and "Stop" button will appear under the recording area.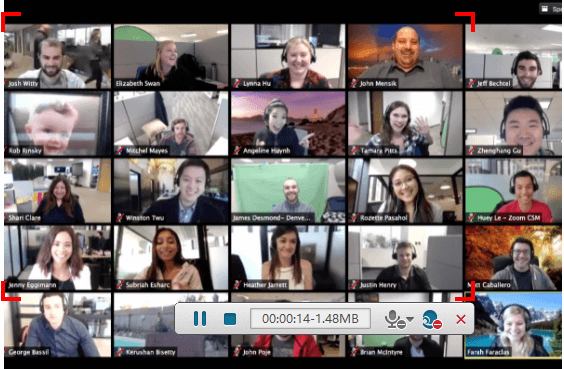 Step 6. Edit Recording Google Hangouts Video Call
After the recording is complete, you can also select the software's "Video Toolbox" function to edit and modify the recorded Hangouts video, such as cutting off the unwanted parts of the video, or adding watermarks and subtitles and more to the video.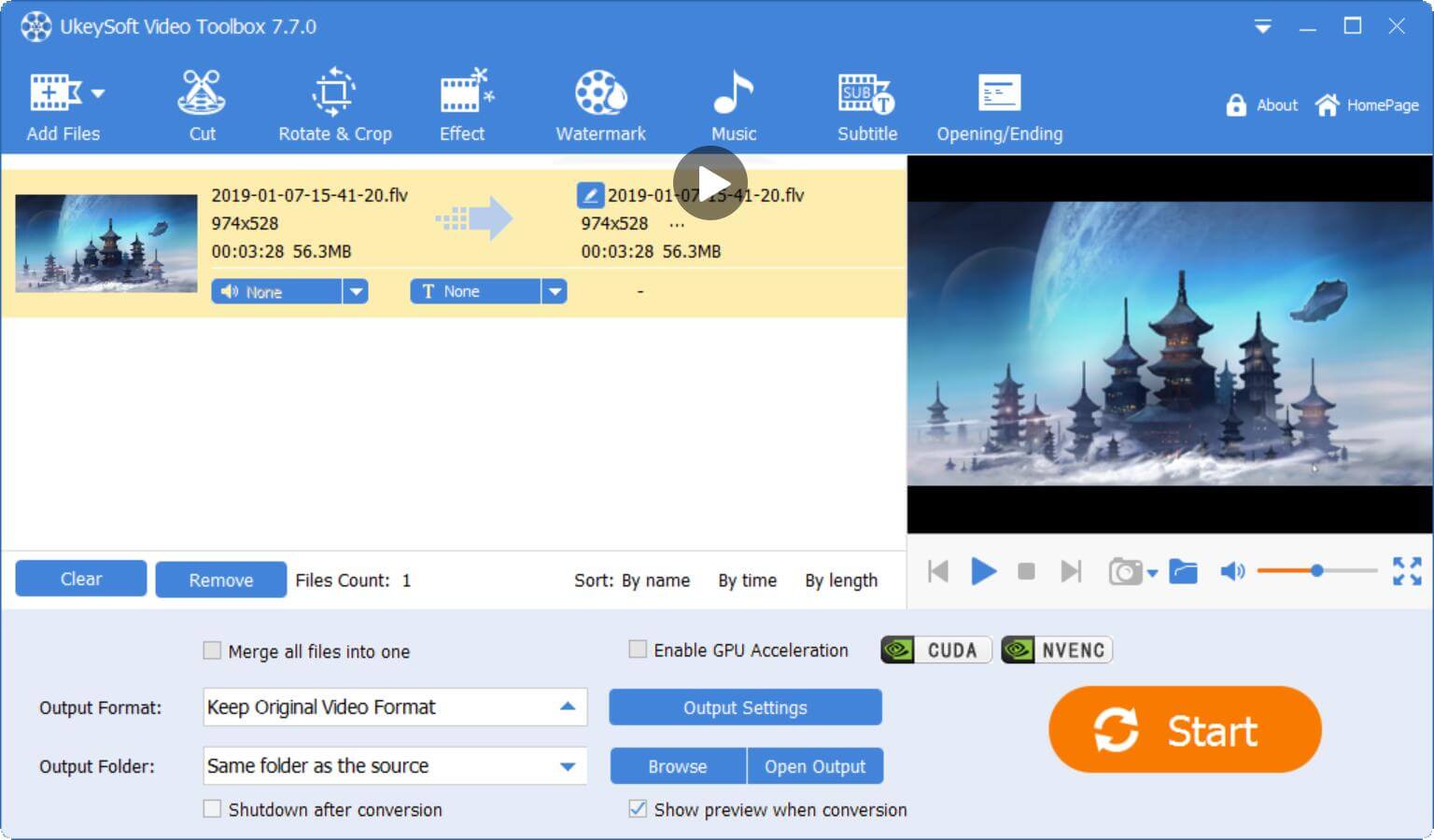 Now you can save the recorded video on your computer or share it with anyone who needs the information to help them capture important meeting information.
The UkeySoft Screen Recorder can screen record any online meeting or video chat, please download the trial version and start to record online meeting now.
Record Google Hangouts Video Calls
Comments
Prompt: you need to log in before you can comment.
No account yet. Please click here to register.