By GeminiUpdated on February 15, 2023
---
Summary
Spotify Music and Amazon Music are the top music streaming services, but which should you choose? If you can't decide between Spotify and Amazon Music, check out this article. Here is a side-by-side comparison of these two popular music streaming services, including price plan, music libary, audio quality, unique feature, user interface and more. Besides, you can even keep Spotify Music and Amazon Music songs forever.
Streaming music services have changed the way we listen to music. With a music account, we can easily listen to millions of songs online on mobile devices, computer, laptop or some Alexa-devices, etc. There are more and more well-known music streaming platform released to meet your needs, like Spotify, Amazon, Tidal, Google Music, etc. Spotify Music and Amazon Music are both top leading music services, which one should you choose? Choosing the best steaming music service will make you get better music listening experience. That's why it's so important to find the one that best fits your needs. But what is the best music streaming services in 2023? Spotify and Amazon Music, which is better?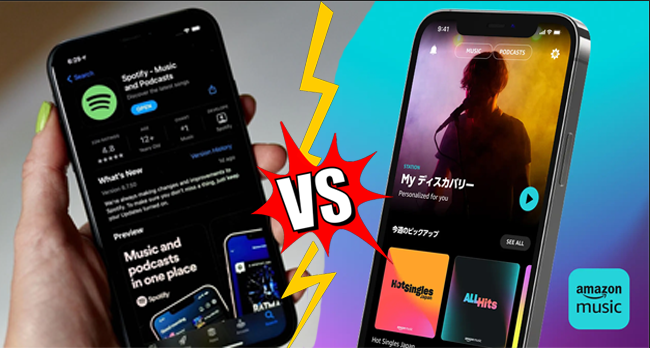 In this article, we will compare every aspect between Spotify and Amazon Music to help you decide, including price plan, music library, audio quality, unique feature, user interface, etc. After reading this complete guide you will get the final answer. In addition, you will have chance to take your music library everywhere and keep Spotify songs, Amazon Music forever!
CONTENTS
Part 1. Spotify vs. Amazon Music: Full Comparison
Spotify was developed by a Swedish company on April 23, 2006. It has continuously provided services to all over the world, gradually becoming the king of streaming music. Later, Amazon also discovered the "cake" of streaming music, and launched Amazon Music on September 25, 2007. Actually, Spotify and Amazon Music have some similar features and nearly identical song catalogs. However, there are some differences between Spotify and Amazon Music, let's see them one by one.
Ⅰ. Spotify vs. Amazon Music: Price Plan
Both of Spotify and Amazon Music has three basic plans come at almost identical prices, and it also have additional subscription plans unique to them, such as Spotify Premium Duo Plan, Amazon Prime Music, Amazon Prime Student Plan, Single Device Plan, etc.
Here is a brief summary of the paid plans on both platforms:
Platform
Free Plan
Individual Premium
Family Plan
Student Plan
Others
Spotify Premium
Yes
$9.99/month
$15.99/month
$4.99/month
Premium Duo: $12.99/month
Amazon Music Prime
Yes
$14.99/month for Amazon Prime membership
No
six-month Prime Student trial, then $69/year
No
Amazon Music Unlimited
Yes
Non-Prime: $9.99/month

Prime: $8.99/month

$15.99/month or $159/year
Non-Prime: $4.99/month

Prime: $0.99/month

Single Device Plan:
$4.99/month
Both paid plans of Spotify and Amazon Music offer the same features as below:
● Ad-free. Paid users can stream music without ads interruption.
● Access to all music and podcast contents. Paid users are allowed to enjoy unlimited playback and stream anything they want.
● Download songs for offline listening. They are able to download theird favourite music tracks to listen to offline on mobile devices, and desktop (Spotify Premium only).
● Import local files from your computer. They could upload MP3 music to Amazon Music or Spotify desktop player.
Additional Subscription Plans:
1) Spotify offers Premium Duo, a music subscription plan designed for two people. It allows you and a friend, partner, or relative to create two separate Spotify accounts under a single billing, provided you both live at the same address.
2) Amazon Music offers more options for Amazon Prime members. For instance, Prime members get automatic access to Prime Music. This lets you listen to over 2 million songs and a few Prime playlists at no additional cost. Prime members can also opt for the Unlimited plan at a discounted monthly rate of $7.99.
3) For Amazon Music, college students can sign up for Prime Student, which gets you 2 million songs at a super affordable fee of $0.99 a month. If that isn't enough, you can also opt for the Single Device Plan at $3.99, which gives you unlimited access to all 70 million songs when played on any Echo or Fire TV device.
Winner: Draw
Ⅲ. Spotify vs. Amazon Music: Music library
Spotify
Spotify has more than 100 million tracks and 5 million podcasts titles accessible to stream, making it the king of the streaming music service market. Moreover, there are many albums being released first on Spotify by popular artists, including Ed Sheeran, Justin Bieber, Taylor Swift, Drake, Bad Bunny, Harry Styles, etc.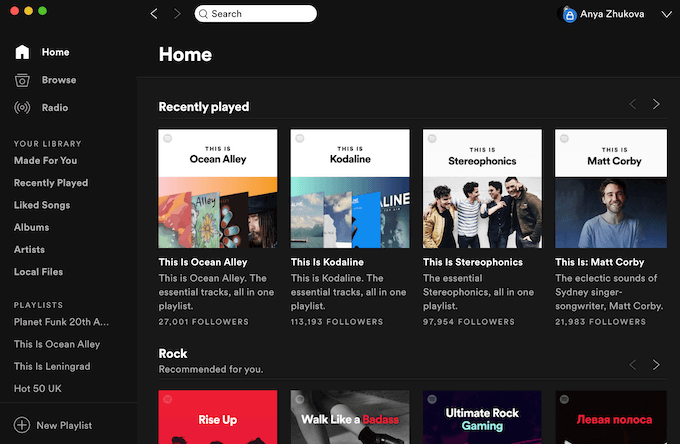 Amazon Music
Amazon Music claimed that they has expanded its catalog fro paid members. Users can stream to their favorite playlists from over 100 million songs on Amazon Prime & Music Unlimited. But only by upgrading to Amazon Music Unlimited, you can play Amazon songs without shuffle mode.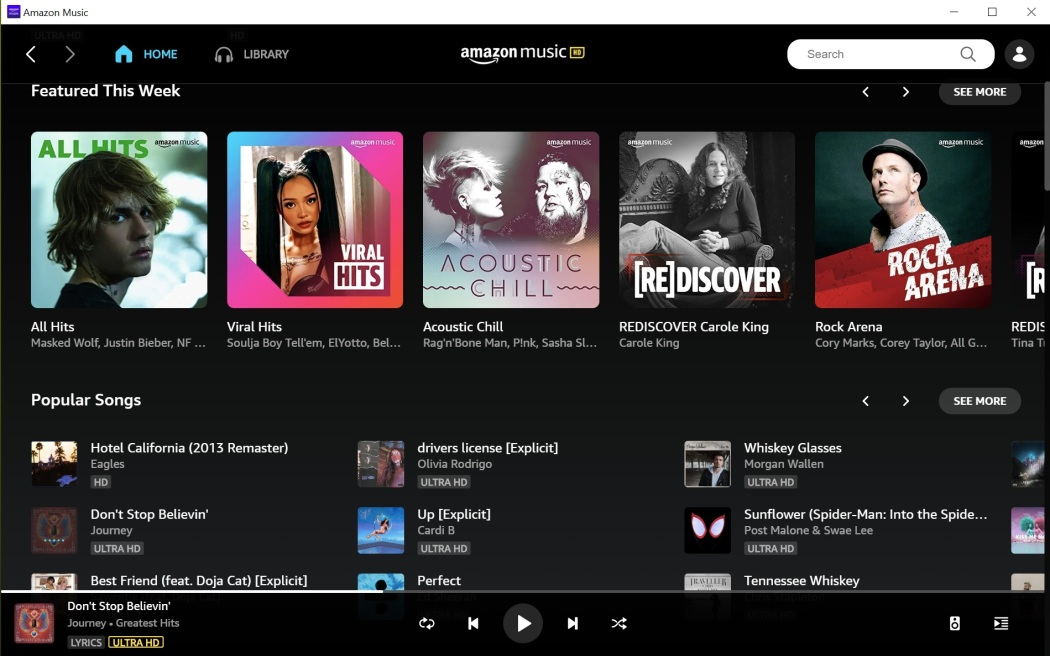 Winner: Spotify
Ⅲ. Spotify vs. Amazon Music: Audio Quality
Spotify
Spotify Free lets you stream music at a maximum bitrate of 160kbps, while Premium users can listen to music at high quality of 320kbps. In 2021, Spotify claims to release a Spotify HiFi plan, which will allow Premium subscribers to listen to better and high-quality music and podcasts, but that hasn't happened yet.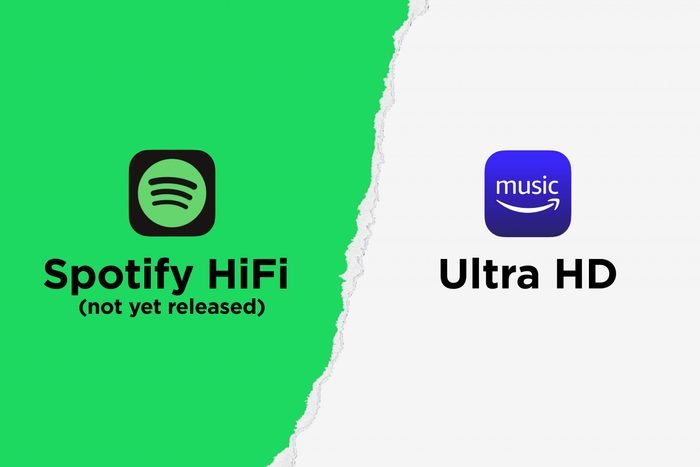 Amazon Music
Amazon Music wins when it comes to music quality. It offers CD-quality music streaming to users who subscribe to Music Unlimited. Some of the Music Unlimited songs are even offered in Ultra HD, which is a marked step beyond CD quality. Actually, you can't get the difference in CD quality and UltraHD or normal high quality, unless you stream music to surround-sound speakers and specialty audio equipment, it may make a major difference.
Winner: Amazon Music
Ⅳ. Spotify vs. Amazon Music: Unique Features
Spotify
Spotify is able to get what kind of music you like. While Amazon may offer you the ability to read lyrics, Spotify is offering you the songs you may like and others that may not have ever hit charts but match your taste. What's more,the additional "Discover Weekly" feature and other playlists from Spotify also offer a fun way to test your musical palate without being weighed down by typical top 40 radio mixes.
Amazon Music
Besides the impressive Alexa compatibility, there is another unique feature is released called "X-Ray Lyrics". It's a helpful feature for hard-to-decipher songs, which allows lyrics to scroll by almost karaoke-style as the song plays. Amazon also introduced Car Mode earlier this year to provide a minimally-distracting interface that makes driving and listening an easier experience.
Winner: Amazon Music
Ⅴ. Spotify vs. Amazon Music: User Interface
Spotify
Spotify desktop app is simple to navigate and using easier than Amazon desktop app. The Spotify desktop app is miles beyond Amazon desktop app and allows offline downloads, additional playlist features, and a system that makes home office listening feel like a professional-grade experience. Its mobile app is similarly configured for easy-to-use features and an uncomplicated design.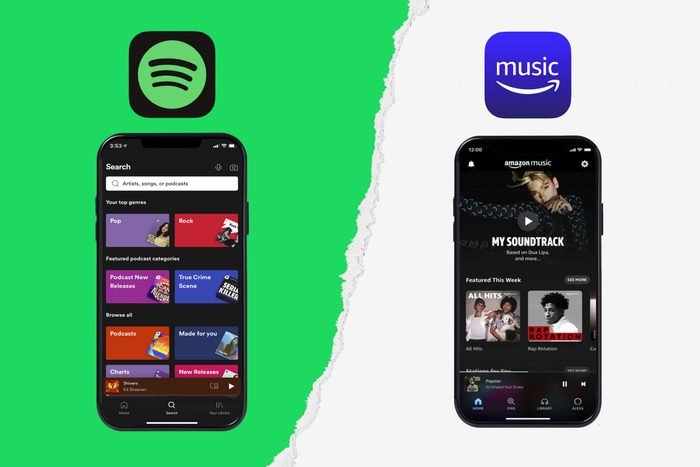 Amazon Music
It is easy to use Amazon Music mobile app and is rated well by Amazon customers. It's a cinch to use Amazon Music through the its desktop browser, though, it's confusing why anyone would want to download the desktop app. It's suggested to use the Amazon Music mobile app or a desktop browser instead of the desktop app.
Winner: Spotify
Spotify and Amazon Music Verdict: Which One is Better?
Spotify Music vs. Amazon Music: Scorecard
| | | |
| --- | --- | --- |
| Comparison | Spotify Music | Amazon Music |
| Price Plan | ✔ | ✔ |
| Music Library | ✔ | |
| Audio Quality | | ✔ |
| Unique Features | ✔ | ✔ |
| User Interface | ✔ | |
Now you have known all aspects of Spotify and Amazon Music and having noted some of the key differences on them, including price plan, music libary, audio quality, unique feature, user interface, I think you must have an idea that which is better? If you care more about the audio quality while streaming music, you should choose Amazon Music; If you care more about the user interface, generally Spotify works better and is more accessible in our opinion. Ultimately, which you choose will depend on your priorities. All in all, Spotify and Amazon Music are on equal footing regarding the amount of music available, music content variety, and ease of use, all of which are essential to your music listening experience. Which one is suitable for you is up to your personal preference.
Part 2. Benefits: Keep Spotify Music & Amazon Music Songs Forever
As you know, both Spotify and Amazon Music are encrypted by DRM (digital right management), preventing anyone accessing and playing music for commercial purposes outside of official platform without warrant. Even you have downloaded the music from its official app, the music contents will be inaccessible once without music subscription.
You may want to know how to keep Spotify and Amazon Music songs forever, instead of "rent" music from them. To save music from Spotify or Amazon Music to local files, you should remove DRM from the music contents. In this case, two reliable products of UkeySoft Company are strongly recommended for you. They are two hot music converter tools designed for removing DRM from Spotify Music songs and removing DRM from Amazon Music songs. Let us show more for you.
UkeySoft Spotify Music Converter is the best music converter for removing DRM from Spotify Music, downloading Spotify Music to computer, at the same time converting Spotify songs to MP3/M4A/WAV/FLAC/AAC/AIFF, output music files with high quality audio, ID3 tags and all parameters preserved. After music conversion, both of Spotify Free users and Premium can keep output Spotify Music offline being playable forever even cancel Premium subscription. In addition, this program support for batch downloading and converting Spotify Music with 10X faster speed. In this way, you could enjoy, share and use Spotify Music freely, for instance, play Spotify Music on any devices (MP3 player, smart TV, wearable devices, etc,.), upload Spotify Music to Cloud place for backup, copy Spotify Music to USB hard drive, record Spotify Music to CD, share Spotify Music on social media platforms and more.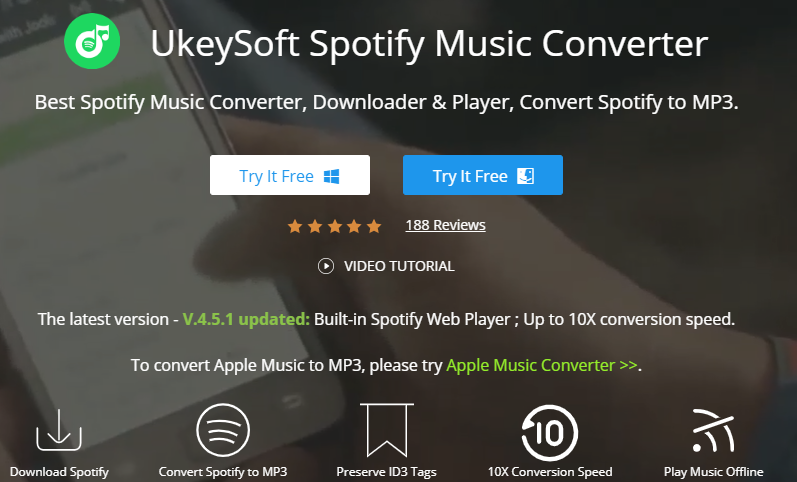 UkeySoft Amazon Music Converter is developed for removing DRM from Amazon Music, converting Amazon Music to MP3 for offline playback everywhere and at anytime. It provides PC and Mac version with users. It is capable of download songs/playlists/albums/podcasts from Amazon Music keeping its original quality audio, and losslessly convert Amazon Music to general audio formats, like MP3, M4A, AAC, FLAC, WAV, AIFF. Another features of this Amazon Music Converter is it can keep all original ID3 tags for easy managing your music, like Title, Artist, Album, Artwork, Cover, Genre, etc,. After converting Amazon Music to MP3 or other audio files, you could save Amazon Music tracks on computer forever, play Amazon Music offline through other media players, like iTunes, Windows Media Player, VLC, QuickTime Player, etc,. Additionally, you are able to offline playback output Amazon Music on any devices without Amazon authorized.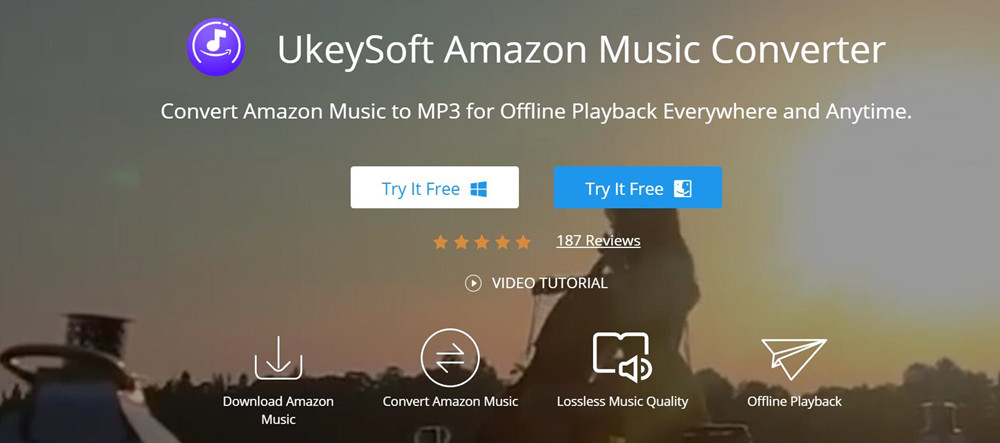 By the way, both UkeySoft Spotify Music Converter and UkeySoft Amazon Music Converter come with a built-in Music Web Player and Music Manager.
With its Music Web Player, users can discover, browse, search, and play any music content online, no Spotify/Amazon Music app needed.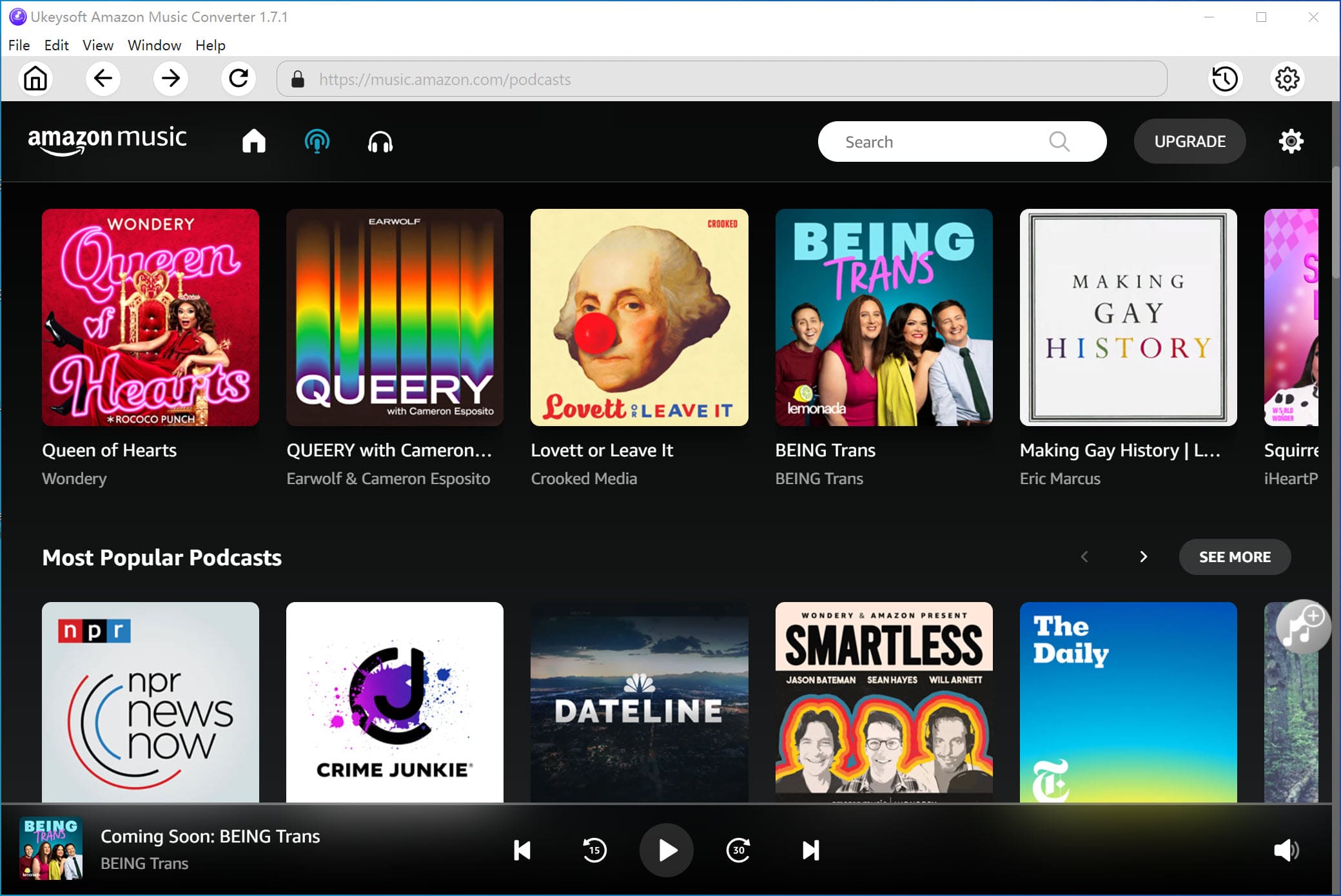 To help you organize and enjoy your music collection, these converter tools have an integrated Music Manager. You could classify the converted music files in a specific Artists/Album folder.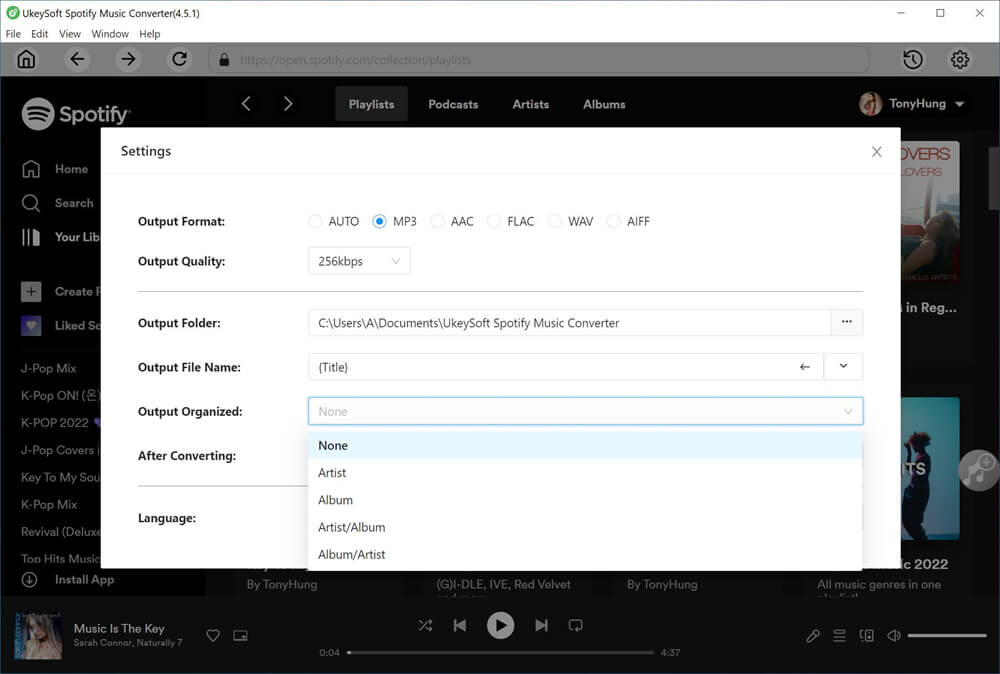 Comments
Prompt: you need to log in before you can comment.
No account yet. Please click here to register.