By Justin SabrinaUpdated on April 06, 2023
---
Summary
Found that iTunes music files are protected by DRM and cannot be played on other digital music devices? This article shows you the details about converting iTunes DRM M4P to MP3 with Apple Music Converter.
Can I convert iTunes M4P files to MP3? Got in trouble with playing purchased M4P songs on other devices outside iTunes? It's commonly known that music purchased from iTunes in M4P format come with DRM, short for Digital Rights Management protection. So you are limited to play those M4P songs on Apple's device. This article will show you how to get rid of DRM from iTunes music and convert iTunes M4P to MP3 for offline playback on any device.

CONTENTS
Part 1: iTunes DRM M4P vs MP3
M4P is a file extension for a protected audio file encoded with advanced audio codec (AAC), which is a lossy compression generally intended as the successor to MP3. M4P stands for MPEG 4 Protected (audio). The M4P file can only be played on Apple made players as it uses Apples "Fairplay" DRM (digital rights management). Keep in mind that one iTunes account can only be authorized on 5 computers.
MP3 (MPEG-1 Audio Layer-3) is a standard technology and format for compressing a sound sequence into a very small file (about one-twelfth the size of the original file) while preserving the original level of sound quality when it is played. MP3 provides near CD quality audio and it has a high compatibility with almost all devices and music players, like any MP3 player, computer, smartphone, etc.
In order to make full use of the songs purchased by iTunes, you are able to convert Apple Music M4P files to MP3 with 16X faster speed. This guide highlights several ways to convert iTunes music to MP3. Read on to find the difference.
Part 2: Convert Convert DRM M4P to MP3 in Batch
Prior to January 2009, Apple's FairPlay Digital Rights Management (DRM) was integrated into iTunes, which manages songs purchased and downloaded from the iTunes Store in the m4p file format. Other digital music devices (such as MP3 players, Walkman, PS4 or other Android smartphones) do not support this format, making purchased songs useless without a specific media player.
"I have collected a lot of iTunes music files which are protected in M4P format, I am looking for a program that can convert these DRM-ed M4P files to DRM free MP3 format."
iTunes M4P is an encoded audio file format that plugs into DRM protection, which limits your ability to play M4P files on an unauthorized device other than an Apple device. So if you have M4P files, especially those you purchased from 2003-2009, and you want to play these M4P music files to digital music devices like MP3 players, Walkman, PS4 or other Android smartphones, you need these DRM protection is removed from the M4P file and convert to an unprotected format, such as MP3.
To convert the DRM-locked iTunes M4P songs to MP3, Apple Music Converter is the answer for time-saving. It's well designed to help iTunes users easily remove DRM from iTunes songs by converting DRM-ed M4P files to common MP3, WAV, FLAC, AAC, M4A, and M4B formats with 100% original ID3 tags and quality preserved to fixing various mobile devices including iPhone, iPod, iPad, Sony Walkman, Samsung mobile, HTC, Nokia, Blackberry, Sony PSP, Xbox etc.
MAIN FEATURE
Completely remove DRM from iTunes M4P songs
Bypass DRM from Apple Music, Audible AA audiobooks
Convert DRM M4P to DRM-free MP3, AAC, WAV, FLAC, M4A, M4B
Work at up to 16X faster speed with ID tags kept
Fully compatible with the latest iTunes
Batch to Convert iTunes Music to MP3 Quickly
Step 1. Open UkeySoft Apple Music Converter on PC or Mac
If you already downloaded and installed the free trial version of this smart iTunes music converting app on your computer, open it and iTunes will be also launched automatically.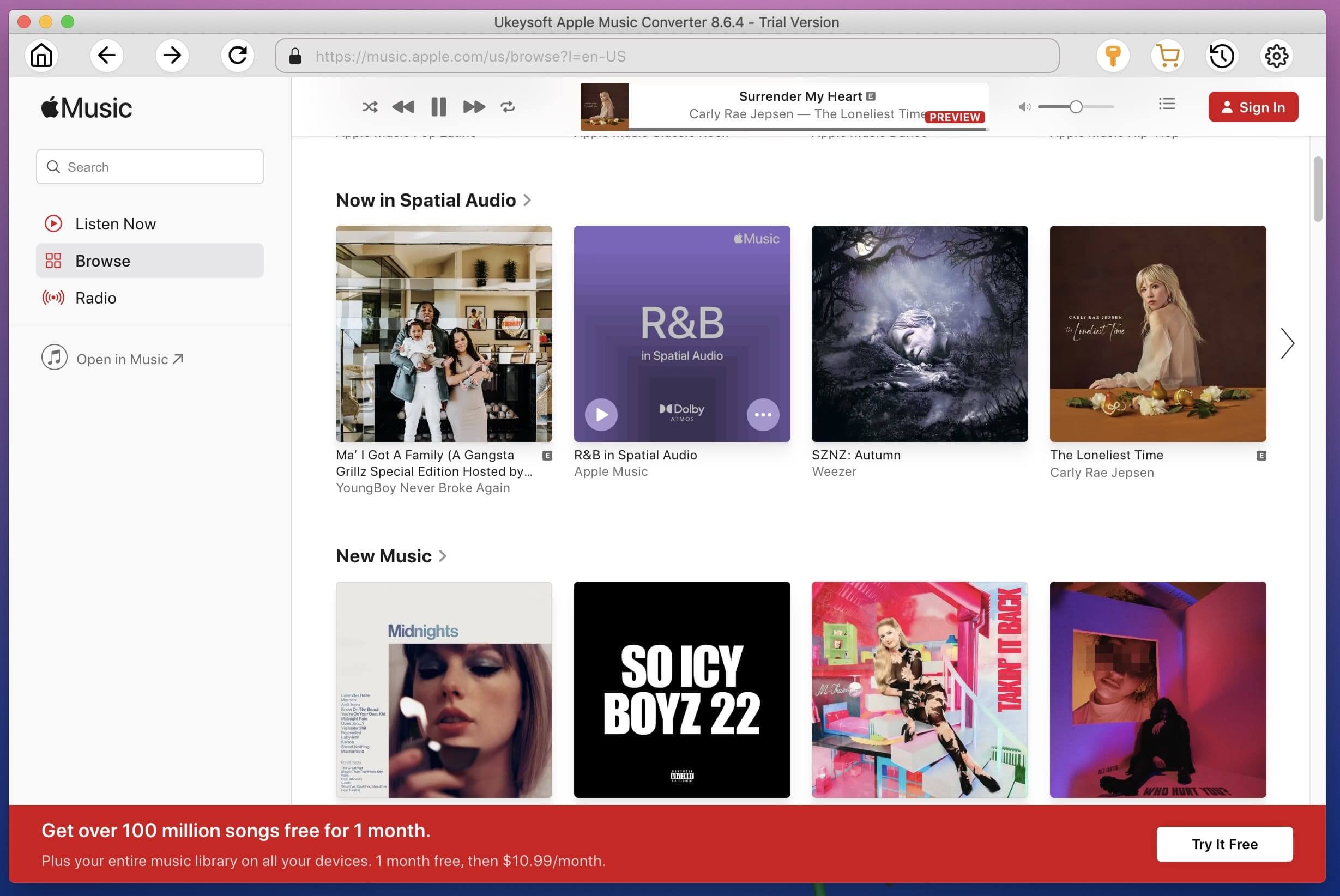 Heads Up: When using our UkeySoft Apple Music Converter to convert iTunes files and Apple Music songs, please don't use iTunes to play other files. Because the iTunes application plays the Apple Music tracks in the background (muted), so you'd better not using iTunes before conversion is finished.
Step 2. Add iTunes Music Songs
Next, choose M4P files from the left iTunes playlist column. It supports batch conversion so that you can import multiple music tracks to Apple Music Converter to convert once.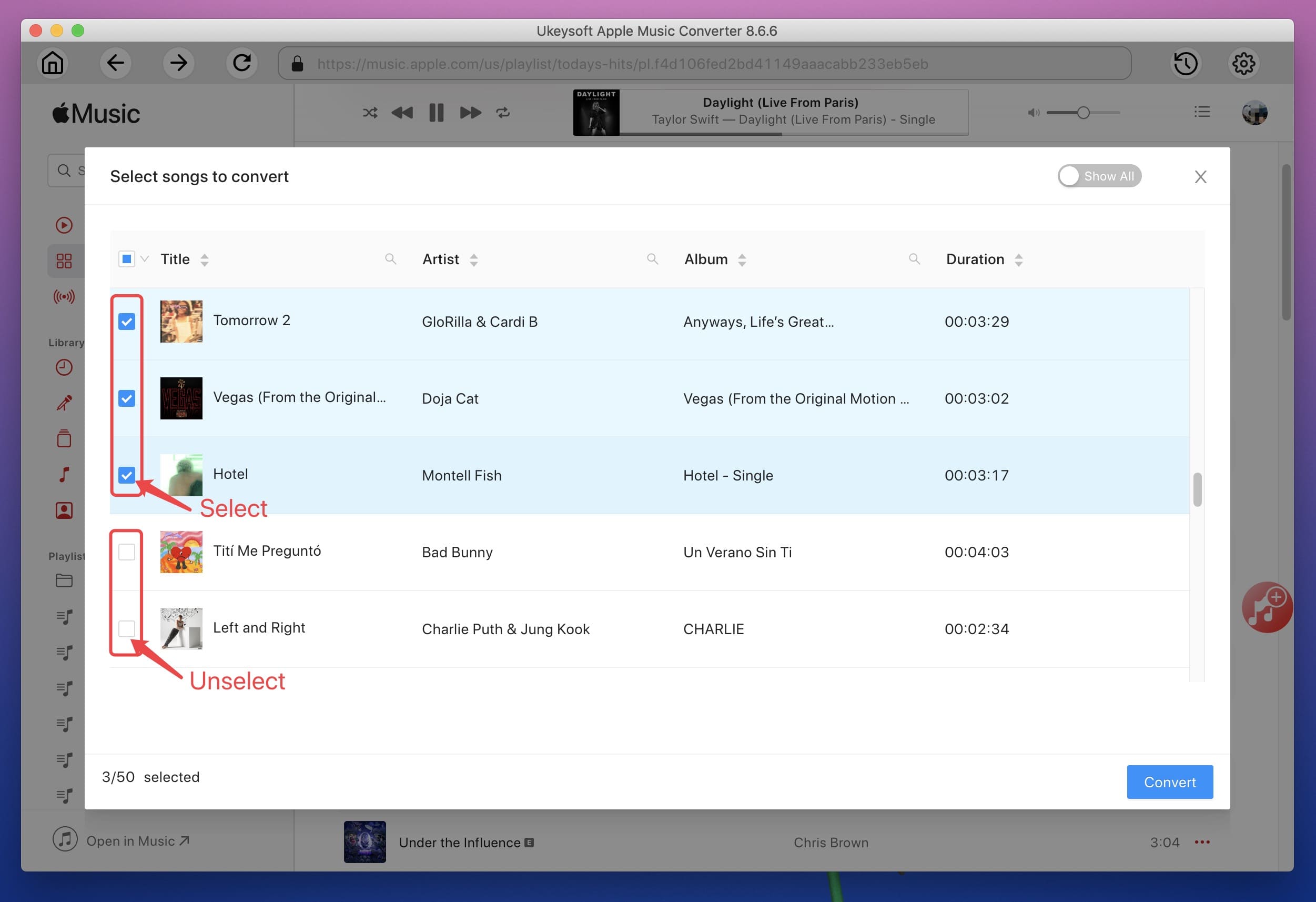 Step 3. Choose MP3 as Output Format
Choose "MP3" (in "Output Settings" at the bottom of interface) as output format because it's the popular and available audio format to every devices. And you are able to define other preferences, such as audio codec, channel, sample rate, etc. according to your needs.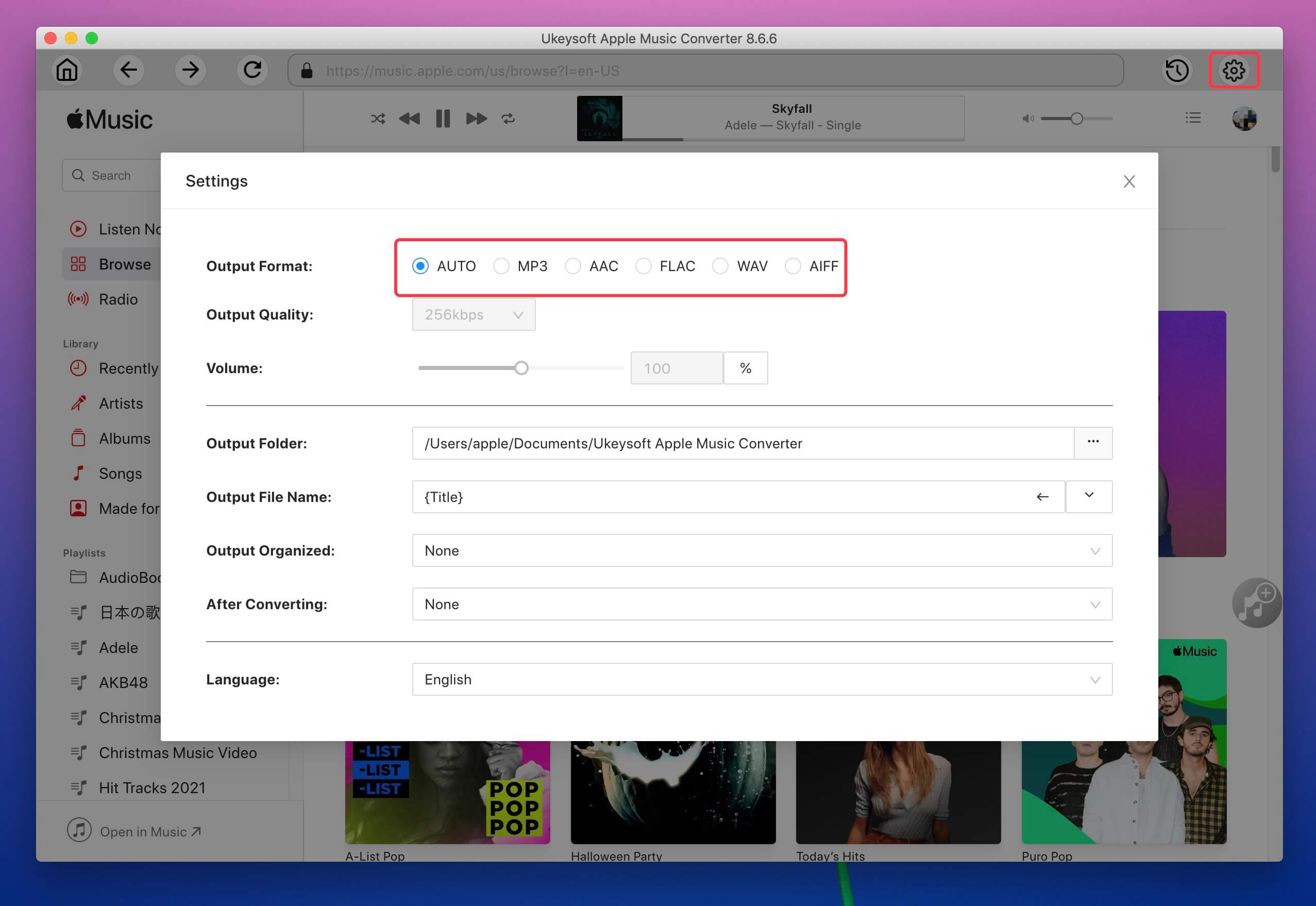 You can also set conversion preferences (the best conversion speed is 1x-5x) by clicking the "Options" button in the top menu bar.
Step 4. Start Converting iTunes M4P Songs to MP3
Once the output format is set, you can start converting DRM-ed M4P music to MP3 at up to 16X speed by clicking the "Convert" button.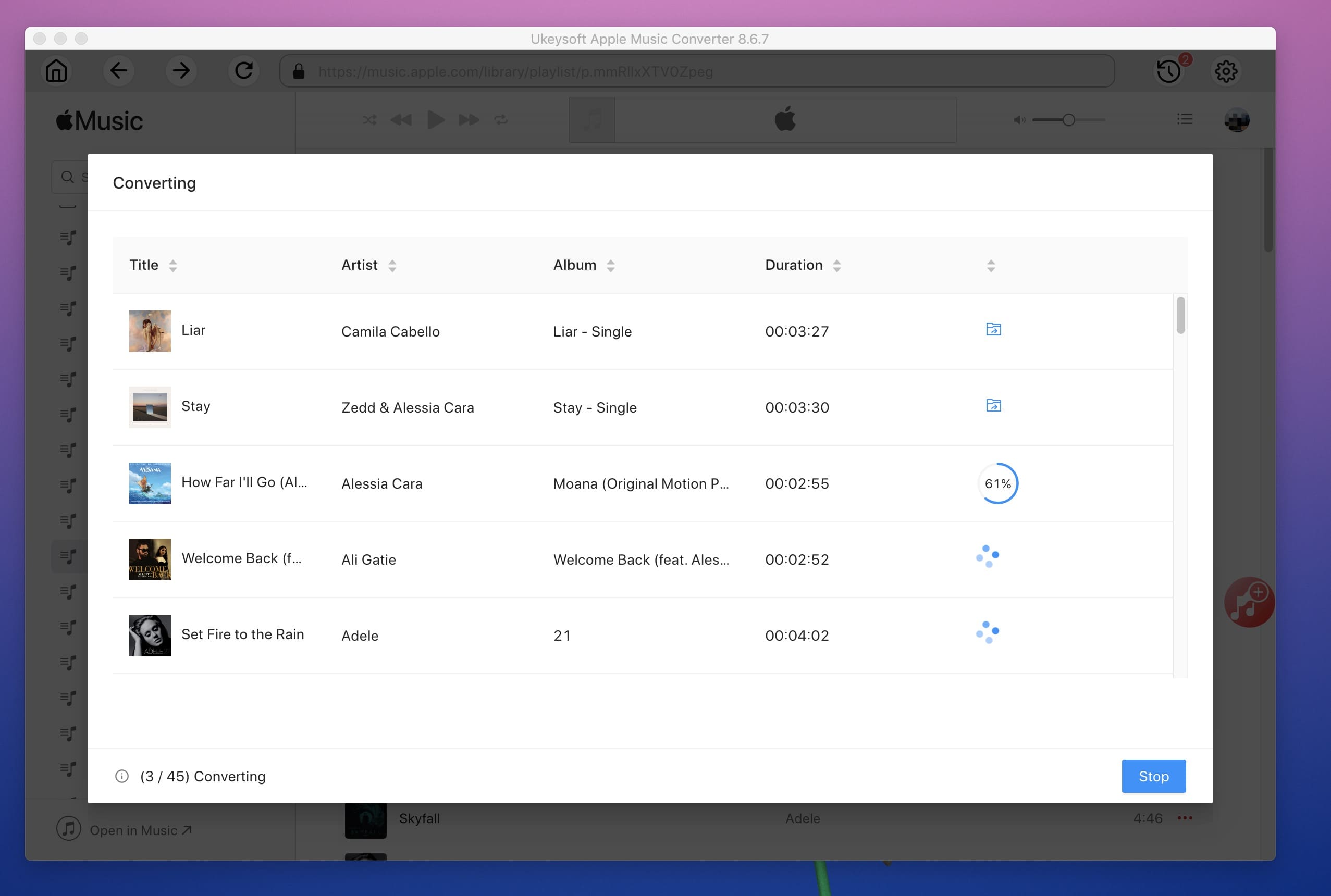 When it's complete, you can view the converted files by tapping on "Open Output Format". And you can transfer the MP3 music files to your smartphone, tablet, TV, game console or other devices for enjoying freely.
Part 3: Free Convert M4P to MP3 with iTunes
Generally, you can use iTunes to convert M4P songs to MP3. Follow the steps below.
Step 1. Run iTunes. On Windows, go to Edit > Preferences; on the Mac, go to the iTunes tab > Preferences.
Step 2. Go to the "General" button and click "Import Settings", select "MP3 Encoder" from the Import pop-up menu, then click "OK".
Step 3. Go back to iTunes and check the songs you want to convert, then click on "File" and select "Convert". Touch "Create New Version" > "Create MP3 Version". Now all the songs you choose will be converted to MP3 format and saved to your iTunes library.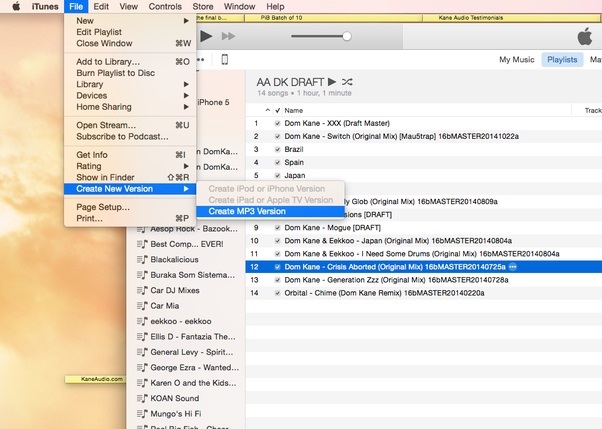 Part 4: Convert M4P to MP3 by Burning CD via iTunes
You can also convert iTunes M4P songs to MP3 by burning to CD using iTunes.
Step 1. First, you should create your own playlist. Go to File > New > Playlist to create a playlist of your favorite songs and assign a name to the new list for identification. Note that you can add 18-21 songs to your playlist.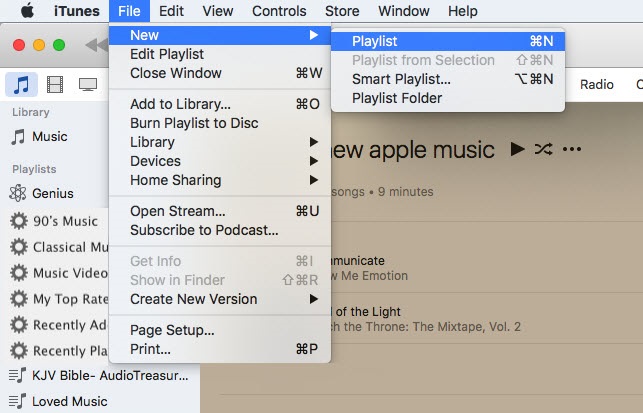 Step 2. Go back to File > Burn Playlist to Disc and a window called Burn Settings will appear on the screen. Follow the tips to specify your preferred speed, gap, disc format, and go to "burn" to continue.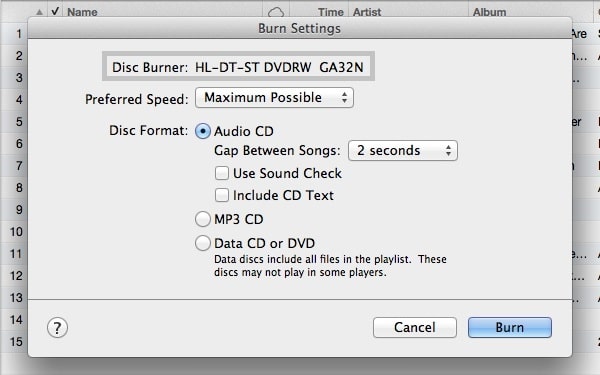 Note: Go to General > Import Settings and select MP3 Encoder from Import Using, if you want to change the frame bit rate for better quality.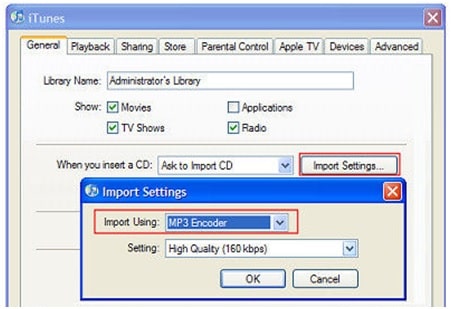 Step 3. After the conversion, you still need to identify the newly converted song. Go to the newly created playlist and right-click on the song to select "Get Info" and the field should be blank. Select DRM or M4P in the Comments section and click "OK" to continue.
Step 4. Now you have a new CD. Open a new playlist on iTunes, click the "File" option, and then click "Display Duplicates" to add a comment. Use DRM to tick all songs and right click on them and select "Delete From Library".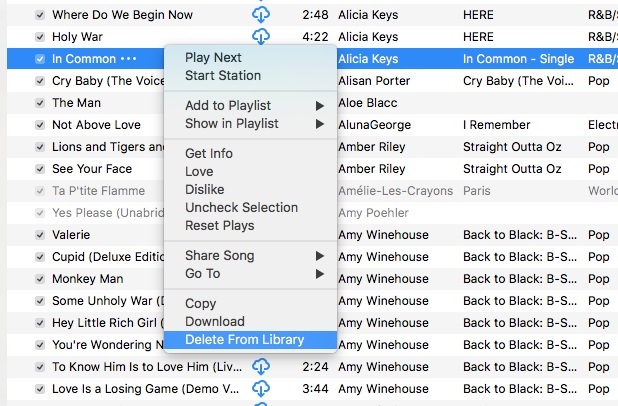 Part 5: Convet M4P to MP3 with Free Online Converters
Some M4P to MP3 converter online also allow you to convert iTunes M4P file to MP3 online, such as Online-Convert, FileZigZag, etc. It is a better choice for the people who have low requirement. Take FileZigZag as an example, various formats are supported here, including videos, images, documents, etc. Here's is how to do it:
Step 1. Drag or Drop files into the box
Step 2. Your file uploaded will be automatically detected and then choose the format you want to convert. In the case, select "MP3".
Step 3. Enter your E-mail address for sending you the converted copy.
Step 4. Simply click on "Convert" to start converting iTunes music M4P to MP3.
The Bottom Line
Free online services always have various restrictions on conversion speed, input file size, and conversion time. Some online file converters can also cause problems when converting iTunes M4P files to DRM-free MP3. Some online services may contain spyware, adware or other potential security risks. As you can see, the steps to convert DRM audio files to MP3 using iTunes are more complicated. In summary, I recommend using UkeySoft Apple Music Converter for Windows or Mac to convert iTunes M4P music to MP3 in a secure environment.
Convert iTunes M4P to MP3
Comments
Prompt: you need to log in before you can comment.
No account yet. Please click here to register.