By Justin SabrinaUpdated on September 02, 2021
---
Summary
Softpedia have granted UkeySoft File Lock with the "100% CLEAN" Softpedia award, Ukeysoft File Lock is clean for users to lock files and folders 100% safely.
It is necessary to protect your private or sensitive files and folders, in order to protecting important or sensitive information from prying eyes, you need to use a third-party file lock tool.
UkeySoft File Lock is designed to hide, password-lock data and deny reading or writing for important files, folders and drives, so as to protect sensitive information from prying eyes.

Good New: Softpedia team has tested our UkeySoft File Lock thoroughly and was found absolutely clean; therefore, it can be installed with no concern by any computer user. So, Softpedia guarantees that Ukeysoft File Lock is 100% Clean, which means it does not contain any form of malware, including but not limited to: spyware, viruses, trojans and backdoors. Therefore, visitors can download and use this software with confidence.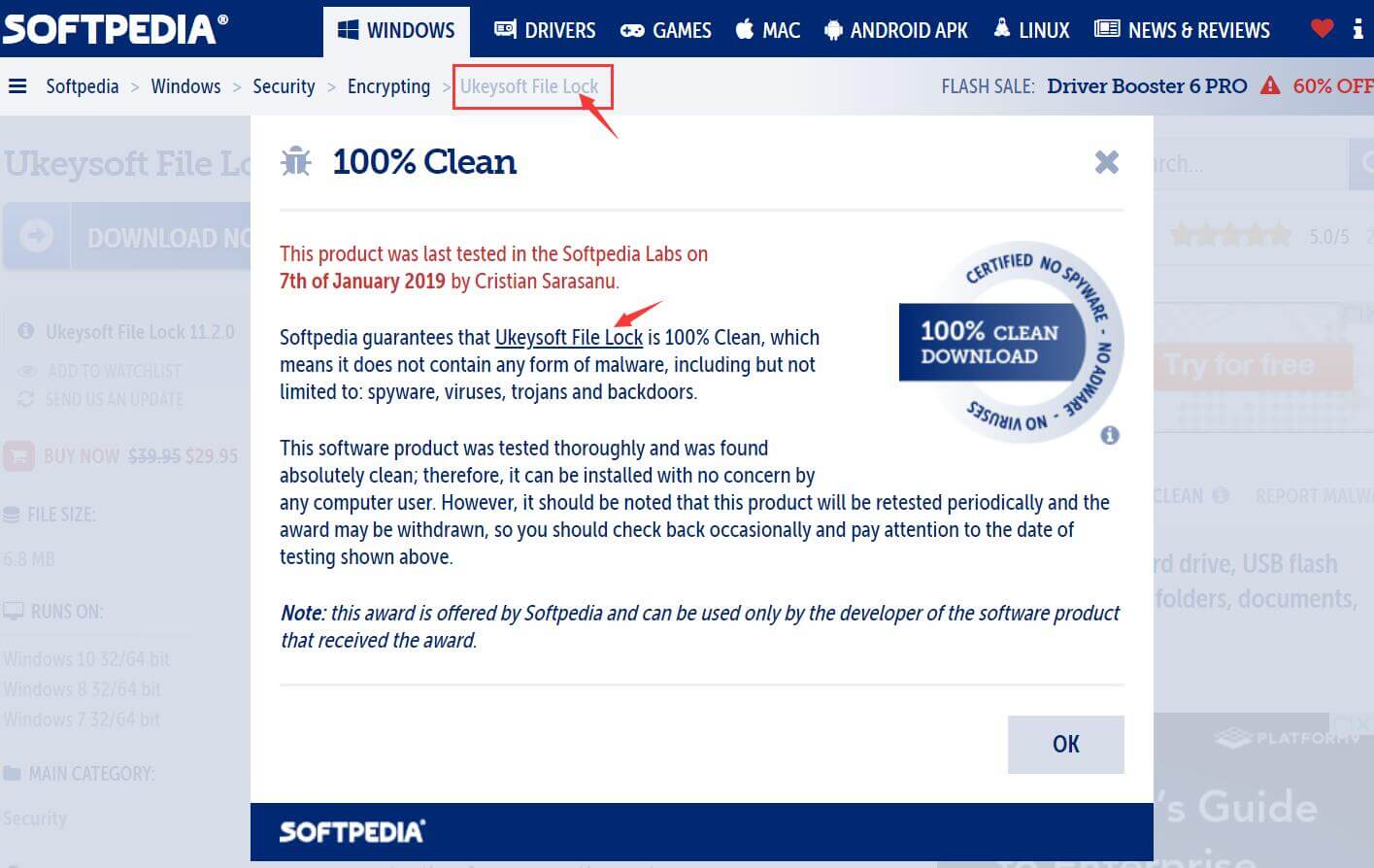 Softpedia's review: "Ukeysoft File Lock" has been tested in the Softpedia labs using several industry-leading security solutions and found to be completely clean of adware/spyware components. We are impressed with the quality of your product and encourage you to keep these high standards in the future.
More information about your product's certification and the award is
available on this page:
https://www.softpedia.com/get/Security/Encrypting/Ukeysoft-File-Lock.shtml#status
About Softpedia: Softpedia is a top software download website, it provides primarily software information, software downloads and plus tech-focused news and professional reviews.
More About UkeySoft File Lock
UkeySoft File Lock is a Military Grade Data Encryption tool, which is designed to lock or hide files & folders on internal hard drive(Windows computer), USB flash drive, external USB drive, thumb drive, memory card, pen drive, SD card and network drive. With the help of UkeySoft File Lock tool, you can 100% safely protect your personal data, information, documents, and other sensitive contents on your computer. After lock your files/folders/documents by UkeySoft, you no longer worry about your privacy from being prying eyes or stolen.
- Password protect files, folders; Hide files folders and drives;
- Make files folders and drives read only;
- Hide files, folders on computer or other external device;
- Monitor a disk or a folder and its sub-folders;
- Password-lock folder shared on network;
- Permanently erase files and wipe unused disk space;
- Safely delete sensitive files, folder;
- Safe self-protection mode
- Clear user interface and simple steps
- Support multi-languauge: Chinese, Czech, English, French, Italian, Japanese, Portuguese.
How to Password Protect File and Folders by UkeySoft File Lock
Step 1. Install and Launch Ukeysoft File Lock Program
First of all, please click the above download button to download the program and install it on Windows computer. After launching the software, it will pop up a windows, for trial version, you can experience all the functions by enter the initial password "123456".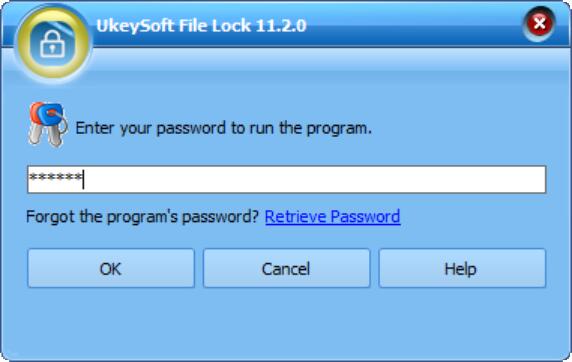 After entering the initial password, you can see it's main interface as below, this is a simple interface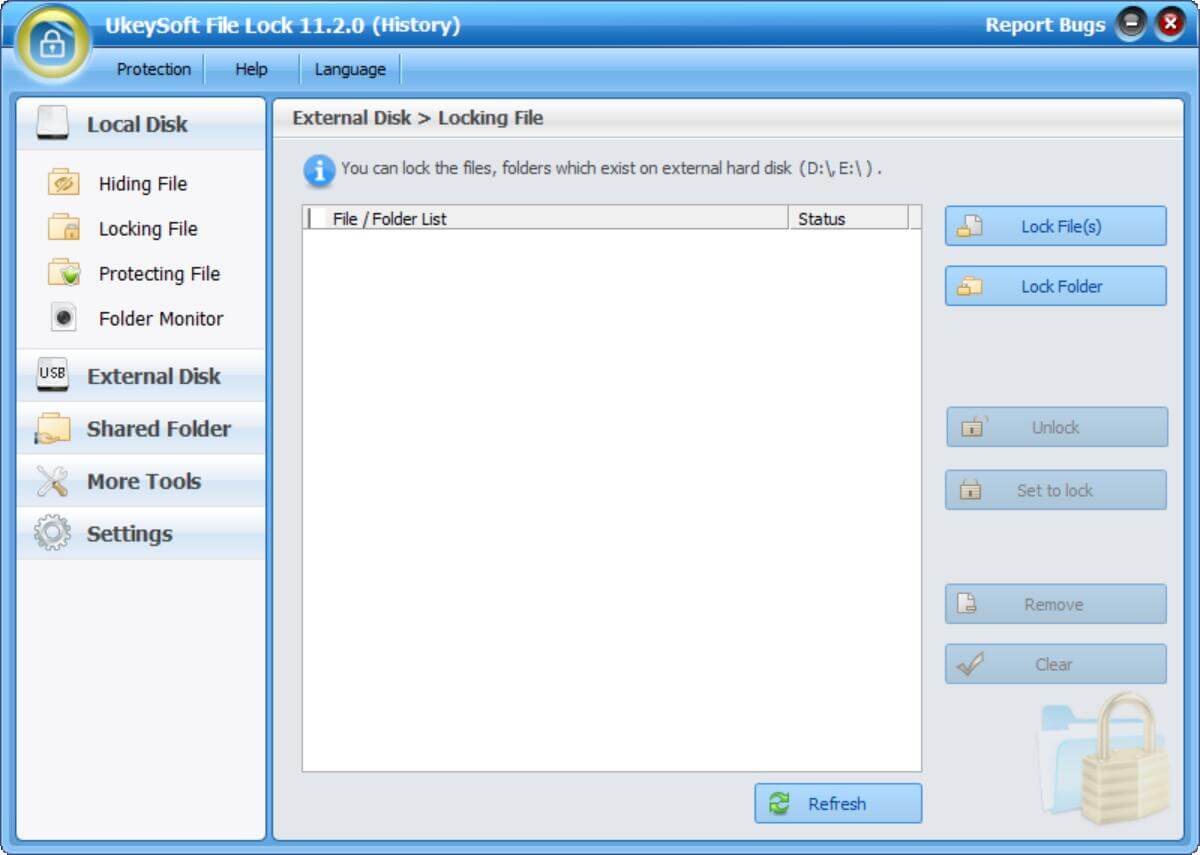 Tips: For Mac users, you can use the UkeySoft File Lock for Mac to hide you files and folders on Mac computer.
Step 2. Click "Locking File"
In the left column of the software interface, you will see four main functions: Local Disk, External Disk, Shared Folder and File Shredder. If you want to lock files and folders with password protection, please click "Locking File" under Local Disk column.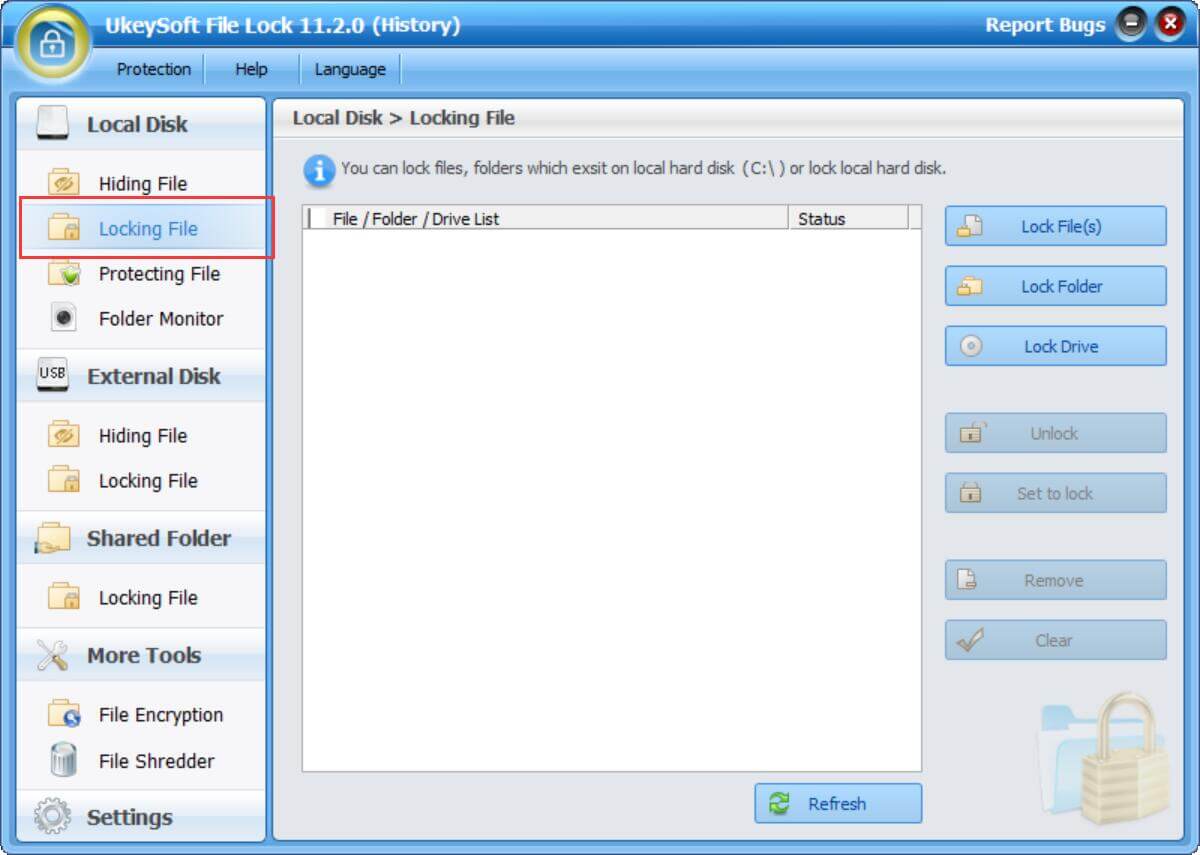 Step 3. Add File(s) and Folder(s) to Lock
In the right column of the software interface, click "Lock File(s)" or "Lock Folder(s)" button to add what you need to protect.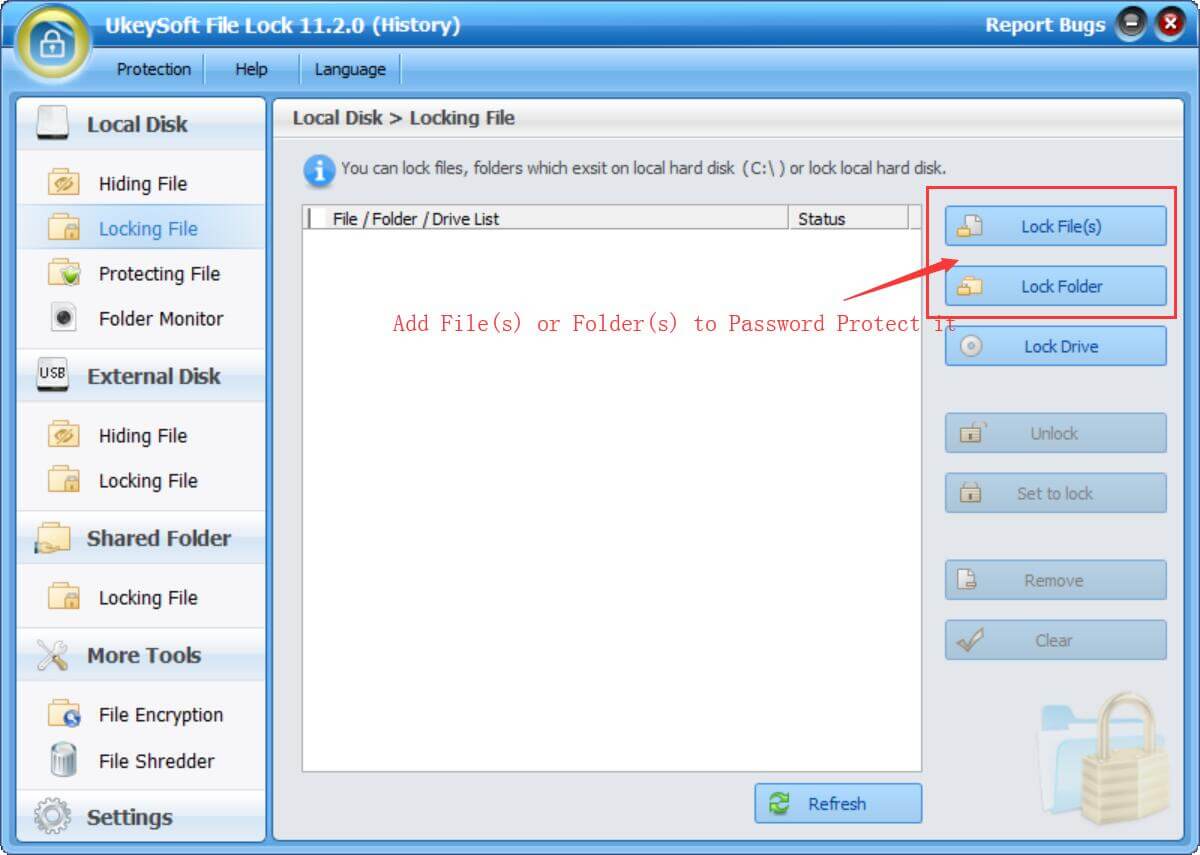 The program will pop an new windows, just select the files/folders you want to lock and click "Open" button to important the select files/folders to the program.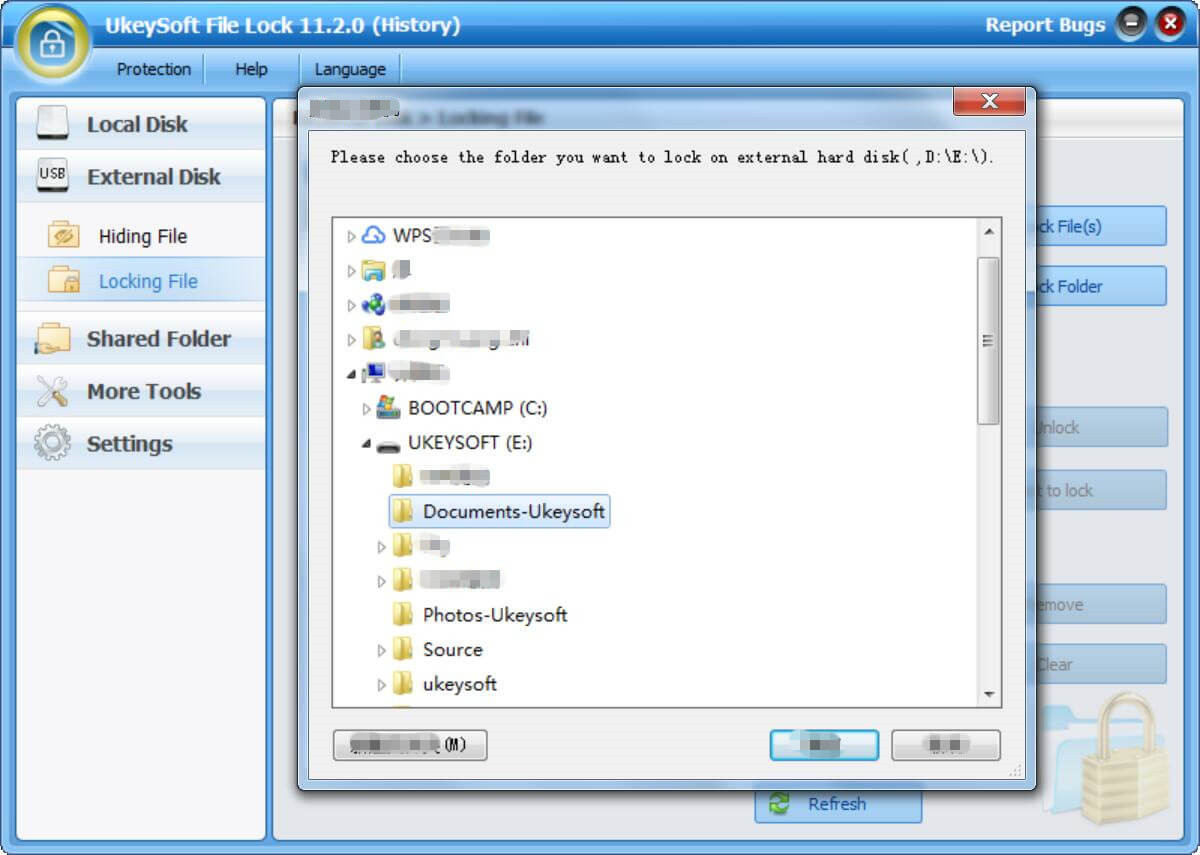 Step 4. Files and Folders Encrypted
After adding the files/folders to the program, all contents protected with password, if you want to view or use the protected data, you need to enter the master password that you have already set before.
Step 5. Unlock Protected Files and Folders
If you don not lock the protected folders/files anymore, just select the files/folders that you don't want to lock, then click the "Unlock" button to unlock your encryption contents.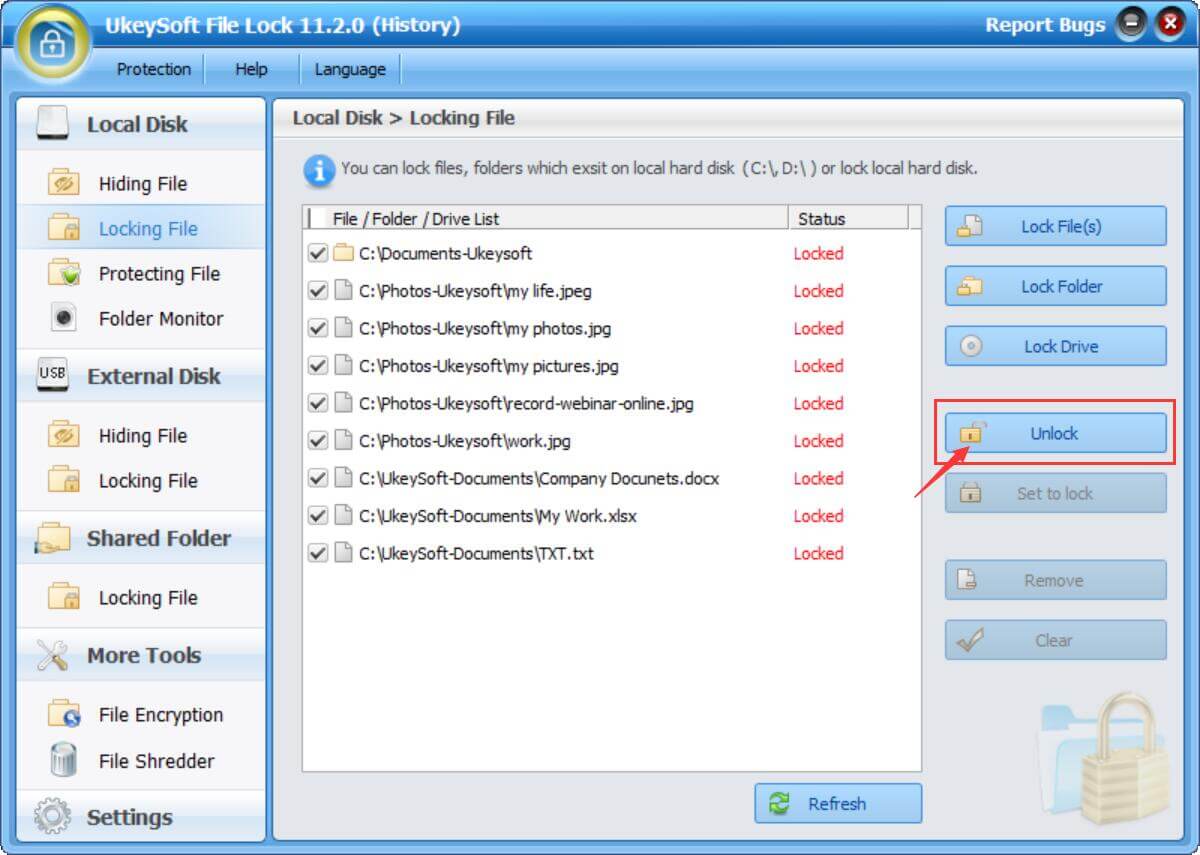 Tips: You can also hide this UkeySoft File Lock software from desktop, start menu and right menu, how to hide this file lock app?
Step 1. Run UkeySoft File Lock, and then click on the "Settings" module.
Step 2. You can select "Self Protect " under the module of "Settings".
Step 3. Check "Hide itself from the desktop ", "Hide itself from the start menu", "Hide itself from quick link ", "Disable shell menu " checkbox to run Gilisoft File Lock Pro in Invisable Mode.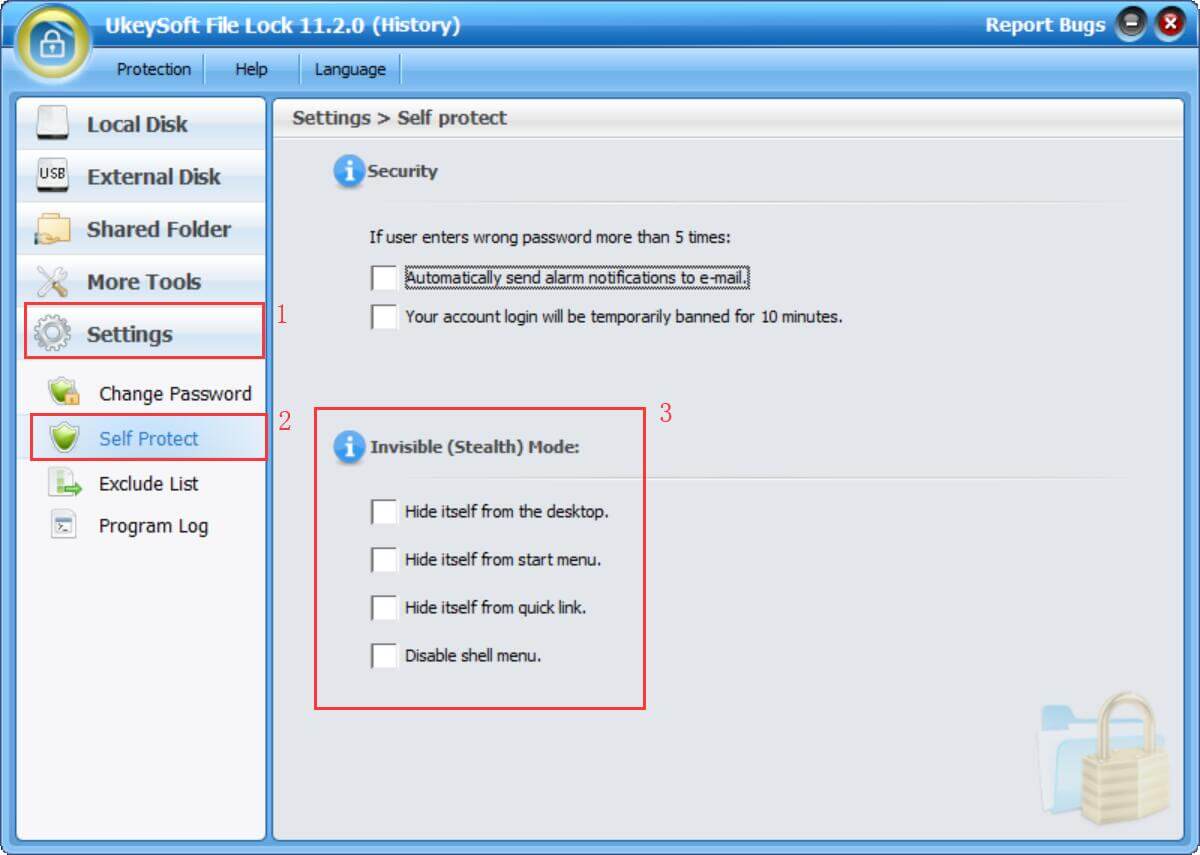 Comments
Prompt: you need to log in before you can comment.
No account yet. Please click here to register.