By Justin SabrinaUpdated on March 08, 2022
---
Summary
Have you ever been annoyed by date stamp on the photos? This post will guide you an easy way to use UkeySoft Photo Watermark Remover to remove date stamp, time, text from photo. By using this tool, you can get perfect photos without date stamp, time, watermark, unwanted persons and objects!
The majority of digital cameras have default setting to put the date and time in each photo. This function can help us record the date we took the photos. When looking back at these photos, the date stamps is very valuable to us. For sure, you can turn off the date stamp function in the camera setting, but for existing photos, the date stamps cannot be added or removed. When you want to post a picture on the Instagram or Facebook, you don't want these embarrassing date stamps on the picture.
So how can you erase date stamp from photo by phones or digital cameras including Nikon, Canon or Sony? Here, I will introduce a powerful date stamp removal called UkeySoft Photo Watermark Remover.
Best Date Stamp Removal - UkeySoft Remover
UkeySoft Photo Watermark Remover is an easy-to-use photo date stamp remover and photo editor. With it, you can easily remove date stamp, time, text from photo flawlessly. What's more, you can also add/remove watermark, logo, remove unwanted objects from a photo without ruining the selected area. Moreover, this tool allows you edit pictures, like Rotate, Flip, Adjust Color, Filters and so on. Amazingly, it can support to fix old photos, those scratches, spots and tears are existed in the old photos can be repaired well by using UkeySoft Remover. By using this tool, you can rescue many flawed photos from Deleted Albums.
Key Features of UkeySoft Photo Watermark Remover:
Remove date stamp, watermark, any unwanted items from picture.
Easy to operate for all people, including the photo-editing beginners.
Allows to add watermark and image to picture according to your needs.
Supports different image format including JPG, JPEG, PNG, BMP, etc.
Preserve the original quality of photo after editing completed.
Editing function allows to Crop, Rotate,Flip, Adjust Color and Filters.
Guide: Remove Date Stamp from Photo with UkeySoft
Here is the easy guide on how to remove date stamp from a photo. Just 4 steps, you can get your ideal photo. Before you starting, download and install the UkeySoft Photo Watermark Remover on your desktop.
Step 1. Launch UkeySoft Photo Watermark Remover
Firstly, launch the UkeySoft Remover on your computer. You will see easy-to-use and concise interface, users can handle the software with ease.
Step 2. Add the Photos with Date Stamp
You can drag and drop the photo you want to edit to UkeySoft's interface. Or click the "Add File(s)" button to add photo.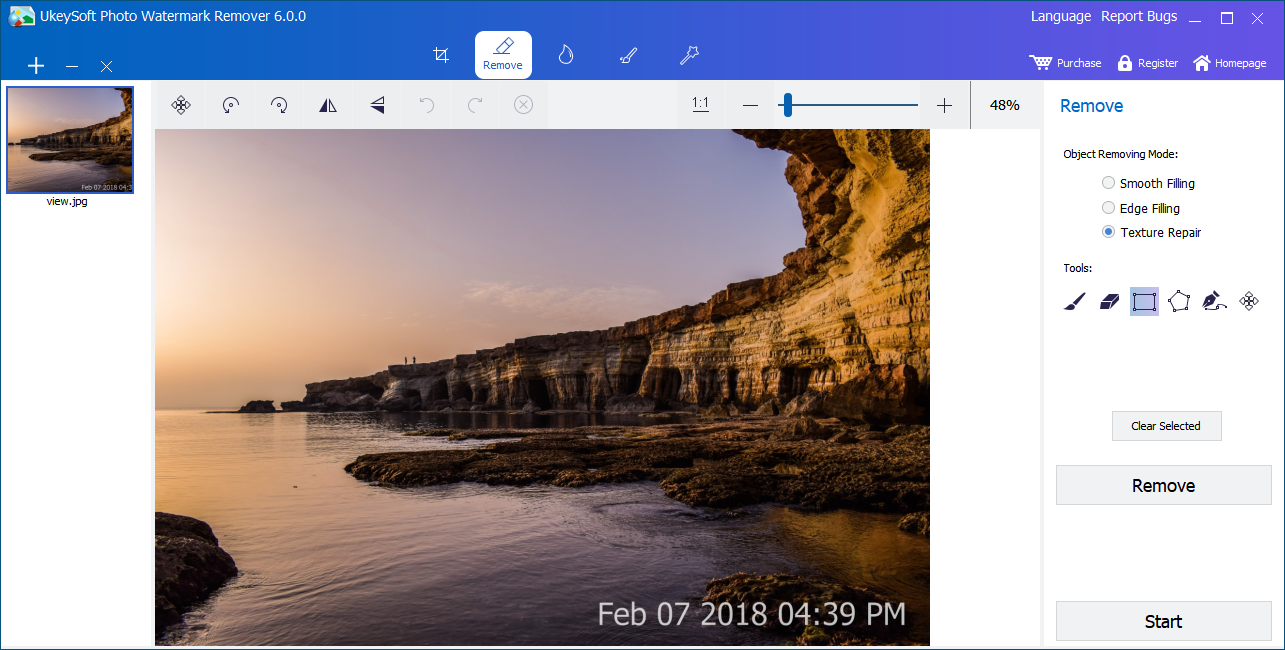 Step 3. Select the Date Stamp
In the toolbar, you can choose "Rectangle Mode" to delete the date stamp. Create rectangle to select the area with the date stamp. The area you highlight will be shown in red.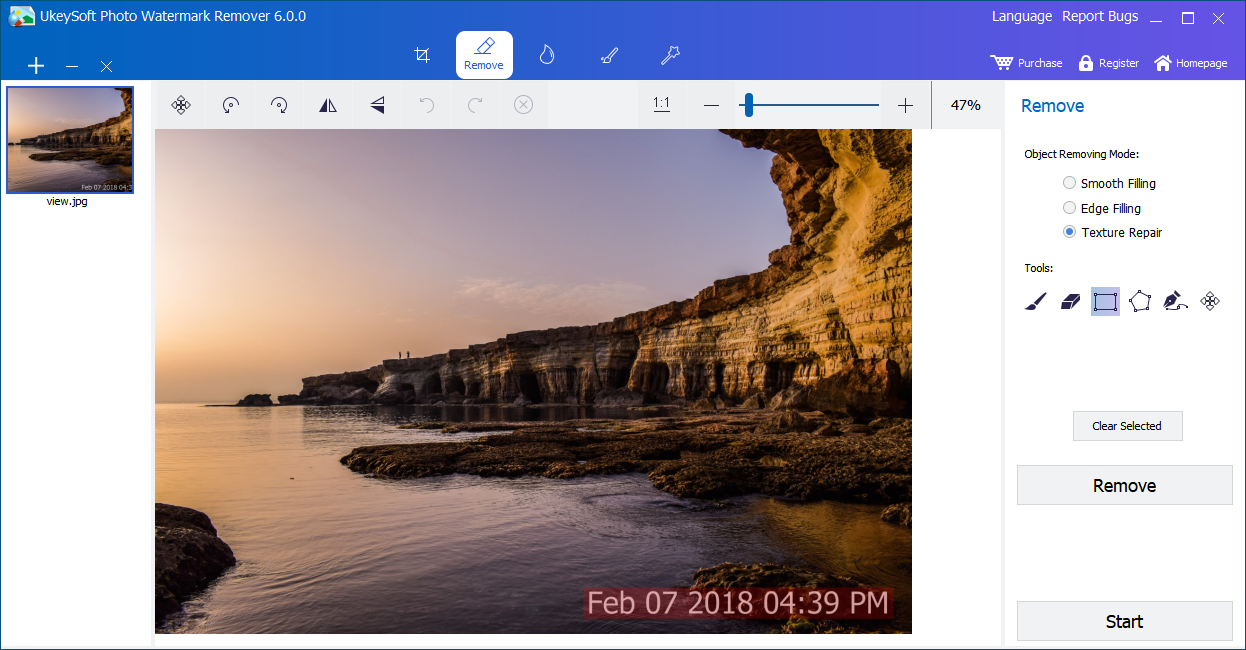 Step 4. Start to Remove the Date Stamp from Photo
After selecting the date stamp, just click "Remove", the UkeySoft Remover will automatically delete the date inside the photo.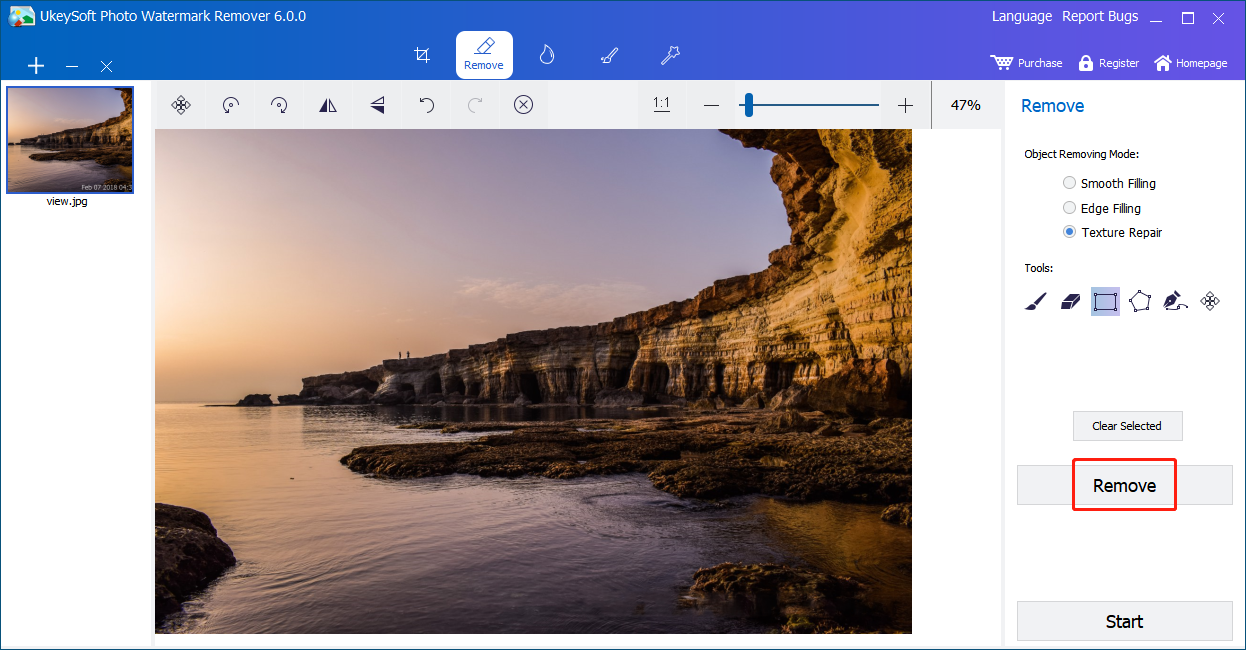 After that, you can click "Start" to save the photo to the local drive.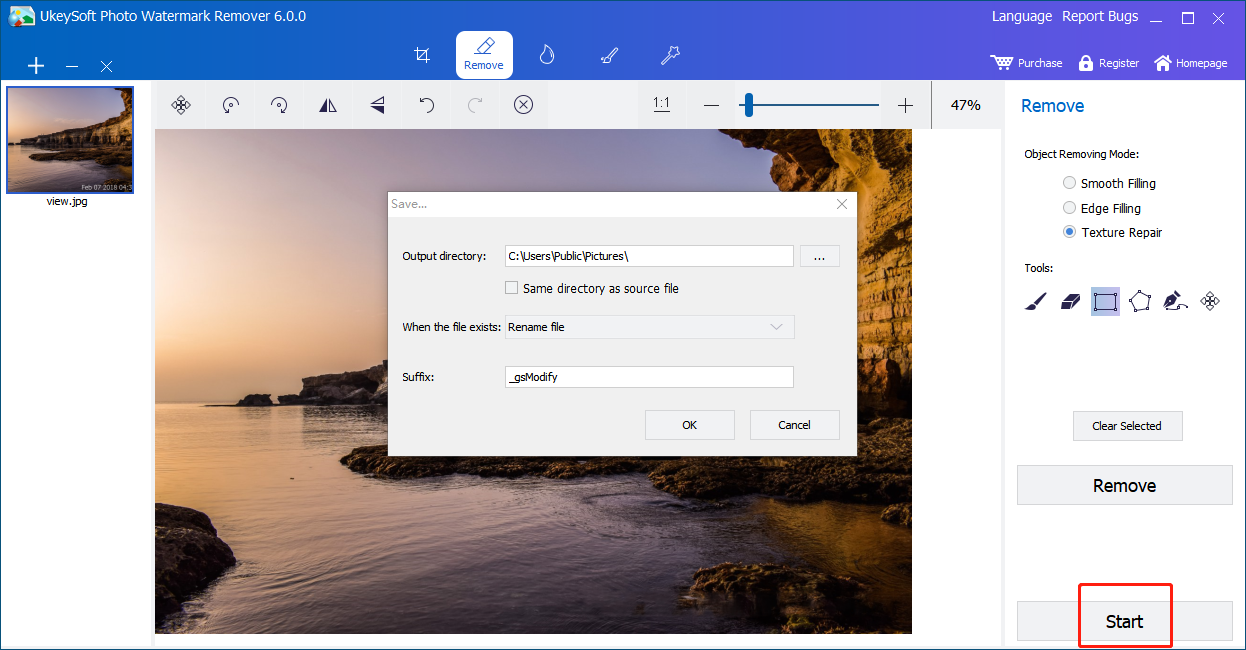 That is pretty annoying that a perfect photo with date stamps and watermarks. UkeySoft Photo Watermark Remover shows up,it helps to erase watermark, date stamp and any you unwanted items from a photo. After removing, the photos will be flawless without ruining the selected area. There are other functions too, including fix old pictures, edit photos, etc. Come and have a try!
Remove Date Stamp from Photo
Comments
Prompt: you need to log in before you can comment.
No account yet. Please click here to register.