By Justin SabrinaUpdated on September 01, 2021
---
Summary
Want to convert videos/movies from H.265/HEVC to H.264 for free on Windows or Mac computer? This tutorial provides the best H.265 to H.264 video converter to convert GoPro/YouTube/Apple HEVC H.265 videos to H.264 MP4 for playing on iPhone/iPad/Apple TV, Samsung Galaxy and other H.264 MP4 playback devices.
Some large videos that shooting from GoPro Hero camera, Apple iPhone 7, iPhone 8, iPhone X, iPhone XS (Max)/XR, iPhone 11/12/13(Pro), Samsung Galaxy S20 (+), Xiaomi Mi MIX 2S, YouTube, etc is 8K/4K/1080p H.265/HEVC format. If you have a video or movie in HEVC H.265 MP4 format and wondering how to convert HEVC/H.265 to H.264 MP4 on Windows (10) or Mac, you may want to know what's the difference of H.265 between H.264? Why H.265 over H.264?
CONTENTS
What Is H.265 and H.264?
H.265 is a new video coding standard developed by ITU-T VCEG following H.264. The H.265 standard revolves around the existing video coding standard H.264, retaining some of the original technologies and improving some related technologies. The new technology uses advanced techniques to improve the relationship between codestream, coding quality, delay and algorithm complexity to achieve optimal settings.
HEVC (High Efficiency Video Coding) is a new video compression standard used to replace the H.264/AVC coding standard. On January 26, 2013, HEVC officially became an international standard. The biggest benefit of this format is that it can save 50% more space than other formats, which is important for users who frequently take ultra clear video.
H.264, also part of MPEG-4, is proposed by the Joint Video Team (JVT, Joint Video Team) composed of the ITU-T Video Coding Experts Group (VCEG) and the ISO/IEC Motion Picture Experts Group (MPEG). Highly compressed digital video codec standard. This standard is often referred to as H.264/AVC (or AVC/H.264 or H.264/MPEG-4 AVC or MPEG-4/H.264 AVC) and clearly states its developers.
Why H.265 over H.264?
Compared to H.264/AVC, H.265/HEVC provides more different tools to reduce the bit rate, in terms of coding units, from a minimum of 8x8 to a maximum of 64x64. At the same time, H.265's intra prediction mode supports 33 directions (H.264 only supports 8), and provides better motion compensation processing and vector prediction methods. Compared to H.264, the video stream size encoded by H.265 is approximately 39-44% less than H.264. In the case of a 51-74% reduction in code rate, the quality of H.265 encoded video can be similar or even better than H.264 encoded video. In addition, compared with H.264, H.265 technology can reduce us very much more storage costs.
For example, the amount of data for monitoring video is very large. If it is raw data, a 2 megapixel camera can fill the hard disk with only one day of data. H.264 technology has been unable to adapt to higher and higher pixels, so H.265 technology is coming! Compared with H.264, H.265 technology doubles the compression capacity. For example, the previous 2 million cameras have a storage capacity of 40G per day. Then, the 2 million cameras with H.265 technology have a storage capacity of only 20G per day! Therefore, H.265 will save much bandwidth when compressing and streaming 4K/8K videos online, and now many smart phones support HEVC format recording.
For some mobile phone like Samsung Galaxy S9/S9+/S8/S8+, iPhone XS Max/XR/X, iPhone 8/7/6S/6, Huawei, HTC, Sony, Motorola, LG,ect. compatible with H.264 and H.265. Compared to the S8 series, the S9 series has not changed much in appearance, but the Samsung Galaxy S9 Galaxy S9 supports HEVC format recording.
Why You Need to Convert H.265 to H.264?
H.265 is not that compatible as H.264. For instance, GoPro 4K HEVC videos are not friendly to many editor apps, media players and mobile devices. In another words, H.265/HEVC is not widely applied in many products fields so far, such as a few devices and media players like iPhone 6/5/4S, Samsung Galaxy S5/4S/4, Windows 10, 5KPlayer, etc. If you want to play H.265 video files on some older devices, you must to convert H.265 to H.264, today we'll recommend you a best H.265 to H.264 Converter software to convert H.265 to H.264 to stream videos or playback on any of your iDevice or Android phones.
Best H.265 to H.264 Converter to Convert HEVC/H.265 to H.264 on Windows (10) and Mac
UkeySoft Video Converter and UkeySoft Video Converter(Mac), both is a complete combination of H.265 to H.264 video converter and video editor, this powerful 8K/4K/HD video converter can help you convert H.265/HEVC to H.264 with original quality quickly. In additional, the program good at convert MKV, M2TS, AVCHD, MOD, HD camcorder videos, 4K videos and standard MP4, AVI, MPEG, WMV, MOV, VOB, FLV, RMVB, Web, etc. 300+ output video/audio codecs, so you can convert any video for playing on 400+ devices. Let's teach you how to convert H.265 to H.264 MP4 videos on Mac as example.
Guide: Convert H.265/HEVC to H.264 and Vice Versa
Step 1. Download and Launch UkeySoft Video Converter
Click above download button to download the UkeySoft Video Converter for Windows or UkeySoft Video Converter for Mac, after installing and running it on the computer, you will see it's main interface as below.
Step 2. Import the H.265 Video File
Click the "Add Files" button to import H.265 files for conversion, if you want to batch convert H.265 files, select multiple videos and add them to the program. If you want to convert H.265 videos that took by some mobile devices like iPhone, Android phones or external hard drive, please import the files to the computer at first, then just click "Add Files" button to add files to the conversion.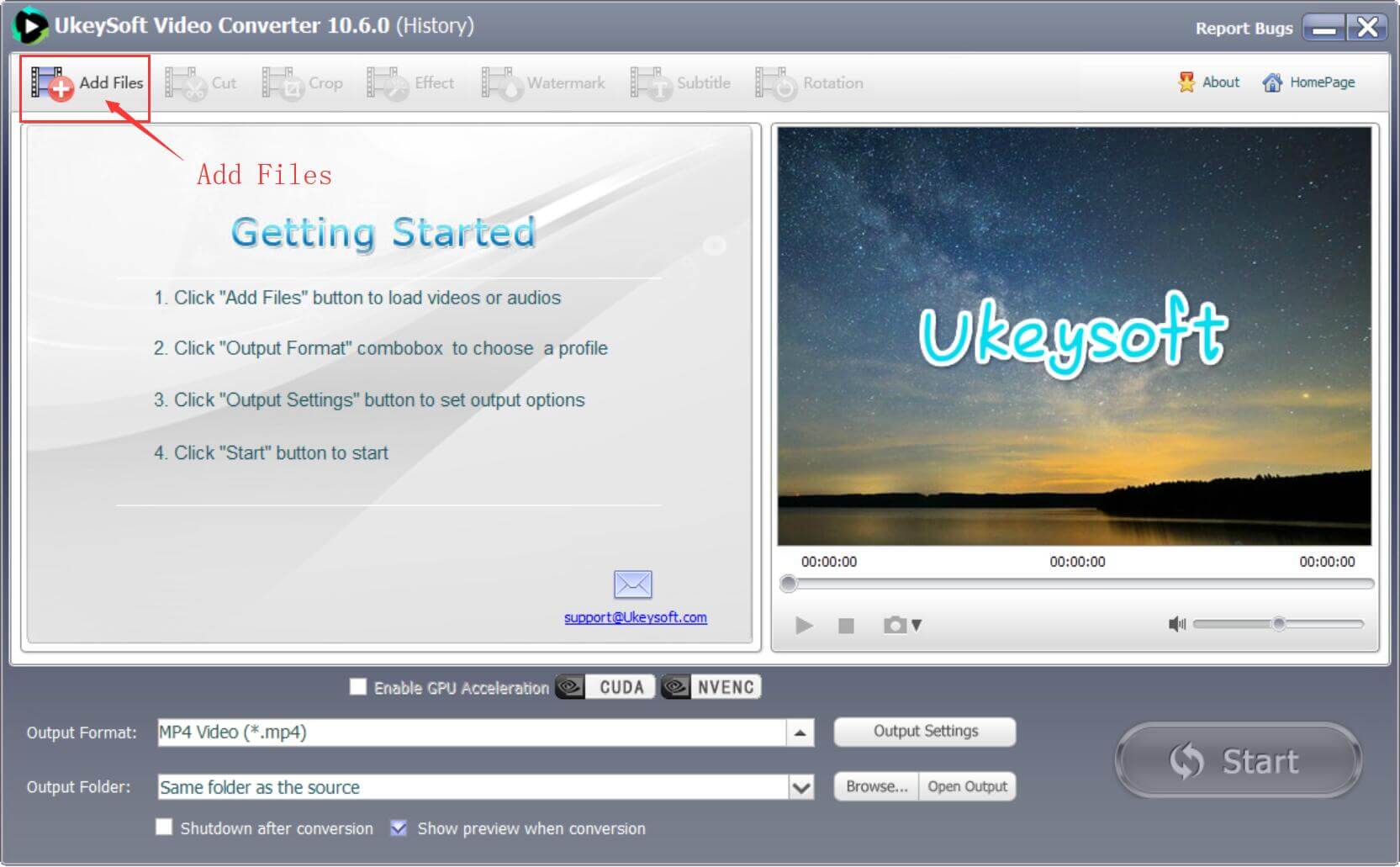 Added video playlist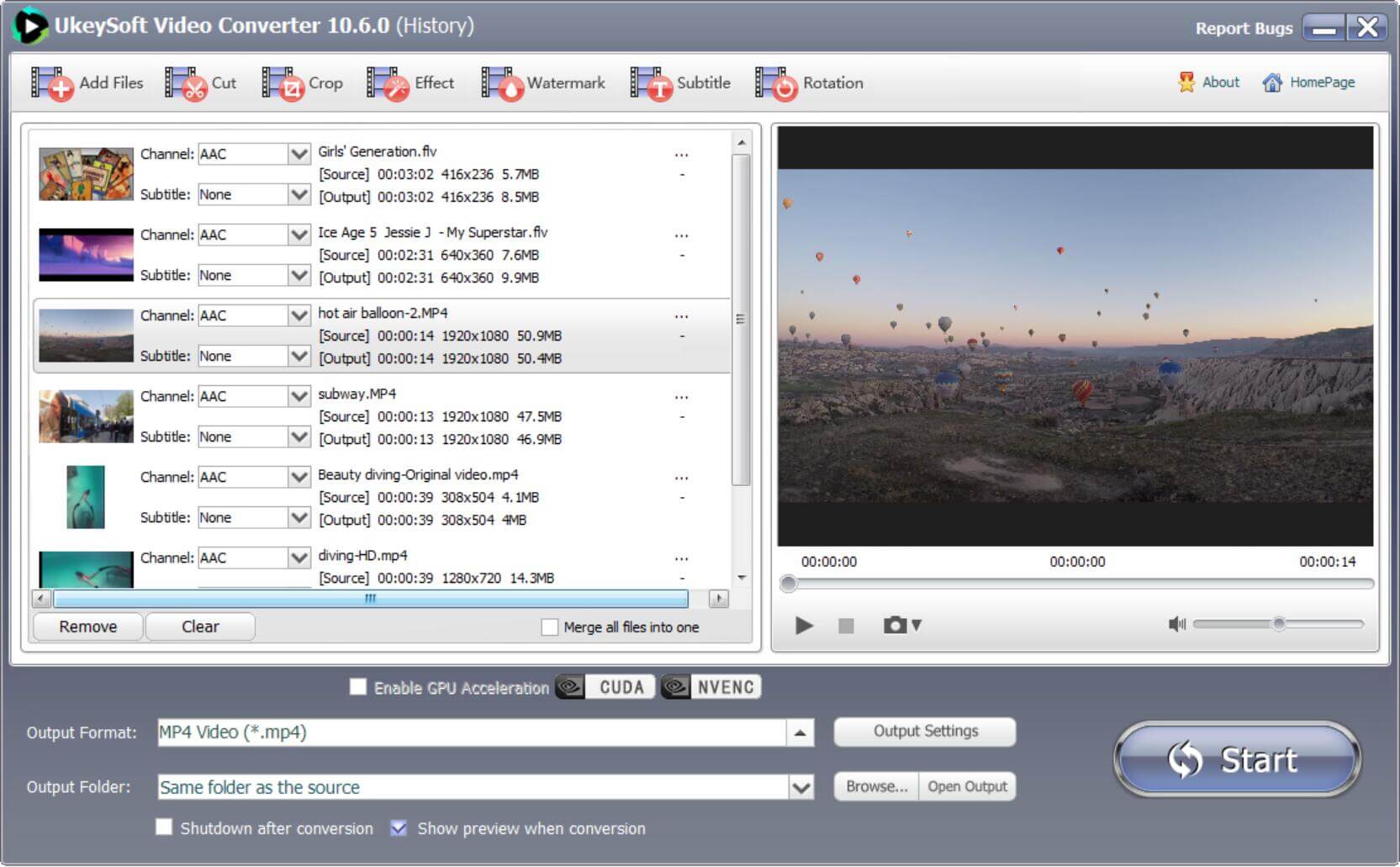 Step 3. Choose H.264 file format
Then, please choose H.264 (AVC) as the output format. Click under: Output Format --> Common Video --> AVC Video (H.264).
This program supports convert any video to many other output video formats encoded H.264 codec, such as MP4, MOV, AVI, etc. (h264), you can feel free to choose according to your own needs.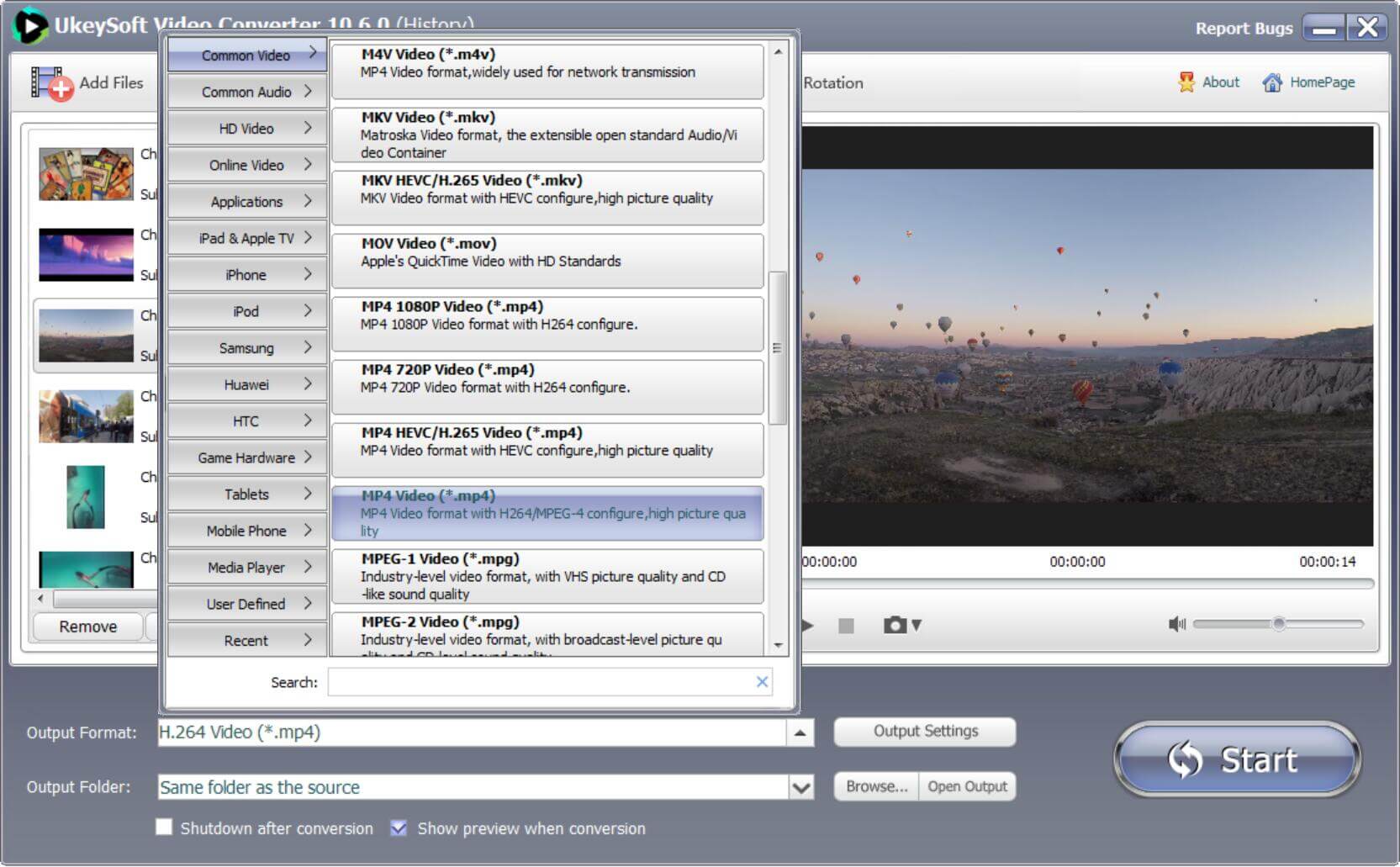 Step 4. Edit Video(Optional)
If you want to edit the video before conversion, please click the above editing button to trim video clips, crop videos, adding external subtitles, etc.; Click Settings button next to Profile icon to adjust video/audio parameters to achieve desired output results before converting HEVC/H.265 to H.264.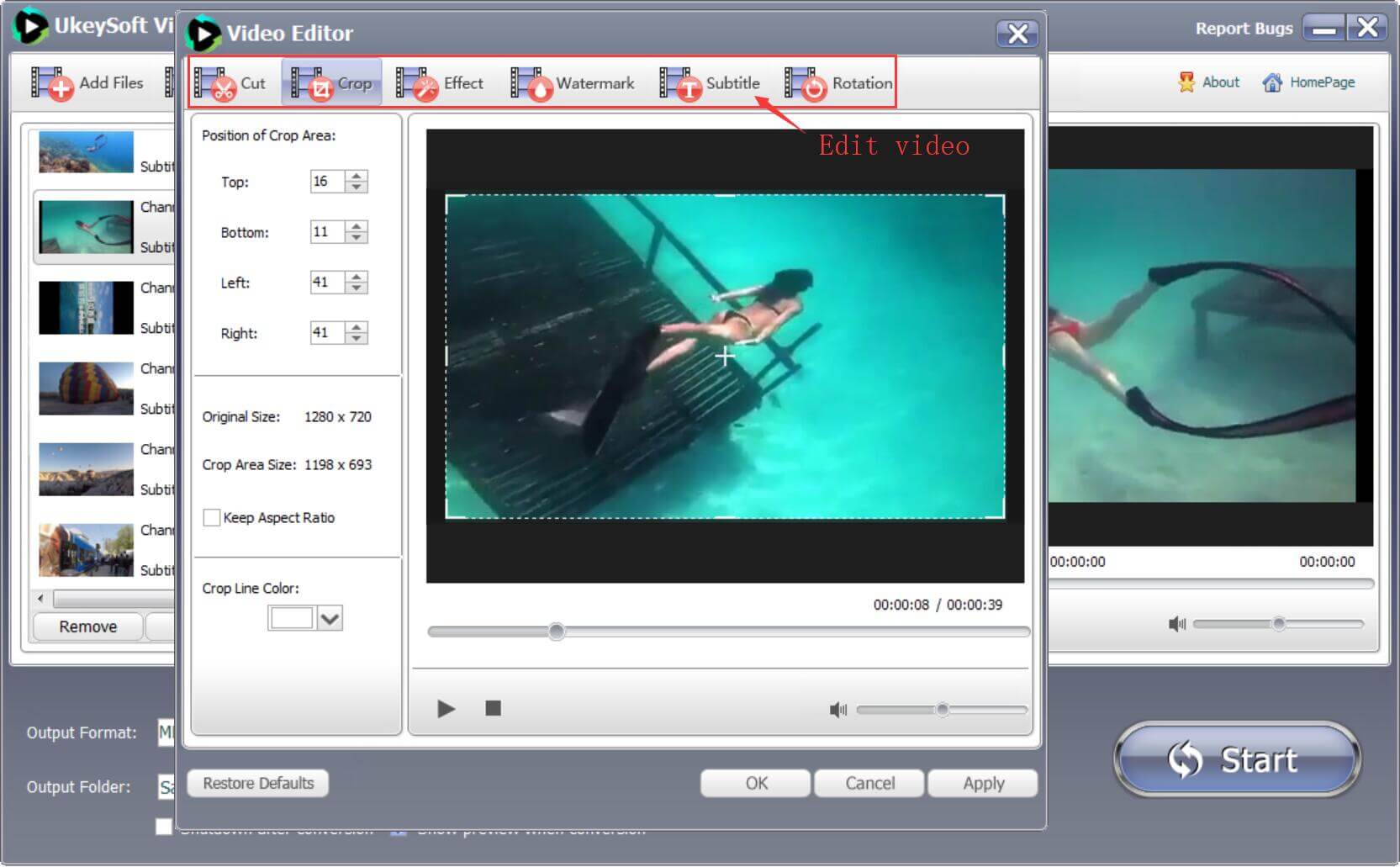 Step 5. Convert H.265 to H.264
Before beginning the conversion of H.265 files to H.264, you can set the "Output Folder". Then, just click "Start" button start to convert HEVC/H.265 to H.264/AVC for free on Windows or Mac computer.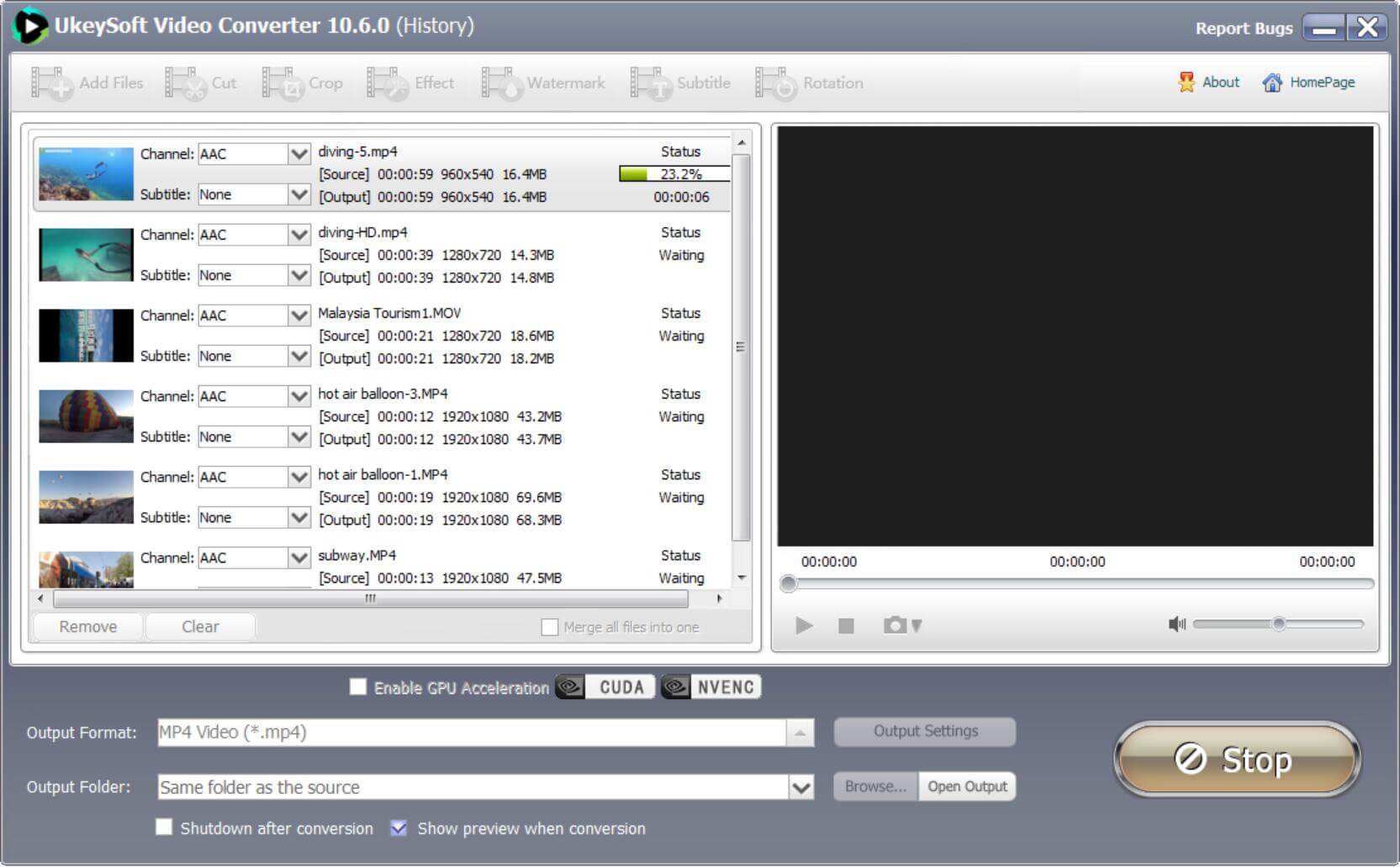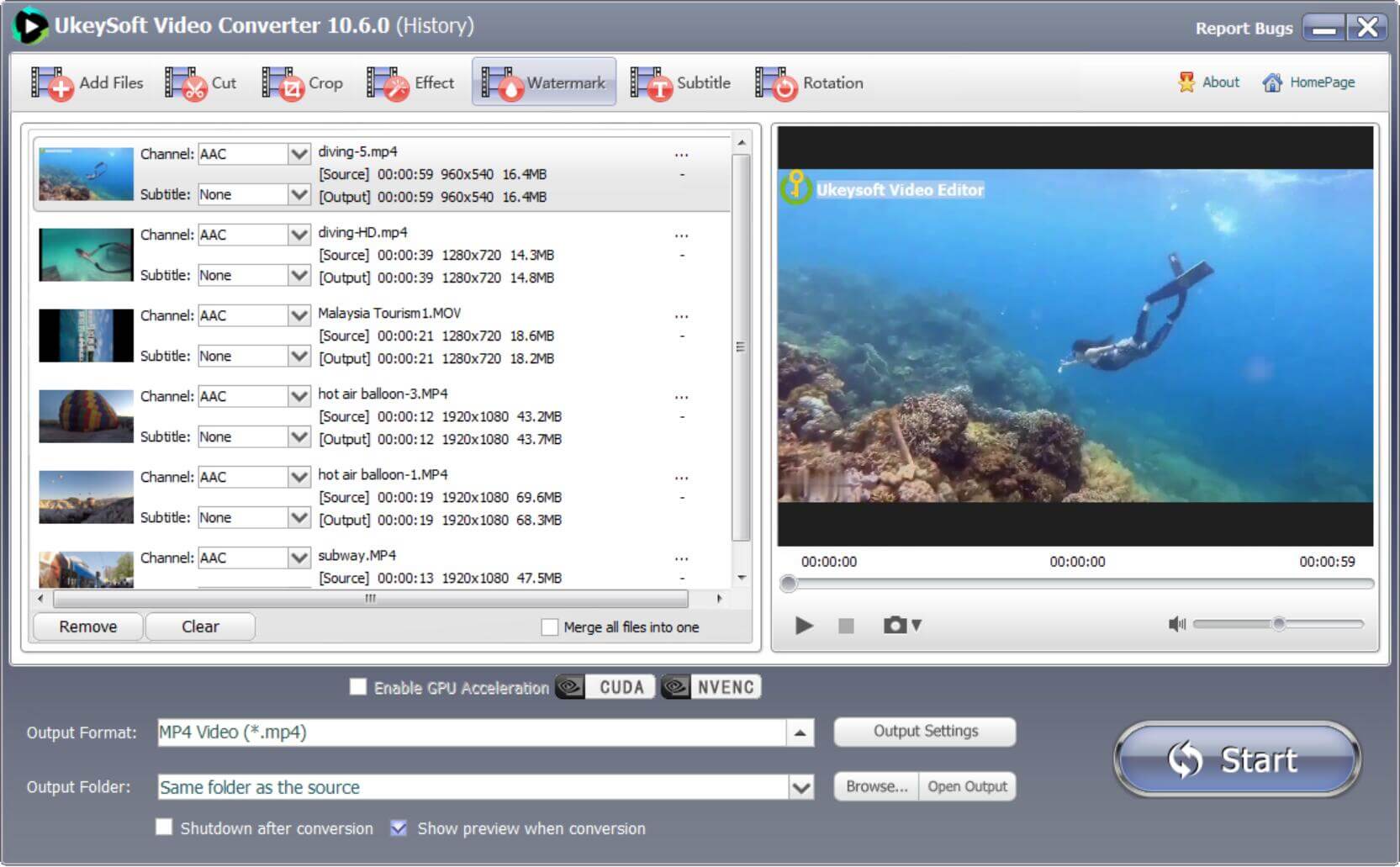 Step 6. View Converted H.264 MP4 Video Files
When H.265 to H.264 conversion successfully, please click "Open Output" button to find all converted video files, you could enjoy the videos in any device.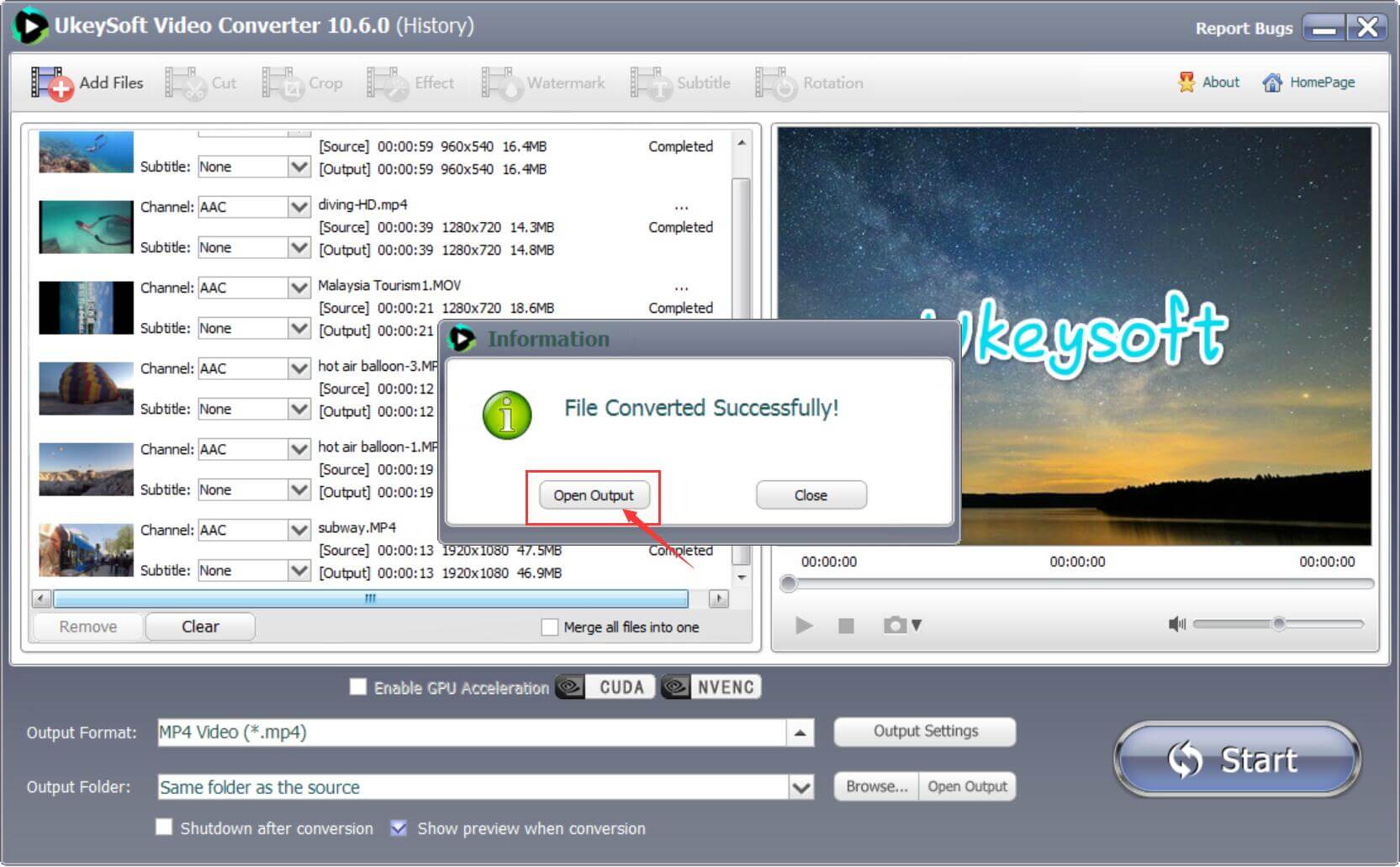 Above is the easy guide shows you how to convert H.265 to H.264, the program also supports convert H.264 to H.265. Even though H.265 is superior to H.264 based on demand, quality, size or compression rate, currently, most devices do not support H.265. Because H.265 supports only limited devices and is restricted to 4K/8K players, so you must to convert H.265 to H.264 for watching on any devices. With the help of UkeySoft Video Converter, you can easily convert videos to any format for any devices.
Convert H.265/HEVC to H.264
Comments
Prompt: you need to log in before you can comment.
No account yet. Please click here to register.