By chesterUpdated on December 16, 2022
---
Summary
Do you want to know how to watch iTunes movies on TV? Looking for a way to stream iTunes movies without worrying about the rental expiration date? In this article, we will share the best 6 ways to watch iTunes movies on TV.
"I have rent some movies from iTunes, I want to watch them on my Samsung TV, but I can't find the Apple TV app in there, how can I watch iTunes movies on TV?"
Watching movies on TV at home is always the best way to have amazing experience on image and sound, especially when you have the HD TV sets and decent speaker, it will be totally your home theater. iTunes movies is one of the best online movie stores in the world, you can preview, buy or rent movies in up to 1080p on iTunes. for those people have downloaded or purchased a lot of movies from iTunes Store, you might want to know how to watch iTunes movies on your Smart HDTV, but you have no idea of how to do it.
For this issue, people would ask some of the questions like:
Can I watch iTunes movies on my TV?
Can I connect my iTunes to my Smart TV?
Can I watch iTunes movies on my Xbox one?
How do you stream movies from iPhone to TV iTunes?
Before we go through the solutions to watch iTunes movies on TV, we want you to know why you can only access iTunes movies in Apple's devices. Because iTunes movies are DRM protected by Apple's FairPlay, so watching iTunes movies on TV won't be easy. In the following parts, we will introduce the best 6 ways to watch iTunes movies on TV freely. Please do not miss this post and find out what the solutions are.
CONTENTS
Part 1. How to Watch iTunes Movies on TV via Apple TV
The easiest way to watch iTunes M4V movies on TV is using Apple TV. If you already have an Apple TV, no matter you want to watch a purchased movie from iTunes or exclusive contents from other streaming app, you can just easily launch Apple TV and access iTunes store to find your favourite iTunes movies or TV shows, and watch them on your smart HDTV.
How to Watch iTunes Movies on TV Using Apple TV? Please follow the guides on how to play iTunes movies on TV with Apple TV.
Few Things You Need:
A Smart TV
Apple TV set-top box (Apple TV 4K or Apple TV HD)
A connecting cable
Stable Internet connection
Please note that only the Apple TV 2nd and 3rd generations with Apple TV app version of 5.0 or later are able to purchase and watch iTunes movies directly on the device.
Step 1. Launch Apple TV and make sure the Internet connection is turned on.
Step 2. Swipe to Movies and browse to pick a movie to watch.
Step 3. Your selected movie will be displayed on a new screen,
On a new screen that displays the movie that you've selected, you can now choose either Buy or Rent to confirm your purchase or rentals. If the movie is available to watch on an specific channel or app, you can directly choose Play and start watching it on your Smart TV.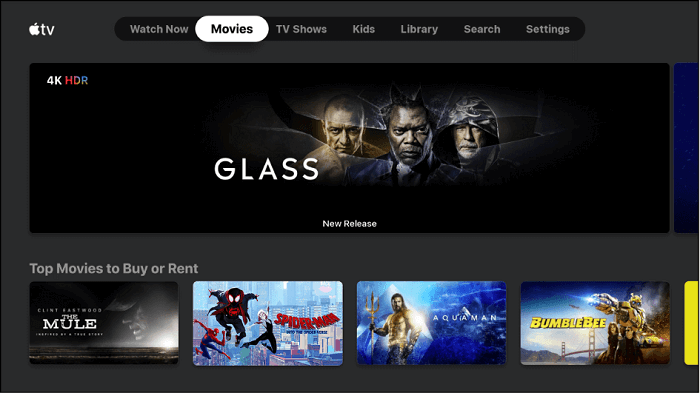 Part 2. How to Watch iTunes Movies on TV via USB Drive
If you don't have the Apple TV box, but still want to watch iTunes movies on your Smart TV, using a USB drive is the best method for you. In here, you will need a professional iTunes DRM removal tool, as we all know that iTunes movies are not able to be streamed directly on other non-Apple devices since the DRM-protection, and you can not access the iTunes store app to watch movies on other non-Apple devices.
In this case, we highly recommend UkeySoft M4V Converter, which is a professional tool to help you remove DRM from all iTunes movies and TV shows, then you can convert iTunes Movies, TV Shows and Music video to MP4 in 30X faster speed, so that you are able to transfer the converted iTunes movies to a USB drive and watch the DRM-free iTunes movies on your Smart TVs, such as Vizio Smart TV, Panasonic Viera Smart TV, Sony Smart TV, Samsung Smart TV and Sharp TV, etc. without restrictions. In addition, the program has capability of retaining the original subtitles, audio tracks, AC3 5.1 surround sound and converted HD resolution of MP4 video.
Key Features of UkeySoft M4V Converter
Remove DRM from iTunes movies, TV shows and music videos.
Convert iTunes M4V to MP4.
Retain subtitles & all audio track subtitles including AC3 Dolby 5.1, Audio Descriptions.
Supports batch conversion & 30X faster conversion speed.
Output 1080P HD with 100% original quality.
Guides: How to Convert iTunes M4V to MP4
Step 1. Launch UkeySoft M4V Converter
First of all, download and install the laest version of the program on your computer. Once you launch UkeySoft M4V Converter, iTunes will be launched as well.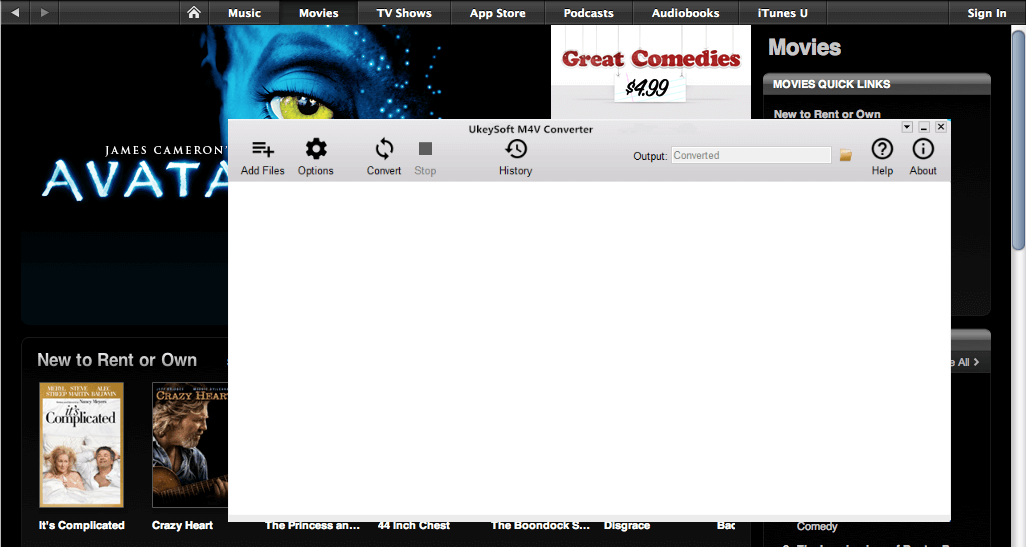 Note that you need to update iTunes to the latest version.
Step 2. Import iTunes M4V Videos
Click on the "Add Files" > "Add" button to import iTunes M4V videos that you wan to convert to MP4. Or you can directly drag the iTunes movies and TV shows from your iTunes media folder to the converter. This software supports batch conversion, so you can import all the video files you need at once.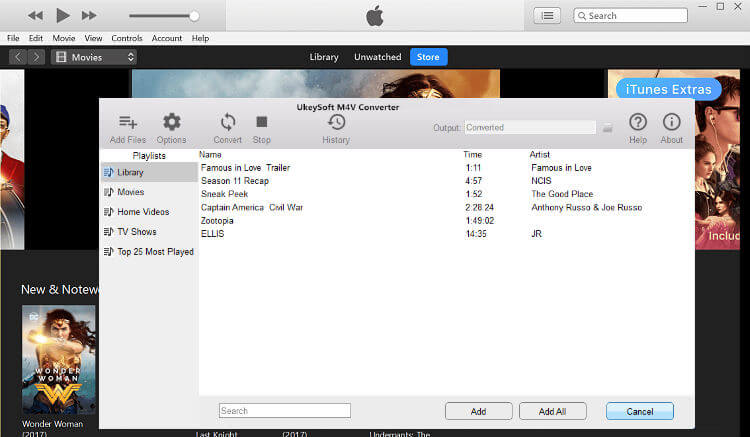 After adding the iTunes rented and purchased movies, TV shows and music videos to the program, you can see as below: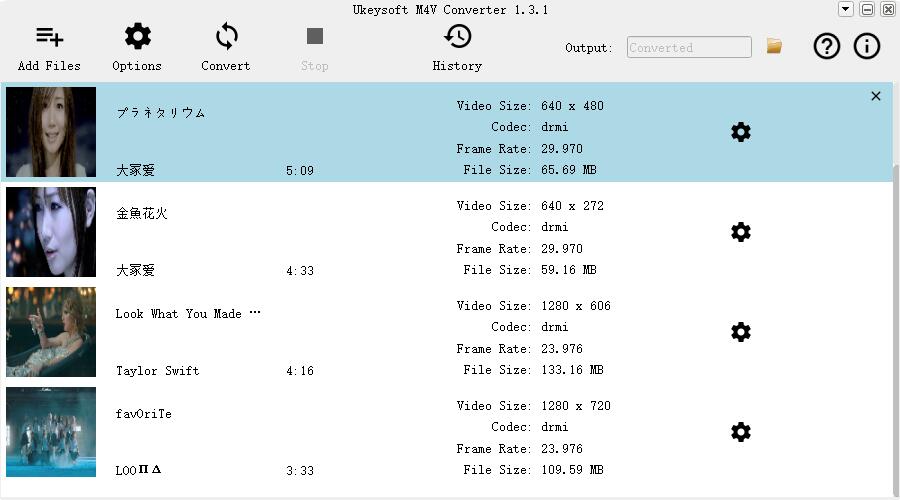 Step 3. Select Audio Track and Subtitle
Before you start converting, you can select the output audio tracks and subtitles as you want by click the 'gear' icon.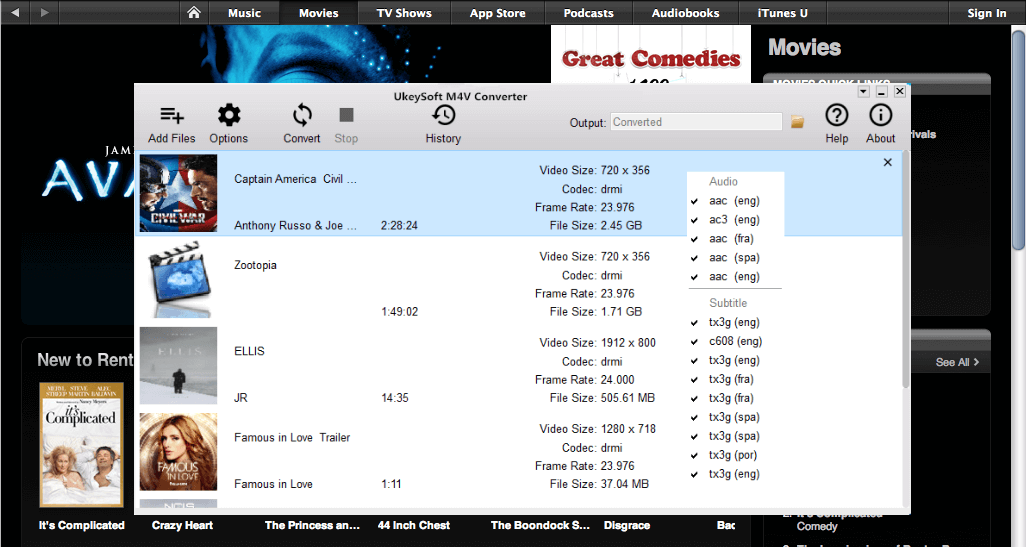 Step 4. Start Converting iTunes M4V Videos to MP4
When you done all the output customization, click on "Convert" button to start converting the DRM-protected iTunes M4V movies or TV shows to MP4 files at 30X conversion speed. The output MP4 files will retain 1080p HD quality, AD & AC3 Dolby 5.1 audio, multi-language subtitles and audio tracks.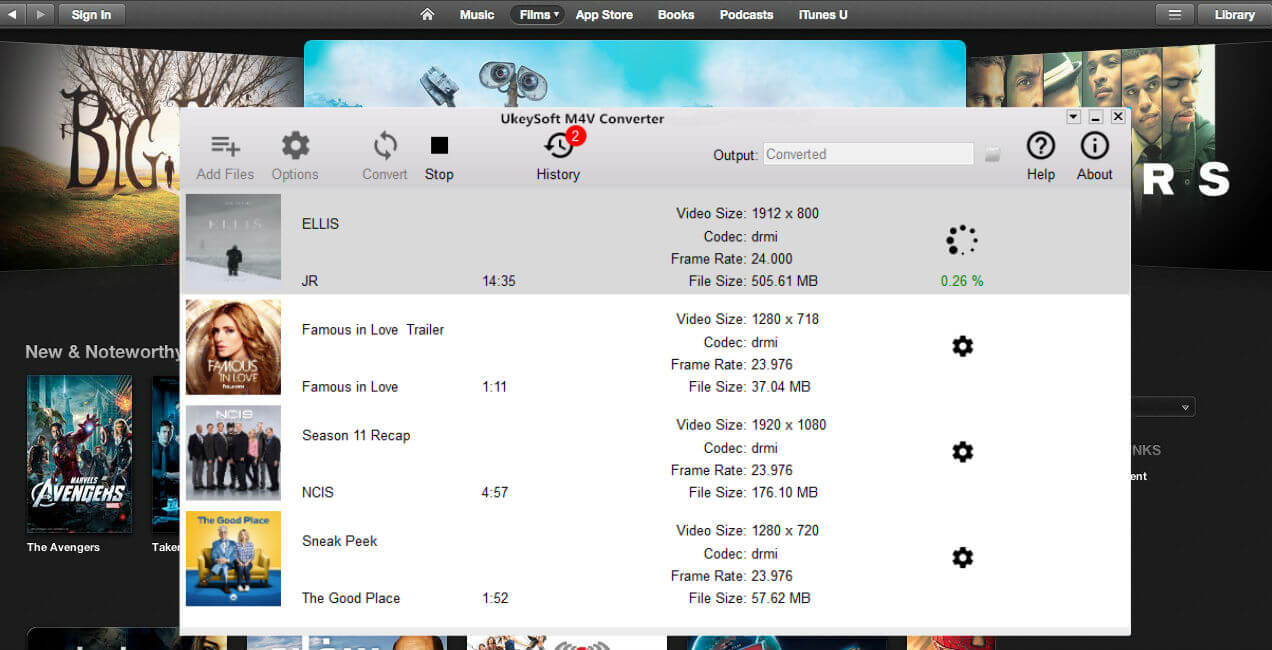 When the program finishes converting the video, just go directly to the "History" tab to find the converted file.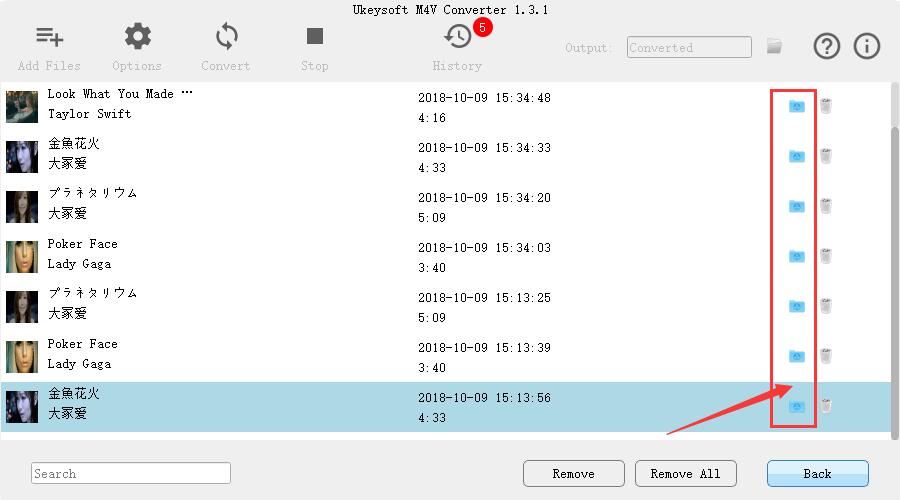 Step 5. Get DRM-free iTunes Movies
After conversion completed, you can get DRM-free iTunes movies in MP4 format, and you can transfer the MP4 files to USB drive and watch them on any Smart TV via USB drive offline without any restrictions.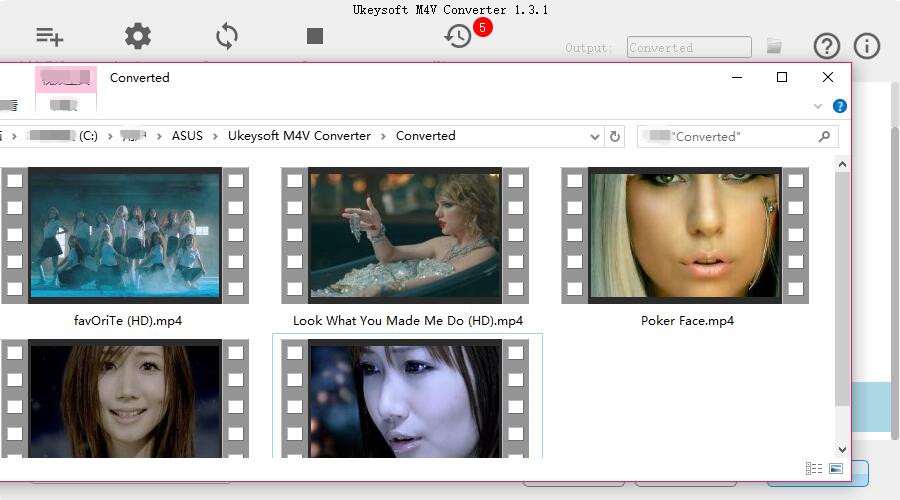 Part 3. Watch iTunes Movies on TV Supported the Apple TV App
There are many Smart TVs not that supports the Apple TV app. It means that you can purchase a iTunes movie on your iPhone and watch it on your Apple TV app supported smart TVs directly, you will also be able to access your existing iTunes library and play iTunes movies without an Apple TV box.
The Apple TV app is now available on many big brands of Smart TV, such as Samsung Smart, Roku, Amazon Fire TV and LG. But not with all models, you have to check whether your Smart TV models supports the Apple TV app.
It can be very convenient to watch iTunes movies on Smart TV with a built-in Apple TV app, here are the simple steps.
Step 1. Open iTunes Movies on Apple TV.
Step 2. In the menu bar, you can find categories in Purchased, Top Movies, Wish List/Favorites, Genres, Recommended and Search.
Step 3. Select a movie title to see detailed information. You can watch the preview first to decide whether to buy or rent the movie.
Step 4. After you buy or rent a movie from the iTunes Store, the movie will be played in high quality on your Smart TV, including HD and 4K.
Part 4. Watch iTunes Movies on TV via Computer
On Windows
If you want to watch iTunes movie on Smart TV via a computer, you need to prepare a HDMI cable. Connect your computer to TV by plugging the HDMI cable, then what displays on your computer will be displayed on your Smart TV as well. Now you can start playing iTunes movie on your computer.
On Mac
If you are using a Mac computer, this will become much more easier. You can use AirPlay directly to watch iTunes movies on your Smart TV. All you need to do is connect your Mac computer and your Smart TV to the same WiFi, then the TV and your Mac computer will be pared automatically. Now you can start a iTunes movies on your Mac computer, then the iTunes movie will be played as well on your Smart TV at the same time.
Part 5. Watch iTunes Movies on TV from iPhone, iPad
In this method, you have two options to watch iTunes movies on your Smart TV from iPhone or iPad. The first one is to use Airplay, and the other option is connecting iPhone or iPad to your Smart TV directly with adapter cable.
Using AirPlay
When you start watching movie on iPhone or iPad, you can tap the AirPlay button on the setting section of the video controls, then find your Smart TV device and tap to connect it.
Using AV adapter cable
You can buy an AV adapter cable from the store and simply connect your iPhone or iPad to your Smart TV, then the Smart TV will play what your iPad is currently playing.
Part 6. How to Watch iTunes Movies on TV via DVD Player
If you want to use your DVD player to play iTunes movies, you need to burn your iTunes movie to a DVD first. In here you also need help of UkeySoft M4V Converter to remove DRM from iTunes movies, and convert iTunes M4V file to MP4, so you can easily import the iTunes files to DVD burning software. You can refer to part 2 of how to convert M4V to MP4. You can also check out the tutorial of how to Burn iTunes Videos and Movies to DVD below.
Relative article: https://www.ukeysoft.com/itunes/burn-itunes-videos-to-dvd.html
Conclusion
As you can see the solutions above, solution 1 and 3 are the easiest way to watch iTunes movies on TV with Apple TV app, as long as you have the $150 Apple TV box and with a good internet connection. Solution 4 and 5 would be the most straightforward way to play iTunes movies on TV. Solution 2 and 6 would be a little bit complicated, but with the help of UkeySoft M4K Converter, you can download iTunes movies in MP4 on your computer, you can watch them on any TV at anytime you want. You do not have to worry about the expiration of the rental movie from iTunes, you can keep them forever on your computer or other devices.
Best 6 Ways to Watch itunes Movies on TV
Comments
Prompt: you need to log in before you can comment.
No account yet. Please click here to register.