By Justin SabrinaUpdated on September 02, 2021
---

[Summary]:If you don't know CD/DVD Drives how to hide in Windows computer? Follow this guide, you will learn a simple way to hide CD/DVD drives in Windows 10, Windows 8, Windows 7, vista, and Windows XP.
"I was looking for a method to hide my CD/DVD drives, my son often install some games on my computer, he install games via CD, I want to hide the CD/DVD drive, any way to make my CD/DVD drives was disappear? In additional, there so many personal information on my computer, how to keep my information away from prying eyes? Thank you for help"
If you don't want to let others install their software onto our own computer, or use the CD-ROM drive to play computer games, the best way to prevent others from using your CD/DVD drives is hiding the CD/DVD drive.
For some reason, people need to hide files, folders, drivers, CD-ROMs on their PC. So if you looking for a way to hide your CD/DVD Drives, Window does have a good way to remove your CD/DVD Drivers. By editing the registry or removing the CD-ROM Drives from the system, you will search for these methods in Google search, but these methods are criticized, generally, when you want to reinstall the CD/DVD Drivers, you can't find a good way. In summary, for a user who is not computer savvy, use a simple CD/DVD Hider software to hide the CD/DVD drives instead of deleting the CD/DVD Drives in the window editor.
UkeySoft File Lock is a profession data encryption program to lock your files, folders and disk drives in Windows 10, Windows 8, Windows 7, vista, and Windows XP, you can use this file lock software to lock files/folders/drives, hide files/folders/drives and protect files/folders/drives, etc.
Other Key Features of UkeySoft File Lock:
- Lock with the latest 128-bit symmetric key - used for AES (Advanced Encryption Standard) ;
- Hide your Files/Folders/Drives nobody knows the hidden files even under Windows Safe Mode;
- Make your Files/Folders/Drives nobody can modify, delete (even shift delete), or rename the protected files/folder without password;
- Hide and password protect your private pictures, office, videos and company documents.
More functions wait for you download UkeySoft File Lock to experience, now follow the simple tutorial to hide your CD/DVD drives that make them invisible to others.
Tutorial: How to Hide CD/DVD Drives
Step 1.Install UkeySoft File Lock Program
Firstly, download the installation package from UkeySoft website and install it. When finish the installation, you need to type initial password "123456" to free run and gain into the program interface.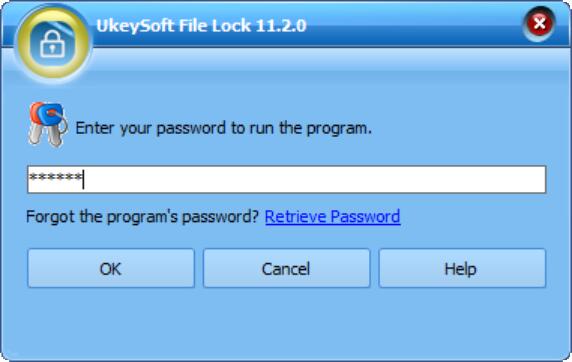 Step 2.Select "Hiding File"Option
Please click "Local Disk" option and you will see four main function: "Hiding File", "Locking Folder", "Protecting Drive" and "Folder Monitor", please click "Hiding File" to hide your CD/DVD drive.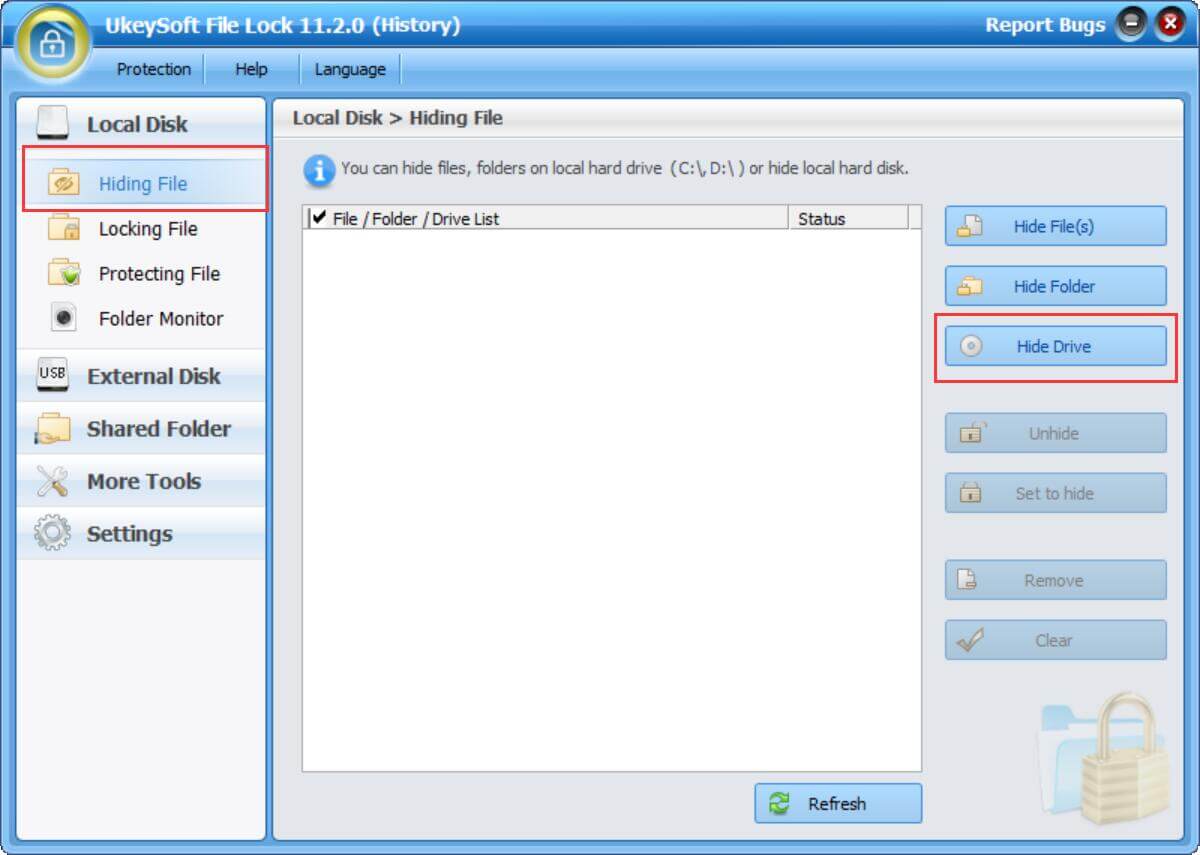 Step 3. Choose Local Disk to Hide
In this file hiding interface, please click "Hide Drive" button, the program will pop up an new windows, please choose CD/DVD Drives which you want to hide.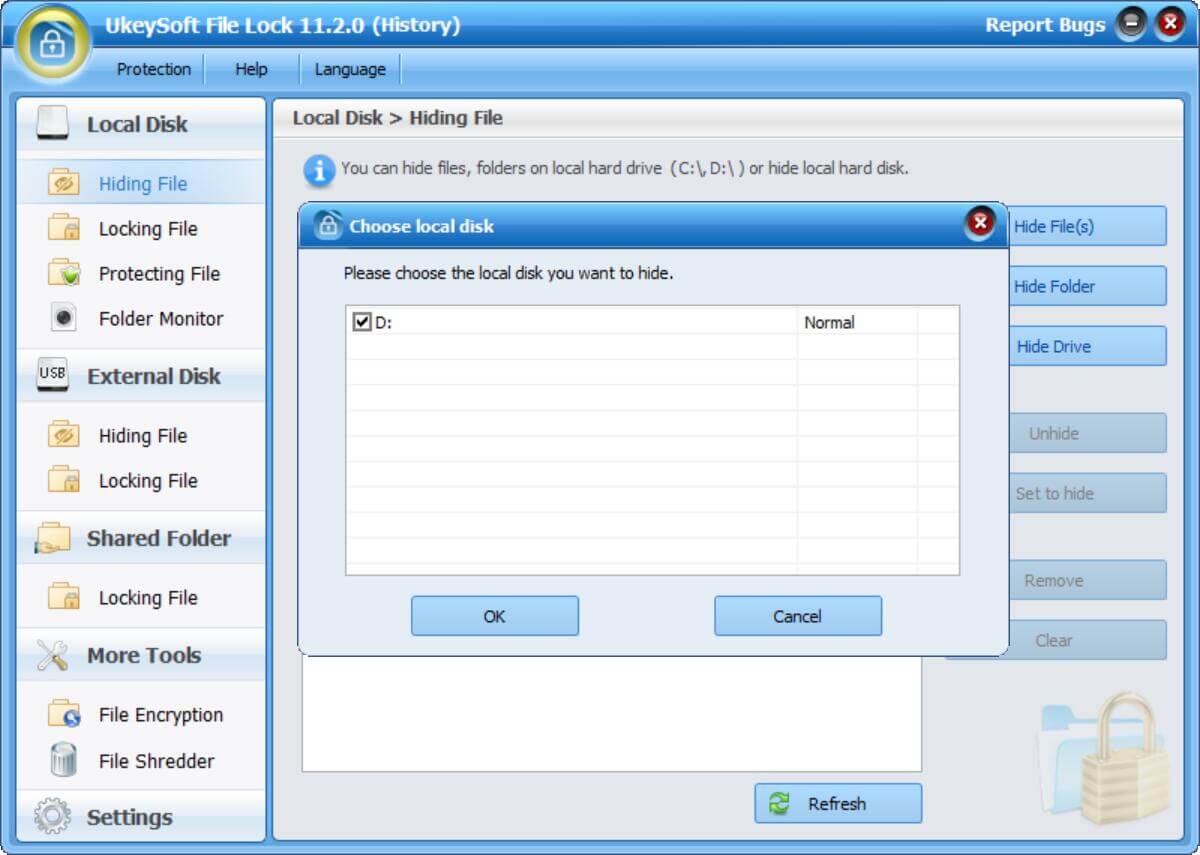 When completes selecting CD/DVD drives to hide, just click on the "OK" button to hide them. You can see the CD/DVD drive is disappear.

Above is a completely guide on how to hide the CD/DVD Drives in Windows computer. According to the instructions, you can set a password to protect your files, folders and disk drives with UkeySoft File Lock program. In additional, you can also encrypted your SD card, USB flash drive, external USB drive, thumb drive, USB memory stick, memory card and pen drive, it allows you install the program on protable drive to create a portable self-executable Locker in drive, so if you want to access data in it, you must to type the correct password.
If you use Mac computer, you can use UkeySoft File Lock for Mac to hide files, folders in macos mojave, macOS 10.10, 10.11 and 10.12 Mac computer.
Comments
Prompt: you need to log in before you can comment.
No account yet. Please click here to register.