By Justin SabrinaUpdated on September 02, 2021
---
Summary
Need to keep the file or Windows folder private? We post this article to teach you how to hide a file or folder using Ukeysoft File Locker.
Maybe you are about to share a computer with others, but you refuse to share some private files with them, or you don't want the file to appear in search results, then you may want to hide some files and folders to avoid being exposed to others. Maybe because of your work computer, you are worried that your system administrator may access your files remotely.
Hide Your Files from Prying Eyes
The reasons of hiding a file or folder are various. So, how to hide files or folders on your Mac/Windows? If you want to make some files or folders disappear from sight, you can hide files and folders on your Mac. This won't encrypt the files, but it will make them invisible while browsing in Finder. By continuing to read this guide, you will find how easy it is to hide a secret file and be 100% safe with the help of Ukeysoft File Locker.
Ukeysoft File Locker works perfectly to protect files/folders on your local computer. What you need to know is that it doesn't change protected files and folders, it doesn't slow down the system, and it never breaks your data. With its excellent features, users will not be able to open, read, modify, delete, move, copy locked files/folders or even see it. Hidden files/folders are completely invisible to all users and any programs. Here's a quick look at the realm of the software:
Hide files, Hide folders:
You can hide your private files and folders (private and sensitive photos/videos, important documents), to make them completely invisible to users and programs.
Lock the file, lock the folder:
Locked files/folders are not accessible, users cannot open, read, modify, move, delete, copy, rename protected files/folders. Note that the files and subfolders in the locked folder are also protected.
Password protected This Program
Once you set a password, no one can launch the application or uninstall the software without the correct password.
Works well with Windows 10/8/7/Vista/XP/ 2000, Mac for macOS 10.5 or above (macOS High Sierra).
Simple Guide to Hide A File or Folder on Mac/Windows
Step 1. Launch Ukeysoft File Locker
The easiest way to keep content hidden is using Ukeysoft File Locker. Firstly, free download and install the software on your computer. Launch it and enter the initial password – 123456 and click "OK" button.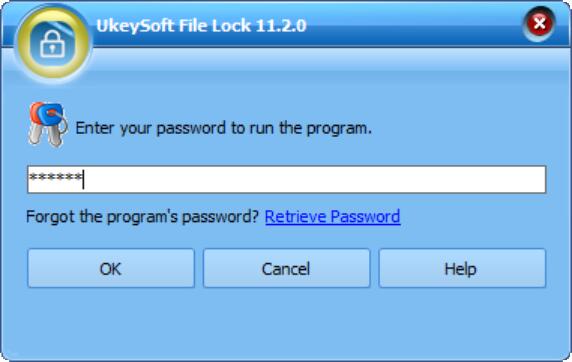 Then, you will gain the main interface shown as below.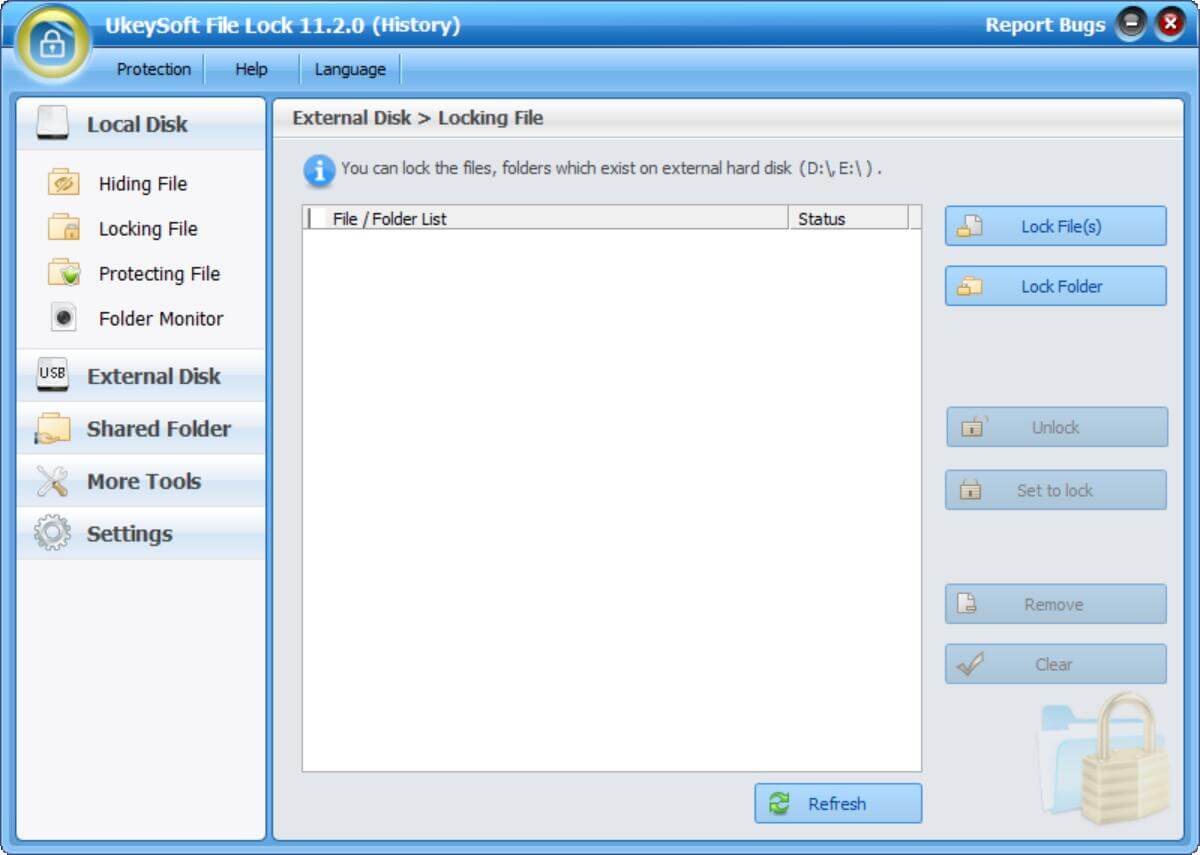 Step 2. Locate the Hide File Mode
Now, locate the "Local Disk" and then you can see the "Hiding File" or "Hiding Folders" function in the first option. Select it and you will its three hidden features, namely as Hide File(s), Hide Folder and Hide Drive.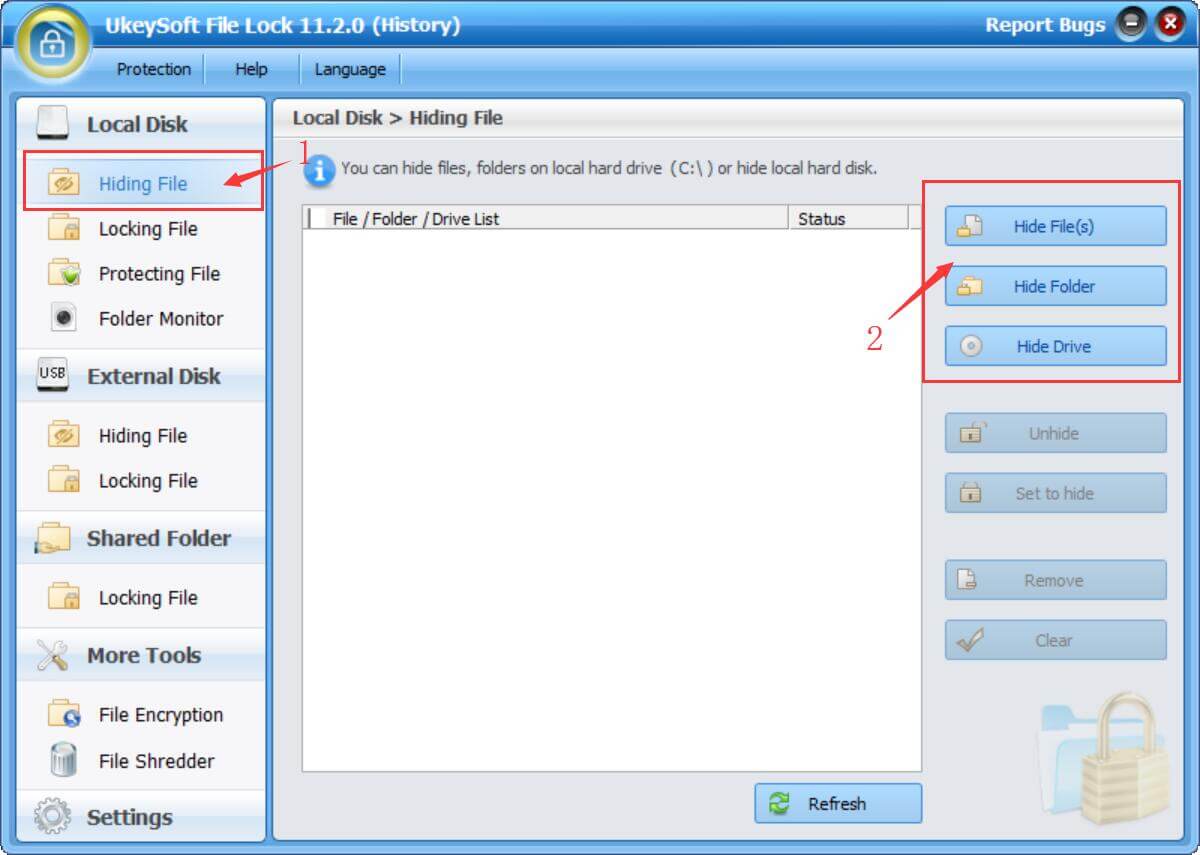 Step 3. Hide File(s) and Folder(s) from Computer
Hiding your content is a simple click. Simply click on the "Hide File(s)" button to add your files or click on the "Hide Folder(s)" button to add your folder from your Windows computer.
Add file or files to hide on Windows computer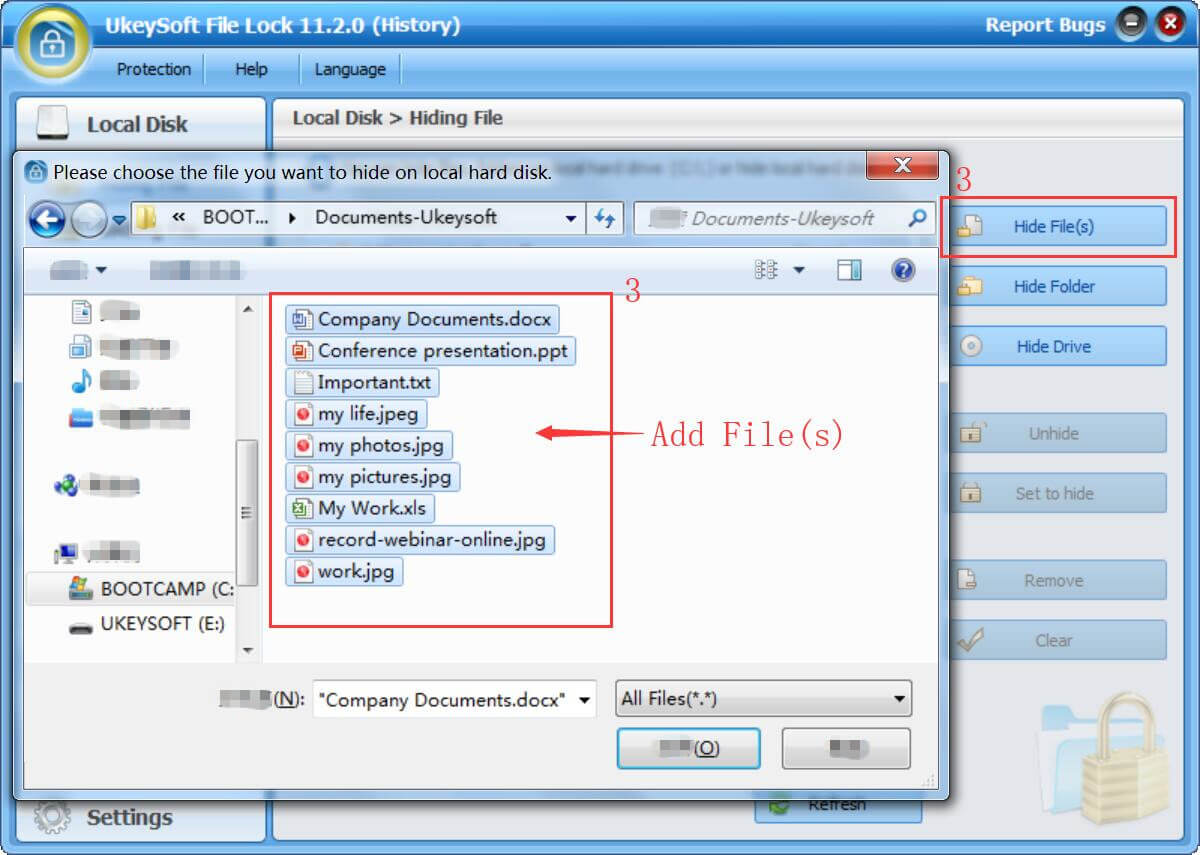 Add folders or folders to hide on Windows computer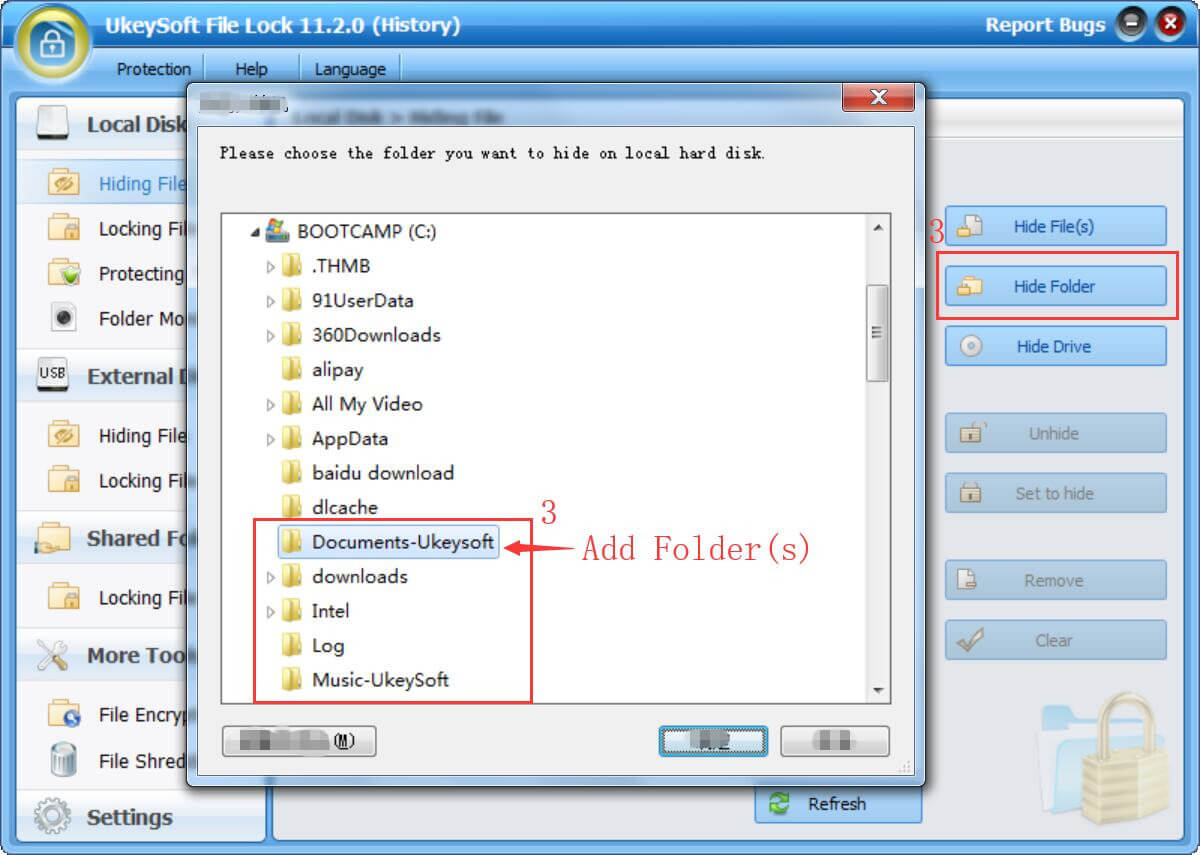 Step 4. Files and Folders is Hided
After that, all seletd files/folders added to the lists, you will find that the file or folder you selected has become invisible. No one can see this content on your computer. Done!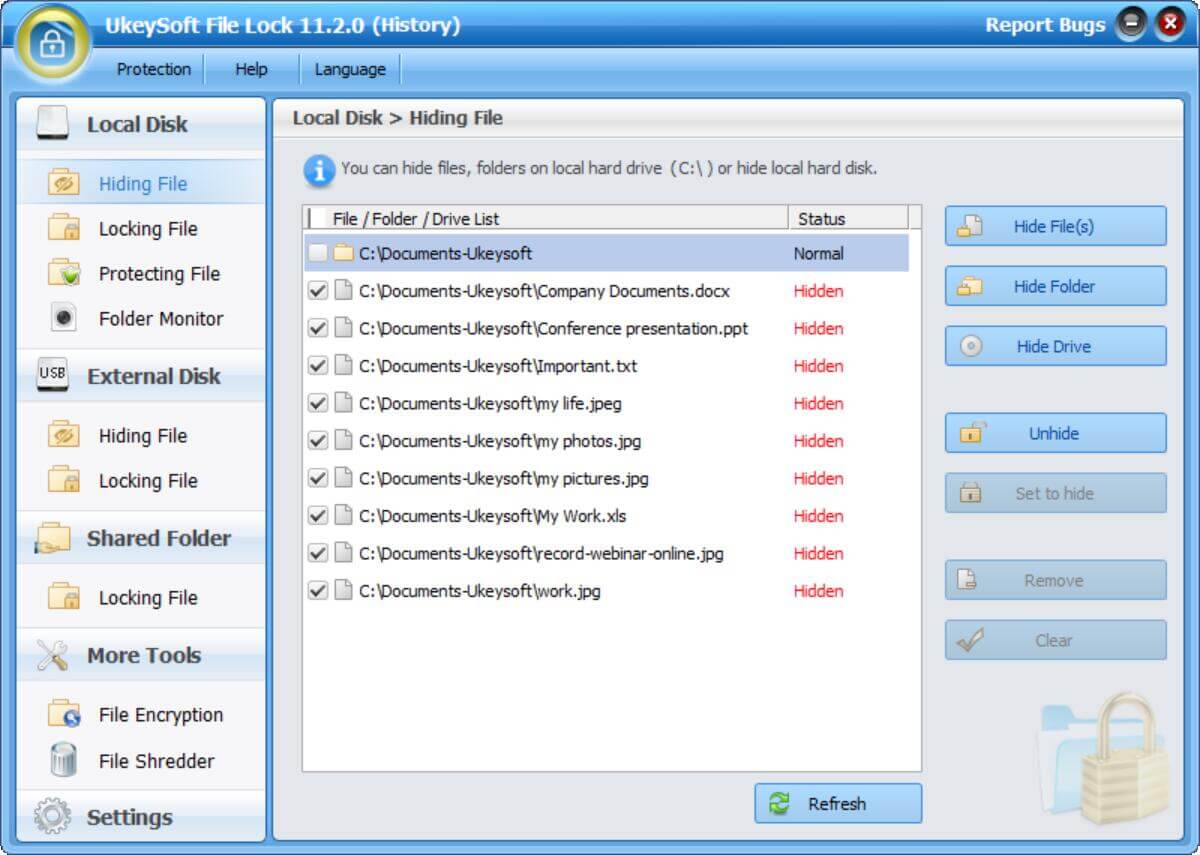 Step 5. Show Hidden Files and Folders
By the way, if you want to make hidden files visible, you just need to select the file and click on the "Unhide" function key, and these files will reappear on your computer.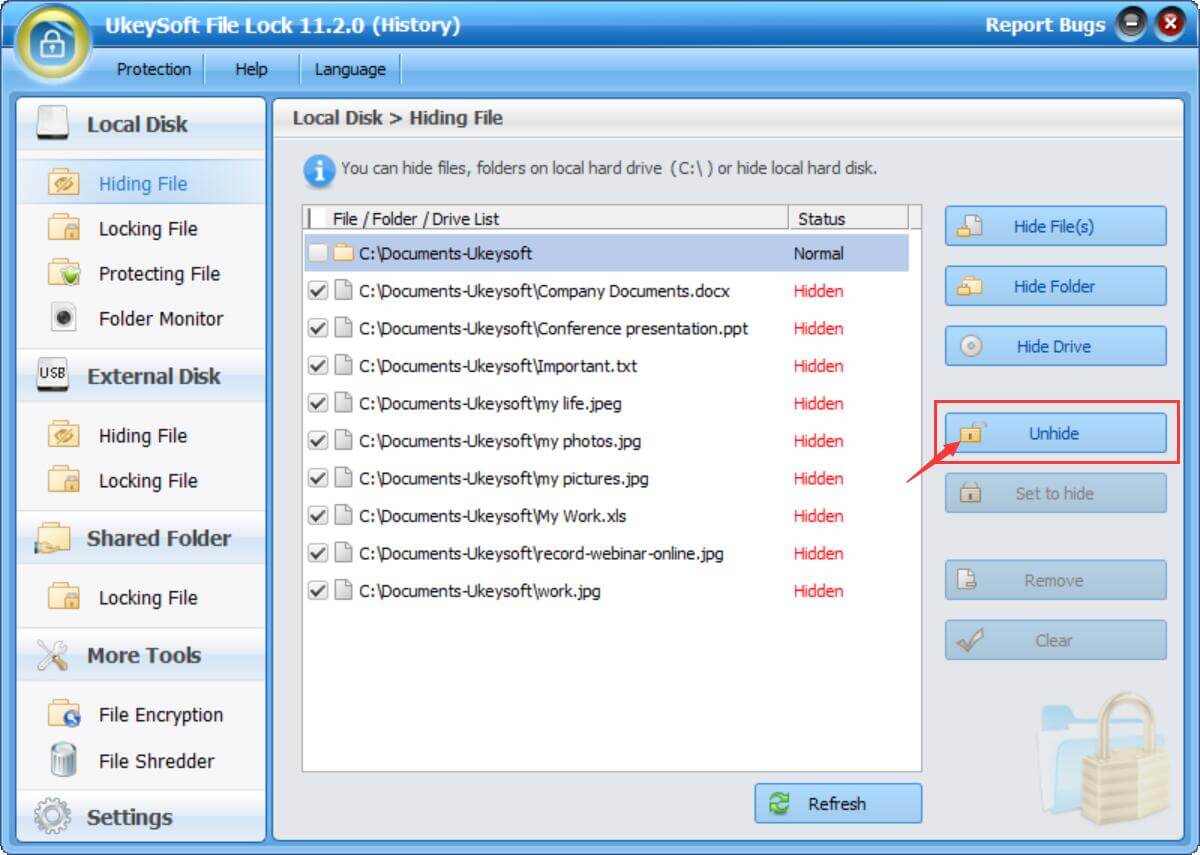 We provide a free trial version of UkeySoft File Lock, you can download and try it, the initial password is 123456, if you find it useful, please pay the official version, you can set your password at any time.
Comments
Prompt: you need to log in before you can comment.
No account yet. Please click here to register.