By Justin SabrinaUpdated on December 16, 2022
---
Summary
Want to hide drive on computer? This page will teach you an effective method to hide disk drives in Windows 11, Windows 10, Windows 8, Windows 7, vista, and Windows XP, you can also hid files and folders on Windows or Mac computer.
Nowadays people are paying more and more attention to privacy, and even spread to the legal level.This shows that privacy has become a spiritual need of people. Similarly, with the popularity of personal computers, people store photos, audio, video and important files on computer drivers. For some reason, maybe you don't want people to access your files. Or maybe it's a day when a colleague needs to borrow your computer for his work, maybe it's a friend and a child to play with your computer by a visit time, and so on. If someone touch your privacy or delete your important data, these are very unpleasant results. Therefore, in order to avoid the embarrassment that occurs in the future, you better hide or encryption disk drive. There are three methods to hide disk drive:
Method 1. Window Microsoft company's own hidden files/drives method
Method 2. Using a professional file encryption software
Method 3. Using a professional file/drives hiding software
The method 1 is simple but not safe, and the solution 2&3 is the best way to password protect files, folders on local disk drive and hide disk drives easily, because professional encryption software is generally compiled by advanced computer language, cumbersome encryption code, it takes a lot of time to destroy such a program, so it has a very high degree of protection.
For theses reasons, I would advice you should hide or password protect your disk drives if there are full of sensitive information in your computer, I would rather hide the drive from My Windows Computer,this article provides disk drives hidden solution in windows 10, 8, 7,vista, and XP.
UkeySoft File Lock and UkeySoft File Lock for Mac, both can help you encrypt and hide files, folders and hard drives with strong 256-bit algorithm, this program has embed the latest 128-bit symmetric key, used for AES (Advanced Encryption Standard) is computationally secure against brute-force attack. Its security key never be broken and doesn't appear to impact your computer performance. Safe and fast, never damage to your data and collect your personal data. Just start hiding your files, folders and disk drives with UkeySoft File Lock for Windows 10, win8, win7, vista, and Windows X.
Free download the UkeySoft File Lock program and flow the tutorial blew to hide disk drives in Windows 10.
Simple Steps to Hide Disk Drives with UkeySoft File Lock
Step 1. Download and Launch UkeySoft File Lock on PC
First of all, download the UkeySoft File Lock and install the program on your Windows computer. After launching the program, you will need to type the initial password "123456" to gain into program interface.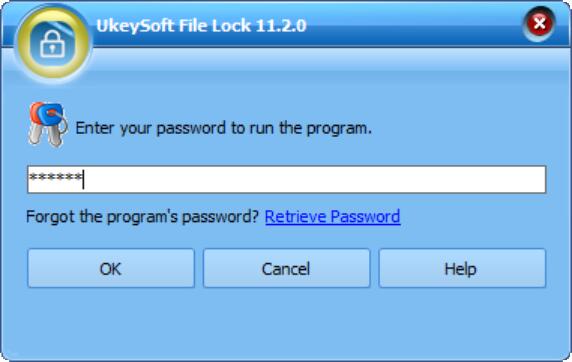 After launching the program in Windows computer, then clicking "Hiding File" feature under "Local Disk" option.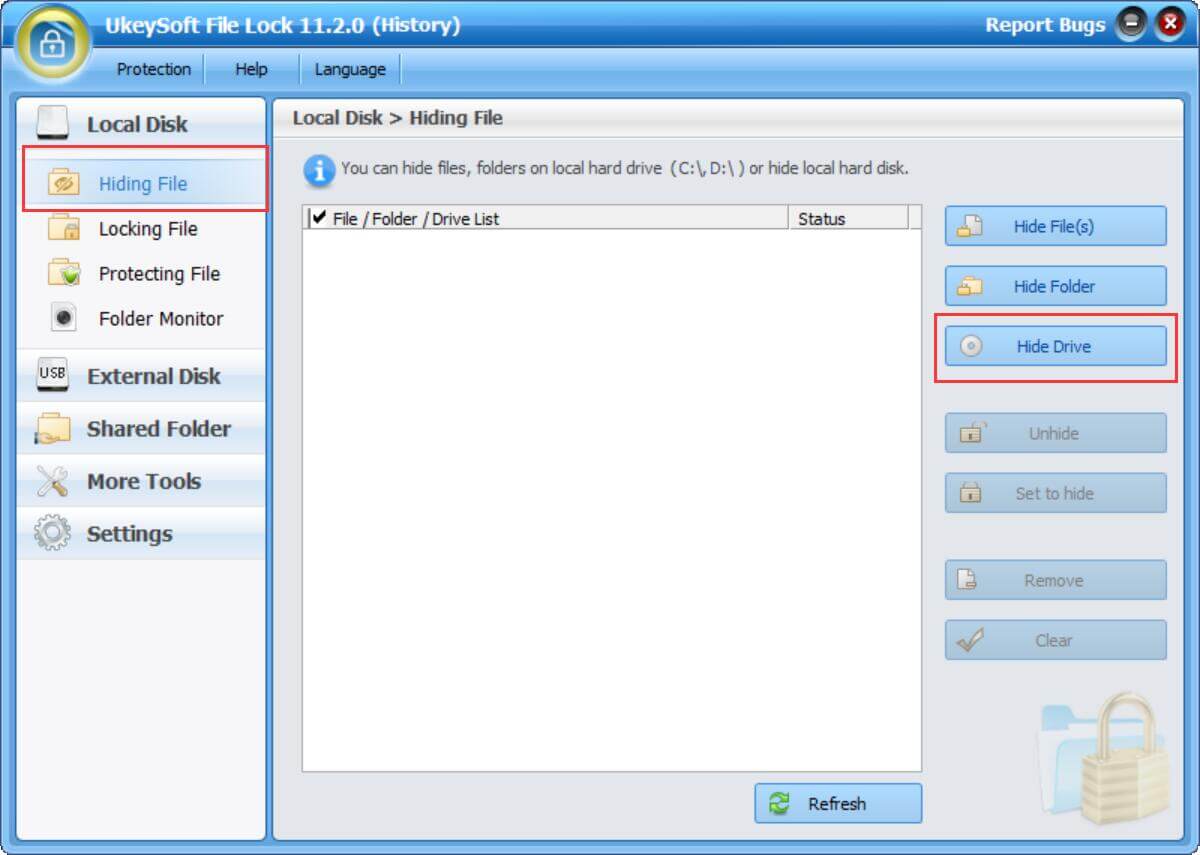 Step 2. Click "Hide Drive"
Click "Hide Drive" button and select drives which you want to hide. The program also can help you hide or password protect files/folders on computer, if you want to hide folder/file or set a password to protect your data in disk drive.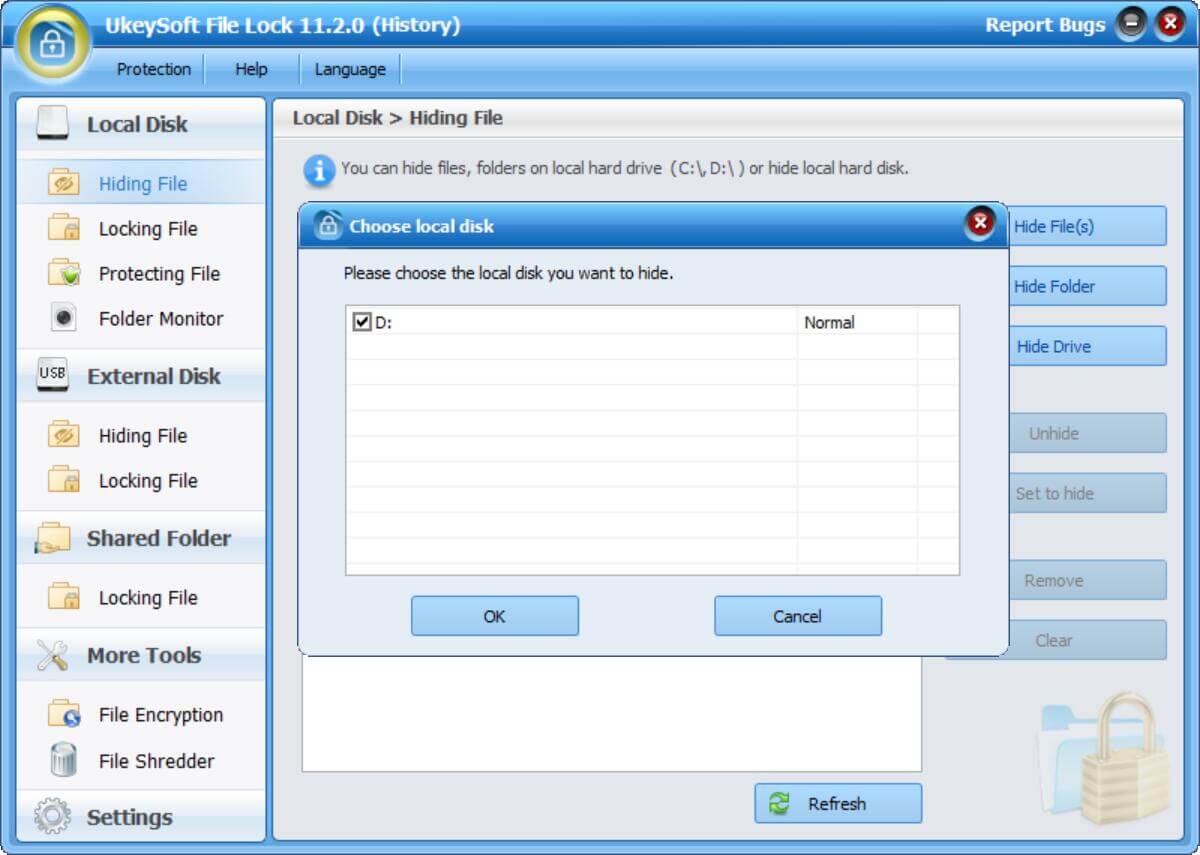 Step 3. Show Hidden Disk Drives
If you don't want to hide the Files/Folders/Drives, please select it click the "unhide" button to show your hidden Files/Folders/Drives.
Comments
Prompt: you need to log in before you can comment.
No account yet. Please click here to register.