By Justin SabrinaUpdated on September 02, 2021
---
Summary
Guide on how to use UkeySoft M4V to MP4 Converter to free download Apple Music Video to MP4 from iTunes store, so you can offline watching iTunes M4V Music Video on any devices.
"I have subscribed Apple Music, so I can paly Apple Music Video on Apple Music app and on iTunes, I want to download my favorite music video to MP4, how to download Apple Music Video to MP4 for offline playing on MP4 player?"
"I have downloaded lots of music video on iTunes library, how to keep Apple Music Video forever after canceling subscription? Is it possible to download iTunes music video to MP4?"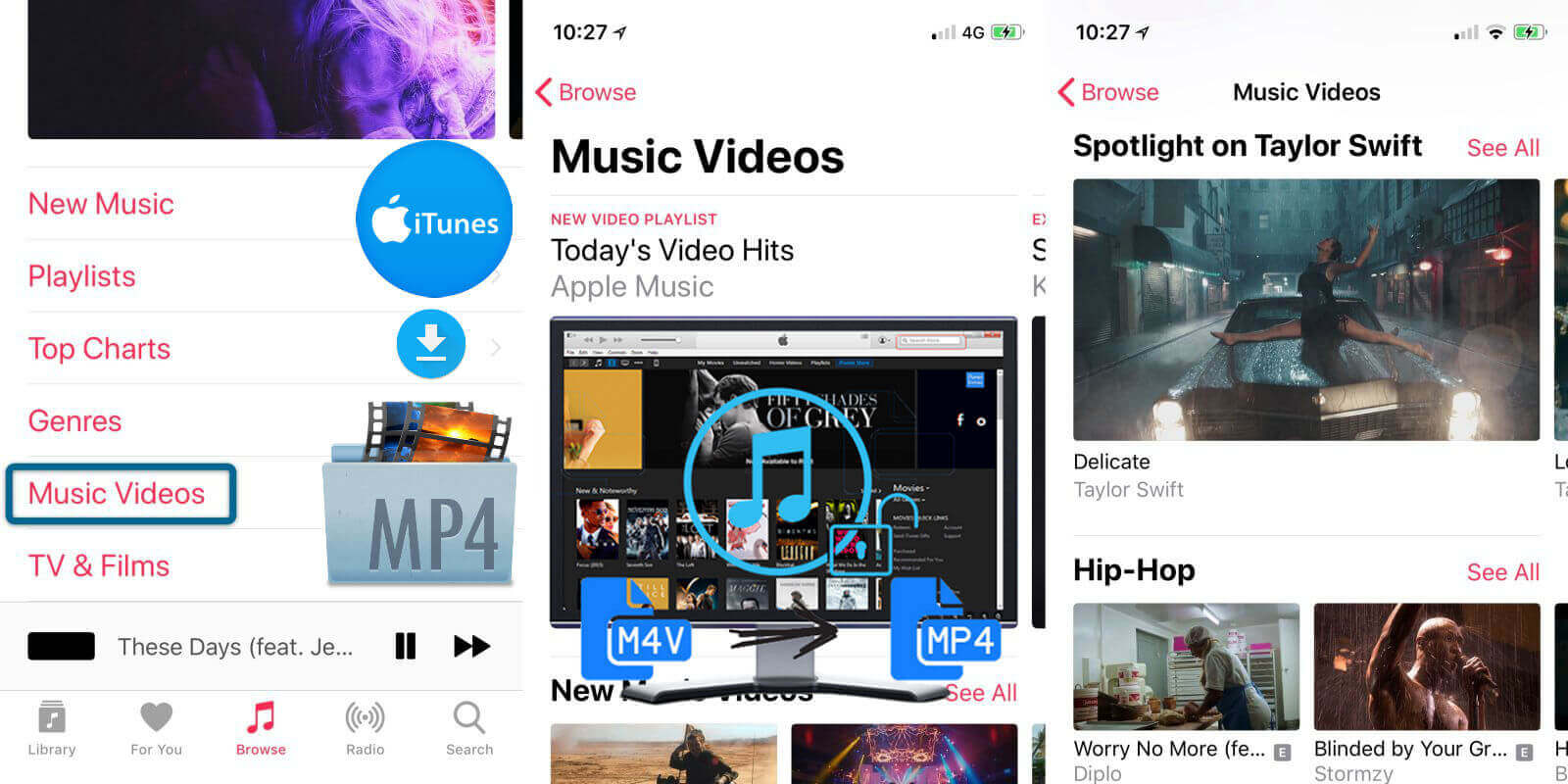 If you're an Apple Music membership, you not only can listening to streaming music, but also can watching music video on iPhone, iPad, iPod Touch, Android, Apple TV via Apple Music app, or playing via iTunes on PC and Mac, you can play them and downloaded offline. If you cancel Apple Music subscription service, those downloaded streaming music and video can't played, because all media files on Apple Music added DRM protection, Apple inc not allow users keep songs and music videos forever after you unsubscribe.
Apple Music and Music Videos Added DRM Protection
Apple Music songs and music video are protected by Apple's Fairplay DRM and you can only play Apple Music songs and music video on limited authorized devices with iTunes or Apple Music app. When you add Apple Music songs to iTunes library, you will find the kind of the songs is Apple Music AAC audio file. The downloaded songs come in m4p format, and the downloaded Music Video come in M4V format, all media contents added DRM protection, which restricts you from listening to downloaded Apple Music tracks and Music Videos after canceling subscription.
To keep your downloaded Apple Music songs and music video forever on your iPhone, iPad, Mac or other devices, you should remove DRM from Apple Music songs and remove DRM from iTunes Music Video. Today, we main teach you how to download iTunes Music Video to DRM-free MP4, after downloading iTunes music video to MP4 video files, you can enjoy your iTunes music videos on any devices without limitation.
People also read:
How to download Apple Music to MP3
How to extract audio from iTunes Music Video
UkeySoft M4V Converter is a wonderful iTunes DRM Removal tool and iTunes M4V to MP4 Converter, which is designed to remove iTunes DRM protection and convert M4V to unprotected MP4 formats. It allows you to convert iTunes M4V movies, TV shows or music videos to MP4 with with 30x speed. What's more, UkeySoft M4V Converter can retain all audio track & subtitles including AC3 Dolby 5.1, Closed Captioning and audio descriptions onto the output MP4 files. So you can not only easily remove DRM from iTunes purchased and rented movies, TV shows and music videos, but also convert the DRM M4V videos to DRM-free MP4 format which is supported by most video players. Let's shows you the detail guide about how to download and convert iTunes music video to MP4 quickly.
Simple Steps to Download and Convert iTunes Music Video to MP4
This guide shows you the best way to download Taylor Swift "Me!" Music Video to MP4 from iTunes store/Apple Music, you can also convert iTunes purchases and rentals to MP4 videos with 100% video quality by our UkeySoft M4V Converter.
Step 1. Download Taylor Swift "Me!" Music Video to iTunes Library
First of all, please launching iTunes application on PC or Mac, then download a music video from iTunes's "Browse" section.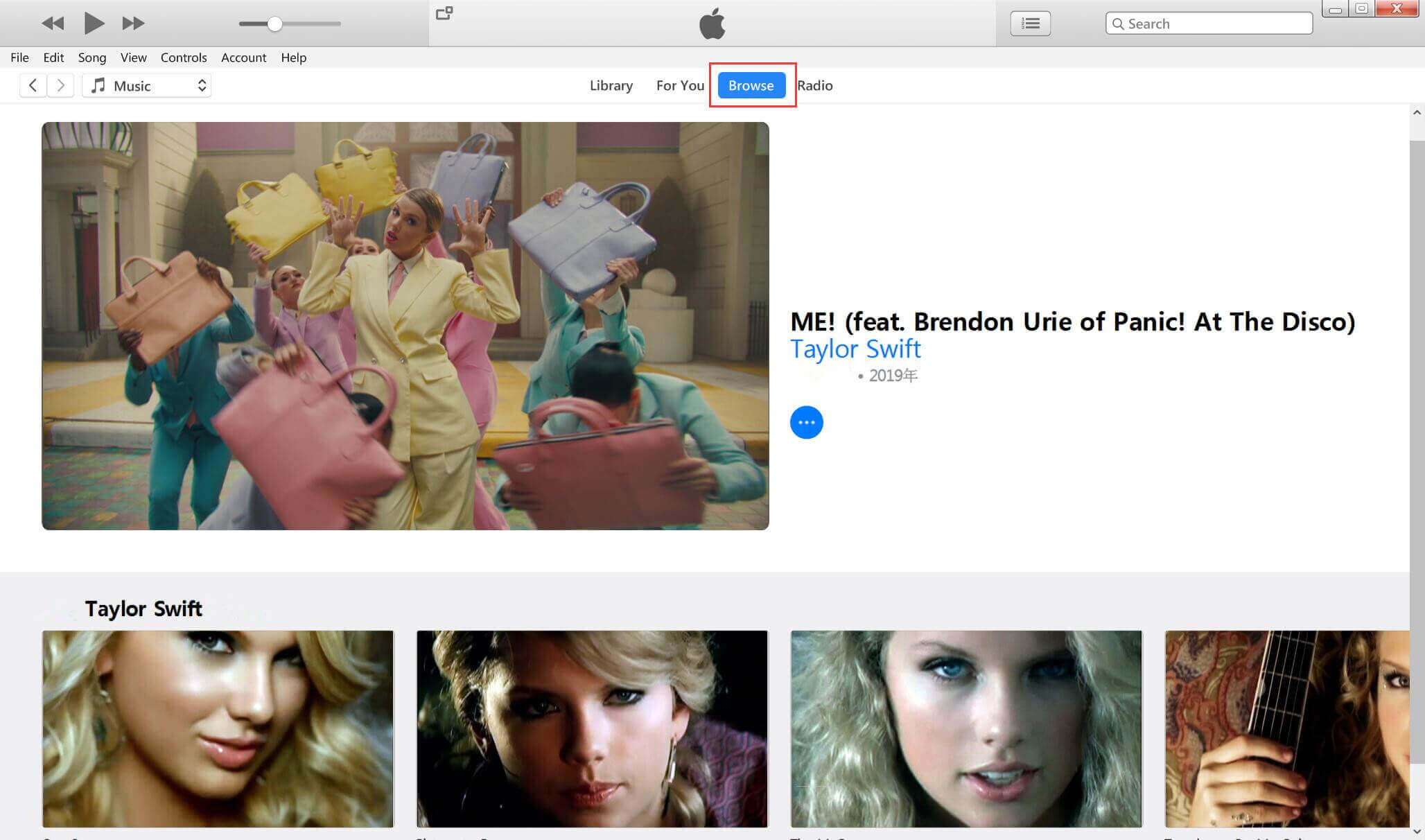 You can also added the music video to iTunes library firstly, then download them by clicking "Download" button, all videos save as DRM-protected M4V format after downloading, then exit the iTunes application.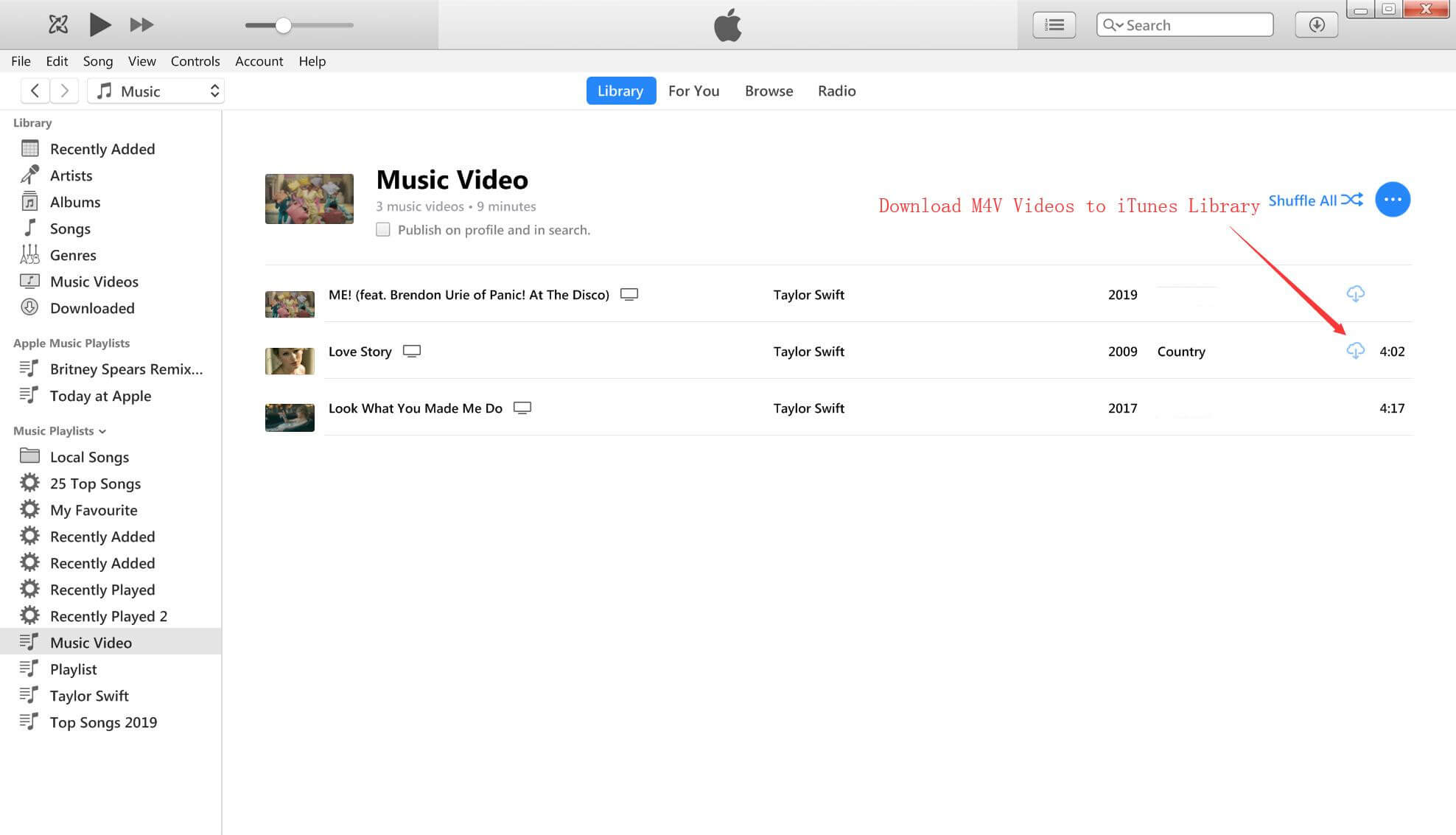 Step 2. Launch UkeySoft M4V Converter and Add Music Video
After downloading music video and exiting the iTunes application, then launching our UkeySoft M4V Converter on PC or Mac, you can see the screenshot as below. Just click "Add" button to loads all iTunes M4V videos, including iTunes movies, TV shows, music videos and other M4V videos.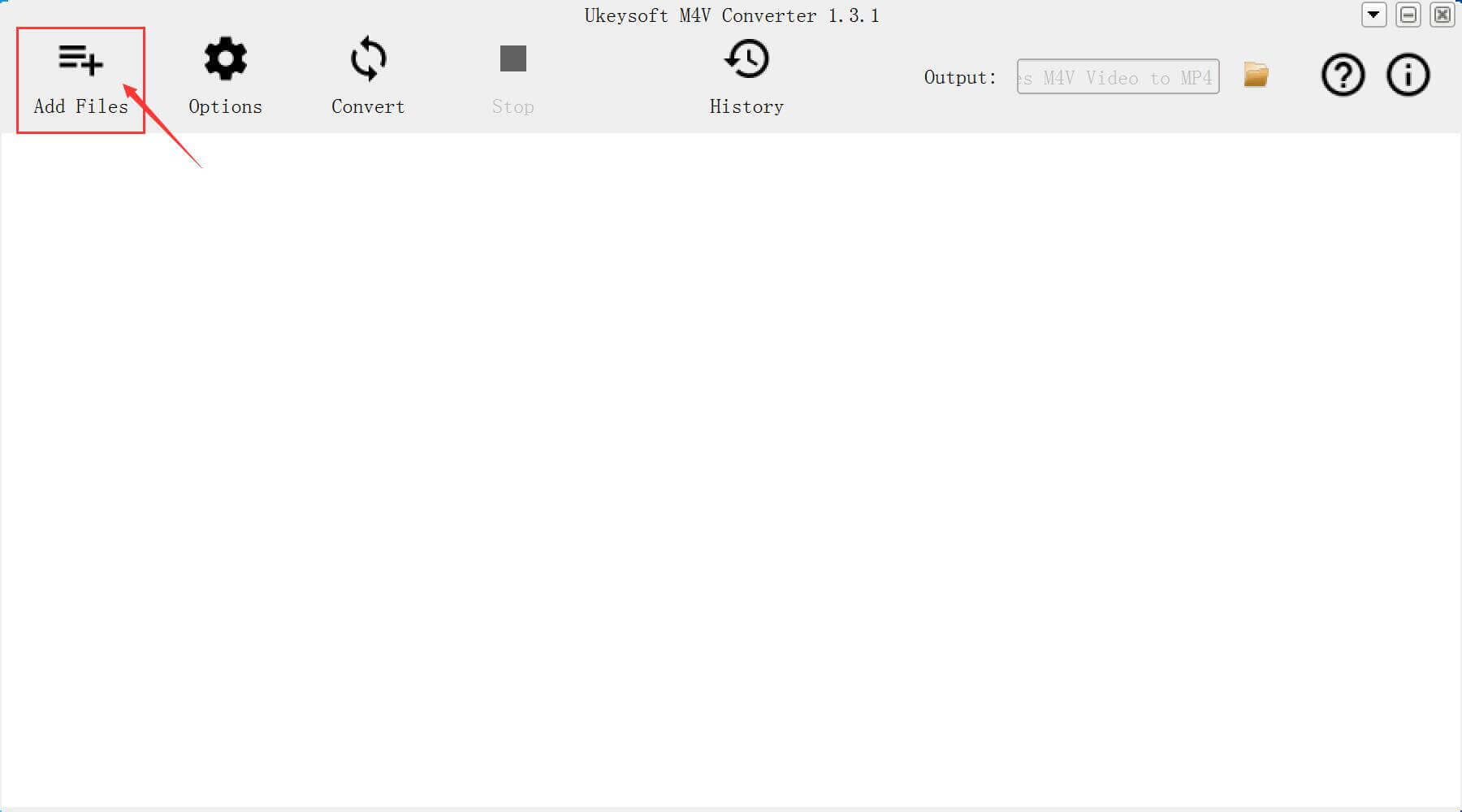 Notes: After launching the M4V Converter, it will launch the iTunes application automatically, please don't use or click the iTunes application, until the conversion process complete.
All iTunes video files loaded into the M4V Converter.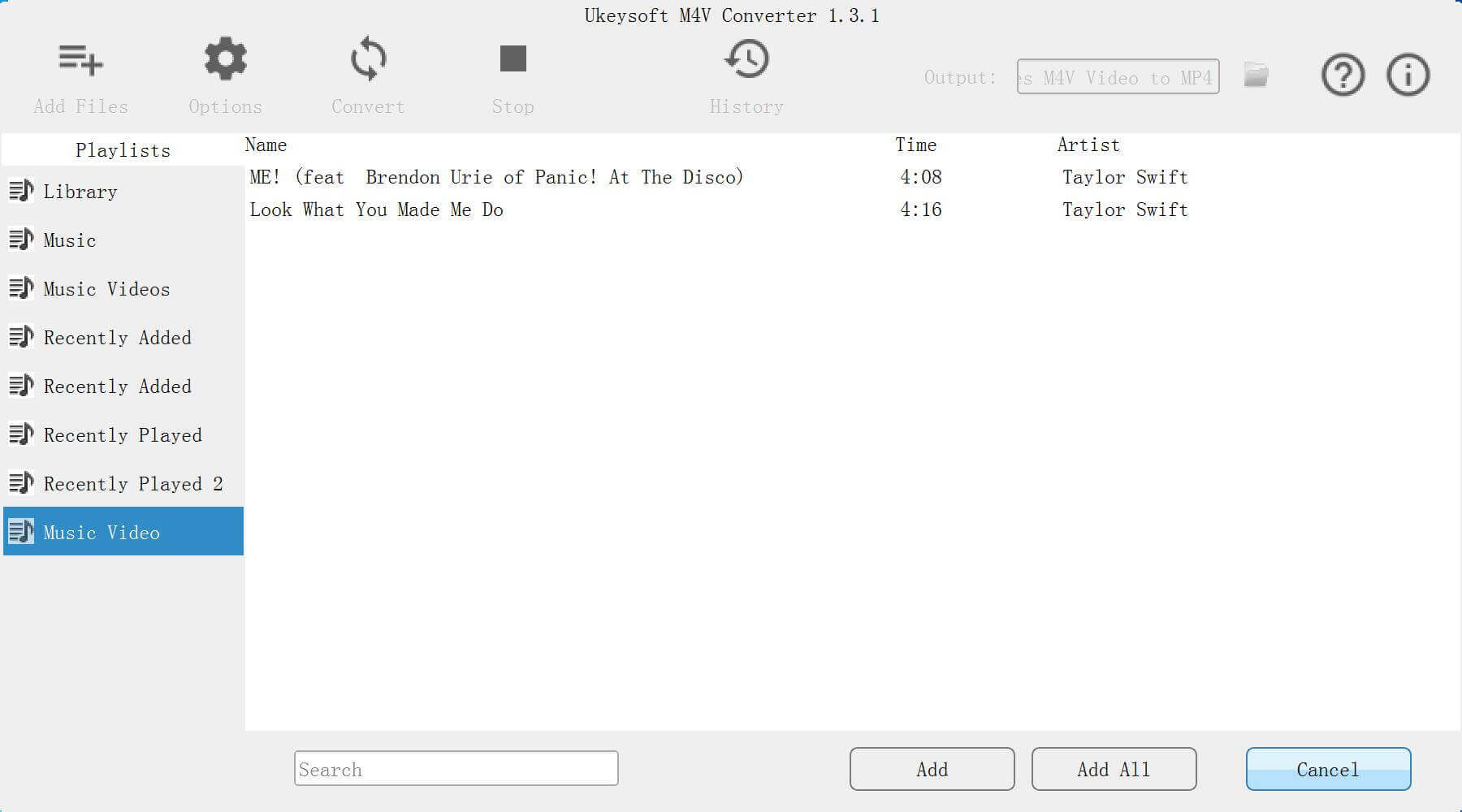 Step 3. Select Music Video and Add to the Program
In this step, please select one or more music videos you want to convert, and then click the "Add" or "Add All" button at the bottom to add the selected M4V videos to the M4V Converter.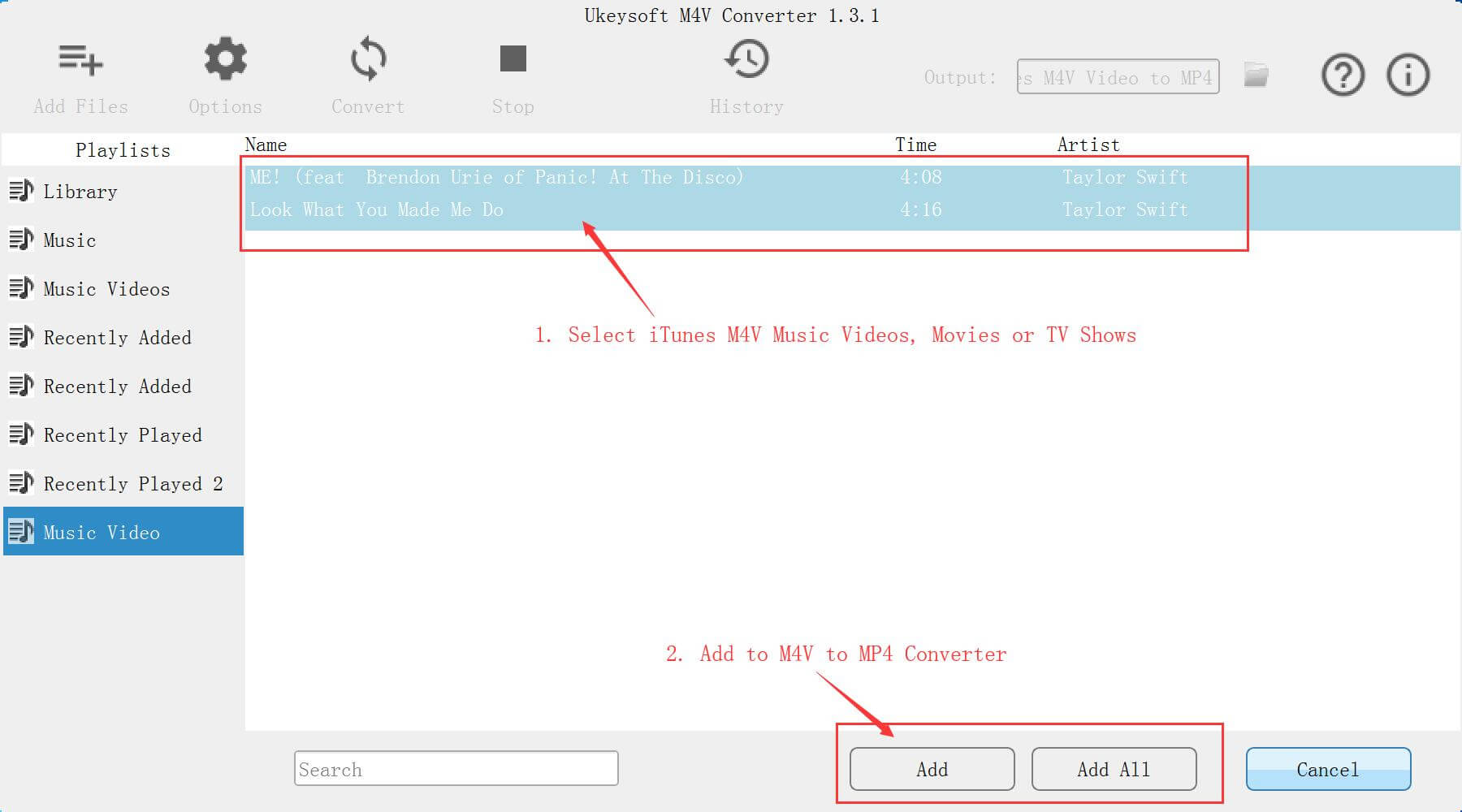 Tips: For Windows PC, please press "Ctrl" key to select multiple videos, for Mac computer, please press "Shift" key.
Those selected M4V Music Video loaded into the UkeySoft M4V Converter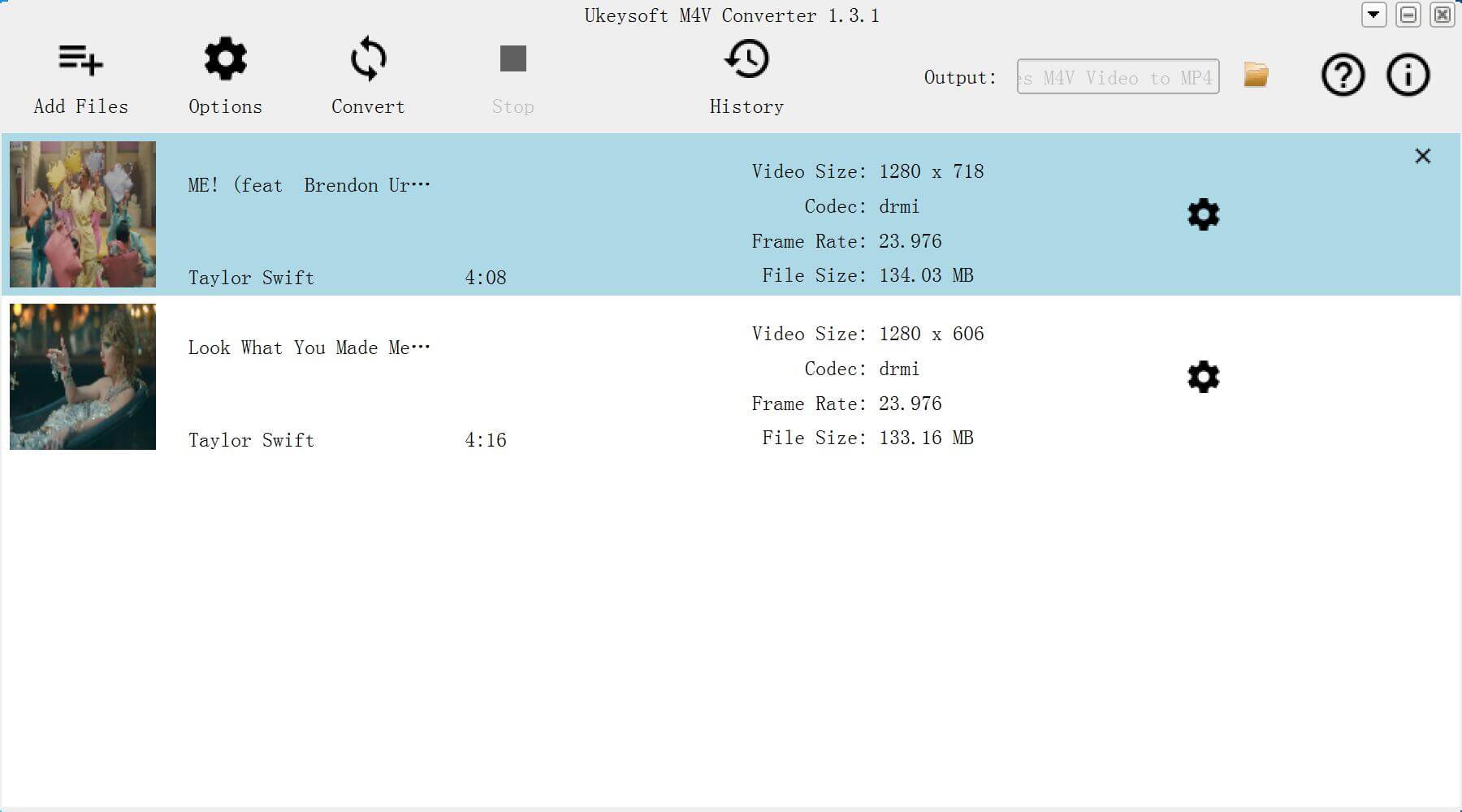 Step 4. Preserve the files with certain tracks and subtitles(Optional)
You are able to select the certain tracks of the files manually. Also, choose the subtitles you want to preserve. If you skip this procedure, the files would be saved by default.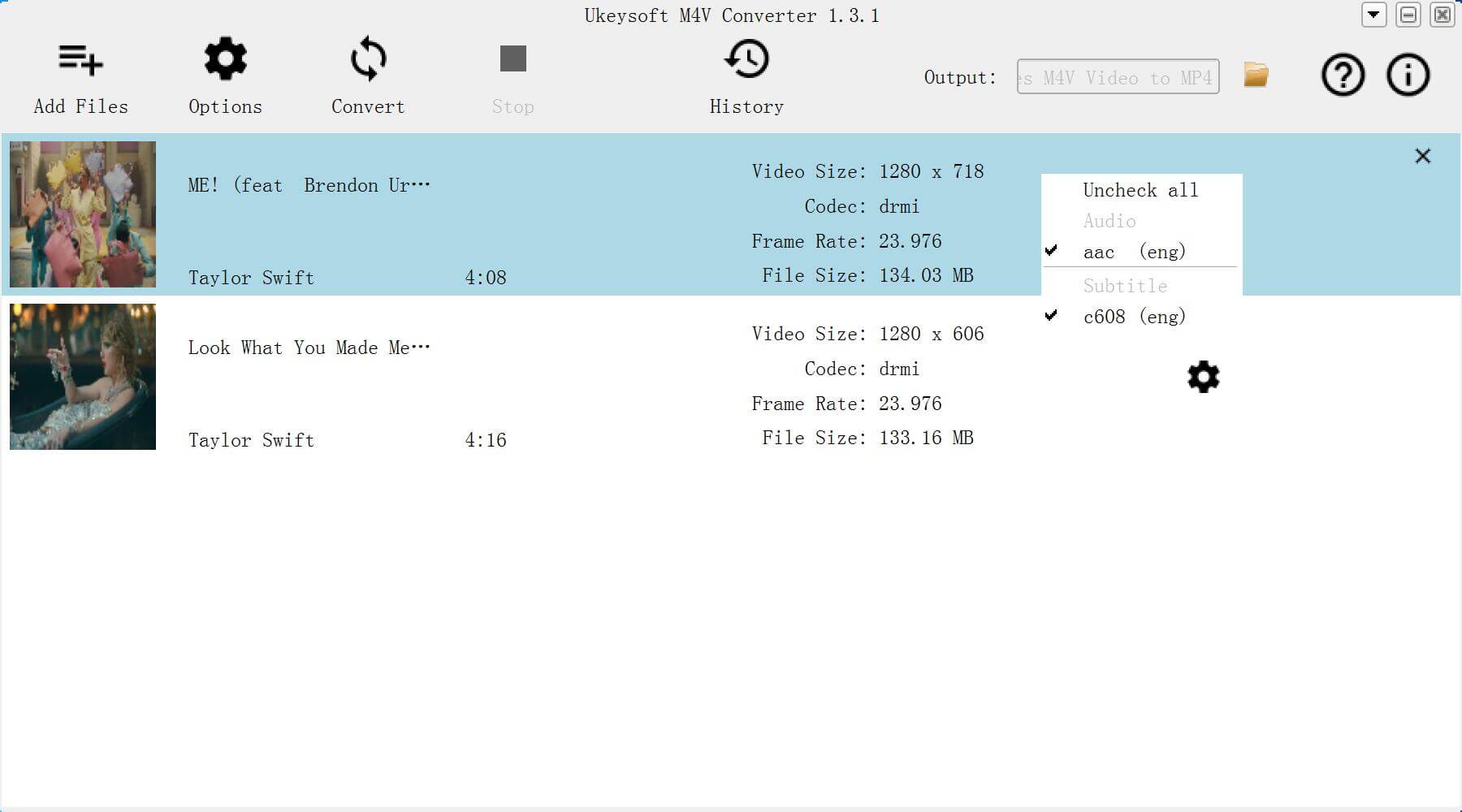 Step 4. Star Convert iTunes Music Video to MP4
The last step is to click on the "Convert" button and wait for the conversion finished.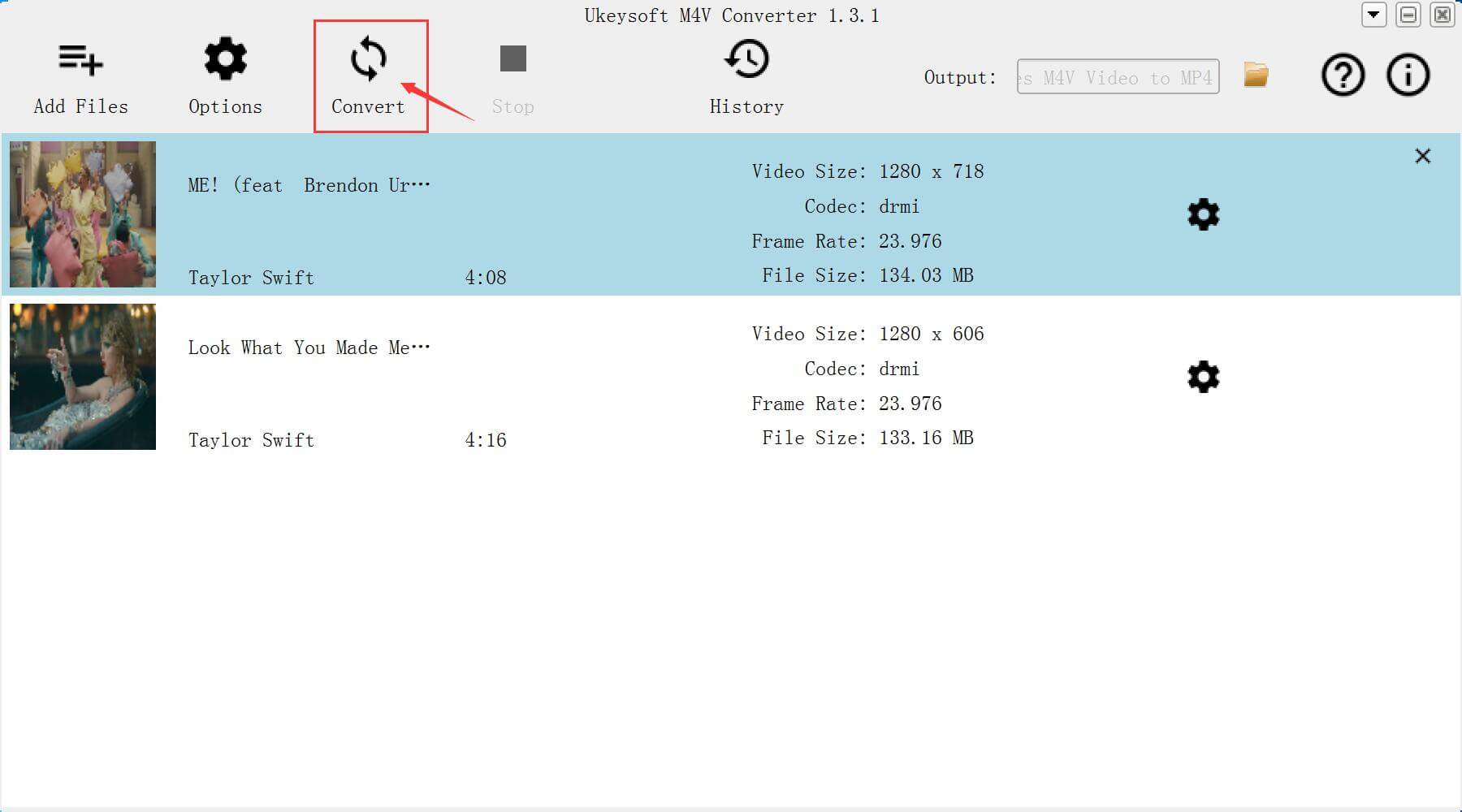 Notes: During converting, iTunes plays the iTunes music video in the background (muted), so you'd better not using iTunes before conversion is finished.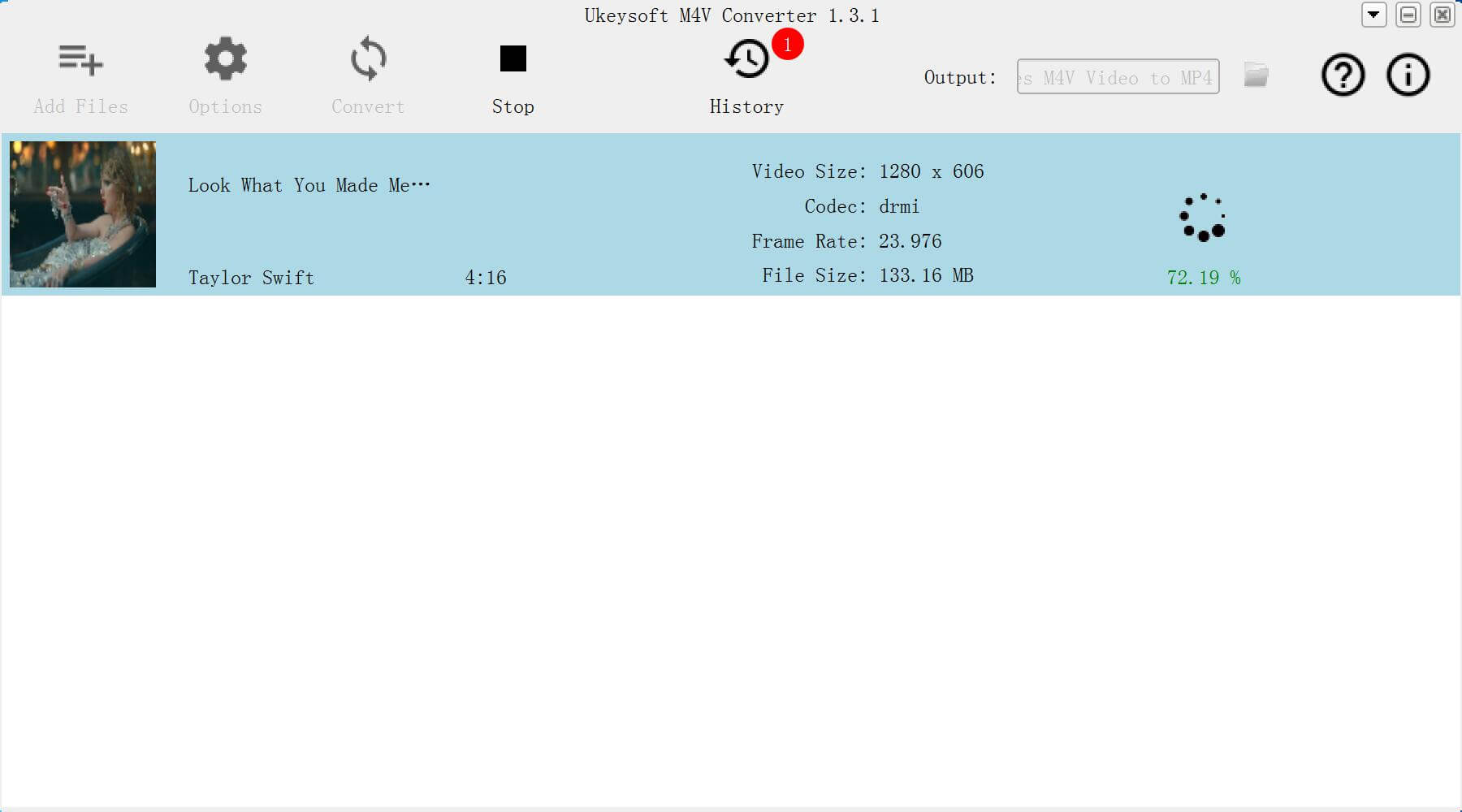 Step 5. Get DRM-free iTunes Music Videos
After conversion, please click "Fold" ico under the "History" section.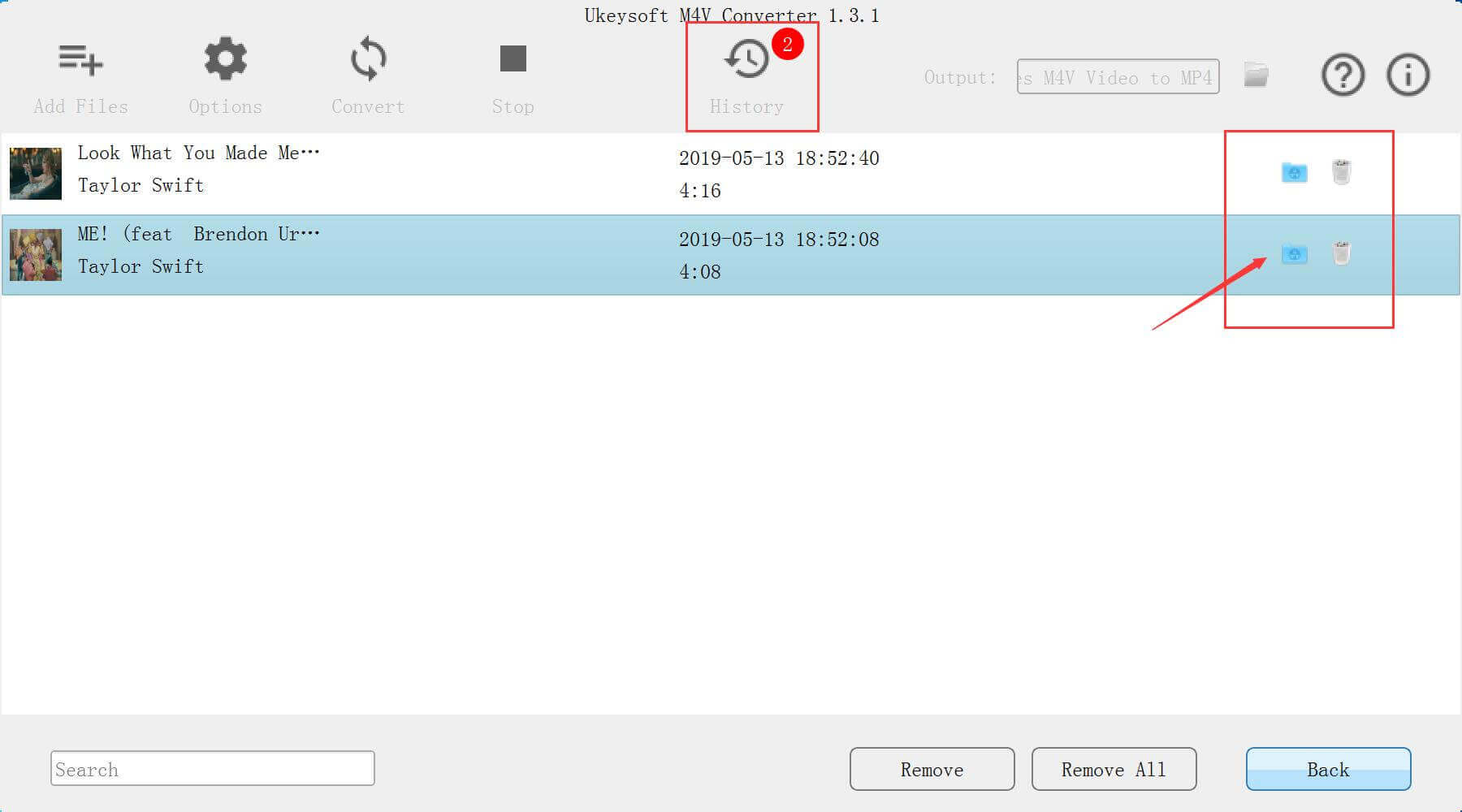 You will get the DRM-free iTunes music videos.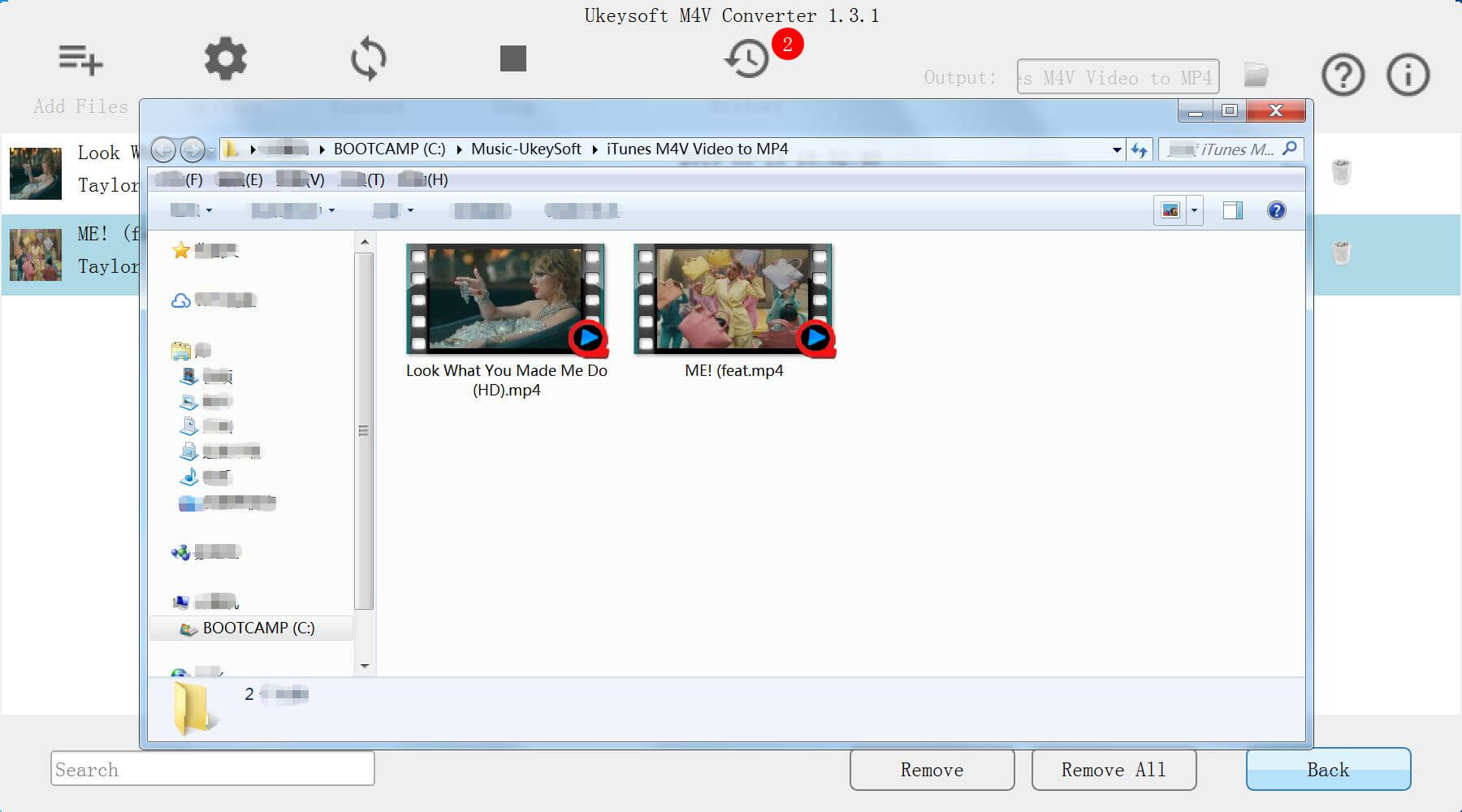 Those converted iTunes M4V videos saved onto the computer as MP4 video files.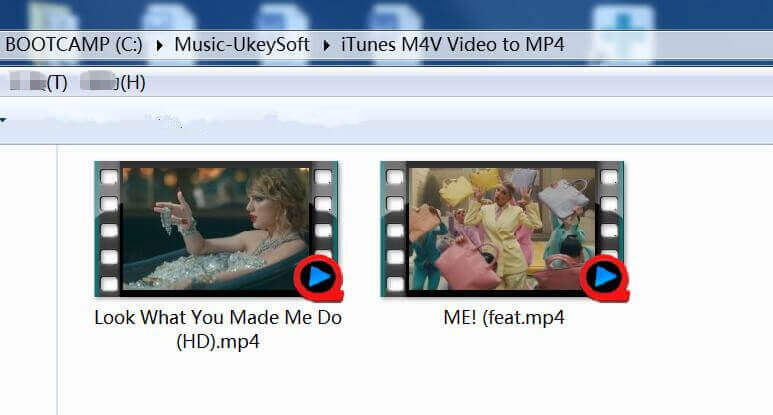 Step 6. Watching iTunes Music Video Offline
You can you can offline enjoy all your iTunes video rentals or purchases on any devices you like, iPhone, iPad, iPod touch, Android smart phones/tablets, PSP, TV, Xbox, PS4, Chromecast, Xbox, Amazon Kindle Fire, Nook, Kobo, etc.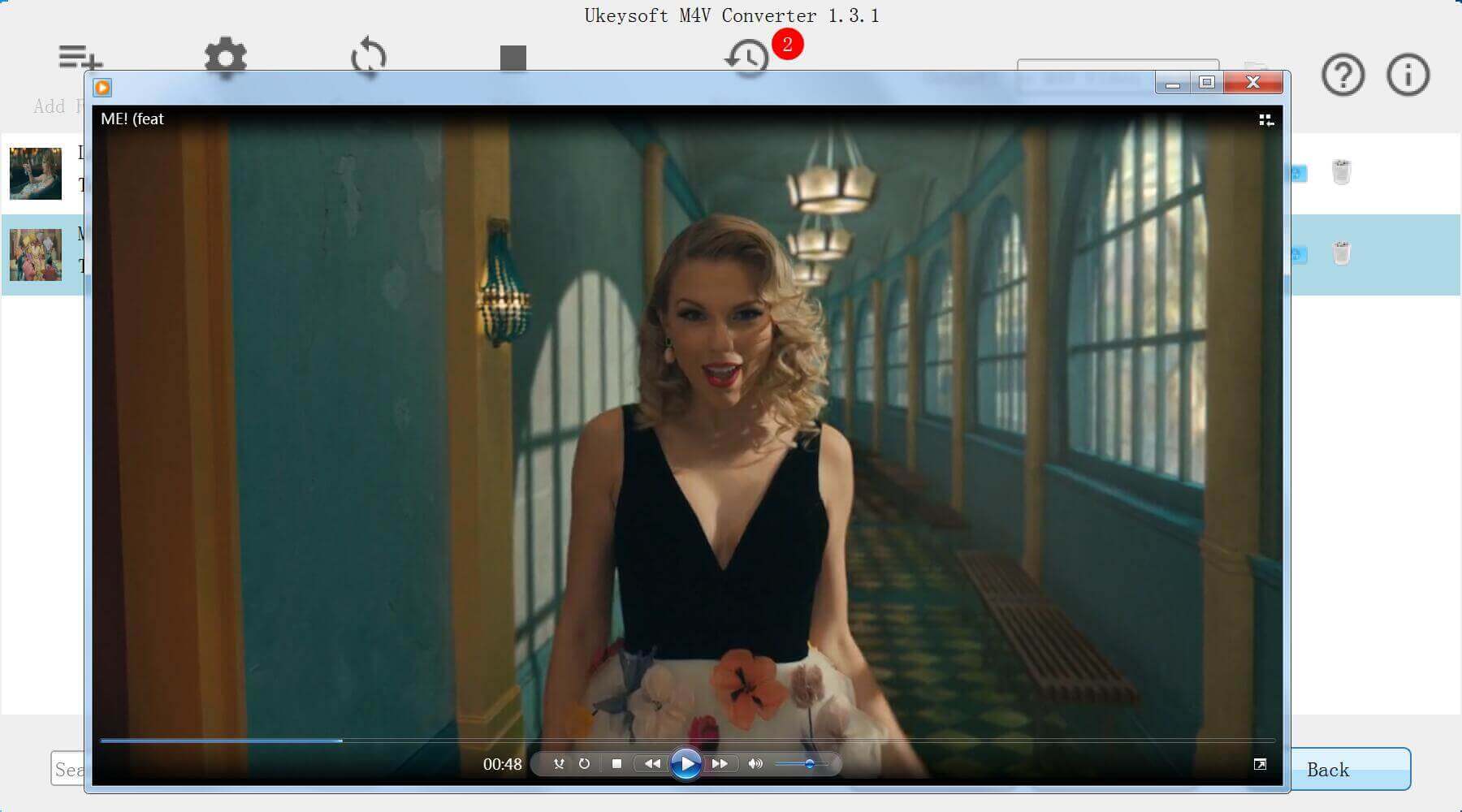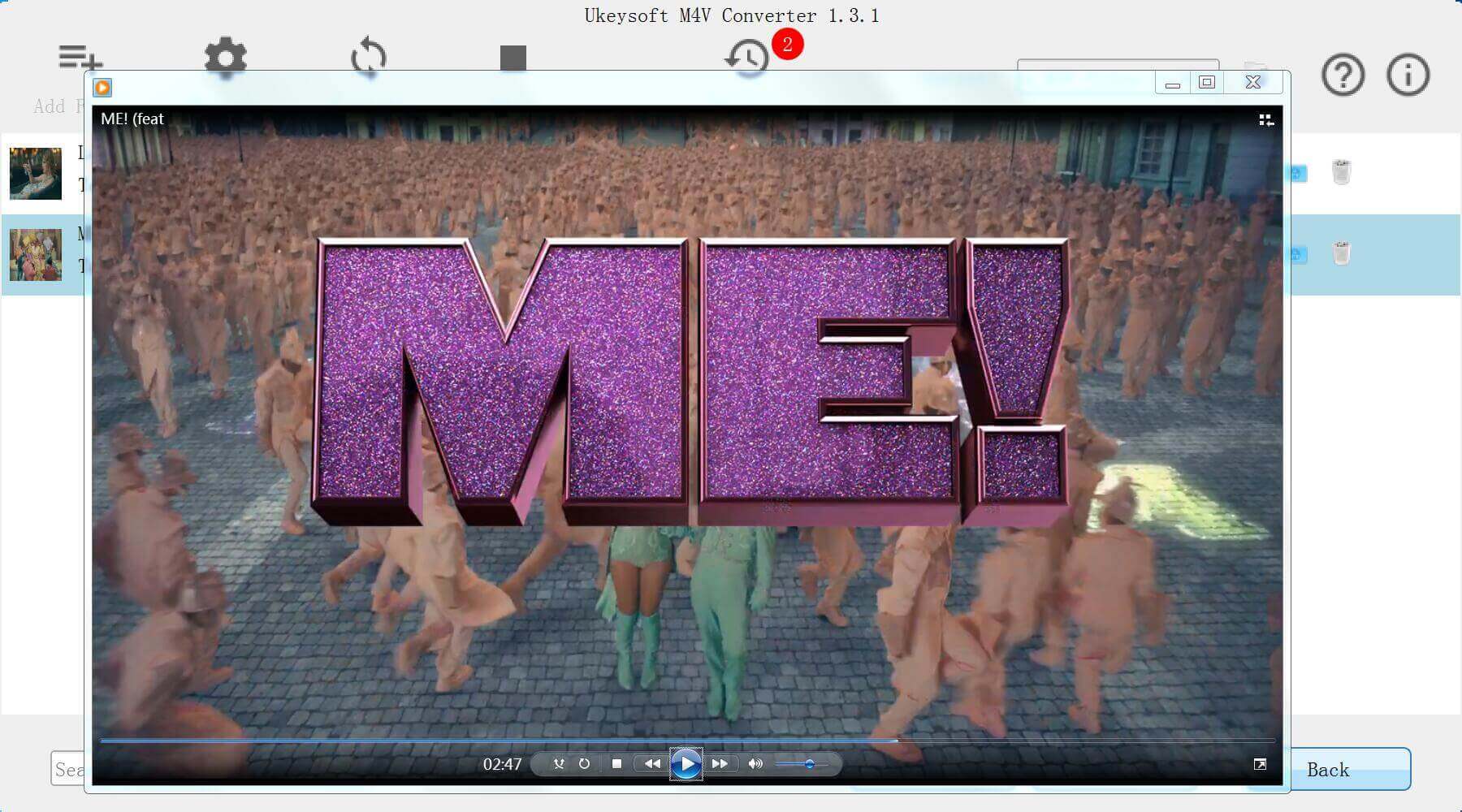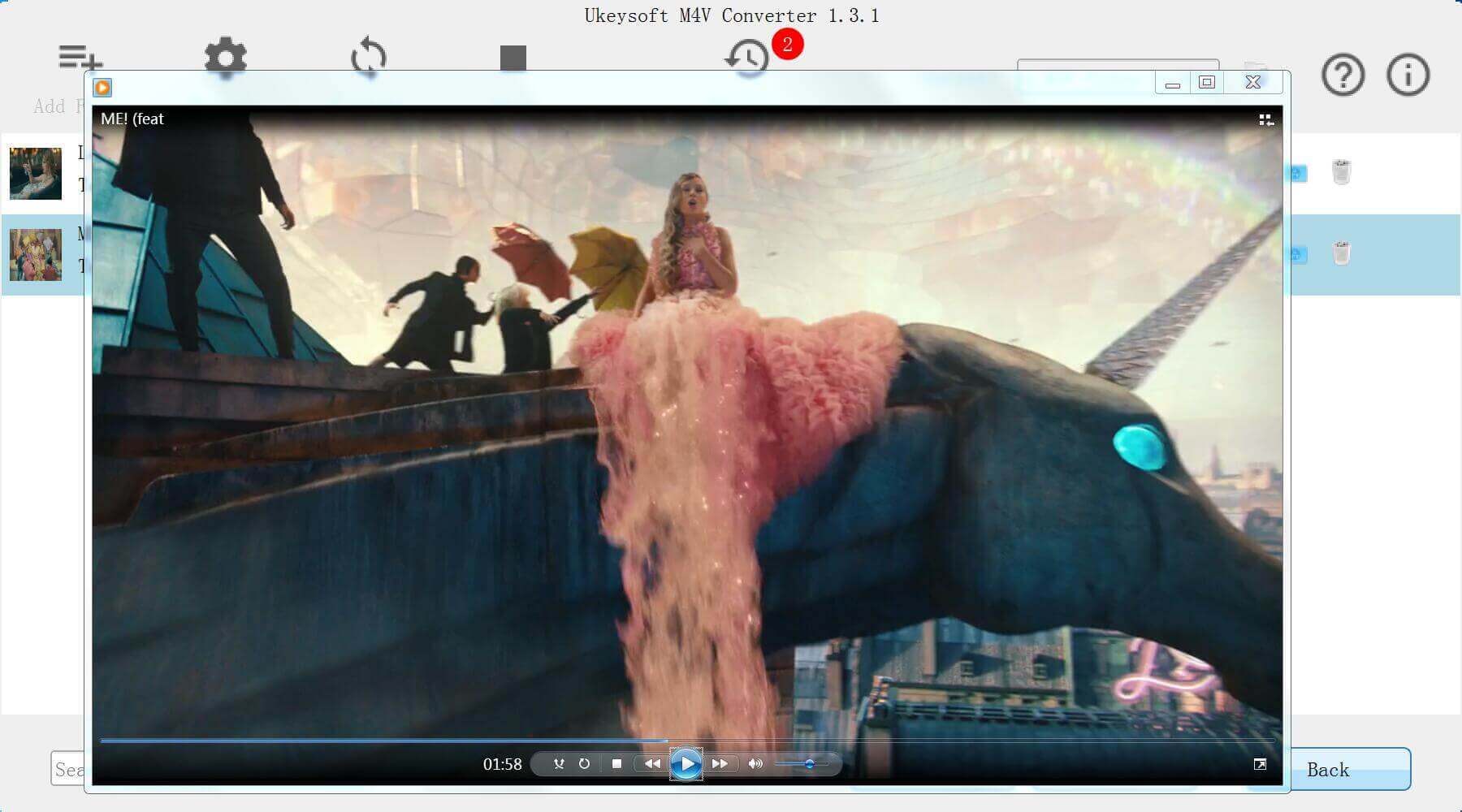 Now, you can watch the DRM-free iTunes music video without iTunes or Apple Music app, here is the screenshot we playing the converted iTunes music video via Windows Media Player.
Download iTunes Music Video to MP4
Comments
Prompt: you need to log in before you can comment.
No account yet. Please click here to register.