By Justin SabrinaUpdated on August 31, 2021
Summary
Having an iPhone with an iCloud lock? Such problems occurs when you buy a second hand iPhone from someone in half price. In this tutorial we are going to show How to Unlock iCloud Locked iPhone 11/11 Pro/11 Pro Max/XS/XS Max/XR/X/8/7/6S/6 with few minutes.
iCloud provides huge data storage facility for the Apple users and Apple ID can be used to access iCloud across various devices. However, the problem is getting more and more serious. Users often encounter the problem of iCloud locked account. If your iPhone is locked by iCloud, it means you can't use your iPhone properly.
Part 1: What Do Your Know About iCloud Lock?
What is iCloud Locked?
iCloud Lock is also an activation lock designed to keep your device and data safe in case your iPhone, iPad, iPod touch or Apple Watch is lost or stolen. When you turn on "Find My iPhone", the activation lock is automatically enabled. With an iCloud-locked iPhone, you can hardly do anything, you can not activate it with a different account, you can not erase the device without entering the correct Apple ID and password, you can not access iPhone unless you unlock the iCloud locked iPhone.
Why You Are Not Able to Unlock iCloud Locked iPhone?
You purchased a second-hand iPhone or iPad, but the previous owner forgot to log out of his Apple ID and iCoud account.
You have a long-term unused iPhone or iPad, and you have forgotten the Apple ID password you originally set.
You accidentally picked up an iPhone which is iCloud locked, you need to unlock the iCloud locked iPhone to find the owner.
As soon as you turn on your iOS device and see one of the following screens, you should instantly check if the iPhone is locked with an activation lock.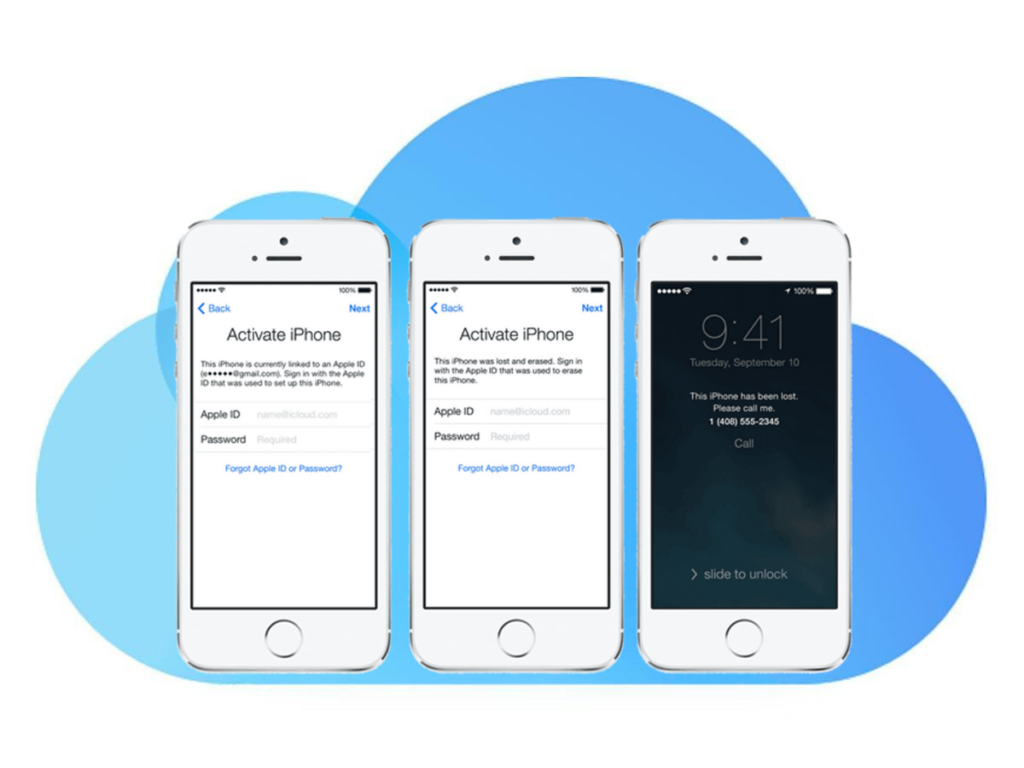 How to Break iCloud Lock?
iCloud Lock means your iPhone is not activated. This feature protects your data if your iPhone is stolen. In this article, we'll discuss different security iCloud lock removal methods for unlocking iCloud-locked iPhone 11/11 Pro/11 Pro Max/XS/XS Max/XR/X/8/7/6S/6.
Part 2: How to Unlock iCloud Locked iPhone Using DNS
It may be that you have forgotten your iCloud password and cannot activate your iPhone. DNS bypass can be used to unlock iCloud Locked iPhone issues. You can do this:
Maybe that you forgot your iCloud password and not being able to activate your iPhone. iPhone or iPad DNS Bypass is a popular solution for iCloud locked devices. Read on how-to steps:
Step 1. Restart your iPhone and select your Country and Language.
Step 2. Choose Wi-Fi Settings. If you don't see 'i' letter beside the Wi-Fi network, press Home button, then select 'More Wi-Fi Settings'.
Step 3. Your iPhone should not be connected to the network. If it is connected, tap on the 'i' button then select "Forget this Network".
Step 4. Tap the 'i' button, then insert custom DNS, choose one, that you need of the below IPs:
USA: 104.154.51.7
Europe: 104.155.28.90
Asia: 104.155.220.58
Australia and Oceania: 35.189.47.23
Other continents: 78.100.17.60
Step 5. After entering DNS IP address, tap on "Back", and then click "Activation Help".
Once the iCloud activation bypass settings is done, you'll receive a message saying "You have successfully connected to my Server." Now you can tap on the menu to access some apps and features on your device.
Part 3: How to Unlock iCloud Locked iPhone with UkeySoft Unlocker
UkeySoft Unlocker enables you to remove Apple ID from iPhone/iPad/iPod touch without password. In case you forgot your iCloud activation password, or just got a sedond-hand iphone associated with the previous owner's account, this UkeySoft Unlocker could be your effective solution, you can use it to unlock iCloud locked iPhone with one click.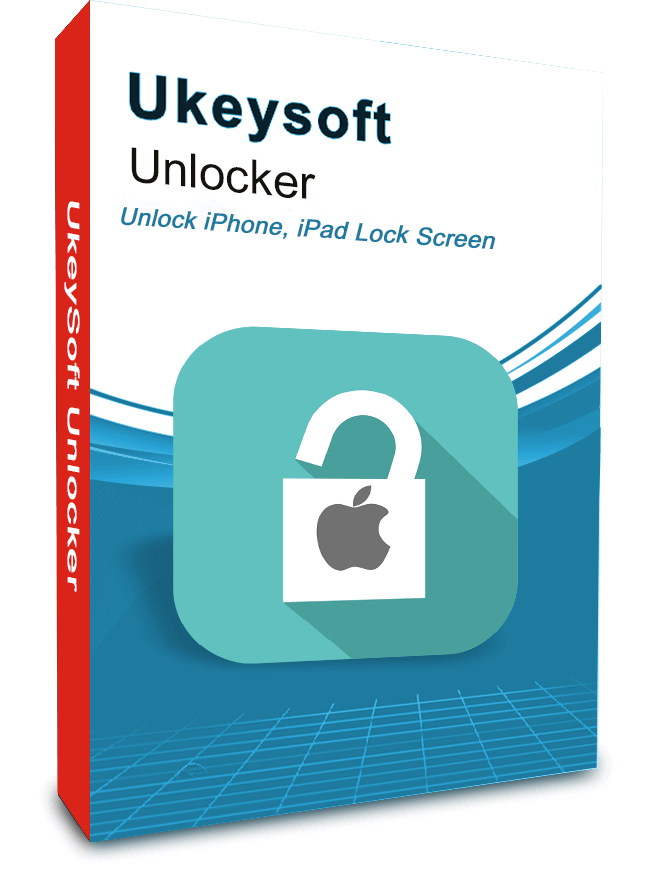 UkeySoft Unlocker
Remove Apple ID from activated iPhone/iPad without any password;
Unlock iPhone/iPad lock screen without password in different situations;
Unlock lock screen, like 4 or 6 digit passcode, Face ID, or Touch ID;
Bypass iCloud activation lock quickly and safely;
Remove lock screen with forgotten password/black screen/broken screen/Apple logo screen iPhone;
Unlock iPhone without iTunes/iCloud/password;
Compatible with all iOS devices and all versions of the iOS system, including the newest iOS 13/12 and earlier versions;
How to Instantly Delete Apple ID from iPhone without Password
Step 1. Launch UkeySoft Unlocker
Firstly, launch UkeySoft Unlocker on your computer and select "Unlock Apple ID" mode from the home interface to bypass iCloud lock.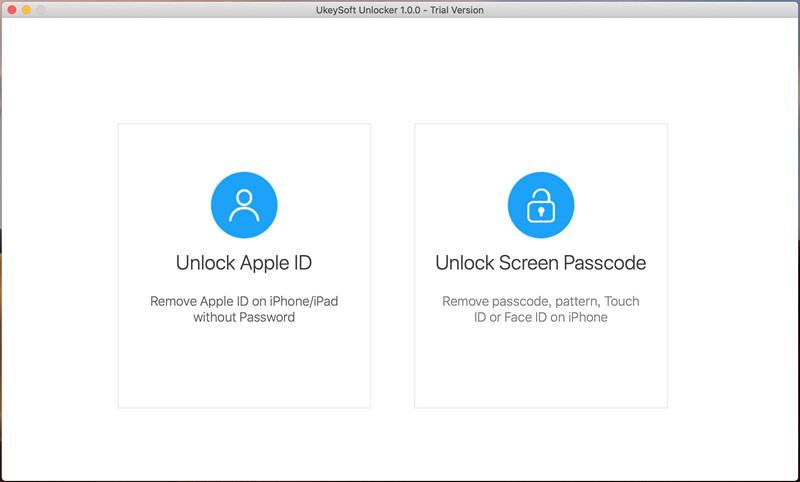 Step 2. Connect iCloud Locked iPhone to the Computer
Connect your iPhone to computer and trust the connection. Click "Next".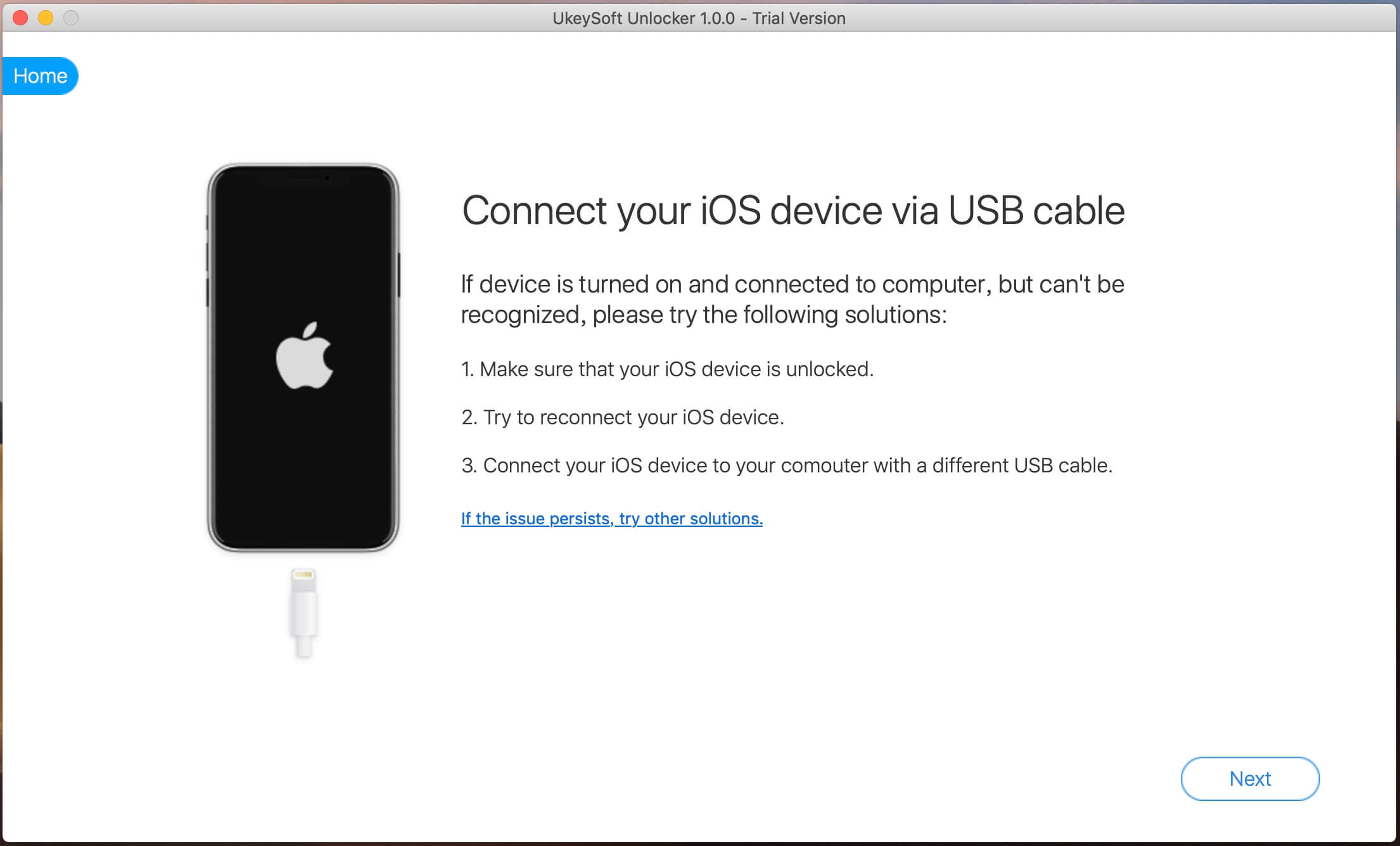 Note: You can rely on this software to easily bypass iCloud lock unless your device is running iOS 11.4 or higher, or your phone has enabled the "Find My iPhone" feature.
Step 3. Start to Unlock Apple ID
Click the "Start" button and UkeySoft Unlocker will immediately unlock your device, which will take a few seconds. The program is able to identify your device model and confirm the device before performing any operations.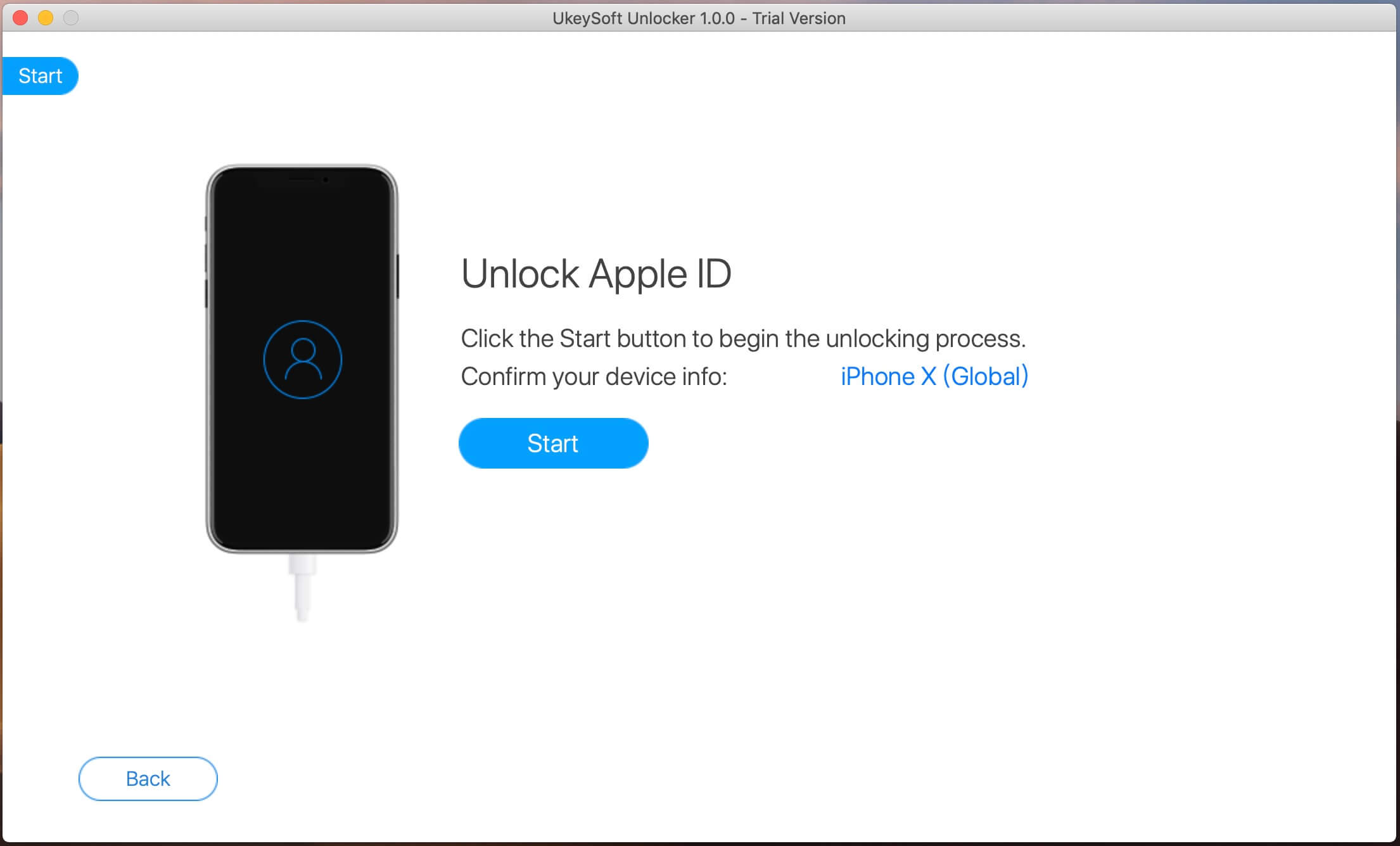 UkeySoft Unlocker will start removing the Apple ID without password. The only thing you can do now is wait. I believe it will not disappoint you.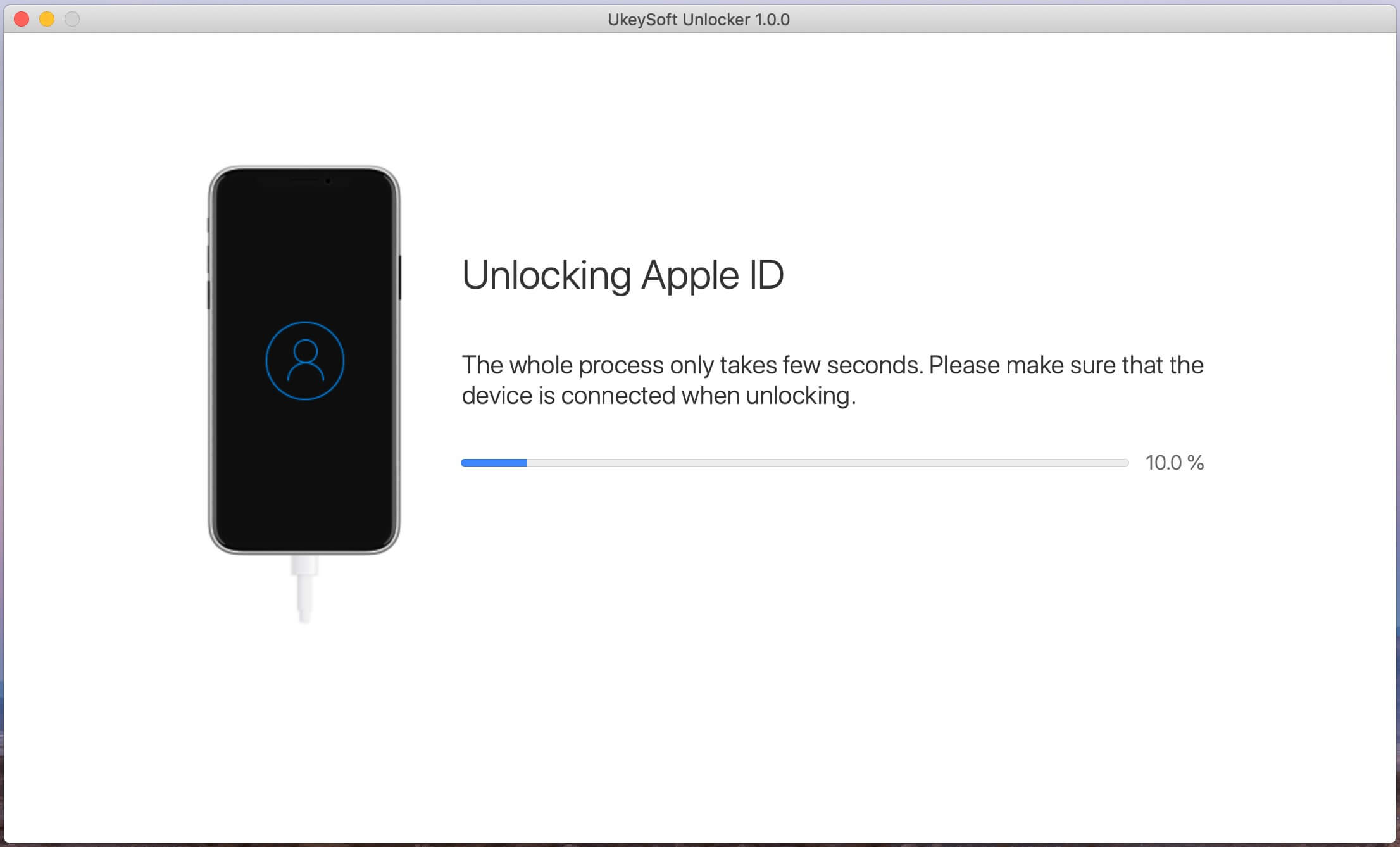 When it's done, the previous Apple ID and iCloud account will be removed from iPhone. You can now use new Apple ID and enjoy all the features on iPhone.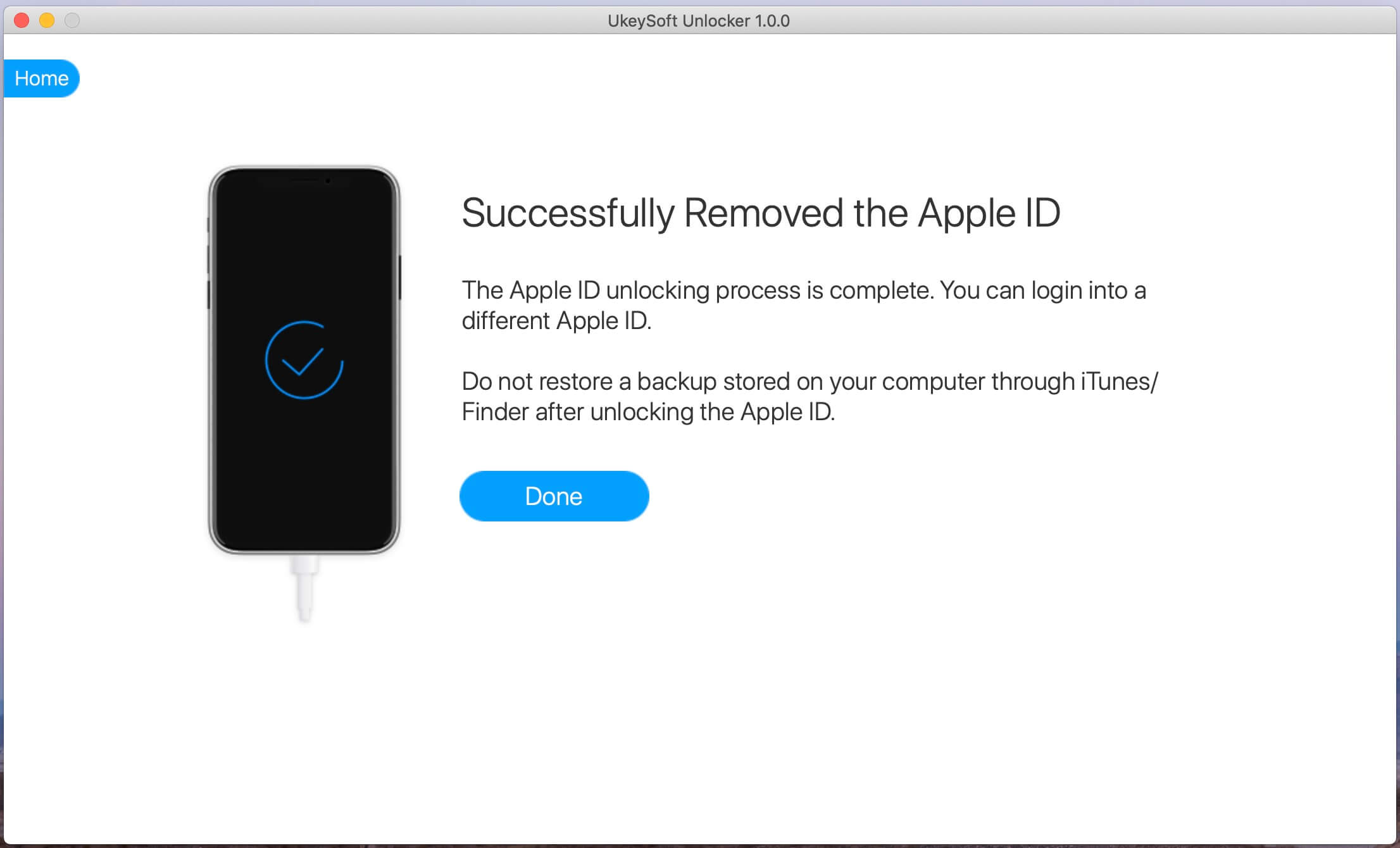 Unlock iCloud Locked iPhone
Hot Solutions - ALSO ON UkeySoft SOFTWARE
Comments
Prompt: you need to log in before you can comment.
No account yet. Please click here to register.