By Justin SabrinaUpdated on January 12, 2023
Summary
Forgot your passceode or your Face ID doesn't work ? How do you unlock an iPhone without the passcode and Face ID? This article will guide you how to for you to unlock iPhone X/XR/XS/11/12/13/14/14 Pro in 5 ways.
"I bought a second-hand iPhone XS that is locked with the passcode. How can I remove passcode from iPhone XS? Is there any tool to unlock the locked iPhone without password? Please help."
Here is a full guide on how to unlock an iPhone 14, iPhone 14 Pro, iPhone 13, iPhone 12, iPhone X, iPhone XR, iPhone XS without Passcode or Face ID. You can download this professional iPhone Unlocker to unlock iPhone/iPad without password.
If you are like the above user whose iPhone X is locked and you have forgotten iPhone passcode. Don't worry, you will find the best solution to unlock iPhone X without passcode or Face ID here. Normally, when Apple users enter wrong password of their iPhone multiple times, the iPhone will be disabled, which prevents them from accessing it. Even Apple has not provided an option to unlock iOS devices without losing data. Today, we do not discuss how to unlock the iPhone without losing data. What we care about is how to unlock iPhone X if you forgot its passcode or Face ID failed to work. Don't worry, there are 5 ways to remove the passcode from your iPhone and here we describe those methods.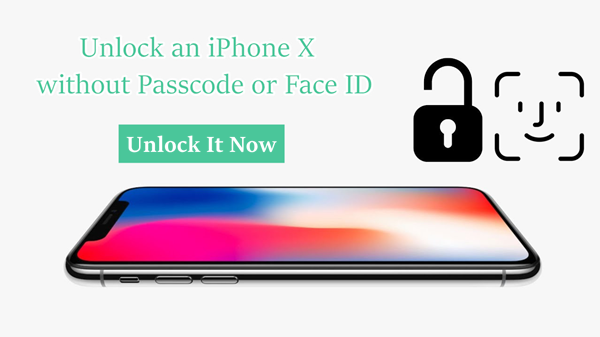 If you've been locked out of your iPhone due to not enabling the face ID, or forgetting the passcode, or face ID failed, in this guide we are going to look at this problem and offer you practical four solutions to unlock iPhone X without Face ID and passcode.
CONTENTS
Method 1: Unlock iPhone X Using Erase iPhone Button
Arguably the biggest feature to iOS 15.2 is the ability to unlock iPhone via the erase iPhone button. You can do this on your locked iPhone directly!
These are the requirements in order for this to work:
iPhone X or later (iPhone 11/12/13/14).
Your iPhone is running iOS 15.2 or later.
An Apple ID is running on your device.
Your Apple ID password.
Step 1. Keep entering the wrong passcode on your iPhone X, iPhone 12, iPhone 13 or iPhone 14.
Step 2. After 10 failed passcode attempts, you'll see a message that says "iPhone Unavailable, try again in 1 hour". Click "Erase iPhone" button at the bottom.
Step 3. To erase all content and settings including passcode or face ID, please enter your Apple ID password.
Step 4. After a few minutes, your iPhone X will reset. Sign in with your Apple ID and create a new passcode for your phone.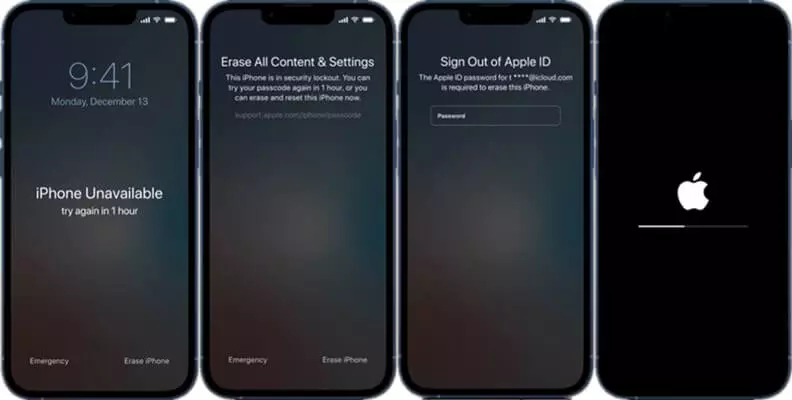 Method 2: Unlock iPhone X/XR/XS/11/12/13/14 via iPhone Unlocker (Best)
To unlock the iPhone/iPad without password, you need to use a third-party tool. Although there are many third-party software on the market, today we will introduce you the most popular one - UkeySoft iOS Unlocker, which is such a powerful tool that can help you delete passcode from iDevice in just a few steps.
UkeySoft Unlocker is said to be the perfect iPhone unlocking tool as well as Apple ID unlocking tool and iCloud activation lock removal tool that wins a high reputation. As a professional iOS Unlocker, UkeySoft Unlocker can help users to remove 4-digit / 6-dniigit passcode, Touch ID & Face ID on iPhone/iPad without password. At the same time, it can also be used to reset iPhone without Apple ID password. With its help, users can quickly unlock iPhone X/11/12/13/14 without Passcode or Face ID. No matter what situation your phone is in, such as broken screen, unresponsive screen, Apple logo screen, this tool can help you remove the password from iPhone/iPad perfectly, so that you can access the iDevice again.
Key Features of UkeySoft iOS Unlocker:
An excellent iPhone unlocking tool.
Unlock iPhone X without passcode or Face ID.
Unlock iPhone/iPad with broken screen, unresponsive screen, Apple logo screen.
Remove 4-digit / 6-digit passcode from iPhone/iPad easily.
Remove Touch ID & Face ID on iPhone/iPad without password.
Unlock Apple ID from any activated iPhone/iPad/iPod touch without password.
How to Remove Passcode from iPhone with UkeySoft Unlocker?
Follow the detailed tutorial bellow to learn how to use UkeySoft iOS Unlocker to remove passcode from iPhone. Please note that using this software to unlock your iPhone X, iPhone XS, iPhone XR will cause data loss on your iPhone. If necessary, you'd better backup your iPhone data before you start.
Step 1. Install and Launch UkeySoft Unlocker
Install UkeySoft Unlocker on your computer. Afterward, launch it and click on the "Unlock Screen Passcode".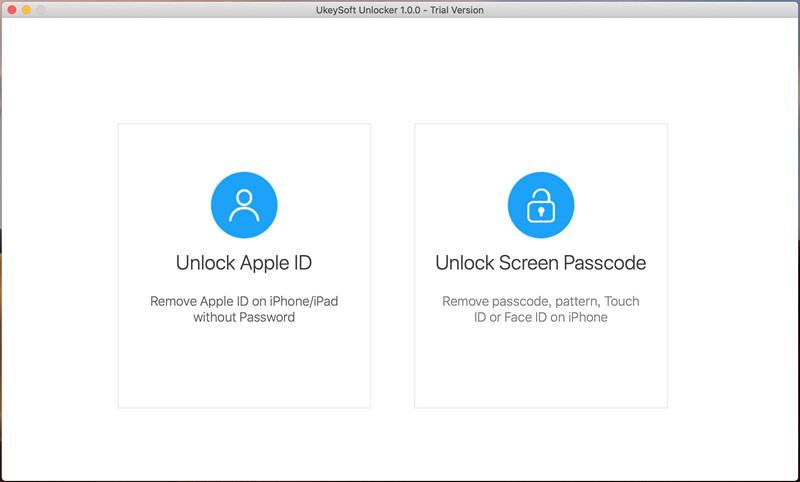 Step 2. Connect Your iPhone with Computer
Now connect your iPhone X/iPhone XS/iPhone XR with computer via a suitable USB cable, then click "Next" button.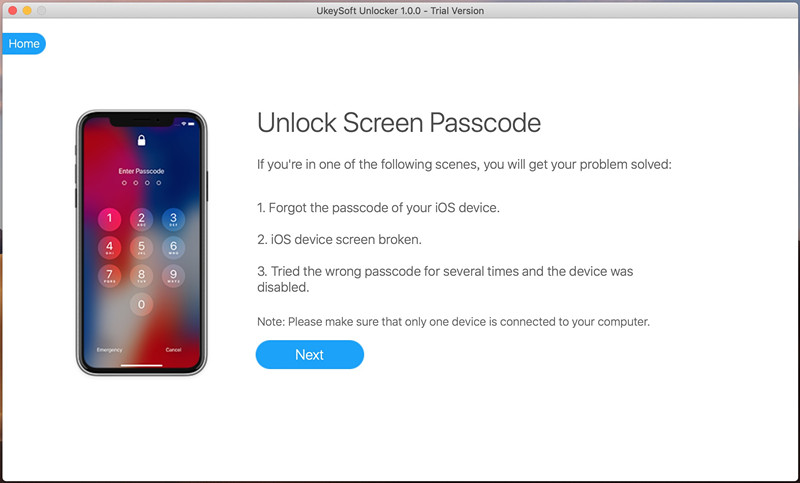 Step 3. Put iPhone X/iPhone XS/iPhone XR into Recovery Mode
If you want your iPhone to exit the lock screen, you need to enter recovery mode on disabled iPhone.
How to put iPhone X/iPhone XS/iPhone XR into recovery mode:
1. Press and quickly release the volume + key;
2. Press and quickly release the volume-key;
3. Hold down the side button (power button) until you see the recovery mode screen.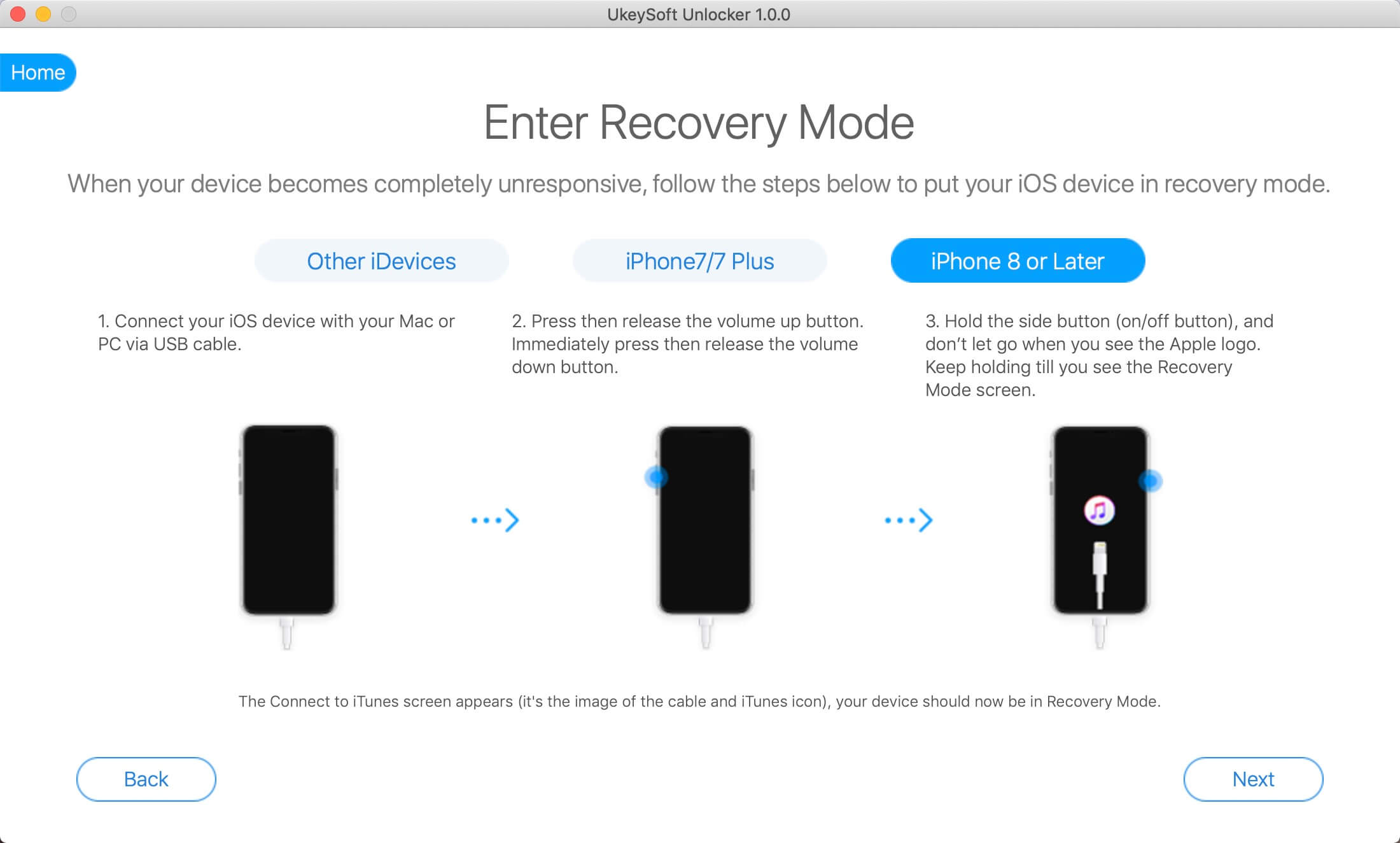 Step 4. Download the Firmware Package
After the above setting, the software will detect and analyze your iPhone X/iPhone XS/iPhone XR and provide an appropriate firmware version to you, just click "Download" button get the firmware package.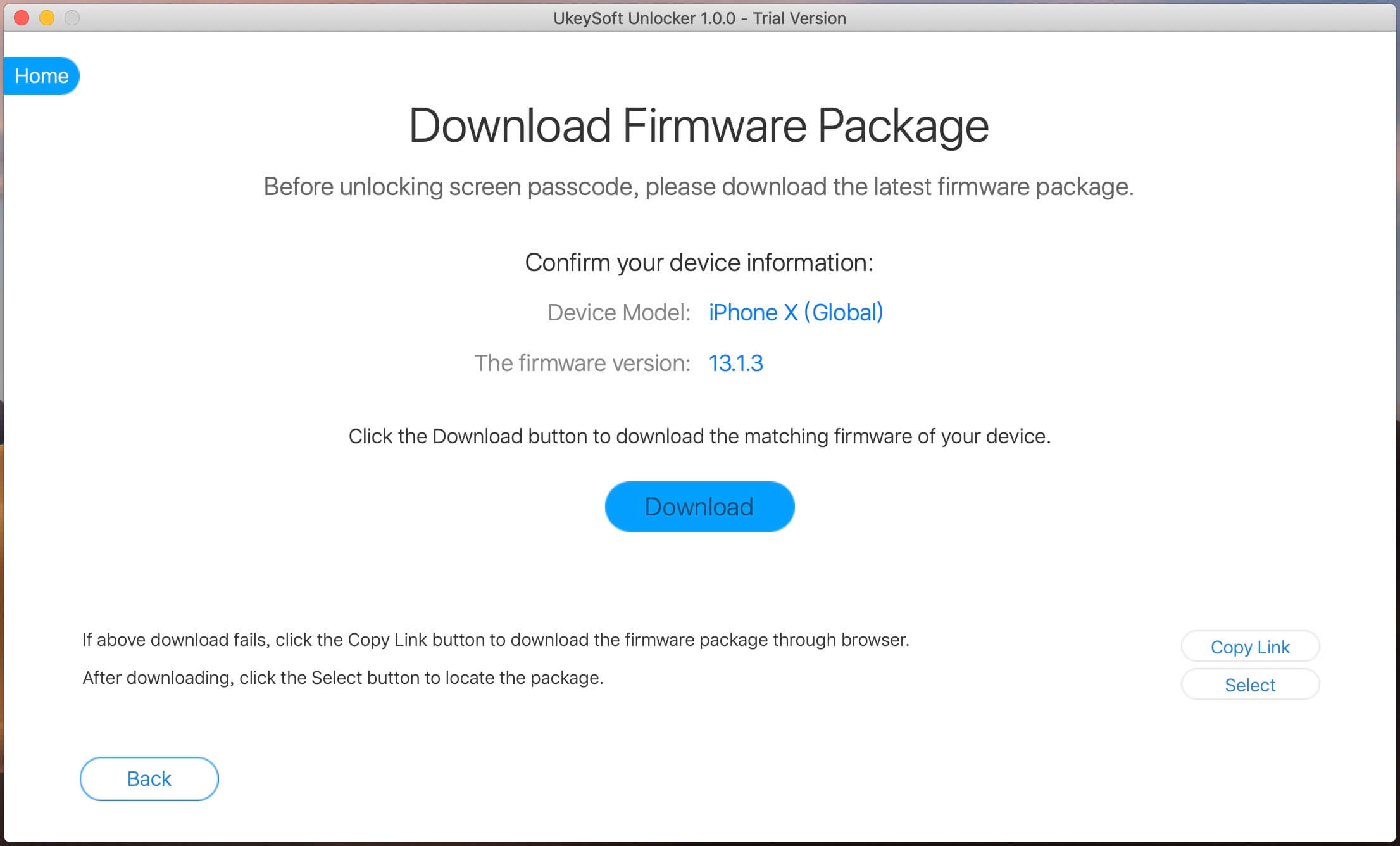 Just wait a few minutes and your device will automatically update with the new firmware version.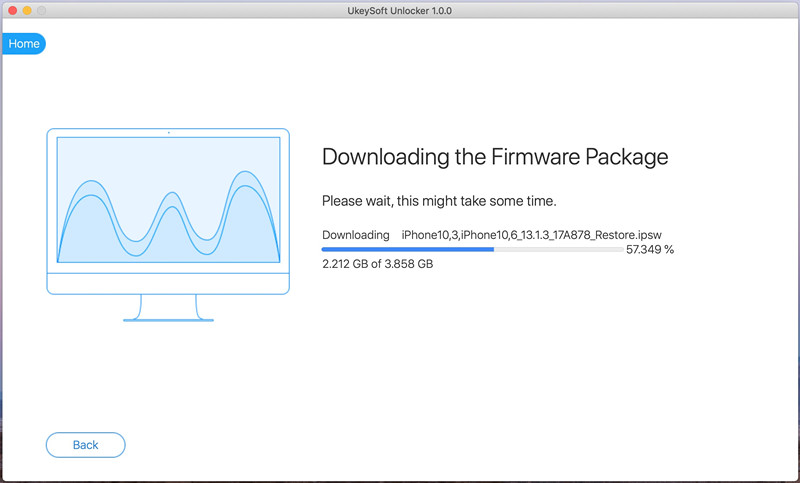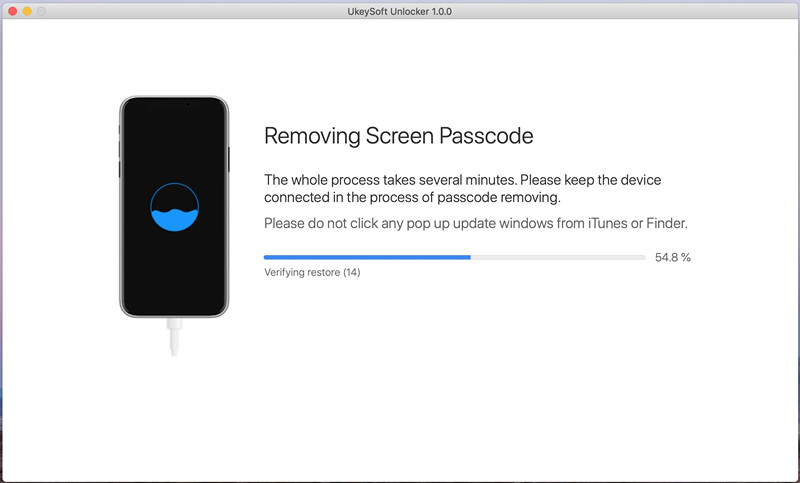 Step 6. Removed iPhone Screen Passcode Successfully
In just a few seconds, you can see "Removal Completed!", now your Phone will restart as a new iPhone.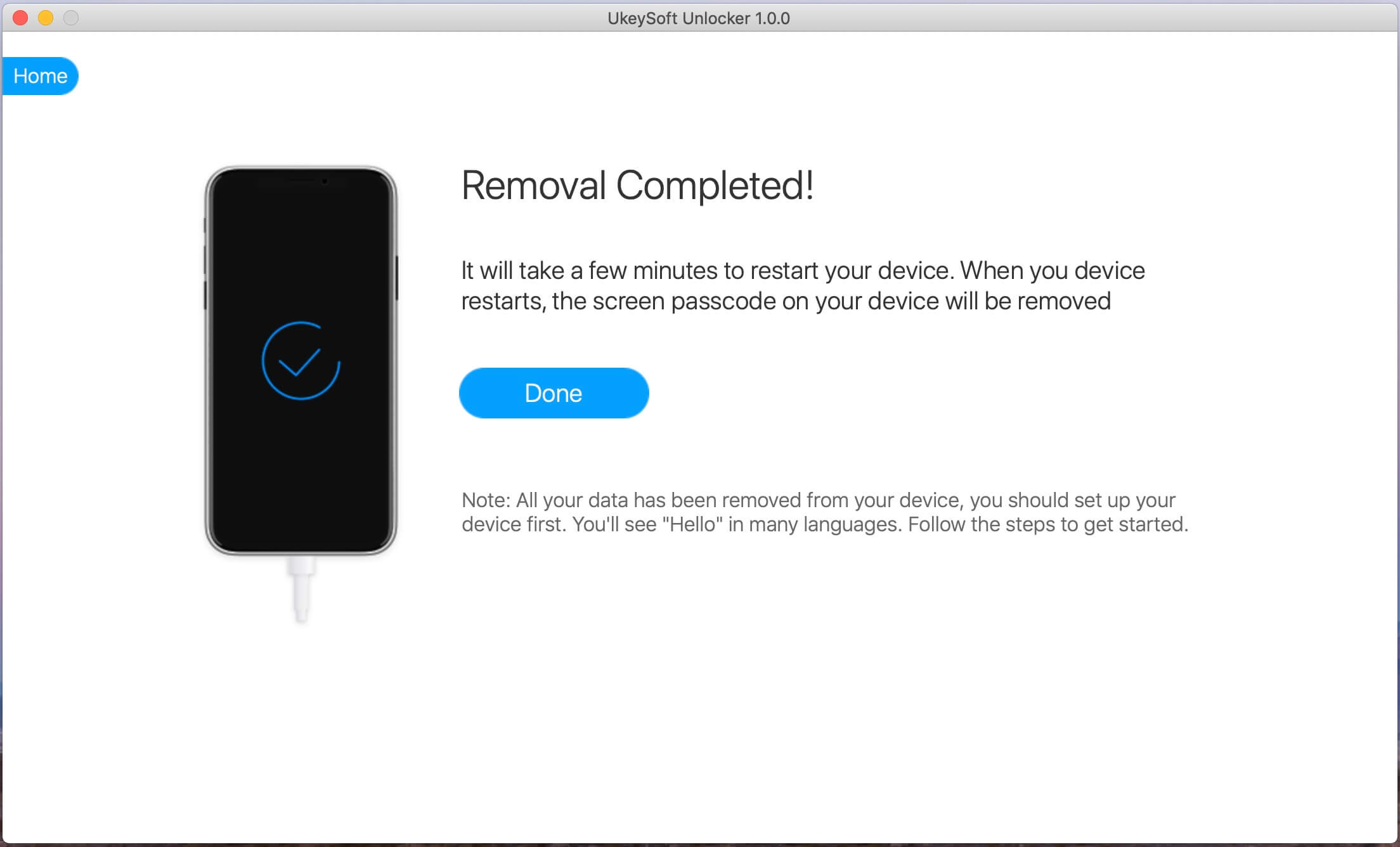 Method 3: Unlock iPhone X Using iTunes (Data Loss)
iTunes Restore is a method of erasing all data on iPhone, including the iPhone lock screen password. This method works if you have recently synced your iPhone with iTunes.
Step 1. Launch the latest iTunes and connect iPhone X to the Mac or Windows computer you've synced with. If you are asked to enter a screen lock passcode, please try another method.
Step 2. Put your iPhone X, XS, XR into recovey mode: Turn off your iPhone X, then quick-press Volume Up key and then quick-press the Volume Down key. Now, keep holding the Side button until the Connect to iTunes screen is displayed.
Step 3. Once your iPhone X is in Recovery mode, you will see a window in a computer that offers you two options: Restore or Update.
Step 4. You should choose to Restore and wait for the process to complete.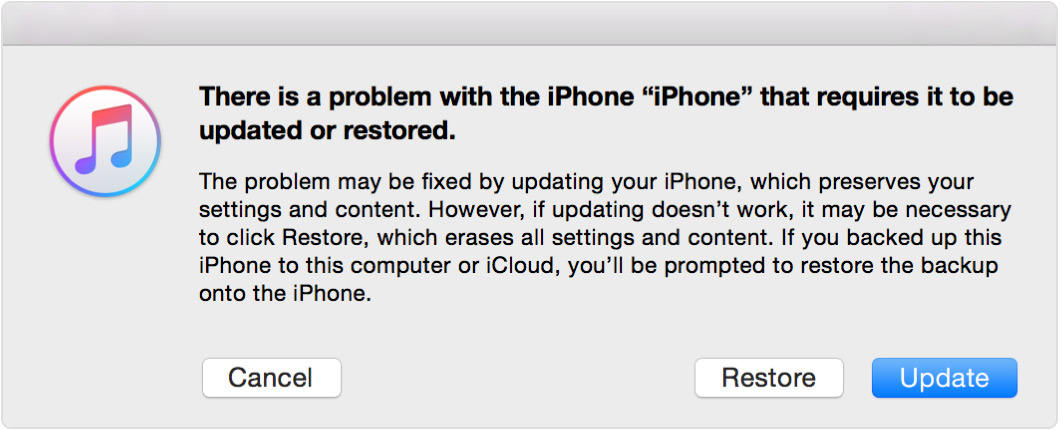 Step 5. iTunes will verify to factory reset your iPhone X. Tap "Restore and Update" to begin removing iPhone X forgotten passcode.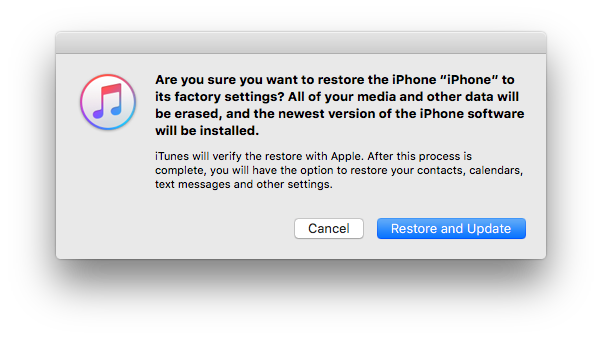 When the restoration is done, all the data along with the screen passcode have been removed. Now you can reset your iPhone X, and choose to Restore from iTunes Backup if needed.
Method 4: Unlock iPhone X with Recovery Mode
If you've never synced with iTunes and iCloud Find My iPhone is diaabled, putting iPhone X into recovery mode and restoring it in iTunes is another great way to unlock iPhone X without passcode and Face ID. Here's how to do it:
Step 1. Launch iTunes and connect your iPhone X to PC with the USB cable.
Step 2. Quickly press the Volume Up button, and then quickly press the Volume Down button. Then, press and hold the Side button until until the recovery mode screen appears.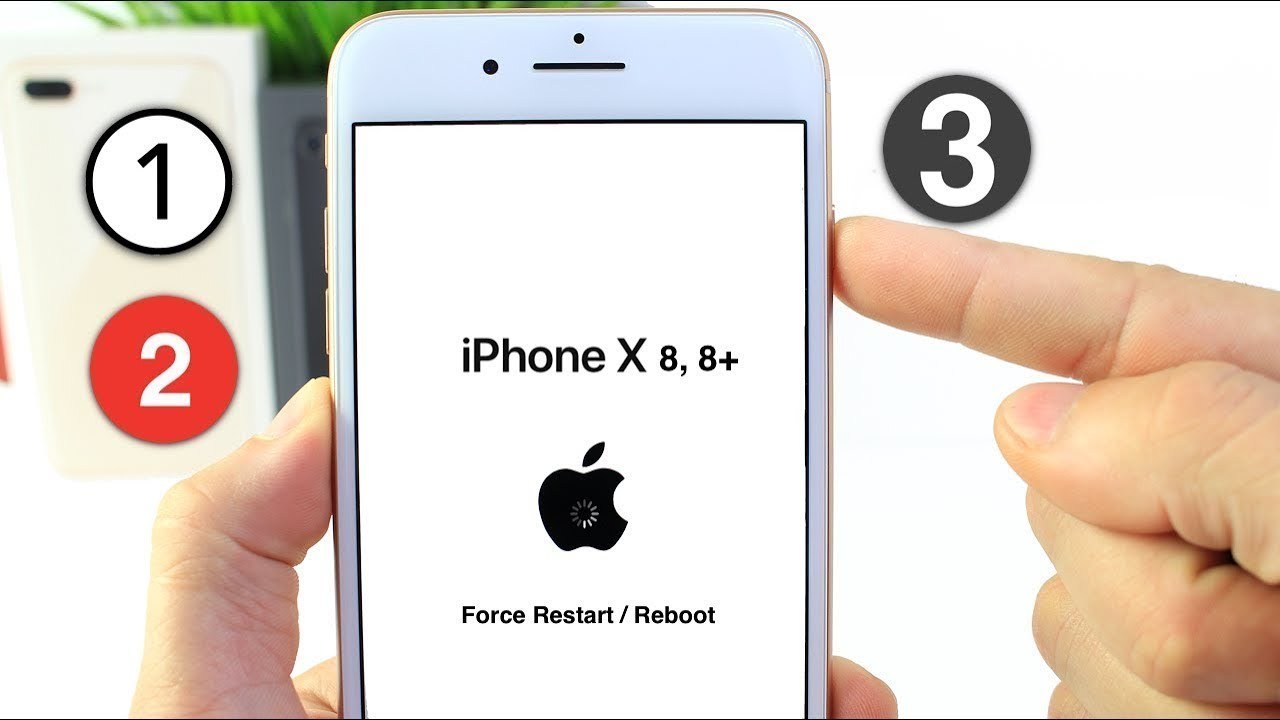 Step 3. You should see a message in iTunes asking you to restore or update the device. Click "Restore" and iTunes will attempt to restore the device and install the latest firmware.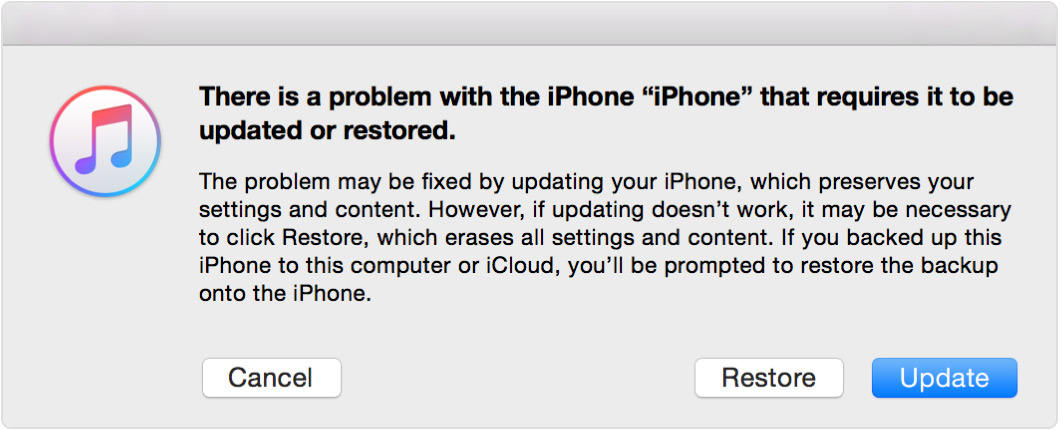 Once done, your iPhone X is unlocked and then you can set up your device.
Method 5: Unlock iPhone X Using Find My iPhone (Data Loss)
You have forgotten the iPhone X screen password and cannot get into your device. You can unlock iPhone via iCloud. What's more, if your phone is stolen, iCloud helps you remotely wipe your iOS device to prevent snooping on your information. Let's begin.
Step 1. Make sure that the "Find My iPhone" feature has been enabled.
Step 2. Navigate to iCloud.com on any available devices (mobile, Mac, and Windows computer).
Step 3. Log-in with your Apple ID and password to get into your iCloud account.
Step 4. Click on the "Find my iPhone" feature and select your iPhone X(XS/XR).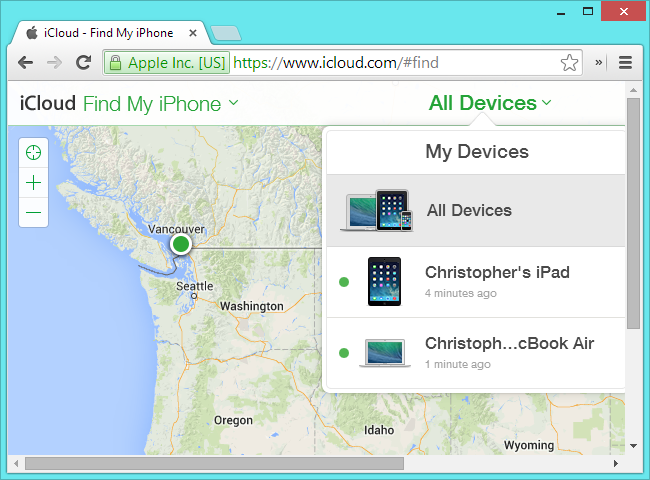 Step 5. Click on the "Erase iPhone" button and "Erase" button in the coming prompt. Enter the Apple ID passcode correctly to confirm your choice.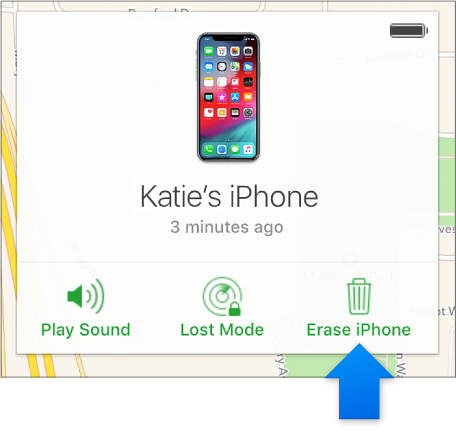 That's it! The iPhone X is unlocked and you can set it up. And you can restore from iCloud backup if you have one.
Tips to prevent thieves from unlocking iPhone X
Imagine if your iPhone X or other iDevice is stolen or falls into the wrong hands, are your accounts, text messages, passwords, videos and photos safe? To prevent thieves from unlocking the iPhone and stealing your information, we recommend that you follow the recommendations below.
1. Use a strong screen lock password
The screen lock password is the first barrier to iPhone security. If you only set a simple 4-digit password such as 1234, 0000, 1111, etc. on the iPhone, then the thief can easily unlock your device. Therefore, you need a strong screen lock password to protect your iPhone. Of course, the password should be easy for you to remember.
2. Enable Find My iPhone
"Find My iPhone" (updated to Find My in the latest iOS 13) is a tracking app that helps you locate and protect your Apple device on a lost or stolen Apple device. When your iPhone is stolen, you can log in to iCloud.com through a web browser, and then find your device as long as it is not turned off and has a network connection. Alternatively, you can enable "lost mode" to lock the iPhone and wipe your iPhone remotely. iCloud also has an activation lock feature. When you open "Find My iPhone" on your device, your Apple ID will be safely stored on Apple's activation server and linked to your device. Without your Apple ID and password, no one can wipe your device, nor can you reactivate and use your device. In this case, even if your iPhone is restored to factory settings or is unlocked by using a third-party iPhone unlocking tool, your device is not available because the thief cannot bypass or remove the activation lock.
3. Enable Two-factor authentication
It is recommended to enable two-factor authentication on your account to enhance its security. Go to your device's Settings> Apple ID> Password and Security, and enable two-factor authentication.
4. Erase data after unlocking fails
If you enable it, the iPhone will start to erase your iPhone by entering the wrong iPhone password 10 times in a row. Here's how to enable it: Go to Settings> Face ID & Passcode (or Touch ID & Passcode on older iPhones), enter your iPhone screen passcode, and scroll down and enable Erase Data.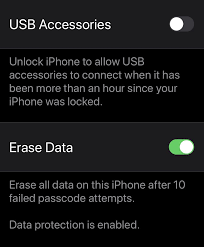 Unlock iPhone X without Passcode
Hot Solutions - ALSO ON UkeySoft SOFTWARE
Comments
Prompt: you need to log in before you can comment.
No account yet. Please click here to register.