By Justin SabrinaUpdated on August 31, 2021
---
Summary
This article is specifically for iPhone users who have forgotten the screen lock passcode and propose some effective solutions to reset iPhone when you forgot the password.
I forgot my iPhone screen lock password, what should I do?
For whatever reason, we like to protect our devices with digital passwords. These 4-digit passcode / 6-digit passcode are best for you to remember, and difficult for others to guess. However, if it's an iPhone that hasn't been used for a long time, you probably have forgotten the screen lock password. You can try to recall iPhone screen passcode and type it on the device. Unfortunately, your attempts are limited, and if you enter an incorrect passcode 6 times in a row, you will receive an error message: iPhone is disabled and try again in 1 minute.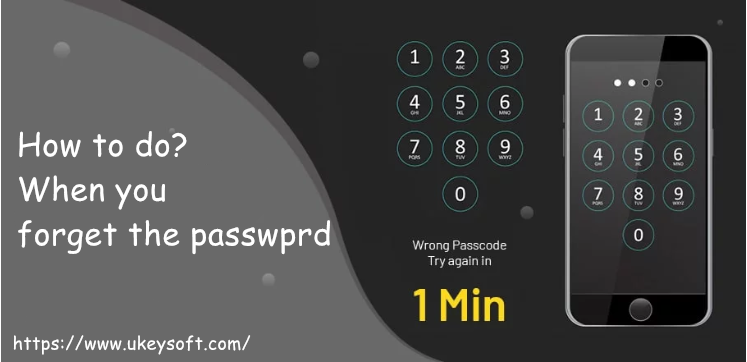 No matter what iPhone device you are using, iPhone 11, iPhone XS, iPhone XS Max, iPhone X, iPhone 8/7 / 6S / 6, please return to reality, you have forgotten your iPhone password. Since you cannot access the device, you will lose all of precious data, like photos, videos, contacts, etc. stored on your iPhone. This error tells us the importance of backing up your phone data. If your iPhone is disabled or you have forgotten your screen lock password, you need to reset it. In this article we are about to point out several common ways to reset forgotten passcode iPhone by using iTunes, iCloud, Recovery Mode and iPhone Unlocker software. There are four different options that you can use to erase your iPhone and remove iPhone screen lock passcode when you forgot it.
Option 1: Remove iPhone Screen Passcode Using UkeySoft Unlocker
UkeySoft Unlocker is highly recommended to you. You will find it easy to use when it is used to remove iPhone's forgotten password. It only takes 5-10 minutes and you can bypass the iPhone screen lock password. In addition to unlocking iPhone without a password, it is also a professional Apple ID removal, which is suitable for unlocking Apple ID when you forget your password. Here's a step-by-step guide to delete iPhone screen password without using iTunes or password, read on.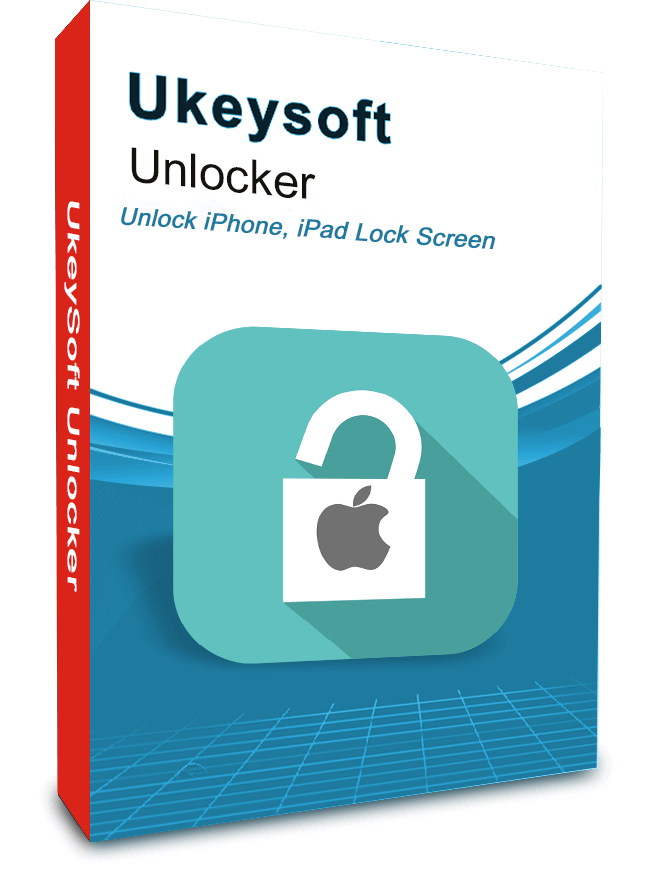 UkeySoft Unlocker
Reset iPhone when you forget your password with one click;
Bypass the screen lock, whatever it is locked, disabled or screen-broken;
Unlock Apple ID/ iCloud account without password from an activated iPhone;
Unlock iCloud activation lock for your iPhone/iPad/iPod;
Steps to Reset Your iPhone with UkeySoft Unlocker
Note: If you want to remove 4-digit/6-digit passcode, pattern, Touch ID or Face ID on iPhone, iPad, "Unlock Screen Passcode" feature is best for you. And if you want to remove Apple ID on iDevice without password, you should select "Unlock Apple ID" option. However, in order to ensure that our tools work properly, the iPhone must be activated and the Find My iPhone feature needs to be turned off. If Find My Device is enabled, the software supports unlocking iPhone running on iOS 10.2 to iOS 11.4.
Step 1. Launch UkeySoft Unlocker
Free download and install UkeySoft Unlocker on your computer. Launch it and select "Unlock Screen Passcode" option if you forgot the iPhone passcode.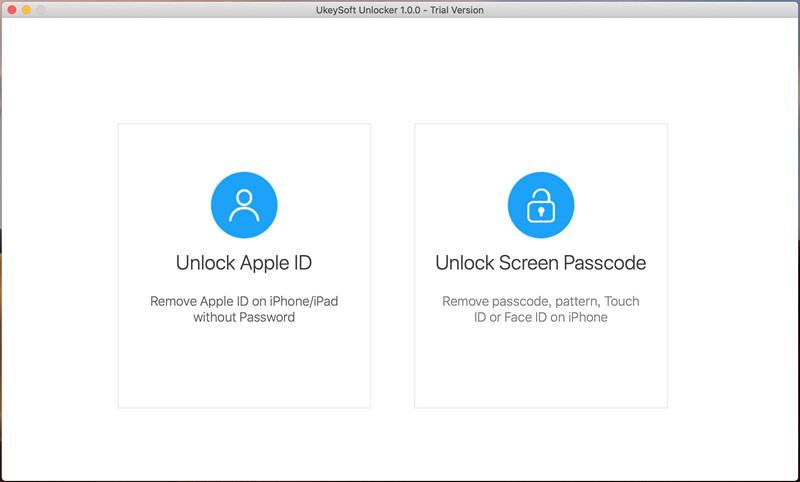 Step 2. Connect iPhone to Computer
You need to connect your locked iPhone to the computer. Click on Next to start.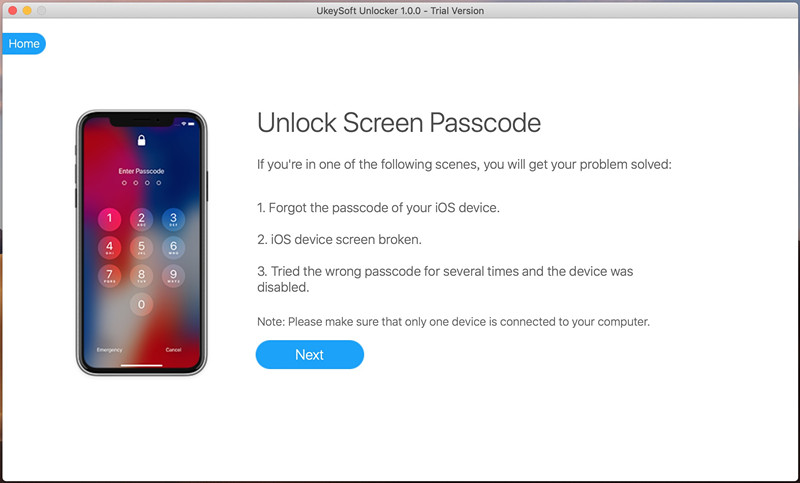 Step 3. Enter Recovery Mode
Now, follow the on-screen prompts to put your iPhone into recovery mode.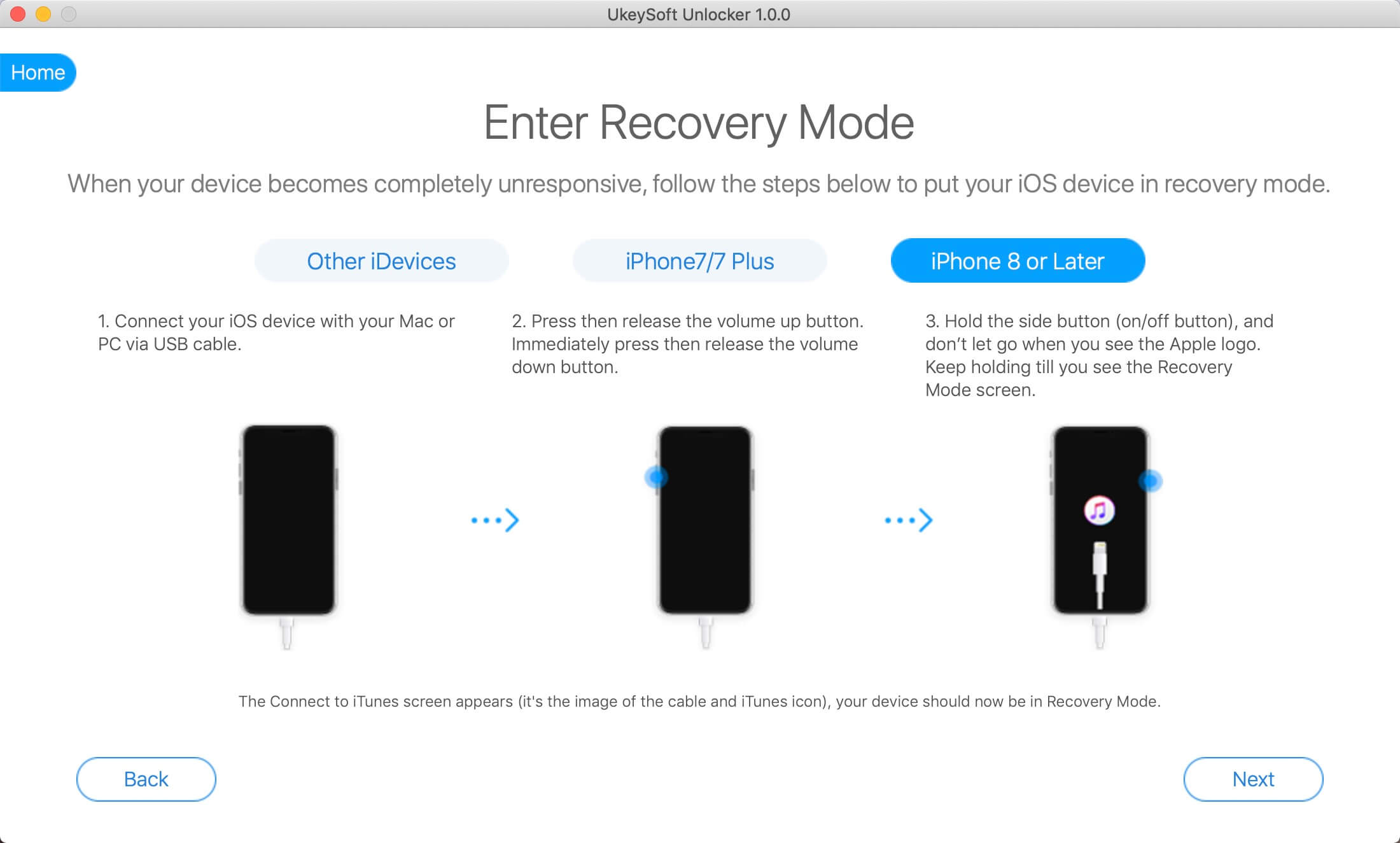 Step 4. Download Firmware Package
The program will detect your iPhone model and recommend you a firmware version. Click on "Download".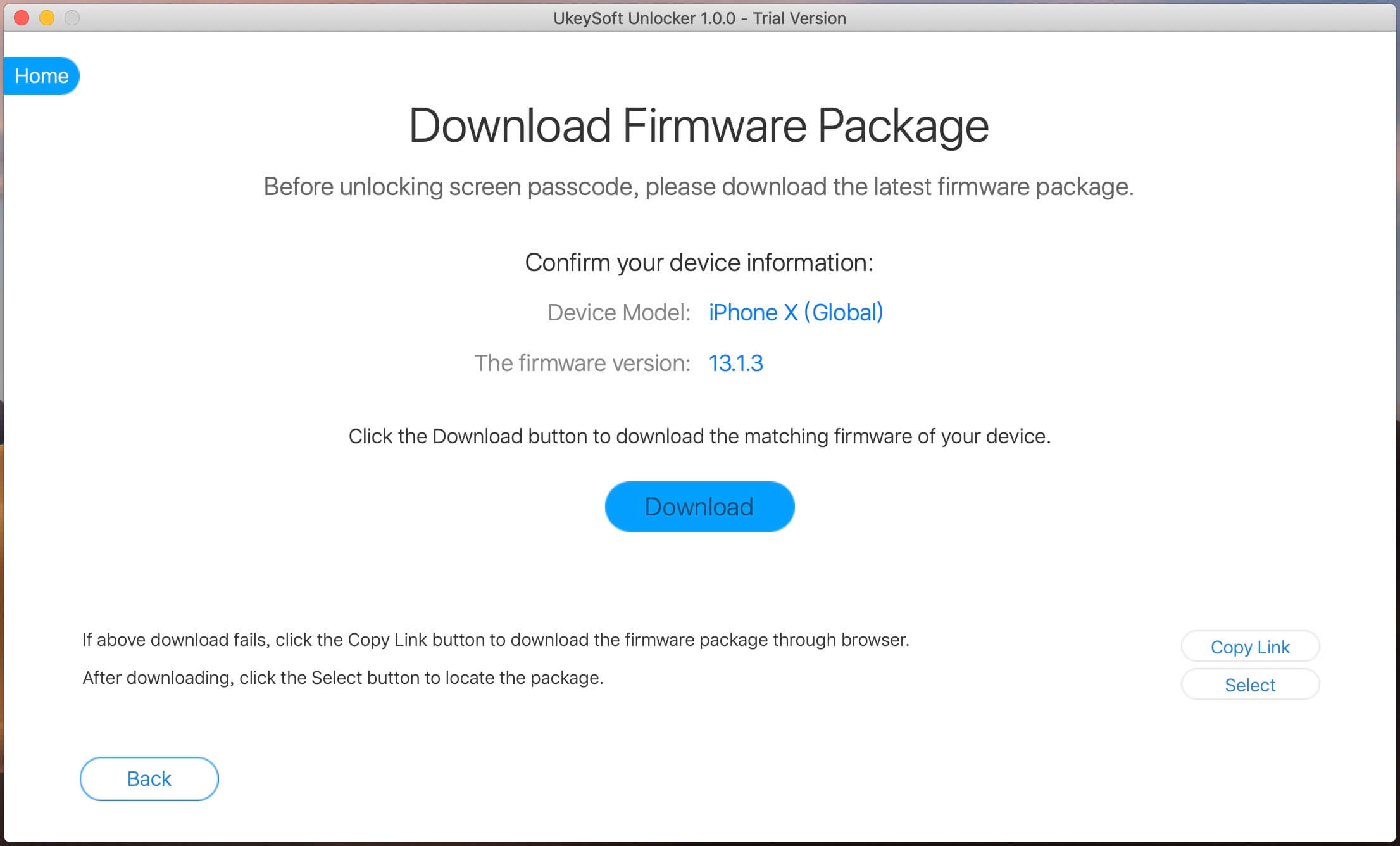 Step 5. Start Unlocking
Wait for downloading and verifying. Once the firmware is downloaded, click "Unlock" to start resetting your iPhone. When you get the "Removal Complete!" screen, it means that your iPhone has been reset successfully.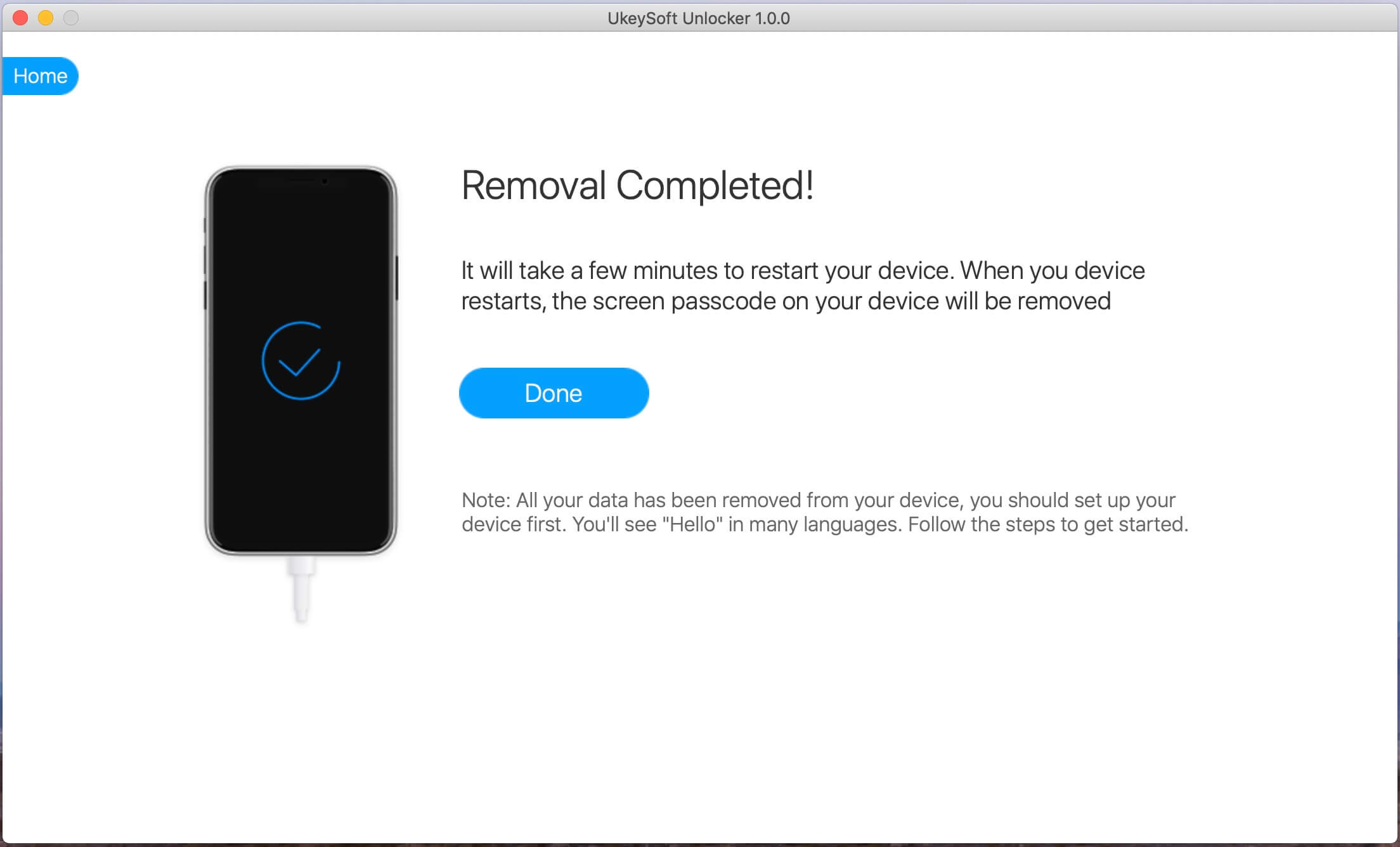 Option 2: Reset iPhone Screen Passcode with iTunes
If you have synced the iPhone with iTunes and trusted your computer, you can reset iPhone passcode using iTunes.
Step 1. Connect the locked iPhone to your computer you have synced with, then open iTunes.
Step 2. If you're asked for a passcode, try another computer you've synced with. If this doesn't work, resort to recovery mode, iCloud or UkeySoft Unlocker.
Step 3. When iTunes recognizes your device, you can first sync your device with iTunes and make a backup.
Step 4. When it's over, click "Restore iPhone".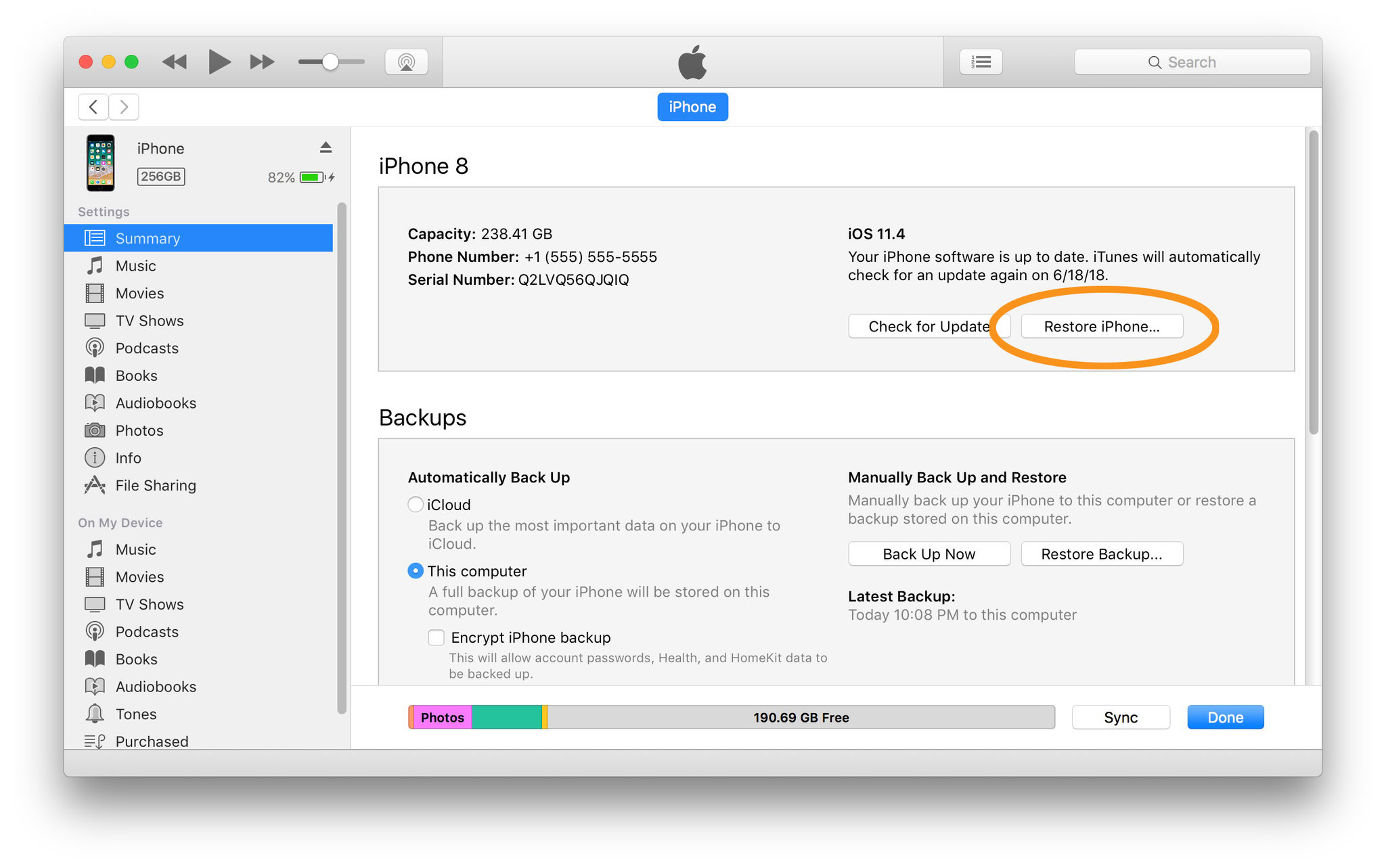 Step 5. iTunes is about to begin restoring your device to factory settings. After that, your iPhone locked screen is removed and your device looks like a whiteboard. During the restore process, you will reach the "Settings" screen, please select Restore from iTunes Backup.
Option 3: Use iCloud to Erase iPhone When You Forgot the Passcode
If you have never synced your iPhone with iTunes, but you have backed up your iPhone via iCloud and the Find My iPhone feature is turned on, then you can reset your iPhone by using iCloud. Similarly, using iCloud to wipe your device means that your settings and all data will be deleted. After the restore, you can choose to Restore from the iCloud Backup from the settings screen. Here's how to do it:
Step 1. Visit to icloud.com and log into iCloud using the account you used to set up Find My iPhone.
Step 2. Select "Find iPhone" and click on "Erase" button to delete everything on the device, including the screen lock passcode.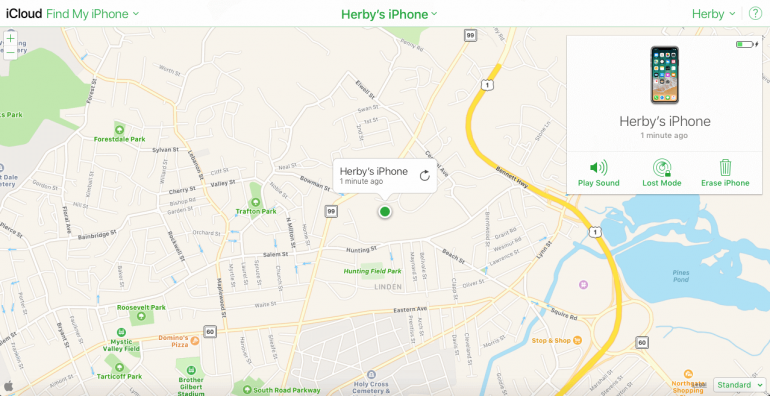 Step 3. After that, your iPhone would be turned on again. When you complete the initial setup stages, select "Restore from iCloud Backup". Your iPhone should be restored to the shape it was before you locked yourself out as long as you make regular backups.
Option 4: Use Recovery Mode to Reset iPhone Screen Passcode
If you don't plan to download UkeySoft Unlocker tool, or you have never backed up your iPhone using iTunes and iCloud, Recovery Mode is the only option to restore the device feat, it will erase your iPhone data and its password.
Step 1. Launch iTunes and connect your locked iPhone to the computer.
Step 2. Perform a hard reset on the locked device by holding down the sleep/wake button and the Home button at the same time.
Step 3. Keep holding until the "Connect to iTunes" screen appears.
Step 4. iTunes detectes your iPhone is in recovery mode and ask if you need to restore it. Click on "OK"  and "Restore iPhone" from iTunes screen.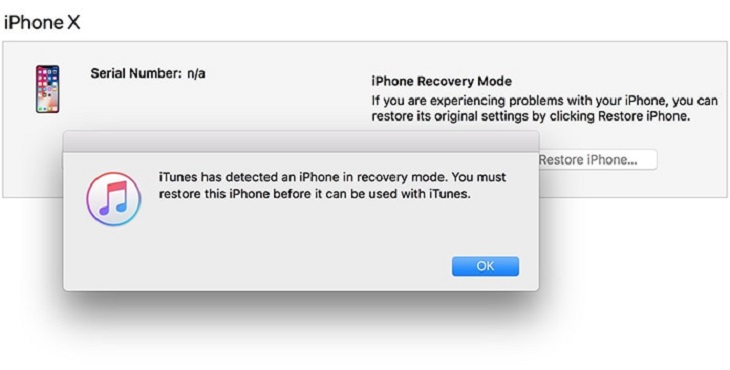 iTunes will delete all of data from your locked iPhone, as well as remove the screen lock passcode. If you don't have any backups, unfortunately, all the data previously saved on your phone will leave you.
Conclusion
Here are four ways to remove iPhone lock screen without using a password. The first is using the Unlocker tool, you can easily bypass the iPhone locked screen without password from any iOS device. The second is using iTunes. ITunes is a great assistant to help you manage items on your iOS device, but if you are asked for a password, this method doesn't work when you connect the device to your computer. The third is using iCluod, but you need to make sure the Find My iPhone feature is turned off. The last is to use recovery mode. This method is more complicated and your device can easily get stuck in recovery mode.
Reset iPhone When Forgot the Passcode