By Justin SabrinaUpdated on August 31, 2021
Summary
If you have bought a second-hand iPhone online, you may be faced with problems such as iCloud activation lock, someone else's Apple ID on it. In this article we will share several effective ways to remove iCloud activation lock without password.
"I have bought a second-hand iPhone 7, but someone else's Apple ID on it, and the iCloud activation lock iPhone, how to remove iCloud activation lock iPhone 7 without password?"
The reason why more people choose iOS is because of its high security. If you are also one of the iOS users, you should be familiar with the iCloud activation lock. This is a feature introduced by Apple in iOS 7 to reduce the theft of iOS devices. It runs on iPhone, iPad and iPod touch and is automatically enabled when "Find My iPhone" is turned on. If your iPhone or other iOS device is stolen or lost, this security system will protect your iPhone and its data.
iCloud Lock protects your device and prevents others from setting up and using your device until the owner's Apple ID and iCloud password are entered into the device. If you want to check if the activation lock is enabled on your iPhone, go to Settings > [your name] > iCloud > Find My iPhone. Once the activation lock is enabled, anyone needs to enter your Apple ID and password before they can:
Turn off "Find my iPhone" on your device
Wipe all data from the device
Reactivate and use your device
Do you want to bypass the iCloud activation lock in iOS 11, 10, 9, or iOS 8?
If you have a used iPhone or iPad but unfortunately it's stuck at the iCloud activation screen. How can you unlock iCloud activation lock without password? Now let's talk about how to bypass Activation Lock or iCloud lock. This post provides several ways to remove Activation Lock from iPhone on iOS 11/iOS 10/iOS 9/iOS 8/iOS 7, even if you don't know the Apple ID and password that was originally used to set up this iPhone.
Part 1: How to Remove iCloud Activation Lock withput Password
The first and most practical method we're going to introduce is UkeySoft Unlocker, a computer-based Apple ID bypass software and lock screen removal tool. It is committed to bypassing or removing the iCloud activation lock without a password. The steps are especially simple, even if you are a rookie can handle it easily. The strength of UkeySoft Unlocker is much more than that.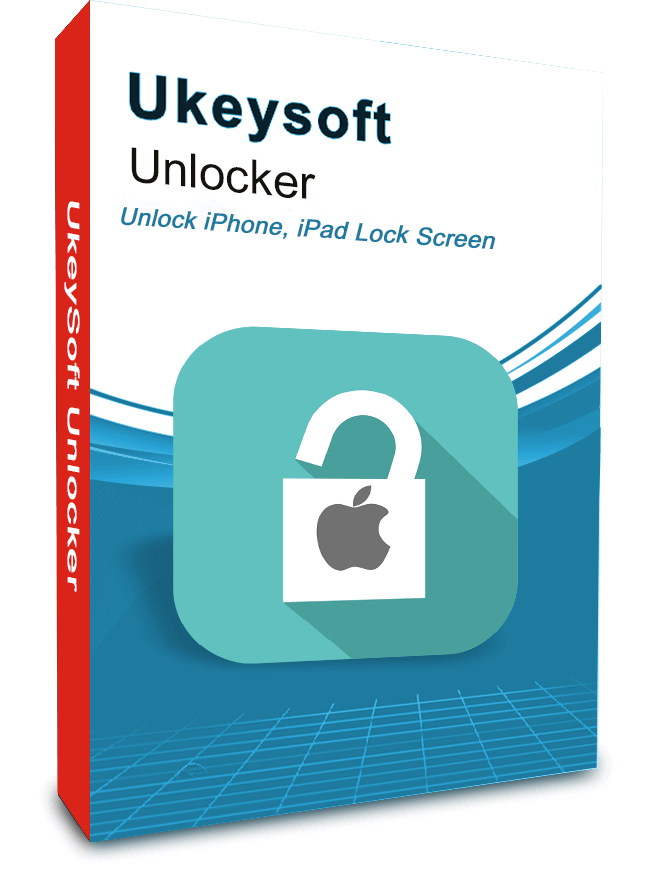 UkeySoft Unlocker
Unlock iPhone black screen of death and remove screen password;
Reset locked iPad without password;
Unlock 4 types of passcodes such as 4-digit/6-digit password, Touch ID & Face ID;
Remove screen passowrd when your iPad is locked, disabled, screen broken, or with an outdated version of iOS;
Unlock Apple ID on any activated iPhone, iPad, and iPod touch;
A few simple steps to remove locked screen;
Works for all models of iPhone, iPad and iPod touch, such as iPhone 11, iPhone XS, iPhone XS Max, iPhone X, iPhone 8/8 Plus, iPhone 7/7 Plus, iPhone SE/6S/6/5S, etc.;
Fully compatible with the latest iOS 13;
Step 1. Launch UkeySoft Unlocker
Double-click the UkeySoft Unlocker icon on your Mac desktop to launch the program. It is divided into two major sections. If you want to remove iCloud activation lock on iPhone or iPad, enter "Unlock Apple ID". And then connect the device to your computer with a valid USB cable.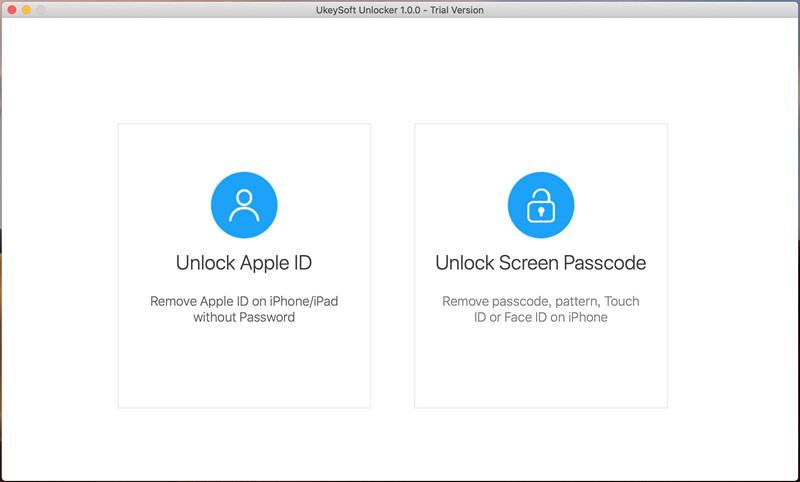 Step 2. Start to Unlock Apple ID
The UkeySoft Unlocker will detect your iPhone model, please confirm your device information and click "Start" to activate the unlock process.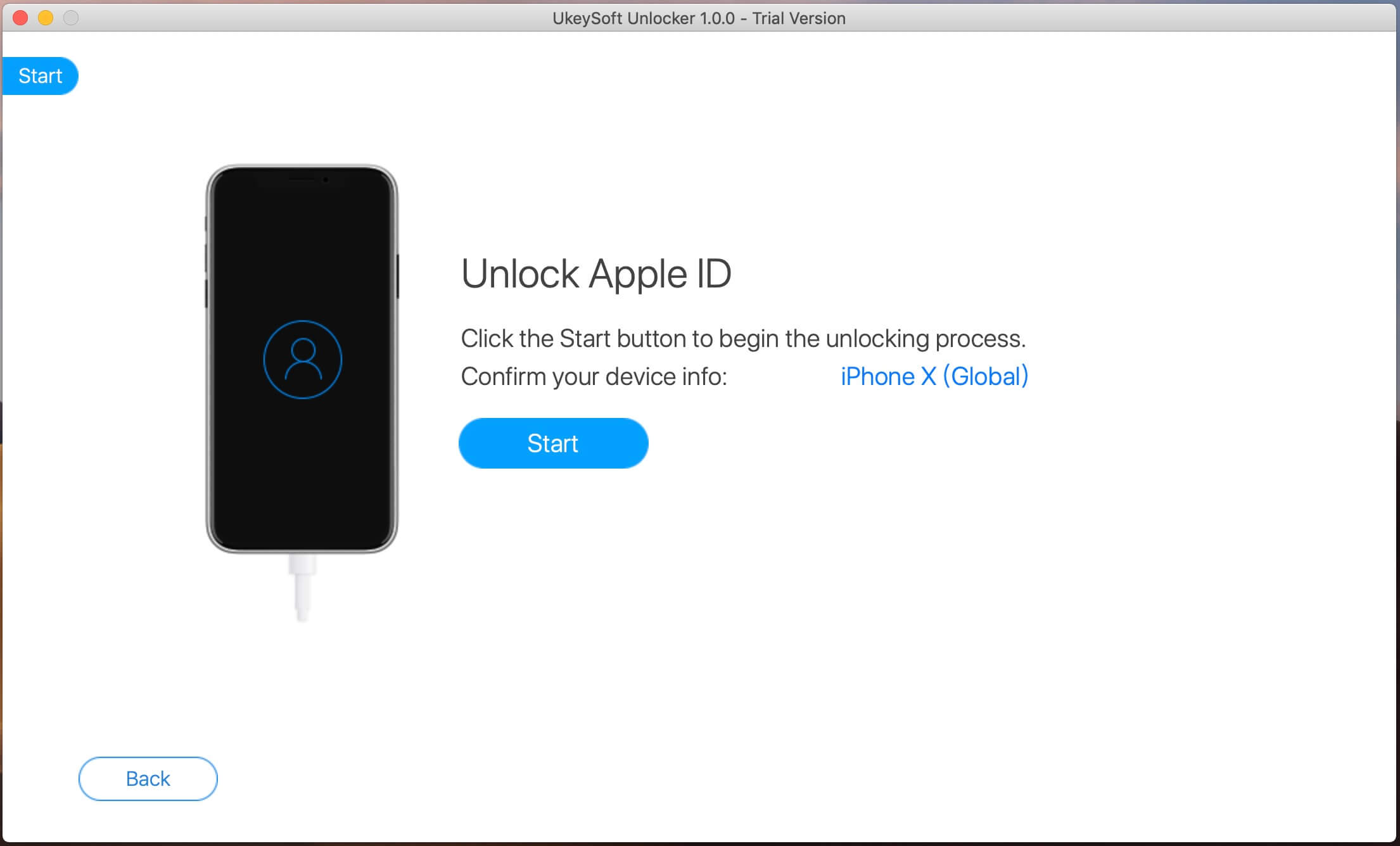 Step 3. Successfully Remove iCloud Account without Password
As you can see, the program starts the unlocking process automatically.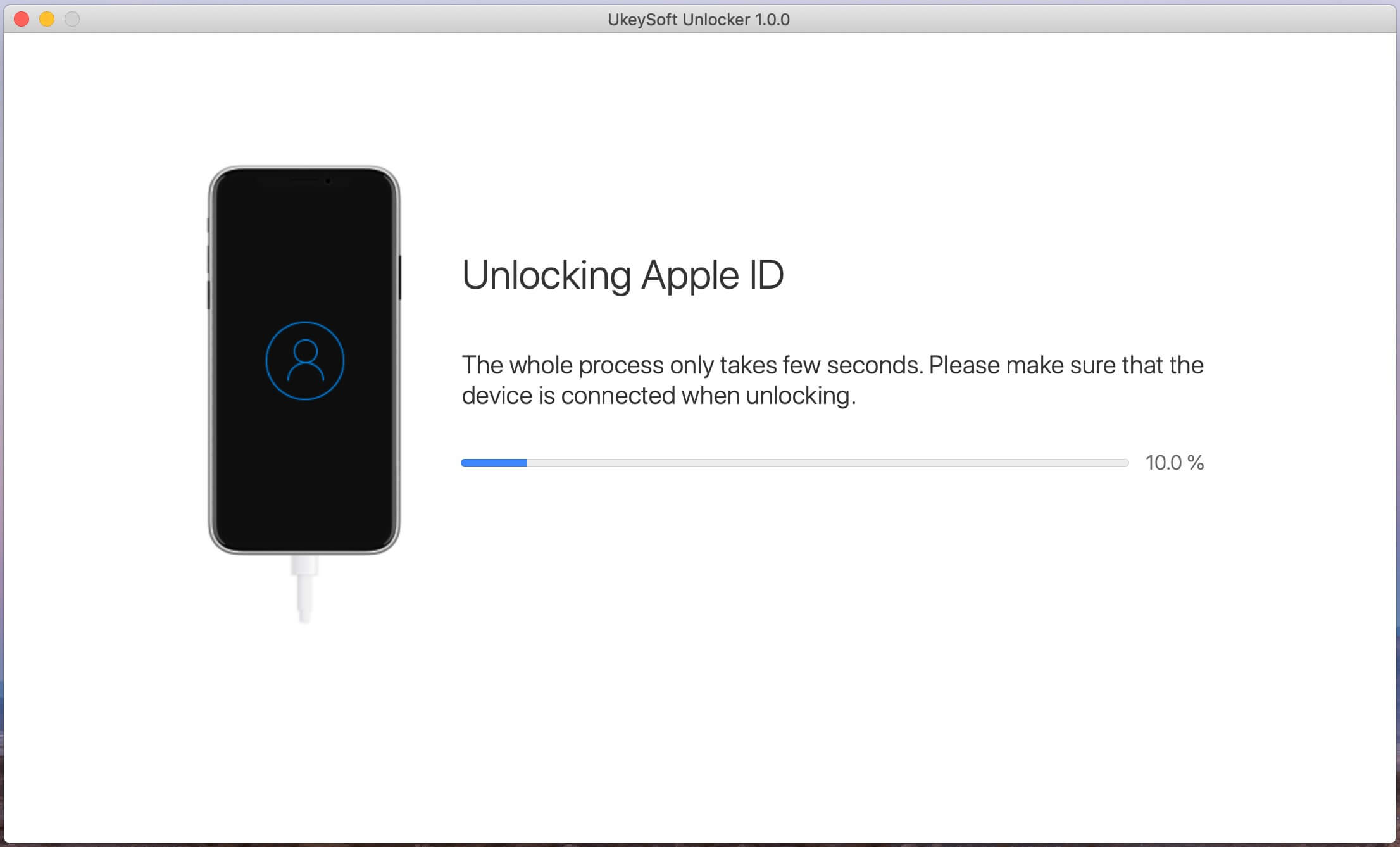 When you see the screen shows "Successfully Remove the Apple ID", it means that the iCloud account is removed from iPhone successfully. You can now use new Apple ID and enjoy all the features on iPhone.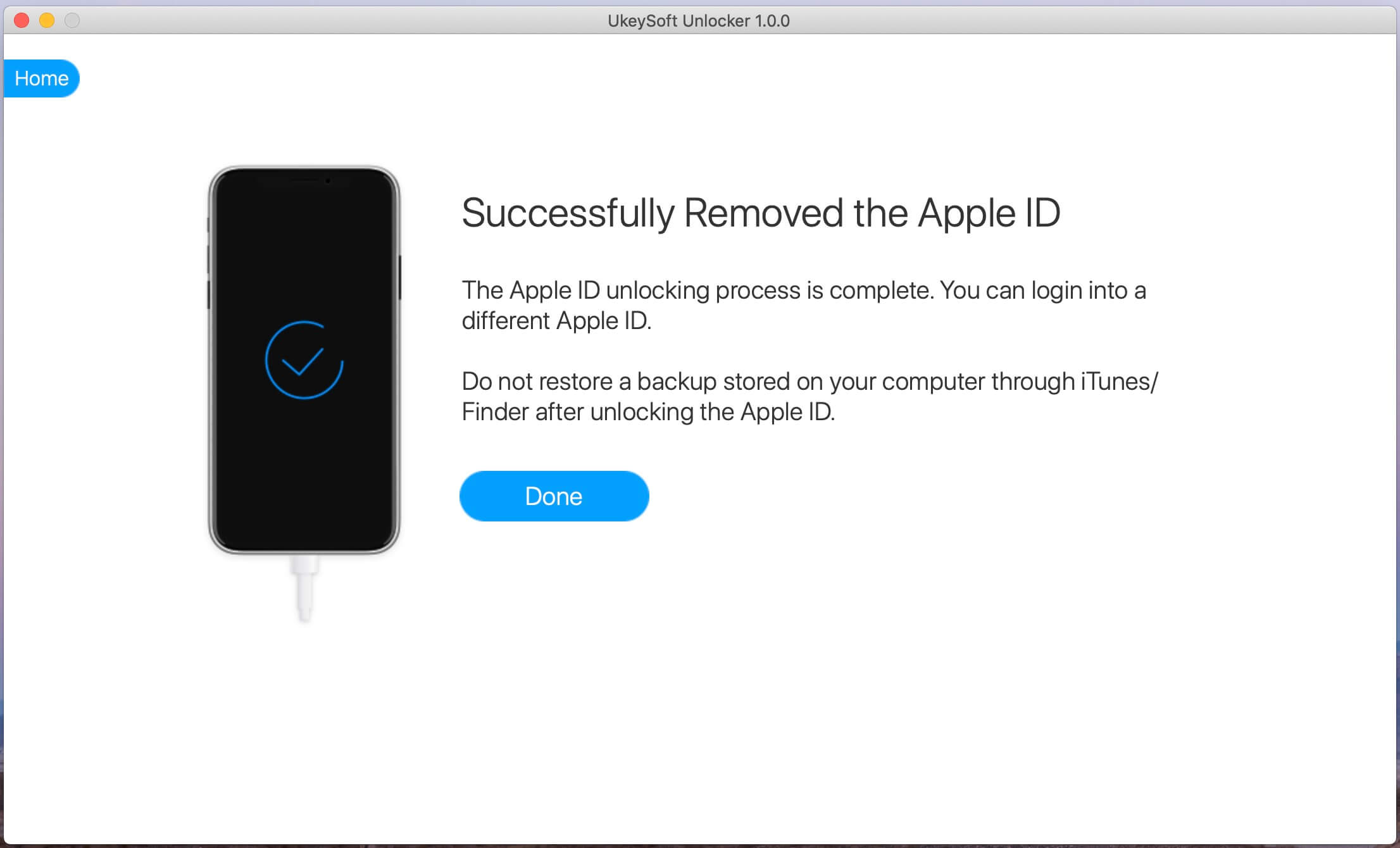 Part 2: How to Bypass or Remove iCloud Lock Quickly via DNS
You can also bypass the iCloud lock to access the iPhone in this way.
Step 1. Open or restart your iPhone or iPad.
Step 2. Complete the setup process until you reach "Select Wi-Fi Network".
Step 3. Press the "Home" button. Click on "More Wifi Settings".
Step 4. Tap the "i" symbol next to the WiFi network you want to connect to.
Step 5. Click on "Configure DNS" and touch "Manual".
Step 6. Select "+ Add Server" and a blank will appear.
Step 7. Now enter the server address for your location (for example, USA: 104.154.51.7; Europe: 104.155.28.90; Asia: 104.155.220.58; Africa, Australia and other locations: 78.109.17.60).
Step 8. Click "Save".
Step 9. Tap on "back" option and click "Join this Network". If required, enter the network password and select "Join".
Step 10. When the iPhone tries to activate, click the "back" button.
Step 11. You can now continue to set up your iPhone or iPad normally.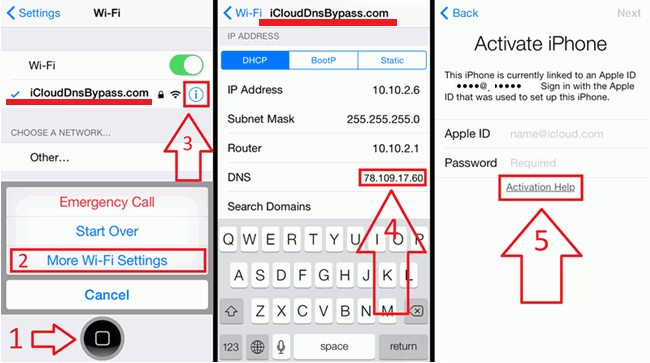 Note: Keep in mind that this method may not always work, especially for iOS 10 and above.
Part 3: How to Remove iCloud Activation Lock on iPhone Remotely
If the second-hand iPhone you purchased has been stuck on iCloud activation lock screen, you can ask the previous owner to remove the iCloud activation lock by deleting the iPhone from the current iCloud account. Here are the specific steps:
Step 1. Go to icloud.com and sign in with your Apple ID and password.
Step 2. Click "Find iPhone", then click "All Devices" at the top.
Step 3. Select the iPhone you want to remove from your iCloud account.
Step 4. Click on "Erase iPhone" if necessary. When prompted, enter the iCloud password to continue, then enter the Apple ID verification code when prompted, and then click "Yes" to continue.
Step 5. Finally, once you have deleted your iPhone, click "Remove from Account".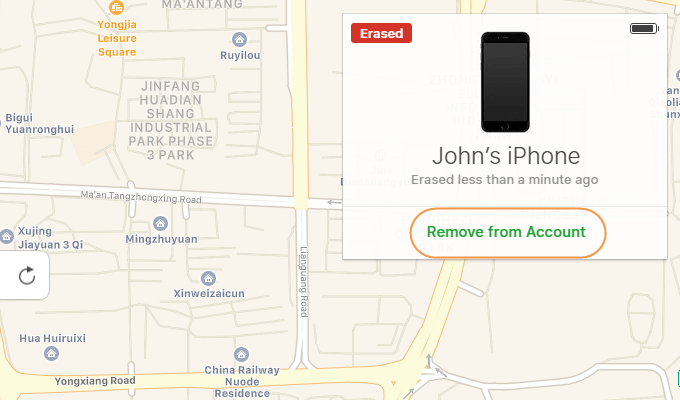 Once done, your iPhone has been removed from its account and the activation lock should have been removed. you can now activate the device.
Part 4: Ask Apple to Help you Remove iCloud Activation Lock
Finally, ask your local Apple Store for help. Bring your receipt or proof that ownership has been transferred to you from the previous owner. Alternatively, you can ask the sales representative to remotely remove the activation lock from your device by calling Apple Support and explaining the situation. However, if you are unable to provide conclusive evidence that you are the legal owner, they will refuse to unlock the iCloud activation lock.
Remove iCloud Activation Lock
Hot Solutions - ALSO ON UkeySoft SOFTWARE
Comments
Prompt: you need to log in before you can comment.
No account yet. Please click here to register.