Hi,
If you want to buy UkeySoft license code via Paypal, we suggest you buy the Lifetime License.
Please purchase via Paypal or Credit Card, then we will send you the Lifetime License.
1) Please go to the product purchase page to pay via Paypal.
Or
2) Pay via Credit Card, please click

After purchasing successfully, please tell us your Paypal account or order ID, as well as the product your need [ e.g. Apple Music Converter(Mac) ] . Notes: Do not note any literal on the Paypal bill.
Tips:
If you haven't received the license code after you purchasing successfully. Don't worry, because we're offline(off work), and we will check the email in the next day and send you the activation code.
Please tell us which software do you want to buy?
Payment Detail:
Your Paypal account or order ID:
Product Name:
Price:
Windows or Mac:
For Example: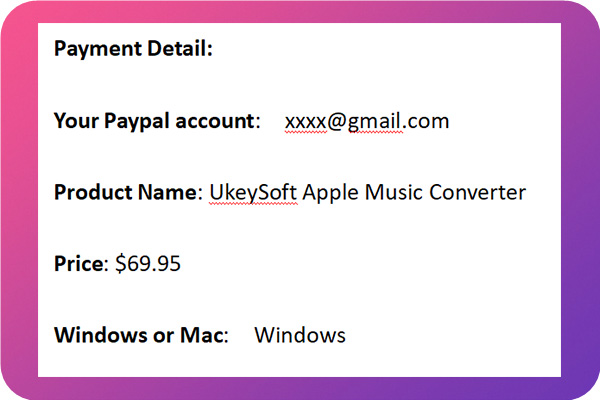 Please send email to us:

[email protected]
Best regards,
UkeySoft Marketing Department